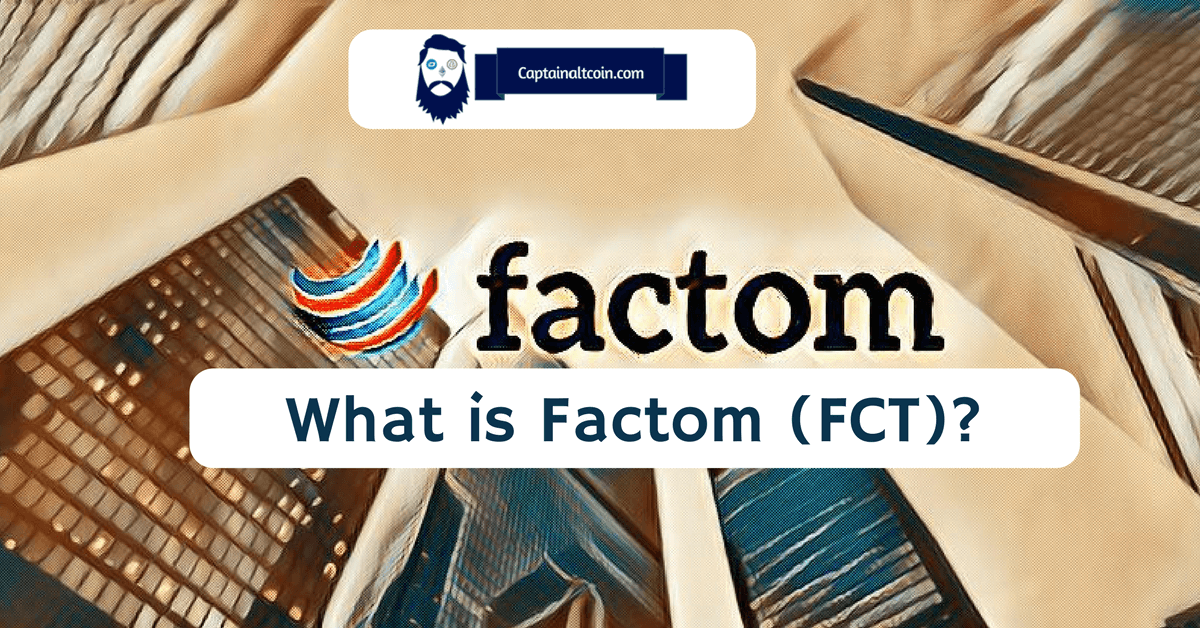 I went to help admit my younger brother to college the other day, and the college asked to produce notarized copies of all the documents required for admission.
I had to reach out to a lawyer to sign the copies of the documents. Yes, you read it right – a lawyer.
The lawyer needed to act as an "impartial witness" to verify the legitimacy of the documents, and I wasted quite a bit of money and time in fixing this appointment just so the lawyer could do this small thing.
I thought about why I needed a third party to verify my things. It's 21st century, so why was I doing this?
And what's the guarantee that I didn't sign the papers myself?
I mean, couldn't I just manipulate the whole notarization process, notarize the papers myself, and then bring them to the college?
There's no way that the college would know?
In what way is authenticity measured?
Well, blockchain technology is solving this simple issue by letting us write down data that can never be changed.
And this is precisely what Factom's blockchain is doing.
Factom is a cryptocurrency and a blockchain platform launched in September 2015. Factom is working on data integrity, and is one of the most interesting applications of cryptocurrencies and blockchain technology available.
Unlike Bitcoin whose blockchain is used only for currency transactions, Factom comes with an enhanced blockchain that allows anyone to add new entries to the blockchain. These include agreements and contracts in the form of applications and scripts.
However, before I jump into the technical talks, it's important to note that Factom cryptocurrency (FCT) has increased at a rate of +12,000% since its inception and is still looking strong.
So let us start off by looking at what Factom is and how their native tokens, factoids, work.
What is Factom Cryptocurrency?
video: https://youtu.be/IoJW6JMMzcI


Factom's concept came in late 2014, which means that it has been there with us for quite some time.
Factom is an open-source data layer protocol. This means that anyone can use it to build an honest and safe system with secure blockchain technology to keep records safe forever. Factom is built on top of Bitcoin and allows individuals and business to make applications on top of Bitcoin's blockchain.
Bitcoin's blockchain has core constraints which don't leave much scope for innovative solutions. However, it has proven over the past 8 years to be the most immutable and trustable record of monetary transactions ever designed.
And Factom was designed in the way to take advantage of that immutability and security of Bitcoin's blockchain.
Once something is recorded on the Factom platform, it can't be changed. This means that it becomes forever immutable and acts like a trustable record against which any copy can be verified and original records are kept safe.
Anchoring
The other genius behind the Factom technology is that every 10 minutes Factom creates a hash of all the companies' hashes, and inserts this into the Bitcoin blockchain. This is called anchoring. It further ensures that there can be no question about the authenticity of the hashes. The Bitcoin network is the world's largest super computer. It effectively functions in regards to Factom as a time stamping machine. There can be no rolling back of the Bitcoin network. Also, the hash inserted into it is immutable. It's important to note that the hash is also anchored into the Ethereum blockchain.
What are Factoids?
Factom has their own tokens which are called Factoids (FCT). Factoids remain on Factom's blockchain. They are traded like any other cryptocurrency in the market.
The FCT initially cost about 12 cents and are currently trading at about $25 per FCT with and all-time-high of $33.
There are 8,753,219 factoids in existence, which were created in an ICO (Initial Coin Offering). There will be no new tokens created until a technical implementation called Milestone 3 is reached.
The Factoids are used to secure data by linking them to Bitcoin's blockchain, and they act as fuel to enable their users to do data entry on the Factom platform.
When you use Factom, there is a nominal fee in its Factoids cryptocurrency. This reduces the risk of large quantities of spam being hashed into the platform on a regular basis.
Total FCT Supply
The total Factoid (FCT) supply is 8,753,219 FCT at the time of writing this article.
However, there were more at the time of the ICO.
The ICO sale for Factom started on 31st March 2015, and investors funded it with 2278 BTCs. This resulted in the creation of 8,75,9968 Factoids (FCT), out of which 6749 FCT have already been burned.
Bitcoins for Factom are released in batches of 33% – the first 33% was available when Milestone 1 (also known as the creation of the genesis block) was reached, the second 33% went out upon Milestone 2 (announced late December 2016), and the remaining 33% will be released once Milestone 3 is reached.
The total coin supply is still not capped. After a technical release (M3) every year 73,000 FCTs will be issued every month. Until then there is no increase in supply. In fact the supply diminishes as Entry Credits are created.
The Factom ICO raised 2,278 Bitcoin worth $1.1 million from 323 different investors.
Market Cap of Factom
As per CoinMarketCap (https://coinmarketcap.com/) the present supply of Factoid tokens (FCT) is 8,753,219 FCT (at the time of writing this article). The price of one unit of FCT is $15.29.
This puts the market capitalization of Factom at $133,741,468.
The Team behind Factom
Factom is based in Austin, Texas and operates from additional locations Sunnyvale, CA, London, Honduras, Beijing, and Shanghai to meet the needs of global customers.
The original idea and conversation for Factom happened in 2014 between Chairman of the Board David Johnston and Chief Architect Paul Snow. They are striving to change the future through the software they build, and have a vision to push for transparent business practices with their products.
On top of that, they are a company that recognises the strength within their team, and has an experienced team in all areas of operations. Factom encourages its people to be the best versions of themselves and is building a workforce which is dedicated to changing the future.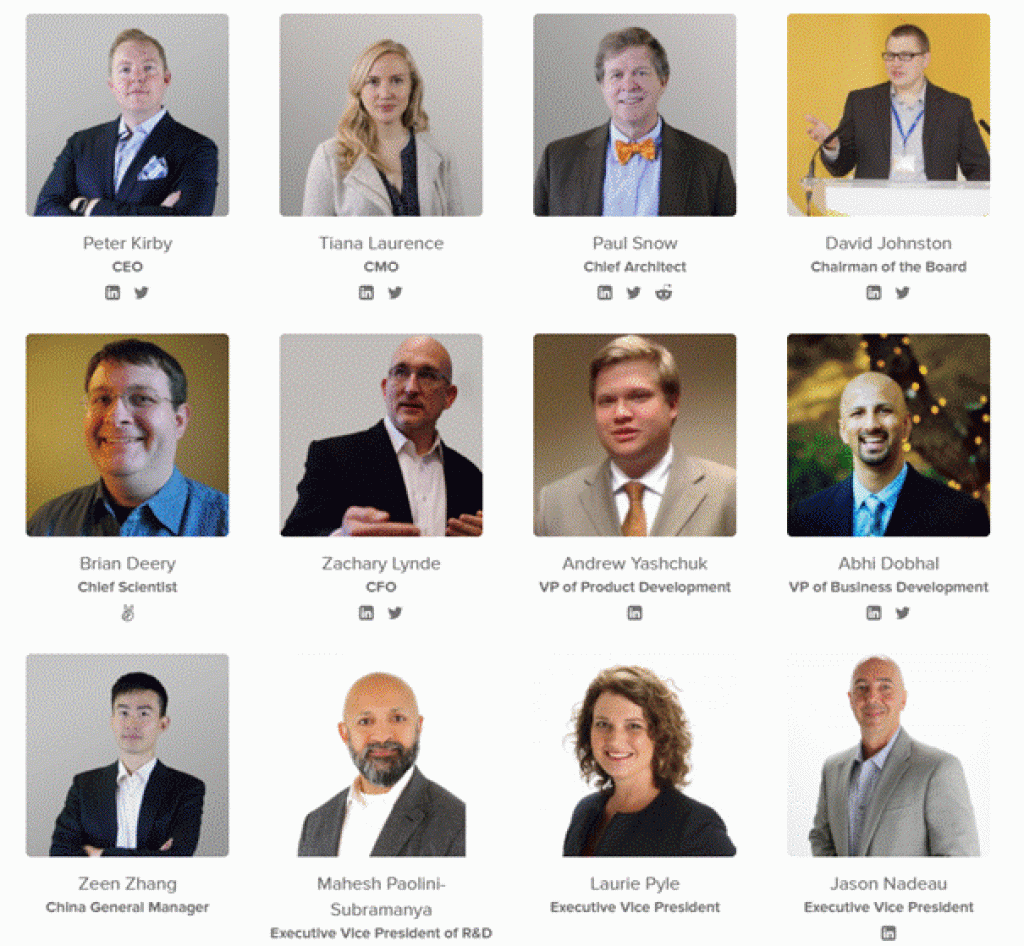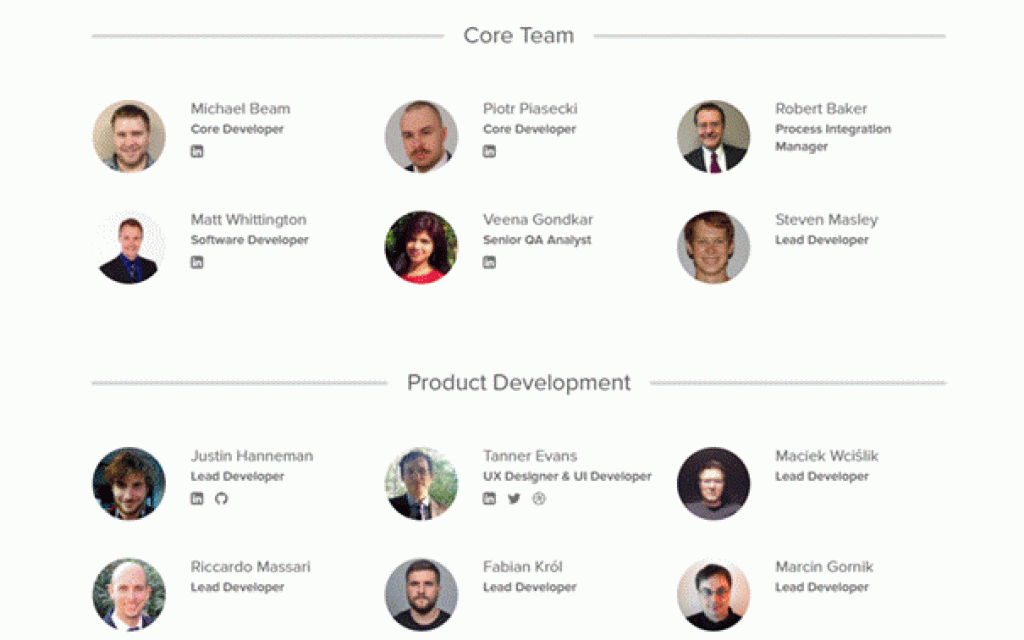 Source: https://www.factom.com/about/team
Product Offerings by Factom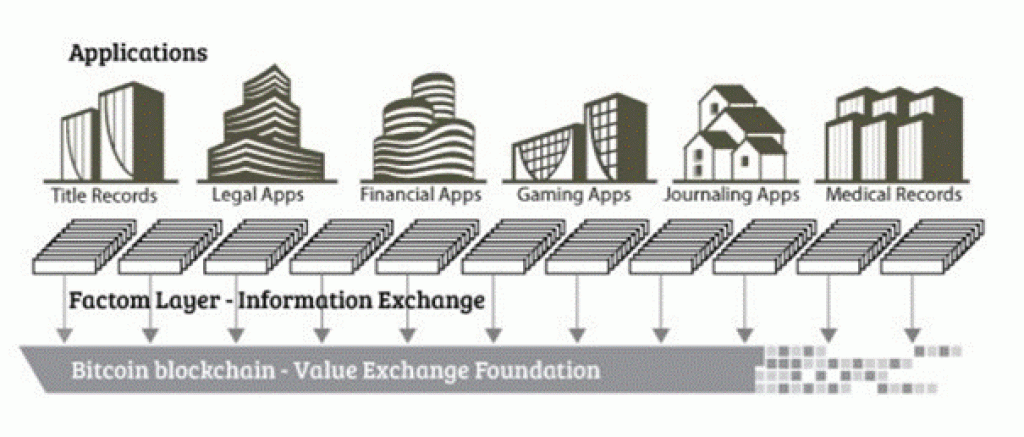 Factom is a cost effective and cheap way of separating the Bitcoin blockchain from the Bitcoin cryptocurrency and use it for other applications. In this way, Factom opens up a wide range of use cases for the real world by using Bitcoin's blockchain for non-Bitcoin transactions.
Here are some of the possible uses:
Service Level Agreement (SLA) Logs
Journaling Applications
Legal Applications
Property Titles
Voting Systems
Medical Records
Immutable Audits
Factom currently offers five products:
Factom Partnerships and Clients
It was announced on December 7th 2015 that Cryptid (an open source ID system) was using Factom "to place encrypted identity data on the blockchain."
It was announced on December 15th 2015 that Factom is a partner with Microsoft on their MS Azure Blockchain as a Service (BAAS) platform.
It was announced on February 5th 2016 that iSoftStone would be using Factom blockchain technology to secure smart cities.
On February 4th 2016 it was announced that Factom had secured a deal with Ancun Zhengxin's electronic data notarisation services.
Factom started a project with the US Department of Homeland Security in June 2016. The project is called 'Blockchain Software to Prove Integrity of Captured Data from Border Devices'.
It was announced on August 11th 2016 that the large data platform, DataYes, would be utilising Factom to place stock market data into the blockchain.
It was announced on November 21st 2016 that dLoc would be integrating Factom for document authentication.
The Hyperledger Project announced on December 28th 2016 that Factom was one of their new members.
How Factom Cryptocurrency Works

The underhood mechanism of Factom is quite tricky to understand and many people don't understand how it works.
The Factom protocol is open source and works on "hash technology".
A hash is a cryptographic one-way function that transforms any digital artifact (audios, videos, or documents) into a fixed alphanumeric string. This string is like a digital fingerprint print of that artifact, and it is impossible to arrive at the original artifact by reverse engineering the digital fingerprint.
It allows using an API to create hashes of digital artifacts. These hashes are collated and again transformed into a single hash, which is then anchored to Bitcoin's blockchain that acts like a time stamping machine that can't be rolled back.
The original hash can later be used for comparison, and anyone can use an artifact/document and hash it, and then compare it against the original hash. The artifact/document is original and has not been tampered if both hashes match. On the other hand, the document has been altered if they don't match. This allows data integrity and audit-ability which can be very important for government documents, bank records, mortgage documents, and many more usage cases.
Factom creates such digital fingerprints using the SHA-256 cryptographic hash algorithm. At its core, provides the platform to build safer and more secure record keeping on a global scale with three types of proof which check that the system is doing what it is intended to do:
Proof of Existence
Proof of Process
Proof of Audit
Whenever a company or individual associates with Factom, they allow them to create hashes of their digital artifacts. The collated hashes are again transformed into a single hash. This single hash is anchored to Bitcoin's blockchain with a time stamp. Adding the hash every 10 minutes (10 minutes is the interval that Bitcoin miners solve a block) into Bitcoin's blockchain ensures that an artifact existed at a given point of time. This is "Proof of Existence".
Factom records and validates all entries on its blockchain. The order, the process, and the manner are also recorded in order to prevent double spending of money for a double entry. This is "Proof of Process".
Since Factom is anchored to Bitcoin's blockchain, it can be produced anytime for audit unless Bitcoin's network is shut down. This is "Proof of Audit".
This ensures honesty and certainty in record keeping. This is why it's named "Factom" – it is derived from the Latin word Factum, meaning "Anything stated and made certain."
How to Enter Data into Factom?


Data entries on Factom's blockchain are paid in order to prevent spam of data, and for this, Factom uses other software tokens known as Entry Credits (EC). EC tokens are not transferable or reusable tokens that can be bought in exchange of Factoids (FCT) from here (http://shop.factom.com/).
The sole purpose of having additional tokens is to remove the complexity of using a direct cryptocurrency like FCT for the users of the Factom service and to have a fixed price per KB stored on the blockchain.
Both FCT and EC are burned in this process, and neither can be reproduced and recycled.
How to Purchase Factom (FCT)
Purchase FCT from ShapeShift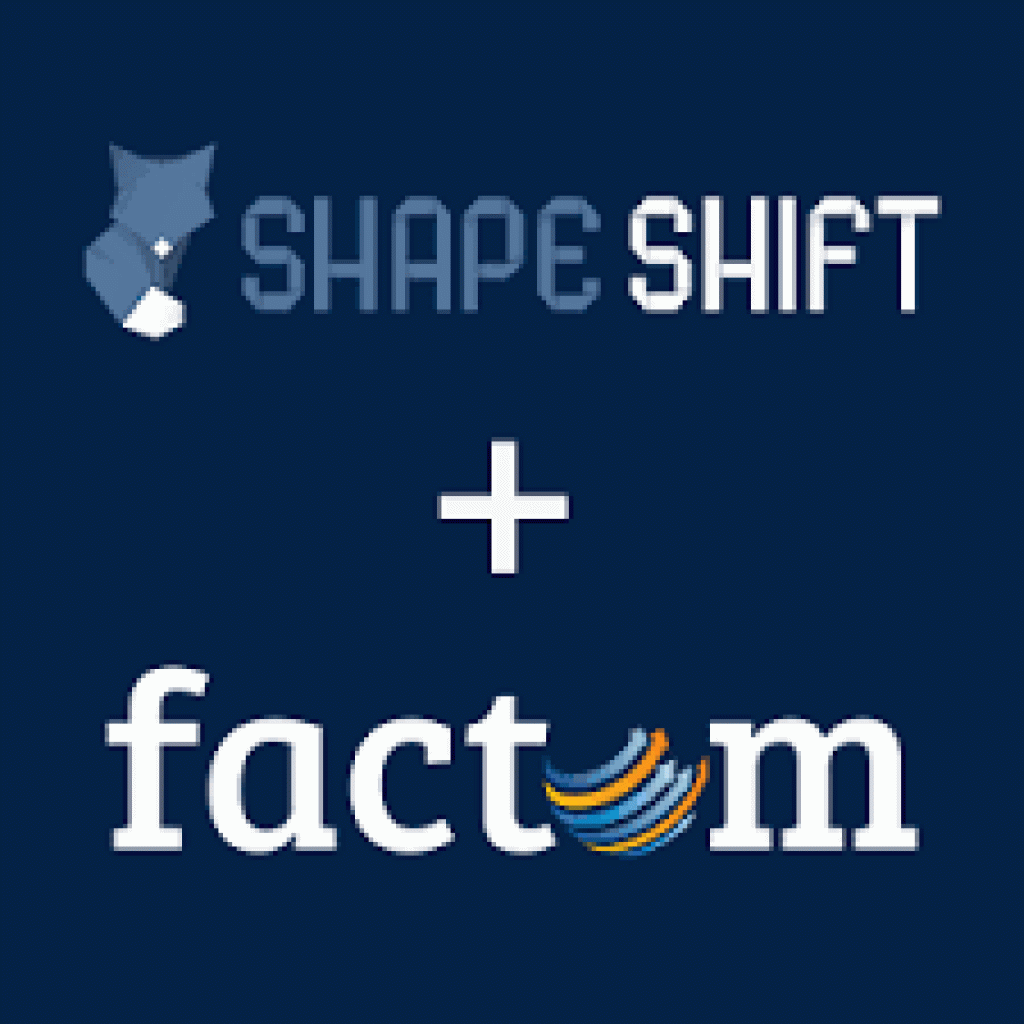 The easiest way to purchase Factom (FCT) is to get it exchanged from ShapeShift.
To do this, you only need two things:
Bitcoins/other altcoins to exchange for Factom (FCT)
Your Factom address where you would like to receive your Factom (FCT).
ShapeShift currently supports 33 cryptocurrencies (including Factom).
See our ShapeShift guide if you need a step by step process of how to go about exchanging your currencies for FCT.
Note: This guide is for exchanging ETH for BTC. However, the process is the same for purchasing FCT.
Purchase FCT from Exchanges
Here's how Factom can be bought from an exchange.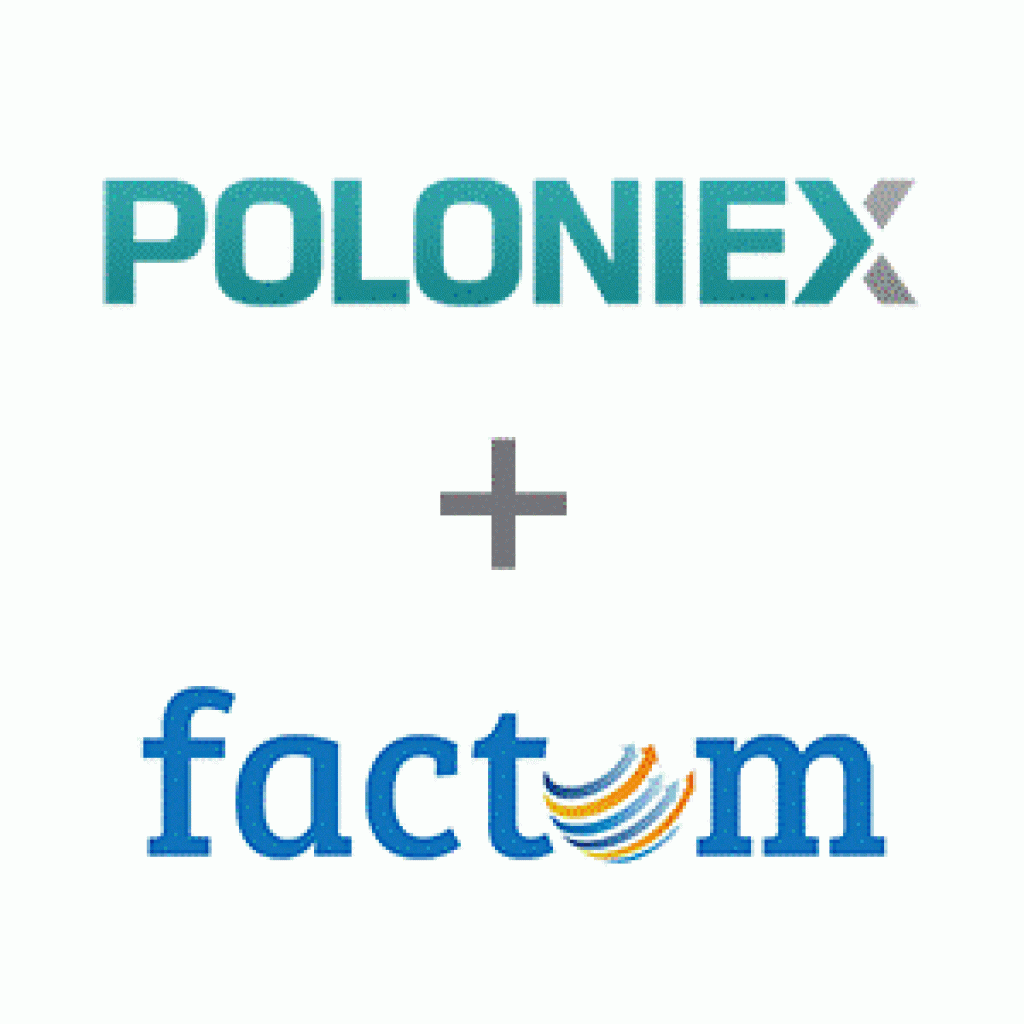 Step 1: Get a Cryptocurrency (ETH/BTC/LTC)
To get a cryptocurrency like ETH/BTC, you need to convert your fiat currency to ETH/BTC on any popular exchange site. You can use this guide: Buying Bitcoin Using A Debit/Credit Card for converting fiat into BTC.
You can skip this step if you already have BTC/ETH/LTC.
Step 2: Crypto to Factoid (FCT)
You can exchange BTC/ETH for Factoid (aka Factom) on these popular exchanges:
Shapeshift.io
Bittrex
Poloniex
Out of these, ShapeShift is the easiest way to get ahold of your first FCT token.
Now that you have purchased your FCT tokens, move them to a Factom wallet.
Step 3: From Exchange to Factom Wallet
Factom currently only supports desktop wallets on Windows, Mac, and Linux platforms. The desktop wallet is a GUI wallet, and is known as the Factom Enterprise wallet.
You can run the wallet locally or online, but you may need to wait for synchronization with the blockchain. (This can take some time, so please be patient.)
Factom Wallets
There are not many wallet options currently available for holding FCT tokens. Factom cryptocurrency is also in the pipeline of the two popular multi-currency wallets – Exodus and Jaxx.
However, enough options are available for the early adopter.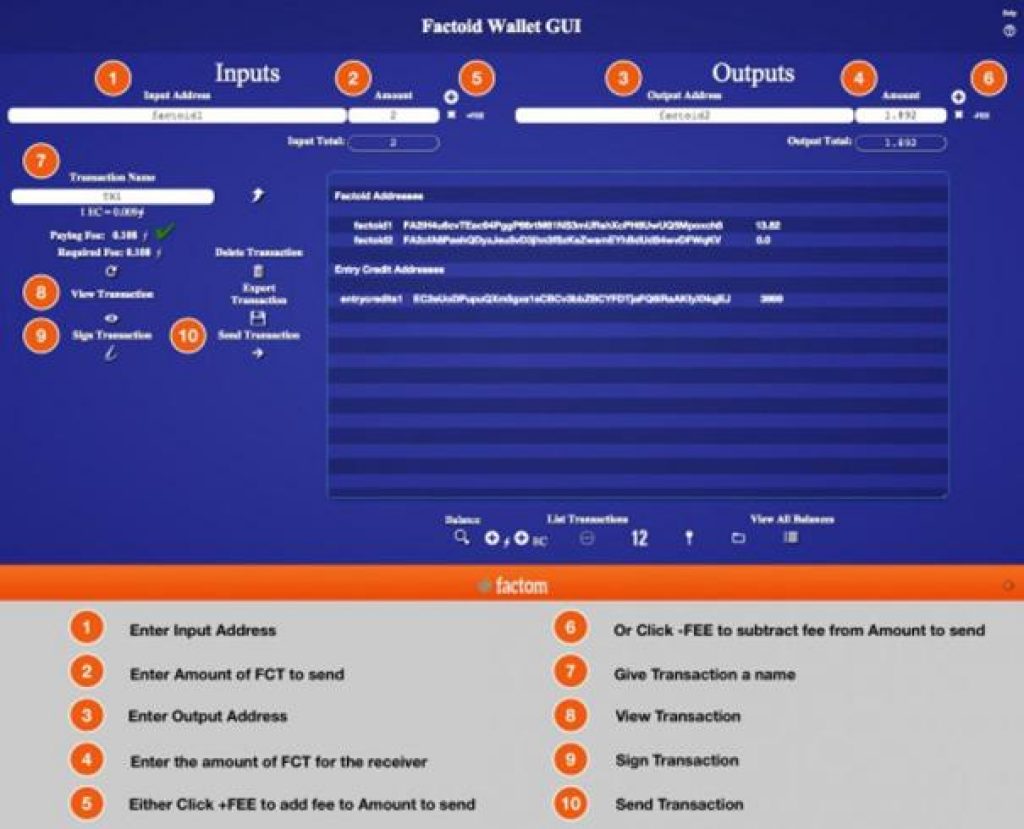 The following options are currently available for storing Factom:
Paper Wallet – You can make a Paper Wallet using this guide on FactoidPapermill (https://www.factom.com/devs/docs/howto/use-factoidpapermill) if you are comfortable with them. FactoidPapermill is available for Linux, Mac, and Windows. It is important to note that by using this option, you won't be able to download a traditional printable version of the paper wallet. However, this option will allow you to generate public and private factoid addresses. These addresses can be written or printed onto a piece of paper.
Desktop Wallet – You can download your wallet from this link (https://docs.factom.com/#install-factom-federation-ff), and follow this official step by step installation guide from here (https://docs.factom.com/#install-factom-federation-ff). The Factom Enterprise wallet is available on Windows, Mac, and Linux platforms.
Exchanges –Factom can also be stored at different exchanges (mainly Bittrex and Poloniex). However, it is not recommended storing your Factom for long on exchanges. If you are trading, then you can store for 1-2 days.
Factom's Future
The development of the Factom platform and Factom cryptocurrency are both performing extremely well. Since the start of the year, there was a 700% increase in the price of each unit of Factoid (FCT), so its future is looking promising.
I feel Factom's potential is highly undervalued, and it will burn more Factoids (FCT) as the Factom platform matures. This will inevitably raise prices in the long run.
Thanks to the numerous grants and funds from various individual institutions and investors, Factom's future is secured. Here are some notable funding moments:
$500K grant from the Gates Foundation.
$1 million in crowd sale in July 2015.
In February 2017 United States DHS granted Factom $200K.
In April 2017 secured $8 million in Series A funding.
This start is looking promising. Also, the Factom's team is working hard to meet its three milestones since the inception of the project.
Milestones
Milestone 1: Central Server Model (July 2015) – Milestone 1 was the go live date of the Factom network. At this point it was a centralized platform controlled by Factom because there was one server run by Factom in their office. The first factoid wallet was very basic, but it allowed applications to be built upon Factom's protocol.
Milestone 2: Factom Federation (December 2016) – Factom has released Factom Federation Testnet (FF) Release Candidate 1 (RC1), which was formerly referred to as M2. This introduced decentralisation of the servers, with there being 9 audit servers and 9 federated servers. At the time of writing this article the servers are hosted by Factom. However, once the network is completely stable, they will be hosted by third parties. This will ensure complete decentralisation. The Milestone 2 network can handle many more magnitudes of transactions and has blazing fast speeds. It also supports multiple blockchains including Ethereum and Bitcoin, and provides a more robust network, as well as new tools in its development suite/public test-net. Visit here(https://www.factom.com/blog/factom-launches-federated-testnet) to find more technical details.
Milestone 3: Election Protocol (12-16 months later) – This is the last and final milestone and will increase the number of servers to 32 federated servers and 32 audit servers on an electoral format to ensure good behavior. It will be truly democratic and decentralized as it places the control of the federated servers into the hands of those buying Entry Credits. Once Milestone 3 is reached the servers will generate 73,000 new factoids per month to balance the supply. Until then there is no increase in supply.
Conclusion
Factom is changing the way companies can store and protect records forever. Hacks into large companies such as JPMorganChase, Sony, and Target are becoming more frequent. This makes data and information increasingly more vulnerable.
By using a decentralized database with blockchain technology and moving away from a centralized database, the records that companies keep could be safe and secure without any risk. Cryptocurrency enables a business to have full control over all records which are hashed into the system. Factom regularly analyses and assesses all records and quickly identifies and alerts the user to any security breaches that may be recognised.
Factom is also pushing to make the storage of records safe and honest. This could revolutionize business practice as we currently know it. Also, the Factom data layer alongside the blockchain technology could be used within many different industries to impact our own personal lives.
This method of record storage could dramatically decrease the possibility of our own identity or financial records being stolen. This could help to wipe out corruption and fraud forever. There is scope to change the way how we can implement a voting system across the world and the way we keep our medical documents. This would help to wipe out corruption.
Factom's products could make the world a safer and more trustworthy place, and could stop hackers from ever being a problem.
Factom is a technology that has enormous potential and real-world use that solves many important issues in regards to trust, immutability and data.
Resources
Factom's technology is not that straight forward to understand, and I tried covering important high-level aspects of the project. Use these links if you want to deep dive into Factom:

CaptainAltcoin's writers and guest post authors may or may not have a vested interest in any of the mentioned projects and businesses. None of the content on CaptainAltcoin is investment advice nor is it a replacement for advice from a certified financial planner. The views expressed in this article are those of the author and do not necessarily reflect the official policy or position of CaptainAltcoin.com