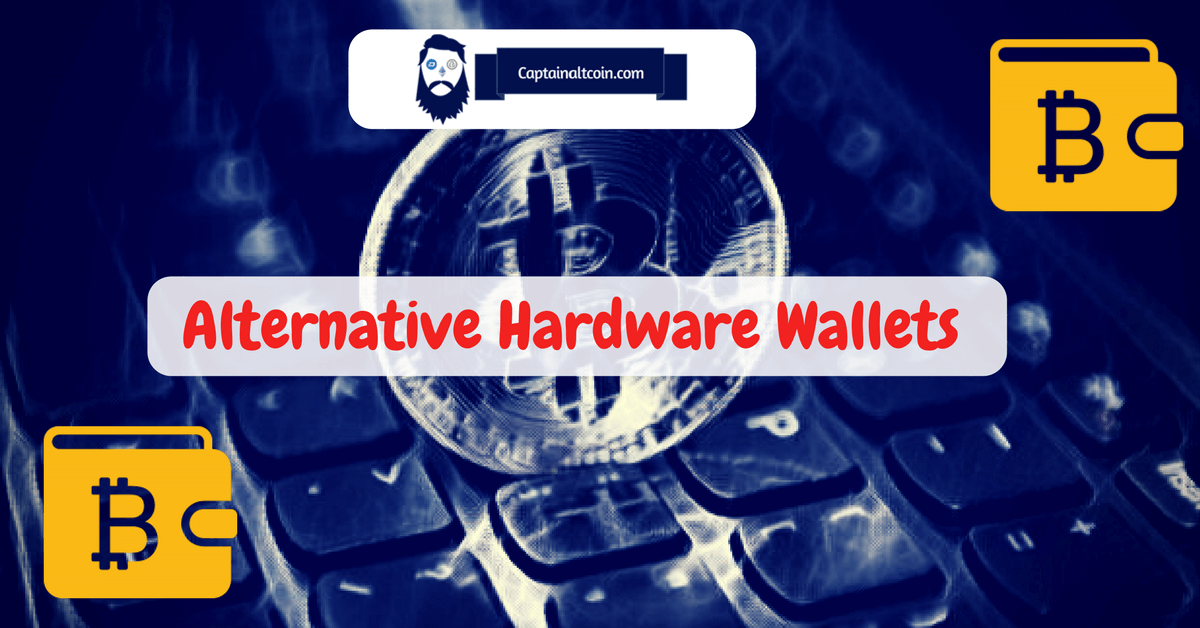 So, you've purchased Bitcoin and – hey – it's shot up in value. This is great news for you. But now what? If you've made a serious profit, you might be wary of stashing it in an online wallet or leaving it on an exchange such as Coinbase. There are a couple of ways you can store your precious bitcoins securely by utilizing cold storage options like hardware wallets and a paper wallet.
The most secure alternative is to take your currency offline altogether with a "hardware wallet", which is a purpose-built, secure device for cold-storing the private keys that allow you to spend your digital currency. The first step to using Bitcoin is a Bitcoin wallet. You can't receive, store, or spend bitcoins without a wallet.
Currently, there are only a few well-known hardware wallet manufacturers that produce cryptocurrency storage devices such as Trezor, Opendime, Ledger, and Keepkey, and they all employ open-source code (meaning that the devices would not be rendered obsolete even if the companies were to fold).
However, it is important to note that there are two other hardware wallets that have entered the market. They are called Bitlox and Digital Bitbox.
Two More Ways You Can Store Your Valuable Bitcoins
Bitcoins are extremely valuable. When it comes to storing and managing your bitcoin you need something reliable, and you need a product that you can access anytime and from anywhere. That's the reason why hardware wallets have become a hot commodity these days. Hardware wallets are secure, offline devices and they store your private keys offline so they can't be hacked. This means that a hardware wallet can even be used on a malware infected computer.
As the price of BTC rises and many cryptocurrency investors want to keep their funds safe, demand for these devices has also followed suit. Over the past couple of years, there have been a few companies that offer hardware wallet solutions and two of the most popular are the Ledger Nano S and the Trezor. Now there are a couple more competitors joining the cryptocurrency storage market. They are offering more hardware options to appease the current consumer demand. Here are 2 –Bitlox and Digital Bitbox.
BitLox
The BitLox Bitcoin Hardware wallet is the Rolls Royce of Bitcoin wallets, and it was produced by the Hong Kong based Bitlox Limited. BitLox is a small handheld device that offers not only privacy but several security options as well. You can use this wallet to get directly into your Bitcoin account. At the moment, BitLox only works with Bitcoin. However, it is soon to expand to other cryptocurrencies.  BitLox comes with a USB cable for device connection and is roughly around the same size as a credit card.
The company offers three different types of Bitlox hardware wallets that vary in price. The price for a BitLox Advance starts at $98, for BitLox Ultimate starts at $14, and for the BitLox Extreme Privacy Set begins at $198.
The BitLox Advance is the most basic BitLox wallet available and it comes with the BitLox device that can store 100 wallets with unlimited addresses per account. The device also offers a plausible deniability hidden wallet and also works with both BIP32 and BIP39 seed phrases. The Advance Wallet comes with the 5-year warranty.
The 'Ultimate' BitLox claims to be "indestructible" as the wallet comes in a case that is constructed from a single block of titanium. The Ultimate also offers a five-year warranty and comes standard with the ability to store up to 100 wallets with 50 of them being completely hidden.
The Extreme Privacy Set is all about protection because it provides customers with a titanium grade BitLox but also comes with a military grade USB vault. Additionally, BitLox added some more focus on privacy as the set comes with Tails OS preinstalled, so when it comes to protecting your coins, this has you covered. It also offers a five-year warranty.
All wallets come standard with a manual, a leather case, one desktop USB cable, one travel USB cable, and a stylish presentation box. The device is top notch, and also enables a Bluetooth connection so BitLox can be tethered to a Smartphone.
BitLox is a bit more expensive than the Digital Bitbox or other hardware wallets on the market, but it offers some benefits that competitors don't provide like the titanium encasement and the vault.
BitLox seems to be the only company that has thought and planned different scenarios to keep your coins safe, and it doesn't matter if you are home alone or in a public area, you can rest easy transferring your coins safely and securely.
Digital Bitbox
Digital Bitbox is the latest bitcoin hardware product. This device is provided by the Swiss-based company, Shift Devices AG.
The Bitbox doesn't use any cables as it plugs in much like the Opendime bitcoin stick.
The device is also smaller than most hardware wallets on the market. The wallet also comes with its own native software app that's simple to use and avoids the security risks of browser-based extensions. You can avoid the security risks of browser-based clients thanks to the Digital Bitbox native software client. Additionally, the Bitbox comes with a recovery micro SD card. This card provides a secondary backup and can allow instant transfers between wallets. Also, private keys will never touch your computer or the internet. This makes Digital Bitbox a perfect cold storage solution.
Additionally, the Digital Bitbox can store multiple cryptocurrencies like Bitcoin, Ethereum, Ethereum classic, and associated ERC20 tokens, with plans to add more coins in the future.
Bitbox also provides FIDO Universal 2nd Factor (U2F) authentication to access funds, just like every other hardware wallet on the market. The device supports Tor and Tails OS integration for those looking for better anonymity, which means that it can be set up to be more privacy centric.
Moreover, Bitbox is a hardware wallet that enables "out-of-the-box" multi-signature features that give you an extra degree of protection over your funds. The Bitbox also has unique features like plausible deniability. This feature allows you to enter a different password to setup hidden backups, or access a secret wallet.
All Digital Bitbox code, including the firmware, bootloader, desktop, and mobile apps are open source in order to ensure there's nothing shady going on.
Digital Bitbox is priced at €54 ($64) and you can pay using bitcoin or credit cards. The price is comparatively less expensive than some competitor models. Also, you may need to add import duties and VAT to that price.
The package includes the Digital Bitbox device and a micro SD card. Demand for Bitbox has been significant, and the company is currently out of stock, but the manufacturer details that newly produced Digital Bitbox hardware devices should be ready this month.
Digital Bitbox is a one piece device that is portable and durable. No cables or batteries are required. Your private keys are kept on a high-security chip that has a 50 year lifespan and prevents physical extraction. To avoid unwanted attention, Digital Bitbox comes in a subtle case, which is made from the same material used in bulletproof glass.
Read also:
Archos Safe T Mini review
Different Hardware Wallets for Bitcoin Enthusiasts
Both companies have been around for over a year and they both focus on privacy centric features like Tails integration and provide a hidden wallet feature. Both companies offer different benefits than some of the most popular hardware wallets on the market.
A hardware wallet made of titanium that claims to be indestructible as well may entice people interested in BitLox's features. With Digital Bitbox bitcoin enthusiasts might also be interested in the added Micro SD card with multisignature and Tor support.
---
If you are hardcore crypto-fanatic, you probably hold some of these coins as well. Here are the wallet solutions for them:

CaptainAltcoin's writers and guest post authors may or may not have a vested interest in any of the mentioned projects and businesses. None of the content on CaptainAltcoin is investment advice nor is it a replacement for advice from a certified financial planner. The views expressed in this article are those of the author and do not necessarily reflect the official policy or position of CaptainAltcoin.com