What is Deribit?
---
Netherlands-based exchange Deribit is completely focused on options and futures trading, spot trading is not available on this exchange.
The exchange offers up to 100x leverage when trading Bitcoin futures which is one of the largest leverages in the crypto market (Primebitoffers 200x as the top provider in terms of leverage). Even though other bigger crypto exchanges like BitMex, Bitfinexand since recently Binancedominate this section of crypto trading, Deribit is growing in popularity thanks to their user-friendly interface and trustworthy team. In the recent months, Deribit is dominating the options market in terms of trading volume and is considered a legit options trading platform.
Where is Deribit located?
---
Deribit (derivative + bitcoin =deribit) was started in 2016, and is officially registered as Deribit B.V. on an address at Stationsstraat 2 B, 3851 NH, Ermelo, The Netherlands.
Deribit Team
---
The platform is run by CEO John Jansen and CTO Sebastian Smyczynski and prouds itself as one of the rare cryptocurrency exchanges that has never been hacked. This is the result of the Deribit team placing a heavy emphasis on security.
Between 95 and 99% of Deribit's users Bitcoin is held in cold storage which deters hackers from attacking the exchange since, even in the case of a successful attack, they would steal only small amounts of coins. The downside of this system is prolonged clearing time but in a tradeoff between security and a bit of waiting time, we would all choose security of our funds.

Deribit is quick to emphasize their superior matching engine that was in development for more than two years and is designed to offer extremely low latency trading, less than 1 millisecond. Deribit advises experienced traders looking for the lowest possible latency trading to set up a server in Strasbourg, France as that's where they keep their own servers.
Deribit and regulators
---
Despite full team transparency, all funds on the platform can be loaded only with Bitcoin and Ethereum and all transactions are processed solely in Bitcoin and Ethereum. Deribit is currently working as an unregulated platform as European regulators haven't categorized cryptocurrencies as financial instruments and legal framework is still work in progress.
Key features
---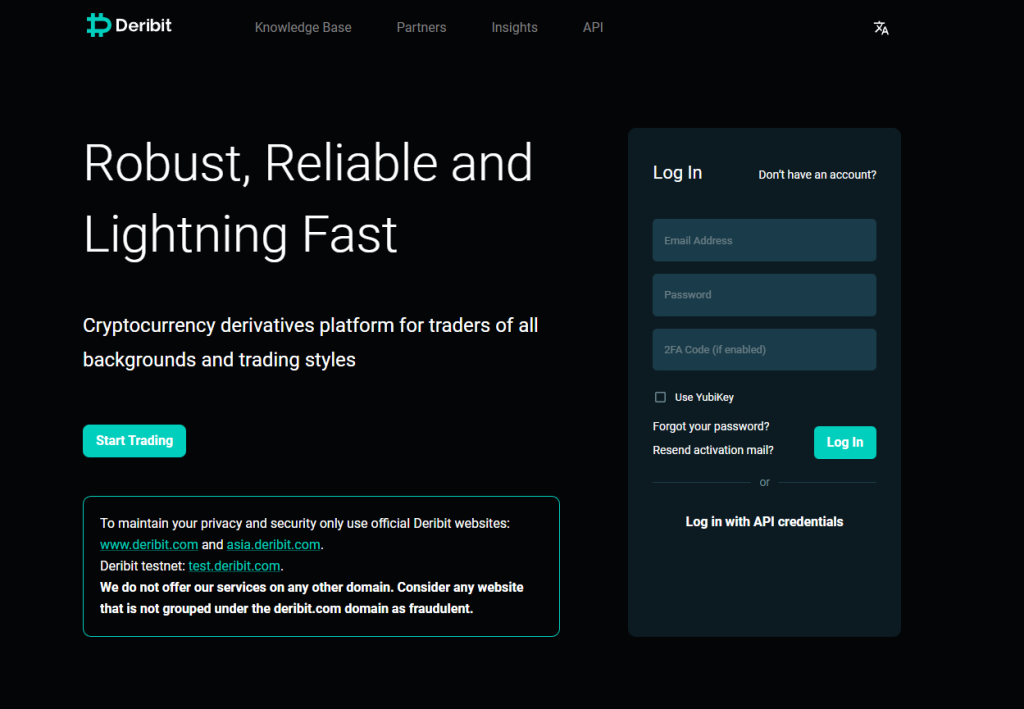 Functionality – Deribit is a web-based trading platform with streamlined and relatively user-friendly interface with standard trading options like order book, trading history, and recent options trades. The exchange also features charts for futures trading, index, and volatility and a host of different statistics, technical analysis indicators, and key data related to futures trading and options contract trading. They also have mobile apps packed with all options just like the web-app.
Technology – The exchange prouds itself with its match order machine that enables users to trade with less than 1MS latency. Deribit also supports trading bot software such as HaasOnline, BotVS, and Actant.
Trading Options – Deribit offers no spot trading and is exclusively focused on Options contract and a Futures contract trading. The exchange specializes in offering leveraged trading at up to 10x leverage, while BTC futures are available at up to 100x leverage. Traders can also hone their skills with Deribit's free demo account on https://test.deribit.com/ that gets loaded with 10 test BTCs. However, Deribit US customers are prohibited to use their platform. You can besides Bitcoin and Ethereum, trade Litecoinand USDC now
Customer Support – The site is translated in a couple of major world languages, from English, Spanish, Chinese, Russian, Korean, Japanese to Turkish.The Deribit team can be contacted via their email support system but also their social media channels like Twitter account or Telegram group. They also have extensive help center with FAQs and their own YouTube channel where they offer tutorials and guides around Deribit and futures/options trading in general.
Deribit mobile apps
---
Deribit has mobile apps for both major mobile platforms: iOs and Android.
Futures and Options trading on Deribit
---
Trading Futures
---
Futures contracts are set at $10 with the 1:10 as the default leverage even though the leverage can go as high as 1:100. The mid crypto market price is an index called the Deribit index and is calculated from the average prices from 5 major exchanges – Bitfinex, Bitstamp, GDAX, Gemini, and Kraken. Similarly, the expiration price also uses the average of the Deribit index but is calculated from the prices indicated for every 6 seconds starting from 30 minutes prior to the trading day settlement.

When you outbid the order book, you have placed a market order which can be edited or canceled the order under the open order tab. However, Deribit offers no options for stop loss or take profit and you can't close your position under the open order tab. To place your stop loss, take profit level or close your position, you must do it from the trade slip.
Trading Options
---
Deribit is one of the few platforms around that offers Bitcoin options as this is a novel trading category with little liquidity and interest from traders, for now. While the trading accounts are initially set up with a margin requirement of 10%, you are required to maintain a 3% margin on your position. If your margin falls below the maintenance margin, you will be liquidated until the margin balance surpasses the maintenance margin.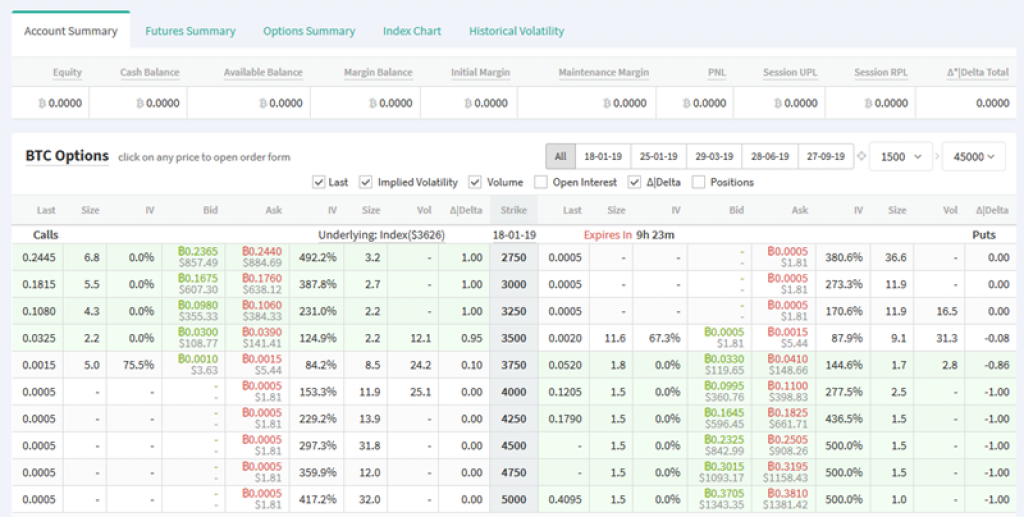 Deposit and Withdrawal Options
---
Deribit allows only BTC as a means of funding the account. Actually, it is purely crypto focused, just like BitMEX- there is no support for any kind of fiat currency.
Depositing is easy, if you ever did it on any other exchange, you won't have issues with Deribit.
To deposit your Bitcoin, simply log in to your account and get the deposit address. When you have processed the transfer, Deribit will only require one confirmation before allowing you to begin trading.
The withdrawal process is very much the same, and you can access the "Withdrawal" tab via "My Account". Next, provide the address of the wallet that you want to withdraw to. After you entered the amount to be withdrawn, the fee will be automatically calculated.
Deribit Exchange Supported Currencies
---
It's important to highlight what we already said: Deribit does not accept Fiat deposits, they only accept deposits in Bitcoin. Traders who want to use Deribit will have to buy Bitcoin and Ethereum first from an exchange like Coinbaseor Cex.io.
As for the trading pairs – you can only trade Bitcoin and Ethereum, Litecoin, and USDC paired with USD.
Deribit Fees
---
Deribit works under a maker/taker fee system.
For their perpetual contracts they charge a 0.075% taker fee and 0.025% maker fee.
Their futures contracts incur a 0.05% taker fee and a 0.02% maker rebate.
For options there is a 0.04% fee on the underlying asset although Deribit states that the fee can never exceed 12.5% of an option's price.
Liquidation Fee
---
0.15% for futures trades (0.1% will go to the insurance fund)
0.1% of the underlying option contract
Deliveries
---
Deliveries incur half the fees of taker orders, therefore:
Futures: 0.025%
Perpetual Futures: 0.025%
Options: 0.02%
Here is a tabular overview of Deribit and its competitors in terms of their fee systems:
Is Deribit Safe?
---
Deribit has no KYC requirements, a rare sight in today's crypto climate. You just sign up for an account and deposit BTC and start trading – the whole process can take as long as one bitcoin transaction (10 minutes).
The reason why Deribit doesn't require any verification is that the platform is BTC exclusive and has no obligations towards regulators like other platforms that deal with fiat money. Moreover, Deribit is a legit options trading platform.
Deribit has an insurance fund that should cover all losses of bankrupt traders. Any liquidation orders are charged 0.50% transaction fees. The extra proceeds compared to default trading fees are added every hour to the insurance fund.
Any liquidation orders for ETH are charged 0.90% transaction fees. The extra proceeds compared to default trading fees are added every hour to the insurance fund.
Is Deribit beginner-friendly?
---
By virtue of the service they offer, Deribit is not suitable for noobies. Derivatives are highly complex and risky section of financial world and only seasoned traders dare to tackle this world.
Users can increase the security of their accounts with two-factor authentication (2FA) and delayed withdrawals on newly-added wallet addresses.
However, through their aforementioned testnet, newcomers can gain some exposure and learn basic skills with this type of trading. So, if some of them decide to test their skills with real money, Deribit's interface will be familiar to them.
Their channel on YouTube is a great learning resource and also their Telegram group or integrated chat that is accessible directly from the platform itself.
Deribit alternatives
---
If you are not fond of Deribit, here is a list of potential crypto margin exchanges that can be good alternatives:
Binance review
BitMex
PrimeXBT review
PrimeBit
Bitfinex
Kraken
PROS
One of the few exchanges that offers leveraged options and futures trading on both Bitcoin and Ethereum
Potentially lucrative affiliate program
Mobile app support for Android and Apple
Low withdrawal fees
CONS
No Fiat support, all deposits must be made in Bitcoin
Limited number of supported currencies
Minimum order requirements are high at 1 ETH or 0.1 BTC

CaptainAltcoin's writers and guest post authors may or may not have a vested interest in any of the mentioned projects and businesses. None of the content on CaptainAltcoin is investment advice nor is it a replacement for advice from a certified financial planner. The views expressed in this article are those of the author and do not necessarily reflect the official policy or position of CaptainAltcoin.com