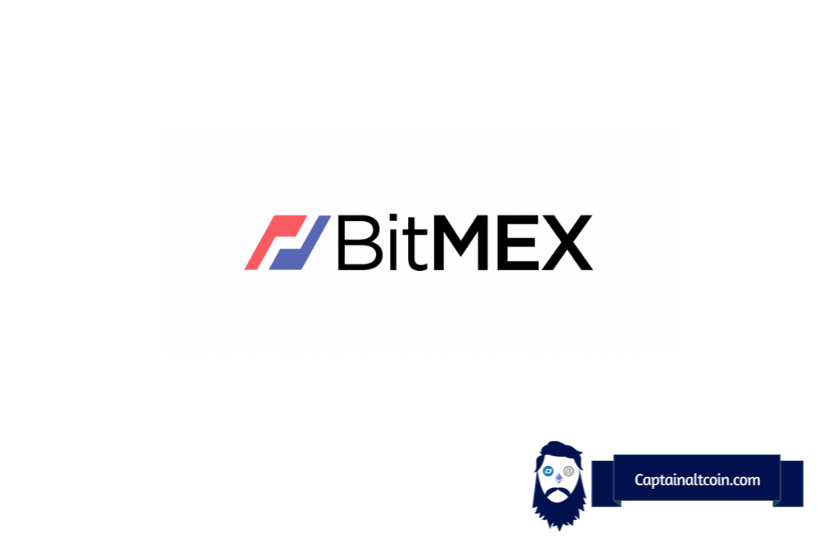 Bitcoin Mercantile Exchange, or BitMEX, is a margin trading platform owned by HDR Global Trading Limited. HDR was founded in 2014 by three experts in the market – Arthur Hayes, Samuel Reed, and Ben Delo. Since its inception, BitMex went on to become one of the leading margin trading exchanges and one of the most known cryptocurrency exchanges in general.
The company is based in the Republic of Seychelles and they offer a margin-trading service for experienced, professional Bitcoin traders.
BitMEX launched in 2014 and is headquartered in Hong Kong.
In case you don't like BitMex, you can leverage trade on eToro, Plus500, Binance, ByBit or Deribit, and PrimeXBT – all legit alternatives to BitMex.
Up to 100x leverage is available to users for Bitcoin, up to 50x for Ethereum, and up to 33.3x for Litecoin. There is also a selection of altcoins for spot and futures markets.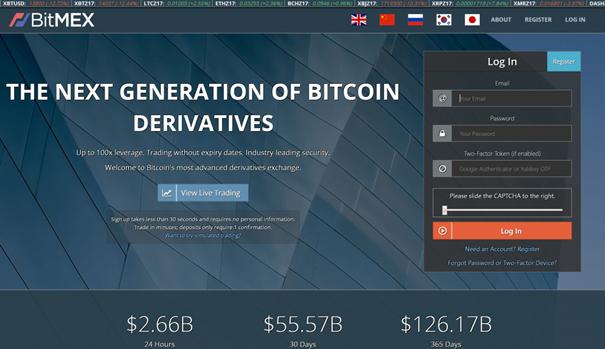 In this review, we'll take a look at BitMex features, its operating methods, and ultimately whether the platform suits your trading style.
In the last couple of years, Bitmex got some competition to deal with – primarily from Bitfinex and PrimeXBT but also "regular" exchanges like Binance and Kraken adding leverage trading to chop away from Bitmex's pie.
Who Should Use BitMex?
---
For seasoned professional traders who would like to trade cryptocurrency futures and swaps, BitMex is a great option. On the other hand, the BitMex interface will pose a steep learning curve for the casual trader.
Trade coins on Bitmex
Supported Cryptocurrencies on BitMex
---
BitMEX is a cryptocurrency-only service, meaning that deposits and withdrawals via fiat currencies wire transfers are not allowed. The exchange supports the following cryptocurrencies:
Bitcoin (XBT)
Ethereum (ETH)
Ethereum Classic (ETC)
Zcash (Zec)
Litecoin (LTC)
Monero (XMR)
Ripple (XRP)
Factom (FCT)
Tezos (XTZ)
Bitcoin/Yen (XBJ)
EOS Token (EOS)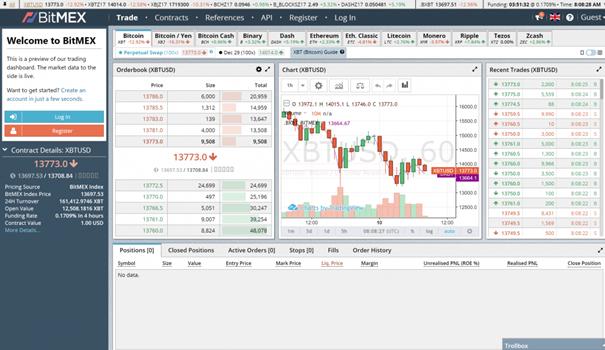 Bitcoin trades have both spot and futures trading options. On the other hand, all other currencies have only futures markets. They accept no fiat deposits and use Bitcoin as the engine for their platform, which means that profits and losses are shown in Bitcoin even when you're working with altcoin contracts. It's important to take this into account when you choose your trading platform.
For now, BitMex only has adequate liquidity on Bitcoin trading, while the liquidity of altcoins isn't always reliable. Also, you'll need to make deposits and withdrawals in Bitcoin.
Types of contracts available on BitMex
Types Of Contracts Available On BitMEX
---
There are four different derivative products, and types of contracts available to the experienced trader on the BitMex platform and they are:
All trading fees charged for these contracts vary depending on which one you choose and we discuss them in our BitMex fees section.
BitMex Leverage
---
BitMEX provides 100x leverage on some of the listed pairs. It means that for every BTC your deposit, you can leverage it up to 100x and trade as if you have 100 BTC in your pocket.
BitMEX offers varying leverages for different cryptocurrencies and contracts. Here is their leverage break-up:
Perpetual Contracts: BTC only; up to 100x leverage
Upside profit contracts: BTC only; 1x leverage
Downside profit contracts: BTC only; 1x leverage
Traditional Futures: 7 cryptocurrencies; below are their leverage schedules:
| | |
| --- | --- |
| Bitcoin | 100x |
| Bitcoin Cash | 20x |
| Cardano | 20x |
| EOS Token | 20x |
| Ethereum | 50x |
| Litecoin | 33.33x |
| Ripple | 20x |
BitMex Fees
---
BitMex has very competitive fees and most users will find them almost negligible relative to the chunky profits to be made if you're a savvy operator.
The trading fees on Perpetual Swaps (and some of the futures) are currently -0.025% for the market makers and 0.075% for the market takers, so the marker actually grabs a little rebate on trades. Below is a tabular overview of BitMex's overall fees and BitMex leverage fees:

Bitcoin
Bitcoin Cash
Ethereum
Dash
Eth. Classic
Ticker
XBT
BCH
ETH
DASH
ETC
Initial Margin
1%
1%
2%
5%
5%
Maintenance
0.5%
0.5%
1%
2.5%
2.5%
Maker Fee
-.025%
-.025%
-.025%
-.025%
-.025%
Taker Fee
.075%
.075%
.075%
.075%
.075%
Settlement Fee
.05%
.05%
.05%
.05%
.05%
Leverage
X100
X100
X50
X20
X20
| | | | | | |
| --- | --- | --- | --- | --- | --- |
| | Litecoin | Monero | Ripple | Tezos | Zcash |
| Ticker | LTC | XMR | XRP | XTZ | ZEC |
| Initial Margin | 3% | 4% | 5% | 50% | 20% |
| Maintenance | 1.5% | 2% | 2.5% | 25% | 10% |
| Maker Fee | -.025% | -.025% | -.025% | 0 | 0 |
| Taker Fee | .075% | .075% | .075% | .25% | .25% |
| Settlement Fee | .05% | .05% | .05% | .25% | .25% |
| Leverage | X33.33 | X25 | X20 | X2 | X5 |
One important note is that there are additional fees for hidden / iceberg orders. A hidden order is used to pay the taker fee until the entire hidden quantity is executed. Once the quantity is complete, the order will become normal, and the user will receive the maker rebate for the non-hidden amount.
You can read more about BitMex fees through this link.
Overall, the fees make for an appealing read on BitMex, when compared to the most cryptocurrency exchange.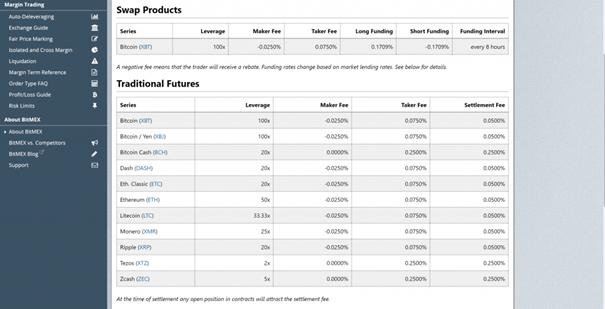 BitMex Deposits and Withdrawals
---
Deposits and withdrawal fees are free of charge, which is always very pleasing. Once you're done trading, you shouldn't be left with any hidden costs (other than the Bitcoin network fees).
Trade coins on Bitmex
BitMex Insurance Fund
---
This the fund, which BitMex set up to ensure that liquidation orders related to leveraged positions are filled. According to the media reports, it has increased to holding over 31,300 bitcoins or approximately $314 million in 2019.
This means the fund managed by the derivatives exchange BitMEX holds nearly 0.15% of the total supply of bitcoins. The fund has experienced a 50.7% increase in its holdings since the beginning of 2019.
BitMEX created the fund to give traders more certainty that they will receive their winnings which is not always a given on platforms that offer leveraged trading.
In leveraged trading, traders are allowed to put up bets on the price of an asset: it will either rise or fall in multiples (that could be as high as 100x) of the amount they deposited. The whole logic behind the fund is explained on the BitMex blog, below is an excerpt:
"Consider the following simplified example, where the platform consists of two customers trading against each other:
Trader A
Trader B
Direction of trade
Long
Short
Margin
1 BTC
1 BTC
Trade execution price
$3,500
Leverage
10x
10x
Notional position size
10 BTC
10 BTC
Current BTC price
$4,000
Expected Profit
$5,000
($5,000)
In the above example, the winning trader A expects to make a profit of $5,000, which is greater than the amount of capital the loser, trader B, put up as collateral for the trade (one Bitcoin is worth $4,000). As such, trader A can only make 1 BTC ($4,000) in profits, perhaps making him/her feel slightly disappointed.
Traditional Exchanges
---
Traditional exchanges like the Chicago Mercantile Exchange (CME) do not share this problem to the same extent as crypto-platforms such as BitMEX. In traditional leveraged trading venues, there are often up to five layers of protection, which ensure winners get to keep their expected profits:
In the event an individual trader makes a loss greater than the collateral they have in their account, such that their account balance is negative, they are required to finance this position by injecting more funds into their account. If they are unable or unwilling to do so, their broker may initiate legal proceedings against the trader, forcing the trader to provide the funds or file for bankruptcy. Each trader must use a broker, who may evaluate the balance sheet and capital of each of their clients, providing each client a custom amount of leverage depending on the assessment of their particular risk.
In traditional derivative markets, traders are not typically given direct access to trading platforms. Instead, clients access the market through their brokers (clearing members), for instance, investment banks such as JP Morgan or Goldman Sachs. In the event, that a trader endures losses and the debt cannot be recovered, the broker is required to pay the exchange and make the counterparties whole. From the perspective of the exchange, these brokers are sometimes referred to as clearing members.
In the event of a clearing member default, the centralized clearing entity itself is often required to make the counterparties whole. In many circumstances, clearing and settlement are conducted by a separate entity from the one operating the exchange. The clearinghouse often has various insurance funds or insurance products in order to finance clearing member defaults.
In the event of a clearing member failing and the centralized clearing entity also having insufficient funds, in some circumstances the other solvent clearing members are expected to provide capital.
Many of the larger clearing houses (and perhaps even the larger brokers) are often considered systemically important for the global financial system by financial regulators. Therefore in a doomsday scenario where it looks likely that a major clearing house could fail, it is possible the government may step in and bail out traders, to protect the integrity of the financial system. Traders and institutions often have massive notional positions (multi-trillion of USD) hedged against other positions or instruments, typically in the interest rate swap market. Therefore it is crucial that the main clearing houses remain solvent or the entire financial system could collapse."
CME, the world's largest derivatives exchange, has roughly $22 billion in its safeguard system. And in cases where the safeguard fund isn't sufficient to cover the defaulted amount, the exchange can exert its power to ask participating clearing members to help finance the defaulting members. And in extreme situations, the government could issue a bailout to the defaulting institutions, especially when the event threatens economic stability.
Since participants in the crypto market don't have protection instruments and mechanisms like traditional traders, different crypto exchanges have developed different mechanisms to offer some level of security. For BitMEX, this is the insurance fund.
Supported Countries
---
BitMex itself is a registered company in the Republic of Seychelles but is available worldwide. Thanks to the cryptocurrency nature of the site, the exchange doesn't limit access to any locations. It's important to note that local laws may affect your use of the service. However, this is out of the company's control.
Customer Support
---
Generally, it seems like customer support at BitMex is amongst the most knowledgeable in the market. Their team is polite, courteous, speak English well, and they try to cater to the expanding market and attempts to take the pressure off their customer service.
Customer support is offered via an email ticket, and the support even responds to social media messages. The exchange has a great website that is packed full of useful information and features. They also offer a knowledge base that gives a slick rundown of the exchange and helps to educate users on complex trades.
Live updates fill the site too, and an announcement box keeps users up to date with any updates and issues. A live chat between traders is also available. This may not be a direct line to BitMex. However, it's still really cool to be able to interact with other Bitcoin traders from within the exchange.
Security information is loaded into the website. The exchange hasn't been hacked in the past and the withdrawals are processed by hand once a day for an added layer of security.
BitMex takes security very seriously, and you can quickly find out who owns the exchange and how they're keeping funds secure. Cold storage, multisig withdrawals that only partners can sign, and Amazon Web Services' security that is used to protect the servers with SMS and two-factor authentication, as well as hardware tokens are the highlights when it comes to security. BitMex also has a system for risk checks, and email notifications, and PGP encryption is used for all communication.
Is BitMex Beginner-friendly?
---
Not really. BitMex as a platform and their product itself are definitely not aimed at newbie users but rather at experienced, semi-professional, and professional traders.
Important Questions: Is BitMex safe? Is BitMex legit? BitMex Scam Reports
---
There are many complaints about the BitMex online, and users are mainly complaining about the complex website but also accuse the platform of trading against the users with flash price spikes and crashes that erase shorts/longs.
Here is one user report which alleges BitMex wrongdoings and trading against the users:
"Second, they do trade. Against you.
Your odds are not bad enough at almost 200:1, they have a bot trading against you, but that bot is not like any other bot — this bot knows your trades, your win percentage, how good you are, how much you're winning, when are you planning to sell… and… when is your liquidation point.
Ever wondered why you got liquidated and things were going so well?
Because…

Once You Enter The Trade, The Odds Change!
They see your trade. And what happens when you put 1 btc in and you get liquidated, who gets that money?
You bet it – Bitmex.
But their greed doesn't end there – because their system is profitable by itself, their margin requirement finances their business big fold, they have to trade against you and…
ban you every now and then when you start winning much.
"
Trade coins on Bitmex
Conclusion – BitMex Exchange Review
---
BitMex is a great choice for those who know what you're doing and want a market-leading cryptocurrency derivatives trading platform. On the other hand, this site is not the best fit for beginners.
The BitMex team uses their financial and web-development experience to create a slick platform that enables high-octane cryptocurrency trading. Live update features provide that little extra bonus in making sure you never miss out on crucial news. The competitive fees and the widest spectrum of trading services offered round things off to make the platform an attractive all-around package.
In case you want to compare BitMex with other exchanges, have a look at our guides where we do just that:
PROS
Low fees
Futures and derivates trading
Many advanced features are available
Nice trading platform
Maximum leverage of 1:100 is available
CONS
Not for beginner traders
No fiat deposits/withdrawals available

CaptainAltcoin's writers and guest post authors may or may not have a vested interest in any of the mentioned projects and businesses. None of the content on CaptainAltcoin is investment advice nor is it a replacement for advice from a certified financial planner. The views expressed in this article are those of the author and do not necessarily reflect the official policy or position of CaptainAltcoin.com