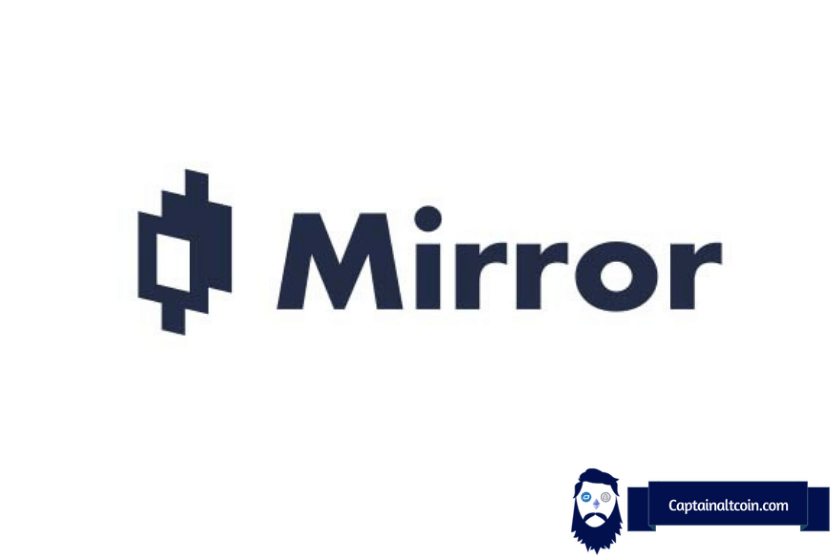 What is Mirror Protocol
---
Mirror Protocol is a project used to create synthetic alternatives to real-world assets in simple terms. These synthetic assets are called mAssets and mimic exactly the price of the asset they have been bound to and can, of course, be traded on secondary markets such as Terraswap AMM and Ehtereum's Uniswap. The project is from a company named Terraform Labs.
mAssets currently mirror US equities and ETFs but likely be added in the future.
Mirror Protocol is a decentralized project that is governed by the community via the MIR token that is also used for staking.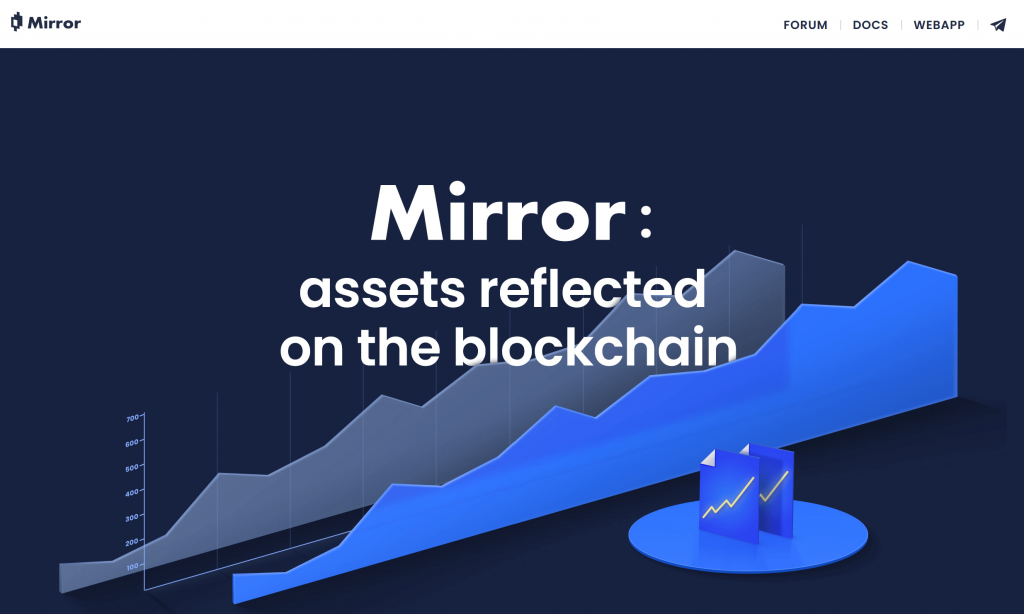 Fundamentals
---
Use case
---
Mirror Protocol prides itself in being decentralized and community governed. Even though Terraform Labs founded it, they have no privileged function. The team at Terraform didn't even premine the token.
The project initially connected its ecosystem with the Ethereum Network to give users the possibility to trade on Uniswap. As the project grew, it also joined itself with the Binance Smart Chain (BSC). Today even the BSC community can create tokenized synthetic assets coined on Mirror Protocol.
All assets that are as of now on the platform are tokenized U.S. equities. However, this will not always be the case. Mirror Protocol gives users the possibility to create the synthetic equivalent of any asset. In the future, mAssets could include artwork, real estate, precious metals, commodities, fiat and cryptocurrencies, and a lot more. There has already been much talk and interest in the community about minting bonds, futures, and other derivatives as mAssets.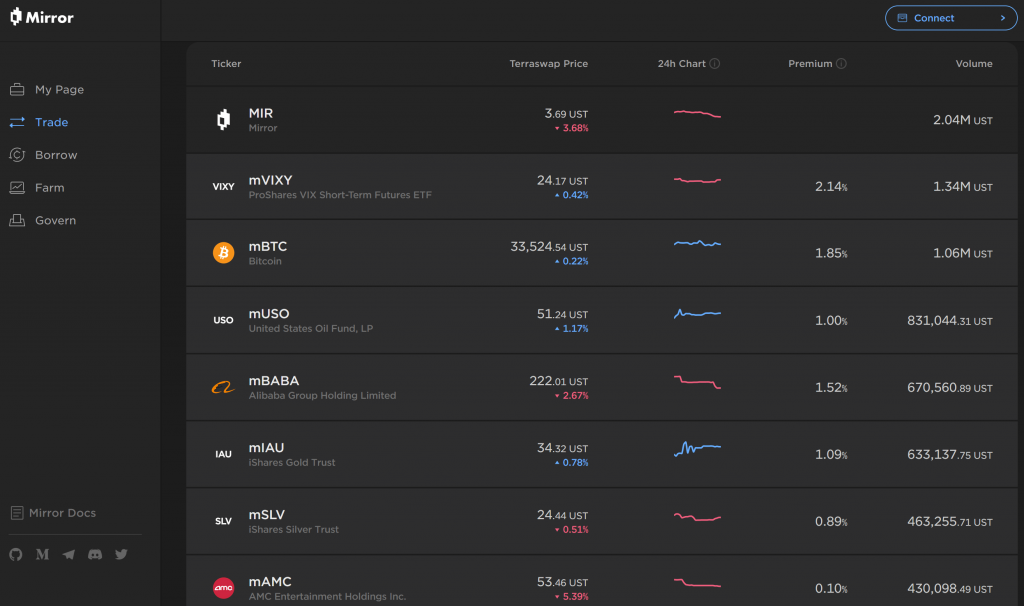 At launch, Mirror protocol had these 14 assets on offer: MIR (Mirror), AMZN (Amazon), TSLA (Tesla), MSFT (Microsoft), GOOGL (Alphabet), BABA (Alibaba), AAPL (Apple), NFLX (Netflix), TWTR (Twitter), IAU (iShares Gold Trust), SLV (iShares Silver Trust), QQQ (Invesco QQQ Trust), VIXY (ProShares VIX), and USO (United States Oil Fund LP). And in January 2021, a governance vote decided to also add BTC, ETH, ABNB (Airbnb), GS (Goldman Sachs Group), and FB (Facebook) to the original 14.
As the whitepaper states, almost anything with a price, be it an asset, could theoretically become a synthetic asset on Mirror. But what are the benefits of users trading mAssets instead of the actual underlying asset? Well, a lot:
Like we said before, synthetic assets created on Mirror Protocol are also called mAssets. So Tesla (TSLA) will be called mTSLA, and Apple (AAPL) becomes mAAPL, and so on. And mAssets all have the same shared characteristics:
mAssets are bought to be day traded but not only that. The synthetic assets can be held or used for adding collateral in creating new mAssets, creating synthetic stable pools, creating liquidity pools for decentralized exchanges, and a lot more.
And to top everything off, the smart contracts used by Mirror Protocol are incredibly safe, having been audited and secured by a cyber-security firm called Cyber Unit.
Tokenomics
---
Mirror Protocol has its own native MIR token, used mainly for governance, for staking, and as rewards for liquidity providers. In particular, the tips for liquidity providers come from the fees that users pay.


Mir operates with a fixed supply of 370,575,000 tokens that are slowly and gradually released over four years.
Today there are 67,236,656 MIR in circulation. And with a market cap of $335 million, the project is the 229th biggest.
Other than buying it on an exchange, MIR can be earned in three different ways:
Users can stake $LUNA, the native token of the Terra project
By providing liquidity to the MIR/UST pair.
By providing liquidity to any mAsset/UST pool pairs other than BNB
It should also be noted that Mirror Protocol did not offer a pre-mine or ICO. All of the starting circulating supply of 18.3 million MIR tokens was airdropped to holders of LUNA and UNI, projects with whom Mirror has connected.
Team
---

Mirror Finance was launched by a South Korean technology company named Terraform Labs. Founded by Kwon and Daniel Shin at the start of 2018, the firm launched its first project Terra (LUNA). And it has since seen massive success, as of today, is the 42nd biggest coin per market cap.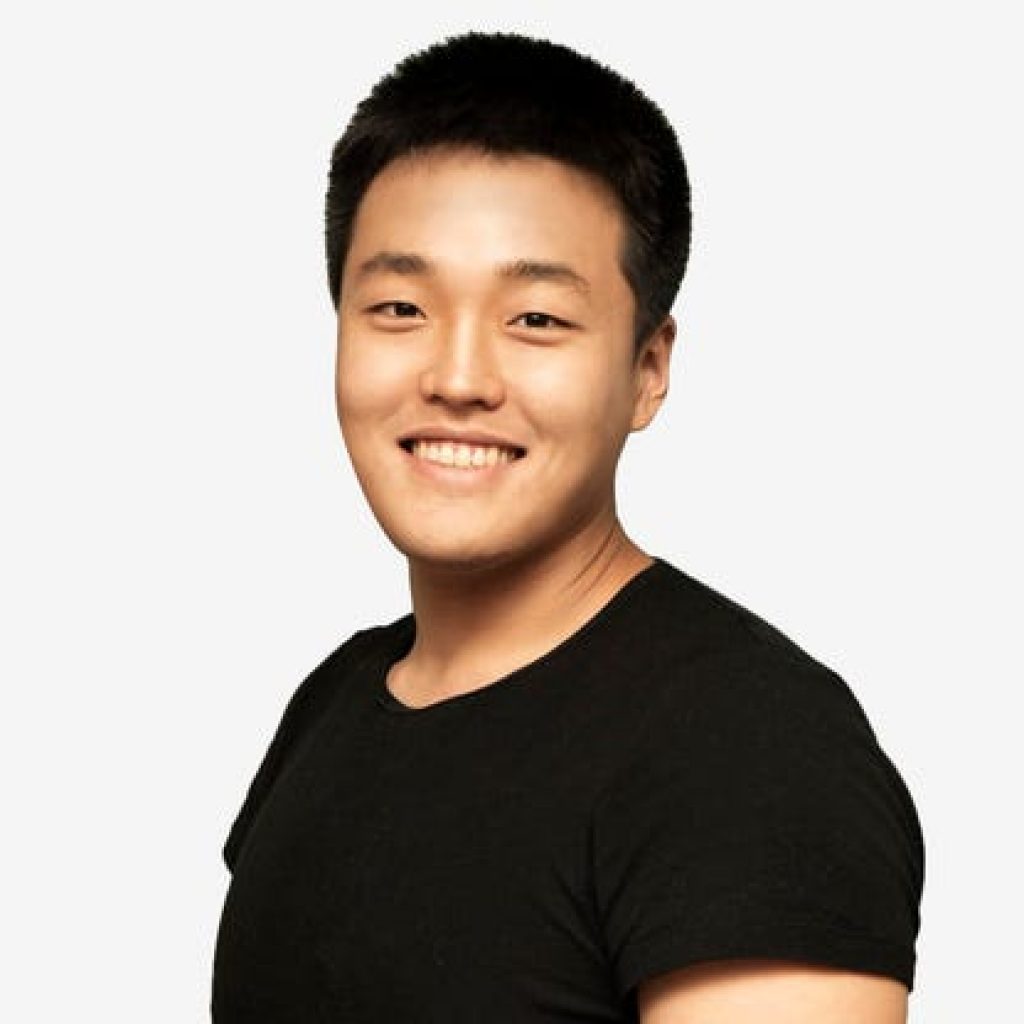 Soon, on the 4th of December 2020, they launched their second major crypto project, Mirror Finance. And their track record doesn't lie. MIR is in safe hands with the Shinat brothers and Terraform Labs.
Community
---
As we mentioned earlier, MIR being an utterly decentralized project means that the community plays a significant role in its governance. All users have to do to participate in the decision-making process is stake the MIR token. The more a user locks up in the system, the more voting power he has.
All members can propose new governance changes to the protocols. To do so, users have first to stake some MIR. And if the community rejects your proposal, the staked MIR will be burnt.
On the other hand, if the proposal is accepted, the Mirror Governance Contract automatically implements it.
The whole process is entirely decentralized. Not even the Terra Labs founders have any executive powers. Truly permissionless and completely decentralized, what crypto is supposed to be.
Proposals are discussed in the platforms Telegram group that counts more than 11 thousand members on Mirror Protocol's forum and subreddit. Proposals are displayed and can be voted for on their website.
Market price prediction
---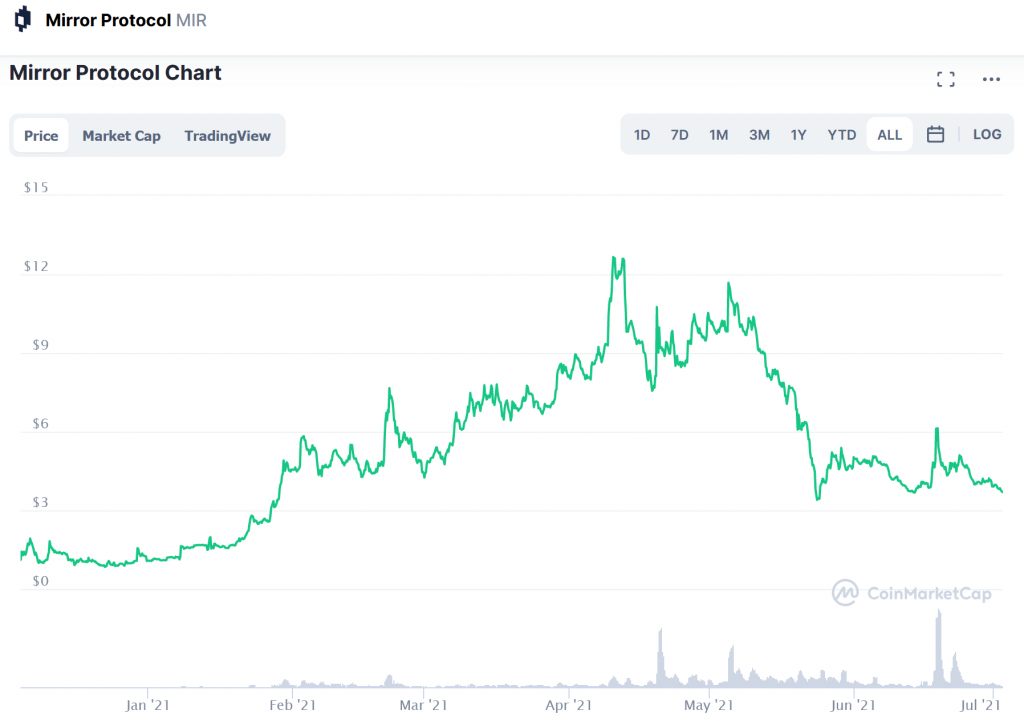 Wallet Investor
---
Wallet Investor is exceptionally bullish on MIR, and the website predicts that the coin will reach $30 and an incredible $125 in five years.
Digitalcoin
---
Digitalcoin comes in with a less bullish prediction, and the website has set its target for MIR at $6.71 and $13.4 in five years.
Gov Capital
---
Another bullish thesis from Gov Capital predicts that MIR will reach $23 this year and up to £130.58 in five.
My Mirror Protocol Price Prediction 2021
---
Even if Mirror Protocol only went public on December 3, 2021, the project already sees a lot of use and adoption. The market is loving their product.
Traders have a wide array of options to start using Mirror's services, either by using the web or mobile app. And I have to say, both have great designs.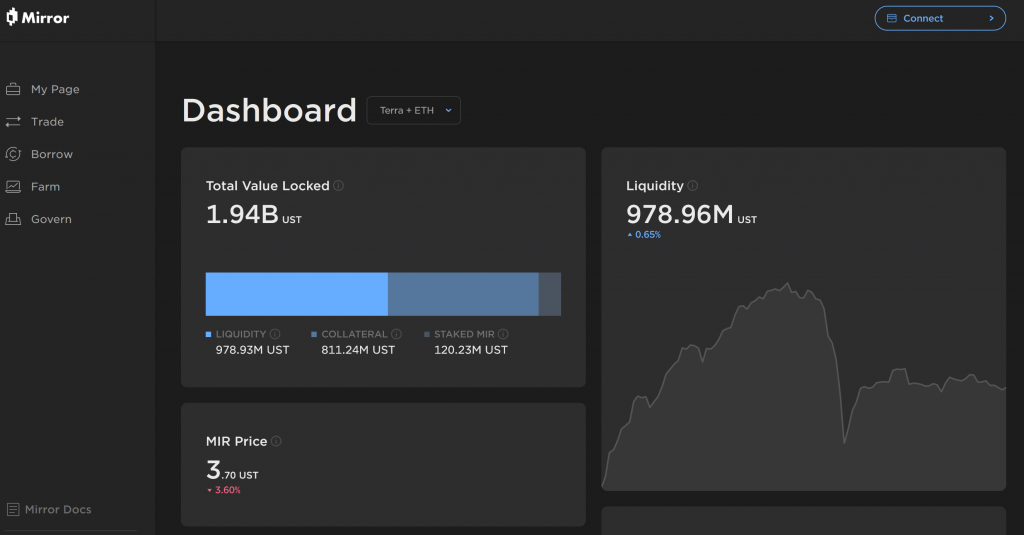 On top of that, the community is also very active and has seen much participation in the decision-making process and development of new updates, with new mAssets being often proposed on the forum.
One of the highly anticipated additions to Mirror is the Anchor Protocol product, a savings protocol on the Terra blockchain that offers yield powered by block rewards of major Proof-of-Stake blockchains. Anchor provides a principal-protected stable coin savings product that pays depositors a stable interest rate.
Mirror is a great project. Demand for the decentralization of asset trading, particularly with the younger generation, is always clearer, like the whole Gamestop and Robinhood fiasco proved. Platforms like Mirror Protocol could dramatically level the playing field and lower the entry barriers for new traders worldwide. Maybe, it's the start of a new era.
Mirror Protocol does face some serious competition from the much bigger Synthetix (SNX), to name one. Nonetheless, I think there is much space for MIR to grow in the future.
Since the whole market is tightly correlated, general sentiment is always the first thing to check before predicting the prices of individual coins. So, let us do a quick overview of the market. After a brutal crypto winter in 2022, the market has shown signs of life in 2023. Bitcoin has rallied 80% so far, putting it on track for its best year since 2020. Ethereum is also up 50% year-to-date. Several factors have fueled this crypto rebound. Most notably, Ripple Labs won a key legal victory against the SEC in June, leading to a short-lived price bounce. Renewed institutional interest has also provided a boost, with major firms like BlackRock pushing for Bitcoin ETF approval. Meanwhile, inflation has triggered a crypto comeback as digital assets gain appeal as an anti-inflation hedge. However, major headwinds persist. The total crypto market cap stands at $1.1 trillion after peaking at $3 trillion in late 2021. And volatility remains high. Bitcoin spiked to a 2023 high near $32,000 in May but has since pulled back below $30,000 amidst intensifying regulatory scrutiny. The SEC continues targeting top exchanges like Coinbase and Binance. While the worst of crypto winter seems over, the road to full recovery looks long. But institutional adoption continues growing steadily, and some analysts forecast Bitcoin topping $100,000 within a couple years. Regulatory actions remain crucial to watch. If cryptocurrencies can cement themselves as digital gold safe havens, macro trends could fuel their next bull run. But more clampdowns present downside risk. After a tumultuous 2022, 2023 shows crypto turning a corner - but uncertainty still looms large.
Below is a tabular overview of how will MIR develop in the short-term (for the next 90 days), according to our prediction model:
Next 30 days
Next 60 days
Next 90 days
Essential tools you need to succeed in crypto
Mirro Protocol Price Prediction 2023
Looking at the last quarter of 2023, the cryptocurrency market shows promising signs of a potential rebound. Bitcoin's 55% gain so far and renewed institutional interest indicate positive momentum. Despite regulatory challenges, the market remains resilient, with a total capitalization of $1.05 trillion. Anticipation is high for a positive and prosperous period ahead, with experts closely monitoring market trends and institutional crypto activity.
CaptainAltcoin's prediction model takes market sentiment into an account and reacts accordingly. Below is a month-by-month breakdown of the last months of 2023 and 2024:
MIR Price Prediction 2025
Our prediction model sees MIR reaching $ 0.0413 in 2025.
What will MIR be worth in 5 years?
The price of MIR in 5 years could lie around $ 0.0245, according to CaptainAltcoin's prediction model.
Mirror Protocol Price Prediction 2030 – 2040
What Mirror Protocol will be worth in 2030?
Our forecasting model sees Mirror Protocol reaching $0.1032 in 2030.
What Mirror Protocol will be worth in 2040?
Our forecasting model sees Mirror Protocol reaching $0.2064 in 2040.
Will Mirror Protocol replace / surpass / overtake Bitcoin?
No, Mirror Protocol will not replace or overtake BTC.
Can Mirror Protocol reach $10?
Yes, Mirror Protocol could reach $10 by the end of 2025.
Can Mirror Protocol reach $100?
No, our prediction model sees no possibility for Mirror Protocol to reach $100 in the short or mid-term period.
Can Mirror Protocol reach $1000?
No, our prediction model sees no possibility for Mirror Protocol to reach $1000 in the short or mid-term period.
Is Mirror Protocol worth buying?
We are advocates of moderately risky investing – invest most of your crypto portfolio in BTC (50%); 35% in a basket of big cap coins and the rest in small projects with huge upside. So, in this context, Mirror Protocol is worth buying.
Is Mirror Protocol a good investment?
Mirror Protocol is, just like all other cryptocurrencies, a risky investment. It does have higher probability of going up than down because of the good use case, well-designed tokenomics, active community and a solid team behind it.
How much will Mirror Protocol be worth?
For the short-term future, it could reach $0.0117. In the long-term (8-10 years), it could jump to $0.1032 or even higher.
Why will Mirror Protocol succeed and go up in price?
Mirror Protocol has a good use case, well-designed tokenomics, active community and a solid team behind it. All of these are a prerequisite for success and that is why our prediction model sees Mirror Protocol rising up to $0.1032 in 2030.
Why will Mirror Protocol fail and drop in price?
Crypto projects fail for various reasons. Some of the most common ones are: team goes rogue and abandons the project, regulators declare it illegal and press exchanges to delist it, lack of media attention, more successful competitors, lack of well designed marketing strategy, losing community support, potential vulnerability in the protocol, failing to achieve anticipated minimum developement activity on the protocol, failing to attract new developers to build on their platform.
How high will Mirror Protocol go?
Our forecasting model sees Mirror Protocol price exploding and reaching $0.2064 in a distant future.
What is the short-term prediction for Mirror Protocol?
Mirror Protocol will reach $0.0117 in the next 90 days, which is a 10.9% change over the current price which hovers around $0.0131.
Can Mirror Protocol make you a millionaire?
Yes, if you buy large enough sum of it. Do not expect to invest $100 and become a Mirror Protocol millionaire. But 100x price explosions are a common sight in crypto, so a $10k investment in Mirror Protocol could make you a millionaire.
Mirror Protocol Price Prediction Today - What will be the price of Mirror Protocol tomorrow?
Mirror Protocol will hover around $0.0139 tomorrow.
Why will Mirror Protocol succeed?
Because it does propose a valuable service, it already built a name for itself in its niche and suffered no security breaches or other types of compromises (economic, reputational etc). The token itself does provide utility and makes sense which is not the case with many other similar projects.
Why will Mirror Protocol fail?
Mirror Protocol might fail because of the fierce competition, dynamic technological field and rocket-speed developments in its niche. Another common reason this type of project fails is team issues – either the team splits or outright abandons the project.
Where to buy MIR and how to store it
---
The best place to exchange MIR are:
And the best places to store KAI are:
Read also our other predictions worth looking into this year:

CaptainAltcoin's writers and guest post authors may or may not have a vested interest in any of the mentioned projects and businesses. None of the content on CaptainAltcoin is investment advice nor is it a replacement for advice from a certified financial planner. The views expressed in this article are those of the author and do not necessarily reflect the official policy or position of CaptainAltcoin.com