Binance Review – Is Binance Legit and Trustworthy?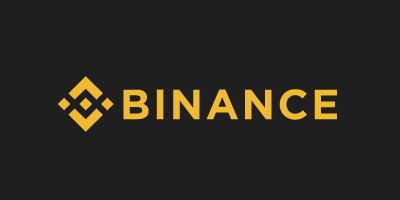 Binance Review – Is Binance Legit and Trustworthy?
low fees
a huge number of offered coins
high liquidity
futures & margin trading
staking & mining
lending & savings account
excellent mobile app
support for a lot of fiat currencies
Binance is one of the crypto unicorns and one of the largest cryptocurrency exchanges. CZ led exchange has taken crypto world by a storm and rocketed past its competition to take up the top spot in almost every cryptocurrency ranking out there. This Binance review will be a good starting point to get an idea of how huge the Binance ecosystem is and to understand its crypto space.
Whether you're just starting out with cryptocurrencies or you are a professional trader, Binance offers a wide variety of tools for engaging with digital asset markets. It's a straightforward process to purchase and sell hundreds of cryptocurrencies through the Binance platform. There are also numerous additional features that make the trading platform capable of handling complex trading operations, as well.
In this article, you are going to learn how to purchase, sell, spot trade, stake, and margin trade cryptocurrencies on Binance exchange.
What is Binance?
---
Let's start this Binance review by telling you where Binance is located: they have first relocated to Hong Kong from China and then moved to a small european island of Malta. This cryptocurrency exchange has been gaining momentum ever since entering the crypto stage. The platform gives users access to a comprehensive crypto toolset – it comprises all sectors of crypto industry: from trading tools, earning, mining, staking, lending and most recently Binance credit card.
The exchange was created by experienced professionals in the cryptocurrency space, and the most recognizable name behind this project is that of Changpeng Zhao, former CTO at OKCoin.
Binance was created after attracting funds via an ICO (Initial Coin Offering – creating a new digital asset, backed by the project), and it began live trading in July 2017.
The platform is known for its high liquidity, fast transaction processing as well as its low trading fees.
By offering both Basic and Advanced exchange interfaces, Binance is suitable for noobies and professionals alike.
Binance currently supports more than 15 languages including Chinese, English, Korean, Spanish, German, Arabic and Japanese language.
It is compatible with:
PC client
WeChat
HTML5
Android
iOS
Web*
Binance Ecosystem – all features:
---
Binance is a real behemoth when it comes to what you can do on their platform. Here is a full list, that keeps changing as they keep adding new options:
spot trading
futures trading
P2P trading
Earn (locked and fixed savings, DeFi staking and yield farming)
Pool (join their mining and staking pools and earn rewards for keeping your chosen blockchains safe)
Available Cryptocurrencies
---
Binance offers hundreds of cryptocurrencies with base currencies that include Tether, Ethereum, XRP, its native BNB token and Bitcoin. Here are some of the available coins:
Bitcoin
Ripple (XRP)
Bitcoin Cash
Bitcoin Gold
Ethereum
Ethereum Classic
Ark
Dash
EOS
Neo
OmiseGo
IOTA (Binance is one of the largest crpyocurrency exchanges where IOTA can be bought)
Litecoin
+100s more cryptocurrencies with new ones being added almost on daily basis.
Binance Trading Fees
---
Making deposits to Binance in any supported currency, creating an account online, and downloading the Binance mobile app is completely free. You may incur a fee when withdrawing funds from Binance. However, fees vary depending on the currency.
The fee structure at Binance is very competitive in the current environment. When trading on Binance, Binance charges a flat 0.1% fee on each trade. For a platform that doesn't use a fee schedule, this is definitely one of the lowest fees in the industry.
It even gets better once your trading volume exceeds certain thresholds as Binance keeps lowering their fees as your trading activity goes up.
Binance has issued its own token, BNB – click here to read more about it and its wallets. This token can be used to pay any kind of fees incurred on the exchange. If you pay using BNB, you currently receive a 50% discount on the trading fee, 25% during the second year, and so forth – bringing it down to 0.05%.
BNB Withdrawals: 1 BNB
BTC Withdrawals: 0.0005 BTC
GAS Withdrawals: Free
BTM Withdrawals: 1 BTM
SNT Withdrawals: 1 SNT
EOS Withdrawals: 0.1 EOS
NEO Withdrawals: Free
QTUM Withdrawals: 0.1 QTUM
ETH Withdrawals: 0.005 ETH
LTC Withdrawals: 0.001 LTC
BCC/BCH Withdrawals: To be confirmed
How to Buy Bitcoin with Binance?
---
Binance used to deal only with cryptocurrencies but that has changed since they launched their own fiat-crypto exchange called Binance Jersey. You can read more about it below.
In the first months of 2020, Binance added the option to buy crypto directly for fiat on its main platform as well. You can instantly buy bitcoin with credit card through their app or web platform thanks to their cooperation with Simplex, Koinal, TrueToken and Paxos. These are third party services that enable Binance users to buy cryptocurrencies: BTC, ETH, BNB and XRP or stablecoins like Tether, BUSD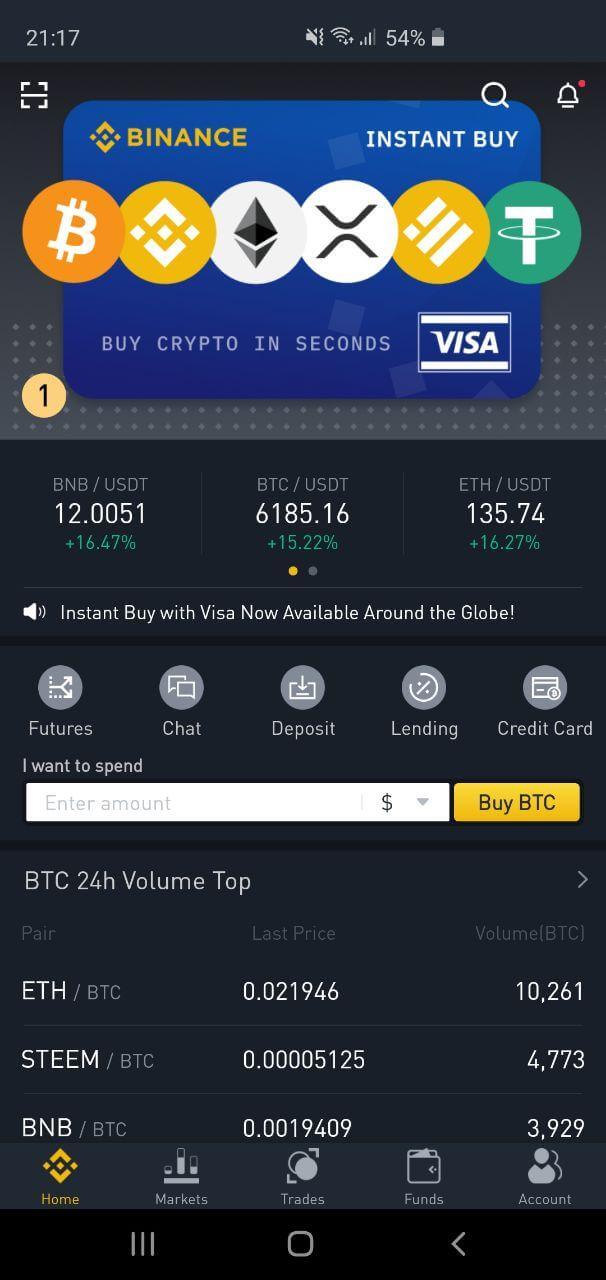 The fiat gateway from Binance supports a whole host of different fiat currencies: USD, EUR, GBP, VND, BRL, AUD, IDR, ZAR, HKD, INR etc.
Ways to buy crypto on Binance:
P2P trading
A true crypto feature where Binance provides a peer-to-peer (P2P) connections to buyers and sellers of cryptocurrency directly. Users can exchange crypto via different avenues of fiat payments, like PayPal, Skrill, Neteller, ACH etc.
Credit/Debit card:
Binance partnered with a popular credit card payments processor Simplex to offer a service of buying crypto via credit and debit cards. This service allows you to buy 31 different cryptocurrencies with a credit card. However, it is not the cheapest way to turn fiat into crypto as it comes with a premium that can get as high as 3.5% fee for USD purchases.
SEPA/Wire transfers
Binance's leadership have shown their business prowess by enalbing another popular way to buy crypto as they integrated with third party services to offer SEPA & bank transfers.
This is very popular among users that have access to thes payment options as they are by far the cheapest way to buy crypto. Actually, they are essentially feeless. This option is available for EUR, AUD & CAD currency users.
Last, Brave , the privacy-focused browser integrated a Binance Widget for in-browser trading. The widget allows users to buy and trade crypto through Binance, as well as view and manage their crypto portfolio.
Is Binance safe? Is it safe to keep crypto on Binance?
---
Even though it did suffer a hack in May 2019 (more on that below), Binance still enjoys a reputation of one of the safest exchanges in the industry.
It is much younger and less transparent than its competitors that are much more established businesses in a traditional sense of the word, like Coinbase, Kraken or Bitstamp, however, led by the charismatic CZ, Binance would definitely rank high among crypto fans as one of the safer places to store coins (if you have to hold them on someone else's servers and wallets).
Two-factor authentication is available and is always a nice sight. It is however known that the platform offers a multi-tier system architecture.
The Binance architecture includes CCSS and ISO/ICO_27001:2013 security protocols. For account security, the platform offers users the option to activate Google Authenticator and 2FA to verify withdrawals and security modifications. Users must activate one of these features in order to verify an account.
Binance's privacy policy states that the platform does collect user information and stores the data on its servers. Users concerned with privacy can click the "Privacy" tab on the main Binance site if they want to review the details of the Binance policy in full.
As for storing crypto on Binance – I would recommend only keeping what you need to day trade. Everything else should be moved to a hardware wallet like Nano X or Trezor T. This has nothing to do with Binance, it is just best practice and fits with the self-sovereign ethos of cryptocurrency as a philosophy.
Is binance trustworthy
Even though there are some individual complaints on Reddit about alleged Binance frauds and no-reason bans, the exchange has been and still is one of the crypto cornerstones. There are no systemic problems on their platform and they have a huge self-made insurance fund to offset potential losses in case of a hack. Binance has grown so much thanks to their innovative approach to everything around crypto – there is essentially no crypto sector that is not par of Binance ecosystem.
How to Make a Trade on Binance?
---
You can view the markets on Binance without registering for an account. However, you will need to sign up and log in to actually make a trade.
Select "Register" from the main website. Follow the steps to create a new account. It's important to note that you will probably need to verify your email address in order to activate your account.
Once your account is confirmed, you will be able to log in to Binance using your userID/email address and password. Be sure to double-check that the URL is correct and uses the https protocol to prevent phishing attacks.
To deposit funds into your account, click on the "Deposits Withdrawals" link under the "Funds" tab. From there you will see a list of supported currencies, so choose which cryptocurrency you'd like to fund your account with (Bitcoin is typically near the top) and click "Deposit".
Binance provides you with a deposit address for the currency of your choice, and this is the address you will want to send your funds to. You can either use the provided QR code or copy the alphanumeric code.
Whether you're keeping your funds on a third-party crypto wallet or another exchange, just go there and send the funds to your Binance deposit address, either via QR or by pasting in the code.
Once the transaction has been confirmed, it will usually take a couple of minutes to process, so you may not see the transfer register instantly in your available Binance balance. It's important to note that when a transaction is in the process of being confirmed, it may appear in the "In Order" tab.
Once your account has some funds, you can proceed with trading. To make a trade, navigate back to the exchange dashboard by clicking either "Basic" or "Advanced" under the "Exchange" tab in the upper left-hand corner. For beginner traders, the "Basic" view is easier to navigate.
Go to the trading pairs tab and choose the trade you want to make. If you have deposited Bitcoin to your account, you will be able to purchase several different cryptos with Bitcoin. One more thing worth noting is that Binance also supports some trading pairs which use Ethereum as a base currency. This means that if you want to take advantage of the BNB token for decreased fees on Binance transactions, you can use either Ethereum or Bitcoin to purchase BNB.
Once you've selected your desired trading pair, simply enter the desired amount of currency you want to buy. Also, you need to set the price you're willing to pay for it. Once the details have been confirmed, click the "Buy" button in order to complete the transaction.
When you have bought a new cryptocurrency, your funds will show up in that cryptocurrency's designated wallet in your account's "Funds" area. You may need to take further steps towards account verification in order to withdraw funds from Binance.

Customer Support
---
The customer service on Binance is also top-notch if you compare it with its peer trading exchanges. Worth noting, Binance provides customer support in 7 languages!
As of now there is no Binance support phone number, but they do have a customer support section where you can submit your requests. Usual turnaround time is around 24-hours.
Read our updated guide on BNB price prediction.
You can also use their live chat support option as shown here in the restricted operating hours.
Apart from that, their FAQ section is quite detailed and if you go through it well, you may not really need to contact Binance support.
Company Trust – how secure is Binance?
---
I've been increasingly interested in Binance recently after seeing that community members seem to love this exchange.
The company raised around $15 million in an ICO in July 2017. It immediately acquired 20,000 registered users as part of the raise.
Changpeng Zhao, CEO of Binance and co-founder of OKCoin, has an impressive resume with years of experience in cryptocurrency. He was the Founder and CEO of BijieTech, Co-founder and CTO of OKCoin, and the Head of Development at Blockchain before working on Binance. Impressive CV for Changpeng Zhao, no doubt.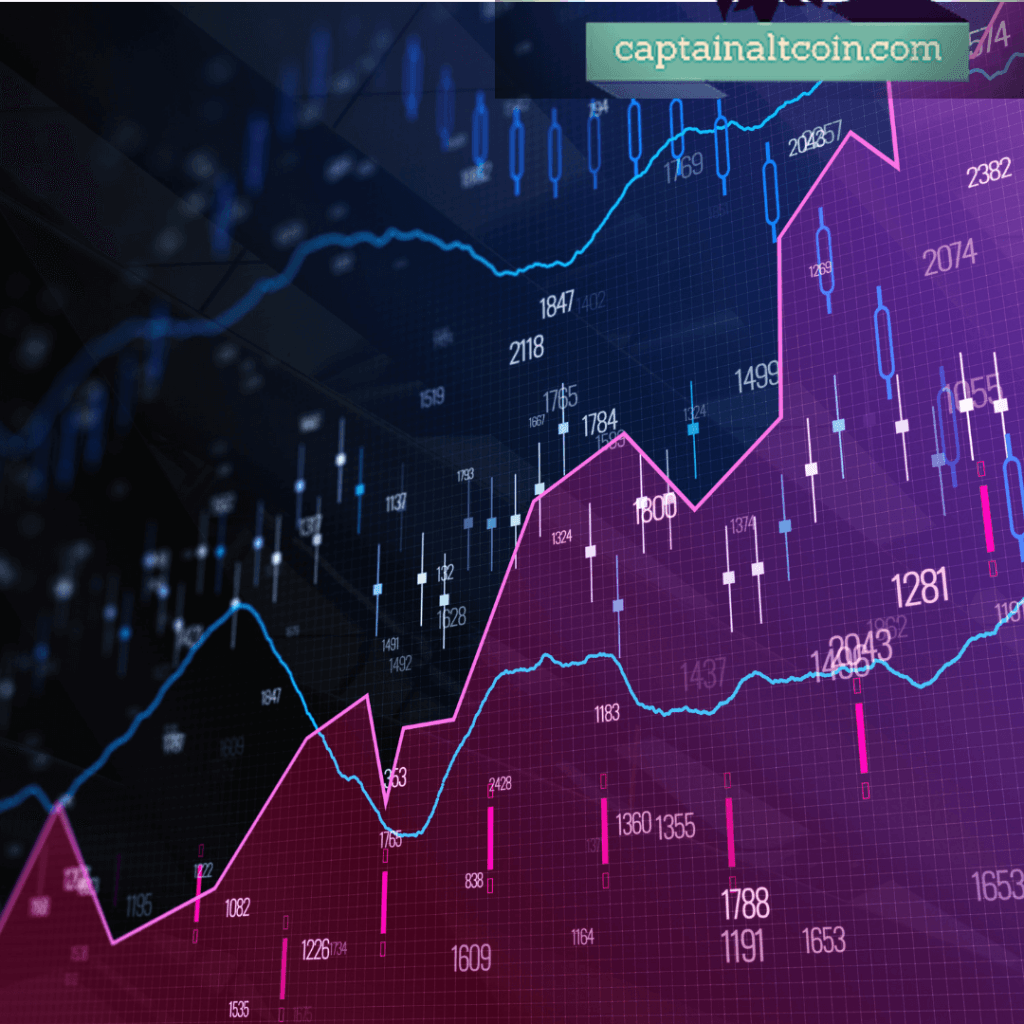 Read our updated guide on best bitcoin bots.
---
In August 2017, the exchange announced that Yi He, co-founder of OKCoin and one of the most respected and influential individuals in China's online economy, was joining the platform. She was co-founder of OKCoin, the Vice President of Yixia Technology, and the Founder of Yi Zhi Bo before working on Binance.
Many investors have taken a closer look at Binance since Yi He joined the platform. The value of Binance Coin has risen by 40% at the time of writing.
Binance Withdrawal Fee & Limits
---
There are no deposit fees when you deposit crypto. If you want to deposit some fiat currency, fees vary from 3-5%, a standard rate for buying cryptocurrencies with debit/credit cards.


The amount which can be withdrawn each day is determined by user's verification tier. You're placed at Level 1 without submitting any verification details, and you can withdraw up to 2 BTC worth of cryptocurrency a day.
You need to enable either two-factor authentication (2FA) or Google Authenticator in order to be classified as Level 2. Currently, only Chinese phone numbers are supported for 2FA.
Following that, you need to provide the following information:
Passport photograph
Selfie with passport
Your daily withdrawal limit increases to 100 BTC with Level 2 verification.
How Can I Get the Binance App?
---
You can visit Binance on the web and access the trading platform directly through your browser, but you will have to register for a new account before you can make trades.
On mobile, the Binance app can be downloaded for free from the iOS or Google Play store. Binance users who live in China will find links to WeChat resources on the Binance home page.
Binance Lite vs Pro – What is Binance Lite?
---
This is a watered-down version of the Binance app that caters to novices. All major features are right at your fingertips. This is perfect for rookies to mid-level traders and Binance has set Lite version to be the default app once you download it. But switching the modes from Lite to Professional is very easy through the app's settings.
What's the difference between Lite and Professional? Which version should I use?
Advanced charts and order books are hidden on the Lite version and the app is faster and easier to use than the Professional mode which quickly overheats your phone due to its feature-rich interface and options.
Binance Decentralized Exchange (DEX)
---
First sneak peeks into the Binance DEX came in mid-2018, when Zhao shared relevant "pre-alpha" details about the platform via his very active Twitter account. While he kept up with vague updates during the following months, a first in-depth look into the decentralized exchange was released in December of that same year.
Binance DEX will be built on top of the Binance Chain, upcoming blockchain that will allow Binance's native token BNB to move away from Ethereum onto its own native mainnet.
The chain is being built on top of Cosmos' Tendermint protocol; more precisely, Binance forked the protocol and removed some of its elements.
Zhao claims that this DEX will be able to handle current volumes of its centralized older sibling, aka the regular Binance exchange. This will require high levels of performance from the Binance chain, which is why Cosmos was selected as a base to fork off of. Binance Chain will be able to generate blocks every second and process "a couple thousand" transactions in that same time frame.
Scaling has been a significant issue for decentralized exchanges in the past, as their inability to process high transaction throughputs ultimately led to major losses of on-platform liquidity and transaction volume.
Not a real DEX
Binance DEX won't actually offer non-custodial storage, it does suggest that you'll have a certain safety net in terms of your private keys. If you lose your private key you won't lose access to your actual funds, but only to the Binance Chain-issued stablecoins.
This means that you could potentially regain access to your funds even without the private key. This does place alot of control over your funds into the hands of a third party, which is the complete opposite of what a proper DEX should do.
Additionally, the relative centralization of DpoS algorithm Binance Chain adds to the issue. A crypto commentator once said that if your currency cannot be 51% attacked (which is an issue related only to PoW currencies), then it isn't decentralized. As Binance Chain is s DpoS project that will have just 11 validating nodes to begin with, it might end up being even more centralized than similar DpoS projects well-known for their issues with centralization like EOS or TRX.
Such a blockchain is basically a permissioned, private network, where only select members will get to take part in maintaining and validating it.
Binance Jersey – Buy Crypto For Fiat
---
Binance Jersey is a subsidiary of Binance which allows European residents to perform fiat-to-crypto purchases of cryptocurrency. The platform came to life in mid-January of 2019, some months after Binance opened a similar subsidiary for the African continent, called Binance Uganda.
Here is a full review of Binance Jersey.
At the time of writing they are only offering four trading pairs with more to follow soon:
BTC / EUR
BTC / GBP
ETH / EUR
ETH / GBP
Supported Countries:
Argentina
Eswatini (formerly Swaziland)
Latvia
Romania
Armenia
Finland
Liechtenstein
Singapore
Australia
France
Lithuania
Slovakia
Austria
Germany
Luxembourg
Slovenia
Azerbaijan
Gibraltar
Macau
South Africa
Belgium
Greece
Malta
South Korea
Brazil
Hong Kong
Mauritius
Spain
Bulgaria
Hungary
Mexico
Sweden
Canada
Iceland
Monaco
Switzerland
Chile
Ireland
Netherlands
Turkey
Croatia
Israel
New Zealand
United Arab Emirates (UAE)
Cyprus
Italy
Norway
United Kingdom (UK)
Czech Republic
Jamaica
Peru
Uruguay
Denmark
Japan
Poland
Estonia
Jersey
Portugal
The interface is basically the same to the one you'll see with the regular Binance exchange. It's a simple, easy-to-get-used-to setup offering basic and advanced overviews that look similar but offer different levels of data/tools.
Fees on Binance Jersey
GBP Deposit/Withdrawal Fees
Deposit: 7 GBP Withdrawal: 20 GBP
EUR Deposit/Withdrawal Fees
Deposit: 8 EUR Withdrawal: 20 EUR
Trading Fees
General 0.1% trading fee
Crypto Withdrawal Fees
Bitcoin: 0.0005 BTC (Min withdrawal 0.001 BTC) Ethereum: 0.02 ETH (Min withdrawal 0.01 ETH)
Buying Bitcoin with Australian Dollars
---
Back in March 2019, Binance launched a special platform for Australia, Binance Lite which is the continent's first fiat/crypto gateway where investors can buy Bitcoin with cash in Australia in a secure, reliable, and easy to use way.
Binance Lite is comprised of a network of over 1,000 newsagents across Australia where people can use cash to buy bitcoin. Of course, as with all other cryptocurrency exchanges, this one requires account verification before you can use it.
The Binance Lite brokerage service is operated by InvestbyBit, an independently operated subsidiary of the Binance.com cryptocurrency exchange. Below are main perks and features of Binance Lite:
Fees A 2.5% transaction fee (50% discount applied) plus GST on the transaction fee for each purchase is currently being charged as an introductory rate. Therefore, for a $50 order, the transaction fee will be $1.22 and the GST will be 10% of the transaction fee, which is $0.12.
Limits The system is currently in its Beta phase, and the minimum purchase amount has been lowered to $30 with the maximum purchase amount capped at $1000. These limits may change over time and only multiples of $10 are being accepted, such as orders for $50, $60, $70 etc.
Verification process
---
KYC is a mandatory feature these days – in order to complete the verification process, it's necessary to submit 1 or 2 forms of government issued ID documents as a Passport, Driver's Licence, or Medicare card, in addition to your residential address. If you have already used Binance with a completed KYC verification, you will be sent to the order summary page directly after opening a new order.
Binance margin trading
---
When trading on margin, traders borrow funds from an exchange or other experienced traders in order to leverage their capital. In other words, margin trading allows users to enter positions that are bigger than their own capital, for example entering a position worth 2 BTC by posting 1 BTC as margin.
Margin trading is risky and not for newcomers. While your gains will be amplified if you correctly predict the direction of the market, losses can add up very quickly if the market moves against you.
To margin trade on Binance, you will have to complete a know your customer (KYC) process while traders from the United States, Japan, Canada and South Korea can't use Binance margin trading no matter if they KYC or not.
Go to your Binance account dashboard, select the "margin" tab and click "open your margin" account. If your account is not verified yet, you will be prompted to start the KYC process.
Once you want to margin trade, you need to transfer funds from the regular digital wallet to your margin wallet.
As the funds land in your margin wallet, you will be able to use them as collateral to borrow cryptocurrency for trading. On Binance, you the largest ratio you can borrow at is 3:1 (for example, you can borrow 2 BTC if you commit 1 BTC as collateral).
You can select which cryptocurrency you want to borrow by clicking the "borrow/repay" button. Set the amount you want to borrow and click "confirm borrow". Your margin loan will be subject to an interest rate, which will be displayed when you're setting the amount of funds you're looking to borrow.
Be sure to monitor your margin level, as you will lose your collateral if it drops to 1.1. At 1.3, you will get a margin call, which means that you either have to deposit additional funds as collateral or repay some of your loan. This is the formula that determines your margin level:
Margin Level = Total Asset Value / Total Borrowed + Total Accrued Interest Rate
FAQs
---
Conclusion
---
Binance is one of the largest cryptocurrency exchanges. The myriad of coins and low and competitive spot trading fee found on Binance are unmatched. The exchange is also known for its fast processing speeds and is capable of processing 1.4 million transactions per second. The platform has started to gain popularity in the blockchain community, and currently sits at the number 17 spot in terms of 24 hour trading volume.
The major problem we have with Binance is that the company is new and the project hasn't been around long enough to actually prove itself.
Binance vs Competitors
---
We have done a lot of comparisons between cryptocurrency exchanges and Binance was often one side of the duel. See below for a full list of Binance as one of the largest cryptocurrency exchanges vs others guide:
Still not sure whether Binance is right for you? Check out Binance reviews on Revain.
Binance Hack – May 2019
---
The "security breach" that happened on May 7th, resulted in 7,000 BTC being stolen from the exchange using advanced methods that helped the hackers remain undetected. The stolen Bitcoin at today's prices, brings the total loss at the hands of hackers to roughly $41 million dollars. Shortly after the company noticed the hack, the company blocked some features on the platform in order to perform a security review. In particular, withdrawals and deposits have been frozen for a week so that hackers can't steal more crypto assets. All functions and features were re-enabled after a week.

PROS
low fees
a huge number of offered coins
high liquidity
futures & margin trading
staking & mining
lending & savings account
excellent mobile app
support for a lot of fiat currencies
CONS
not regulated
hacked in 2019

CaptainAltcoin's writers and guest post authors may or may not have a vested interest in any of the mentioned projects and businesses. None of the content on CaptainAltcoin is investment advice nor is it a replacement for advice from a certified financial planner. The views expressed in this article are those of the author and do not necessarily reflect the official policy or position of CaptainAltcoin.com