Cryptocurrency trading can be a complicated ordeal. As we explained in our Haasbot article, crypto prices are very fickle, ultimately depending on various factors ranging from general market conditions to the limitations of human nature. Some of those factors can be controlled/predicted, and this is where cryptocurrency trading bots come in.
Affordable and easy to use
PROS
Good User Interface
Lot of exchanges supported
Good Educational material
A bot is essentially a piece of pre-programmed software; it requires a certain amount of human input to operate properly. To explain it bluntly, a human programmer/trader sets up the software in a way he believes will result in profit, sets it loose onto the market and hopefully starts earning money.
Bots are capable of overcoming most limitations of the average trader: they can trade 24/7 without the need to rest or eat and without succumbing to human emotions. As such, they do have a certain appeal, especially to people who aren't willing to spend their entire lives staring at charts and making trade orders. That being said, we decided to take a look at one of the currently available market options called Cryptohopper.
About Cryptohopper
Cryptohopper is a rather young automated crypto trading platform, having its domain originally registered in July 2017. Created by two brothers from the Netherlands, one a day trader, and the other a web developer, it can brag about having a perfect blend of experience and knowledge – both in the worlds of trading/technology – behind it from the start. The two merged their ideas, skills, and experiences and created Cryptohopper.
Supported Exchanges
The bot can connect to a wide variety of exchange Application Programming Interfaces (APIs) and trade a significant pool of coins automatically, 24/7. It currently offers integration with the following exchanges:
Huobi – premium Cryptohopper partner
Poloniex
Kraken
Bittrex
Binance
Coinbase Pro
KuCoin
Cryptopia
Bitfinex
Work is apparently being done to integrate the bot with HitBTC, Cobinhood, Cex.io, Bitstamp and bitFlyer APIs.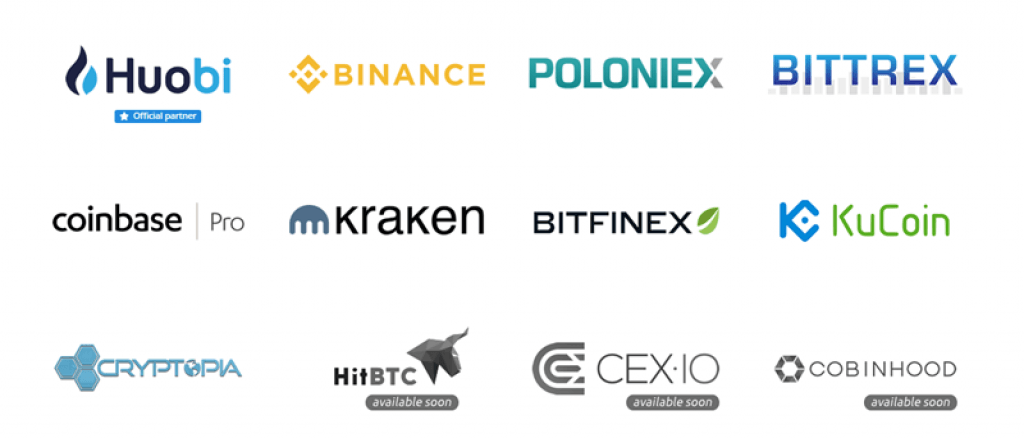 Cryptohopper is different than most of the market competitors in the sense that it's web-based; it's stored on the company's servers, operates on a cloud-like infrastructure and can be accessed through any web browser. While the advantages of this include fast and simple access to the bot, without needing any additional hardware to set it up and keep it running, the downsides are that the bot can suffer slowdowns at times of high website traffic.
Features
Cryptohopper offers a wide array of features:
Automatic trading: automated trading of your favorite coins. Set up your own trading strategy and let the bot trade for you.
Crypto signals: Alternatively, if you don't want to/don't know how to set up your own strategies, the bot allows you to automate your trading by copying signals sent to you by third-party technical analysts (signalers).
Risk-minimizing features: constant automatic price trailing, trailing stop-shorts, trailing stop-buys, stop-losses and sell with profit options limit your chance of losing everything you have.
Trading bot templates: save and load your own templates to quickly setup and change your trading bots.
Technical analysis: the bot offers dozens of volatility, trend and volume indicators as well as tools to perform technical analysis of the market, all of which helps you determine the ultimate trading strategy.
Backtesting: lets you analyze data from the past, which can help you fine tune your trading strategy for optimal profitability.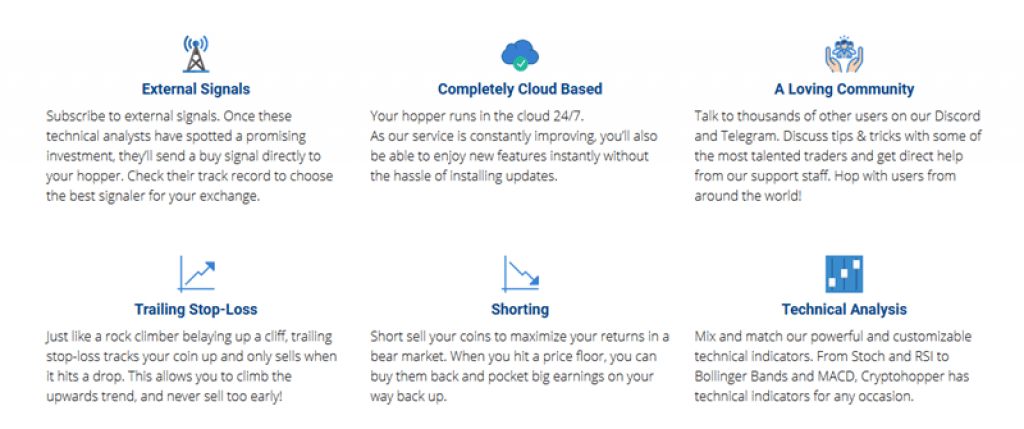 Cryptohopper is relatively easy to get into; you need to first create an account on the platform; Once the account is created, you'll be given access to your hopper, aka the actual trading bot. After doing that, you need to select your exchange and connect it to your hopper by entering the exchange wallet's trade-only API keys. The entire process is made simpler thanks to a useful wizard which will lead you through every step of the way.
Trading Strategies
The bot will require a trading strategy to operate and trade for you. While other bots come with pre-programmed strategies, Cryptohopper mostly requires you to create a custom strategy using its tools. A user gets to set up the bot parameters himself, but the process isn't that complicated; you'll be given a host of settings that you can tweak and adjust in a way which you believe will bring you the biggest profit. Some of the strategies you'll find when trading with Cryptohopper include:
Trailing stop-loss
Trailing stop-buy
Dollar Cost Averaging
Shorting
Trailing stop-short
Config pools
Triggers
Backtesting
Walletscrubber
Auto synchronize
Reserve funds
Manual buy and sell
Ultimately, you'll be able to either set up your own strategy or rely on outside signals. Signals/signalers are an interesting feature of Cryptohopper, reminding us of the social trading elements we saw with platforms like eToro or Genesis Vision. Signals are inputs sent by trading groups called signalers; your bot can use these signals to adjust its trading behavior. Cryptohopper has 20+ crypto signalers and all of them have their own signal track record visible to everyone. That way the person using the bot can check out signalers' past work and choose to follow his signals, if he/she feels that signaler was on point with his calls.
When a signaler sends out a trade signal, user's bot will pick up on it instantaneously and automatically and execute what the signal told him to. It's also possible to follow multiple signalers at the same time. Some signalers are free, others require certain compensation for their signals. So far, Cryptohopper is the only automatic trading platform to embed signalers onto its platform.
Each user is given significant flexibility with his trading strategy. He can choose not to tweak the hopper (bot) much, leaving his trading fortunes to the default settings. He can also dig deep and either learn how to use Cryptohopper tools to analyze various technical indicators himself or sign up for automated signals with one of the third party signalers available on the platform. You can create several strategies, either for different coins or for different (bear/sideways/bull) markets. Bots trading features can also be turned off at your volition. There is much more to say about the bot; all of it is explained in detail in Cryptohopper documentation which we'll cover a bit later in the article.
Pricing
Cryptohopper service uses a subscription model with 3 plans on offer:
Explorer Hopper Starter ($19 Per Month)
80 positions Maximum of 15 selected coins Max 2 triggers Running time every 10 minutes Basic Support
Adventure Hopper Medium ($49 Per Month)
200 positions Maximum of 50 selected coins Max 5 triggers Running time every 5 minutes Extended Support
Hero Hopper Pro ($99 Per Month)
500 positions Maximum of 75 selected coins Max 10 triggers Running time every 2 minutes Arbitrage First line support
All accounts include 0 additional trading fees from Cryptohopper, buy settings lower bids, cooldown, trailing stop, settings like stop loss, TSL, auto close, and DCA, personal & global trading stats, 120+ indicators & candle patterns, syncing/tracking/selling manual buys, strategy backtesting with historical data, active community and staff support, and a reserve section to manage savings.
Once you access the Cryptohopper website you'll be able to enter a 7-day trial of the Explorer Hopper. Alternatively you can get a 30-day free trial period of the same plan if you sign up via a referral; either way you'll get to know the software better and decide if you want to purchase one of the full packages listed above. Cryptohopper also offers enterprise-grade custom-tailored packages for more serious clients. The packages can be bought either on a monthly basis or full year in advance.
Read our full guide on bitcoin trading bots and see which are the best!
According to its promotional material, the bot is capable of giving you a steady stream of profits even if you have little to no knowledge about cryptocurrency trading. The claim is head-scratching at best, as money-making schemes which brag about how "easy" and "simple" it is to achieve constant profits usually turn out to be complete scams. Still, we can give Cryptohopper the benefit of the doubt here, as their claims and marketing aren't that outlandish and are in line with typical modern-day western advertising practices.
Support
Cryptohopper has a rather active community behind it. While their Reddit page hasn't seen much activity in a while, they have a very lively Discord where users can go and ask any sorts of questions about the bot. A good source of information/communication is the Cryptohopper forum, which you can access once you create an account on the bot's website. Cryptohopper website also has an interactive helpdesk which you can use to find a solution for your bot-related problems. From getting started with the bot, over configuration and general questions, to strategy designing and internal features of Cryptohopper, the knowledge base offered here is really good.
Besides those direct means of support, the project offers an extensive library of resources for getting started with/troubleshooting the bot. The resources section of their website contains detailed tutorials on how to set up Cryptohopper and its tools. These tutorials are laid out in a simple, step by step manner, making it very easy to digest and apply the instructions. Furthermore, you can use the extensive documentation section, this relatively regularly updated blog or this community-created review if you are interested in learning more about Cryptohopper, bots and trading in general.
Conclusion
Cryptohopper is a trading bot that offers some interesting features, including cloud trading, some social trading options and a large variety of coins/exchanges to trade on/with. Stop losses and trailing stops are especially welcome elements here, as they help you tremendously with risk management. As with any trading bot, you'll find conflicting reports regarding its effectiveness, functionality and safety.
Still, a couple of negative reviews here and there can be brushed aside; not everyone will be able to grasp the concepts related to Cryptohopper (no matter its relative ease of use) and sometimes people's experience will suffer due to their own hardware/internet. That shouldn't scare you away, as this bot is one of the more user-friendly ones on the market. Ultimately, Cryptohopper is a fully functional, legitimate tool which can, with some hard work and a bit of luck, potentially help anyone turn a profit by trading crypto.
CaptainAltcoin's writers and guest post authors may or may not have a vested interest in any of the mentioned projects and businesses. None of the content on CaptainAltcoin is investment advice nor is it a replacement for advice from a certified financial planner. The views expressed in this article are those of the author and do not necessarily reflect the official policy or position of CaptainAltcoin.com