Shrimpy.io Review – The Automated Crypto Trading Bot & Portfolio Rebalancer


Shrimpy.io Review – The Automated Crypto Trading Bot & Portfolio Rebalancer
If you are in crypto – you are either a holder or trader. Many would argue that HODLING is a safer and more profitable option but this Shrimpy review will show you evidence that there is something even better than holding. Please continue reading …
Many crypto traders are touting the hodling strategy as the panacea for all trader woes and pains: just HODL and you will be thanking yourself in the future. The holder's pantry is simply to sit on your bags and let the volatility play out while patiently awaiting your deserved moon and Lambo.
While that might be true, there is an even better way of handling your portfolio dubbed widely as balancing or rebalancing. This is decades old strategy from the traditional investing market that is yet to establish itself in the crypto circles. The reason for its slow penetration is, for the most part, the lack of trading and investing sophistication of crypto traders that are mostly young populations inexperienced in financial dealings.
Automated rebalancing platforms like Shrimpy.io allow crypto trader and crypto investor to select a better strategy than algorithmically "reshuffles the portfolio" in order to maintain balance according to the parameters they set. It's considered an advanced cryptocurrency trading platform and a friendly trading platform.
Portfolio rebalancing is the process of realigning assets in a portfolio back to their target allocations. As the cryptocurrency market moves, assets in a portfolio will deviate from their desired percent allocation. Returning to the target allocations requires assets to be bought and sold. This process is called rebalancing.
Below is a quick rundown of the top 3 bots, based on their most prolific properties:
Shrimpy.io Overview
---
Shrimpy.io is the leading tool in the portfolio rebalancing arena thanks to its intuitive and simple user interface, great support, and innovative features. They also support all of the major exchanges while adding new ones regularly. Currently supported exchanges include:
Binance
Binance.US
Bittrex
Bittrex Global
Kucoin
Coinbase Pro
Poloniex
Kraken
Huobi Global
Gemini
Bibox
BitMart
BitStamp
BitFinex
OkEx
HitBTC
There are a couple of aspects of the Shrimpy platform worth emphasizing: automation of tasks, membership in their growing community, portfolio management, and social trading (referred to elsewhere as "Copy Trading").
Automation
---
Instead of logging in and out of the myriad of exchanges, Shrimpy can do the heavy lifting with its 3 core automation features:
Asset Allocation – Configure your own cryptocurrency portfolio by selecting your preferred assets and allocations.
Rebalancing – Periodic portfolio rebalancing based on your own cryptocurrency trading strategy.
Backtest – Backtest up to 5 years of detailed historical data across multiple exchanges.
Community
---
Another important distinctive feature of Shrimpy is its emphasis on the community where you can learn more about cryptocurrencies in general, share your trading strategies, and pool your knowledge to earn more together.
Trading – Replicate portfolios and follow trading strategies of other users in Shrimpy's investor community.
Education – Learn more about digital assets and portfolio management strategies to grow and optimize your portfolio.
Portfolio Management
---
Portfolio managing apps are very popular among crypto traders and Shrimpy made sure to offer this feature as well.
Index Funds – Create and manage your own index fund with our dynamic index tool.
Performance Tracking – Track the portfolio performance of all your digital assets in one place with Shrimpy's unified dashboard.
How does it work
---
Shrimpy looks at your set allocations (how much of each coin you want to hold) and smooths over it so the proportion of your allocations stays evenly spread across your portfolio. If the value of one crypto asset goes up, Shrimpy takes profits gained with that coin and puts them into a coin that has lagged behind. Moreover, the platform offers an investment-maximizing strategy and high-volume cryptocurrency trading solutions.
Once that coin catches up, the profits from that weaker performing coin are put into the new lagging coin. Rinse and repeat. And the whole process is done automatically so that you can "set it and forget it".
Shrimpy Account
---
Signing up for a Shrimpy.io is a pretty standard procedure – clicking Sign Up and filling in the necessary data, followed by a mandatory email address confirmation.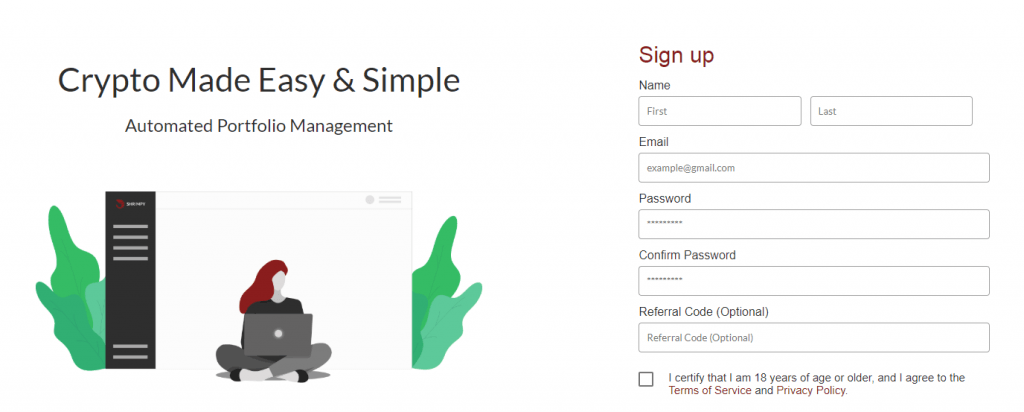 Setting up your allocations
---
After signing up you are required to add API keys to your favorite cryptocurrency exchange.


On the dashboard tab on your left, you can have a quick overview of how your portfolio performed over time.
The portfolio tab is where you do the most important thing – tell Shrimpy what coins you like and want to include in your portfolio and at what percentages. You can include as many coins as you wish at allocations of your choosing.

Rebalancing period
---
On the right side of the portfolio tab is the box for setting up your rebalancing period – you can tell Shrimpy to rebalance on an hourly, daily, or weekly basis. You also have the option to use threshold rebalancing instead, where rebalances are triggered by market movements.
You can always manually rebalance your portfolio from the dashboard tab any time you want.
Social
---
The social tab allows you to follow successful traders and see how well their portfolios perform over time. If you upgrade to a Starter Shrimpy subscription that costs only $19 per month, you can copy the portfolio of top traders and even chat with them directly. Additionally, Shrimpy also allows you to charge your own fee for users who want to copy your trades. This can be in the form of a flat monthly fee, a performance fee, an AUM fee (assets under management), or all 3.


History
---
This tab gives you an overview of what Shrimpy did – how many times it rebalanced your portfolio and what coins were sold and bought while doing so.
Backtesting
---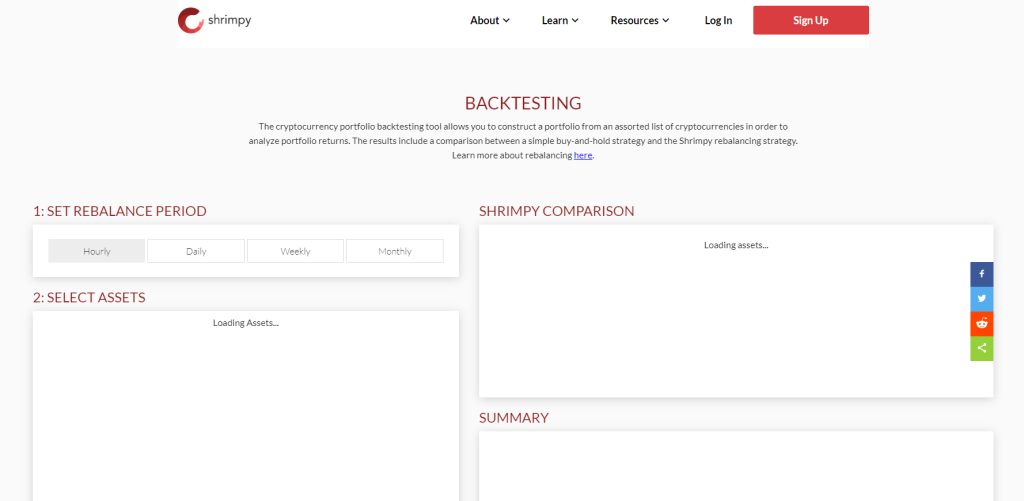 This tab will show you how much money Shrimpy could have earned for you by displaying a simple comparison of hodling to rebalancing strategy on one screen with nice graphs.
Shortcomings
---
Shrimpy's shortcomings and lack of some features are mainly due to their "no customer left behind" approach to development. If a feature can't be used confidently by someone with no prior knowledge of trading or financial markets, Shrimpy likely won't offer it.
Who is behind the tool?
---
The team behind Shrimpy io is a relatively small crew of 14 people, handling the development, promotion, and business side of the project. They doubled their staffing in Q1 of 2021.
Is Shrimpy worth it and safe to use?
---
Shrimpy can only read and trade on your behalf via exchange API. So they can never withdraw and steal your coins.
This knowledge base article provides further details on how Shrimpy deals with security:
"Shrimpy only requires the ability to read data and make trades, so your funds cannot be removed from the exchange. We also encourage all users to utilize our Two-Factor Authentication ("2FA") service which secures access to your account.
Conclusion – Shrimpy Crypto Trading Bot Review
---
Shrimpy is a new class of cryptocurrency tools that are enriching the whole ecosystem and helping both new and experienced traders in managing their portfolios.
While holding is a good strategy if you are not skillful in day trading, rebalancing is even more efficient and fits perfectly with more conservative traders' mindsets. Passive and semi-active traders will essentially have a smart virtual assistant that will operate on their behalf while growing their chosen portfolio without risky crypto investments (investments on autopilot e.g.) in obscure coins.
If Shrimpy is not to your liking, check out our other guides on its competitors:

CaptainAltcoin's writers and guest post authors may or may not have a vested interest in any of the mentioned projects and businesses. None of the content on CaptainAltcoin is investment advice nor is it a replacement for advice from a certified financial planner. The views expressed in this article are those of the author and do not necessarily reflect the official policy or position of CaptainAltcoin.com