Bitsgap Review – How To Use Bitsgap? Price, Features, Security In Overview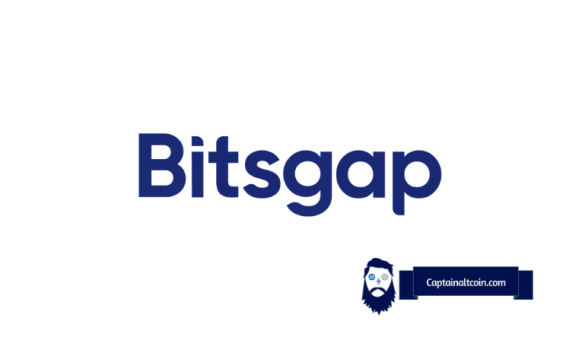 Bitsgap Review – How To Use Bitsgap? Price, Features, Security In Overview
Easy and fast start
Simple configuration
Arbitrage opportunities
Market signals dashboard
In this post, we will review the Bitsgap trading platform and the various trading bots it provides to users. The platform has much to offer, and automated trading solutions continue to be in high demand.
The Bitsgap History
---
Many people within the cryptocurrency know the Bitsgap brand today. Ever since its inception in 2017, the trading platform has elevated its approach to crypto trading, portfolio management, and arbitrage opportunities.
More importantly, the platform has grown to become a powerhouse in the crypto industry, welcoming over 18 million visitors. Its website traffic has grown by nearly 13% in the past month and notes a strong influx in visitors from Colombia and Belgium. Furthermore, Bitsgap is chosen by over 500,000 traders worldwide, who have created 3,7 million trading bots, helping the company surpass $300 billion in total trading volume so far.
The platform offers access to over 30 global cryptocurrency exchanges through one convenient interface, streamlining access to different markets and trading pairs. Moreover, the number of supported exchanges and trading avenues keeps increasing, ensuring users can access their preferred assets. Additionally, there is no trading commission nor additional fees for depositing and withdrawing funds.
The crypto trading bots industry is a thriving sector of the crypto world with dozens of different platforms gunning for the throne. Current leaders of the pack are, arguably, Cryptohopper and Pionex with others like 3Commas and Haasbot on their heels.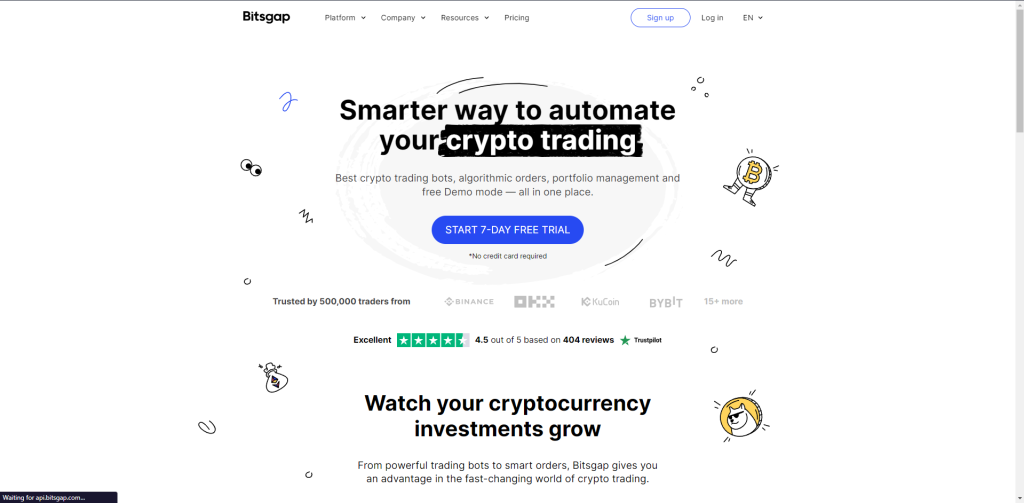 What is Bitsgap? Is Bitsgap legit?
---
Other automated trading platforms got us accustomed to some mandatory features in a good bot: it should run on a cloud accessible via all devices, it should have arbitrage opportunities, signals, and support a lot of exchanges. Bitsgap does all of that with their platform and adds extra features with arbitrage and demo interface.
The number of supported exchanges is impressive – 25. This fact also means more arbitrage opportunities since there are a lot of exchanges that are tracked and hence there is a high probability of finding a big price difference between them. Bitsgap is a big platform that has a wide range of users.
So Bitgsap is a platform that supports trading, portfolio tracking, arbitrage, signals, bots – a full spectrum of crypto assets services that can be managed from one dashboard.
Of course, Bitsgap also has a demo version that you can take for a test ride and try out all your strategies without risking real money.
It is safe to say that Bitsgap is a legit platform that, with proper strategies, can yield great passive earnings for its users.
In our research for eventual Bitsgap scam accusations, we found none. There are occasional complaints by some users, but those are mostly due to inexperienced traders and bad setups.
Bitsgap features
---
Automated Trading With Bots
The bread and butter of the Bitsgap platform is its provision of automated crypto trading access. Platform users have various trading bots at their disposal to take a more passive approach to cryptocurrency trading. Different types of bots will follow unique patterns and approaches, enabling users to tap into a trading revenue stream.
The DCA Bot
Bitsgap recently introduced a DCA bot to help users during bullish, bearish, and sideways market conditions. The trading tool offers multiple features, including more accurate entry and exit options, risk management options, and more. Users can expect fast and regular results for those who maintain an active trading approach, although long-term holders can accumulate profit while waiting for better price momentum.
Grid Bot
The purpose of the Grid Bot is to help users generate profit from small price fluctuations in either direction. It is an excellent tool for markets in sideways momentum, enabling users to deploy a grid to follow the overarching trend automatically. The Bitsgap Grid Bot helps users make a continuous profit and requires very little oversight. It has built-in strategies for beginners and experts, although users are free to deploy their own strategies as they see fit.
Combo Bot
Bitsgap's Combo Bot is tailored to those who prefer dealing with futures contracts rather than crypto assets directly. The Combo Bot is a viable tool in bullish and bearish markets and combines dollar-cost averaging with grid-based algorithmic trading. It is a more aggressive market approach, as the bot will execute trades on every viable market move. Moreover, the Combo Bot can generate endless returns by automatically placing grid and DCA levels while it runs.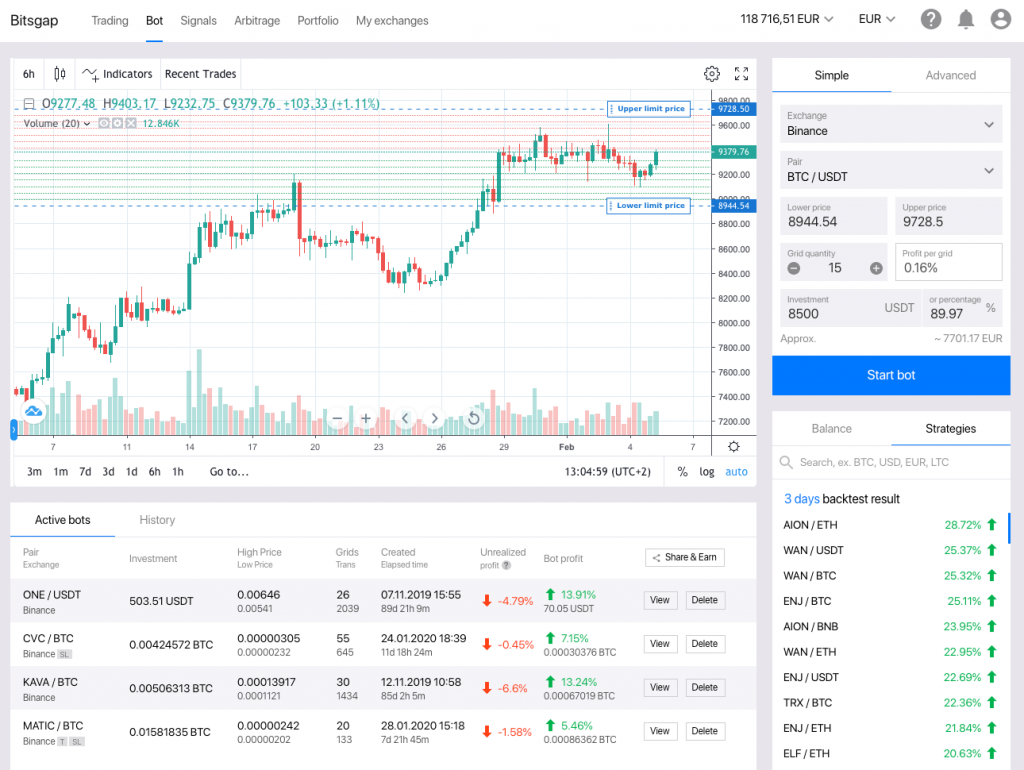 The Bitsgap Trading Terminal & Order Types
---
Users who interface with the Bitsgap trading terminal will feel right at home. All features are laid out conveniently, and the dozens of indicators can prove useful for those who often rely on such tools. Moreover, the platform lets users trade crypto assets across multiple exchanges, removing the need for opening several tabs for different platforms. The terminal also supports one's trade history, open positions, and balances across all linked exchanges. Furthermore, the trading platform enables users to analyze and evaluate the performance of popular trading pairs.
It is crucial to note users have multiple order types at their disposal to exert more control over their market approach:
Market orders: Instantly taking a position at the best available market price
Take-profit & stop-loss: Automatically taking profit or limiting losses on a position if market sentiment sours.
Stop-Limit: Automatically sell the traded asset when a specific price is reached
Shadow orders: Trading away from the exchange's order book by only executing an order at your set price
Signals – The system picks the best trading opportunities for you
---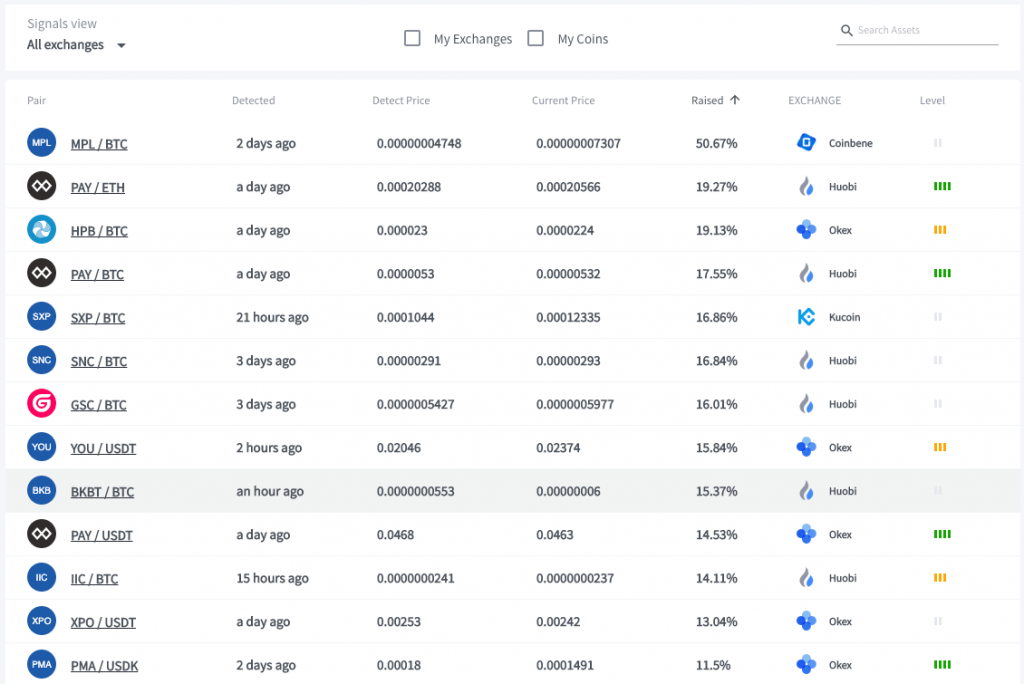 Bitsgap algorithm monitors thousands of crypto pairs 24/7 to detect anomalies and presents them all in this tab. This way you can see what coins are best trading opportunity and set a Smart Order which is a proprietary Bitsgap order. Smart-Order is a combination of simultaneous Stop-Loss and Take-Profit orders. If one of your predefined conditions are met, Bitsgap will complete your order as planned. Merging these orders together drastically reduces your risks while also securing your profit gains while you are not personally online and trading.
How exactly does Bitsgap find these anomalies and opportunities?
The lone fact that it connects and monitors more than 25 cryptocurrency exchanges, Bitsgap is able to track the price movements of 10,000+ crypto trading pairs. And as, explained on their site, "when the price of a coin is starting to show an anomaly out of pattern which forms an upward trend, we add this entry into our signal list. To verify the trend we are using numerous indicators and models before considering any rapid move as a trading signal."
Bitsgap Arbitrage review – risky but very profitable endeavour
---
Right off the bat, arbitrage is not a good idea for new crypto trader who lack experience and knowledge in market trading. However, seasoned traders will like this option very much since Bitsgap did a fantastic job on it. This feature gives you a list of potential arbitrage opportunities from all 25 supported exchanges in one streamlined interface. You will need to have open and active (verified) accounts on those exchanges and have them linked with Bitsgap via API keys to make use of this feature. You also would need to have decent money on both exchanges to make sure transaction fees won't take away your profit.
How does Bitsgap find arbitrage opportunities?
Potential deals are calculated based on your account balance on certain exchanges and you can select either crypto or fiat arbitrage opportunities.
Automated and AI-powered arbitrage bots like Bitsgap are far superior to the manual approach of monitoring the markets for arbitrage deals as the chances are that those opportunities will vanish before you manage to see them through by clicking dozens of commands on separate exchanges. With Bitsgap arbitrage, trades can be made in just one click!
Portfolio – track the prices and your balance
This one is the least exciting feature as it is just a regular crypto portfolio tracker – you can view your holdings by token and exchange.
Bitsgap Demo – take it for a spin without risking your money
---
In the right upper corner, you have the option to switch your Bitsgap account to the DEMO version. In this version, your account will be funded with simulated demo funds, enabling you to test your trading strategies and get to know the platform with zero risks.
You can hone your skills with 5 BTC virtual funds on 5 popular crypto exchanges to play with while having access to live market data. With a demo account, you have access to all major standard features of the Bitsgap platform: you can try out Arbitrage, Signals, and Crypto Trading Bots.
Getting started on Bitsgap
---
Even though Bitsgap has a wide range of settings, registering is a breeze – you can log in right away via Facebook or Google, or sign up via standard email address form. Once you are in, you need to connect exchanges where you have funds – integration is made via a standard process of API keys.
Having done that, you are free to use Bitsgap to your liking. Below is the process in three easy steps:
Sign up
Open a free Bitsgap account.
Connect exchanges
Your funds will remain on the exchange balance and Bitsgap won't have access to them.
Start trading cryptocurrency
All orders you perform through Bitsgap are secured with high-end 2048-bit encryption.
Bitsgap supported exchanges
---
Bitsgap blows its competition out of the water when it comes to this important benchmark – the number of exchanges it integrates is a whopping 25+. That is much more than Cryptohopper which works with only 12 and 3Commas which supports 15 exchanges. The closest one to Bitsgap in this segment is Margin.de which integrates with 17 exchanges. However, Margin.de is a program that needs to be downloaded and run from a local machine while Bitsgap is a cloud-based platform.


Bitsgap pricing
---
Basic plan costs $29 per month and provides access to various exchanges, a cross-exchange portfolio, and setting up trading signals. Users can deploy two active trading bots.
Advanced plan costs $69 per month and has a monthly trading limit of $100,000. The extra benefit is access to arbitrage trading, five active trading bots, and futures bots.
Pro plan costs $149 per month and has no monthly trading limit. Users can deploy up to 20 active trading bots, futures bots, and trailing bots. Additionally, there is access to priority customer support, should that be required.
All plans have a discounted rate when users sign up for six months in advance.
Bitsgap customer support
---
So when you decide to pull the trigger and buy one of the Bitsgap packages, who do you have that will help out in case of emergency or troubles?
Bitsgap made sure to be on par with other crypto bots by offering chat support directly from the platform and judging by our own and trading experience of other people who reviewed them online, they are prompt and helpful in their responses.
Bitsgap bot review – final verdict
---
There is much to like about Bitsgap, including its easy-to-navigate interface, support for dozens of exchanges, and a wide variety of trading bots. Moreover, its subscription rates can pay for themselves when using the bots correctly, and there is a free trial to take full advantage of. It is an excellent platform for those looking to automate their trading process and benefit from extensive portfolio management.
FAQs
---
If Bitsgap is not to your liking, check out our other guides on its competitors:
PROS
Easy and fast start
Simple configuration
Arbitrage opportunities
Market signals dashboard
CONS
Limited trading bot functionalities
No mobile app

CaptainAltcoin's writers and guest post authors may or may not have a vested interest in any of the mentioned projects and businesses. None of the content on CaptainAltcoin is investment advice nor is it a replacement for advice from a certified financial planner. The views expressed in this article are those of the author and do not necessarily reflect the official policy or position of CaptainAltcoin.com