In this guide, we will voice our own and market's opinion on BCH future while discussing Bitcoin cash price forecast for 2019 and beyond.
Since 2019 is almost up, Bitcoin Cash price prediction 2020 is much more interesting so we made sure to include that forecast as well, just make sure to read until the end.
Now, let's head into it.
Before we delve deep into the BCH price prediction and answer questions if Bitcoin Cash is a good investment or not, why will BCH succeed or fail or while will BCH price rise or drop, let's quickly throw a glance at what is Bitcoin Cash and its to date history.

Bitcoin Cash Intro
In mid-2017, a group of developers wanting to increase bitcoin's block size limit prepared a code change. The change, called a hard fork, took effect on 1 August 2017. As a result, the bitcoin ledger called the blockchain and the cryptocurrency split in two.
Bitcoin Cash ("Bcash") was created out of tension among early Bitcoin investors over rising transaction fees and increasingly divergent opinions on the best on-chain scaling solutions for Bitcoin. Bitcoin Cash also prioritizes strict adherence to what is called Satoshi's "vision" for the original Bitcoin. Viewing peer to peer transactions as the core value proposition of the network and the factor that should be optimized versus other competing factors like security.
It differs from the other versions in that in enabled the increase of the block size from one MB to eight MB. It's overall goal is to increase the number of transactions that can be processed by the network, hoping that Bitcoin Cash will be able to compete with the volume of transactions that industry giants like PayPal and Visa can currently process.
Bitcoin Cash is one of the largest cryptocurrency projects measured by market cap and is fighting EOS and LTC for the 4th spot.
BCH Roadmap for 2019
The official bitcoincash.org website states that Bitcoin Cash is set out to achieve three goals:
The needed technical improvements can be divided into three categories:
Enable Bitcoin Cash to scale from ~100 Tx/s to over 5,000,000 Tx/s. Protocol improvements must be made so that mass-parallelization can enable this level of transaction processing.
Improving the payment experience to ensure that it is instant and reliable. Transactions should be secure within three seconds.
Make Bitcoin Cash extensible. An extensible protocol makes future improvements less disruptive, and provides a solid base for businesses and developers to build on.
You can see a complete roadmap on the image below or by clicking here.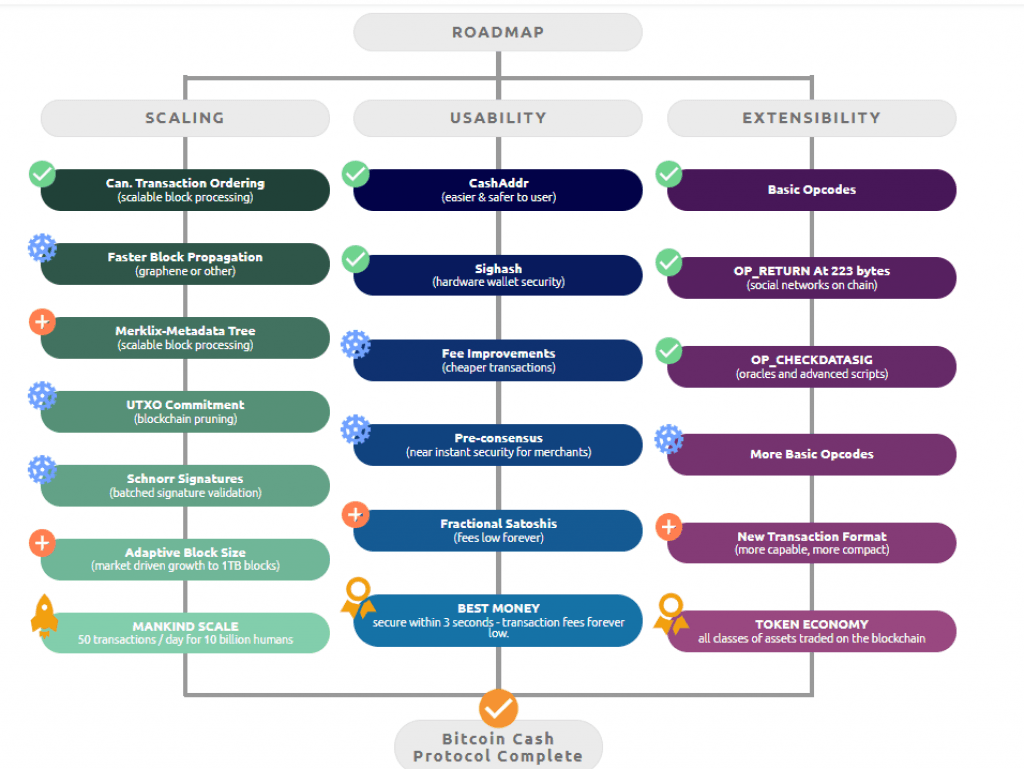 Our Bitcoin Cash Price Prediction for 2019
BCH, as the rest of the cryptocurrency market, is tied at the hip of bitcoin's price action. If bitcoin embarks on another bull run, BCH can hope for one as well. Since that is very unlikely, don't expect much to change for BCH price-wise in this year. So 2019 will be a year of boring sideways action with minor bitcoin ignited jumps and slumps.
What does Cardano future look like? See our ADA Price Prediction 2019
To summarize, Bitcoin is the focal point of the cryptocurrency market in many ways, and with BTC trading pairs on every exchange, the gravity of Bitcoin is hard to evade.
The majority of projects will fail — some startups are created just to gather funds and disappear, some would not handle the competition, but most are just ideas that look good on paper, but in reality, are useless for the cryptocurrency market. 
Vitalik Buterin, co-founder of Ethereum said:
"There are some good ideas, there are a lot of very bad ideas, and there are a lot of very, very bad ideas, and quite a few scams as well"
Long-term Price Prediction for BCH
As a result, over 95% of cryptocurrency projects will fail and their investors will lose money. The other 5% of projects will become the new Apple, Google or Alibaba in the cryptoindustry. Will BCH be among those 5%?

An examination of the available 600+ days worth of data on the bitcoin cash blockchain shows that despite the impassioned arguments and big promises made about its 8 MB block size, it has never come close to filling out this capacity.
Bitcoin Cash still remains far behind Bitcoin not only in proportional terms but also in absolute terms as both miners and consumers have overwhelmingly chosen to remain with Bitcoin. The data shows that far from filling out or even getting anywhere close to its 8 MB block size, BCH has averaged a block size of merely 171 KB since the August 2017 fork. Bitcoin, by comparison, has averaged about 934 KB of its 1 MB block capacity over the past month. In other words, BCH is utilizing just about 2.1 percent of its block capacity.

It appears to be a failed experiment now that Lightning Network is maturing. BTC invested in a layer 2 solution and BCH invested in marketing to deceive new investors and mostly attacking BTC. And that backfired as the market clearly signaled which coin is seen as the "real" bitcoin and which one is relegated to the status of a mere altcoin.

Additionally, Bitcoin Cash network security is in a constant threat of reorg and 51% attack as its hashrate is couple of orders of magnitude lower than bitcoin's.

All of this indicates that Bitcoin Cash has low probability of succeeding in its original intention but it not all is doomsday for the project. It can still pivot into being something different than bitcoin, especially as the project leaders show more agility in making changes than the bitcoin core camp. This proclivity to implementing changes and new features could be an advantage for BCH going forward.
Why will BCH succeed?
Why will BCH fail?
Is BCH dead?
---
---
All we wrote in this Bitcoin Cash price prediction, summed up means one thing: BCH might live through couple of orchestrated and, for a regular trader, completely unpredictable pumps but the majority of time will be murky sideways trading with small volume and no significant interest from the market.
Price will heavily depend on what BTC will do and since many analysts think BTC will not be making big moves in this year, it is hard to expect BCH will do them either. The price will probably stagnate and record slow-moving depreciation or appreciation depending on the team activity, potential technological breakthrough or high-level partnership.
Market prediction for Bitcoin Cash – BCH Price 2019
With the market being completely unpredictable, forecasting the cryptocurrency price is really more of a gamble and luck rather than a data driven guesstimate.
Let's throw a glance at the eminent publications and personalities, and their predictions regarding the BCH price, which will give us another point of view to consider:
Wallet Investor
Walletinvestor is a popular website that does technical analysis based price predictions of various cryptocurrencies. According to them, BCH is expected to drop heavily to $75 per token in one year.
Trading Beasts
Trading beasts also have their own algo that does technical analysis and postulates that BCH can rocket to around $396 within a year which means it can roughly reach about $2,760 by 2020.
Cryptoground
Cryptoground predicts that BCH might rise to $560 by the end of 2019. They even added their version of BCH price prediction 2024, where they stated that BCH might reach $3,310 by 2024.
DigitalCoinPrice
Digitalcoinprice gave a slightly positive prediction saying that by 2019 end, BCH might be two times more worth than now – $566 per coin.
BCH Future: 2020, 2023, 2025
BCH Price Prediction 2020
BCH (BCH) has been one of the most contentious blockchains ever since its inception. However, the team kept working on their network and the project still seems to have some kind of a future, although the whole story and team behind it are fickle. In 2020, once the market wipes out the worthless projects, BCH might be still alive but the price could be far lower than now.
BCH Price Prediction 2023
If BCH survives to see 2023, that would mean the project stood the test of time and user adoption is growing, which would all lead to the token being worth at least 10-100x than its hitherto all time high. That would mean BCH would cost $43k+ per coin.
BCH Price Prediction 2025
Similarly to 2023, if BCH survives to see 2025, that would mean the project stood the test of time and user adoption is growing, which would all lead to the token being worth at least 100x+ than its hitherto all time high. That would mean BCH would cost at least $430k+ per coin.
Realistic BCH Price Prediction
Predicting prices of novel, highly volatile and risky asset classes is a thankless task – best answer is no one knows. Educated guess is that realistic BCH price for the foreseeable future is somewhere between its current price and its all time high.
FAQs
Will Bitcoin Cash rise again?
BCH is tied at the hip of bitcoin and by extension of the whole market. If bitcoin surges again, it will pull BCH and other altcoins along with it which would mean – yes, BCH will rise again.

Why Bitcoin Cash is falling?
Because the whole market is in a slump. Additionally, BCH has had some issues with miner centralization and lack of actual use cases which lead to its reputational decline and hence, diminished speculative value.
Why Bitcoin Cash is better than Bitcoin?
Those who claim this usually emphasize its lower fees and faster transaction times as major advantages over the crypto king – Bitcoin. However, these two alleged improvements come with a huge drawback in the sense of diminished network decentralization and technical instability (due to the untested code releases and hectic approach that prioritizes speed over security).
CaptainAltcoin's writers and guest post authors may or may not have a vested interest in any of the mentioned projects and businesses. None of the content on CaptainAltcoin is investment advice nor is it a replacement for advice from a certified financial planner. The views expressed in this article are those of the author and do not necessarily reflect the official policy or position of CaptainAltcoin.com