Quadency Review – Setup, Strategies, Token, Security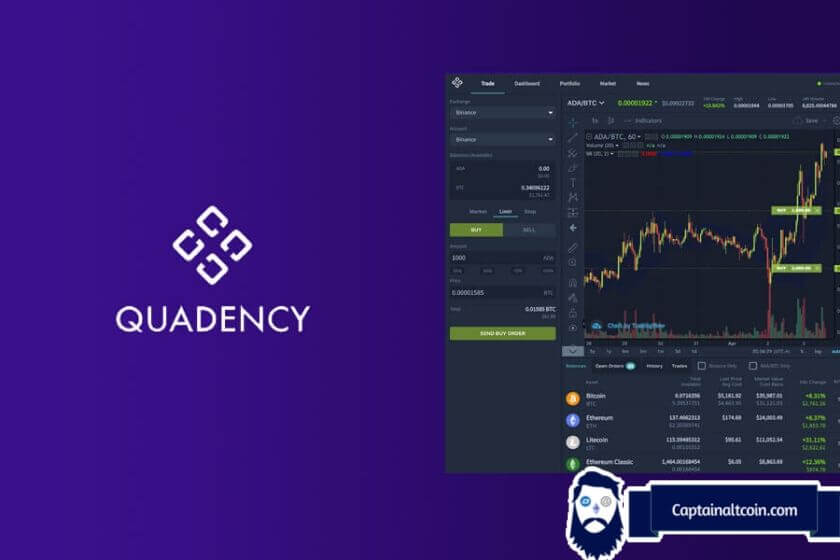 Quadency Review – Setup, Strategies, Token, Security
Extremely easy to use
Free up to 6 months
Beginner-friendly
Welcome to the digital frontier of cryptocurrency trading, where Quadency has emerged as a beacon of innovation. This comprehensive Quadency review will delve into the platform's unique offerings, providing insights that will help you make informed decisions about your crypto journey. We'll explore the ins and outs of the Quadency bot, a tool that's been making waves in the crypto community for its advanced features and user-friendly interface.
So, whether you're considering Quadency for your trading needs or simply curious about the buzz surrounding the Quadency bot review, this article is your gateway to understanding what makes Quadency a standout in the crowded crypto trading platform landscape. Let's dive in!
New bitcoin trading software with powerful features that seem to constantly one-up their competitors are springing up like mushrooms after the rain. Quadency is a new name on the crypto bots stage but it will definitely spoil the plans of current pack leaders.
| 📌 Section | 📝 Summary |
| --- | --- |
| 🚀 Introduction | Quadency is a crypto trading platform that simplifies the management of cryptocurrency assets. It provides advanced trading tools, strategy automation bots, and rich analytics for traders and investors of all experience levels. |
| 🔧 Key Features | Quadency supports multi-exchange trading, portfolio management, automated trading with its Smart Order feature, advanced charting tools, and prioritizes security. |
| 💰 Pricing | Quadency offers a free Hodler account with basic features. The Pro paid subscription costs $49.99 per month (or $39.99 per month with a yearly subscription) and includes higher trading limits, multiple bot usage, and more extensive backtesting. |
| 👍 Pros | Quadency has a user-friendly interface, supports multiple cryptocurrency exchanges, offers a range of analytical tools, advanced charting features, and provides high-quality, live support 24/7. |
| 👎 Cons | Quadency supports major exchanges, but some users may prefer additional exchange options. Certain advanced features and higher trading limits are only available with a paid subscription. |
Get 3 months free by connecting your Binance, Kucoin, OkEx or Liquid account.
Quadency bot review – cryptocurrency trading platform at a glance
---
So what is Quadency?
Quadency is a full-fledged cryptocurrency trading platform that offers a single interface for all your crypto needs – from managing portfolio, manual and automated trading to news & research segment for deeper, fundamental portfolio analytics of digital assets you find interesting.
Quadency is suitable for both beginners and professional traders.
That is a brief overview of Quadency trading platform but let's now move into a deeper Quadency review, with a special focus on its bitcoin bots options and it fares against other top crypto bots like Cryptohopper, 3Commas or Bitsgap.
Quadency main features
---
Quadency automated trading platform is divided in 3 separate sections:
portfolio management
unified platform with advanced trading features
automated crypto bots
They also have well-developed research & news sections that are easily accessible from the main dashboard.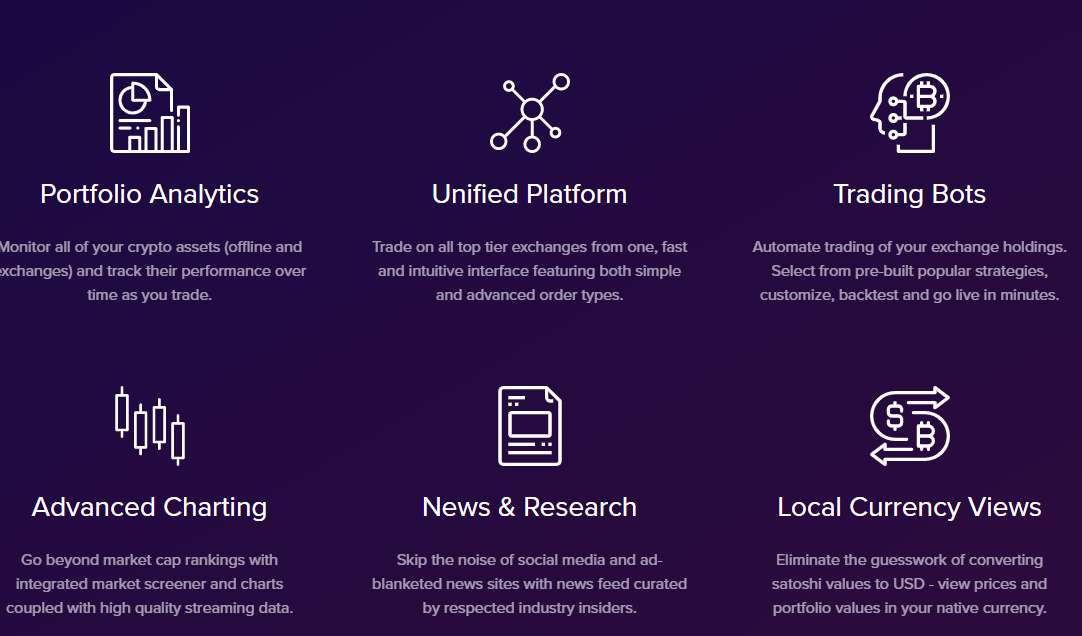 While all three divisions are useful, the main selling point of the platform are its automated trading bots. Hence, we will pay most of our attention on the Quadency crypto bots in this review.
Quadency trading bots – 7 best Quadency bots
---
Just as the name implies, trading bot is an automated software that trades for you by following the rules you previously set. Quadency currently has 7 automatic trading bots that follow different automated trading strategies as its decision-making base.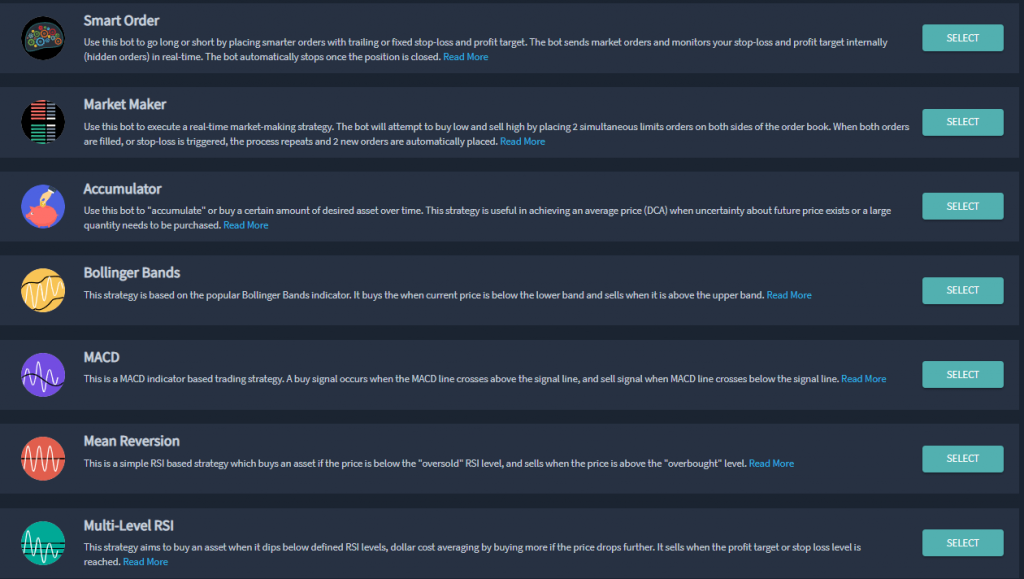 These are the 8 Quadency automated crypto trading bots you can use as of now:
Smart Order ⚡️
This is a simple bot that allows you to make orders with trailing or fixed stop-loss and take profit positions. The bot enters a position and then tracks the market movement. Once the price touches your SL or TP position, it will execute the given order. You can use it for both short or long positions. The trailing SL or TP options plus its ability to make "hidden" orders (doesn't put them on the exchange so your order is not visible to other experienced traders) are especially useful.
The bot stops as soon as one of the set positions gets triggered.
Grid trader ⚡️
This Quadeny bot automates the very well known "grid trading" strategy which seeks to profit from volatility of the market by placing multiple buy and sell.
Grid trader must know this – Aas the price action goes up and down within the grid, profit is realized from each buy-low, sell-high cycle completed.
Market Maker ⚡️
By using this bot, you are assuming the role of a market maker – an entity that quotes both a buy and a sell price for an asset it holds, hoping to make a profit on the bid-offer spread.
This bot makes profit in small bits, chopping off a tiny percentage on each move the market makes. It essentially puts in both buy and sell orders, relatively close below and above the current price. Once the price jolts down, it buys the asset and as it bubbles a bit up, it sells it while pocketing the small profit.
This Quadency bot has stop loss option that protects you from losing too much money in case the bot enters an unfavorable position and the price action moves away from it.
Keep in mind that you need to have sufficient balance of both asset of the trading pair you plan to utilize. It is also of crucial importance to pick a good trading pair: something not too popular as there is too much competition but also something that has enough liquidity or else you will get stuck in a position with no one to buy it off you or sell it to you.
Accumulator ⚡️
This is essentially an automatic DCA bot that lets you "accumulate" or buy a certain amount of desired asset over time. DCA is a popular investing concept where you buy smaller chunks of some asset over a longer period of time, at different price points, thus minimizing your downside.
Bollinger Bands ⚡️
This Quadency bot strategy is based on the well known technical analysis indicator called Bollinger Bands. The bot follows the interaction of the price action and the Bollinger Bands it puts in a buy order when current price is below the lower band and sells when it is above the upper band.
MACD ⚡️
MACD is another very popular indicator form the technical analysis tool set. This trading strategy is based on MACD and the bot enters a long position when the MACD line crosses above the signal line, and short position when MACD line crosses below the signal line.
Mean Reversion ⚡️
This Quadency bot is another simple RSI based strategy which buys a coin if the price is below the "oversold" RSI level, and sells when the price is above the "overbought" level.
Multi-Level RSI ⚡️
This Quadency bot looks to long an asset when it dips below defined RSI levels, dollar cost averaging by buying more if the price drops further. It shorts when the profit target or stop loss level is reached.
Quadency Backtest For Crypto Trading Bots
---
Quadency has backtest ability, which is a very useful testing feature.
Backtests works on an assumption that what worked previously, will work in the future – they are a safe way to estimate a bot's performance using historical data before committing real funds to a bot for live trading.
When using the backtest feature, you should strive to constantly refine your methodology and parameters by continually studying charts, past and current crypto market movements, patterns, indicators, and other data that can give you an edge.
Quadency portfolio management
---
Crypto portfolio apps are the first type of cryptocurrency apps that became popular, along the legendary Coinmarketcap. People needed a way to track the performance of their crypto assets from a single interface.
Quadency offers this option and the only thing you need to do is to connect your exchange accounts via API and the data gets pulled up instantly with a nice visual presentation of your portfolio across all cryptocurrency exchanges.
Quadency unified trading interface
---


This is another awesome feature that resembles what the well known app called Coinigy does – you can manage all your trading needs from one place as Quadency communicates with your exchange accounts via API.
Quadency offers advanced trading chart abilities with all popular technical indicators, oscillators and strategies readily available with a few clicks, just like with a widely popular TradingView platform.
Quadency Research & News
---
Research section is a Messari-powered rankings table with all coin market caps, daily trading volumes, hourly and daily price changes etc.
News section is a collection of hand-picked short news that Quadency team publishes to help crypto trader make better trading judgements.
Quadency Pricing
---
In contrast to other similar cryptocurrency trading bots, Quadency has a single price tier – $49 per month with a special package for institutional investors that is available at direct request.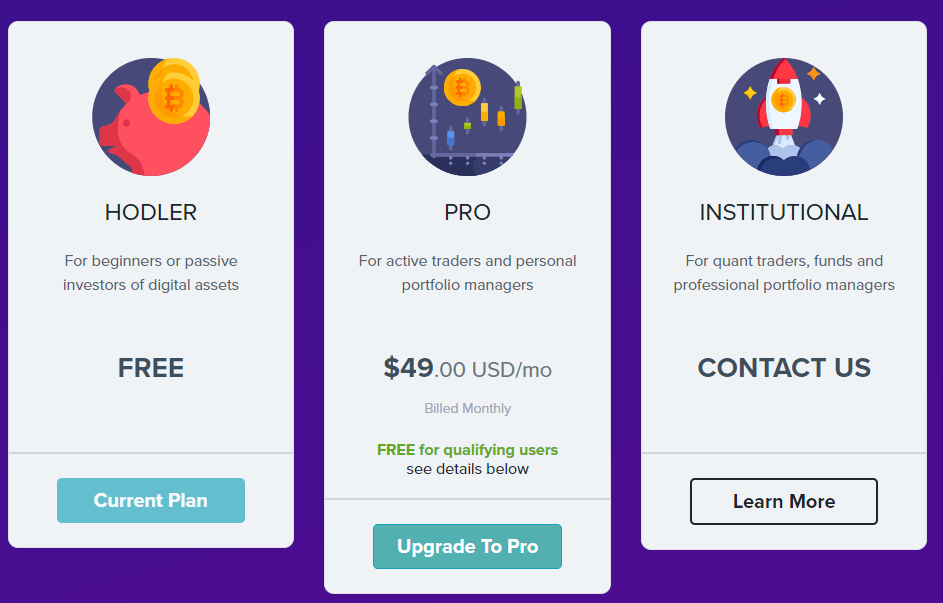 The Quadency team is pretty generous with their offering of their free package as well which is easily obtained for 3-6 months thanks to their cooperation with popular exchanges like Binance, Kucoin, Liquid, OkEx and in the near future Kraken.
You can also get more free months of their PRO package by referring your friends to join the Quadency platform.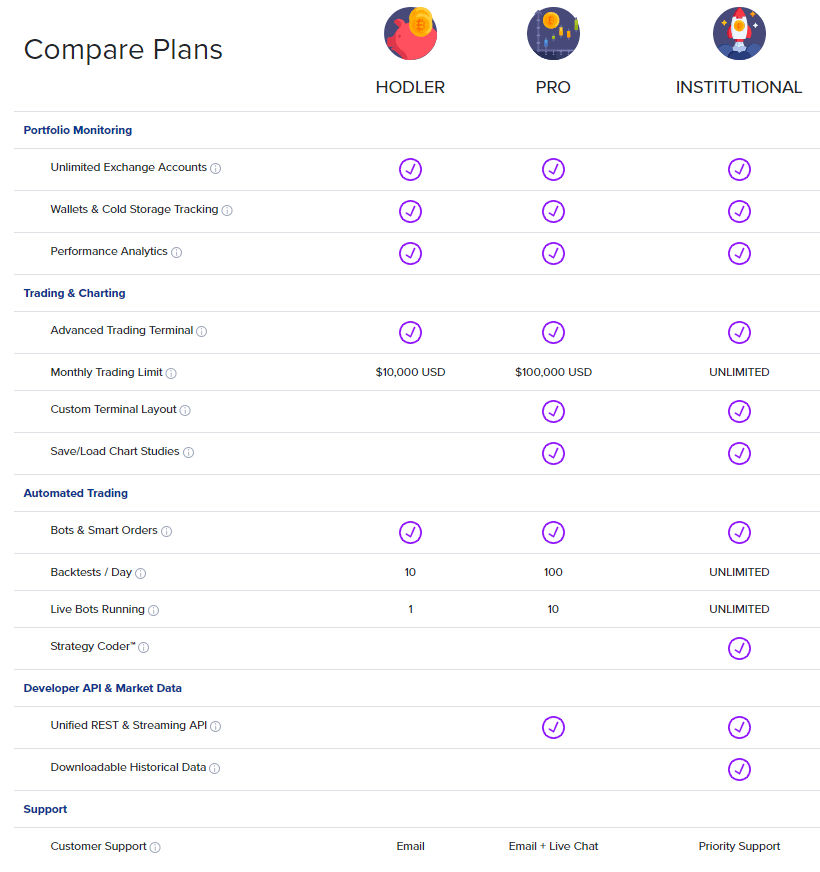 Quadency supported exchanges
---
Quadency currently integrates 12 different exchanges while support for further crypto exchanges is in the works.
Six of these twelve exchanges are official partners with Quadency and you get three to six months of free Quadency use thanks to their cooperation with these platforms.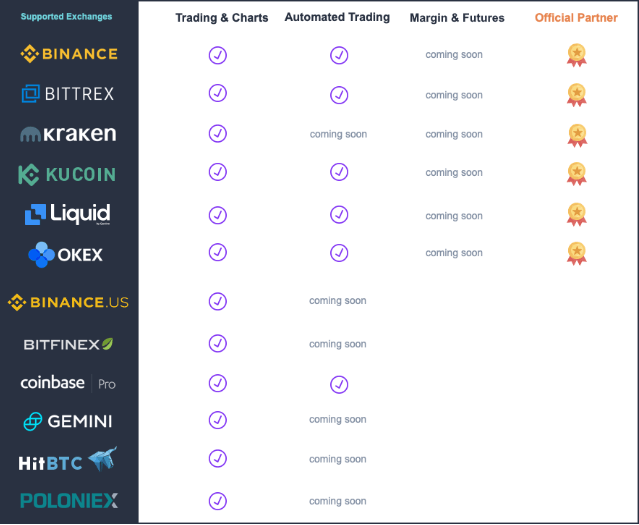 The supported exchanges include:
Binance
Binance US
Kucoin
Liquid
Kraken
OkEX
Bittrex
Coinbase Pro
Gemini
BitFinex
Poloniex
HitBTC
User accounts from different exchanges can be connected with Quadency API keys. It allows you to trade within a single platform with connected accounts. As you can see, Quadency supports all major exchanges.
How secure is Quadency trading platform?
---
Quadency implements all industry standard security measures to protect their users.
Quadency recommends the use of 2 Factor Authentication on their platform, which is a mandatory to have protection layer for anyone active in crypto industry.
To connect your exchange accounts, Quadency does require to enter your API Keys. These keys allow you (and only you) to access and trade your accounts from the Quadency platform. But you only need to allow trading permission for the platform to work while the withdrawal abilities are not needed. This ensures that, even in an unlikely case of Quadency security breach, hackers wouldn't be able to steal your funds.
Are derivatives such as futures and perpetual swaps supported?
---
Currently, Quadency supports only spot trading for all supported exchanges. But the team is working towards making margin, futures and perpetual swaps available in the near future.
Does Quadency have a mobile trading app?
---
Currently, Quadency has no mobile apps but they are under active development for both iOS and Android.
It is worth noting, though, that the web version of Quadency platform is fully responsive and allows you to perform most actions with ease from mobile and tablets.
Quadeny Token – QUAD
Now headquartered in the British Virgin Islands with offices in NYC and a global team of 20+, Quadency is expanding on its vision of simplified digital asset management through Quadency Exchange, which will feature QUAD as its native platform token.
The QUAD token will be used to access trading bots and backtesting. QUAD holders will gain exclusive and early access to Quadency's latest features, bots, and tools. The Quadency community can use QUAD to propose and vote on changes to the Quadency Platform.
How to register on Quadency?
---
Getting started with Quadency is free and easy!


Enter your name, email and a strong password
If prompted, verify that you are a human (sorry, we don't accept bots)
Click Create Account, you will see a prompt to check your email
Go to your email inbox and click the button/link in the email you received
Once your email is confirmed, you will be logged in and the setup tour will begin.
This setup tour will lead you through a fairly simple process of creating API keys on your chosen exchange and adding them to Quadency
Once the keys are added, Quadency quickly synchs with your exchange account and automatically adds the coins you hold to the portfolio management tab while you can do manual or automatic trades with the funds from the connected exchange.
Quadency customer support
---
There are two standard ways to get in touch with support agents on Quadency:
live chat button (only for PRO users)
email via support@quadency.com
There is also an extensive FAQ section where you can find most of the answers for frequent queries users had.
Final thoughts on the Quadency bot
---
To wrap up this Quadency review, we can safely say that Quadency is a legit platform, a serious business that aims to be your main gateway to the world of cryptocurrency.
Thanks to their great and intuitive design and a host of useful features, Quadency definitely has all the tools needed to join the ranks of top cryptocurrency trading platforms and bots.
They support all major crypto exchanges, have 7 simple but powerful bots for automated trading + a useful portfolio management and charting tools. The price is also very affordable, especially when you consider the value you get. All in all, Quadency crypto bot is the name you will certainly hear more often, probably in a positive and applaudable context.
Get 3 moths free by connecting your Binance, Kucoin, OkEx or Liquid account.
Quadency alternatives
---
If Quadency is not to your liking, check out our other guides on its competitors or a direct comparison of two top bots Cryptohopper against 3Commas.:
Margin review
Gunbot review
CryptoTrader.org review
PROS
Extremely easy to use
Free up to 6 months
Beginner-friendly
CONS
Less known than competitors

CaptainAltcoin's writers and guest post authors may or may not have a vested interest in any of the mentioned projects and businesses. None of the content on CaptainAltcoin is investment advice nor is it a replacement for advice from a certified financial planner. The views expressed in this article are those of the author and do not necessarily reflect the official policy or position of CaptainAltcoin.com