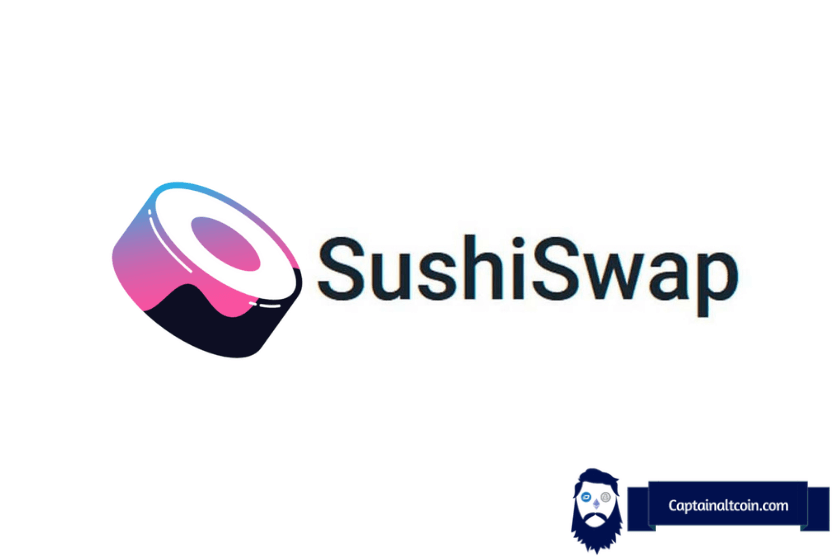 What is SUSHI
---
Sushi is a DEX (decentralized exchange) where users can swap tokens, provide liquidity, stake, trade and more. Powering this ecosystem is SUSHI, also known as SushiSwap, the native token of Sushi. It has a variety of uses within the Dapp (decentralized app) itself, and can also be traded as a token on many other exchanges.[1]
It is best known for its automatic market making (AMM) capabilities, and since their launch, have quickly gained the attention of the DeFi community. The SUSHI token has seen its price skyrocket in the past – from an all time low of ~$0.50 to an all time high of ~$23 in a matter of months. Today it sits at ~$11.35, but what does its future look like, and what exactly can shape its future price?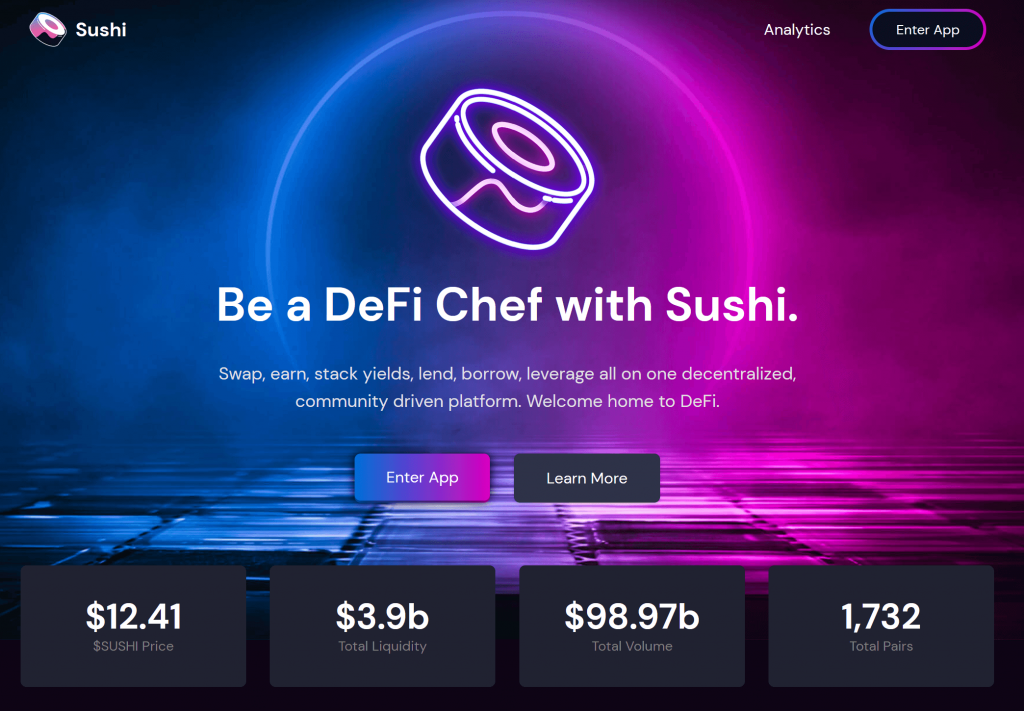 SUSHI Price Prediction
---
Below, we examine SUSHI in some detail, and attempt to make a reasonable price assumption for the near future with the help of several price predictors. It should be noted that while price predictions are based on data, and often are analyzed by AI, they should never be taken as financial advice or a solid basis for an investment. It is always highly recommended users do their own research into the projects whose tokens they wish to invest in.
The whole crypto world is on a verge of a complete breakdown. Bitcoin has fallen 75% from its all-time high amid broader market declines caused by raging inflation and US Fed rate hikes. When add the most recent melt-downs of huge industry players (FTX, Celsius, Luna etc) into the equation, the horizont is murky and there will be more blood on the streets of the crypto town. Investors are selling risky assets and moving into more stable markets. Crypto is still perceived as a very risky play and hence the sell off. Our algo still sees a some green in 2023, especially in the second part of the year. This is reflected in our 2023 predictions. Right now, Bitcoin needs to find a bottom before we can move in the opposite direction and reverse the trend. Once Bitcoin settles in the new price range, altcoins will start to do the same - we have witnessed this scenario dozens of times in the distant and more recent history. Our price prediction model is bearish for the next 90 days with a hint of a bull market at the turn of the quarters from Q1 to Q2. We expect whales and other bigger players in the market to finish filling their bags around that time which will cause a typical and sudden crypto spike. CaptainAltcoin team created a price prediction model with a multi-faceted approach to crypto that takes into account both technical analysis and fundamental assessment of each project. Fundamentals that we evaluate are team, tokenomics, use case, community, marketing efforts, liquidity and exchange availability, hype & speculative potential and some other proprietary factors developed in our crypto lab.
SUSHI Price Prediction For The Next 90 Days
Below is a tabular overview of how will SUSHI develop in the short-term (for the next 90 days), according to our prediction model:



Next 30 days

Next 60 days

Next 90 days

.
Essential tools you need to succeed in crypto
SushiSwap Price Prediction 2023
SUSHI Price Prediction 2025
Our prediction model sees SUSHI reaching $ 1.82 in 2025.
What will SUSHI be worth in 5 years?
The price of SUSHI in 5 years could lie around $ 1.64, according to CaptainAltcoin's prediction model.
SushiSwap Price Prediction 2030 – 2040
What SushiSwap will be worth in 2030?
Our forecasting model sees SushiSwap reaching $4.56 in 2030.
What SushiSwap will be worth in 2040?
Our forecasting model sees SushiSwap reaching $9.11 in 2040.
Will SushiSwap replace / surpass / overtake Bitcoin?
No, SushiSwap will not replace or overtake BTC.
Can SushiSwap reach $1000?
No, our prediction model sees no possibility for SushiSwap to reach $1000 in the short or mid-term period.
Is SushiSwap worth buying?
We are advocates of moderately risky investing – invest most of your crypto portfolio in BTC (50%); 35% in a basket of big cap coins and the rest in small projects with huge upside. So, in this context, SushiSwap is worth buying.
Is SushiSwap a good investment?
SushiSwap is, just like all other cryptocurrencies, a risky investment. It does have higher probability of going up than down because of the good use case, well-designed tokenomics, active community and a solid team behind it.
How much will SushiSwap be worth?
For the short-term future, it could reach $0.4374. In the long-term (8-10 years), it could jump to $4.56 or even higher.
Why will SushiSwap succeed and go up in price?
SushiSwap has a good use case, well-designed tokenomics, active community and a solid team behind it. All of these are a prerequisite for success and that is why our prediction model sees SushiSwap rising up to $4.56 in 2030.
Why will SushiSwap fail and drop in price?
Crypto projects fail for various reasons. Some of the most common ones are: team goes rogue and abandons the project, regulators declare it illegal and press exchanges to delist it, lack of media attention, more successful competitors, lack of well designed marketing strategy, losing community support, potential vulnerability in the protocol, failing to achieve anticipated minimum developement activity on the protocol, failing to attract new developers to build on their platform.
Can SushiSwap reach $100?
Yes, it is possible that SushiSwap can reach $100 but only in a distant future, after 2030.
How high will SushiSwap go?
Our forecasting model sees SushiSwap price exploding and reaching $9.11 in a distant future.
What is the short-term prediction for SushiSwap?
SushiSwap will reach $0.4374 in the next 90 days, which is a 41.8% change over the current price which hovers around $0.7515.
Can SushiSwap make you a millionaire?
Yes, if you buy large enough sum of it. Do not expect to invest $100 and become a SushiSwap millionaire. But 100x price explosions are a common sight in crypto, so a $10k investment in SushiSwap could make you a millionaire.
SushiSwap Price Prediction Today - What will be the price of SushiSwap tomorrow?
SushiSwap will hover around $0.7980 tomorrow.
Can SushiSwap reach $10?
Yes, SushiSwap could reach $10 by the end of 2024.
Read also:
Fundamentals
---
Use Case
---
SUSHI maintains and operates the Sushi network where it can be used to provide liquidity, or can be staked in return for rewards and voting rights on protocols. It is essentially an exchange token that can be traded both on the Sushi network and on other exchanges, but more significantly, makes for a great fuel for Sushi's automatic market maker (AMM) that utilizes smart contracts and liquidity pools.[2]
Automatic market makers are an important aspect of decentralized exchanges as they not only provide liquidity, but also allow the average person or trader to provide said liquidity in exchange for rewards. AMMs then use pricing algorithms to determine the prices of the assets, this allows for users to trade directly using smart contracts, without the need of an order book.
Tokenomics
---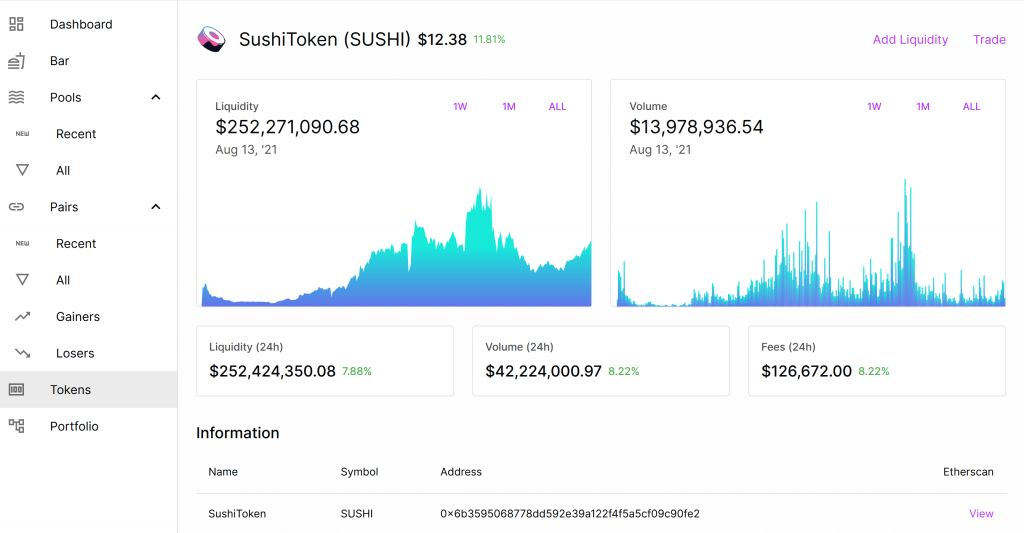 According to data gathered from Messari:
The current total supply of SUSHI is ~205,480,760.00, and is capped at 250,000,000.00
Of that amount, ~127,244,443.03 are currently in circulation
The projected inflation rate for the next 12 months is 14.41%
Supplemental data gathered from Coinmarketcap:
Current market dominance is at ~0.09%, and is currently ranked at #62 in the market
Addresses that own more than 1% of the current supply collectively own 90%
Its current market cap is ~$1,480,456,549.59 with a fully diluted market cap at ~$2,908,686,058.67
Since the max supply of SUSHI has been established, once it is entirely in circulation, inflation can begin to die down. Max supply means that not a single coin or token above the given number shall be created after minting; in this case, only 250,000,000 individual SUSHI tokens may exist.
Total supply is the amount of tokens that has already been minted (created), and current supply is the amount of the total supply that is in circulation.
The data presented above can be subject to change, always visit the source for up-to-date information: Messari – Coinmarketcap
Team
---
Sushi was co-founded by 3 individuals known by the usernames Chef Nomi, sushiswap and 0xMaki[3], and has grown to a team of 15 people represented semi-anonymously on their website by their usernames and unique anime-inspired portraits.[4]
Last year they found themselves in some controversy when Chef Nomi decided to withdraw 38,000 ETH from SushiSwap. However, the funds were later returned with an apology and an acknowledgement of the mistake.[3]
Currently SushiSwap is governed mostly by its community via discussions on forums and voting on the SushiSwap Snapshot. Major changes are voted on by the community whereas smaller ones are decided by 0xMaki and the core team. The goal is to establish a DAO with working trustless governance.[5]
They are active on Twitter, posting and retweeting updates and happenings within the SushiSwap community and the DeFi community as a whole.
On their blog page they go more into detail with their updates, be it new products or features, recent partnerships or community related events. Here they post articles of various lengths which are read by hundreds of users.
SushiSwap clearly uses a lot of imagery and terminology inspired by Japanese culture, often using food metaphorically for example. There is a laid-back, nostalgic feel surrounding the brand which is felt through the art and colors. While the team is not entirely open about their identities, the steps SushiSwap is taking towards decentralization, its growing userbase and platform have positive implications on the project.
Community
---
Perhaps their largest community in terms of members lies in Discord, with over 29,000 members, followed by Reddit and Telegram hosting ~4500 and ~4300 members respectively.[1]
They have ~100,000 followers on Twitter, where official posts tend to get hundreds of likes, and #SushiSwap itself is used several times around the hour all throughout the day. Community activity is on par with their numbers, and with an interesting project at hand, there's still room to grow.
Exchanges & wallet support
---
According to Coinmarketcap, currently, SushiSwap is listed on around 55 exchanges, and is supported by over 20 wallets[1].
Market price prediction
---
The one year forecast by Wallet Investor for SUSHI is ~$4,100 – a ~34,000%** increase – and for 5 years time they predict a price of ~$9,553, a ~79,500%** increase. It currently ranks Sushi as an A+ investment in terms of predictability.
| | |
| --- | --- |
| 2021-2022 | 2026 |
| ~$4,100 | ~$9,553 |
A 1 year forecast from Digital Coin Price predicts SUSHI will reach ~$23.90 – a ~100%** increase – and by 2026 expects it to hit ~$48.08 – a total increase of ~302%**.
| | | | | | |
| --- | --- | --- | --- | --- | --- |
| 2021 | 2022 | 2023 | 2024 | 2025 | 2026 |
| ~$20.63 | ~$23.90 | ~$28.99 | ~$33.97 | ~$43.11 | ~$48.08 |
Tradingbeasts predicts around a -20%** decrease by 2022 – down to ~$9.92 – and a ~144.40%** increase by 2024 – to ~$30.62.
| | | | |
| --- | --- | --- | --- |
| 2021 | 2022 | 2023 | 2024 |
| ~$11.99 | ~$9.92 | ~$23.43 | ~$30.62 |
*These predictions are merely supplemental data and should not be taken as financial advice
**Percentages are based on current value and could change anytime
Sushi Price Prediction – Summed Up
---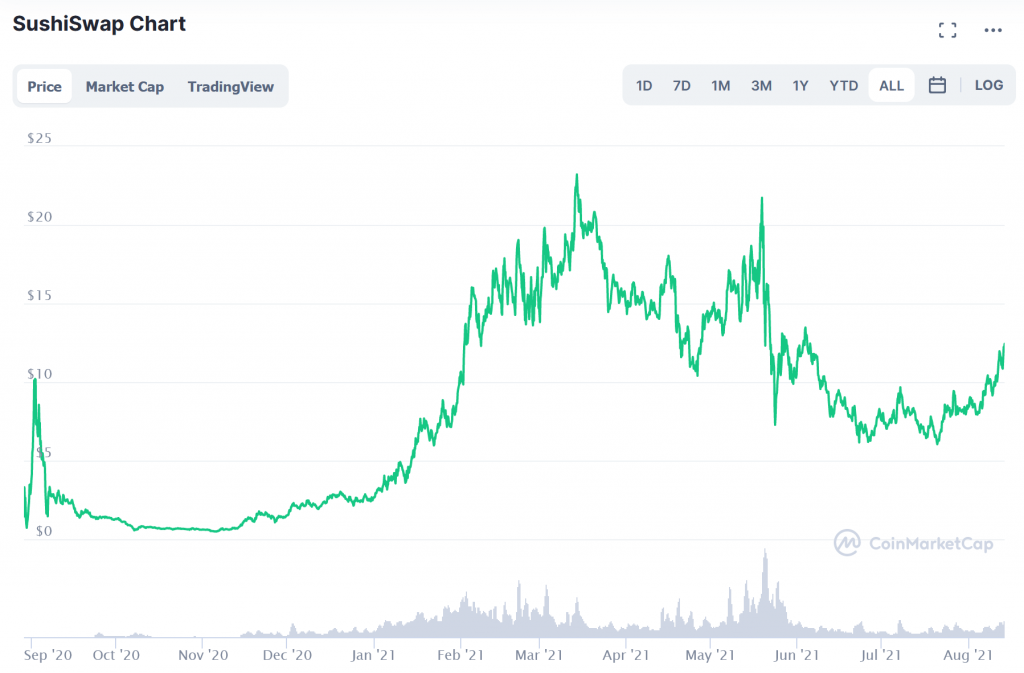 To conclude, given the available data it seems as though SUSHI is potentially volatile, with possible decreases in the short term, but good indications of growth for the long term.
A short term reasonable estimate: ~$26.31
A long term reasonable estimate: ~$45.35
Sushiswap price prediction 2025
Based on the data and arguments laid out above, a price of SUSHI token in 2025 could be in the $20-$30 range. A long term reasonable estimate: ~$26.31
SUSHI price prediction 2030
We are still not sure if Sushiswap and similar project do have a long-term future and SUSHI token could be worth ZERO in 2030 as the project might not exist by then. Chances are 50-50 in our eyes for that to happen.
Is SUSHI worth investing in?
SUSHI is a good investment for the short-term when the market is in the BULL run. Usually these types of DeFi projects do extraordinary well when the overall crypto market is in the green and they outperform other better known projects by a lot. However, make sure to exit them in time as they tend to do get a beating during ranging and bear market cycles.
Why will Sushiswap succeed?
Because it does propose a valuable service, the anonymous team behind it proved to be a very innovative and courageous, it already built a name for itself in its niche and suffered no security breaches or other types of compromises (economic, reputational etc). The token itself does provide utility and makes sense which is not the case with many other similar projects.
Why will Sushiswap fail?
SUSHI might fail because of the fierce competition, dynamic technological field and rocket-speed developments in its niche. Another common reason this type of project fails is team issues – either the team splits or outright abandons the project.
Where and How to Buy SUSHI
---
Where to buy SUSHI?
---
SUSHI can be bought or sold at a variety of exchanges from Sushi to Binance, Coinbase, FTX, Phemex, 1inch and more.[6]
How to buy SUSHI?
---
Buying crypto can differ from exchange to exchange, but here are solid guidelines to purchasing SUSHI:
Select an exchange that supports SUSHI and check for KYC (account verification) requirements and available payment methods.
Create an account on your preferred exchange.
Purchase SUSHI with your preferred payment method.
Already have an account on an exchange that supports SUSHI?
Purchase SUSHI with your preferred payment method.
Or
Swap some of your tokens with SUSHI.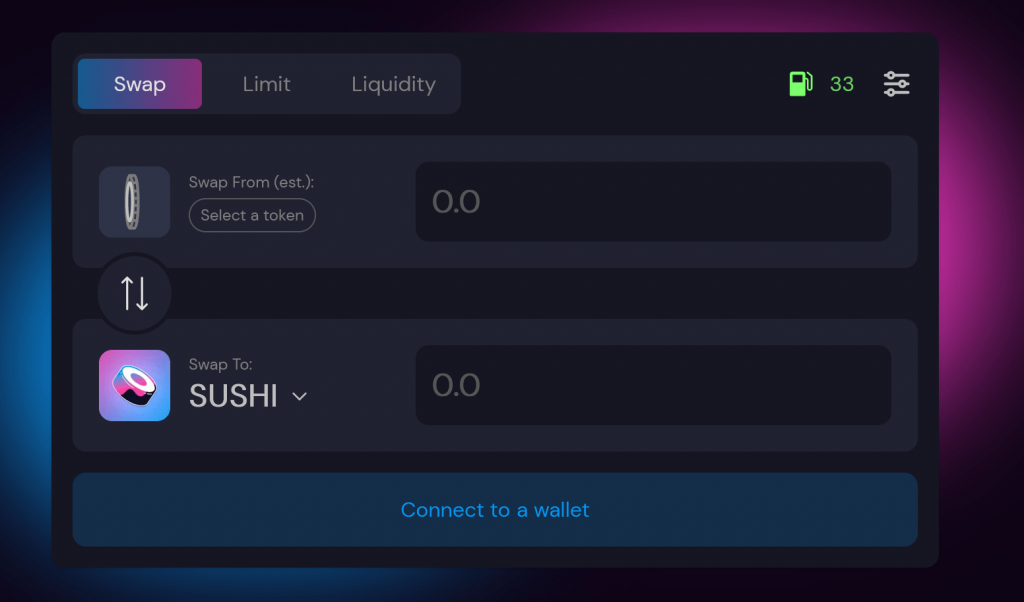 Note: many exchanges have minimum purchase and swap amounts on their platforms, and usually they are around $10-$20 in the token's equivalent. Additionally, most exchanges issue fees for purchases and swaps, these fees and their conditions differ from platform to platform, sometimes even geographically, thus, to minimize costs, comparing exchange fees and policies is a must.
SUSHI Wallets
---
According to Sushi, over 20 wallets exist that support the SUSHI token, these include:
In general, if an exchange supports SUSHI, it should also provide a wallet for it. There are exceptions however and some exchanges do not offer wallets for all their supported tokens.
The platforms that do offer wallets may have minimum withdrawal amounts and withdrawal fees that are independent of blockchain fees. Usually these amounts and fees are minimal, but those that pay attention to costs may be interested in understanding the withdrawal policies of the exchange. Conversely, it is very rare to find an exchange with deposit fees on crypto, as they like to incentivize users to deposit on their platform.
Furthermore, not all wallets, especially exchange wallets, offer private keys; this means that while the tokens still remain yours, they are not stored in your personal wallet, rather, on one major wallet where all or part of the exchange's assets are stored.
Summing it all up
---
SUSHI is an interesting case, because it is not just a regular DEX, but also an AMM (automatic market-maker), which along with DeFi, is also seeing an increase in interest, and the predictions taken into account above seem to agree with the general idea.
A $4,100 price tag, while ambitious, calls for very specific circumstances to work, which makes it unlikely. Nevertheless, price predictors agree on a general and significant increase in the long term, and given SUSHI's capabilities, a $35 value in 5 years time does not seem unreasonable.
Make sure to check out other price predictions too:
References & Resources:
[1] Sushi.com
[2] App.sushi.com
[3] Coinmarketcap.com/sushiswap
[4] Sushi.com/team
[5] Docs.sushi.com/governance-model
[6] Coinmarketcap.com/sushiswap/markets

CaptainAltcoin's writers and guest post authors may or may not have a vested interest in any of the mentioned projects and businesses. None of the content on CaptainAltcoin is investment advice nor is it a replacement for advice from a certified financial planner. The views expressed in this article are those of the author and do not necessarily reflect the official policy or position of CaptainAltcoin.com