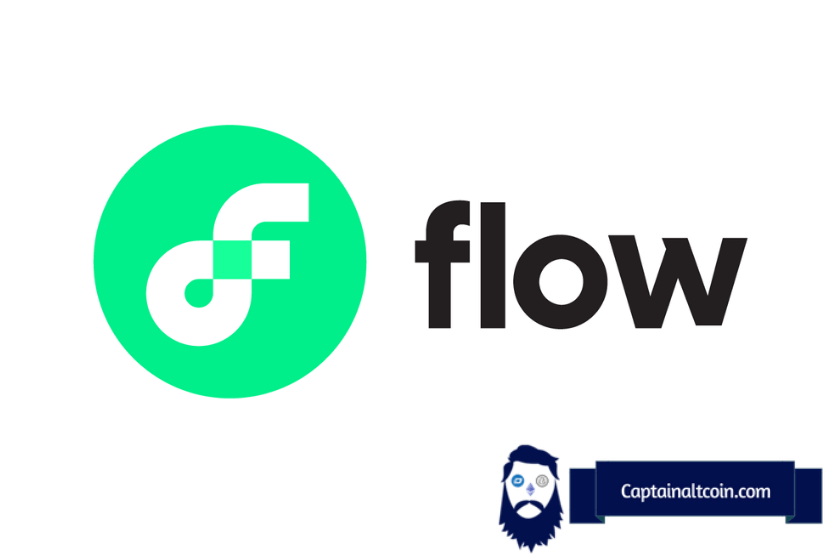 In this guide, we will voice our own and market's opinion on FLOW future while discussing Flow price forecast for 2023 and beyond.
Please bear in mind that you should take this and any other prediction with a grain of salt since predicting anything is a thankless task, let alone predicting the future of a novel, highly volatile financial asset like FLOW.
Now, let's head into it.
Before we delve deep into the Iota price prediction and answer questions if Flow is a good investment or not, why will Flow succeed or fail or why will Flow price rise or drop, let's quickly throw a glance at what is Flow and how it came about.
What is Flow Crypto?
---
Flow is a high-performance blockchain built by Dapper Labs, the creators of CryptoKitties, to efficiently scale for mainstream adoption of web3 games, apps, and digital assets. As a mobile-ready platform, Flow allows seamless user experiences across iOS and Android to bring blockchain capabilities to communities everywhere.
The Flow network uses its native FLOW token for staking, transaction fees, and other platform operations. Flow supports various web3 use cases like NFTs, decentralized finance, and decentralized autonomous organizations. Overall, Flow provides the blockchain infrastructure for the next generation of digital games, applications, and assets.
Flow Price Prediction
Since the whole market is tightly correlated, general sentiment is always the first thing to check before predicting the prices of individual coins. So, let us do a quick overview of the market. After a brutal crypto winter in 2022, the market has shown signs of life in 2023. Bitcoin has rallied 80% so far, putting it on track for its best year since 2020. Ethereum is also up 50% year-to-date. Several factors have fueled this crypto rebound. Most notably, Ripple Labs won a key legal victory against the SEC in June, leading to a short-lived price bounce. Renewed institutional interest has also provided a boost, with major firms like BlackRock pushing for Bitcoin ETF approval. Meanwhile, inflation has triggered a crypto comeback as digital assets gain appeal as an anti-inflation hedge. However, major headwinds persist. The total crypto market cap stands at $1.1 trillion after peaking at $3 trillion in late 2021. And volatility remains high. Bitcoin spiked to a 2023 high near $32,000 in May but has since pulled back below $30,000 amidst intensifying regulatory scrutiny. The SEC continues targeting top exchanges like Coinbase and Binance. While the worst of crypto winter seems over, the road to full recovery looks long. But institutional adoption continues growing steadily, and some analysts forecast Bitcoin topping $100,000 within a couple years. Regulatory actions remain crucial to watch. If cryptocurrencies can cement themselves as digital gold safe havens, macro trends could fuel their next bull run. But more clampdowns present downside risk. After a tumultuous 2022, 2023 shows crypto turning a corner - but uncertainty still looms large.
FLOW Price Prediction For The Next 90 Days
Below is a tabular overview of how will FLOW develop in the short-term (for the next 90 days), according to our prediction model:


Next 30 days
Next 60 days
Next 90 days
Essential tools you need to succeed in crypto
Flow Price Prediction 2023
Looking at the last quarter of 2023, the cryptocurrency market shows promising signs of a potential rebound. Bitcoin's 55% gain so far and renewed institutional interest indicate positive momentum. Despite regulatory challenges, the market remains resilient, with a total capitalization of $1.05 trillion. Anticipation is high for a positive and prosperous period ahead, with experts closely monitoring market trends and institutional crypto activity.
CaptainAltcoin's prediction model takes market sentiment into an account and reacts accordingly. Below is a month-by-month breakdown of the last months of 2023 and 2024:
FLOW Price Prediction 2025
Our prediction model sees FLOW reaching $0.9526 in 2025.
What will FLOW be worth in 5 years?
The price of FLOW in 5 years could lie around $0.8918, according to CaptainAltcoin's prediction model.
Flow Price Prediction 2030 – 2040
What Flow will be worth in 2030?
Our forecasting model sees Flow reaching $2.38 in 2030.
What Flow will be worth in 2040?
Our forecasting model sees Flow reaching $4.76 in 2040.
Will Flow replace / surpass / overtake Bitcoin?
No, Flow will not replace or overtake BTC.
Can Flow reach $100?
No, our prediction model sees no possibility for Flow to reach $100 in the short or mid-term period.
Is Flow worth buying?
We are advocates of moderately risky investing – invest most of your crypto portfolio in BTC (50%); 35% in a basket of big cap coins and the rest in small projects with huge upside. So, in this context, Flow is worth buying.
Is Flow a good investment?
Flow is, just like all other cryptocurrencies, a risky investment. It does have higher probability of going up than down because of the good use case, well-designed tokenomics, active community and a solid team behind it.
How much will Flow be worth?
For the short-term future, it could reach $0.2914. In the long-term (8-10 years), it could jump to $2.38 or even higher.
Why will Flow succeed and go up in price?
Flow has a good use case, well-designed tokenomics, active community and a solid team behind it. All of these are a prerequisite for success and that is why our prediction model sees Flow rising up to $2.38 in 2030.
Why will Flow fail and drop in price?
Crypto projects fail for various reasons. Some of the most common ones are: team goes rogue and abandons the project, regulators declare it illegal and press exchanges to delist it, lack of media attention, more successful competitors, lack of well designed marketing strategy, losing community support, potential vulnerability in the protocol, failing to achieve anticipated minimum developement activity on the protocol, failing to attract new developers to build on their platform.
How high will Flow go?
Our forecasting model sees Flow price exploding and reaching $4.76 in a distant future.
What is the short-term prediction for Flow?
Flow will reach $0.2914 in the next 90 days, which is a 38.2% change over the current price which hovers around $0.4716.
Can Flow make you a millionaire?
Yes, if you buy large enough sum of it. Do not expect to invest $100 and become a Flow millionaire. But 100x price explosions are a common sight in crypto, so a $10k investment in Flow could make you a millionaire.
Flow Price Prediction Today - What will be the price of Flow tomorrow?
Flow will hover around $0.5160 tomorrow.
Can Flow explode?
No, Flow price will not explode and record 5-10x pumps; but grow more modestly with an increase of 23.6% in the next year.
What will be the price of Flow in 10 years?
Flow price in 10 years will hover between $2.38 and $4.76.
Flow Price Prediction 2023 - What will Flow be worth in 2023?
Flow will reach $0.6120 in 2023, which is a 29.77% change over the current price.
Flow Price Prediction 2024 - What will Flow be worth in 2024?
Flow will reach $0.7352 in 2024, which is a 55.9% change over the current price.
Flow Price Prediction 2026 - What will Flow be worth in 2026?
Flow will reach $1.02 in 2026, which is a 116.3% change over the current price.
Flow Price Prediction 2027 - What will Flow be worth in 2027?
Flow will reach $1.31 in 2027, which is a 176.9% change over the current price.
Flow Price Prediction 2028 - What will Flow be worth in 2028?
Flow will reach $1.59 in 2028, which is a 237.5% change over the current price.
Flow Price Prediction 2029 - What will Flow be worth in 2029?
Flow will reach $1.88 in 2029, which is a 298.1% change over the current price.
Flow Price Prediction 2050 - What will Flow be worth in 2050?
Flow will reach $7.15 in 2050, which is a 1416.01% change over the current price.
WHY BUILD A NEW BLOCKCHAIN?
---
The Dapper Labs team was aware of the fact that the interconnectedness between smart contracts is more multifaceted and error-prone because of lapses in the generally followed method of sharding. Sharding- which is a term used for the process of separating large databases into smaller, faster, and easily manageable units- may be a suitable solution for payments, but has lapses when it comes to the ecosystem of complex applications like social networks or games. Flow meets the hopes of conventional developers and consumers without compromising decentralization or sharding the network.
HOW IS FLOW DIFFERENT?
---
Since time immemorial, the entire position on a blockchain is stored on every node (account balances, smart contract code, etc.) and performs all of the work associated with processing every transaction in the chain.
Flow is quite different in that it is designed to separate the jobs typically done by a single node across five different node types thus, the time and effort needed to improve consistency are reduced significantly. To further establish this approach, the Flow team developed a new cryptographic technique called Specialized Proofs of Confidential Knowledge (SPoCKs) to address the Verifier's Dilemma. The Verifier's Dilemma is a term used to explain the friction between the computationally complex puzzles in a Proof-of-work consensus network, the economic incentives offered for solving those puzzles and the rational behavior of the miners.
Flow is divided into FOUR node types to attain outstanding enhancement in speed and throughput
The Collector Nodes amplify efficiency
The Execution Nodes allow speed and scale
The Verifier Nodes guarantee correctness
Consensus Nodes ensure decentralization
By improving upgradable smart contracts and human-readable security, flow improves usability for developers and consumers by rethinking many other design choices.
The result is that each transaction has full ACID (Atomicity, Consistency, Isolation, and Durability) guarantee. With this approach, developers can safely and conveniently build on top of each others' code, to create totally new products and services at a mouth-watering pace. This is called composability. A similar thing to composability is open source software, which allows developers to innovate faster, ultimately leading to more consumer choice.
Read also:
WHAT CAN YOU BUILD ON FLOW?
---
Flow offers different services for different categories of users
Artists or bands can use crypto tokens to give millions of fans unparalleled new ways to show their fandom
Games that reward players for adding value and enable assets and identities that users can take across infinite open environments platforms
for sports fans around the world to trade verified, authentic, limited-edition digital memorabilia in real-time.
WHAT DOES FLOW MEAN FOR CRYPTOKITTIES, DAPPER, AND CHEEZE WIZARDS?
---
The first question on the mind of many is "what will happen to Cryptokitties, dapper and cheese wizards after the launch of flow?" From a statement released, Dapper Wallet will still support Ethereum and Flow without a glitch, giving consumers easy access to assets and applications on both networks. Both CryptoKitties and Cheeze Wizards NFTs and their associated smart contracts will continue to live on Ethereum. Flow will allow new features to be integrated into the game, including animations and third-dimensional capabilities.


Flow Price Prediction 2023 – 2025
---
"The FLOW token … is the native asset for the Flow blockchain that is used by validators, developers and users to participate in the FLOW network and earn rewards. Right now, as a user, you can interact with Flow via NBA Top Shot or by buying artwork from the VIV3 NFT marketplace, as well as other working apps built on the blockchain. Developers can begin using the various built-in tools to experiment with Flow and start building their own dapps.
While Bitcoin and Ethereum show how crypto can make the world of finance more open and transparent, Flow aims to do the same for consumers of entertainment and culture. Dapper Labs' NBA Top Shop project is now the most popular non-fungible token (NFT) series by volume after being launched in October 2020. The firm has generated almost $100 million in NFT sales.
Flow is still highly concentrated by Dapper Labs (20%), its development team (18%), and large investors (11.1%) and small investors (8.9%). This could be a red flag when it comes to the decentralization of the network but could this could change in the future with further dilution and other community sales.
NFTs are on the rise and are offering to create many tokenized brands. With the recent fundraising, Dapper Labs will be able to work with Warner Music Group, Dr. Seuss Enterprises, and the Ultimate Fighting Championship (UFC) to create new experiences.
Flow Market Price Predictions
---
CryptoNewsZ has an optimistic long-term prediction, forecasting the FLOW token could reach $2.70 by the end of 2026.
For 2023, AMBCrypto expects FLOW to trade between $0.39 and $0.45 per token, with an average price around $0.63.
CoinCodex also sees FLOW ranging from $0.39 to $1.03 next year.
DigitalCoinPrice predicts FLOW starting 2024 at $1.30 and averaging around $1.59 for the year.
However, PricePrediction.net has a bearish forecast, projecting FLOW could fall to $0.09 in 2024, making it a potentially poor investment choice for that timeframe.
Is Flow coin a good investment?
The project has a huge backing by legitimate and rich companies and VC funds and is run by a proven crypto team. The FLOW token has solid tokenomics but the ownership of the token is highly centralized which poses a risk of big price fluctuations in case those entities with large amouns to of the token decide to sell them off.

Overall, FLOW coin is worth investing thanks to its use case, technology and team.
Why will FLOW succeed?
Flow has a big chance of succeeding thanks to the fact that NFTs are on the rise, it has solid technology behind the project, great business dynamics and partnerships. It is one of the best NFT projects to invest in 2023 and beyond.
Why will FLOW fail?
One of the reasons why Flow might fail is a pretty weak community behind the project, general lack of communication with retail investors (the team seems more focused on companies and large investors). This leads to a deficient speculative potential and lack of hype around the coin which is the main fuel behind the rise of the majority of crypto coins.
WHERE CAN YOU BUY FLOW?
---
Since you cannot buy flow with fiat, you will need to look for an exchange that supports both fiat and cryptocurrency to make things easier when buying Flow.
There are currently 15 Flow exchanges where you can buy, sell and trade Flow (FLOW)
Open an account on an exchange that supports FLOW. (a few examples include OKEx, Kraken, UPbit, Huobi Global, Pionex, gate.io)
Most exchanges require registration with an email address, phone number, and proof of identity to register. Complete the KYC
Deposit funds into your account: Fund your account with a bank transfer, pay with a credit or debit card, or deposit cryptocurrency from a crypto wallet to buy FLOW.
Buy Flow- Since it is not possible to buy all FLOW directly with U.S. dollars. You will need to buy either Bitcoin or Ethereum with your fiat before clicking on the trading pair, depending on what you choose, the trading pair should have changed to FLOW/BTC or FLOW/ETH. You can place your buy order by selecting New Order. You should see two options; the limit order button and the market order button. If you want to buy FLOW when it reaches a specific price, use the limit order by selecting the Limit button. Enter the desired price (in BTC or ETH) and the amount of FLOW you want to buy, and then click the Buy button.
Complete your Flow purchase and HOLLA!!! You now own some FLOW token.
WHERE CAN YOU STORE FLOW?
---
Flow (Dapper Labs) has its own wallet software that is available for download on its website. With this, you can store Flow (Dapper Labs) on your computer or your hardware wallet. For the utmost security, you should store your cryptocurrencies on a dedicated hardware wallet such as a TREZOR wallet or a Ledger Nano X.
If you are not a big fan of a hardware wallet, you may consider using a mobile wallet such as Atomic Wallet, Jaxx, or Coinomi to store your flow token with some other cryptocurrencies and you will enjoy some added security benefits. 

CaptainAltcoin's writers and guest post authors may or may not have a vested interest in any of the mentioned projects and businesses. None of the content on CaptainAltcoin is investment advice nor is it a replacement for advice from a certified financial planner. The views expressed in this article are those of the author and do not necessarily reflect the official policy or position of CaptainAltcoin.com