Welcome to our definitive City Index review, your go-to resource for understanding one of the financial industry's most reputable trading platforms. If you're on the hunt for a platform that combines state-of-the-art trading tools with top-notch market research, City Index is a name you'll want to know.
From its versatile Web Trader platform to its well-crafted mobile app, this City Index review will cover all the essentials you need to make an informed decision. Dive in to learn about pricing, supported countries, and the unique features that set City Index apart in the crowded trading landscape.
City Index has been around since 1983, delivering Spread Betting, FX and CFD Trading services from the heart of London. They currently offer Forex, Index, Share, and Commodity trading on over 12 thousand markets to customers all over the world, claiming they place significant emphasis on helping their traders grow by giving them the tools they need to improve their overall skills.
| Feature | Summary |
| --- | --- |
| 🌐 Web Trader Platform | City Index's flagship Web Trader platform offers advanced trading tools and integrated research. |
| 📱 Mobile App | The mobile app is well-designed, featuring advanced functionality, integrated research, news headlines, and market commentary. |
| 🔔 SMART Signals | City Index offers a SMART Signals subscription that generates 200 distinct trading signals each week. |
| 🛠️ Complex Order Types | The platforms support complex orders like trailing stop-loss and OCOs. |
| 📊 Charts | Charts are powered by TradingView and offer over 80 indicators and various drawing tools. |
| 📈 Trading Central Modules | The mobile app integrates Trading Central modules, including Technical Insights, Featured Ideas, and Analyst Views. |
| 📰 Market Research | High-quality market research is available, including daily editorial, news headlines from Thomson Reuters, and an economic calendar. |
| 🎓 Educational Experience | Rich educational content for both beginners and intermediates, including video series, guides, and archived webinars. |
| 🌍 Supported Countries | Regulated in multiple jurisdictions and has offices in the UK, Australia, Singapore, and Poland. |
| 💰 Pricing/Fees | Pricing for CFDs, forex, and spread-betting is industry average. Offers a Premium Trader account for deposits over £10,000. |
| 📉 EUR/USD Spread | The average spread for EUR/USD is 1.1 pips, slightly above industry average. |
| 💳 Active Trader Benefits | Rebates and discounts are available for professional traders in the UK and Australia. |
| 🛡️ Backed by StoneX Group | City Index is a trusted brand with a Fortune 500 parent company. |
| 👆 Versatile Platforms | Offers versatile trading platforms and a well-designed mobile app. |
| 📚 High-Quality Research | Provides diverse, high-quality market research. |
| 🎥 Video Content | Video content production has slowed down, affecting its ranking in this category. |
| ❌ Limited MetaTrader Offerings | Does not offer MetaTrader 5 and has a limited product range on MetaTrader 4. |
Our today's overview will focus on analyzing the complete set of City Index's features to determine if they truly provide the market-leading service they claim to do.
About the Platform
---
City Index's is currently parented by GAIN Capital Holdings Inc., one of the largest retail and institutional trading providers in the world. The platform has been around for more than 20 years now and has across this time developed a strong track record in providing retail and institutional customers with trading services.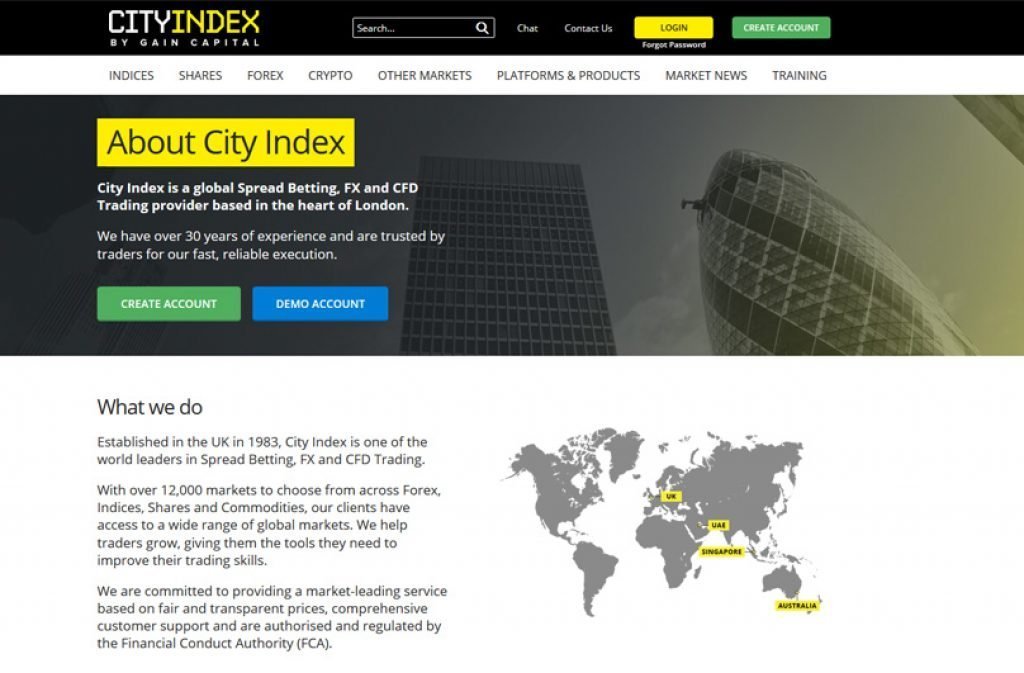 GAIN Capital is headquartered in Bedminster, New Jersey, and has a global reach with 800+ employees spread out across offices in North America, Europe and Asia Pacific. It is regulated by 8 separate bodies and is listed for public trading on the New York Stock Exchange. As such, they are required to consistently meet the highest standards for corporate governance, disclosure, and financial reporting.
The platform currently provides services to 150 thousand traders worldwide, covering almost a billion USD worth of their assets.
| | City Index | IG | Plus500 |
| --- | --- | --- | --- |
| Account fee | No | No | No |
| Inactivity fee | Yes | Yes | Yes |
| Withdrawal fee | $0 | $0 | $0 |
City Index non-trading fees
| | City Index | IG | Plus500 |
| --- | --- | --- | --- |
| Bank transfer | Yes | Yes | Yes |
| Credit/Debit card | Yes | Yes | Yes |
| Electronic wallets | No | Yes | Yes |
City Index deposit options
City Index itself has over 30 years of experience and has also saw its quality recognized by the community through various awards, including being voted "Best MT4 Broker" at the UK Forex Awards 2017, best CFD Provider, best Mobile application, and best Cryptocurrency Trading Platform at the Online Personal Wealth Awards 2018, and best Spread Betting Provider 2019 – Online Personal Wealth Awards.
Account Creation
---
Navigate to the "create account" button on the platform's website home screen to start registering for trading on City Index. This will lead you to the initial application form which will ask you to provide some personal information.
Your country of residence, full name and title, date of birth, e-mail, and phone will need to be submitted on this screen. The form will additionally ask you to create your own unique username, as well as a password for the account.

After ticking the boxes asking if you are interested in either spread betting or CFD trading, move onto entering your address details.
The following step will ask for your full address, including your town of residence, county, and postcode. Additionally you'll need to answer a couple of questions about your tax status before being asked to give more information about yourself.
Keep in mind that the answers you give during this step will be used to determine whether the platform will be able to open an account for you. The platform will ask you about your employment status, about your financial situation (like your income and savings/investments), and about your planned initial deposit.
Further down the line they'll require you to explain how often you traded shares or bonds, futures, options, ETFs, spread bets, CFDs, margined FX in the past. After answering if you have a good understanding of trading spread bets or CFDs (either achieved through work experience or studying), you can move onto the final part of your sign-up: the declarations.
You will need to declare that spread bets, CFDs and FX are leveraged products and their performance may be volatile; you will also need to understand that it's your responsibility to monitor and manage your account; finally you'll need to understand that when trading leveraged products your capital is at risk. After confirming that you accept the platform's Terms and Policies, your application can be fully submitted.
In order to complete your application and help get you started quickly, the platform will need you to provide proof of identity and proof of address documents.
Driver's license, a passport, or a national ID will suffice in terms of verifying your personal data, while a bank statement, credit card statement, or a utility bill will be enough to verify your address (these documents shouldn't be older than 6 months). Once your data is verified, you can start using the platform for trading purposes.
All subsidiaries provide City Index demo accounts to their customers. One demo account gives you a 12 week-long access to City Index's full set of trading and support features / tools. You will also be given 10,000 pounds worth of virtual cash which can be used to set up positions and trade. Fundamental, technical analysis, as well as educational tools, walkthroughs, and live support, are available through every step of a demo trader's way.
Keep in mind that demo accounts are intended to help you learn the tools and features of City Index's trading platforms; the success (or failure) you achieve in these simulated terms will not necessarily reflect onto the future results of your live trading. You can sign up for a demo account here.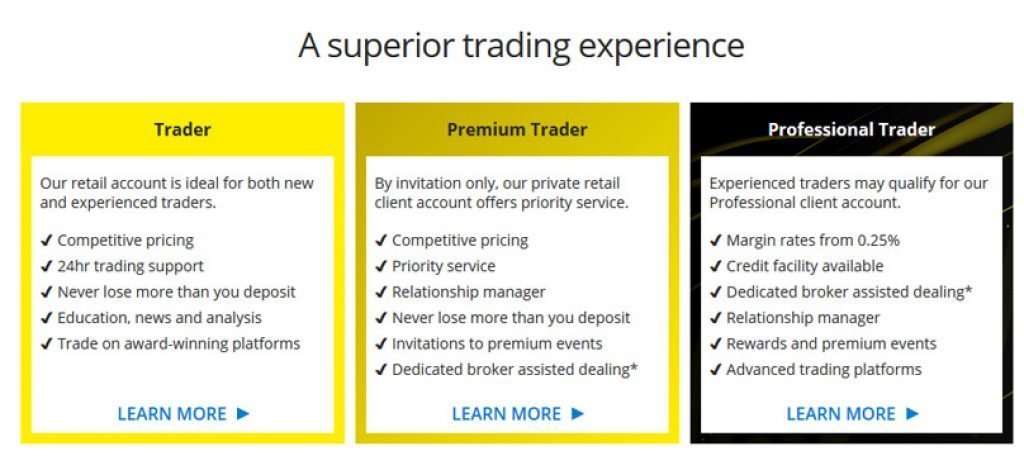 For those who are interested to directly dive into trading waters, there are plenty of live trading options as well. Regular retail accounts can be used to trade with competitive pricing, 24 hour trading support, and access to features like negative balance protection and margin close-outs. Build your trading strategies with the help of detailed news, educational resources, and analysis and apply them on City Index's award winning platforms.
Other than that, your retail account can be upgraded to the status of a premium trading account. This account operates on an invitation-only principle and offers priority service, as well as a dedicated manager who will be there to answer all your questions whenever you need him.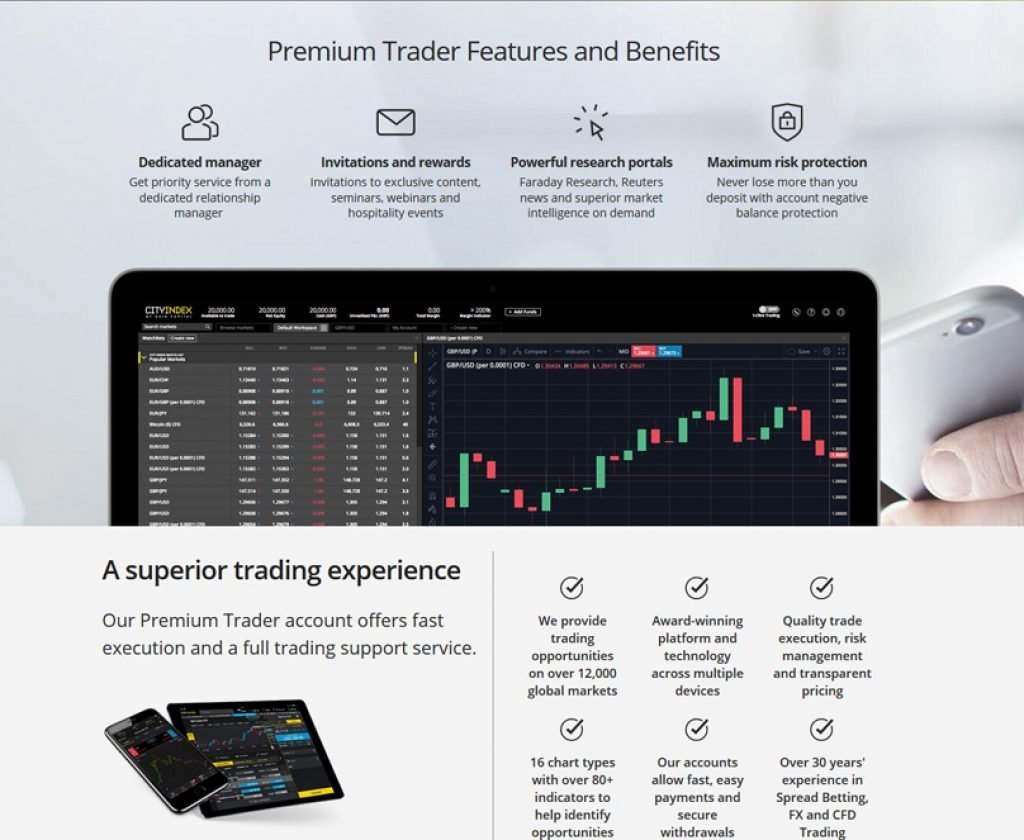 Access to exclusive content, seminars, webinars, and hospitality events, information through Reuters news and market intel on demand, and yet again negative balance protection features are available to traders who sign up for the premium account service (one condition to open/maintain this account is to have an account balance of £10,000+).
There is a third level of live trading accounts, the so-called professional accounts. Those traders who satisfy special on-platform conditions can access these accounts and enjoy such features as £1,000 switcher bonus, monthly cash rebates on FX and Indices trades, credit facility and broker-assisted dealing, and access to a dedicated Client Relationship Manager.
Professional traders also get professional margin rates which are significantly more attractive than the ones available to retail/premium traders. These start from 0.25% and apply to all of the platforms on City Index; pros can trade indices and FX with margins of up to 400:1, stock with margins of up to 33.3:1, and cryptocurrencies with margins of up to 20:1 (significantly better than 2:1 available for retail clients). Professional accounts also offer trading through Advantage Web and AT Pro.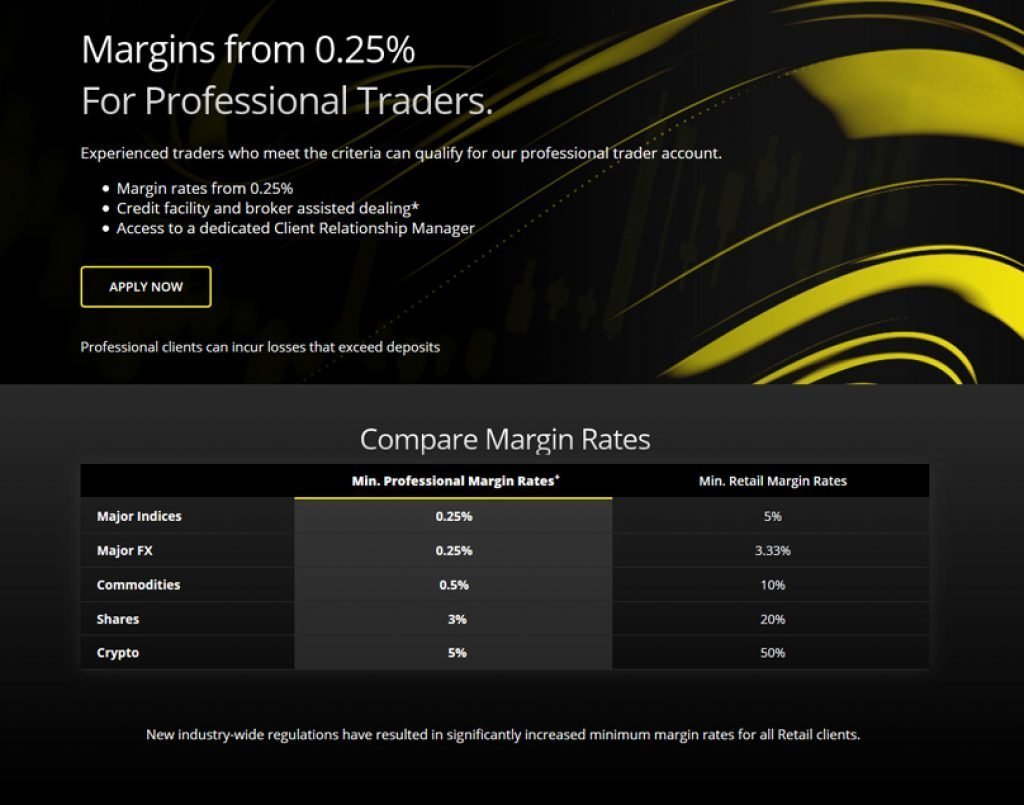 To qualify as a Professional Client you need to meet two of these three criteria:
Trading volume: Made an average of 10 significantly sized transactions per quarter over the last four quarters
Portfolio: Have a financial instrument portfolio, including cash deposits, exceeding €500,000
Experience: Worked in a professional position in the financial sector requiring knowledge of trading leveraged products for at least 1+ year(s)
Professional accounts still receive some protections that retail ones enjoy, including segregated funds and fast execution; however, those who move up to this level of trading will relinquish features such as negative balance protection and margin close out levels. City index will presume professional accounts are managed by advanced users and will likely use a more sophisticated, trading-oriented language when dealing with them. In terms of platforms, professional accounts get support for the AT Pro and Meta Trader 4 platforms, and are given extra trading tools from Dataminr.
There are additional differences between accounts offered by specific subsidiaries of City Index. CFD trading is available in all subsidiaries, while the UK office is special in that it offers spread betting. Australian and Singaporean offices only offer Trader and Premium Trader accounts, while the UK and Middle East offices also offer Professional Trader Accounts.
Different subsidiaries are also regulated by different agencies; UK and Middle East operate under FCA rules, Australia under ASIC, and Singapore under MAS. As for complaints, Only Singapore has its customers file them through FIDReC while the other three use FOS for this purpose. Singapore subsidiary also won't provide services to UK and EU residents. If you already have an account with City Index UK and wish to switch to a different office, you can do so by completing the platform-provided simple account request form (only available to existing UK clients who wish to switch to City Index Australia).
Trading
---
The platform is mainly CFD trading oriented, but traders can engage in spread betting and FX and cryptocurrency trading as well.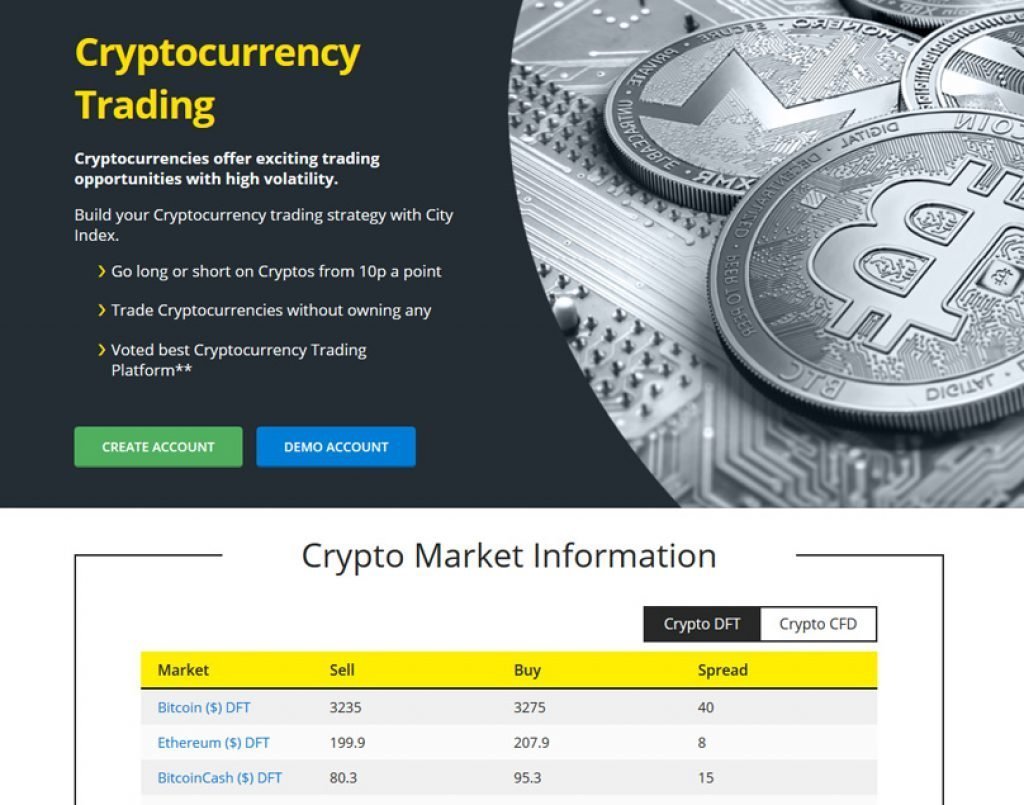 CFDs or Contracts for Difference are a type of trading derivative which allows traders to invest in the future price movements of an underlying asset, without having to outright own said asset. With CFDs, traders don't have to worry about overhead costs and can be much more flexible regarding their trades. CFD trading is a type of trading which allows you to apply leverage to your positions; this way, traders can significantly increase the total size of their position, at the same time increasing potential profits (as well as losses).
Spread betting is a similar product to CFDs as it also allows you to speculate on the movements of a financial market. However these products are available only to UK customers and profits made through them are free from UK Capital Gains Tax and Stamp Duty. There are some additional differences which you can review here.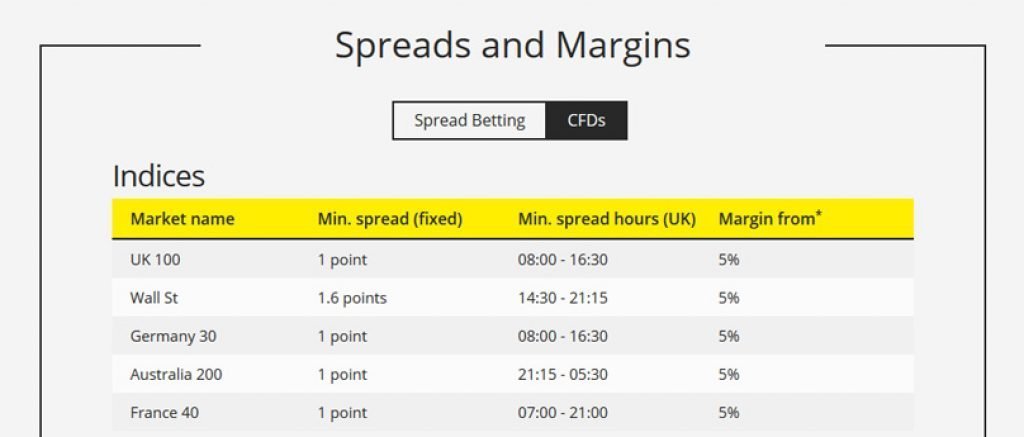 Order execution is a special area of attention at City Index. No matter which type of trading platform you choose or which type of asset you are trading, the execution is fast and timely, allowing you to maximize your results. Additionally, if the price moves in a direction that is in your favor during processing, City Index will execute the order at the improved price. The range of orders is quite comfortable, with traders being able to execute stop loss orders, limit orders, stop and limit orders, one cancels other (OCO) orders, guaranteed stop loss orders, trailing stop orders and more.
City Index has some additional trading perks, including the ability to transfer unrealized profits from your open positions into margin for new positions, giving you excellent flexibility as a trader. They also offer a futures roll-over discount and the ability to scale in and out of trades in increments (either a FIFO or non-FIFO basis). You can also hedge existing positions and go long/short on an existing position, as well as enjoy the protection of a close out level which closes your trades when your funds drop below 50 percent of the margin requirement.
Trading itself is done through integrations with the following platforms:
Web Trader operates on top of the HTML5 technology and is available to desktop users through their web browsers. The platform is fully customizable with a switchable interface that's easy to master and use. The platform also possesses useful risk management options, advanced charting options with custom indicators and precision drawing tools. Web Trader gives you the ability to trade directly through charts and overlay multiple markets. City Index also provides a helpful FAQ and a handful of instructional videos which can help traders familiarize themselves with the Web Trader faster.
City Index offers trading through two mobile applications, iOS and Android ones. IOS app lets you take advantage of the platform's advanced toolset through your iPhone or your iPad, while the Android one focuses on the rest of the smart phone/smart tablet market. Trade anywhere, at any time, plan your trades with full-screen charts and over 60+ technical indicators, create personalized watch lists, stay in touch with the market through the economic calendar and Reuters news, add stops and limits, OCOs and if-done orders and enjoy an experience nearly identical to the ones available through the Web Trader.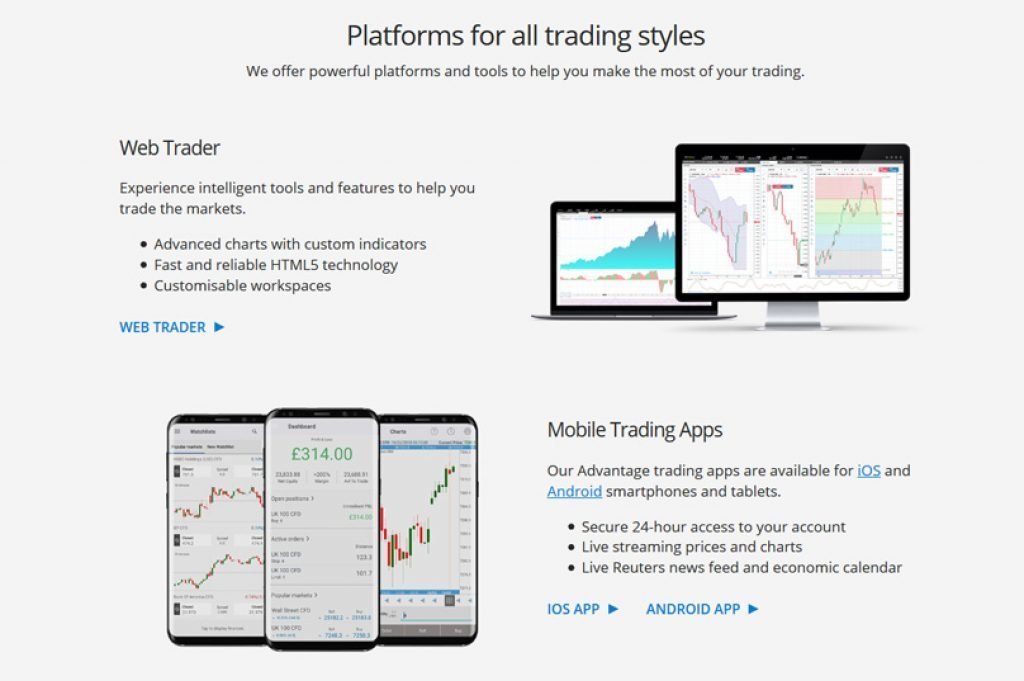 City Index allows its traders to skip both the web/mobile experience and take full advantage of advanced desktop trading platforms. MetaTrader 4 is the first downloadable platform available for retail traders. Light spreads, fast execution, dedicated FX trading, expert advisors, custom indicators, trade signals, professional charting, economic calendar, advanced order types, and hedging tools can all be found on this platform built by MetaQuotes way back in 2005. AT Pro offers even more and is a platform currently available to advanced users. It lets traders create their own unique trading templates in C#, .NET and Visual Basic or choose from hundreds of built-in templates. Every template can be back-tested to see how its signals performed against past market data.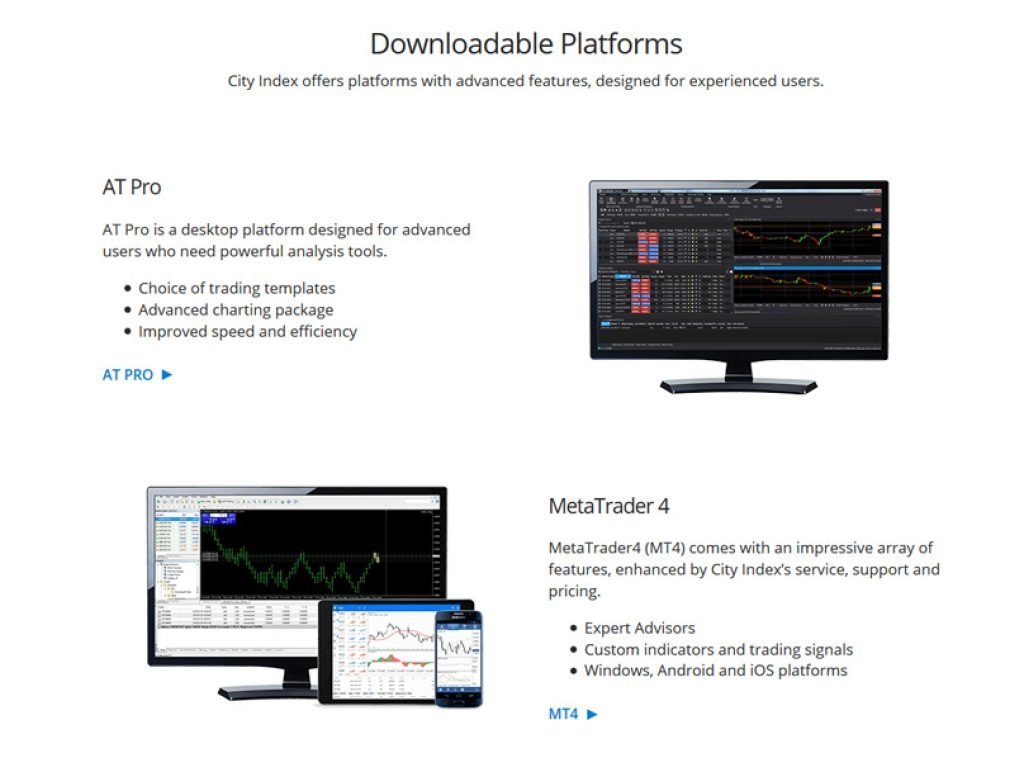 Deposits and Withdrawals
---
The platform has a centralized MyAccount hub feature which can be used to fund, request a withdrawal, update or manage your profile and more; this hub can be accessed through every trading platform available on City Index.
City Index recommends that you initially deposit at least 100 pounds or more. Funding your account can be done through a credit card, debit card or a bank transfer. All deposits are free of platform-side charges, but your card providers/wire transfer processors might chose to charge you a fee. You can only deposit funds in the same base currency to the one used on your source account, but you can have up to three cards linked to your account.
As for withdrawals, you'll need to withdraw your funds to the same source that you initially deposited them from, to avoid potential money laundering situations. There is a minimum withdrawal amount of £50; you can also withdraw the full available account balance if you currently have less than that set minimum. There's a limit on how much you can withdraw in 24 hours which is currently set at 20,000 pounds. There are no fees on withdrawals charged by City Index.
Assets and Markets
---
There are over 12 thousand markets available on City Index's UK subsidiary; this number is lowered to just over 4500 assets on Singaporean and Australian section of the platform, and to over 100 CFD markets on the Middle Eastern subsidiary. Traders are able to invest in CFDs of the following assets:
Forex – Forex markets are touted as the largest markets in the world, with $5 billion worth of daily trade overturn being a regular occurrence on them. Forex traders seek to profit from fluctuations in the exchange rates between currencies, speculating on whether one currency's value, like the pound sterling, will go up or down in relation to another, such as the US dollar. The platform offers 84 different forex pairs which can be traded either through spread betting, CFDs or regular FX (through MT4). Majors, minors, and exotics are all available with spreads starting from 0.5 points on EUR/USD, AUD/USD and 0.9 on GBP/USD.
Stocks and Shares – Stock trading has grown as an important element of financial markets ever since it was first introduced by the Dutch East India Company in the 17th century. Stocks are issued by publicly traded companies who use these assets to raise additional operational capital. Companies like Apple, Amazon, Boeing, Alibaba, eBay, MasterCard, Coca-Cola, Microsoft and 4500+ others can be traded on the platform with spreads that start from 0.1%. Stocks / shares are available on City Index either through UK's spread betting or through CFD trading on all subsidiaries.
Indices – Index CFDs are another type of asset currently available on City Index online trading platform. Indices are assets which represent certain parts of the stock market; each index is comprised of several stocks which have something in common (for example industrial indices). City Index gives you the option to trade index CFDs, without having to outright own the underlying assets. A total of 21 major global indices like the UK 100, Wall Street, and Germany 30 are all available on the platform with fixed spreads that start from 1 point.
Commodities – Commodity trading is also present on City Index, with traders having the ability to either spread bet on them or purchase related CFDs. Uk crude oil, US crude oil, coffee, sugar, corn, carbon emissions, cotton, gas, heating oil, cocoa, wheat, oats, soybean are just some of the commodities currently available on the platform. There are 25+ commodities on City Index, with spreads that start at 0.06 points.
Precious Metals – The platform offers you high quality, fast, and competitive way of trading precious metals. These metals have been used as means of exchange in the past due to their rarity and beauty and are famous as excellent value preservation assets. High volatility and uncertainty on other markets usually causes these "safe haven" assets to experience almost certain rise in demand (and correspondingly in price). City Index lets you take either spread betting or CFD positions on a range of metal markets including Gold, Silver, Copper, and Platinum. Market spreads start from 0.3 points.
Bonds – Bonds are fixed income instruments that are basically loans made by investors to a borrower. They usually have a corporate / governmental background and have end dates by which the principal of the loan (increased by the arranged interest) is expected to be paid out to the bond owner. Naturally, bonds have value and anything with value can be traded; City Index allows you to take a position on markets like UK Long Gilt, Euro Bund and US T-Bond. Spreads are tight and start from 0.02.
Options – Options are contracts that give the bearer the right, but not the obligation, to either buy or sell an amount of some underlying asset at a pre-determined price at or before the contract expires. Options can be traded either through spread betting or CFD trading with spreads starting from 4 points. There are a number of markets currently available on City Index, including UK 100, Germany 30, Wall Street, Australia 200 and others.
Cryptocurrencies – Crypto trading has been growing astronomically during the last couple of years, with many traders being attracted to the market's exciting volatility and the potential to quickly multiply their investments. Traders on City Index have the ability trade Bitcoin, Bitcoin Cash, Litecoin, Ethereum, and Ripple CFDs.
City Index Fees and Margins
---
Margins on the platform differ for retail and professional clients. UK retail clients start with 5% (20:1) for major indices, 3.33% (30:1) for major FX, 5% (20:1) for commodities, 20% (5:1) for shares, and 50% (2:1) for cryptocurrencies; other subsidiaries have different margins, with Australia offering the highest and Middle East offering the most conservative percentages.
Spreads start at 0.4 for major indices, 0.6 for major FX, 0.06 for commodities, 0.1 for shares, and 0.8 for cryptocurrencies.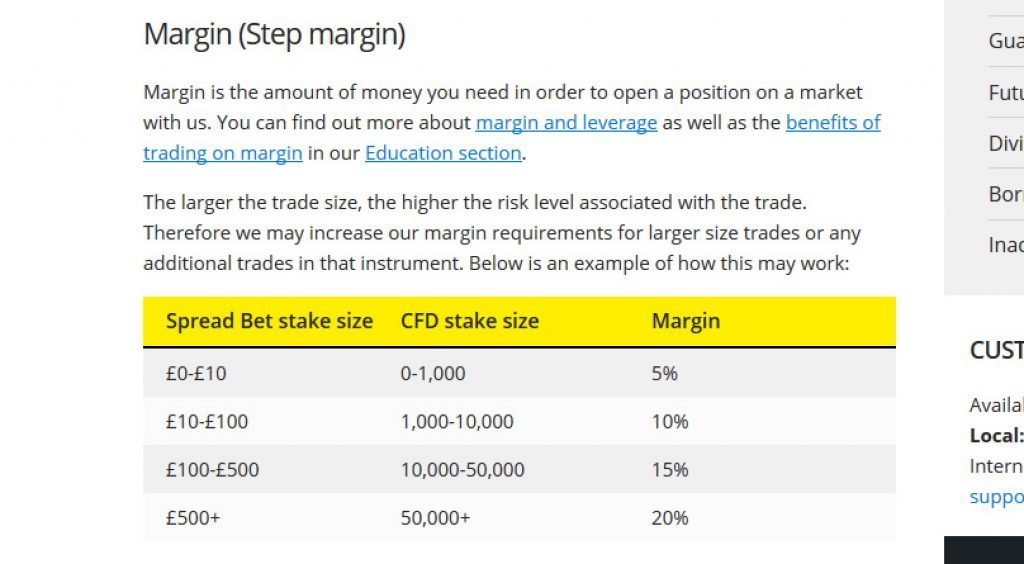 Middle Eastern office offers no margins or spreads for shares and crypto trading, as that trading doesn't even exist there. One interesting feature is the fact that you don't pay an upfront fee for guaranteed stop-losses (as is the case with most similar brokers); instead, you are charged a fee for this service only if the guaranteed stop loss is triggered. If your City Index account is inactive for at least 12 months or more, City Index will charge a monthly inactivity fee equal to £12.
Security
---
ESMA regulations recently made a big impact on traders, changing the way their trading activities are secured. City Index's retail clients can enjoy such perks as negative balance protection, reduced leverage, and 50% margin close-out on an account basis. Customers can manage their funds through a secure funding portal. FCA regulations require them to keep their customers' money in segregated bank accounts that aren't connected to those of the company.
This prevents City Index from using their clients' funds for their own organizational activities. Additional protections are provided through the Financial Services Compensation Scheme which promises to reimburse up to 85,000 pounds to customers in case of liquidation.
The platform also mentions 6 practices its traders should consider adopting to improve their trading success. By reducing the size of his positions, a trader can use wider stop losses, reducing the likelihood of a stop loss being hit by market noise. This may require greater movement in your favor to make equivalent returns.
The second recommendation they have suggests you should hold your smaller positions longer and move towards swing trading, where you hold a trade for a day or perhaps several weeks. This should help you take advantage of bigger moves in the market and represents a solid risk management strategy.
Other advice they have includes being more strategic about calculating your stop losses (consider support and resistance level or moving averages), trading your plan not your emotions (significantly minimizes risk), considering your Risk Reward Ratio (should help you realize whether a trade is worth taking or not), and using multiple timeframe analysis (Using multiple time frames for trade confirmation should prevent you from being caught on the wrong side of the market).
Help & Support
---
As the process of trading financial instruments can get complicated even for an advanced trader, City Index provides you with useful resources that can be used to clear out any issues you might have with your on-platform experience.
Platform's Help section contains detailed information about topics like opening a new account (live or demo), managing your account, funding your account, using City Index's trading platforms, applying margins and leverage on various assets, costs of trading, orders and positions etc. There is even a separate help section for cryptocurrency-related questions. The platform also provides a useful glossary that gives you the A-Z on financial terms which you'll be coming across while trading online.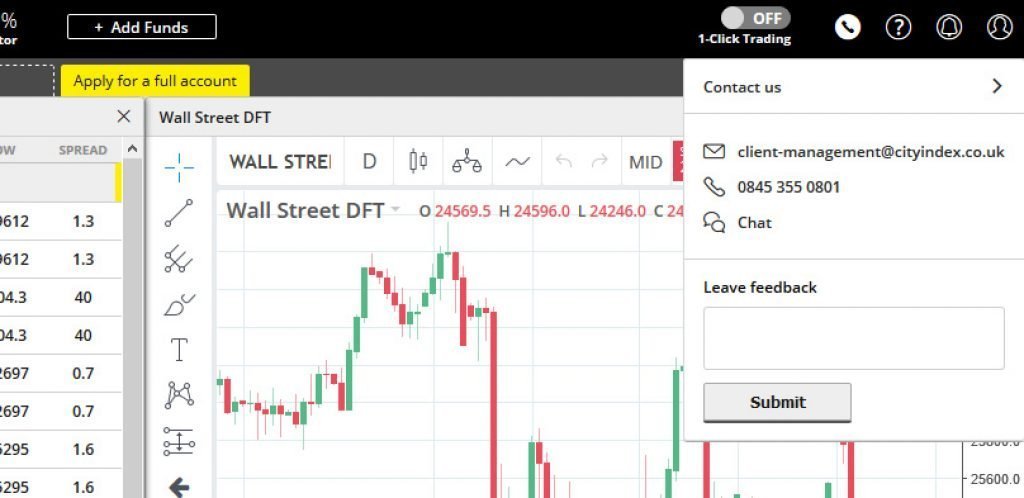 Other significant element of helping out new and veteran traders alike on City Index is their Education section. This section contains a series of educational videos, articles and practical examples on a wide range of trading topics which can help you improve your trading skills.
From getting introduced to the concept of financial trading, over learning how to use City Index and its tools, to making the right steps to become a better trader, the platform's educational material covers a lot. There are even regular webinars during which the platform's experts analyze the markets, identify trends, create functional strategies and help you improve your trading skills.
If the help and education sections aren't enough, you can contact the platform's customer support directly. Agents are available 24 hours, from Monday to Friday,with two phone numbers provided to City Index UK traders: Local (0845 355 0801) and International (+44 203 194 1801). If you prefer to have your questions answered by e-mail you can address them at support@cityindex.co.uk. Finally, you can use the built-in chat feature that's available on City Index's website to get your answers from what is most likely a bot.
Additional Tools and Features
---
The platform contains a whole host of useful tools that traders can use to improve their trading efficiency. A full technical analysis portal, powered by Trading Central, is the first feature we came across. It scans the markets for chart patterns using a diverse range of indicators and oscillators and presents you with trading opportunities to help you save time as a market researcher.
Each potential opportunity is visualized and explained in detail, with proper price ranges, stop/limit levels, and timeframes provided. The portal operates on top of a powerful charting interface which allows traders to apply 65+ technical indicators, use different chart types (like Candlestick, Heikin-Ashi, Figure), compare different markets, use a range of drawing tools which include trends and Fibonacci retracements to determine supports and resistances, display bid/mid/ask prices and trade directly from the charts.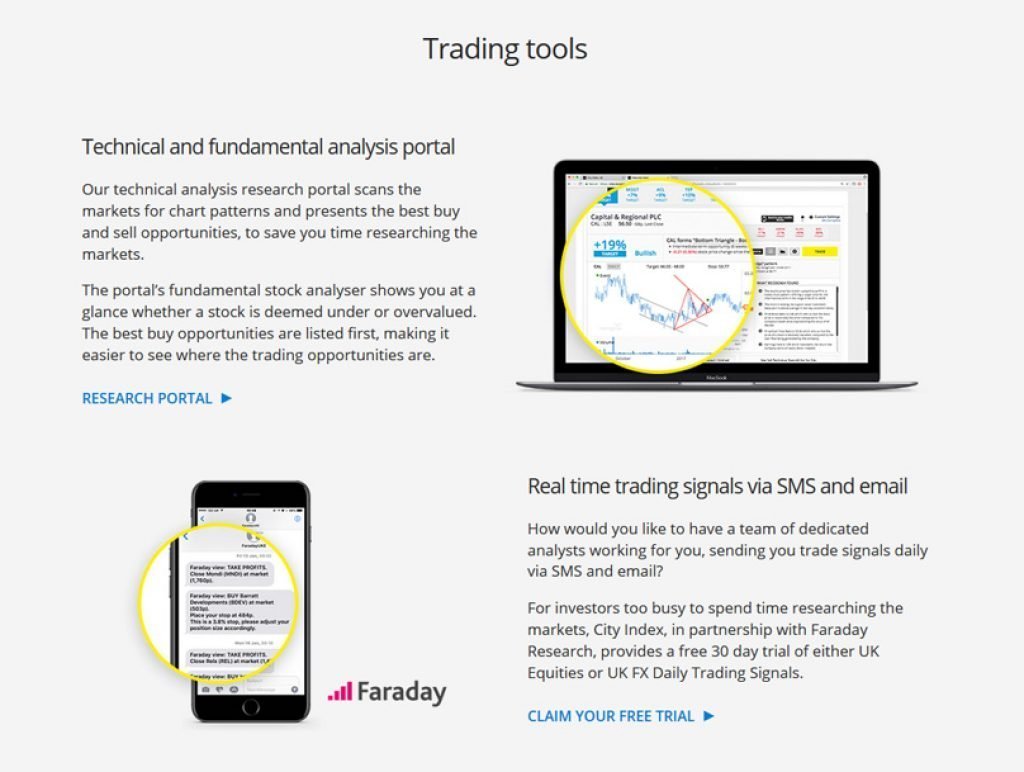 Hand in hand with the TA tool goes the fundamental analysis tool; this one is also powered by Trading Central and can help you determine if an asset is under or overvalued. Stocks are rated through a traffic light indicator: this one will show green for under-valued, yellow for fairly valued and red for over-valued, alongside a projected rate of return. Additionally you are given access to company metrics such as revenue and earnings history, earnings per share (EPS) and debt to equity ratio.
FA is available for stocks from UK, US, Australia, Hong Kong, Japan and Singapore stocks and can be filtered by industry, rate of return, valuation, earnings consistency and several other criteria.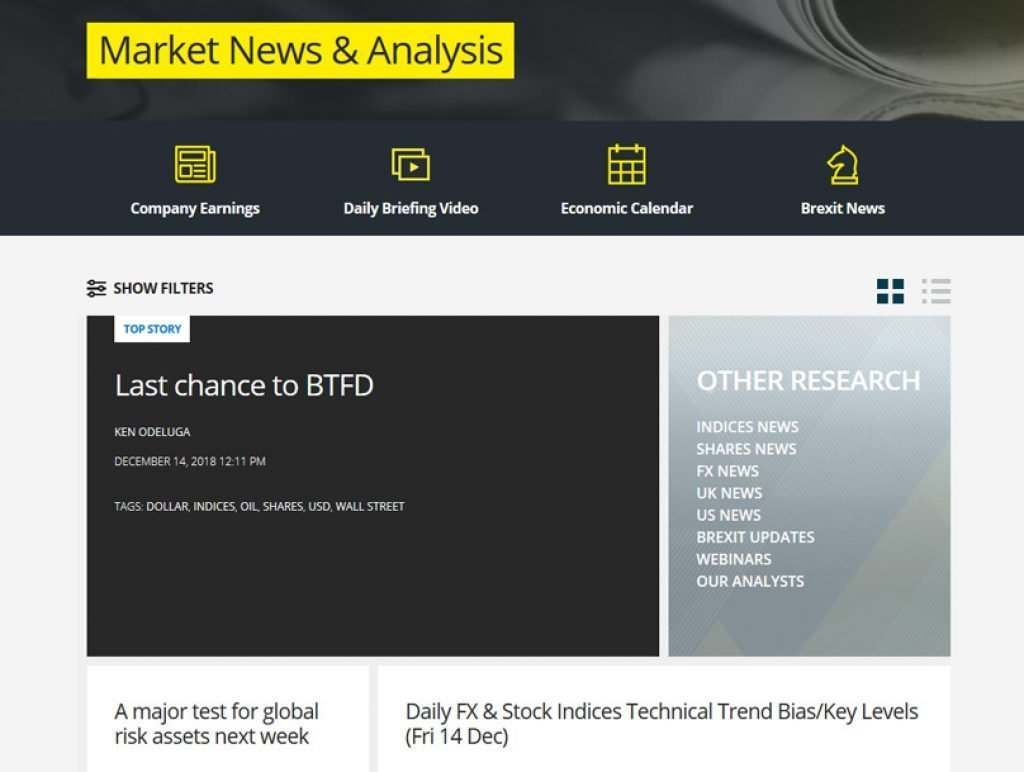 Traders on City Index will by default receive access to signals and notifications which will inform you about market volatility and changes in price of certain assets. If you choose to use the AT Pro trading platform, you will be given access to more than 100 trading signals to help you find opportunities. City Index also has a partnership with Faraday Research, a company which provides its clients with a free 30-day trial of UK FX or UK Equity Trading Signals.
This feature is suitable for those who do not have the time to research the markets themselves and would like to have the material "chewed up" for them by someone else. These signals are sent via email and SMS.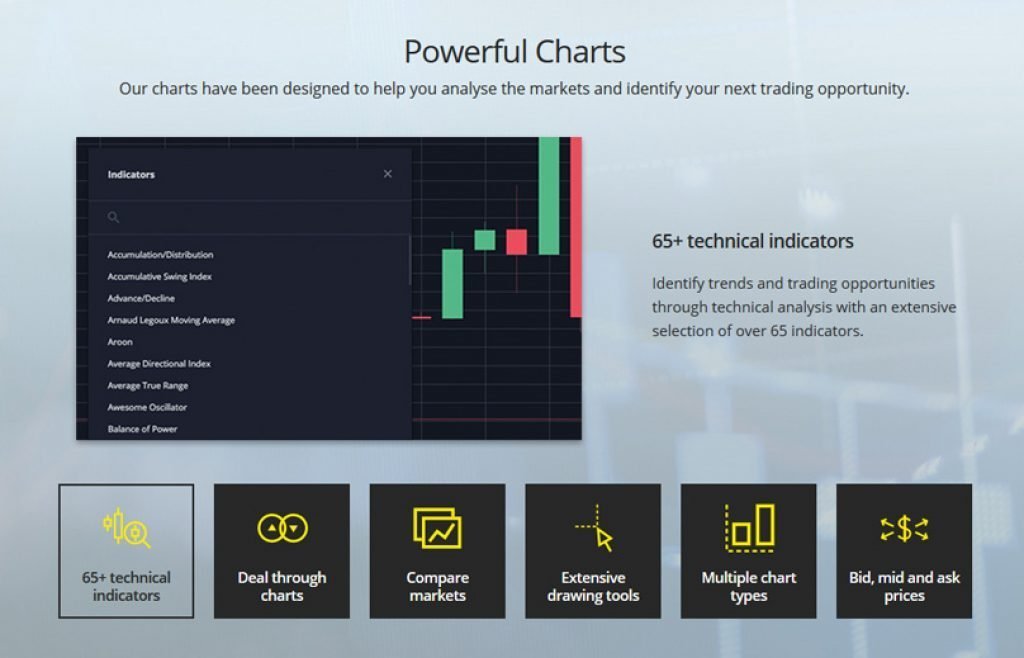 To help their customers stay informed, City Index provides them with real-time financial data, news, and market reports from Reuters. Additionally, you will gain access to The City Index Economic Calendar which offers at-a-glance information on major market moving events affecting the UK, US, Australia, Japan, Germany and France.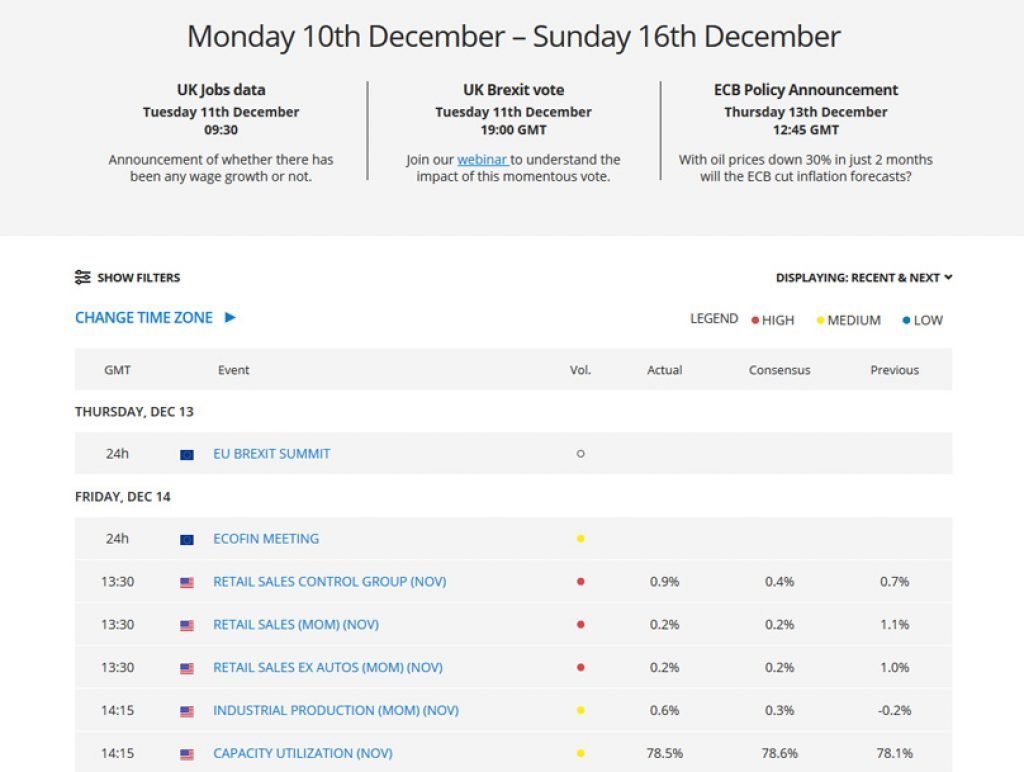 As a UK-based brokerage, City Index has a section dedicated to Brexit trading opportunities, one which helps you build useful strategies for trading assets that are affected by Britain's long drawn out talk about leaving the EU.
Finally, the platform has something they call "City Index global research team" which operates City Index's Market News & Analysis section that displays daily top/latest stories and encompasses all the data mentioned above. These informational tools can be very important when it comes to creating a proper spread betting/CFD trading/forex trading strategy.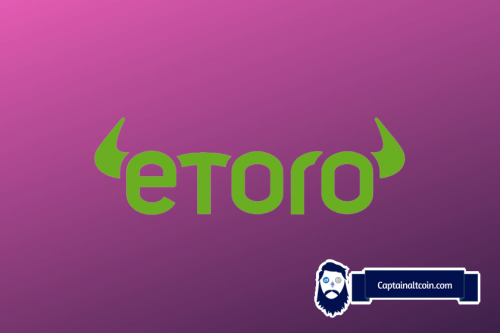 74% of retail CFD accounts lose money.
Active user community and social features like news feeds, chats for specific coins available for trading.
Wide range of assets: cryptocurrencies alongside other investment products such as stocks and ETFs.
Copy trading: allows users to copy the trades of leading traders, for free.
User-friendly: eToro's web-based platform and mobile app are user-friendly and easy to navigate.
eToro offers staking for certain popular cryptocurrencies like ETH, ADA, XTZ etc.
Final Thoughts – CityIndex Review
This concludes our lengthy review of City Index trading platform. Throughout our little data-collecting section, we discovered that this is a platform with a strong pedigree.
Covered by strong regulation, dedicated to customer education and success, and focused on providing good risk management through diversification (over 12 thousand assets and 4 trading platforms), there was little (if anything) we saw that would indicate that the platform isn't a good place to take your business to. As always, do your own due diligence, but do consider making City Index the future home of your trading activity.
In case you are not swayed into registering on CityIndex, you might be interesting in learning more about its direct competitors like eToro, AvaTrade, IQ Options or Plus500.

CaptainAltcoin's writers and guest post authors may or may not have a vested interest in any of the mentioned projects and businesses. None of the content on CaptainAltcoin is investment advice nor is it a replacement for advice from a certified financial planner. The views expressed in this article are those of the author and do not necessarily reflect the official policy or position of CaptainAltcoin.com