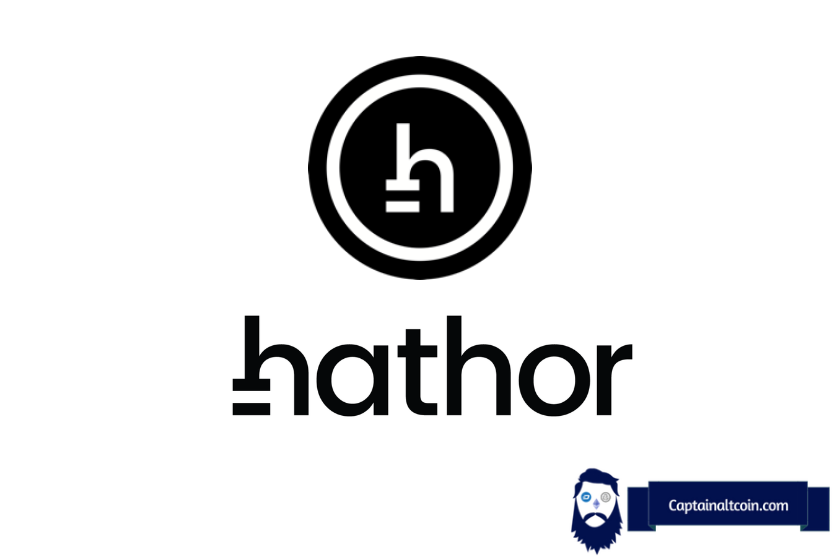 The Hathor Network is a scalable and easy-to-use solution to decentralized finance. Launched in January 2021 by Hathor Labs, Hathor aims to make the process of creating new crypto tokens easier and more accessible. The tokens created on the network will have the scalability and parameters as the Hathor native HTR token.
The network works by processing transactions with a mixed DAG (Directed Acyclic Graph) and blockchain system. The technology is very innovative unique to Hathor.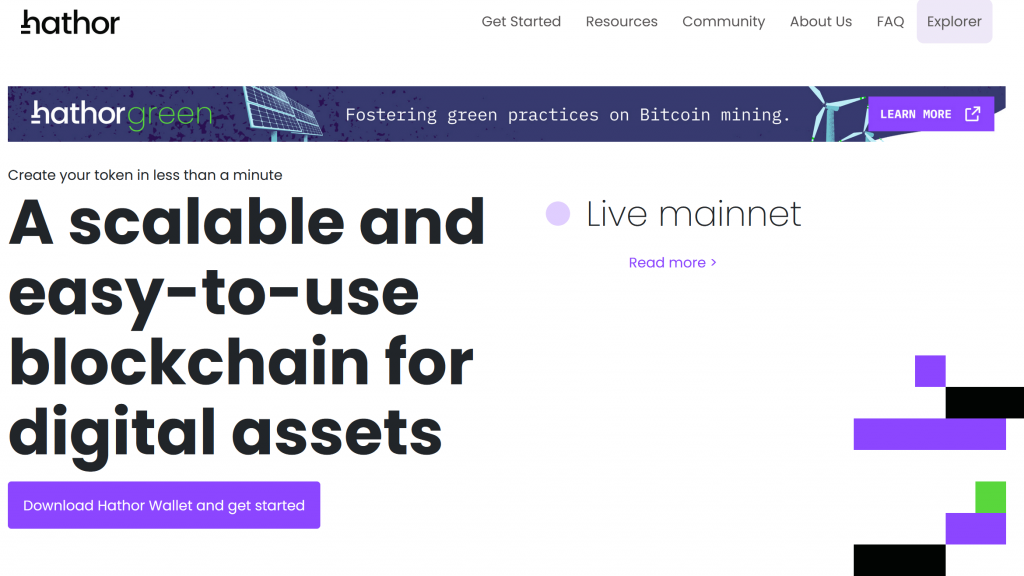 What's a DAG? Well, in short, with a DAG system, there are no blocks, unlike in the more common blockchain mechanism. All transactions record on top of each other, as something known as vertices. The transaction is then sent to the DAG by nodes, similar to the blockchain system. For the transaction to go through, the node must participate in the network's Proof-of-Work mechanism. Other crypto projects such as IOTA, Nano, and Obyte also use the DAG system.
Fundamentals
---
Use case
---
Hathor aims to solve scalability and decentralization maintenance among crypto projects, also known as the blockchain trilemma. The project does so by including a chain of mined blocks in every DAG of transactions. The blockchain makes the transactions safe if the number of transactions per second is small. And the DAG comes into play when it increases.
Hathor claims to have chosen this alternative because it is scalable, decentralized, and efficient. According to the executive summary, their main inspiration for the project is IOTA. Hathor aims to solve IOTA's issues, such as their DAG solution not being efficient enough when the transaction per second is small. In a way, Hafthor's architecture is a combination of Bitcoin and IOTA.
As we mentioned earlier, Hathor, because of its DAG technology, uses Proof of Work mining. The consensus mechanism links with Bitcoin and Litecoin Mining rewards. This ensures that rewards are fairly distributed without sacrificing decentralization.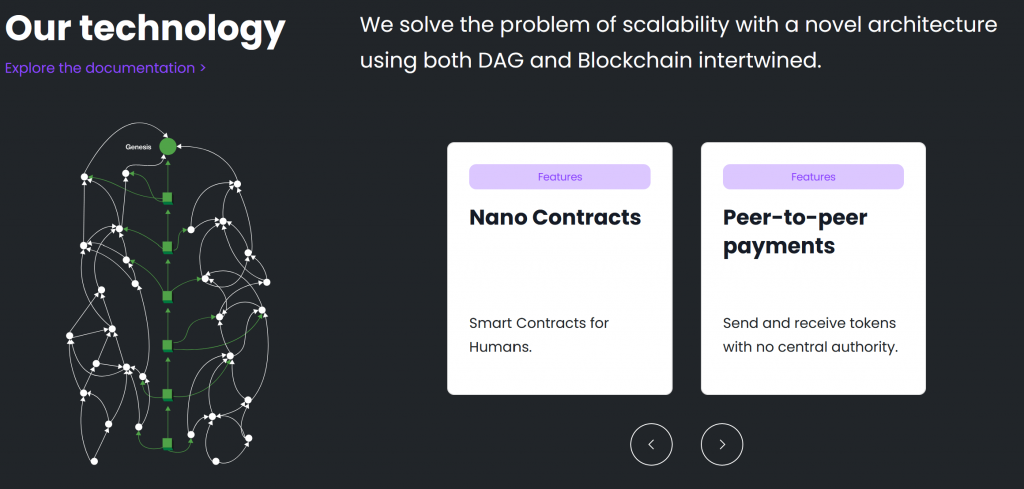 Hathor also uses Nano-Contracts, similar to the Smart Contracts on Ethereum, but with a lot lower fees and computation power. The contracts use oracles to ensure that contracts have a reliable data source.
Atomic Swaps is also integrated with the Hathor network. Other separate tokens can be exchanged on the same transaction to increase security and efficiency. And HathorSwap, a native alternative to Atomic Swaps, is in development. It'll be exciting to see how they manage to pull the project off.
Hathor also has a unique custom token creation option. To do so, stake 1% in HTR of the number of tokens you wish to create. And if you burn your tokens, your HTR will be returned.
The quick and easy token creation and HTR lock-up, if done enough, will lower the circulating supply and decrease inflation.
Tokenomics
---
Hathor's tokenomics can be a little complicated, but I'll break it down as much as possible. For the full picture, check the tokenomics info.
If you would have bet on the right coins this year you could easily have 10xed your capital…

You could even have made as much as 100x which means you could have turned $100 into as much as 10k.
Experts believe this will happen again in 2021, the only question is which coin do you bet on?
My friend and cryptocurrency expert Dirk is personally betting on 3 under-the-radar cryptocurrencies for huge ROI in 2021..
Click here to learn what these coins are (watch till the end of the presentation).
The circulating supply has pre-mined and mined tokens. The development team got 6% of the tokens, and the rest will be distributed over a 4-year schedule.
Hathor also has treasury tokens, used in their words for: "employees, suppliers, marketing, legal services, incentives for strategic use cases, securing strategic partnerships, future bounty programs, and other expenditures necessary to fulfill Hathor's roadmap and long-term goals."
The Tokens in the volt have a 5-year lock-up period, after which they could be burnt if needed. The pre-mined tokens distribution is: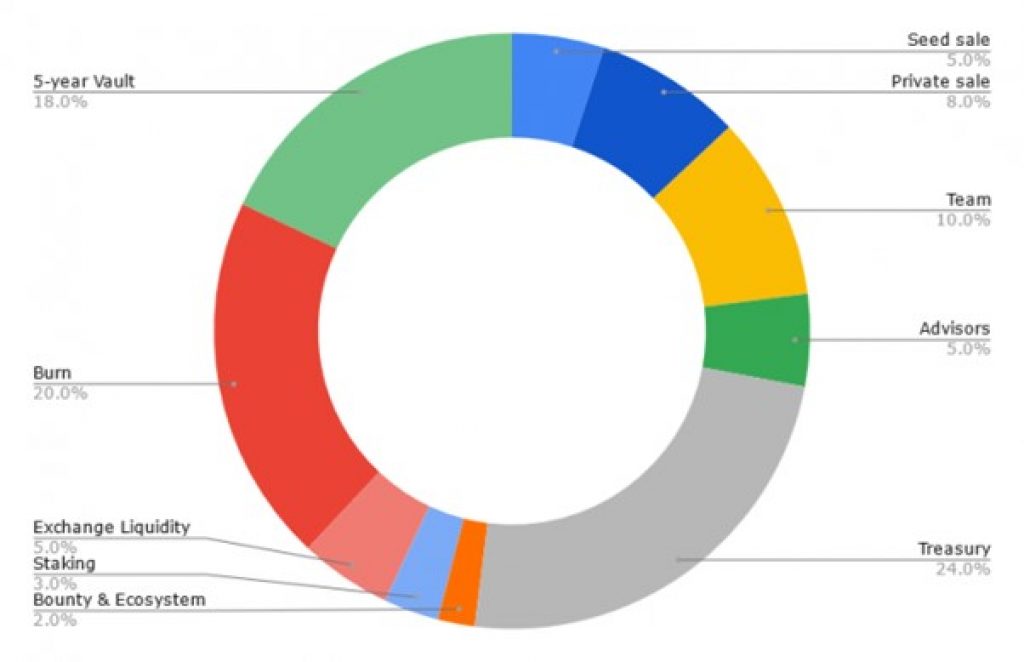 The predicted inflation rate for 2021 is just over 100%, short-term traders should be cautious, or it will eat up all their profits. Fortunately, though, the inflation rate is bound to decrease in the next few years, hitting 1.11% by 2025.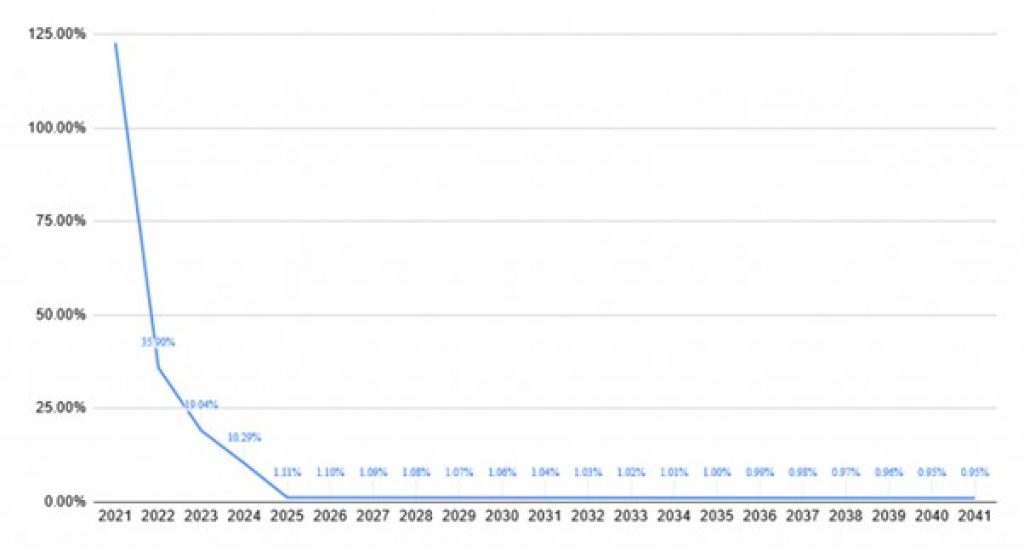 The mining is, like we said before, linked to Bitcoin mining. This allows miners to use the already the security the Bitcoin network provides.
The reward halvings happen annually during the first three years, with the tokens issued by block being:
Year 2: 32 HTR (from block height 1,051,200)
Year 3: 16 HTR (from block height 2,102,400)
Year 4 onwards: 8 HTR (from block height 3,153,600)
Team
---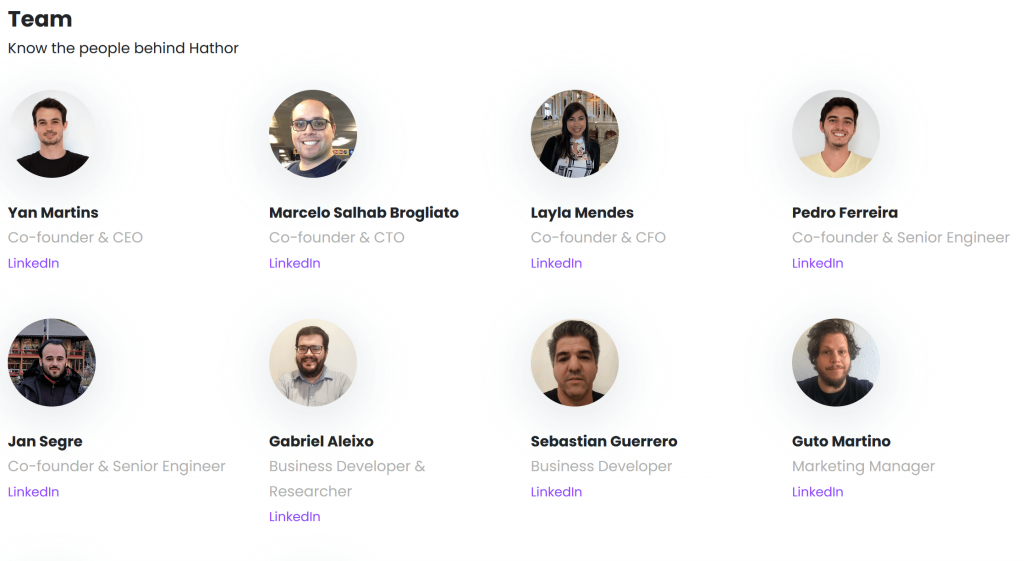 Hathor's team is public; feel free to check out their LinkedIn pages. The team made up of researchers and engineers that have been working on Hathor for seven years.
Hathor Labs guards the locked pre-mined tokens, fund-raises, and ensures everything is running smoothly. Hathor Labs has also announced that it's forming into Hathor Foundation and have its operating base in Switzerland. As you would expect, the move brings up questions about the decentralization of the project.
Hathor Labs have also financed initiatives to support the community of developers. There is also an independent group of crypto developers called HTR/FDT that works closely with Hathor. Currently, the group is developing Layer 2 infrastructure such as HathorSwap and Hathor Debit Card.
Roadmap
---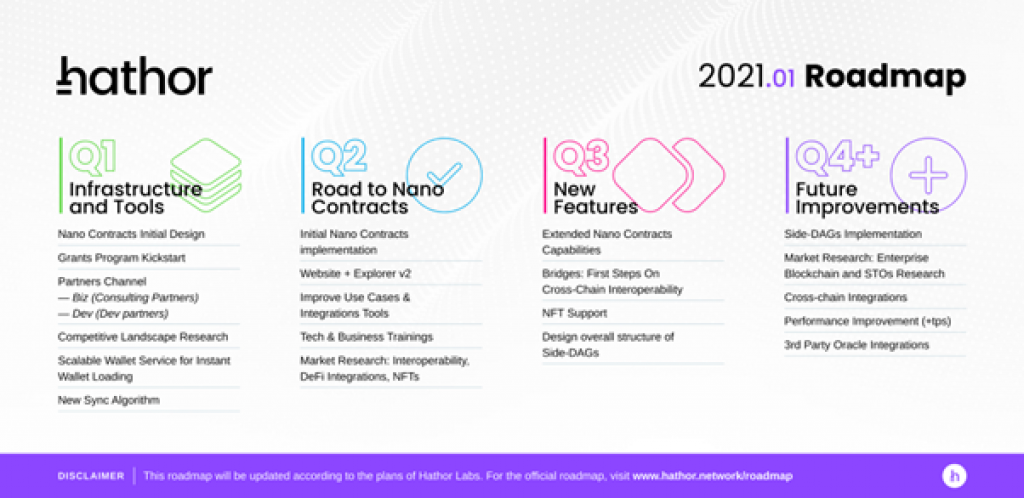 The Hathor project has one great roadmap. The ambitious plan includes Nano-Contracts, NFT integration, and interoperability with other crypto projects, which are already partially out. Hathor is also working on DAGs that will allow for more scaling and 3rd party oracle integration. Hopefully, all is done by the end of the year.
Hathorswap and the Hathor virtual debit card developed by the independent HTR/FDT are also worth mentioning.
Community
---
Hathor is an open-source, decentralized project, so the community has an essential role in the development of the project. Proposal for the Hathor Network is discussed on their Telegram channel, which counts more than 14 thousand members. Changes to the network are also discussed on their Discord channel that counts just over five thousand members. Changes to the code are on Hathor's Github.
Their social media clout is solid but not great. Their Twitter profile counts over 28 thousand followers and their subreddit around one thousand.
Market HTR price prediction
---
Wallet Investor
---
Wallet Investor gives Hathor an A+. The website is bullish about the project and predicts the price hitting $1.3 in 2021 and $8.2 in 2026.
Digitalcoin
---
Digitalcoin is less bullish about the project and predicts the price hitting $0.67 in 2021 and $1.61 in 2026.
Gov Capital
---
Gov Capital very bullish about the project and predicts the price hitting $2 in 2021 and $10.3 in 2026.
My HTR Price Prediction 2021
---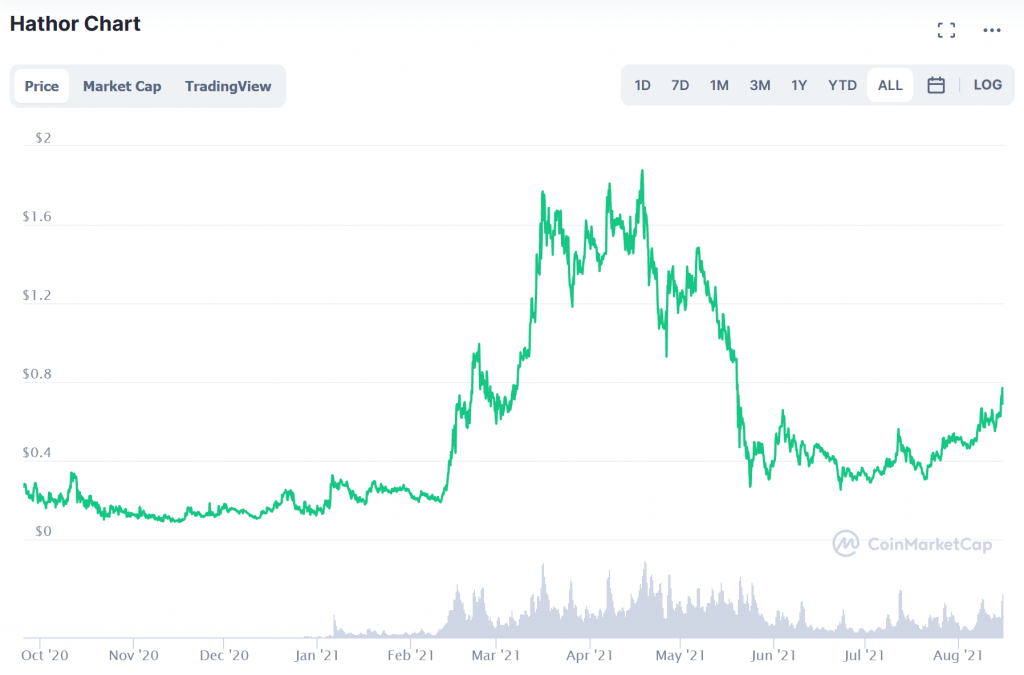 Hathor has a great use case and technology. The more you read, the more you begin to understand the potential of this project. Hathor could prove a great long-term investment as the price could skyrocket after the vesting, halving, and successful rollout of the roadmap.
And HTR also has the potential for a short-term price rise with more and more hype building up regarding this project. Kucoin has listed HTR, which shot up the $0.20 to the $1.90 all-time-high.
There has recently been a correction in the price that has crashed down to the current prices between $0.5 and $0.4. But when the bull market is on again, I can see the price hitting at least $2 this year.
Hathor is still a small project. Currently, in June 2021, the market cap is around $86 million, the 348th biggest. For HTR to reach a midcap competitor like AVAX, it would have to go up for at least 30x. And to reach the leaders in the space, the project would have to a 280x to reach DOT, a 600x to reach ADA, and a staggering 3600x to reach the DeFi king, ETH.
So, of course, getting into such a small project early can be a great opportunity. HTR could explode in price and become one of the big fish in the pond. But also, the opposite is true. Projects like Cardano and Ethereum are leaders because people recognize the quality of the projects. Hathor faces some tough competition, and it has a long way to go before getting among the big guys.
HTR Price Prediction 2025 – 2030
---
I don't think HTR has a use case original enough to differentiate the project from those already established in the market. That said, I do believe there is space for smaller projects like HTR in the future, but I do not see it becoming a giant. Of course, all that could change if new and original changes get added to the network. But as of now, I predict HTR hitting no more than $6 by 2026.
Where to buy and how to store HTR
---
The best place to exchange Hathor are:
Kucoin (buy and sell with: USDT, BTC)
AscendEX (buy and sell with USDT)
And the best place to store Hathor is their official wallet.
Also, you might want to check out other price predictions: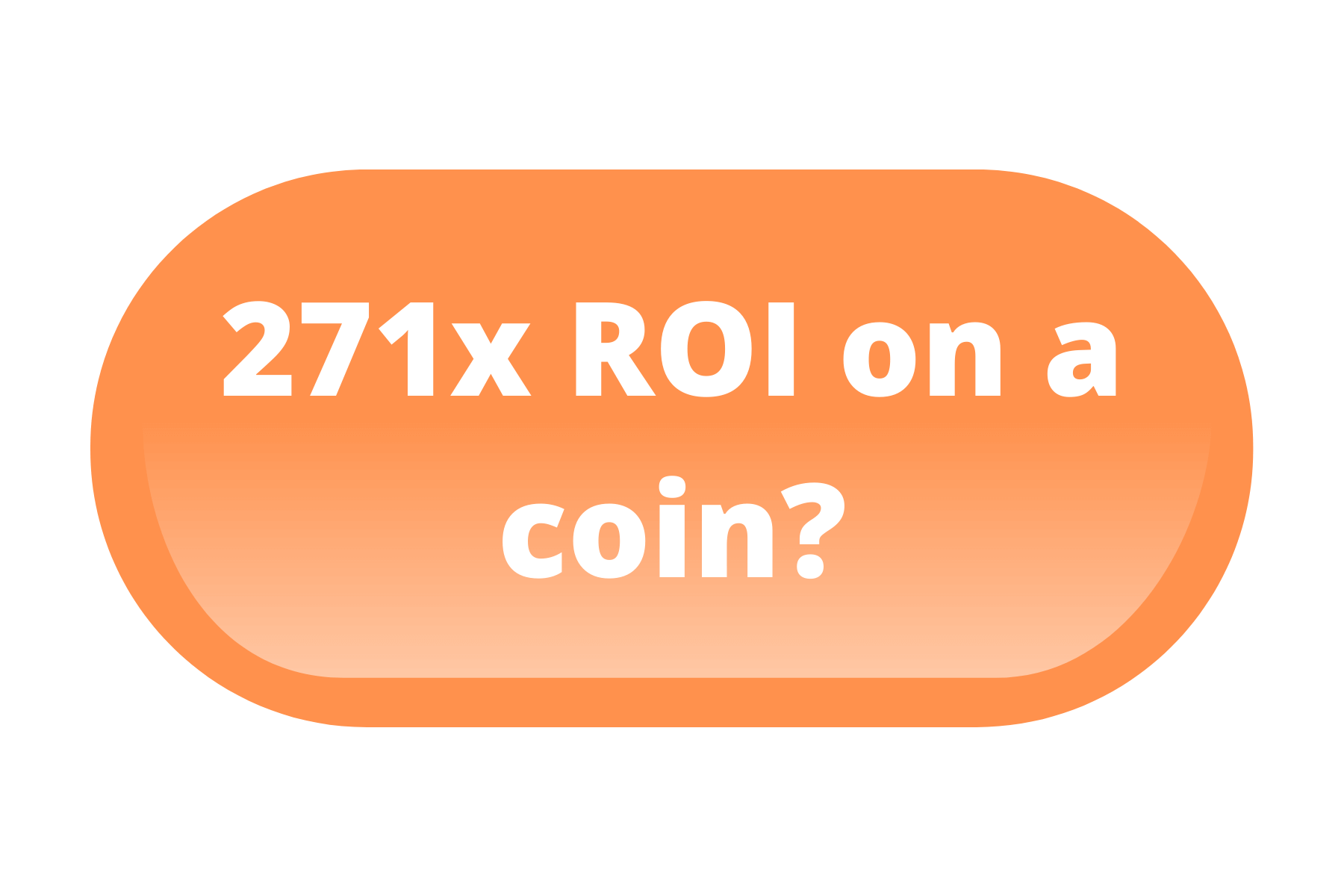 CaptainAltcoin's writers and guest post authors may or may not have a vested interest in any of the mentioned projects and businesses. None of the content on CaptainAltcoin is investment advice nor is it a replacement for advice from a certified financial planner. The views expressed in this article are those of the author and do not necessarily reflect the official policy or position of CaptainAltcoin.com