CEX.IO Review – Is Cex.io scam or legit?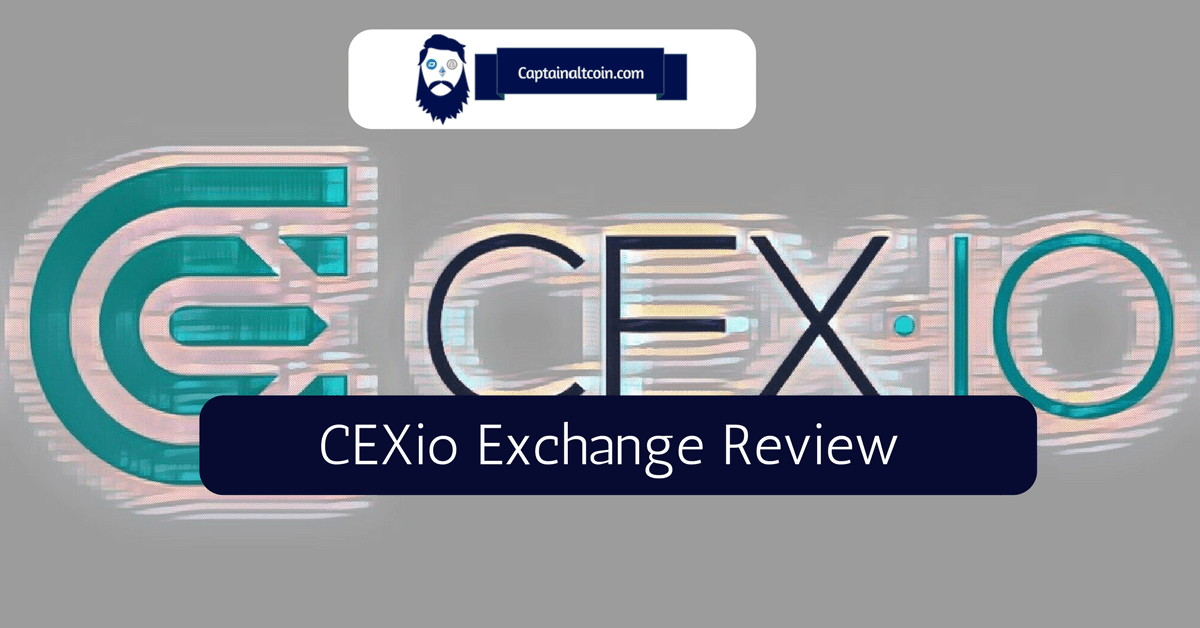 CEX.IO Review – Is Cex.io scam or legit?
User friendly interface
Various payment options
3 payment options to deposit or withdraw money completely free of charge
Well Established Company
Great and Fast Support
High liquidity
In the bustling world of digital asset exchanges, CEX.IO has carved out a niche for itself. This platform, known for its robust features and user-friendly interface, has been a topic of interest among both seasoned traders and crypto newcomers. But the question that often arises: Is CEX.IO legit?
This comprehensive CEX.IO review aims to answer these questions and more. We'll delve into the platform's features, its security measures, and its overall reputation in the crypto community. Whether you're considering CEX.IO for your trading needs or simply curious about what CEX.IO is, this review will provide the insights you need.
So, let's dive in and explore CEX.IO, shedding light on its legitimacy, safety, and why it's become a popular choice among crypto enthusiasts.
It used to be a buy Bitcoin-only platform in the beginning. Nowadays, Cex.io is a whole ecosystem in one featuring:
fiat to crypto purchases
spot trading
staking as a service
crypto loans
savings accounts
So what is covered in this Cex.io? We will answer questions like:
where is cex.io located
what crypto coins can you buy on cex.io
what payment methods are accepted
what fiat currencies are accepted
and many other pertinent questions about CEX.io
So, let's get started.
Quick summary: What is Cex.io?
| Criteria | Details |
| --- | --- |
| 🗓️ Established | 2013 |
| 📍 Location | London, UK |
| 🛠️ Services | Spot trading, margin trading, staking, crypto loans, savings accounts |
| 🔐 Supported Cryptocurrencies | Over 40 cryptocurrencies including Bitcoin, Ethereum, Litecoin, Bitcoin Cash, Dash, XRP, ZEC, XLM, BTG |
| 💱 Supported Fiat Currencies | USD, EUR, GBP, RUB |
| 💳 Payment Methods | Credit/debit card, wire transfer, ACH, SEPA, Faster Payments, Skrill, Advcash |
| 🔒 Security | High, 2FA, cold storage, AML and KYC policies |
| 👥 User Experience | User-friendly, good customer support |
| 💰 Fees | Competitive, varies by transaction |
| 📝 Verification Process | Required for higher limits |
| 🌟 Overall | Reliable and trustworthy |
Cex.io Review: Location
---
Started out in 2013, CEX.io is one of the oldest Bitcoin exchanges around. CEX.io is based out of London, England. It started out as a Bitcoin exchange and cloud mining provider; the first Bitcoin cloud mining company. Its mining pool known as Ghash.io, was so big at some point that it held 42% of the total network mining power.
However, the cloud mining operations were closed on January 2015. Today CEX.io operates solely as a Bitcoin exchange. CEX.io is registered with FINCEN and it applies AML (anti money laundering) and KYC (know your customer) policies, which means that you'll need to verify your identity before you will be able to purchase Bitcoins via the exchange.
CEX IO EU Limited provides card processing services to customers from the European Economic Area (EEA).
Cex.io Payment Options
---
CEX.IO allows for the buying of Bitcoins for low transaction fees via :
✅ credit or debit card (VISA & MasterCard)
✅ wire transfer
✅ SEPA transfer (if you live in the EU).
✅ epay (US only)
✅ AdvCash
✅ Skrill
✅ Faster Payments (UK only)
However CEX.io transactions work a bit differently than other Bitcoin exchanges. Crypto transactions here are based on Fill-or-Kill orders (also known as FOK).
FOK orders are orders that are executed instantly and in full, so whatever you "agreed" to get or pay, that's precisely what will happen. This is very different than how other exchanges work where you may encounter problems associated with liquidity. So for example, if you buy 2 Bitcoins at an agreed rate on CEX.io you will definitely receive that amount. On the other hand, if you buy 2 Bitcoins on Bitstamp you will need to wait until someone comes along who's willing to sell you those Bitcoins at your requested price.
However, for this to work 100% CEX.io has to charge customers a premium so that they will always be able to fulfill their orders. This means the higher exchange rate.
Deposit & Withdrawal Fees
---
Here is an overview of deposit and withdrawal fees Cex.io charges on their platform. As you will notice, there is quite a few options where you don't pay any fees for deposits or withdrawals (wire transfer, ACH, Advcash).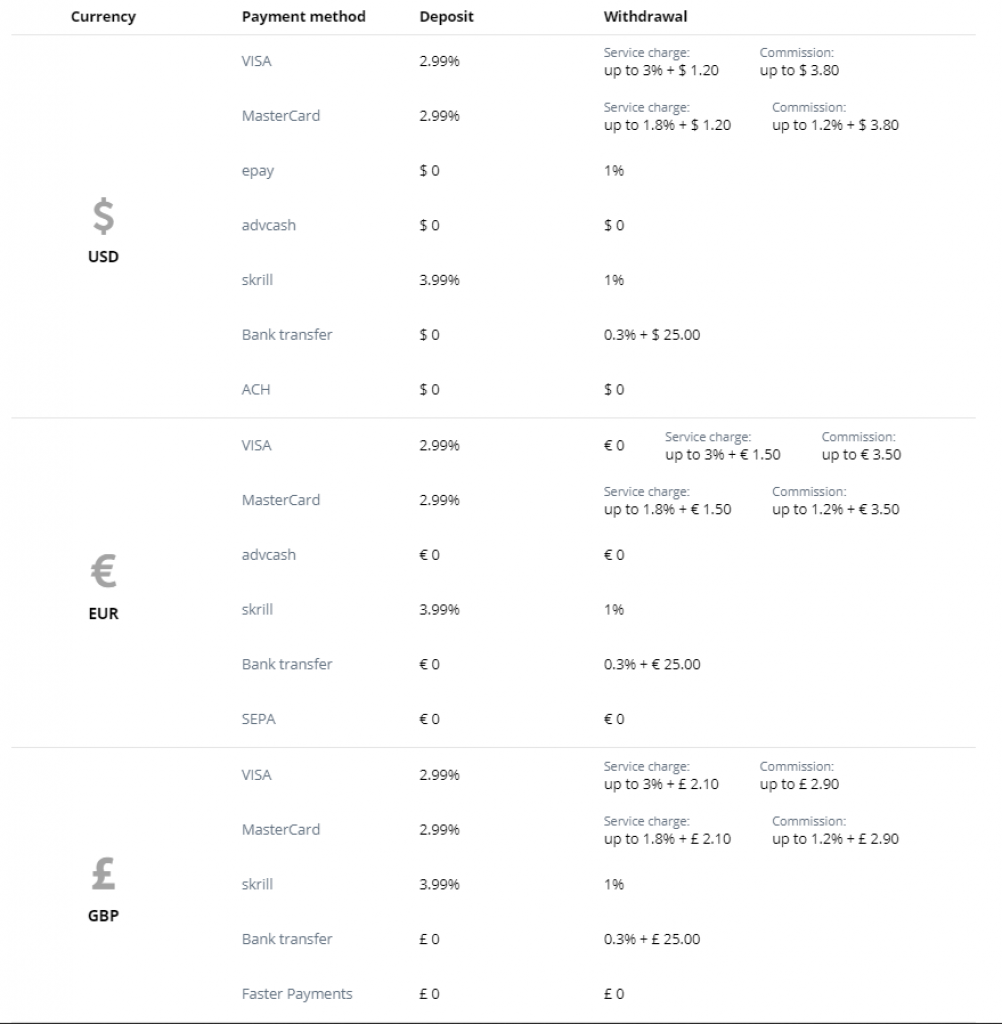 How to use it?
---
Even though this is our CEX.IO review, a very clear explanation about how this service works can be found their site. Here's a summary of it:
CEX.io calculates the price when you enter a trade and freezes it for 2 minutes. You input the amount of money you want to spend. You also see the amount of Bitcoins that you can receive. The system checks to see that you have enough funds available after you press the Buy/Sell Button.
The order will be filled if the situation on the market allows the execution of your order on conditions not worse than you agreed on. It's important to note that the order can also be filled on more favourable conditions. Also, you will be notified if there is a sudden spike in the exchange rate that is preventing the execution of the order on the agreed conditions. After you confirm the trade, your order is matched to other orders on the Bitcoin exchange. Also, your balance is adjusted. Sometimes the amount can be even greater than agreed on, but is never smaller.
Fees and Charges
---
Cex.io used to receive a lot of complaints about their hidden and high fees. However, since the platform evolved, the number of payment methods increased and fees decreased. As you could see from the image above, there are 3 ways to deposit and withdraw your funds from Cex.io without any deposit fees.
As for the trading fees, Cex.io is somewhere in the middle of the pack when it comes to that. They base their fee schedule, just like many other exchanges, on a tiered structure dependent on the traded volume. The more you trade, the lower the fees. Here is an overview: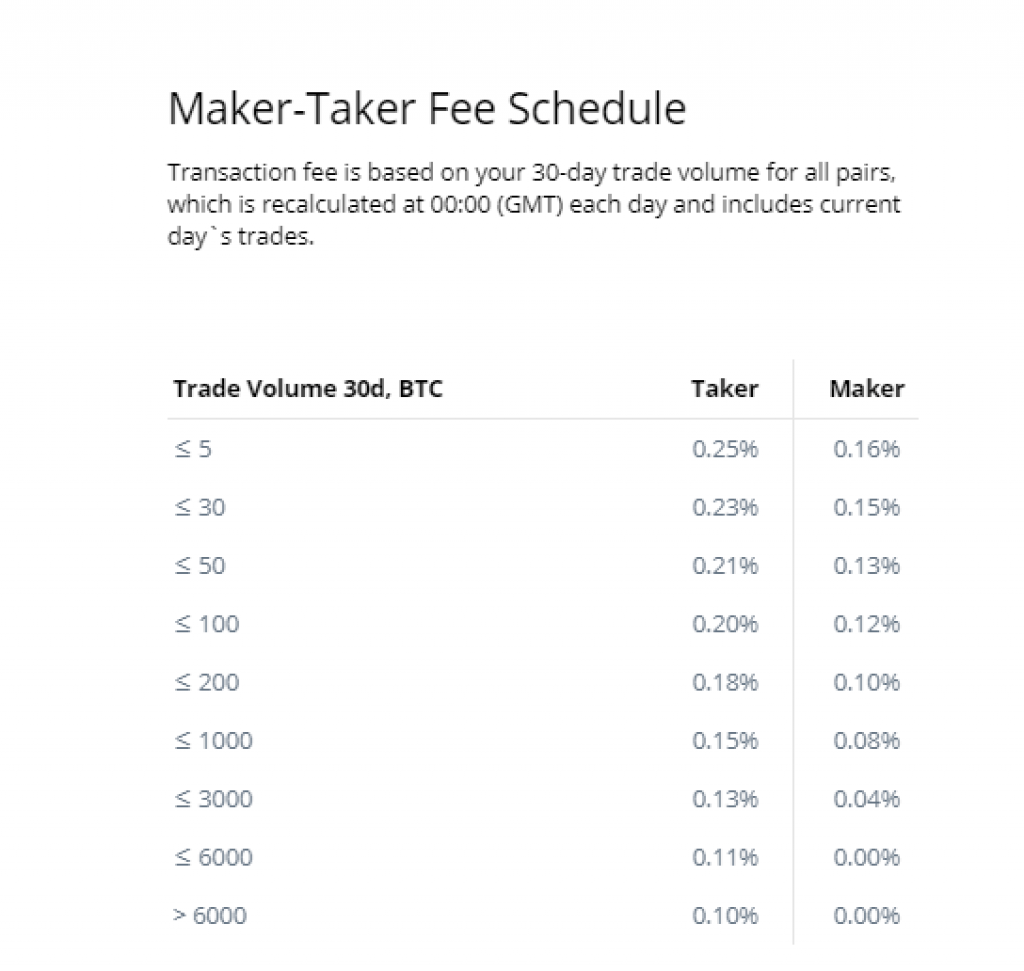 CEXio Buying and Withdrawal Limits
---
When it comes to crypto trading, CEX.IO offers four different account levels based on verification provided – Basic, Verified, Verified Plus and Corporate.
Basic – Basic accounts can purchase up to $500 worth of Bitcoins per day and up to $2000 worth of Bitcoins per month. Note that these accounts are not able to buy via bank transfer.
Verified – Verifiedaccounts can purchase up to $10,000 worth of Bitcoins per day and up to $100,000 worth of Bitcoins per month via both credit card and bank transfer.
Verified plus and Corporate accounts – These accounts have no limitations on the amount of Bitcoins that can be purchased.
You'll need to supply personal information about yourself and a government issued ID in order to become verified.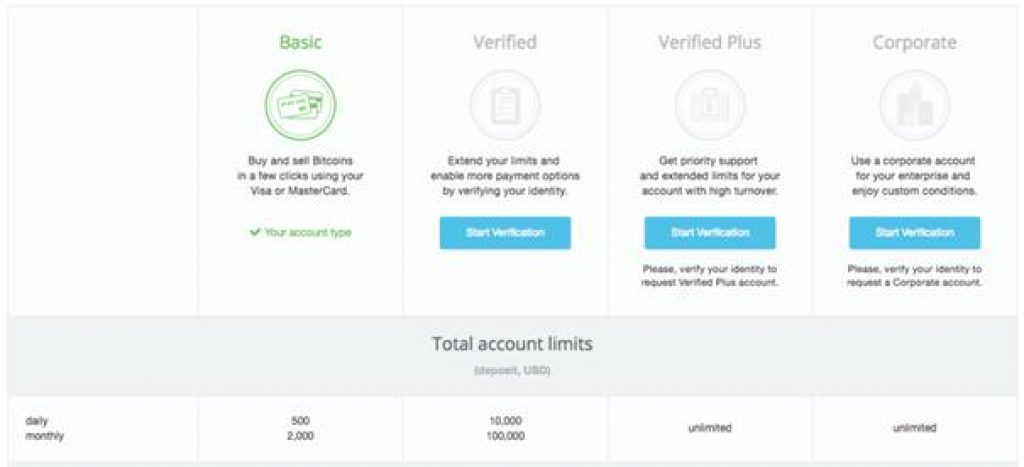 Withdrawal limits vary from method to method. For instance, they are up to $50,000 for credit card withdrawals. You can read more about Cex.io's limits here.
Verification
---
Getting a verified account on on CEX.IO is very simple. The exchange offers a detailed Verification guide in order to get the users familiar with the process. As on many other exchanges, verified accounts on Cex.io enjoy higher deposit and withdrawal limits.
Another thing worth noting is that there's always someone from the support to answer the questions posted below the guide. This is a great alternative to opening tickets.
Requirements for Identity verification are following the industry standards, and here is what is needed:
Personal information (name, place of birth, date of birth, gender, a phone number and address)
Proof of residency (a bank statement or utility bill with the user's name and address)
Government-issued document (ID card, driver's license, passport)
Selfie with an ID document (ID card, driver's license or passport)
The verification doesn't take long. It can take up to 24 hours.
Cex.io Exchange Review: Supported Countries
---
CEX.io supports all countries worldwide, unless noted below.
The following countries are restricted for credit card buys: Saudi Arabia, Yemen, Palestine, Qatar, Oman, Pakistan, Libya, Nigeria, Kuwait, Lebanon, Bahrain, Iraq, Afghanistan, Algeria, Iceland, and Vietnam.
The following countries are restricted from purchasing with bank transfer: Yemen, Zimbabwe, Turkey, Vietnam, Tanzania, Tunisia, Sudan, Syria, São Tomé and Príncipe, Somalia, Liberia, Libya, Guinea, Iraq, Kenya, Haiti, Iran, Ethiopia, Guinea-Bissau, Côte d'Ivoire, Eritrea, Afghanistan, Democratic Republic of the Congo.
Cex.io supported currencies and coins
---
Cex.io supports all the major coins (Bitcoin, Ethereum) like:
Bitcoin (BTC)
Litecoin (LTC)
Bitcoin Cash (BCH)
Dash
XRP
ZEC
XLM
BTG
Aside of these, the platform has been adding new smaller coins and currently has more than 40 cryptocurrencies you can buy via their exchange.
Supported fiat currencies include:
Great Britain Pound (GBP)
Russian Ruble (RUB)
Euro (EUR)
United States Dollar (USD)
Is Cex.io legit?
---
CEX.io is one of the most trustworthy cryptocurrency exchange platforms that is active since 2013 with only one security breach with no significant consequences. As for funds security, CEX holds the vast majority of its users deposits in cold storage locked in vaults with armed security guards and video surveilance.
Moreover, CEX.io is registered in the United States as a Money Services Business.
Is Cex.io safe?
---
Yes, Cex.io is a safe crypto exchange.
They have taken care of security, and two-factor authentication and a security question are used for account protection. The crypto exchange offers email and SMS alerts, and PGP encryption isn't used in email communication. One more thing worth noting is that the majority of coins are stored in the cold crypto wallet.
The latest hacking incident happened in 2013 when the exchange was young. This incident ended with a loss of $7,000 for one of the users. The vulnerability was patched immediately patched. Since then there were no problems regarding the security of the exchange.
Margin Trading
---
In 2019, Cex.io started a separate platform called Cex.io Broker that offers full fledged margin trading services.
CEX.io Broker is a platform for cryptocurrency trading via CFDs featuring a variety of orders types, technical analysis instruments and advanced trading tools. It allows users to leverage their position and increase their profit possibilities (while also increasing the risk they are exposed to)At the moment margin trading on CEX.io is available for Bitcoin Litecoin and Ethereum only.
User Reviews
---
It seems that the majority of dissatisfied user reviews are either complaining about the identity verification, the hidden fees (i.e. high exchange rate) or the site's customer support. The first two problems are usually related to people not understanding the fine print. In the past few months CEX.io has made it much clearer how much will you pay for your coins. As you can see it below:


Cex io Review: Customer Support
---
This company can be proud of their support team, because they answer quickly, with detailed information. Also, they can be found everywhere – on the trading platform and outside it.
Most of the bad reviews that were on TrustPilot also received a response from CEX.io. This shows that the company cares about the clients and, of course, its reputation.
And finally, the short Cex.io review on Reddit that I read didn't shed any new light on the exchange, and most people on Reddit said they didn't have any problems with it, and the original poster just didn't understand the identity verification process.
A small downside comes in a form of the canned responses. However, even when this is the case, the response is detailed and provides all the information required by the user.
Cex.io Staking
---
As of recently, Cex.io introduced new service to their platform – custodial staking. You deposit coins that use PoS consensus mechanism and Cex.io stakes them on your behalf and pays out the earnings directly to your Cex.io balance.
To start participating in staking, you just need to buy supported staking crypto on CEX.IO which is currently limited to 4 coins: NEO, Ontology, Tron and Metahash.
Cex.io Loans
---
This is another relatively new service launched by the platform.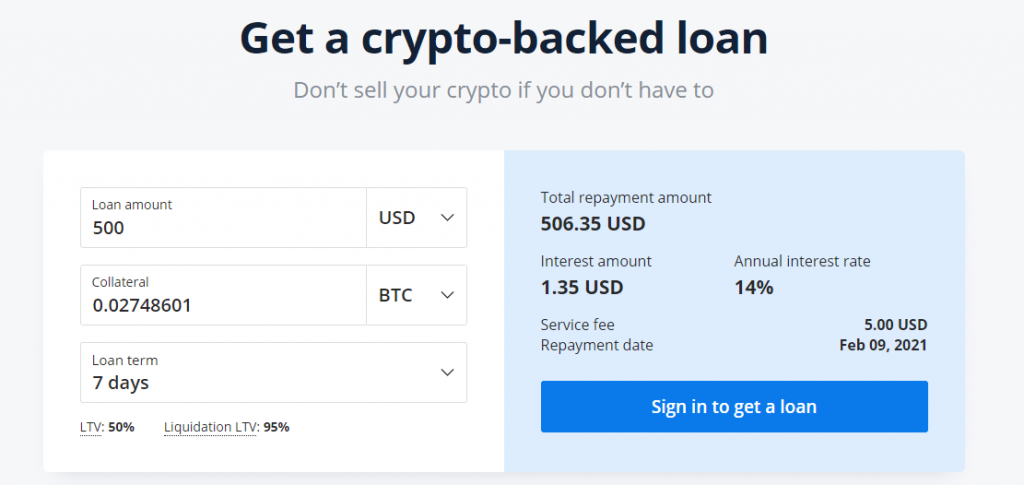 The service works similarly to other crypto lending platforms like Blockfior Spectrocoin Loans. The LTV ratio is on par with industry average at 50%. Once you apply and get approved, you can withdraw money via bank card, wire transfer or Skrill. Only KYC verified users can apply for Cex.io crypto-backed loans.
Interest rates start from 8% while the minimum amount you can lend is USD 500 or EUR 500 while the maximum is 100k USD or EUR. The minimum term is 7 days.
Conclusion – Is CEX.io a Good Choice to Buy Bitcoin & Ether?
---
I have used CEX.io couple of times and I haven't experienced any problem. I think CEX.IO is a decent cryptocurrency exchange to buy/sell Bitcoin and Ethereum. The exchange supports multiple currencies and locations, which is an advantage for users from countries where it's not so easy to buy Bitcoin.
The only downside is the 7% fee they charge for purchasing Bitcoins. I would love to see them lowering down their fee in the coming days. In my opinion, this would definitely get more people excited about their service.
The exchange has leap frogged forward in the past year or so, and has become one of the leading Bitcoin brokers around. The interface is sleek, new, and user-friendly, and even complete beginners will manage to purchase Bitcoins with it. You are good to go as long as you are aware of the fees and the verification process needed to purchase more substantial amounts of Bitcoin.
You can read more about other crypto exchanges and how they fare against Cex by clicking on the links below:
FAQs
---
Cex.io alternatives
---
If you are not fond of Cex.io, there are plenty of alternatives we suggest below:
PROS
User friendly interface
Various payment options
3 payment options to deposit or withdraw money completely free of charge
Well Established Company
Great and Fast Support
High liquidity
CONS
Extensive Verification Process to Increase Purchasing Limits

CaptainAltcoin's writers and guest post authors may or may not have a vested interest in any of the mentioned projects and businesses. None of the content on CaptainAltcoin is investment advice nor is it a replacement for advice from a certified financial planner. The views expressed in this article are those of the author and do not necessarily reflect the official policy or position of CaptainAltcoin.com