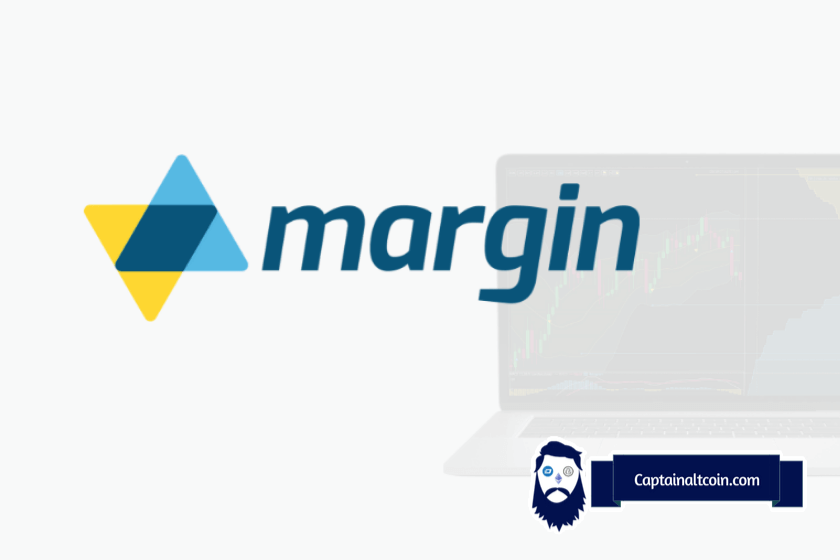 Leonardo was one of the first and almost legendary bitcoin trading bots that were shut down in 2017, after 3 years of successful operations. However, the software and source code got purchased by Margin and relaunched under their name – Margin.de trading bot.
In this Margin review, we will go over all major features and competitive advantages/drawbacks Margin.de has on its competitors – most notably Cryptohopper, 3Commas, Gunbot, and Haasbot.
Use "Discount10" to get 10% on the checkout
What is Margin.de automated trading software?
---
In a word – Margin.de is a cryptocurrency trading bot. But what is a crypto trading bot?
Trading bots are software programs that connect to an exchange (usually via API protocol) and make trades on behalf of the users. They work using a variety of trading indicators and strategies. Since trading is all about mathematics and fast complex probability calculations, bots should be better at trading than humans.
Maring.de is, unlike its main rivals, a downloadable desktop trading terminal that is run from a local machine and not a cloud-based solution.
For this reason, Margin.de can be purchased for a one-time fee as opposed to other automated trading solutions that are subscription-based.


Margin bitcoin bot – major features
---
Visual trading
---
Margin.de made sure to be newbie-friendly. You don't need any technical skills to run the bot as everything is made to be idiot-proof with their drag-and-drop abilities or as they call it – visual trading.
You can make orders directly on the charts, see the gains your trade made by hovering over it, keep track of the news in the industry through the built-in RSS feed, and maintain a bird-view of 25 different exchanges from one interface, at a glance. Since margin is a fully-fledged trading terminal, you can even connect a second monitor and get that professional feel when using it.
Bots
---
Margin has 4 different bots that you can deploy to trade for your while you are away (travel, sleep or just work on something else). The first bot is the EMA crossover bot, then the Bollinger band bot, Ping Pong bot, and Margin maker bot. They all trade based on the different trading technical indicator as their names suggest Bollinger bands, MACD, RSI, EMA, VWAP, and many more. These indicators are sometimes used as drivers for bot decisions and all can be helpful when you are manually trading.
Customizable GUI
---
Margin.de can be tailored to your own needs as its GUI is configurable and can be moved around and built up like a lego house.
Smart Order Router
---
This is Margin's proprietary function that ensures you buy coins at the best prices by splitting a larger order over multiple exchanges. Smart Order takes your funds, orderbooks of each exchange, and their fees when calculating the best place for placing an order.
Margin review – Pricing
---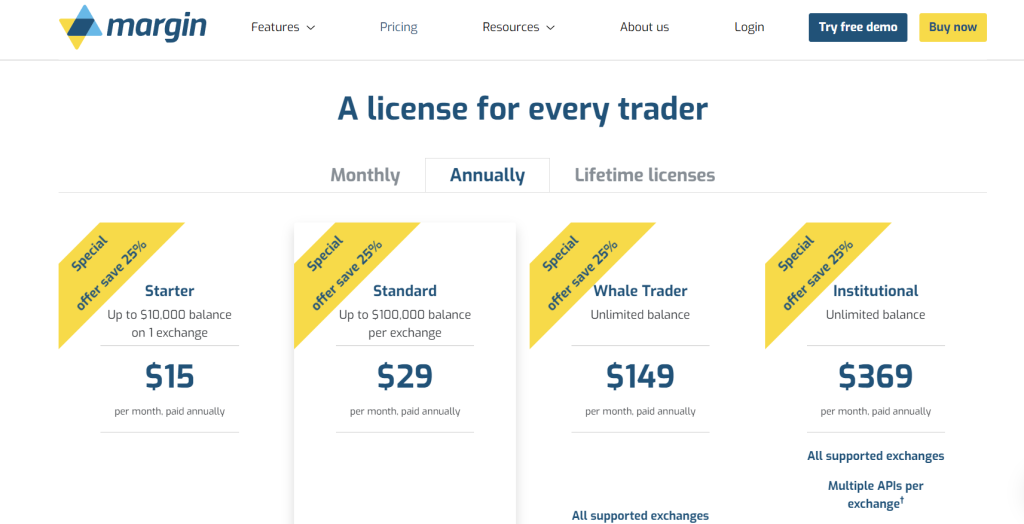 Margin comes with a tiered pricing model that aims to satisfy traders of all skill and experience levels. The major difference between Margin and the industry's leading automated software like Cryptohopper or 3Commas is that Margin is a desktop application that can be run on any OS like Windows, macOS, Linux, and Ubuntu.
Margin Demo – test it out for free
---
Margin offers a full-featured demo account through which you can trial the software for free for 7 days. This is great for those who are not sure if Margin is a good fit for their needs as they can take it for a spin without giving out any money.
Margin Bot – supported exchanges
---
This is one of the major selling points of Margin and one of its top competitive advantages: it supports almost 2x more exchanges than its closest rivals.
Currently, the number of supported exchanges is 25 and it grows by the month. Some of those exchanges include:
Bluetrade
OKex
Huobi
LAToken


How to set up an account on Margin.de?
---
Signing up and getting things started is very easy – you just go to margin.de and sign up for an account.
Margin connects with cryptocurrency exchanges via API keys so you will need to get those keys from the respective exchanges you plan to integrate with Margin in other words you need APIs per exchange.
Once you have submitted your API key info, you need to download the margin, choose the exchange you want to trade on, and then input your full API key and the secret to log in.
Below is a quick rundown of the top 3 bots, based on their most prolific properties:
How to use the Margin trading bot?
---
There are 4 different bitcoin bots on Margin that all work based on different trading indicators.
How does the EMA crossover bot work?
---
This bot works on the basis of the EMA technical indicator: EMA is a moving average that places a greater weight and significance on the most recent data points. Like all moving averages, this technical indicator is used to produce buy and sell signals based on crossovers and divergences from the historical average.
This bot can be started in one of three modes: buy, sell, or any. In the 'buy' or "sell" mode it will wait until a buy situation arises (triggered by an event like EMA crossover, when the shorter period EMA crosses the longer period EMA) before putting in its first spot order. In 'any' mode, the bot is ready to either buy or sell, whichever situation occurs first.
How does the Bollinger Band bot work?
---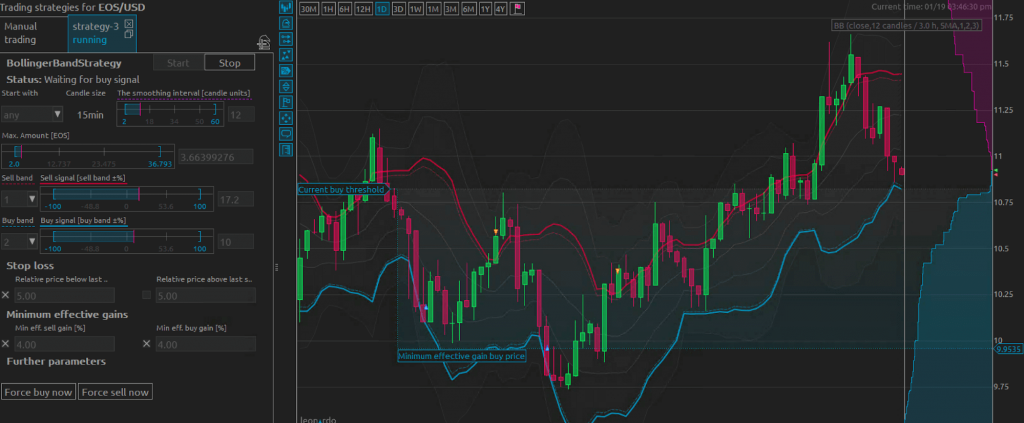 This bot is based on a Bollinger Band which is a popular technical analysis tool defined by a set of lines plotted two standard deviations (positively and negatively) away from a simple moving average (SMA) of the security's price but can be adjusted to user preferences.
This bot also has three modes: buy, sell, or any. Starting in any mode will activate both the buy and sell thresholds and is great if you are not sure which way the market will initially move.
One important difference between this bot over other Margin bots is that it does not place static limit orders, but rather spot orders that are made after a certain trigger activates so the actual trade might not be at the price the order was triggered at.
Below is the explanation from the margin.de site on how this bot gets triggered:
"How does an order get triggered? There are two bands, a sold band (solid red line) and a buy band (solid blue line), that can be configured. These are set relative to the Bollinger Bands. For an order to trigger, the opposite orderbook has to intersect the buy/sell band. For example, in the buy case, the top of the sell orderbook has to touch the 'Current buy threshold'. Note that in volatile markets this means that it can commonly occur that the orderbook rapidly retreats after triggering a spot order. This results in the spot order having to overcome the spread to get filled. On certain pairs, this can be some percentage points off the trigger price.
In order to protect against unwanted losses, it is possible to set a Min effective gain parameter. This can be set on both sides. In the figure, the Minimum effective gain displaces the current buy threshold by more than 4% to ensure that the desired Minimum effective gain is achieved."
How does the static ping pong bot work?
---
This is the simplest MarginBot that places static limit orders.
Choose the strategy button (chess knight with +) to launch a new bot.
Move the buy and sell price lines to set the prices per your wishes. The bot does nothing but until the set order is fully filled before reversing actions and placing a limit order on the opposite side. In the chart below, the Ping Pong bot placed a limit buy order and is waiting for the order to become active. Once this order gets filled (if the price moves away from the order, it might not get filled), a limit sell order for the same amount will be placed on the opposite side. The specified effective gain in this example was just over 3%.
The bot will put buy and sell orders until you stop it.


How does the mArgin maker bot work?
---
The mArgin maker bot is the fourth bot offered by Margin.de. It is a bot that places limit orders in a dynamic fashion based on the parameters you set.
You can change the 'time window' which is set by dragging the long vertical blue line (see image below – it's the thin blue line in the middle of the chart running from top to bottom) to set the desired time period. The vertical dimension of the time window is given by the lowest and highest priced trades that occurred during that time.
You can set relative buy and sell margin orders inside this window (dashed red horizontal lines). As the prices oscillate, the lowest and highest trade price also change over time which leads to the change in the vertical height of the window accordingly. This affects the buy and sells margin prices as well as they also change. As the market contracts, the prices become closer to each other. This also means that the initial Eff. gain* shown in the center of the time window will also change.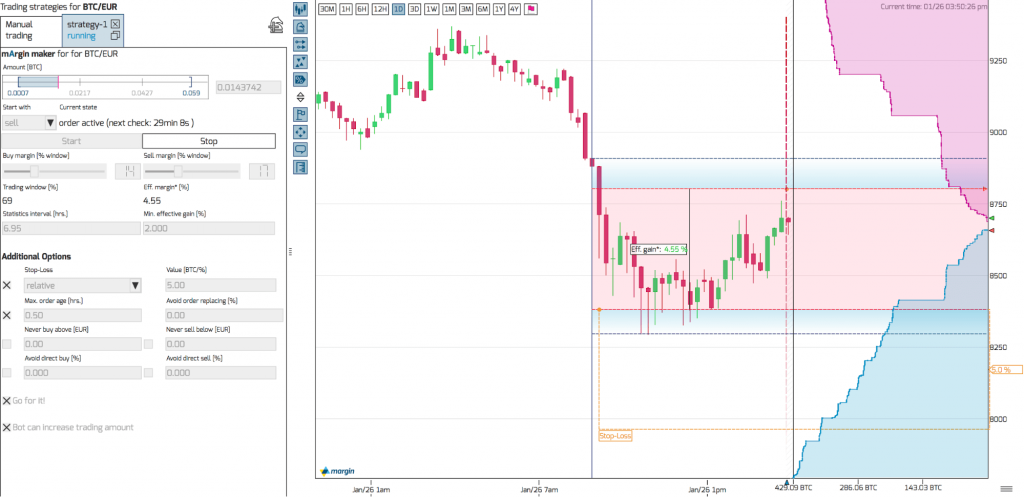 The Min. effective gain [%] is a very important parameter. For the mArgin maker, it applies to both buy/sell and sell/buy cycles. It is always active, the default value is 0.0%. If you want to ensure that the bot makes a gain after trading fees have been subtracted, a positive value must be given. Note that this means a bot order can get stuck at a particular price in order not to violate the Min. effective gain.
The other parameters are quite self-explanatory – especially if you hover over their tooltips.
Is Margin.de safe to use?
---
Yes, by using Margin, you do not expose your funds to any risk.
Margin makes a point of their efforts on this front – they employ a host of different security measures to ensure user and trading data safety.
Margin.de only stores half of a two-part API-key pair on their servers – hashed and encrypted of course.
The bot works perfectly fine without the withdrawal permission on your API keys (you set this option on the exchange) and advises against enabling this option to protect your funds.
Even if Maring servers get compromised, a potential attacker will end up empty-handed as it he would not be able to do anything with the API info as three-quarters of each key pair is not kept by Margin.
Furthermore, margin orders are not routed through their server as it connects directly to the exchanges to do their job.
How beginner-friendly is Margin.de?
---
Even though this is a fully-fledged automatic trading terminal that can be used by experienced professionals, Margin is also easy to use by noobs as it is very intuitive and customizable. The drag-and-drop feature paired with excellent support (more on that below) and extensive tutorials warrants success even for complete newcomers.
Margin customer support
---
In glaring opposition to the majority of cryptocurrency services that are notorious for their lacking customer support, Margin excels in this regard.
There is a chat bubble in the bottom right of any page on margin.de which leads you to a customer support agent that will either respond right away or with a slight delay via email.
Margin.de vs Cryptohopper vs 3Commas
---
The biggest difference between Margin and other cryptocurrency bots is that a margin license can be bought for a lifetime since it is not subscription-based.
Additionally, Margin is run from a local machine (or VPS) and is not cloud-based. This is seen as a drawback compared to the other two.
The number of exchanges that Margin supports is much bigger in comparison to the other two – 25 on Margin, 9 on Cryptohopper, and 12 on 3Commas.
Visit CryptoHopper Now Visit 3Commas Now
Use "Discount10" to get 10% on the checkout
Margin De Review – Final verdict: Is this a good automated bitcoin software?
---
To sum it all up – Margin.de is a great tool, very powerful and advanced which is ideal for professional traders. However, intuitive design and helpful support make it a good choice for beginners as well.
It is not cloud-based so you will need to download it and probably rent a VPS to run it 24/7 unless you have a spare laptop that can run non-stop.
Nevertheless, a sheer number of supported exchanges set it head and shoulders above the other bitcoin trading bot. In case you are looking for alternatives to Margin.de but don't like Cryptohopper or 3Commas either, take a look at our reviews of lesser-known bots like Quadency, Bitsgap, Coinrule, TradeSanta, Shrimpy, CryptoTrader.org.
PROS
Established company
Configurable GUI
Numerous supported exchanges
Free Demo Version
one-time purchase fee

CaptainAltcoin's writers and guest post authors may or may not have a vested interest in any of the mentioned projects and businesses. None of the content on CaptainAltcoin is investment advice nor is it a replacement for advice from a certified financial planner. The views expressed in this article are those of the author and do not necessarily reflect the official policy or position of CaptainAltcoin.com