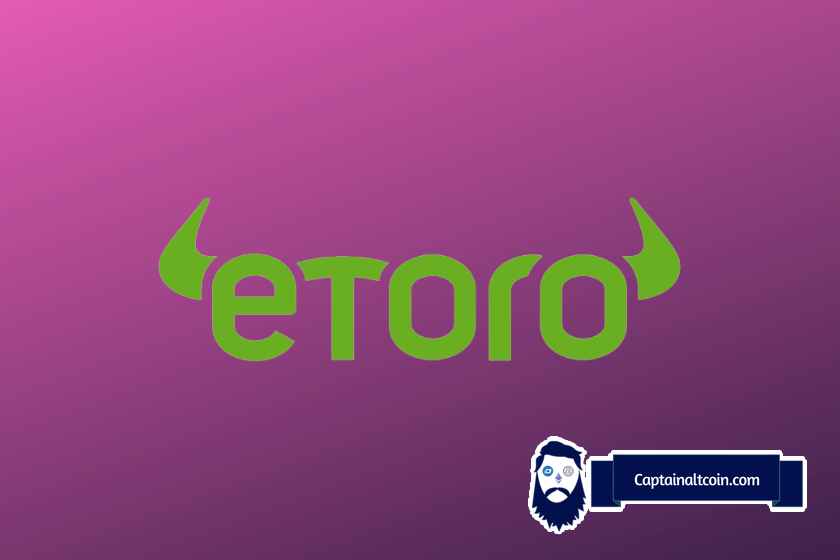 eToro is a social trading platform for CFDs, currencies, cryptocurrencies, commodities, indexes, and stocks. In operation since 2008 (and expanding to crypto trading in the last 3 years), eToro aims to offer a fluid web-based, mobile platform which enables its users to trade almost anything in a single portfolio.
As you will see in this eToro review, in the last three years, eToro has been on a cryptocurrency expansion track, and crypto wallet as separate services while also listing a lot of cryptocurrencies and crypto CFDs on their main platform as well.
Here is the full head-to-head between eToro and eToroX.
Disclaimer: The information provided in this review does not apply to US users.
It would seem like the public recognized the quality of the platform as eToro has grown significantly since its inception; it currently boasts a user base of about 7 million users worldwide.
This trading platform aims to make trading accessible to anyone, anywhere, and reduce dependency on traditional financial institutions. In order to help newcomers into the world of trading, eToro puts a lot of weight on its social trading features like copy trading and copy portfolio. As you will see in this eToro review, their trading platform is slowly outgrowing a mere social trading platform and expanding into a real social network, with a focus on trading.
EToro combines a lag-free modern trading system with the ability to interact with other users, a simple yet effective model which has been replicated by many similar companies.
It is one of the biggest platforms out there that managed to popularize the concept of combining social networking and classical financial trading.

eToro
✅Copy single trades or complete portfolios of top traders ✅Aside of CFDs, trade real stocks, ETFs and cryptocurrencies. ✅FREE trading on certain stocks. ✅Adjustable leverage.
67% of retail investor accounts lose money when trading CFDs with this provider. You should consider whether you can afford to take the high risk of losing your money Cryptoassets are highly volatile unregulated investment products. No EU investor protection.
81% of retail investor accounts lose money when trading CFDs with this provider. You should consider whether you can afford to take the high risk of losing your money.
Cryptoasset investing is highly volatile and unregulated in some EU countries. No consumer protection. Tax on profits may apply.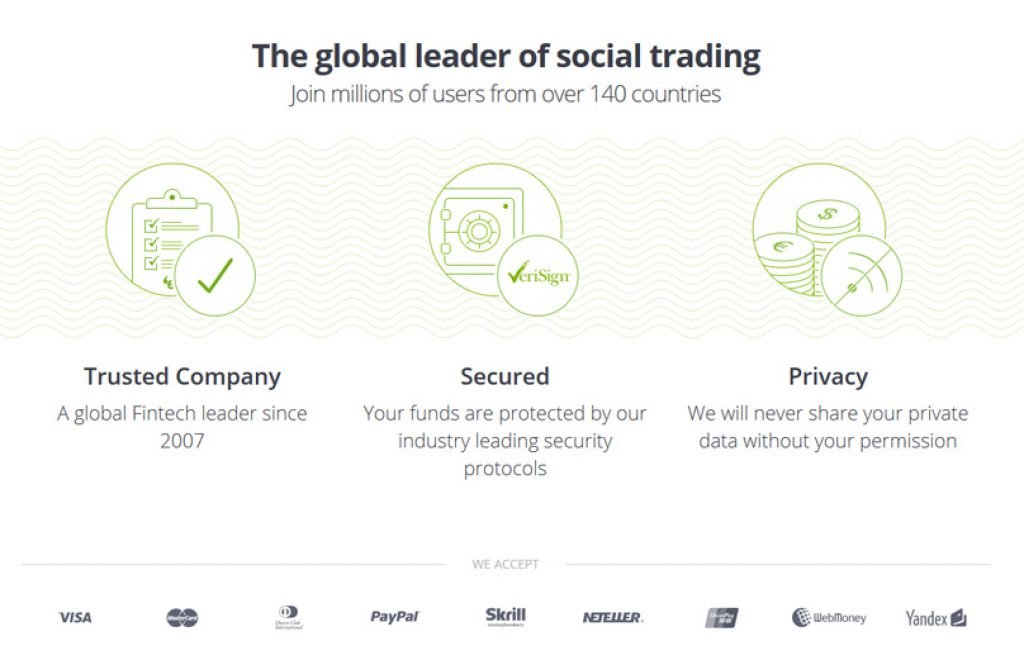 eToro quick overview
---
| | |
| --- | --- |
| Broker | eToro – Visit |
| Regulation | FCA (UK), ASIC (Australia), CySEC (Cyprus) |
| Minium Initial Deposit | $200, $50 for US users |
| Demo Account | Yes |
| Asset Coverage | CFDs, ETFs, Forex, Cryptocurrency, Shares, Commodities, Indices |
| Trading Platforms | Proprietary Web, Mobile Apps |
| Feature | eToro |
| --- | --- |
| Forex: Spot Trading | Yes |
| Currency Pairs (Total Forex pairs) | 47 |
| CFDs – Total Offered | 1980 |
| Social Trading / Copy-Trading | Yes |
| Cryptocurrency traded as actual | Yes |
| Cryptocurrency traded as CFD | Yes |
etoro vs crypto exchanges
Even though eToro is much more than a
cryptocurrency exchange
, it has been a disruptive factor in this segment of the crypto industry, setting the bar higher for all its competitors to follow, especially when it comes to official regulations and law compliance.
Thanks to its leverage trading options, eToro has chipped off parts of the userbase from
crypto margin exchanges
like
BitMex
or
Bitfinex
.
What is social trading and how does it work on eToro?
---
Social trading is a service that allows investors to replicate the actions or operations of expert traders. It requires little or no knowledge about financial markets; the investor simply needs to pick a good trader to follow and emulate his trades.
When picking the trader on eToro, the investor needs to consider variables like the percentage of his successful operations and the diversification of his financial instruments. It's clear why these are important: you want to follow someone who clearly has a lot of success on the market and such a trader is usually more diversified.
A successful trader won't be someone who lucked out and picked a winner; it is much more likely that said trader puts a lot of time and effort into doing his due diligence to ensure overall success.
Naturally, past performance is not an indication of future results and a positive trading history shouldn't be the basis for an investment decision. As with any investment, your capital is at risk, and eToro goes to extra lengths to inform their new traders about this.
The platform requires each newly registered user to read through a short educational post about the risks of CFD and cryptocurrency trading before allowing them to use eToro's trading features.
eToro interface and trading features
---
It is clear from the get-go that eToro targets the average Joe who probably isn't that familiar with investing or trading. It's painless and straightforward to get started with the platform. Signing up takes less than five minutes and there's no need for slow verification methods or confirmations. You just need to fill out your user data and a short questionnaire on what kind of a trader you are.
You can trade cryptocurrency either ordinarily by setting up market orders (which will execute the order immediately on market price) or by setting up limit orders which will execute the order once a certain price is reached. Certain trade instruments offer stop losses which are there to ensure that your position is liquidated if a set stop-loss price is reached on the market.
Their slick, modern, almost game-like trading interface contains things like portfolio trackers, watch lists, featured markets, a news feed, a copyportfolio, and the ability to follow successful traders. You can one-click trade from almost all screens. It also allows you to create search filters and find users based on their location, percent of returns, and duration of the trade.
It is a unique, html5-based platform that doesn't have flash integration which offers great browsing speed and simplicity. The platform is also available on Android and IOS phones.
Charting is surprisingly full ­featured on the web version, with plenty of indicators and numerous drawing tools, but the software has no historical testing other than CopyTrader and CopyPortfolios performance tracking. The broker offers no MetaTrader or other third-party integrations. The Mobile version shrinks the list of available indicators and does lack other features like client positioning data.
EToro also contains some additional features like:
eToro Economic Calendar – helps you stay updated on recent happenings and upcoming events that could affect the global markets and cause the assets you invested in to go either up or down in price. You can customize the time zones, events, and dates that are relevant to your trades and create your own calendar as you see fit.
eToro Earnings Reports Calendar – Similar to the economic calendar, the earnings reports calendar contains a list of upcoming earnings reports that are scheduled to be released by publicly traded companies. The entries are ordered by market cap, detailing the financial instrument, sector, and expected release date. These can significantly affect one company's bottom line and change the price of the asset you invested in.
The platform does offer a lot but it seems limited in some areas. Lackluster order management options and no guaranteed stop-loss protection feature might discourage investors. Lack of API interface or external integrations, as well as overall focus on social trading, can be negatives for some as well.
Social Trading
---
Traders will have the option to choose between two initial trading options:
trading on their own
copying other traders
While they originally started as an online trading platform, they recently introduced the social-media-like elements into their system which enable clients to save time, learn from other traders' experiences, share their own knowledge and become better traders that way.
What is CopyTrader?
---
The trademarked CopyTrader system is a good solution for both the experienced traders who want to become opinion leaders and for the inexperienced ones who want to start trading but lack the knowledge and experience. Copied investors have an incentive to keep doing well given in the form of eToro's Popular Investor program.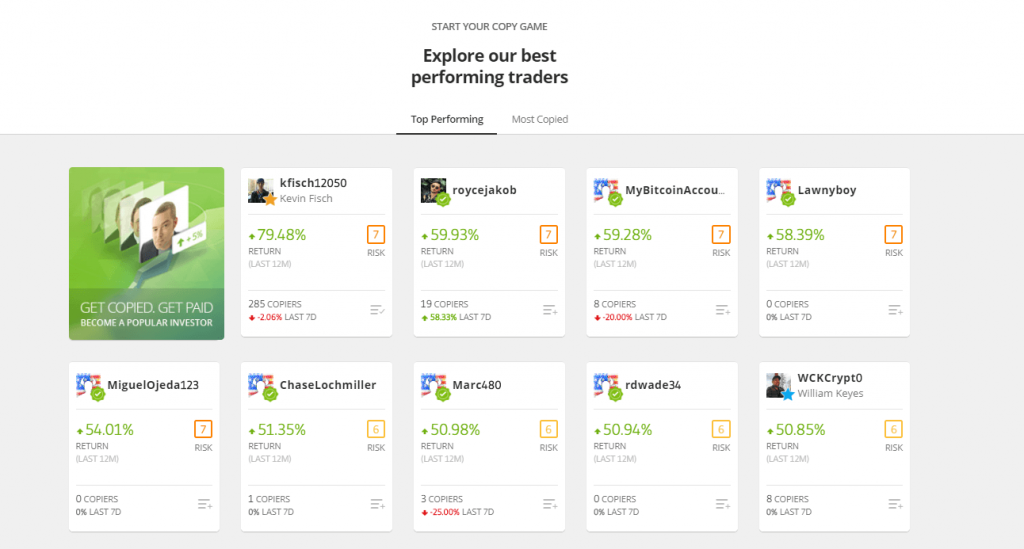 Past performance is not an indication of future results.
To start using the social trading feature, you'll need to navigate to the "Copy People" page which you can find in the website's dropdown menu. This will open a list of traders from which you can pick the ones you wish to follow.
The page is segmented into several sections which include editor picks, top investors, trending investors, most copied investors, investors with lower risk scores, and investors with a medium risk score. Alternatively, you can use the "Advanced Search" feature to set your trader filter the way it suits you and find an investor who perfectly suits your needs. Finally, if you already know the name of the trader you wish to follow, use the website's "Search" bar to find him.
What are CopyPortfolios?
---
CopyTrader system recently evolved even further after a CopyPortfolios element was introduced. CopyPortfolios is a system of group investing where several successful traders or several market instruments are bundled together into a single investment instrument.
These portfolios are periodically optimized by eToro's Investment Committee which uses a specialized algorithm to create investment instruments.
EToro comes with a social news feed feature that mimics a lot of elements from the world of social media and online trading and looks to bring the end-user a more engaging experience. Traders can, like on any other social network, post updates and news to their feed, comment on other people's posts and create discussions, subscribe to receive notifications from users who they follow, and more.
The feed is a part of your user profile, which can be customized with a picture/some information about yourself. EToro also releases daily market updates on their blog which traders will find useful when determining their trading strategies.
This profile also contains some trading-related elements like the stats feed (which tracks your Risk Score, your portfolio composition, and your overall success rate), the portfolio tab (which shows your portfolio in detail), and the chart (a simulation of what a $10,000 investment in you would yield over time).
Looking at your total portfolio, the bigger percentage of it you have tied up in trades, the higher your risk score on the platform is. A risk score is calculated with a special formula that takes more than your %invested into consideration; the higher your risk score is, the higher is the chance your investments won't pay off. You can find more information about how risk scores work here and here.
How to setup an account on eToro?
---
Creating your eToro account is a simple ordeal. Click on the "Join Now" button on the eToro website. If you already have social media like Facebook and Google, you can use one of them to automatically enter your name on the register screen. If not, you can enter them manually yourself. Enter your e-mail, and your desired password (will need to have 6-20 letters, one capitalized letter, a number, or a symbol).
Enter your phone number and accept the terms and conditions of the platform and then click on the "Create Account" button. Due to eToro's regulatory compliances, those in the United States, Canada, Cuba, Japan, North Korea, Iran, Syria, Turkey, Serbia, Albania, and Sudan cannot legally use eToro.
Types of accounts on eToro
The platform offers two types of accounts, retail and professional. A retail trader receives access to all of eToro's trading assets and can both trade manually or Copy Trade (subject to suitability).
While retail clients' leverage is restricted, they do receive certain protections such as coverage by the Investor Compensation Fund and recourse to the Financial Ombudsman Service. Furthermore, they receive negative balance protection and margin closeout restrictions set up by ESMA regulations.
Negative balance protection
Negative balance protection means that eToro can in the rare occasion in which market conditions cause your account's balance to go negative, absorb the loss and balance your account. Professional traders get all of the features mentioned above, as well as no leverage restrictions. Professional Clients need to meet certain criteria, such as trading volume, transaction frequency and/or professional experience. Professional traders will need to apply as per instructions provided here.
eToro free demo account
Alternatively, just registering on the platform gives you access to a demo account with $100,000 of virtual dollars which you can use to test out the platform and hone your trading skills.
Verification process on eToro
---
All accounts (except demo ones) require you to perform full verification before being given access to eToro's functionality.
To verify your account, you are required to upload both a proof of identity (POI) and proof of address (POA).
Your POI document should contain your name, date of birth, a clear photograph, and issue date, and if it has an expiry date, that should be visible as well. Documents such as a passport, ID, and driving license will suffice.
Your POA document should contain your full name, address, and issue date, which should be no older than 6 months. Bank statements, credit card, and debit card statements, electricity/tax/water bills, and municipality letters are some of the documents you can use.
The verification process can take a few days, and you will be notified once your account is verified. Verified accounts will be given a green tick next to the username on the user's profile.
Who Can Use eToro?
---
eToro is accessible to everyone, as long as your country of residence is not restricted from access. eToro keeps a running list of such countries and you can check that on their site.
Does eToro Have a Minimum Trade Size?
---
eToro does its best to accommodate users of all profiles and experience levels but it does have some minimum deposit and trade requirements which we mention below:
Users must deposit $200 to participate in CopyTrading and do a minimum investment of $500 for CopyPortfolios.
The minimum deposits are based on the asset you want to trade. For currencies and commodities, the minimum quantity is $1000.
For cryptocurrencies, the minimum is $10.
For stocks and ETFs, it is $10.
For indices, that number is $1000.
For traders who joined on April 2, 2017, or after, the size of a minimum trade depends on exposure, in the form of leverage times the invested amount. For cryptocurrencies, this total minimum amount is $200 (for example, if you open a cryptocurrency trade with a leverage of 1x, you must invest at least $200.
The minimum for ETFs and stocks is $50, for commodities is $1000, and for indices and Forex is $1,000.
What assets can be traded on eToro?
---
EToro offers CFD (Contracts for Difference) trading in 6 major asset classes which include 47 currency pairs, hundreds of stocks and commodities, indices, and ETFs. Most popular markets are included and someone who is just starting out on their trading journey should find more than enough investment opportunities. The platform offers the following types of crypto assets to its traders:
Stocks – Seen as a medium to long-term investments, investors can either long or short stocks of companies like Apple, Google, Facebook, and JP Morgan. Companies that operate in the financial, technology, consumer goods, healthcare, services, utilities, industrial goods, and basic materials sectors, as well as some major conglomerates, can currently be traded on the platform.
Commodities – Energy sources like oil, and precious metals like gold, and platinum are popular assets to trade almost anywhere. EToro also offers CFD trading of these, as well as other commodities like silver, copper, and natural gas.
Currencies – So-called forex market is essentially the biggest market in the world, with a daily trading average of $5 trillion. Currencies are traded on eToro only as CFDs, meaning you don't need to purchase the underlying asset to trade them. In addition, CFDs enable "sell" (short) positions and leveraged trades – even for assets that don't offer the option in traditional trading. A total of 47 currencies, including the most popular pairs like EURUSD, GBPUSD, and USDJPY, are available on eToro.
ETFs – Exchange-traded funds are financial instruments made as a combination of several individual assets. Each fund follows a certain market strategy or index and is designed to either suit the hedging needs of a specific financial institution or to be a low-risk option for investors. ETFs are usually considered to be long-term, low-risk, steady-profit investment tools. There are currently 83 traded ETFs on eToro, including ACWI, AGG, Proshares Ultra S&P 500, SPDR Gold, Emerging Markets Index, etc.
Indices – Indices represent combinations of several stock assets that, when combined, reflect the situation in a certain market. For example, the NASDAQ index on Wall Street aggregates major companies from the tech sector, such as Apple and Google. Indices are traded in the CFD form as well and you'll find 13 of them on eToro, including China50, JPN225, NSDQ100, SPX500, UK100, and others.
Trading Cryptocurrencies on eToro
---
eToro introduced cryptocurrency trading to their platform, as these crypto assets raised quite an interest from investors all over the world. Investors can either purchase crypto outright or purchase the corresponding CFDs on the eToro platform.
You'll currently find the following cryptocurrencies on eToro: BTC, ETH, BCH, XRP, DASH, MIOTA, XLM, EOS, NEO, TRX, ZEC, BNB, LTC, ETC, ADA. EToro launched a native crypto wallet in March of 2019, confirming its intention to focus more on this asset class in the future.
It is worth noting that, unlike many other similar brokers, eToro offers cryptocurrency trading with real assets, not just with CFDs. However, you can do cryptocurrency trading with actual coins only when you trade without leverage and when you go long. Shorting and leveraging means you are trading CFDs of cryptocurrencies.
The company offers crypto services that are useful to anyone looking to get into crypto trading or trading crypto assets.
The eToro crypto wallet app can be used to store eToro crypto assets.
Crypto CopyPortfolios where eToro users can copy trades with crypto assets.
5% of the market cap is taken into account when calculating CopyPortfolio crypto assets.
Take note that you can participate in crypto trading on individual crypto assets or copy the trades of eToro users who trade in crypto assets.

Comparatively to other cryptocurrency trading services, eToro does not allow withdrawals of crypto assets unless you are using a dedicated custodial eToro Wallet, available for both iOS and Android.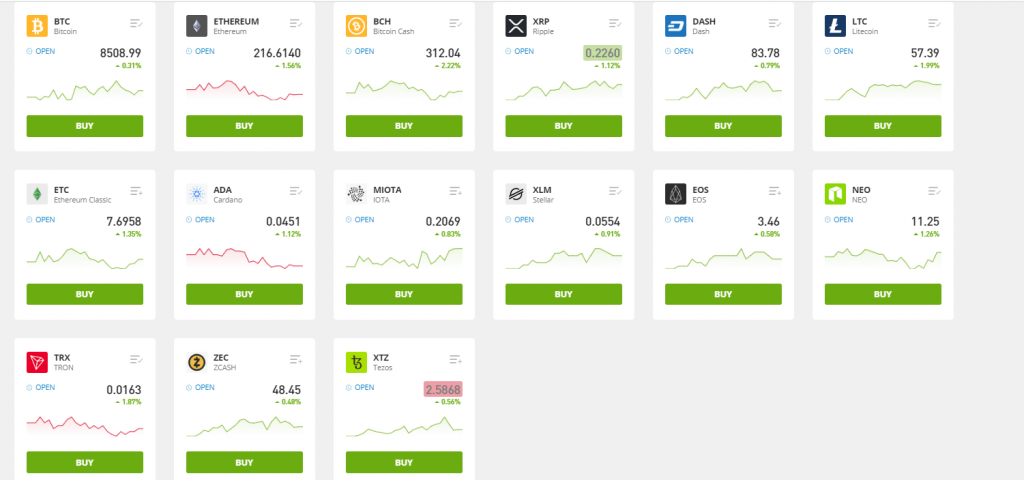 Past performance is not an indication of future results.
Deposit methods + buying crypto with PayPal via eToro
---
Deposits can be made swiftly via credit/debit card, PayPal, Neteller, Skrill, Giropay, or WebMoney with no fees. They also offer the possibility of funding your account via Wire Transfer, with a minimum deposit of $500. Straight away you are allowed to deposit up to $2,250 on your unverified account.
Those who want to deposit more will have to complete the platform's KYC verifications. To deposit funds onto the platform, choose whichever method you prefer and follow the steps below to make a successful deposit:
Log in to your account
Click on "Deposit Funds"
Enter the amount and select the currency
Finally, select your preferred deposit method
Your personal/credit card info will be protected with the Secure Socket Layer (SSL) technology.
The platform doesn't allow third parties to make payments in your name. However, if you wish to use a method of payment belonging to your spouse or another first-degree family member, the platform can set up a joint account for you.
Withdrawal methods
---
As for withdrawals, you can withdraw the number of funds you currently have on your account minus any margins you currently have active.
Funds are withdrawn using the same method, and sent to the same account, as previously used for your deposit. Withdrawal times vary from 1-8 days and can be canceled while in the process of withdrawing. The minimum amount you have to withdraw is $30 and your account needs to be verified to be able to withdraw your funds. EToro charges a symbolic withdrawal fee of $5 which will likely divert casual investors from trading on the platform.
Fees
---
Besides the mentioned $5 withdrawal fee which is highly uncompetitive when compared to other brokers, eToro charges overnight/weekend fees for CFD positions. Market hours, spreads, and overnight fees vary from asset to asset and can be found here. Even those spreads that are displayed can vary due to various market conditions and liquidity. EToro also charges conversion fees for non-USD deposits, as the native currency of the platform is USD. Inactivity fees will punish remaining account balances quite heavily, charging $10 per month after 12 months of no trading activity.
| Instrument | Market Hours | Daily Break | Spread | SELL | BUY |
| --- | --- | --- | --- | --- | --- |
| BTC – Bitcoin | 24/7 | | 1.5 % | -0.471233 | -0.471233 |
| BCH – Bitcoin Cash | 24/7 | | 5 % | -0.14 | 0 |
| DASH – Dash | 24/7 | | 3 % | -0.039452 | 0 |
| ETHEREUM – Ethereum | 24/7 | | 2 % | -0.036712 | -0.036712 |
| ETC – Ethereum Classic | 24/7 | | 5 % | -0.001726 | 0 |
| LTC – Litecoin | 24/7 | | 3 % | -0.006575 | 0 |
| NEO – NEO | 24/7 | | 5 % | -0.012383562 | 0 |
| XLM – Stellar | 24/7 | | 5 % | -0.0000416 | 0 |
| XRP – Ripple | 24/7 | | 3 % | -0.000022 | 0 |
Customer Support
---
You can reach eToro customer service via their support system which is chat and email-based. Reaction time is industry average with occasional delays in response.
EToro has a very good help center that covers pretty much any topic/question you might have about the platform. You'll find answers about copy trading, deposits/withdrawals, verification, community, your account, troubleshooting, and much more. Some parts of the help center do seem a bit outdated and are even reporting 404 errors as of the moment of writing.
Other resources provided include live webinars, an eCourse program that helps you master financial trading at your own pace, and a catalog of training videos that cover everything from managing your capital to learning the ins and outs of trading psychology. Ultimately if you have a certain specific question, you can reach out to the platform's support directly by opening a ticket. EToro website has a status page that communicates and records any scheduled/unscheduled issues that the platform may experience.
Is eToro a secure platform?
---
EToro claims that they'll never share your personal information with someone and confirm that said information is protected behind several layers of encryption and cybersecurity.
This is all well and good but said information is stored on centralized servers which can be hacked into, so keep that in mind. The final thing to note is that trading CFDs and cryptocurrencies is generally a highly-risky activity, as more than 81% of people experience losses while doing so. Before deciding to trade any of these instruments you should carefully consider your investment objectives, level of experience, and overall risk levels you are willing to take. The broker is also fully regulated and adheres to the guidelines of FCA and CySEC, which gives traders an additional layer of confidence in eToro.
Is eToro safe to use?
---
These are the two most common questions people ask before joining the platform. And it is perfectly understandable to ask that since we talk about real money here. So here is the answer:
eToro is a regulated multi-asset broker that is legit and not a scam.
EToro is given its brokerage licenses by several regulatory agencies which allow it to operate in Europe, USA, and Australia. EToro's brokering services are provided by eToro (Europe) Ltd. ("eToro Europe"), a registered Cypriot Investment Firm (CIF).
The company's registration number is HE20058. EToro Europe is regulated by the Cyprus Securities & Exchange Commission (CySEC) under license number 109/10. In the UK, eToro (UK) Ltd. ("eToro UK"), company registration no. 7973792 is authorized and regulated by the Financial Conduct Authority (FCA), under firm reference number 583263.
eToro Europe and eToro UK both operate under and comply with the Markets in Financial Instruments Directive (MiFID). MiFID (Markets in Financial Instruments Directive) is a European Union law, which provides a harmonized regulatory regime for investment services across the European Economic Area.
In Australia, services and products are provided by eToro AUS Capital Pty Ltd. ("eToro Australia"), ABN 66 612 791 803 is the holder of an Australian Financial Services Licence (AFSL) 491139 issued by the Australian Securities and Investments Commission (ASIC), and regulated under the Corporations Act (Commonwealth).
While this line-up of regulators suggests the platform is safe for trading on, Investopedia reports that Cyprus Securities & Exchange Commission has had its history of licensing some shady projects.
The broker also discloses that they can hold client funds in banks outside the European economic area, increasing the risk for Europeans in case of a bank default; still, they do provide EU and UK broker default protection up to €20,000 or £50,000 to mitigate this risk.
Lack of guaranteed stop-loss protections and no private fund insurers, as well as stop-losses for cryptocurrency which cannot be lower than 25% of your exposure, also increase investor's risk. Your positions can be liquidated, in accordance with ESMA rules, making it impossible to lose more than you have in your eToro account. Standard security features like SSL encryption and 2FA are present on the platform.
The team behind eToro
---
Yoni Assia, CEO, and Founder – Fintech entrepreneur and a long-time crypto enthusiast, Yoni created eToro to disrupt the outdated banking system and help usher in a new digitally enhanced financial age. Yoni is a member of the YPO and was included by Financial News in its prestigious Fintech 40 ranking. He holds a B.Sc. in Computer Science and Management and an MSC in Computer Science.
Ronen Assia, CPO, and Co-Founder – Prior to co-founding eToro, Ronen designed medical devices, household appliances, and desktop and web applications. Ronen oversees products and engineering at eToro. He holds a BA in Industrial Design from Bezalel Academy of Arts and Design, and an MA in Product Design from the Royal College of Art in London.
Shalom Berkowitz, CFO – Shalom brings 25 years of executive management experience, having worked as the CEO of DSNR Media Group, a performance based media agency in Europe. He also worked as the CFO of Golden Pages, where he implemented the migration from print to digital and led the company's sale to Babcock & Brown. Shalom holds an MBA and a BSc in Electrical Engineering.
Avi Sela, COO – Sela has been with eToro since its inception in 2007. Besides being the company's Chief Operational Officer, he acts as the Managing Director of eToro EU LTD, and as the Executive Director of eToro UK LTD. Avi is in charge of legal affairs, compliance, back office, operation risk management, and payment operations. He holds an MBA and LL.B degrees from leading universities.
Partners/Affiliates
---
EToro offers an affiliate program for people who are interested in profiting from promoting the platform. You can find more details about that here.
eToro FAQs
---
Final Thoughts
---
We can conclude this eToro review with a remark that the eToro platform is one of the more popular and well-established brokers out there. Heavy regulation and a pretty serious approach to marketing gave it a reputation as a safe platform, which in combination with its solid interface and social trading features attracted a significant user base. While more casual investors might end up being turned away by the fee structure, advanced traders should find eToro to be a good place to satisfy most of their trading needs.

eToro
✅Copy single trades or complete portfolios of top traders ✅Aside of CFDs, trade real stocks, ETFs and cryptocurrencies. ✅FREE trading on certain stocks. ✅Adjustable leverage.
67% of retail investor accounts lose money when trading CFDs with this provider. You should consider whether you can afford to take the high risk of losing your money Cryptoassets are highly volatile unregulated investment products. No EU investor protection.
eToro is a multi-asset platform which offers both investing in stocks and cryptoassets, as well as trading CFDs.
Please note that CFDs are complex instruments and come with a high risk of losing money rapidly due to leverage. 78% of retail investor accounts lose money when trading CFDs with this provider. You should consider whether you understand how CFDs work, and whether you can afford to take the high risk of losing your money.
Past performance is not an indication of future results. Trading history presented is less than 5 complete years and may not suffice as basis for investment decision.
Copy trading is a portfolio management service, provided by eToro (Europe) Ltd., which is authorised and regulated by the Cyprus Securities and Exchange Commission.
Cryptoassets are highly volatile and unregulated in the UK. No consumer protection. Tax on profits may apply.
eToro USA LLC does not offer CFDs and makes no representation and assumes no liability as to the accuracy or completeness of the content of this publication, which has been prepared by our partner utilizing publicly available non-entity specific information about eToro.
If you are not fond of eToro, here is a list of potential alternatives:
As for the eToro crypto alternatives, below are top crypto exchanges that could be a good substitute for eToro:
Binance, Coinbase, Cex.io, PrimeXBT,PrimeBit, Deribit, Coinbase Pro, Coinmama,Changelly, Bitpanda,Bitfinex, Kraken,Bittrex, Bitstamp.
eToro vs competitors (Coinbase, Binance, Robinhood)
---
In case you want to compare eToro with other exchanges, have a look at our guides where we do just that:
PROS
Social/copy-trading platform
Safe and regulated
Free stock trading in the EU
Robust charting
Impressive cryptocurrency offering
Copy whole portfolios of other successful traders
CONS
Higher forex fees
Slow withdrawal process
Minimum deposit amount

CaptainAltcoin's writers and guest post authors may or may not have a vested interest in any of the mentioned projects and businesses. None of the content on CaptainAltcoin is investment advice nor is it a replacement for advice from a certified financial planner. The views expressed in this article are those of the author and do not necessarily reflect the official policy or position of CaptainAltcoin.com