PrimeXBT Review – Features, Fees, Security, Supported Countries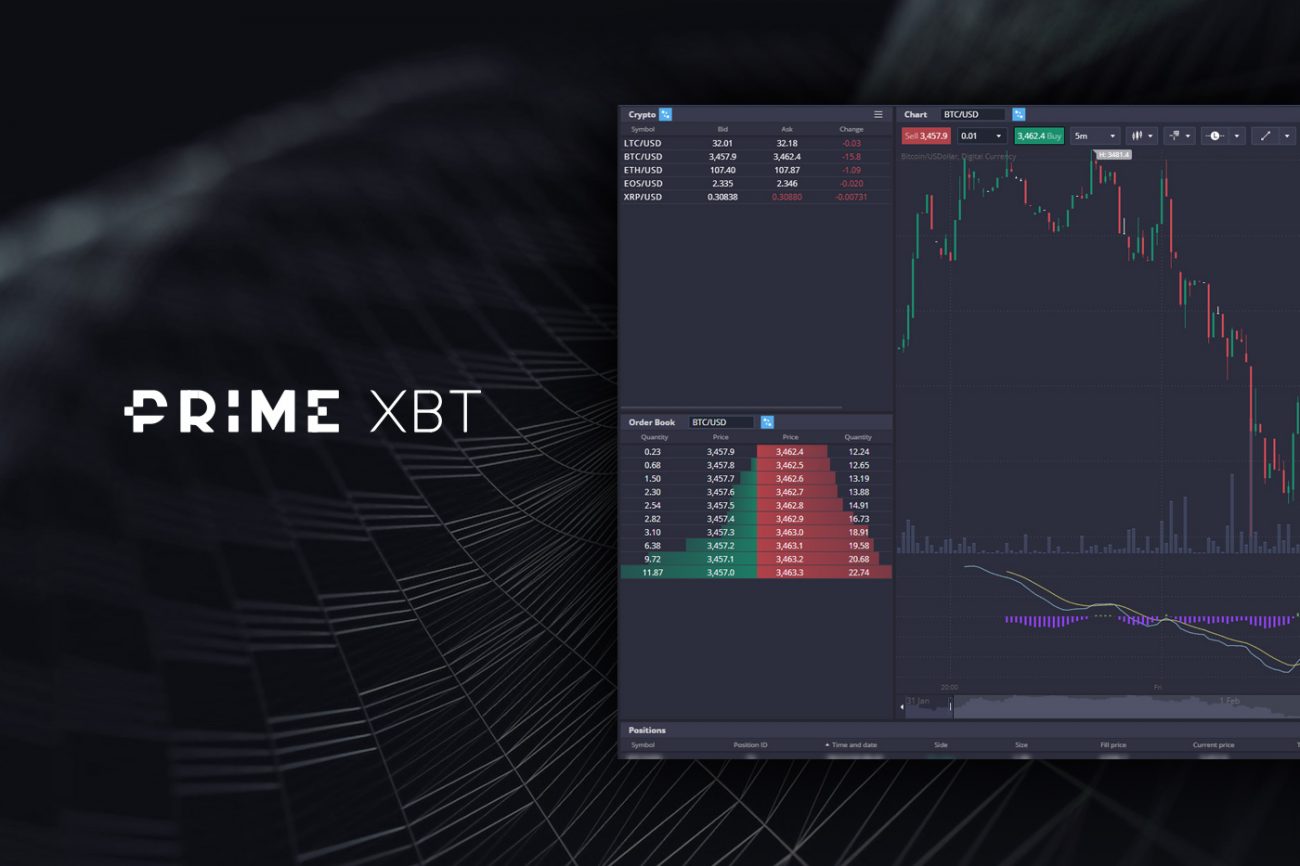 PrimeXBT Review – Features, Fees, Security, Supported Countries
Acceptable fees
Amazing Interface
Attractive Referral System
High Leverage
Instant Payment Options
As you will see in this Prime XBT review, margin (leverage) trading is an inevitable part of the modern crypto landscape. While it is quite difficult to master, individuals will gladly put in work to become good margin traders, as most of them will be motivated by the very lucrative financial rewards that can be reaped as a result of a good margin trade.
With new investors ready to get rich or (metaphorically) die trying popping up on a daily basis, online trading platforms are looking to provide a battleground for these people to attempt to beat the market.
Today we'll be taking a closer look at one of the youngest platforms that have decided to start providing margin trading services to its customers, called Prime XBT. Before we go into the nitty-gritty in our Primexbt review, how about we refresh our memory on margin trading, leverage orders, and other terms relevant for this review.
A Short Prelude about Margin Trading
---
Margin trading is a type of investing which gives individuals a chance to increase their investment by adding leverage to it. This practice lets you borrow someone else's cryptocurrency and invest it as you see fit. Margin trades are usually made by investors who are certain that the market will move in one or the other direction in the near future. You're basically accepting the added risk of betting loaned money because you feel that the odds are that your bet will pay out.
So, for example, you have $100 worth of Bitcoin and you are certain the market price will go up in the upcoming days. Let's say that you are so certain that this rise in price will happen that you want to invest more than you are currently holding. You can borrow an additional $100 percent from the market to invest a total of $200 in your "long" position (also known as the buy position, a market position investors take when they expect the price to go up). With this, you have now made a leveraged trade of 2:1.
Your loan of $100 worth of BTC will eventually have to be repaid; once the loan amortization period expires, the person who loaned you the money will have received its $100 along with a pre-arranged interest. In order to make sure that the loaning party receives his money back, the platform can margin call your trade if its total value falls beneath a certain threshold (one that would lead to you losing borrowed money). In this case, if your investment's value were to fall beneath $100, you'd end up margin called and your trade would be liquidated.
To avoid going into too much detail (check out this link for a more in-depth look into the practice), margin trading has been a mainstay of traditional investing for quite some time and has successfully made the transition into crypto markets as well. Leveraging someone else's capital against a highly likely market outcome can be an extremely efficient way of multiplying your own holdings, especially when you go for higher margins like 4x, 5x, 8x or even 100x (the highest margin currently allowed on existing cryptocurrency trading platforms).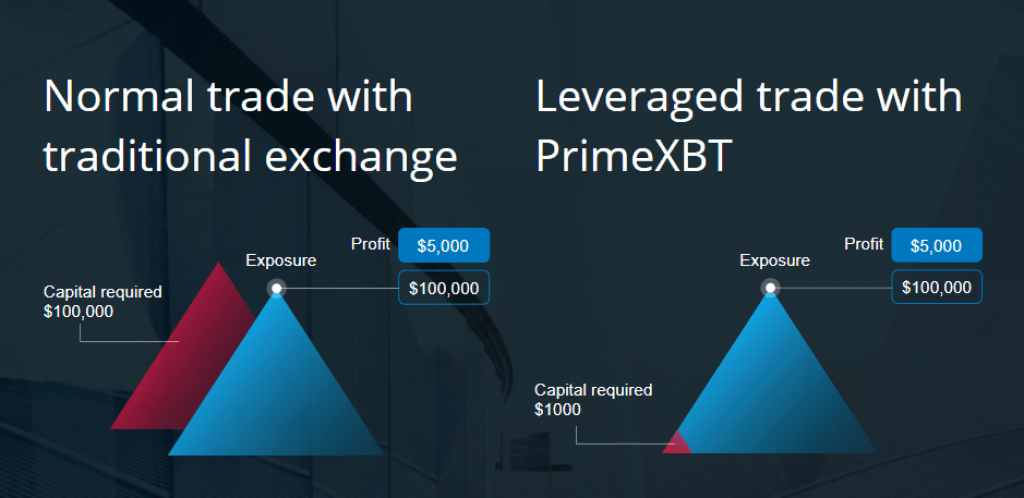 About Prime XBT
---
So how good is the exchange we are covering in this review?
Prime XBT is a new crypto exchange platform that offers the tried and tested experience of online margin/leverage trading up to 100x leverage on digital assets like Bitcoin, Ethereum, Ripple, and Litecoin. Registered in Seychelles, the company was founded in 2018 and its exchange started operating in early 2019. Currently, the platform provides liquidity, a wide range of trading tools, security, and efficiency to traders from more than 150 countries of the world.
As is typical for a centralized platform, Prime XBT offers a robust trading system for both beginners and professional traders who demand highly reliable market data and performance. It is a modernized entity capable of handling even the toughest of market duress, as it rests on an infrastructure that can facilitate a high number of orders per second. With its advanced features, the platform aims to break into a market currently dominated by older platforms like BitMEX.
Where is PrimeXBT located?
---
The team didn't disclose their location on their website.
What countries are supported on PrimeXBT?
---
Citizens from over 150 countries can use PrimeXBT. No service to clients from the USA, Canada, and other regions where the local laws will interfere with PrimeXBT services.
Is PrimeXBT legit?
---
We scoured the internet to see if there are any complaints or suppressed accusations from users. We found none so PrimeXBT does seem to be a legit and safe place to margin trade.
Deposit and Withdrawal Methods
---
Depositing funds to your PrimeXBT account is very easy by logging into your personal account and clicking "Deposit" in the menu on the left-hand side of the screen. The deposit can be made in the following two ways:
If you already have crypto on some other crypto exchange or your own wallet, simply copy your personal Bitcoin address at PrimeXBT and make a transfer to this address.
Changelly widget deposit (if you do not have cryptocurrencies already).
PrimeXBT has an integrated Changelly widget, which allows you to buy Bitcoin with your credit card/debit card or convert cryptocurrency and then deposit it directly to your balance at PrimeXBT. The Changelly widget deposit process comes down to:
Select your preferred currency (USD/EUR for credit card deposits)
Set the amount to convert and click Exchange
You will be sent to the website of the third-party partner service Changelly.
Follow the instructions on the Changelly website to complete the deposit procedure.
Supported coins
---
There are five coins that can be traded on the PrimeXBT exchange: BTC, ETH, LTC, XRP, and EOS.
Creating an Account
---
Registering an account with Prime XBT is a relatively straightforward ordeal. Enter your e-mail address, choose a strong password, accept the terms of service and click on the "Register" button. Once you do this, you'll receive a confirmation e-mail at the address you linked to your account; click on the big blue "Confirm" button in the e-mail and your account registration is complete.
What may surprise you is the fact that the exchange allows its users to start trading without completing any sort of AML/KYC registrations. Some who value their personal information and privacy will applaud the platform for that. Others who prefer to trade among verified traders might consider this lack of additional verifications a deal-breaker when it comes to trading on Prime XBT.
Under the Hood
---
From a technical standpoint, Prime XBT offers a simple to use, intuitive, eye-pleasing interface that will satisfy the needs of any crypto trader. Prime XBT delivers market data in real-time and aggregates liquidity from 12 cryptocurrency exchanges, allowing traders to instantly execute at any volume. The platform's interface is fully customizable and includes multi-monitor support. It offers its users three tabs they can navigate through Account, Trade, and Information.
Account tab
---
The Account tab will display key information about your user account. Under "Account Summary", you'll notice that you technically have two wallets: your basic account wallet and your trading account wallet. In order to start trading on the exchange, you first need to deposit funds (we'll cover depositing funds onto Prime XBT a bit later) into your Wallet and then move the amount you wish to trade into your trading account.
Under the Account tab, you'll also find the Deposit, Withdraw, Affiliate earnings (more on those later), and System preferences sections. Here you'll also find details about your closed trades, previous deposits, and withdrawals, and will be able to visit your system preferences to setup 2FA protection, change your password and edit other account settings.
Trade tab
---
The second Trade tab is where the interface fully expresses itself. Most elements of the interface are something you'll see with other similar exchange platforms and include an order book, a chart for the current crypto asset you're looking at, a dashboard with current market prices, and several other tools that a margin trader would require. All of these elements are classified under exchange widgets and their layout can be customized by clicking on the "Add Widgets" button in the upper left corner of your screen. Among other things, these widgets allow you to create personalized watchlists and track messages.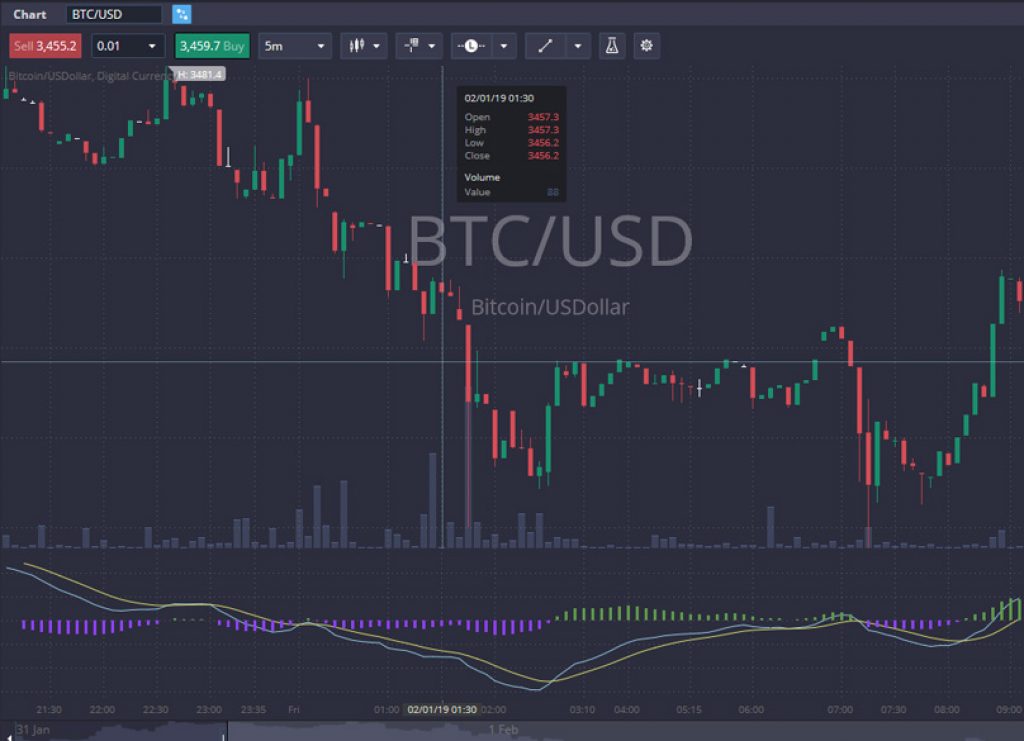 The tab has a default enabled, highly customizable "Chart" widget. This widget offers the user a wide variety of options to customize the appearance of his charts, including color, grids, spacing, type of candles, etc. Additionally, the widget contains a number of charting tools, including trend/time/price lines, channels, ovals, Fibonacci retracements/arcs/rays, and others. Finally, no chart is complete without indicators, and Prime XBT offers a plethora of them: from Accumulation Swing Index, over Bollinger Bands, Chaikin, MACD, and RSI, to ZigZag, students of many a school of charting will likely find their favorite tools (listed under "Studies") to confirm their market biases and movement predictions.
One "ease of life" feature for more advanced users is the introduction of "One–click" and "Double–click" trading strategies. Enabling one-click trading allows users to open/close positions in just one click; this feature is suitable for only the most experienced traders who know what they are doing at all times. Double click trading is a somewhat more nuanced way to open/close positions. The first click will open either the New Order window or the Confirmation window for order closure; the second click will require you to confirm that you want to open/close your order. Users are advised to switch from "Regular" trading with caution, as this can lead to accidental order placement/cancelations and cost them their funds.
Information tab
---
This tab offers useful information about all Prime XBT features, order types, leverage trading conditions, trading fees, and more. If you find the information presented in this article lacking, you can visit the aforementioned tab for more details about the exchange.
Deposits/Withdrawals/Trading Account Funding
---
Regarding deposits, Prime XBT is a crypto-only platform and there is only one type of currency you can fund your basic exchange wallet with Bitcoin. The funding of the wallet can be done in several ways:
by scanning a QR code provided on the account/deposit page
by copying and pasting the provided Bitcoin wallet address into a wallet you want to send funds from (DO NOT send any other cryptocurrency to this address, as it's BTC-only compatible).
by purchasing Bitcoin with your credit card/cryptocurrency thanks to the built-in Changelly conversion widget
The deposit will become credited to your wallet once the transaction receives 6 network confirmations. Minimum deposit size is 0.001 BTC.
Withdrawals are simple as well; all you need to do is to enter the destination address, the amount of BTC you wish to send (BTC is also the only cryptocurrency you can send from Prime XBT), and then click "Submit to withdraw". The withdrawal will also take some time to complete, in part due to the platform processing withdrawal requests during an hour-long period each day.
PrimeXBT has an interesting way of risk management: they are managing user funds in a way that is likely designed to motivate the investor to think twice about whether or not he wants to perform a certain trade. Once you initially deposit your BTC on the exchange, they will not be available for trading. You'll first be required to perform an "Internal transfer" of funds; entering a desired amount of BTC into the provided window and clicking on "Transfer" will move said BTC from your "base" account wallet to the trading account wallet and make these funds eligible for trading.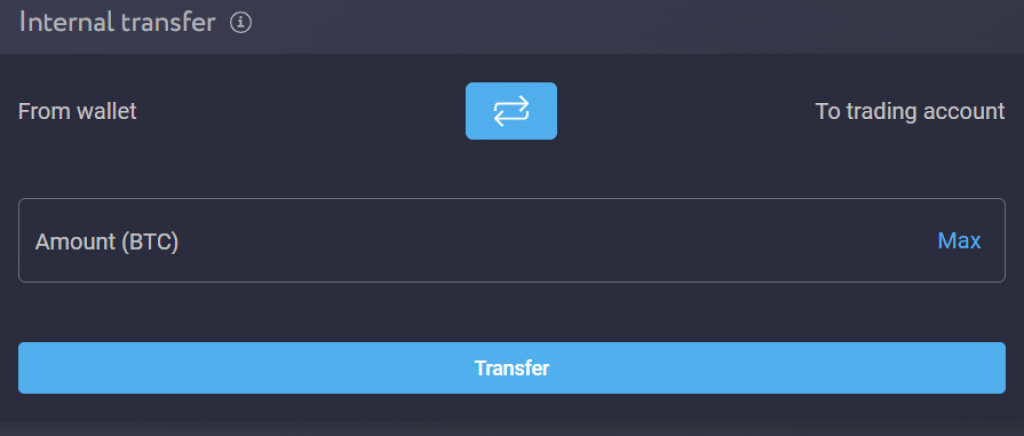 Trading/Orders
---
Prime XBT offers trading pairs for 5 cryptocurrencies:
BTC/USD, ETH/USD, XRP/USD, EOS/USD, and LTC/USD.
These instruments can either be longed (bought) if you feel the price is going up in the short term or shorted (sold) if you feel the price is going down.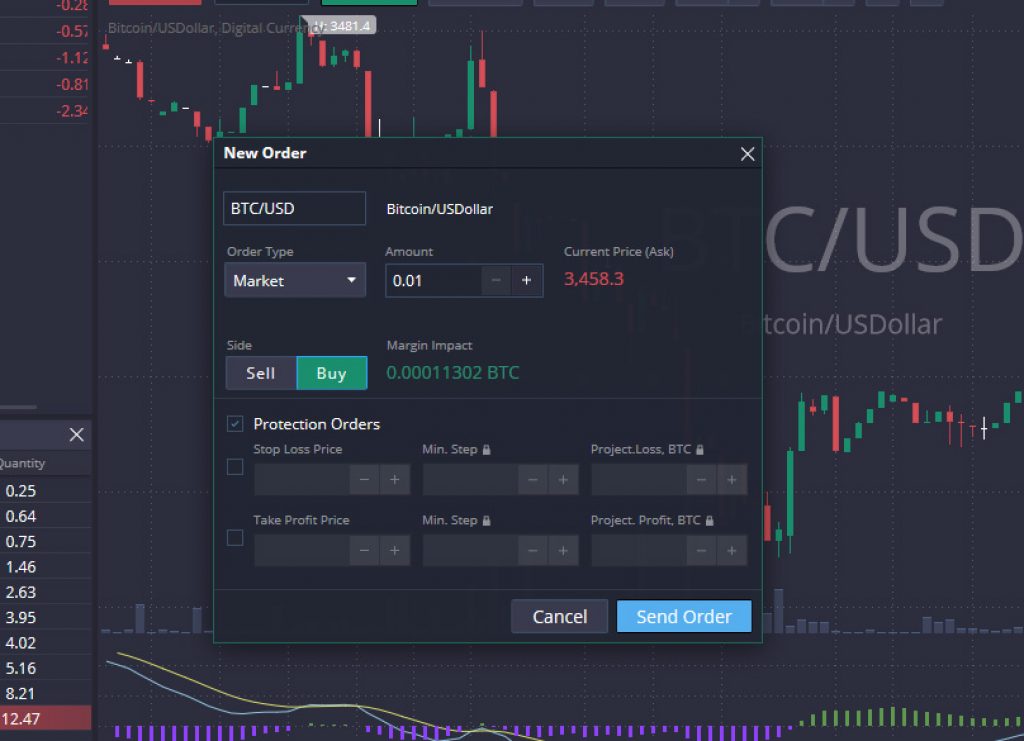 The exchange lets its traders make the following types of buy/sell orders:
Market Orders: a traditional order type that is executed immediately at the current market price. You will use this order if you want to buy/sell immediately.
Limit Orders: also an order that is pretty common on modern crypto trading platforms. Lets users buy/sell an asset at the desired price or better. The trader will place his order on the market and the moment that the market touches this level, his order will be executed.
Stop Orders: Sometimes called stop-loss orders, it instructs the exchange to execute a trade when its investment reaches a price beyond which the investor is unwilling to sustain losses. Setting a stop loss will involve entering a "stop price", which will be either lower than your desired sell price or higher than your desired buy price. These can be used either to limit the losses on a position as a "stop-loss" order or to make a profit on a positive position.
OCO Orders: Also known as one-cancels-the-other orders, these combine a stop order with a limit order on an automated trading platform. When either the stop or limit price is reached and the order executed, the other order automatically gets canceled. Experienced traders use OCO orders to mitigate risk.
All of the above can be selected from a menu that opens after you click on a trading pair. Your orders can be classified as Protection Orders, which gives you additional protection on any position or order that you currently have. These can be placed on new orders by clicking on the "Protection orders" box on the order form. The orders also appear either in good-until-cleared or in a daily format. Trading itself is leveraged, with up to 100x leverage available. The exchange also features a built-in leverage calculator which lets you figure out exactly how much buying power you can get with your capital.
How to place an order
---
Everything happens on the "Trade" tab.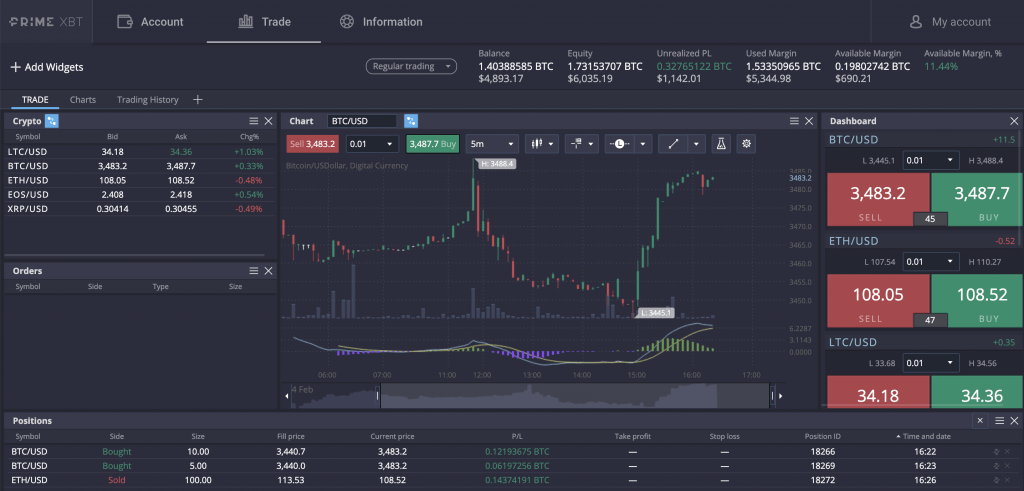 Click the Trade tab
Click on the red or green button, to sell or buy BTC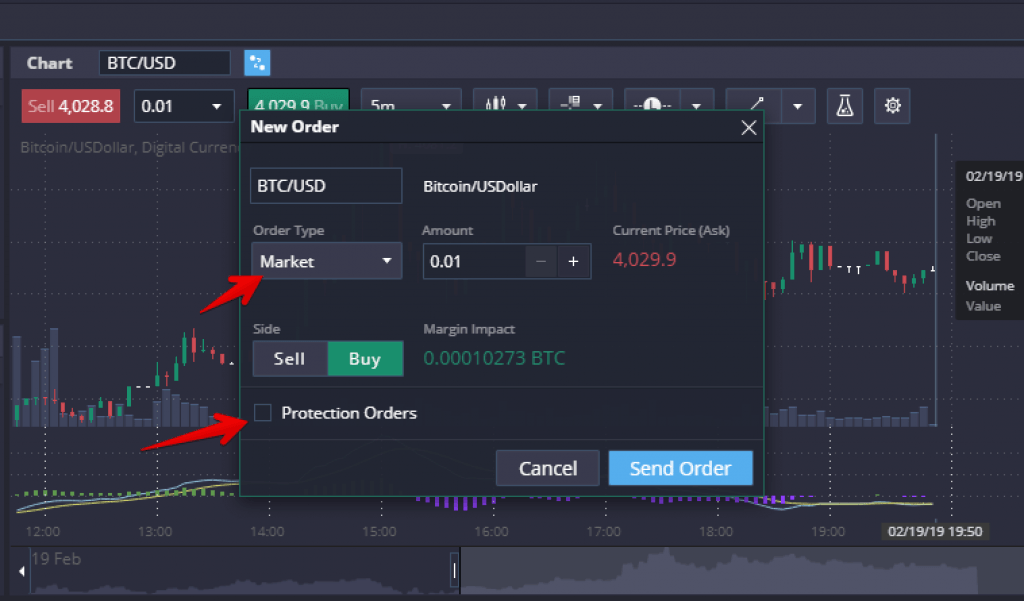 a new box will pop up where you can choose the type of the order by clicking the dropdown menu for market or limit orders; to choose the protection order, check the box below the sell/buy buttons.
Click Send Order after you are done with option selection.
PrimeXBT Fees & Trading Conditions
---
Any review has to have this section where we cover trading fees, so this Prime XBT review is no exception to it.
PrimeXBT features a somewhat lengthy set of rules and requirements regarding on-platform trading. Base trading fees for every cryptocurrency on the platform is a flat one that sits at 0.05%, with added overnight financing fees for good-until-cleared trades. If you open and close a leveraged position within the same trading day, you are not subject to overnight financing. There is a whole host of trading conditions, limits, and margin requirements that traders will be met on PrimeXBT; you can review all of them here.
Referral Program
---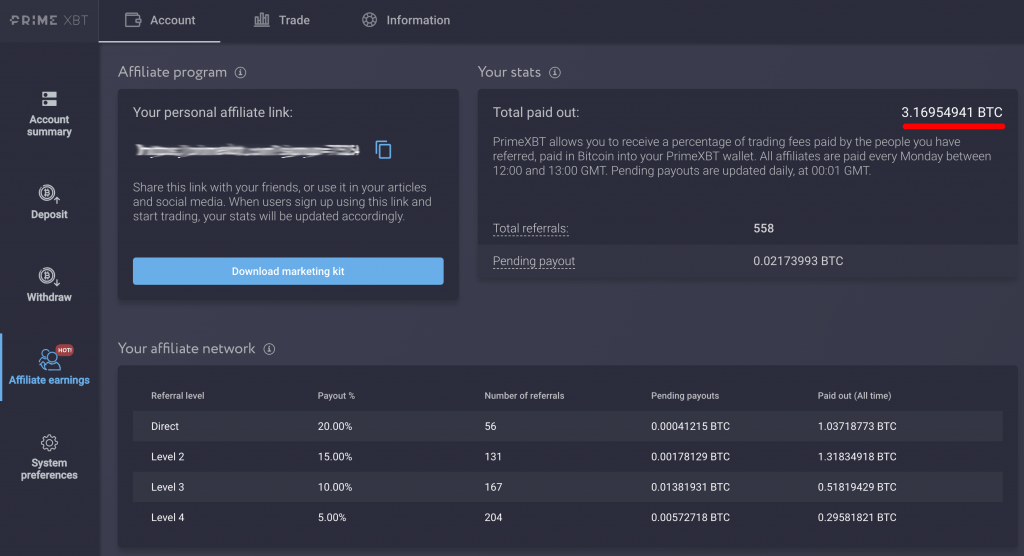 One unique feature of the exchange is its referral program. Prime XBT is offering its users a chance to become a "partner" of the platform by spreading the word about it. People who manage to refer others to the exchange will be rewarded with a percentage of these new traders' trade commission. For example, if the person you referred to on the platform makes a 100x leveraged trade on a deposit of $1000, he'll pay a 0.05% commission to that trade ($50). The exchange will kick you back 20% of this commission, which means you'll get $10. If this were to happen on a non-leveraged trading platform, the commission would be much lower and you'd ultimately end up with a much lesser kickback than with PrimeXBT.
The referral program is a layered one and operates on 4 levels, giving you a chance to earn from your referral's referrals. This is how it would look like if each referred user were to make a $1000, 100x leveraged trade on the exchange:
| | | | | | |
| --- | --- | --- | --- | --- | --- |
| Level # | Share (%) | Referrals | Trades | Fees (0.05%) | Your share |
| Direct referral | 20% | 5 | $500K | $250 | $50 |
| Level 2 referral | 15% | 25 | $2,5M | $1,2K | $187 |
| Level 3 referral | 10% | 125 | $12,5M | $6,2K | $625 |
| Level 4 referral | 5% | 625 | $62,5M | $31,2K | $1.5K |
In the case above, your total payout will be $2,425.
Prime XBT recommends its users to be extremely active online, suggesting that they share their referral links via social networks, create videos and blogs explaining the benefits of trading on the platform, and be open and engaged in community discussions to build up their referral network. PrimeXBT's website will apparently have a leaderboard with the top 10 referral partners listed on it, but for now, this feature is still in preparation.
The whole thing does have a hint of the well-known and dreaded pyramid-like structure you don't exactly want to see with a financial platform; still, as long as the trading features are operational and people's money is safe, there ain't much to complain about.
Security – Is PrimeXBT safe?
---
The exchange offers a wide variety of security features that ensure their customer's assets are protected from third-party malicious actors:
2FA (provided by Google Auth) to ensure account security and prevent any unauthorized access to user accounts
Mandatory Bitcoin address whitelisting feature
Cold storage of digital assets with Multisignature technology
Hardware security modules with a rating of FIPS PUB 140-2 Level 3 or higher
Full risk check after every order placement and execution
Encrypted SSL (https) to encrypt and secure the website's traffic
All passwords are cryptographically hashed (using bcrypt with a cost factor of 12) while all other sensitive data is encrypted
Cloudflare to mitigate potential distributed denial-of-service ("DDoS") attacks
Regular tests and check–ups by Prime XBT's technical team
On-going and IT security assessments are executed to keep up to date with new potential vulnerabilities
Additionally, the trading aspect itself has been designed to meet the highest online-trading industry standards, with a system coded to minimize latency and increase order execution speed. PrimeXBT prides itself on having one of the most advanced and reliable trading software on the market, one that automatically monitors all risks associated with buying power, buying power factor, maximum order size, maximum position size, P/L loss thresholds, odd lot allowance, and executes full risk checks after every order placed.
In Conclusion
---
Leveraged trading isn't for everyone, but the market for it certainly exists out there. Skilled traders and market analysts that are capable of predicting market movements accurately will constantly be looking for a chance to place leveraged trades of 100x in the hopes of significantly increasing their original investment. Some of those traders perhaps are tired of using the well-established market players and would like to try out a new platform; others are maybe looking to form a large community of referrals that will bring them consistent income. If you find yourself to be one such individual and have no problems with trading on a brand new, not yet established platform, then PrimeXBT is the exchange for you.
Also, PrimeXBT has a mobile app with an intuitive user interface. The mobile app is available for both OS (Android and iOS).
That is it but we will make sure to update our PrimeXBT review regularly, as the platform and news around it develop with time.
PrimeXBT alternatives
---
If you are not fond of PrimeXBT, here is a list of potential crypto margin exchanges that can be good alternatives:
PROS
Acceptable fees
Amazing Interface
Attractive Referral System
High Leverage
Instant Payment Options
CONS
Non-regulated exchange
Limited Customer Support

CaptainAltcoin's writers and guest post authors may or may not have a vested interest in any of the mentioned projects and businesses. None of the content on CaptainAltcoin is investment advice nor is it a replacement for advice from a certified financial planner. The views expressed in this article are those of the author and do not necessarily reflect the official policy or position of CaptainAltcoin.com