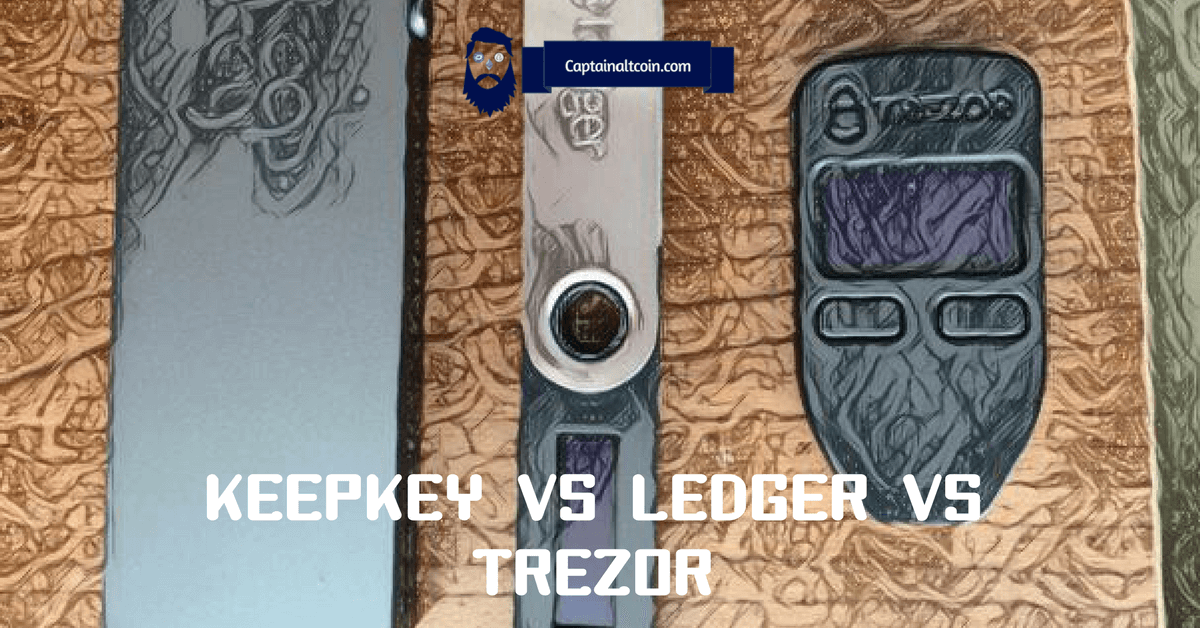 As the estimation of Bitcoin and other cryptocurrencies goes up, so does the interest for hackers to hack your wallets, so securing your cryptocurrency wallets has never been more critical. This is by no means a new problem. However, you can take steps to prevent such potential losses by using a hardware wallet.
Both Ledger and Trezor launched two new models for their wallets – Trezor T and Ledger Nano X. You can read the reviews by clicking the links or buy them right away buy clicking here for Ledger Nano X or here for Trezor T.
Bitcoin hardware wallets are much more secure than traditional software wallets. A Hardware wallet stores the private keys aka your Bitcoins on the device itself instead of on your computer in a file, and as a result, you reduce the attack surface for a hacker to try and steal your coins.
Even if your computer is compromised with a keylogger and a RAT (Remote Access Tool), your funds will stay safe if your Bitcoins are secured by one of these hardware wallets.
The 3 hardware wallets below provide you with an easy way to protect yourself. They all work using USB with Linux, Windows and OS X, and they all have built in screens.
Read also: How good is the latest Ledger Nano S Plus? Check out our review and also direct comparison of Nano S Plus vs Nano S / Nano S Plus vs Nano X.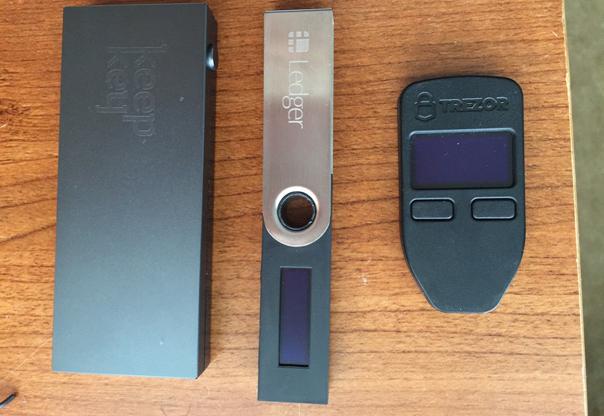 Released a few years ago, the TREZOR was the only hardware wallet on the market for a while. Now, its main rivals – the Ledger Nano S and KeepKey – have been released and have created great competition in the hardware wallet market. It's safe to say that these devices are the 'big three' hardware wallets currently available on the market. They all work in a similar manner and only when plugged into your computer.
The competition has definitely lowered prices, but it has also made choosing the right hardware wallet a pretty difficult decision. This comparison for TREZOR vs. KeepKey vs. Ledger Nano S will show you which wallet is better in different categories.
Price:
Supported Coins
---
TREZOR
---
The company behind TREZOR, Satoshi Labs, was the first to bring to market a bitcoin hardware wallet. They also created Slush Pool and CoinMap.org, and as such they are well trusted and respected. The TREZOR hardware wallet offers the greatest third party integrations, and it has been a trusted and solid product since 2014.
The TREZOR supports the following coins: Bitcoin (BTC), Litecoin (LTC),DASH, Zcash (ZEC), Bitcoin Cash / Bcash (BCH), Bitcoin Gold (BTG), Ethereum (ETH), Ethereum Classic (ETC), ERC-20 Tokens, Expanse (EXP), UBIQ (UBQ), NEM (XEM), Namecoin, Dogecoin. Here is a full list of Trezor supported coins and a full review of TREZOR wallet.
Ledger Nano S
---
Ledger has been around since late 2014, and their first product was the Ledger Nano. Today they have a small selection of products with varying price points. The company is widely respected for the security of their products.
The Ledger Nano S supports the following coins: Ark – Bitcoin – Bitcoin Cash (best Bitcoin Cash wallets) – Bitcoin Gold – Ethereum (best wallet for ethereum)/ Ethereum Classic – Expanse – Dash (best wallet for DASH) – Digibyte – Dogecoin – Hcash – Komodo – Litecoin (best LTC wallets) – Neo (available soon for the Ledger Blue – NEO and GAS wallets) – Pivx (best PIVX wallets) – PoSW – Qtum – Stealthcoin – Stellar – Stratis – Ubiq – Vertcoin – Viacoin – XRP (best XRP wallets) – Zcash. Here is a full list of Ledger Nano S supported coins as well as a review of Nano S wallet.
KeepKey
---
KeepKey has only been around since late 2015, which means that it is the newest cryptocurrency hardware to hit the market. The company has built a nice bitcoin hardware wallet that is based on TREZOR firmware.
The KeepKey supports the following coins: BTC, LTC, DASH, ETH, ETC, NMC, and DOGE. Here is a full review of KeepKey wallet.
Price
---
| Wallet | Price |
| --- | --- |
| Ledger Nano S | $60 |
| TREZOR | $99 |
| KeepKey | $49 |
To start off, the Ledger Nano S is the cheapest wallet of the three by far. It costs $60 and you can even get a duo edition which will include 2 Ledger Nano wallets one to serve as an extra backup. The KeepKey, previously priced at $239, is currently priced at only $49. Last but not least is the TREZOR, it has the same price as KeepKey ($49).
Size and Design
---
The TREZOR is by far the smallest of the three wallets. The Nano S can be folded into about the same size as the TREZOR. However, to use it you must unfold it. Each wallet does have some unique differences.
The KeepKey has one physical button, while the TREZOR and Ledger Nano S both have two.
The KeepKey has much larger screen than the other two wallets. The KeepKey's bigger screen means that it can be securely recovered using a cipher which leaks less data.
The Ledger Nano S and KeepKey are made out of aluminium, while TREZOR is made out of plastic. I know that aluminium sounds like it's nicer. However, the TREZOR's plastic can actually prove to be more drop resistant.
The Ledger Nano S and TREZOR are now available in 3 colors – white, gray, and black, while KeepKey is available in black and anodized aluminium.
Screen
---
The TREZOR was the only hardware wallet that featured a screen for a while. However, a screen is such an important security feature for a hardware wallet, so it was clear that more hardware wallets with a screen would be built.
The Nano S is that it comes with a small OLED screen that allows you to control your transactions. The TREZOR also has a small OLED screen that shows a randomly generated nine digit pin code and a 24-word recovery seed. KeepKey has a larger screen than the other two wallets, but that makes it a bit heavy.
Setup
---
All three hardware wallets are very easy to setup and I have been able to set up all three in just a couple of minutes. They all require a micro USB cable to use.
All three hardware wallets require very similar steps to setup, like setting a PIN code and writing down a backup of your recovery seed.
Security
---
When we talk about security, all three wallets are very similar.
The main difference is that the TREZOR and KeepKey are essentially small computers, while the Ledger Nano S uses two secure elements/chips.
Also, all three hardware wallets have screens. This means that they can be securely setup and used even on computers infected with malware.
Software Compatibility
---
It's important to note that you need software in order to use any hardware wallet. The software helps you command and interact with the wallet. In the table below, you can see the compatibility of Bitcoin wallet software with each hardware wallet.
| | | | |
| --- | --- | --- | --- |
| | TREZOR | KeepKey | Ledger Nano S |
| Mycelium | Yes | Yes | Yes |
| Electrum | Yes | Yes | Yes |
| GreenAddress | Yes | Yes | Yes |
| GreenBits | Yes | Yes | Yes |
| MultiBit HD | Yes | Yes | No |
| Copay | Yes | No | Yes |
| KeepKey Chrome | No | Yes | No |
| Ledger Chrome | No | No | Yes |
| myTREZOR | Yes | No | No |
| | Visit Now | Visit Now | Visit Now |
Conclusion – Trezor vs Ledger vs KeepKey
---
The Ledger Nano S is the cheapest wallet. Then, there are the physical aspects, namely the form factor and materials, and this should mainly depend on how you'll use the device and your individual preference.
The Ledger Nano S and the TREZOR are perfect for those who plan to travel a lot and carry the device with you at all times. You should go with the TREZOR if you are an ardent proponent of open-source development. On the other hand, if you want a durable device, you should go with Nano S.
The KeepKey is perfect for those who are looking for a larger screen and a sleek design that won't venture far from their desk.
For beginners, I would recommend either the KeepKey or the TREZOR. I found it a bit more difficult to update the firmware in the Nano S. Also, pressing the two buttons simultaneously can be clumsy at times.
Nevertheless, I don't plan to ditch my Ledger Nano anytime soon since I think its protective metal cover, USB-stick-mimicking subtleness, and compact design are hard to beat.
I recommend using any of these hardware wallets over keeping your Bitcoins in a custodial wallet or exchange. All in all, these three hardware wallets all do an amazing job at what they're intended for – handling your private keys and allowing you to be in full control of your funds at all times.

CaptainAltcoin's writers and guest post authors may or may not have a vested interest in any of the mentioned projects and businesses. None of the content on CaptainAltcoin is investment advice nor is it a replacement for advice from a certified financial planner. The views expressed in this article are those of the author and do not necessarily reflect the official policy or position of CaptainAltcoin.com