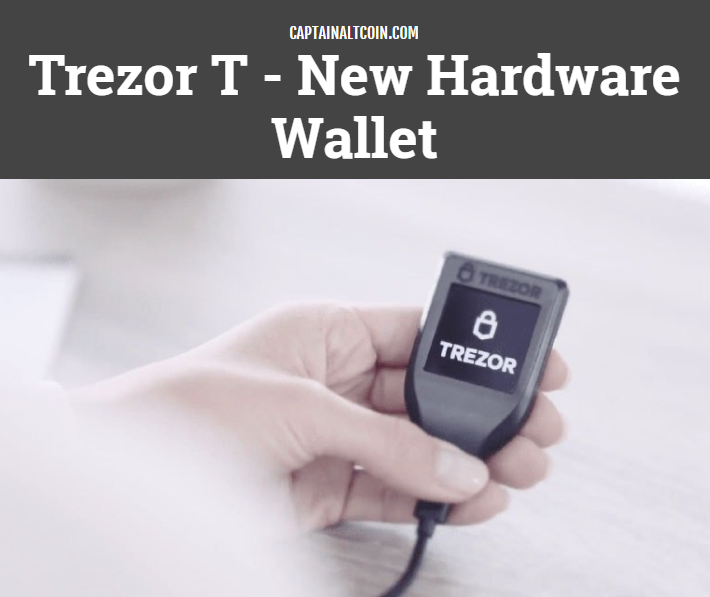 Czech based company Satoshi Labs, founded by two tech and crypto enthusiasts Pavol "Stick" Rusnak and Marek "Slush" Palatinus, has been known for quite some time as one of the leading security experts in the crypto industry.
They built this reputation thanks to their excellent hardware wallet, the famous TREZOR. While having an extremely secure product in TREZOR, Satoshi Labs acknowledged that some upgrades could be made to it. The Trezor wallet received some security complaints and was oft-criticized for not having programmable firmware which could possibly support more currencies in the future.
As a result of that, they announced a successor to the TREZOR wallet, calling it TREZOR Model T. Model T was released on October 31, 2017, a date that coincides with the day Satoshi Nakamoto published his Bitcoin White Paper nine years ago. The initial pre-order of the second generation TREZOR wallets was completed in a matter of hours.
As of February 28, the first batch of wallets has been shipped out to those who preordered them. This review will focus on the characteristics of the TREZOR Model T and hopefully help you decide if it's the right hardware wallet for you.

Other hardware wallets you might consider if Trezor T is not to your liking: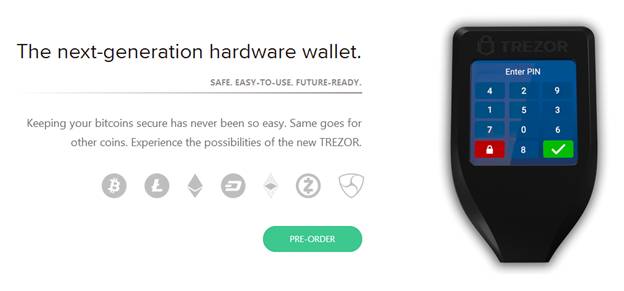 Trezor model T review: Design and build quality
---
The TREZOR T comes in a completely new, redesigned package. The package has a white sliding sleeve which can and should be slid off in order to access the contents. Upon opening the unsleeved box you will find your TREZOR Model T safely tucked in and held in place with a magnet.
Please note that this magnet can not harm the hardware device electronics in any way. On the contrary, the magnet can be removed from the box and used as a dock for your TREZOR T. If you are familiar with the design of the original TREZOR, you will instantly notice that the edges of your Trezor Model T are a bit more brushed off and that its screen is much bigger.
Its sleek 64mm x 39 mm x 10 mm frame looks good and feels good in your hand.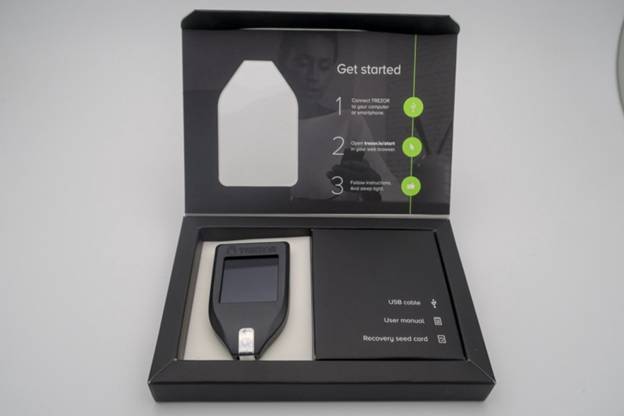 Another feature of the screen is that it's a touch one. This means that TREZOR T has no buttons, unlike its two-button wielding predecessor.
The 240×240 RGB LC display is powered by an ARM Cortex M4 processor and can quite vividly show you the difference between the blue numbers, red cancellation button and the green confirmation one. Its implementation brings improvements to both the commercial appeal as well as the security standards of the product.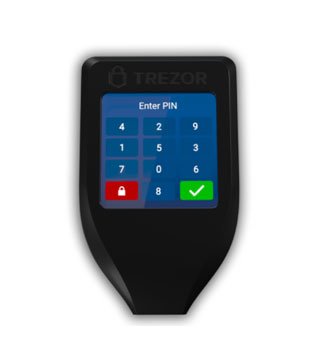 Namely, the previous model had a system where the PIN code had to be entered through a PC, making your funds more vulnerable. SatoshiLabs upgraded on that by allowing you to enter your Trezor Model T PIN code via the physical devices touch screen.
This way you can enter the PIN knowing that no software installed on your PC can log it. Just make sure that no one is looking over your shoulder while entering it.
The Trezor wallet has a feature that makes the keyboard numbers automatically shuffle order upon entering a PIN number. This feature was put in deliberately as it makes you focus harder on what you type in. It is also designed to prevent your fingerprints from "setting in" and marking which numbers you pressed most often, which could help someone who stole your wallet in accessing your funds.
Upon connecting your TREZOR T to a PC via the USB cable, the hardware device will simply begin charging its battery. Only after the PIN code is entered correctly will your TREZOR T wallet become unlocked and able to start communicating with the PC.
Next thing you'll notice is a metallic looking seal covering up the USB cable connection port; this seal proves that your TREZOR T came straight from the factory and hasn't been tampered with. If this seal looks damaged in any way you should contact the person you bought the product from/the SatoshiLabs themselves.
It's best not to buy this (or any) hardware wallet from a third party as you expose your funds to massive risk of being stolen that way.
The mentioned USB port itself was initially, while the Trezor wallet prototype still carried the TREZOR 2 name, supposed to be a USB-A type. Later on this port was upgraded to the USB C version and the prototype was given its official name. The device also sports a MicroSD slot which can be used for exterior encrypted storage.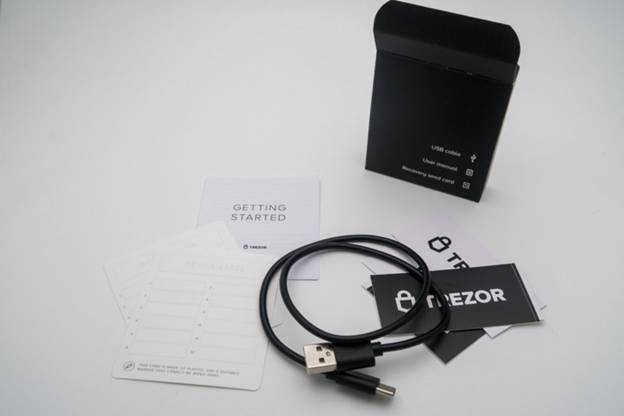 At the bottom of your TREZOR T box you will find one USB-C cable, a user manual and two recovery seed cards. The recovery cards are a nice little touch which allows you to write down your wallets unique recovery seed. Some people prefer taking pictures of their seeds but this is highly discouraged, as it leaves your funds vulnerable in case of your phone getting hacked.
Users can use this seed in case of theft/loss of device to restore their keys on any BIP32/39/44-compatible wallet.
Trezor T is currently major competitor with the Ledger models – Ledger Nano X which we review here, Ledger Nano S Plus (see how good is it by clicking here) and Ledger Nano S (check the review here). Direct comparison of Trezor T vs Ledger Nano S Plus can be read here.
Trezor T features
---
TREZOR T firmware, named TREZOR Core, is open-source and can be reviewed on the team's github repository. The developers claim how they built upon their previous experiences (including the development of the original TREZOR wallet) and created a completely new and improved firmware from scratch.
This new firmware has been written with malleability in mind, meaning that the developers enabled a safer and simpler future implementation of new functions. A clear lack of programmability was one of the main limiting factors of the original TREZOR wallet and SatoshiLabs addressed this.
TREZOR T provides its users with quality firmware while also promising extended support for various new coins, security features and all other features in the future.
Standard features of every Trezor T wallet are:
Cold Storage
---
Keys are stored completely offline, as you would expect from a hardware wallet.
Native support for ERC20 tokens
---
Thousands of ERC20 tokens can be stored on Trezor T.
Recovery Seed
---
Trezor T uses hierarchical deterministic recovery seeds. This method secures all of your private keys, public keys and addresses with a 12,18 or 24 word recovery seed (default for Trezor Model T is 12 words). You must write down this recovery seed on a piece of paper and store it safely (do not take pictures of it nor store it digitally in any shape or form)
The Trezor Model T generates a 12 word recovery seed, but can take in 12, 18 or 24 word recovery seeds from other compatible wallets. The recovery seed of the Model T can be entered solely via its touchscreen and not on the connected device (like model Trezor One).
PIN Code
---
If a thief or anyone else gets access to your Trezor wallet, they will still have no use of it as there is an additional layer of safety in the form of a good, old PIN Code. The PIN code is 4-9 digits long and gets reset after multiple failed attempts. If you forget your PIN Code, you can reset the device and recover all of your crypto assets with the recovery seed.
Address Verification
Password Manager and U2F
Advanced Passphrase
Trezor T supported coins
---
Trezor T expanded the number of supported coins since its release and today it supports more than 100 coins with the most significant listed below. For the full list, check this link:
Bitcoin
Ethereum
ERC-20 tokens
Litecoin
Dash
Ethereum Classic
Zcash
NEM
Does Trezor T support Tezos?
Yes, it finally added the support for Tezos with integrations via Magnum or SimpleSwap wallets.
Setting up your TREZOR Model T
---
You can use your TREZOR Model T with all major operating systems, as well as major browsers like Google Chrome and Mozilla Firefox.
In order to initiate your device, you will need to connect it to a PC and open TREZOR.io/start in your web browser. On the start page, select the TREZOR Model T as your product. In the next step, if you are using Google Chrome, you do not need to download any other application.
If you are using Firefox, please install the TREZOR Bridge as requested. Windows 8 users will need appropriate USB drivers which can be added through the ZADIG installer.
Once your wallet is recognized the website will automatically offer to install the firmware for your Model T. This is required as TREZOR wallets are shipped without any firmware to ensure they are fully updated on initial launch.

Upon installation being done, your device will reboot and load the new firmware. You are now free to start the wallet initialization process.
Generate a new wallet
---
TREZOR Wallet will ask you if you are a new user or if you want to recover a wallet generated elsewhere. TREZOR accepts all BIP39 seeds and can even restore an older wallet. Keep in mind that if you import a compromised seed, not even the Model T can protect you. If you choose to generate a new wallet, the device will process your request and you will be able to use it for storing currency.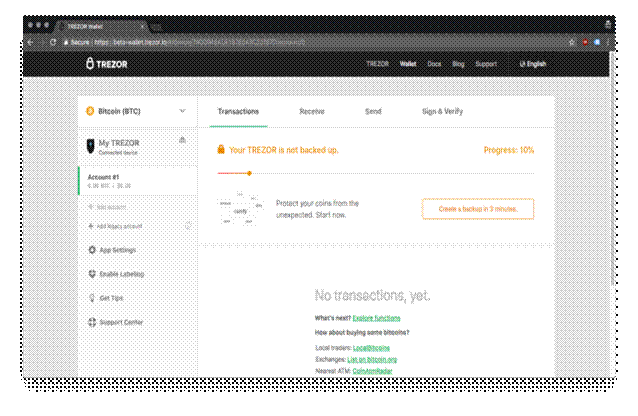 Before doing so, it is recommended that you write down your wallet's recovery seed. Click the "Create a backup in 3 minutes" prompt to create this seed, which will serve as the backup for your wallet. The seed is unique, 12-word long, and will be displayed on the device screen. Do not disconnect your device during this process. If you do, you will not be able to view your recover seed again and will have to start over again by wiping the device.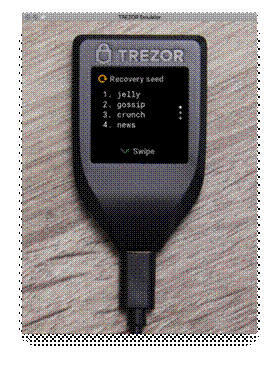 Swipe to scroll through the words. Upon confirming that you finished writing down the words, TREZOR will randomly select two words and ask you to retype them on the screen for verification. If you enter the words incorrectly, the device will show all 12 words again to you, for verification.
Taking photos of your recovery seed or writing it down into a text file on your computer/phone isn't a safe way to store it. The wallet itself will, during the backup procedure, list some other ways of storing which you should avoid.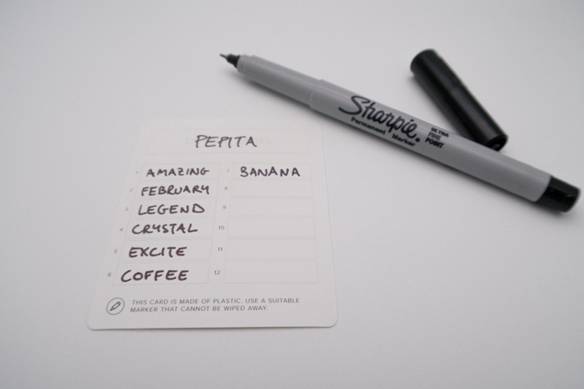 Use a quality marker that isn't too runny to write down your seed
Name your device
---
After finishing the backup process, you can proceed onto picking a name for your TREZOR. Youll have the option to choose from some predefined templates or come up with your own label.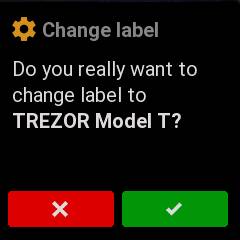 Choosing a PIN
---
Finally you will need to create a secure, unique PIN code which will protect your TREZOR from unauthorized access. Try to avoid simple PINs like '1234' or your date of birth. The maximum Trezor PIN length is nine digits. During the setup process, you will enter your new PIN on the device touchscreen twice. The layout of the numbers displayed on TREZOR will change with each new prompt.
Trezor T Supported Coins
---
Trezor T supports all major blockchains including Cardano, Harmony One and Polygon. Unfortunately, Solana is not yet supported by either Trezor model.
Trezor T vs Trezor One
---
The most prominent differences are:
Trezor T supports way more cryptocurrencies
It comes with a new RGB color touchscreen
This is one of the biggest differences as the Model Trezor One had a cumbersome two physical digits management system that was slow and not user-friendly. The color touchscreen main advantage is accessibility, but it also provides a security advantage during the recovery seed process. With the Model T you can easily enter in a recovery phrase exclusively through the device's touchscreen. This protects your recovery seed from being entered in on your computer and potentially being compromised by malicious software containing keyloggers.
It also features new hardware additions such as an SD card slot and built in mobile connectivity. The Model T has tow additional features: USB-C connector compatible with any computer or android mobile device and a MicroSD card slot (not yet functional). The new hardware wallet also has a new, faster processor and operating system.
The Trezor One works with a 24 word recovery seed, but can also operate with a 12, 18 or 24 word recovery seed from other compatible wallets. The new Trezor T generates a 12 word recovery seed (entered via its touchscreen and not computer it connects to), but can take in 12, 18 or 24 word recovery seeds from other compatible wallets. If you have a 24 word seed that you were using with a Trezor One, then you will be able to import that recovery seed and all of the associated crypto assets onto the Trezor Model T 24 word seed.
The rest of features on both devices are pretty similar – you can read a full review of Trezor Model One here.
Conclusion
---
TREZOR T is a completely new device which will be sold alongside its older brother, TREZOR One, and some other quality competition. According to its creators, it will make the experience of dealing with cryptographic currencies more "seamless, secure and intuitive". TREZOR T offers better hardware, extended functions, tougher security and more crypto currencies than its predecessor.
However, the price of 139 Euros which people had to pay during the pre-order is too high and inferior when compared to the competition. The oft-cited increase in security itself isn't as much that as it is an increase in convenience. The wallet itself does its job nicely but whether or not the prospect of a color touchscreen/better altcoin support moving forward is really worth the extra money is something that each user will need to decide for themselves.
PROS
High-level security
Great number of supported coins and blockchains
Bluetooth connectivity
CONS
A bit higher price than the market's average
Design could be better

CaptainAltcoin's writers and guest post authors may or may not have a vested interest in any of the mentioned projects and businesses. None of the content on CaptainAltcoin is investment advice nor is it a replacement for advice from a certified financial planner. The views expressed in this article are those of the author and do not necessarily reflect the official policy or position of CaptainAltcoin.com