Kraken Review – Fees, Pros and Cons, Supported Coins and Countries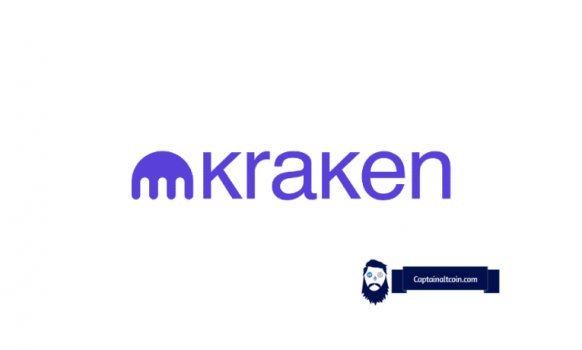 Kraken Review – Fees, Pros and Cons, Supported Coins and Countries
Low and competitive fees
Highly respected exchange and only exchange platform selected to support investigation into Mt. Gox's stolen Bitcoins
No hacks
Margin trading and short selling supported
Strong liquidity in EUR markets
Is Kraken a secure site to trade cryptocurrency? Who are the founders of Kraken? The following review will help you discover how this once small-time startup has built itself a solid reputation and position within the top 5 global cryptocurrency platforms.
San Francisco-based Kraken is one of the largest crypto exchanges in euro volume, liquidity, and the trading of US dollars, Canadian dollars, Japanese yen, and British pounds.


Kraken landed on the international scene on the 28th of July, 2011, and was founded by Jesse Powell, who holds a bachelor's degree in philosophy from California State University, Sacramento. Kraken was the firstBitcoin exchange to have trading price and volume displayed in the Bloomberg Terminal.
The exchange serves users from Europe, Japan, and entire North America—with the exception of New York because of the BitLicense. Anyone in the world can easily use its entry-level services, such as statistics and price charts.
With all of its advanced features, Kraken is designed for more experienced traders. Also, for those who put more importance on regulatory status as Kraken is licensed and regulated since day one.
Kraken is a leading digital currency exchange for "serious and professional traders", and as of January 2017, the platform was the world's 2nd largest in terms of volume. The site is designed with the sophisticated trader in mind and provides access to many sought-after features such as deep liquidity, margin trading, and fast execution speed.
The platform offers comprehensive services for the crypto investor, such as the ability to trade digital tokens against fiat currency and buy and sell Bitcoin.
Kraken is also transparent, offering a high level of security and proof of reserve audits.
Kraken has completed five acquisitions, including crypto market visualization platform Cryptowatch, Dutch exchange Clevercoin, and Bitcoin exchange Coinsetter. The company has gone through three funding rounds and raised $6.5 million in capital from 13 investors, including Digital Currency Group, Blockchain Capital, and Money Partners Group.
Kraken's recognitions also include being the first to pass a cryptographically verifiable proof–of–reserves audit, Germany's BaFin regulated Fidor Bank, and the Tokyo government's court-appointed trustee.
Following the bankruptcy of Mt. Gox (a huge Bitcoinexchange in Japan, which filed for bankruptcy protection in 2014), the trustees of the receivership picked Kraken as the platform through which claimants could apply to receive lost funds.
Kraken Bitcoin Exchange: Key Information
---
| | |
| --- | --- |
| | |
| Site | Visit Kraken |
| Company Launch | 2011 |
| Company Location | San Francisco, CA, USA |
| Site Type | Cryptocurrency Exchange |
| Available Cryptocurrencies | Bitcoin (BTC), Ethereum (ETH), Litecoin (LTC), and 40+ More |
| Buy/Deposit Methods | Cryptocurrency, Bank Transfer |
| Sell/Withdrawal Methods | Bank Transfer, Cryptocurrency |
| Fees | Low |
| Security | Good |
| Community Trust | Good |
| Verification Required | Yes |
| Customer Support | Good |
| Mobile App | No |
| Beginner Friendly | No |
The Advantages
---
Here are some of the advantages of using Kraken:
✅ The trading platform supports margin trading for those users who are seeking greater exposures with smaller upfront capital.
✅ Great security initiatives: 2FA is encouraged using Google's 2FA app.
✅ Kraken has reasonable and competitive fees: fiat and cryptocurrency trades/withdrawals are much cheaper than on other Bitcoin exchanges.
✅ Super fast SEPA withdraws: mine normally takes no more than 48 hours. This is so much faster than any other exchange.
✅ Free deposits for Japanese yen, Canadian dollar, and Euro.
✅ Pioneering transparency: Kraken was the first exchange in the world to carry out a proof-of-reserves audit process.
✅ Support for an increasingly wide range of fiat currencies and cryptocurrencies.
✅ Kraken is an extremely popular site for intermediate or professional crypto traders as well as for occasional users.
The Disadvantages
---
Here are some of the disadvantages of using Kraken:
❌ The platform, just like all other centralized exchanges, holds the private keys to your account's crypto address.
❌ Account verification time is no faster than at other competing platforms like Coinmamaor Bitstamp.
❌ Kraken's Pro user interface (UI) is not as beginner–friendly as other competing sites such as CEXor Coinbase.
Creating a Kraken Account
---
Signing up for an account on Kraken is pretty straightforward and very similar to creating an account on most online platforms. Kraken has included extra features on the signup page in order to secure and protect user accounts. The site also meets Anti-Money Laundering (AML) and Know Your Customer (KYC) requirements from US regulators.
The first step when signing up is to input your email address and create a password. The password has to be at least eight characters long and has to include letters, numbers, and special characters. There is also the option to share a PGP public key that the site can use for added security when sending you emails.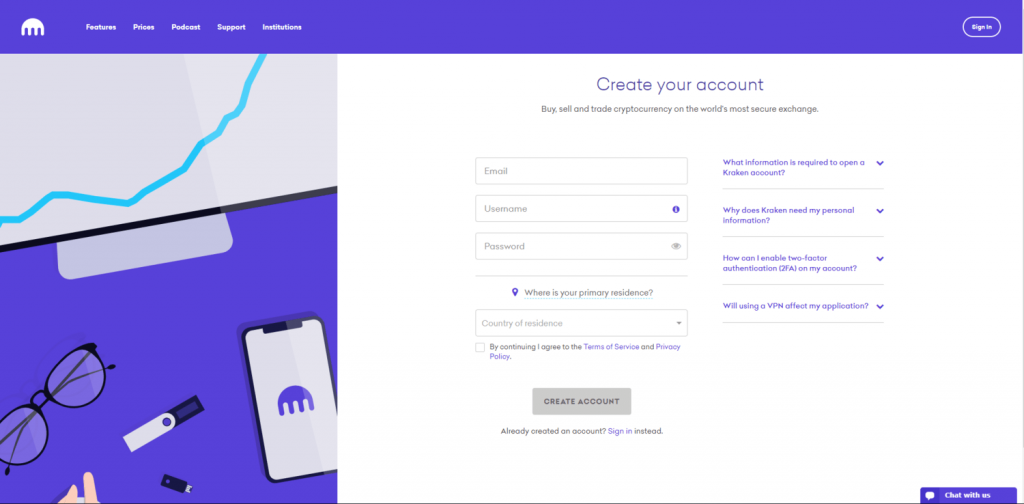 You are also prompted to create a master key that gives your account a second layer of security that includes 2-FA login protection, which is especially useful when switching devices or changing passwords. The master key can be a password, Google authentication, a Yubikey password, or a public/private key pair. Make sure to store your master key separately from your other login credentials.
The second step in signing up is to activate your account, and you'll receive an email with an activation key that you then copy and paste into a second form. You will gain access to your account once this is done.
The entire process is largely smooth and easy to follow and takes between five and ten minutes.
Kraken has never had a major security incident like those experienced at Bitfinexor Mt. Gox. However, in July 2016 several users reported having their accounts hacked and funds were stolen. However, Kraken later reported that almost all the users affected failed to use 2-FA login protection.
Account Types
---
Kraken exchange offers five types of accounts (aka – "tiers"), and what differentiates the different levels is primarily the daily and monthly limits on fiat and cryptocurrency deposits and withdrawals.
The different tiers also expose you to different fee structures, which means that the higher the account tier, the lower the fees you pay per trade.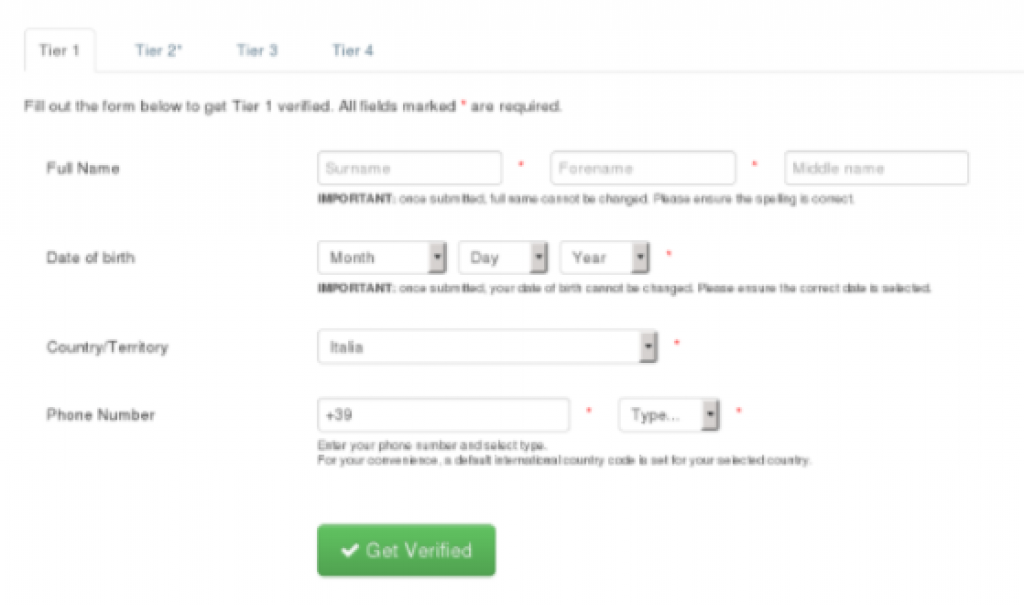 Tier 0
---
You get a tier 0 account immediately after you sign in. The tier 0 account allows neither deposits nor withdrawals of crypto or fiat funds, so you can do little with a tier zero account except access trading charts and price statistics. You need to upgrade to a tier 1 account to really get the feel of Kraken.
Tier 1
---
With a tier 1 account, deposits and withdrawals are available in digital currency only. There are no daily or monthly limits to how much you can deposit, but you can only withdraw less than $2,500 worth per day and $20,000 per month. The account allows trading between different cryptocurrencies. However, it doesn't allow trading between cryptos and fiat currencies.
Tier 1 account verification requires:
Full name
Country of residence
Date of birth
Phone number verification
After providing these details, you may have to wait from one to three days to be verified as a tier 1 account. The waiting period can be longer for people outside Japan, Europe, and North America.
Tier 2
---
When you get a tier 2 account, deposits, withdrawals, and trading in digital currency are available. You are eligible to deposit fiat currency up to $2,000 daily and $10,000 a month, and you can also withdraw $2,000 in fiat daily and $10,000 per month.
The number of cryptocurrencies you can withdraw increases from $2,500 per day to $5,000 per day, and the monthly limits go from $20,000 to $50,000.
To qualify for a tier 2 account, the exchange requires only the user's address. You may have to wait for several days for approval.
Tier 3
---
This verification level is perfect for a serious trader. Tier 3 affords you a daily limit in fiat deposit of $25,000 and a monthly limit of $200,000, while the withdrawal limit for fiat currency increases to $25,000 and $200,000 monthly. The amount of cryptocurrencies you are allowed to deposit rises to $50,000 daily and to $200,000 monthly.
The verification requires a valid government ID and you need to verify proof of residence by providing a copy of a utility bill no more than three months old. It's important to note that US citizens must provide a social security number.
You are also required to upload an ID confirmation photo, which is a picture of you holding the ID you provided for verification, alongside a handwritten, signed, and dated note reading: "Only for trading digital currency on Kraken".
Tier 3 verification is necessary in order to deposit fiat currency in the US, Germany, Japan, Canada, and other countries depending on the type of currency.
Tier 4
---
This level is reserved for individuals trading at high volumes or for corporate entities. Accounts in tier 4 can deposit daily amounts of up to $100,000 in fiat currency and $500,000 monthly, while withdrawal limits for both cryptos and fiat are $100,000 daily and $500,000 monthly.
Verification for an individual account requires a signed application form and the KYC documents.
You need to contact support to get a tier 4 account.
Kraken supported coins
---
Kraken allows users to purchase and sell cryptocurrencies, as well as spot & margin trade them. Here are the top 16 crypto coins out of 100+ currency pairs that are currently supported by Kraken Bitcoin Exchange:
Bitcoin(XBT)
Ethereum(ETH)
Litecoin(LTC)
Gnosis(GNO)
EOS(EOS)
Dogecoin(XDG)
Tether (USDT)
Melon(MLN)
Zcash(ZEC)
Augur tokens (REP)
Iconomi(ICN)
Stellar/Lumens (XLM)
Ethereum Classic(ETC)
Ripple(XRP)
Monero(XMR)
Dash(DASH)
Note: What is XBT in Kraken? XBT is Kraken's short for Bitcoin, used instead of BTC.
Kraken Deposits & Withdrawals
---
Fiat currencies supported on the exchange include:
Fiat deposits and withdrawals are completed through:
When it comes to Kraken deposit fees and withdrawal, it has reduced its prices drastically in order to stay ahead of the competition and currently offers one of the most comprehensive fee schedules on the market. For example, when you withdraw Euros through SEPA bank transfer you are charged only 0.09€ by Kraken, which is pretty amazing compared to the hefty 10€ average fee that corporate banking institutions charge their clients.
Users from the USA can withdraw and deposit through a bank wire service, which costs $5. On the other hand, bank wire transfers from outside of the US cost £10, €10, or $10.
European Economic Area (EEA) users can withdraw and deposit via a free SEPAwire transfer. Canadian users can withdraw or deposit Canadian dollars (CAD) through a bank wire-free of charge.
Users in Japan can withdraw and deposit any amount below 5,000 Yen via bank deposits at no cost.
The most expensive way to purchase cryptocurrency is with a credit card or debit card.
In September 2014, Kraken released a mobile app for iPhone, but the reception has never been good (the app has a rating below 3 in Apple App Store). Most users praise the smoothness of the mobile version of the website. However, they complain that the app rarely works and is full of bugs.
As for the website, most beginners prefer to avoid Kraken because the website layout is not optimized for beginners and can be slightly confusing. On the other hand, most advanced users don't seem to complain about the interface.
Customer Support
---
Kraken is one of the most popular bitcoin exchanges in the world. This means its customer support may sometimes be overwhelmed. That's why the exchange offers a detailed FAQ section, Support Center, and Help Center, which can help you troubleshoot any problems.
If none of the available resources help, you can also submit a request.
It's important to note that the support isn't very highly rated and it can take a couple of days to react.
Fees
---
Kraken offers low fees.
Trading fees are charged for both maker and taker. They start at 0.26% for the taker and 0.16% for the maker. As the trading volume increases, the fee percentage steadily drops all the way to 0.10% for the taker and 0.00% for the maker.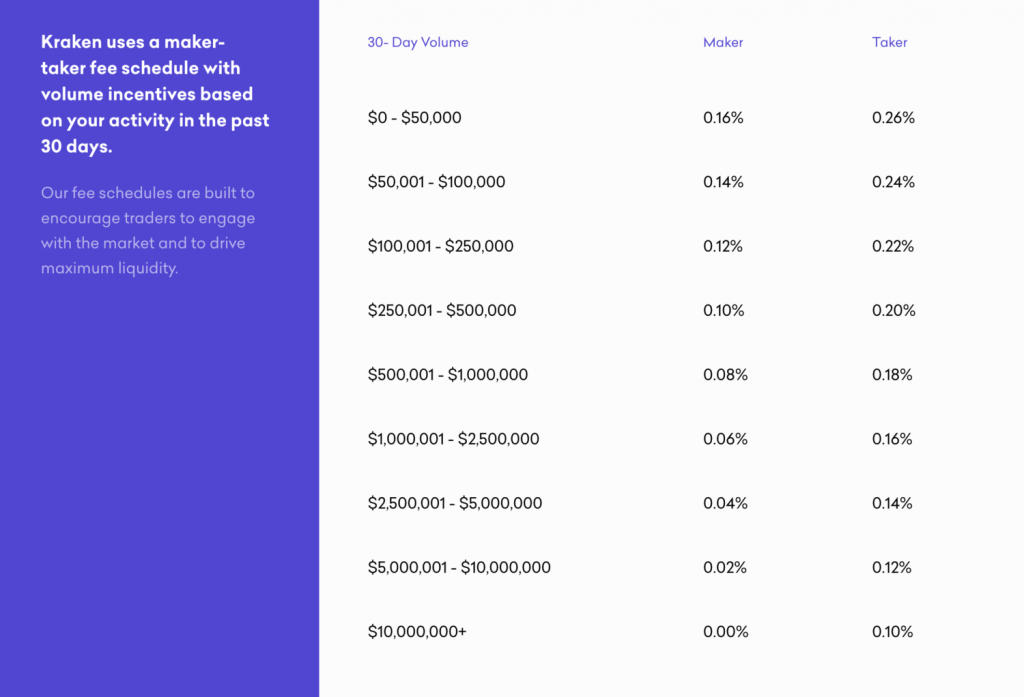 Fees depend on the tier in which your account belongs, which means that the higher the tier and the amounts involved, the lower the fees you pay. Fees range between 0% and 0.26%, and they are calculated as percentages of trade volumes. Both the buyer and the seller are charged fees. However, a buyer in trade is paying more than a seller.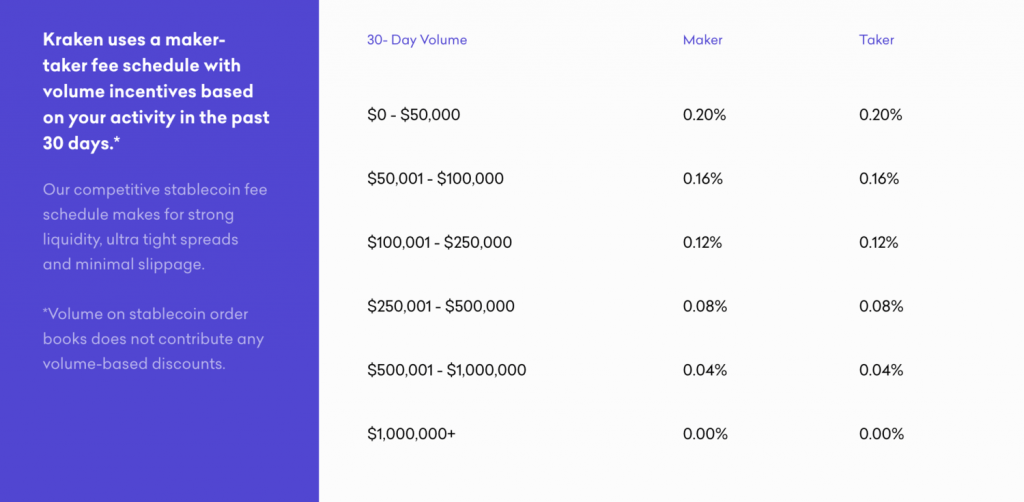 The fee amount also depends on the currencies involved, which means that a pairing of cryptocurrencies incurs lower fees than one that exchanges fiat with cryptocurrency.
Margin Trading Fees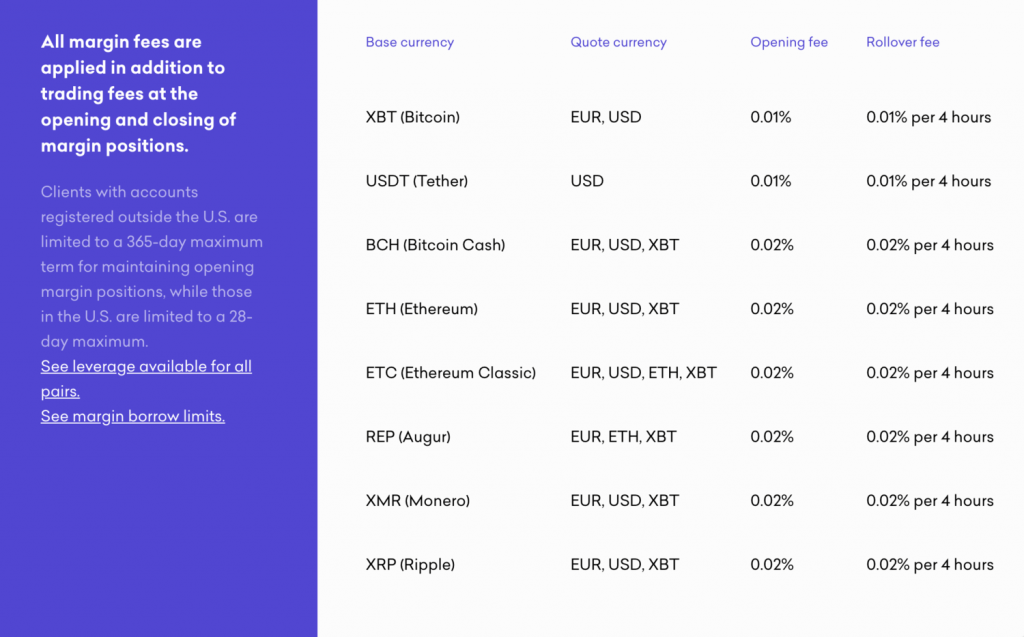 And here is a direct comparison of Kraken vs its competitor crypto margin exchanges:
Security – Is Kraken Safe?
---
Kraken is considered one of the most secure bitcoin exchanges in the world. In the aftermath of the Mt. Gox collapse, Kraken was the first company to create a cryptographically verified proof of reserves. This shows that the exchange holds 100% of customer funds.
The platform provides cryptography-verified proof of reserve audits, which verify the total amount of cryptocurrency held by Kraken.
Trading
---
Kraken offers less than ten different cryptocurrencies for trading. However, it is possible to make direct trades between all available pairs. Together with five fiat currencies (US dollar, Canadian dollar, GB Pound, Euro, and Yen), the platform gives enough trading options for everyone.
Kraken is the perfect choice for those who are looking to have maximum control over their trades. They hold the majority of funds offline in cold storage, and their digital wallet is encrypted. Their servers are held in secure facilities with top-notch video surveillance, retina scanners, and armed guards.
Kraken also allows users to set up 2 Factor Authentication (2-FA). However, you must go to the Security tab to do so. You can never be too safe, so be sure to enable 2-FA if you use Kraken. The company also has PGP (Pretty Good Privacy) encryption for email communication and a global setting lock, which prevents any account changes in a particular time period.
There has been some concern over privacy when uploading documents. However, Kraken maintains an isolated system for sending documents. It's important to note that your verification documents and account information are also encrypted.
So far Kraken hasn't been hacked. However, there were cases where careless users got their accounts hacked because of a lack of 2-FA security.
Kraken doesn't support derivates or futures trading. However, it has all the functions which can be found in the forex trading markets. Users can use leveraged positions, margin trading, limit orders, advanced orders with predefined triggers, and short selling.
Kraken margin trading is available on these currency pairs – REP/ETH, REP/EUR, ETC/EUR, REP/XBT, ETC/ETH, ETC/USD, ETH/EUR, ETC/XBT, ETH/XBT, ETH/USD, XBT/EUR, XBT/USD.
Supported Countries
Kraken is available worldwide, and in the United States — with the exception of New York. Your account status will likely say "pre-verified" if your country or region is not eligible for Kraken's services.
Kraken is an excellent choice for European users. However, after a number of acquisitions in the last few years, their focus seems to be shifting from Europe to the Worldwide market.
Conclusion
---
Kraken has been in the cryptocurrency exchange world since 2011 and has spent a relatively long time establishing its reputation in the cryptocurrency world. Today, Kraken is one of the best bitcoin exchanges. It is a real industry leader and is designed for serious and professional cryptocurrency traders.
It's a relatively secure platform and has low fees. It requires a little less than an intermediate understanding of how to trade cryptocurrencies. However, be sure to watch a few guides in order to learn how to make sure you are doing everything correctly.
Kraken Alternatives
---
If you are not fond of Kraken, here is a list of potential crypto margin exchanges that can be good alternatives:
Binance Review
Bitfinex
PrimeBit
PrimeXBT review
ByBit
Deribit
PROS
Low and competitive fees
Highly respected exchange and only exchange platform selected to support investigation into Mt. Gox's stolen Bitcoins
No hacks
Margin trading and short selling supported
Strong liquidity in EUR markets
CONS
Advanced dashboard is too complicated to inexperienced traders

CaptainAltcoin's writers and guest post authors may or may not have a vested interest in any of the mentioned projects and businesses. None of the content on CaptainAltcoin is investment advice nor is it a replacement for advice from a certified financial planner. The views expressed in this article are those of the author and do not necessarily reflect the official policy or position of CaptainAltcoin.com