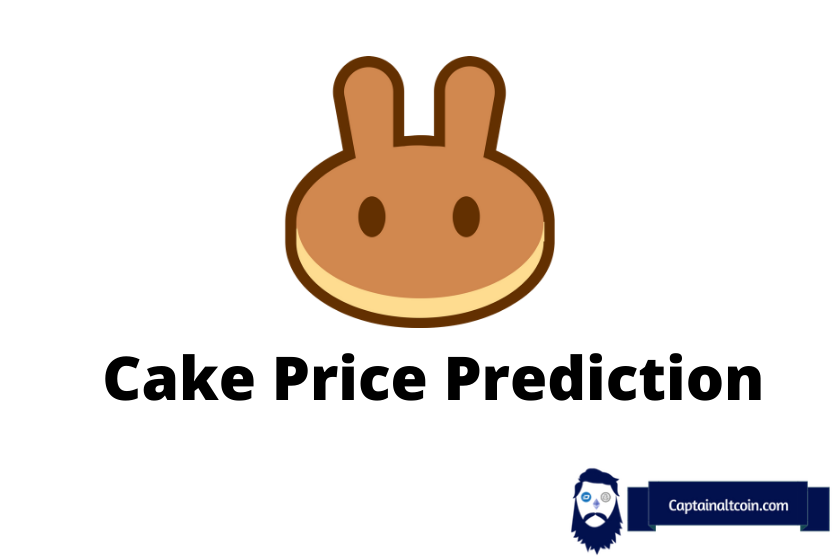 CAKE is the native token on the PancakeSwap exchange used for transaction, governance, and running reward programs. PancakeSwap is part of a growing trend of food-themed projects among them BakerySwap, Uniswap (UNI), and SushiSwap among other projects.
Unlike other food projects that run on Ethereum (ETH), PancakeSwap is built on the Binance Smart Chain (BSC), a complementary network of the Binance Chain (BC). This article gives a detail review of the CAKE token, its price prediction and an overview of the PancakeSwap ecosystem;
What is PancakeSwap?
---


PancakeSwap is a decentralized exchange on the Binance Smart Chain (BSC) that offers automated permissionless liquidity pools that run on algorithms. It is the use of algorithms that PancakeSwap an automated market maker. As an automated market maker (AMM) PancakeSwap offers multiple innovative ways for crypto holders to earn from their assets.
How Does PancakeSwap Work?
---
The PancakeSwap offers several advanced and innovative features that set it aside from other DeFi protocol. Although Ethereum was a pioneer in the DeFi space, some of its features failed to resonate many users which saw many migrate to PancakeSwap. Some of PancakeSwap's best features include allowing seamless interaction between Ethereum-based dApps and BSC-based dApps, trading BEP-20 tokens, lottery, staking, and farming.
PancakeSwap Exchange
---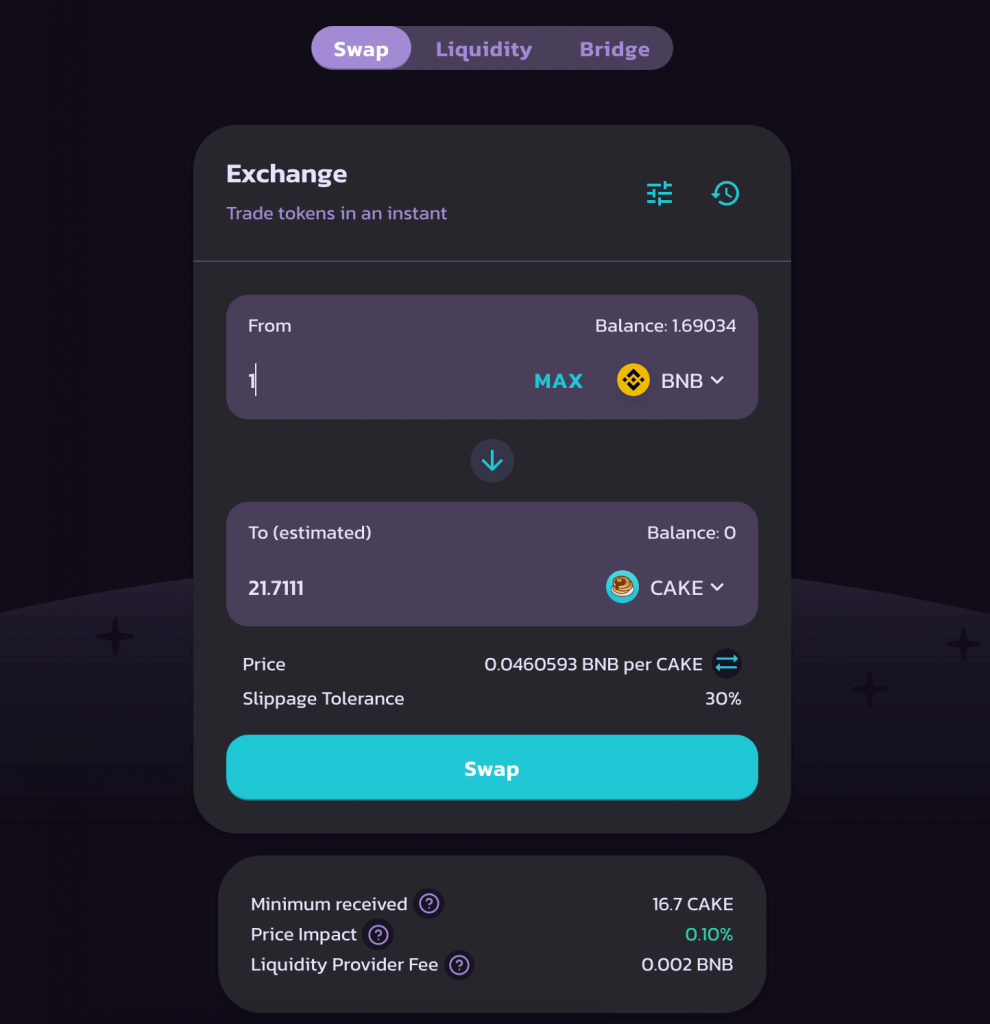 The PancakeSwap protocol uses the automated market maker (AMM) model to offer liquidity to traders. The AMM uses an algorithm to price assets as opposed to centralized exchanges (CEXs) that rely on traditional order books. In an AMM, borrowers can access liquidity in a liquidity pool as opposed to a typical order book that relies on buyers and sellers.
The main feature of the PancakeSwap is the ability to trade BEP-20 tokens in the place of ERC-20 tokens. Users deposit their funds in liquidity pools from where they draw returns in the form of Liquidity Provider (LP) tokens, called CAKE.
Trading on PancakeSwap
---
Much of CAKE token trading takes place on PancakeSwap although some amount of trading happens on Binance. Users can also buy the tokens on Binance, transfer to compatible wallet from where they can be staked on PancakeSwap.
PancakeSwap Supported Wallets
---
In addition to the native wallet, PancakeSwap supports other wallets like MetaMask and MathWallet, WalletConnect, TokenPocket, and Trust Wallet.
CAKE Token Distribution
Users can buy CAKE tokens or earn them through staking their crypto assets. Currently users earn 40 CAKE for every block created. However, 15 CAKE are burned when created as a single block. In a day, a total of 30k blocks are created and 1.2 million CAKE awarded while 450,000 tokens per day. The effective daily emission is 750,000 CAKE. The rewards per block are distributed as follows;
· 60% or 15 CAKE are allocated to farmers
· 40% or 10 CAKE go to CAKE holders
· Of the 30 blocks created every day, 450,000 CAKE are set aside for farming
· A total of 300,000 CAKE are assigned to token holders every day.
How to Stake CAKE?
---

To stake CAKE tokens, you need to first buy them from any listing exchange and transfer them to a wallet that is compatible with or supported by PancakeSwap. In addition, users can also opt to buy BNB tokens which can be staked to earn CAKE tokens on PancakeSwap.
Before staking, users need to first connect their wallets to PancakeSwap from where they access liquidity pools in the "Pools" tab. You can then select where to stake your tokens in the listed liquidity pools. If dealing with BNB, the user can transfer them to a BEP-20 BSC address to facilitate payment of transaction fees. One of the advantages of using the BSC is the low transaction fees charged on all trades.
Adding Liquidity on PancakeSwap
---
The first step when using an AMM like PancakeSwap is to add liquidity. PancakeSwap users can add liquidity to the platform by clicking on "Trade" in the left sidebar which then brings a drop down menu. Click on "Add Liquidity" and select the token pair you want to deposit to supply liquidity.
Farming
---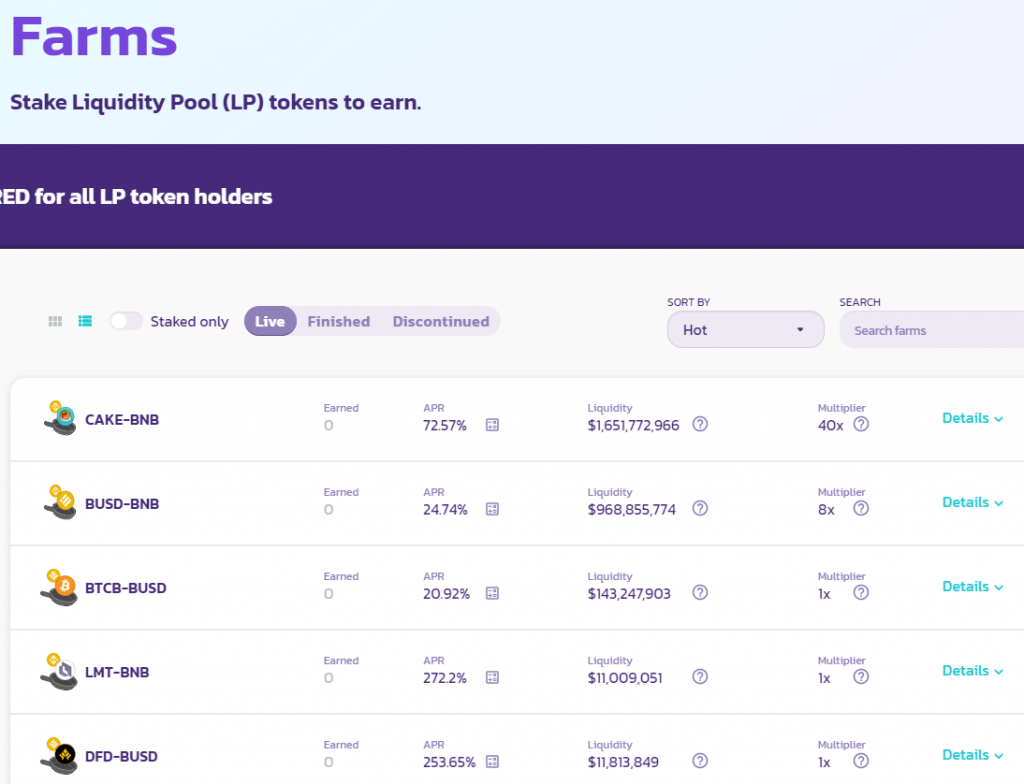 There are several ways in which CAKE holders can earn from the tokens deposited in a liquidity pool on PancakeSwap. The platform is especially for having high returns on staked assets. Users can stake the LP tokens deposited to earn more CAKE tokens. Staking is one of the easiest and safest ways to earn tokens without engaging in risky investment.
To stake, hover over the PancakeSwap and click on the "Farm" tab located in the left sidebar. There are several ways that users can earn from their tokens on PancakeSwap. Currently there are 69 liquidity pools listed where users can stake their assets and earn returns ranging between 23.52% and 378.19% APY. To complete the transfer of liquidity to the platform, users need to approve the movement of the deposited tokens to the pools. The approval authorizes the smart contracts to withdraw and withdraw funds on behalf of the user.
Click on "Approve Contract" and confirm the amount of tokens you have with top stake. The tokens will be deducted from the wallet and returns will start accumulating on the staked assets after sometime. Users can redeem their earned token rewards by clicking on "Harvest." Examples of pools available for staking include;
· CAKE-BNB LP
· DODO-BNB LP
· BRY-BNB LP
· SUSHI-ETH LP
· DAI-BUSD LP
· ZEE-BNB LP
· SWINGBY-BNB LP
· LTC-BNB LP
Users are rewarded from the LP in CAKE tokens which can be used to pay transaction fees, for governance votes, and staked to earn more CAKE.
Apart from farm yielding the LP tokens, users can stake the CAKE tokens in SYRUP pools to benefit from returns ranging between 43.33% and 275.12% APY. Users can also stake CAKE tokens to earn rewards to earn other coins like UST, LINA, and SWINGBY to name a few.
Deflationary
---
PancakeSwap has integrated with several deflationary protocols to maintain its token's value. For instance, all CAKE tokens raised in the Initial Farming Offerings (IFOs) gets burned. In addition, 10% of profits from the PancakeSwap lottery plus a certain percentage of farmed CAKE are burned. These protocols help developers to protect investors and maintain price stability in a highly market.
CAKE Price Prediction For The Next 90 Days
Since the whole market is tightly correlated, general sentiment is always the first thing to check before predicting the prices of individual coins. So, let us do a quick overview of the market. After a brutal crypto winter in 2022, the market has shown signs of life in 2023. Bitcoin has rallied 80% so far, putting it on track for its best year since 2020. Ethereum is also up 50% year-to-date. Several factors have fueled this crypto rebound. Most notably, Ripple Labs won a key legal victory against the SEC in June, leading to a short-lived price bounce. Renewed institutional interest has also provided a boost, with major firms like BlackRock pushing for Bitcoin ETF approval. Meanwhile, inflation has triggered a crypto comeback as digital assets gain appeal as an anti-inflation hedge. However, major headwinds persist. The total crypto market cap stands at $1.1 trillion after peaking at $3 trillion in late 2021. And volatility remains high. Bitcoin spiked to a 2023 high near $32,000 in May but has since pulled back below $30,000 amidst intensifying regulatory scrutiny. The SEC continues targeting top exchanges like Coinbase and Binance. While the worst of crypto winter seems over, the road to full recovery looks long. But institutional adoption continues growing steadily, and some analysts forecast Bitcoin topping $100,000 within a couple years. Regulatory actions remain crucial to watch. If cryptocurrencies can cement themselves as digital gold safe havens, macro trends could fuel their next bull run. But more clampdowns present downside risk. After a tumultuous 2022, 2023 shows crypto turning a corner - but uncertainty still looms large.
Below is a tabular overview of how will CAKE develop in the short-term (for the next 90 days), according to our prediction model:
Next 30 days
Next 60 days
Next 90 days
PancakeSwap (CAKE) Market Price Predictions
---


PancakeSwap just completed a lottery giveaway totaling around $2.75 million that saw its native cryptocurrency CAKE go up by more than 25%. The exchange ran a lottery pot of 131,507.51 CAKE, its largest ever. Currently CAKE is priced at $21.26 after rising from $6 in February. The token rose by 1,200% between 2020 and 2021. Predictions in 2020 had predicted that the token would trade in the range of %8 and $15. It was unlikely among majority analysts that the coin could hit $21.
In February 2021, the token was projected to trade at between $60 and $80 by the end of the year according to data on Coinpedia. The coin is projected to hit $150 by the end of 2022 and $280 in the next five years.
In March this year, FXStreet predicted that the token would trade at $21.70 by the end of the year. During the month, the token was priced at around $12. Another analyst, Wallet Investor has set a price target of $44.20 for the CAKE token by the end of 2021. According to Wallet Investor, CAKE will trade at $154 in the next five years.
Digital Coin Price, another leading platform that tracks crypto trading and pricing data has set CAKE price target at $31.24 by the end of 2021 and $35.77 by the end of 2022. The token is projected to reach $62.80 by 2025 according to Digital Coin Price.
CAKE Price Prediction 2023
Our prediction model sees a temporary switch to a bear market at the beginning of 2023 before we move onto another leg up in Q3 & Q4 of 2023.
CAKE Price Prediction 2025 – 2030 – 2040
Our prediction model sees CAKE reaching new highs in 2025:
$ 4.76
CAKE price in 2030 & 2040 should be a couple of orders of magnitude higher than our 2025 prediction.
Initial Farm Offering (IFO)
---
A key feature of PancakeSwap is that it allows users to create and list their projects in the BSC ecosystem. Yield farming allows users to deposit their assets and launch projects in liquidity pools to earn rewards.
To participate in the IFO, developers need to buy CAKE and Binance tokens to get their CAKE-BNB LP tokens which are used when the IFO sales process starts. It is the CAKE-LP tokens that developers commit to buy the IFO tokens.
SYRUP pools
---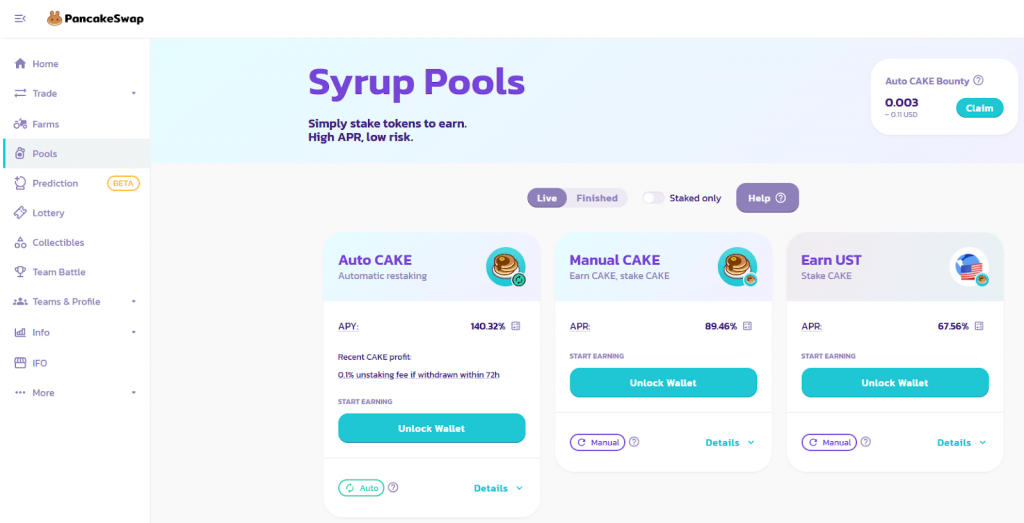 The PancakeSwap platform also offers another type of pools called SYRUP pools that offer much higher returns. The SYRUP liquidity pools offer much higher rewards of between 43.33% and 275.12% APY. In addition to CAKE, users can also stake others tokens to earn either CAKE or other token rewards.
Non-Fungible Tokens
---
In addition to farm yielding, buying lottery tickets, and staking CAKE, PancakeSwap also allows users to win non-fungible tokens created by the exchange. The NFTs collected can be kept in the wallets or exchanged for CAKE.
The platform selects NFT winners randomly. To win, participants need to first register and access the Collectibles page of PancakeSwap, where new NFTs are posted every day.
Is PancakeSwap safe?
---
The PancakeSwap has been operating without any issue or hitch since its launch. In addition, no adverse issue like fraud or hacking has been reported on the platform. The decentralized exchange has been audited by CertiK and its code found to be secure.
What to consider when buying PancakeSwap
---
Below are top factors to consider when buying CAKE;
Operational framework
As opposed to many crypto exchanges that rely on a traditional order book, PancakeSwap uses an automated market maker (AMM) model. The platform is designed in such a way that users must deposit their funds in a liquidity pool to receive a portion of future trading fees and steady returns.
Recycled source code
Many decentralized applications share the same source code with few minor changes and modifications. For instance, SushiSwap is an improved version of UniSwap while PancakeSwap is by and large an imitation of SushiSwap with a few improved features and functionalities.
Interoperability
Binance Smart Chain (BSC) is fully compatible with the Ethereum Virtual Machine (EVM) hence allows development of interoperable dApps. The platform also allows a wide range of Ether-based wallets including MetaMask, MEW among others.
Fee Model
Trading fee is a major factor to consider when choosing a platform. On BSC, users pay a flat rate of 0.2% on all transactions. Of the total fees, 0.17% goes to liquidity providers while the remaining amount if burnt.
Novel product offerings
In addition to yield farming options, PancakeSwap comes with an in-built NFT marketplace and a platform for Initial Farm Offerings (IFOs). The NFT marketplace allows users to buy/sell a wide range of tokenized assets.
Read also our other prediction:
PancakeSwap Roadmap
---
PancakeSwap has had a clear roadmap that has seen the project add innovative features. The following features are still in the pipeline at different stages;
· Margin Trading where users will be able to trade BSC tokens with leverage on-chain.
· Lending & Borrowing where users can lend and borrow BSC and LP token.
· Fixed-term Staking
· Binary Options
· NFT-based Gamification
Benefits of Pancake Swap
---
Key benefits with PancakeSwap include;
· It allows users to access a wide range of new tokens and also allows users to transfer USDT, BTC, BUSD, and ETH from the ETH chain to the BSC chain.
· It is able to integrate with leading wallets like MetaMask, MathWallet, WalletConnect, TokenPocket, and Trust Wallet.
· While it is feature-rich, the PancakeSwap exchange is very to use and traders don't need to have prior experience to navigate through the basic trading functionalities.
· PancakeSwap exchange has very few transaction fees especially for those using the native coin CAKE.
· The platform is hosted on the BSC making it very fast and offers a more responsive trading experience. With faster transactions, investors can access more arbitrage trading opportunities.
FAQ
---
What is PancakeSwap?
PancakeSwap is one of the many food-theme DeFi protocols with features similar to Uniswap and Sushiswap
Who created PancakeSwap?
The main developers behind PancakeSwap remain anonymous. The only thing known is that the protocol uses BCS technology and it is audited by Certik.
What is CAKE token?
CAKE is the native and governance asset of PancakeSwap, which you can farm and stake to earn rewards.
What is SYRUP?
Syrup Pools are the main yield aggregators where you can stake your CAKE
What is the difference between staking and farming?
Yield farming is a process of locking your funds in lending pools where other borrowers lend their funds in exchange for interests.

CaptainAltcoin's writers and guest post authors may or may not have a vested interest in any of the mentioned projects and businesses. None of the content on CaptainAltcoin is investment advice nor is it a replacement for advice from a certified financial planner. The views expressed in this article are those of the author and do not necessarily reflect the official policy or position of CaptainAltcoin.com