Trality bot review – Cryptocurrency Automated Trading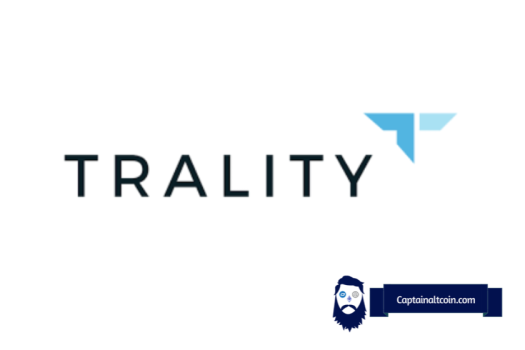 Trality bot review – Cryptocurrency Automated Trading
Austrian company
Completely free options for beginners
Advanced tools
Extensive documentation
Great community and communication
Powerful backtesting
Investing in cryptocurrencies through bots can be a daunting endeavor as not only is the technology very advanced, but there are so many different platforms out there that it makes choosing one quite exhausting. But some platforms stand out from the rest, some for their ease of access, some for the broad range of supported crypto exchanges, and some because of their great, capable features.
Trality fits into the latter category.
The Austrian company was founded in 2019 by Moritz Putzhammer and Christopher Helf, and their goal is to link the gap between professional and private trading. It wants to enable everyone to access the promising technology of algorithmic trading and help traders build more intelligent crypto trading bots to make better trades. Most important to note is, however, that Trality empowers its users to custom bots and fine-tune their bots to an extreme, unseen level of precision.
| | |
| --- | --- |
| Price | Free Plan | 9.99 | 39.99 | 59.99 / per month |
| Payment Options | Visa, Mastercard, Discover, Amex, Diners |
| Exchange Support | Binance / Kraken / Coinase / Bitpanda |
| Cloud-Based | Yes |
| Signals | Yes |
| Strategies | Yes |
Major features of Trality
---
⚡️ Rule builder
---
Trality is not only for coders, though. If you consider yourself to be a savvy or experienced trader, but you have never learned to code then you can still build a bot and access many of the same excellent features available to the coders without actually having to know code.
The 'Rule Builder' is an easy-to-use, graphics-based interface that lets experienced traders build their strategies by simply dragging and dropping indicators and strategies. This tool is perfect for those looking to dip their toes into the world of building cryptocurrency trading bots.

✅ Rule Builder Tutorial: How to create a trading algorithm without code
⚡️ Powerful Python Code Editor
---
Trality's main point of focus is its powerful Python API which allows users to create highly innovative and intricate algorithms in the most efficient way possible. The product has pretty much every single tool that a Python bot creator could ever desire and gives you the power to create crypto trading bots that are far more unique than the simple cryptocurrency trading bots. 
Employing this easy-to-use API will give you access to all kinds of financial data to augment your bot and make sure it always has the edge. Alongside a great list of TA indicators, and the future promise of using more intricate math, statistics, machine learning, and other sources of data – this product has a lot of potential. Personally, one of our favorite tools is the number of unique order types such as Trailing Stop Loss, Stop-Limit, or Stop-Market, which really allows us to get creative when writing an algorithm.
 The real kicker is that this all happens in-browser, which, as far as we know, is unique to Trality. This basically means that all your strategy developing and backtesting does not leave your own computer. Not even Trality can see which ideas you are coming up with! On top, the editor helps you with intelligent auto-complete and debugging functions.
On top of that, Trality gives its users explicit versioning so you can revert to and switch between previous versions of your algorithm at any time. 
⚡️ Helpful backtester 
---
With both of the above features, you have access to a potent backtesting tool too. Once you have finished building your bot, either with the Code Editor or Rule Builder – you can run a backtest which is both powerful and surprisingly quick. The backtests always include the exchange fees too so it's all taken care of for you in the background and you can validate your strategies without worrying about any other factors.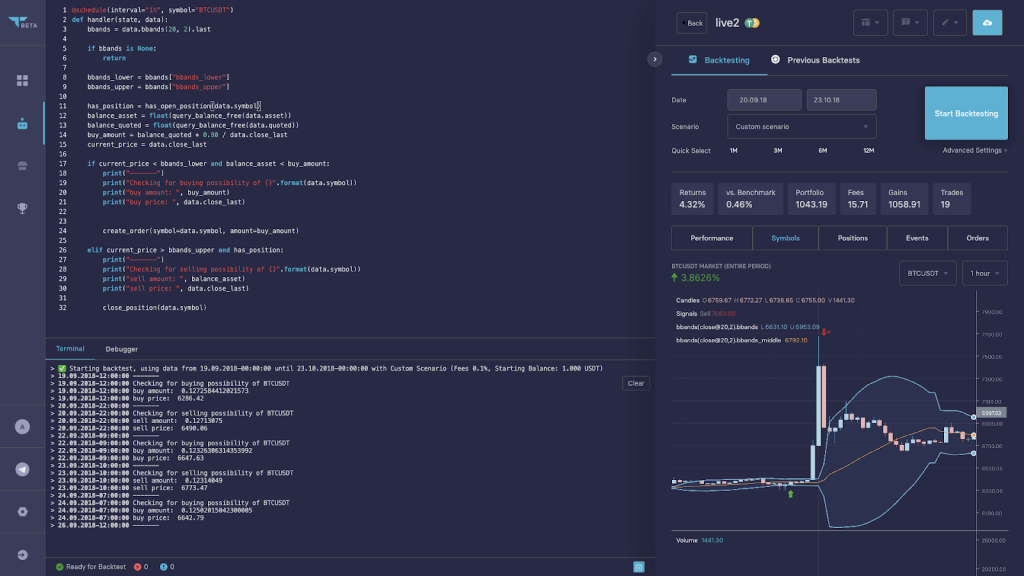 ⚡️ Completely cloud-based for 24/7 trading
---
Trality differs from most of its competitors in that it is genuinely cloud-based. You can build and test your bots entirely through your web browser, and when it's time to trade, directly deploy onto their cloud. The significant advantages to this are quick and easy access to your crypto trexchading bots without needing any additional hardware/software to set it up and keep it going.

⚡️ Rich documentation
---
Trality pays special attention to its documentation which is extensive and clear. There was no time during our Trality experience where we had to search through a messy, disorganized bunch of instructions. Every time something was unclear, we found the respective entry in the documentation quickly, and it always solved our problem.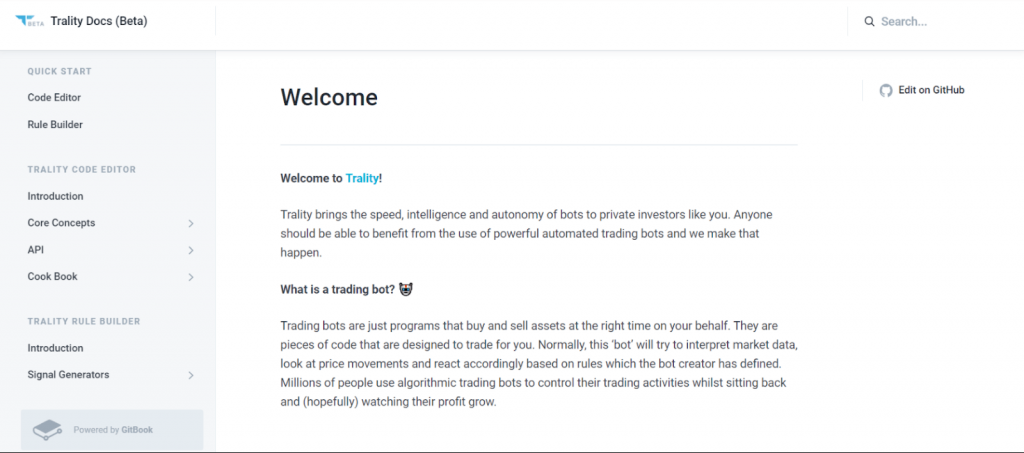 Getting started
---
All in all, it took us about two minutes maximum to have an account on Trality which is exceptionally good by any standards and you can see that the company wants to make it as easy as possible for you to just build bots without hassle.
⚡️ Step 1. Register a free account
---
As mentioned previously, it's straightforward to make an account; just click here to sign up to Trality.
⚡️ Step 2. Create a new bot
---
Once you are in the dashboard, it's very straightforward to start creating. Just click 'Create new bot,' and a box will pop up asking for some specifics. At this point, you can name your bot whatever you want and also give it a color to help you to distinguish between your automated trading bots.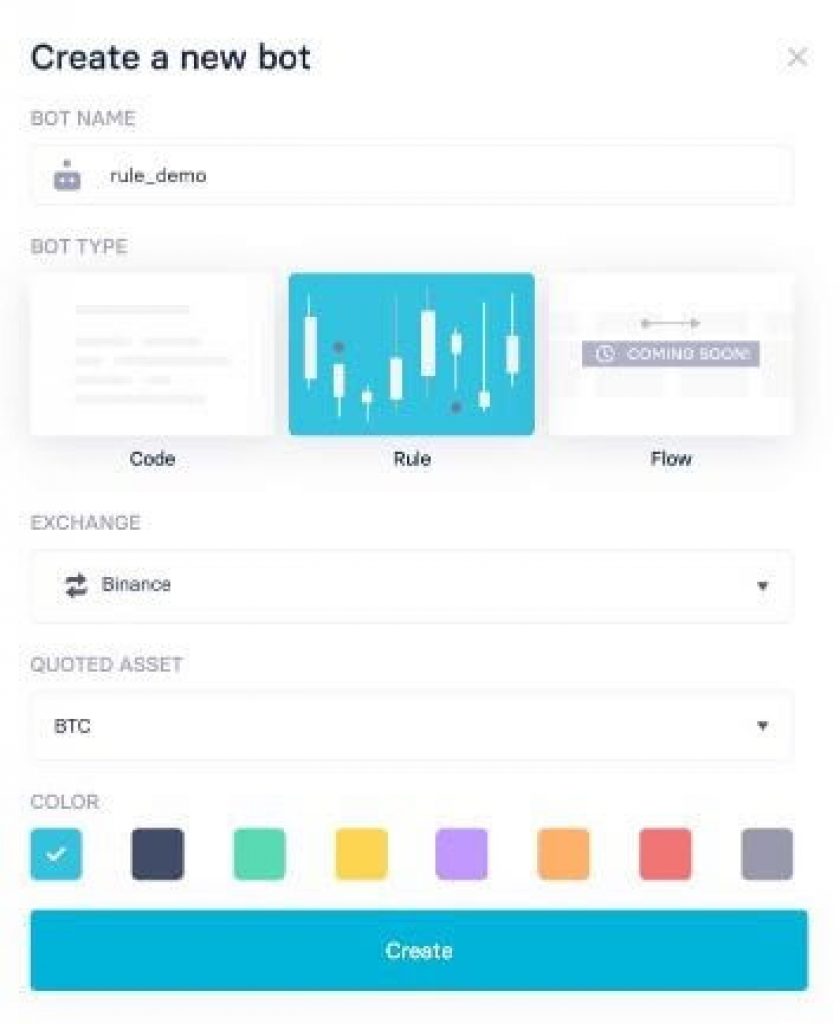 ⚡️ Step 3. Enjoy building!
---
You'll need to decide on whether you want to use the Python Code Editor or the handy Rule Builder now, and depending on your choice, the instructions will vary. This is not a guide on how to use Trality's products, though, so we will not go into detail here; however, you will find a helpful beginner's guide from Trality right here.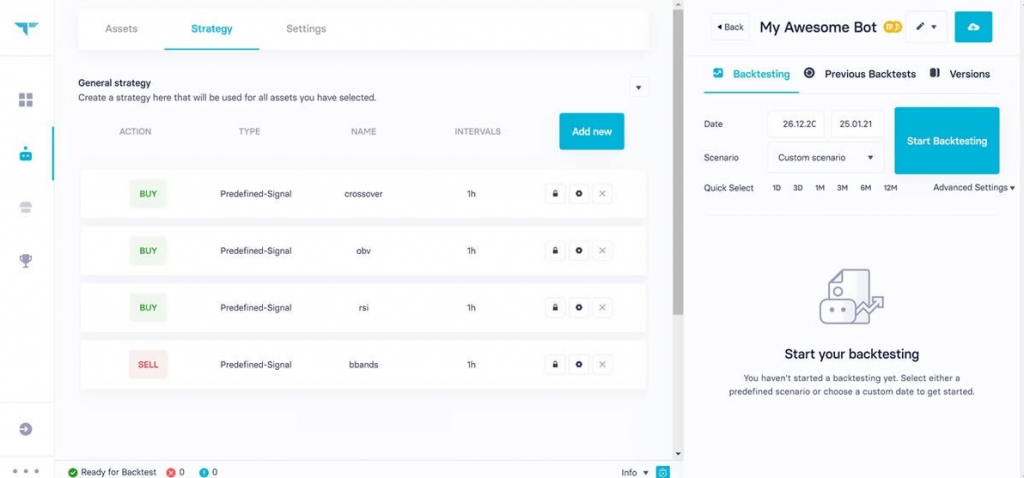 ⚡️ Step 4. Paper trade before going live!
---
Thanks to Trality's powerful backtester, you can utilize unlimited paper trading before committing your bot to the real world of cryptocurrency exchanges. We highly recommend rigorously testing your bot if you expect quality results from your algorithms. 
Customer support
---
We're delighted with the support you can get from Trality. Firstly, this platform has a pretty enthusiastic community of algorithmic crypto traders behind it. While they do not have a Reddit page, they have an enthusiastic Telegram group where users can go and ask any sorts of questions about the company and its bot-creation ecosystem. This is great because some of the founders and product owners themselves actively take part in the discussion, and they are always looking for feedback so you can actively play a role in shaping the product! 
As we mentioned before, a good source of information is the Trality Documentation forum, which you can access without an account should you like to have a preview.
Alternatively, you can simply email them directly and get an answer quickly from one of the team.
Security
---
By all accounts, Trality is known to be a secure place to create and deploy your crypto trading bots. Users' funds will never be held on your account and will always lie safely on your chosen exchange. Trality never touches your funds directly and will only ever use official exchange APIs to make orders on your behalf. More than that, your trading strategies are end-to-end encrypted, which means that no one, not even Trality itself, can see your strategies. 
As everything is cloud-based, you can rest easy knowing that your bot will be running 24/7 and never miss a trade – absolutely no need to set up your own trading servers!
Pricing
---
The platform has a fair and flexible pricing model that is designed with users of all experience levels in mind – 4 types of pricing plans. Moreover, the starting plan is absolutely free and not time-limited, so you can use, test, and live trade with a free option as often as you'd like!


Aside from the Free plan, there are three paid plans with one option to suit all levels of professional traders. With the 9.99 Knight plan allowing you to create 4 bots in total (two test bots and two live bots) and a monthly trading volume of 25k, and the Queen plan allowing an UNLIMITED trading volume with up to TWENTY bots – you will find the perfect plan for you. We also think it's pretty cool that the Free plan is free forever. Most other platforms offer a time-limited free option, so this is definitely worth mentioning.
Supported exchanges
---
You can connect your bot to the most popular exchanges' APIs and trade in a  considerable pool of cryptocurrencies 100" automatically and 24/7. It currently supports integration to the following crypto exchanges:
Binance 
Kraken
Coinbase Pro
Bitpanda Pro
This is also one of the areas where Trality needs to add some focus. Although the platform supports the world's most popular crypto exchanges – it's beneficial for traders to have access to as many crypto markets as possible. Therefore, a few more additiovns would be great.



Conclusion – Trality Trading Bot Review
---
Trality is an excellent platform with a lot of potential. The product has everything that an actual bot creator needs. If you're a coder or a savvy trader then you simply sign in and you will know what to do intuitively. The functionality and flexibility are possibly the best in the game, and Trality is undoubtedly not your average, generic bot-trading platform.
The in-browser Python code editor includes loads of libraries to pull and work from and unique order types to really give your bot the edge when it is competing on exchanges.
Added to that, they have the handy Rule Builder, which allows non-coders to benefit from a lot of the same great features as the coders. One example of this is the impressively quick backtester that both user groups can use to validate their strategies.
If you're an algorithmic or quantitative trader, you will want to check out Trality.
PROS
Austrian company
Completely free options for beginners
Advanced tools
Extensive documentation
Great community and communication
Powerful backtesting
CONS
Still quite young
Needs some more exchanges

CaptainAltcoin's writers and guest post authors may or may not have a vested interest in any of the mentioned projects and businesses. None of the content on CaptainAltcoin is investment advice nor is it a replacement for advice from a certified financial planner. The views expressed in this article are those of the author and do not necessarily reflect the official policy or position of CaptainAltcoin.com