Bybit review – Pros & Cons, Fees, Security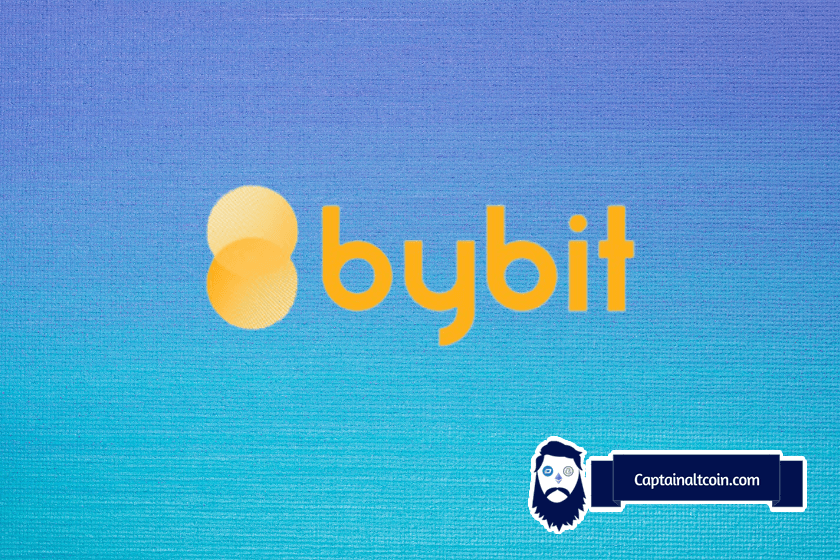 Bybit review – Pros & Cons, Fees, Security
up to 100x leverage
no KYC required
Reduced risk of price manipulation and liquidations
After a prolonged period of rampant instability of crypto markets, it seems like we have slowly sailed into some calmer seas as of late.
Interest in trading and crypto investing has returned and newer platforms like Bybit are hoping to repeat Binance's immense success from 2017/2018.
While Bitcoin prices (and prices of other crypto assets as well) keep moving up and down with undeterred frequency, there's no denying that the intensity of said movements is quite lower when compared to the $1000+ dollar daily jumps we witnessed in years prior.
Taking that into consideration, it's no wonder that the interest in trading such an increasingly more predictable asset is becoming more and more popular.
One of the easiest and most often utilized ways of trading cryptocurrency doesn't even involve actually trading said cryptocurrency! Obviously, we're talking about trading cryptocurrency CFDs – short for contracts/certificates for difference – which are basically derivative products representing an underlying valuable asset such as Bitcoin, Ethereum, etc. CFD trading originally gained popularity among forex, indice,s and gold/silver/other valuable commodity traders.
The practice has since seamlessly expanded to include crypto commodities as well, mostly because of the fact that more and more people are becoming cryptocurrency holders (and are willing to use said cryptocurrency as backing in their online trading endeavors).
With the rising popularity of crypto CFD trading, we're witnessing an increase of platforms that are giving their customers the ability to engage in said activity. Today we'll be taking a closer look at one such platform called Bybit; in our Bybit review, we'll analyze its most notable quirks and features and hopefully help you, a budding crypto trading rookie or an experienced wolf of crypto trading street, decide whether or not you should use said platform to trade.
Important note: you are trading CFDs (just like at any other margin exchange that uses leverages) but deposits and withdrawals are made with actual cryptocurrencies.
Now, let's start our review of Bybit with some simple facts about its location, the company behind it, and the brief history of this margin trading bitcoin exchange.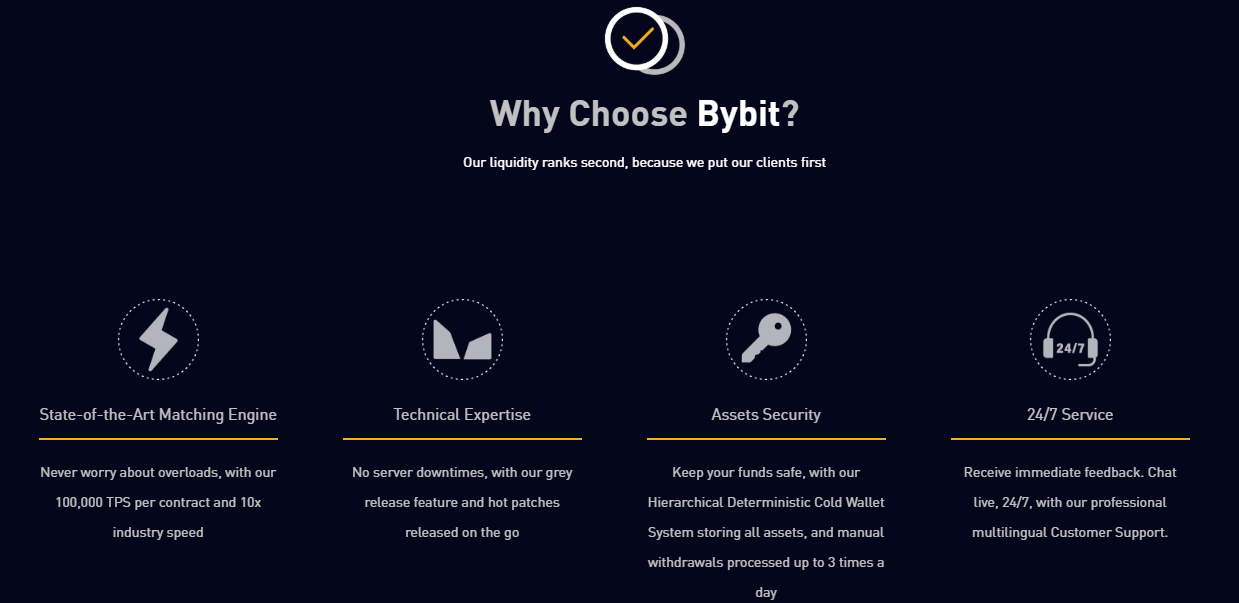 | | |
| --- | --- |
| Feature | |
| Maker fee | -0.025% |
| Taker fee | 0.075% |
| Deposit | Crypto only |
| Withdrawal fee | free |
| Leverage | 100x on BTC; 50x on other coins |
| Supported coins | BTC, ETH, XRP, EOS |
What is Bybit and where is it located?
---
Bybitis a somewhat late addition to the ever-growing suite of exchanges looking to provide cryptocurrency derivatives trading strategy.
The platform came to be sometime in 2018 with its original headquarters being established in Singapore. Since then they've expanded its operations to additional offices in Hong Kong and Taiwan in an effort to support its growing user base of 100,000+ crypto traders hailing from places such as North America, Europe, Russia, Japan, South Korea, and Southeast Asia.
To reflect this multi-national pool of users, the exchange's interface is currently accessible in English, Chinese, Traditional Chinese, Korean (South and North Korea), and Japanese.
Who is behind the platform?
---
The team behind Bybit claims to be made out of professionals from the Forex industry and investment banking (with some of the platform founders/technicians coming from industry giants such as Morgan Stanley, Tencent, Ping'an Bank, and Nuoya Fortune), as well as early blockchainadopters.
Bybit is led by the CEO Ben Zhou; he and his team are very proud of their platform's trade-matching engine abilities, claiming that the crypto exchange is able to facilitate up to 100,000 transactions per second (with each trade being executed within 10 microseconds).
Alongside that, they like to point out that the people behind Bybit are quite technologically savvy. They choose a so-called "grey release" model of releasing patches and software updates which enables them to upgrade their technology on the go and avoid potential server downtime (something that industry standouts like BitMEXhave been notorious for).
Additionally, they implement a Hierarchical Deterministic Cold Wallet System to store all assets they hold which ensures the additional safety of your cryptocurrency tokens.
What can you trade on Bybit?
---
One of Bybit's biggest features, along with its feature-rich trading tools and very user-friendly desktop and mobile app, is its trading experience. Mobile app for Bybit invests 20% of their annual budget in platform security, compared to the industry average of 15%.
This Singaporean trading hotshot specializes in already mentioned contracts for difference, also referred to as a type of futures contract caller perpetual contract or perpetual swaps.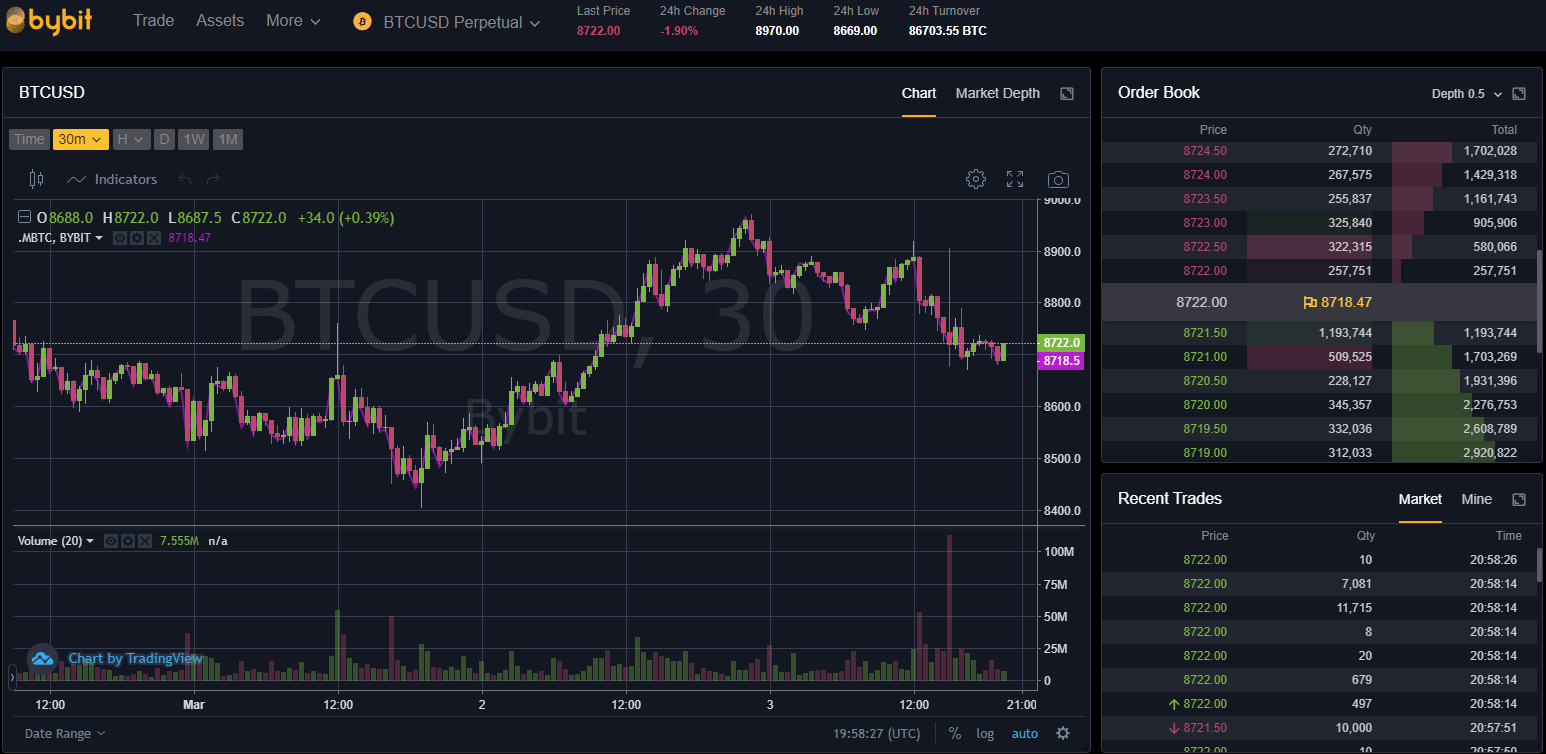 Perpetual swaps are a unique form of futures contract called an "inverse futures contract." Similar to regular futures, cash settlement of the asset can be accomplished without physical delivery. However, with inverse futures for Bitcoin, settlement of a BTC/USD futures contract happens in BTC, the base currency, instead of being settled in USD.
The popularity of trading these exploded in recent years through cryptocurrency exchanges like BitMEX, Deribit, OKEx, and other providers of cryptocurrency derivatives.
They provide some very obvious advantages to any potential trader, including the ability to trade cryptocurrency against fiat pairs without exposing yourself to fiat currencies and the ability to hedge your positions in USD by opening short positions. Additionally, these contracts are perpetual, meaning that they'll never expire thanks to a negative funding system that charges a Bybit funding rate at three pre-determined times every day.
Supported cryptocurrencies and offered leverages on Bybit
---
Bybit currently offers a perpetual contract for 4 cryptocurrency assets: Bitcoin, Ethereum, Ripple, and EOS. The platform has plans to expand to tokens like LTC, TRX, and others in the future but nothing concrete has been set in motion on that topic.
Interested traders can create an account on the platform, deposit tradable assets onto their account's corresponding wallet and start trading against the almighty USD at any time.
This exchange has one feature that's very useful for those who are looking for a higher risk higher reward trading experience. Of course, we're talking about leverage/margin trading.
The amount of leverage on offer will depend on the derivative contract you plan to trade. BTCUSD packs the best punch, allowing for up to 100X leverage ; the remaining three assets offer leverages of up to 50X.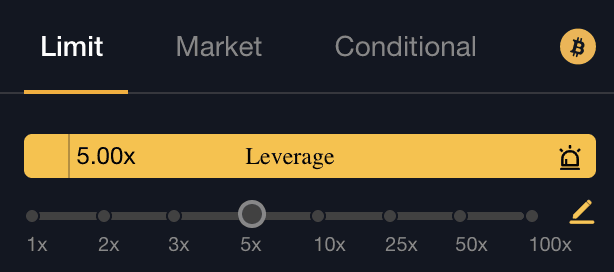 These leverages are quite high and can be very dangerous when placed in the hands of someone who doesn't know how to initial margin trade. Therefore you should carefully research and learn about margin trading before slapping that sweet 100X BTCUSD trade onto Bybit's order books.
Experienced traders will find it pleasing that the exchange offers the ability to both short and long the available assets. Additionally, they will enjoy seeing the built-in stop-loss feature which is always a welcoming risk-managing solution (one that's surprisingly not present in some bigger and older market competitors).
How to create an account on Bybit?
---
Account creation can be done either via a unique e-mail address or via your mobile phone number. Depending on the method of registration selected you will either be e-mailed or texted a verification code for your account.
Once you enter your verification code the account will become "real" and able to start depositing funds/trading them. Let's review how to deposit and withdraw funds from Bybit.
Bybit Deposit and Withdrawal Fees
---
Deposits are done in one of the supported cryptocurrencies you can trade on the platform. Anyone who creates an account on the exchange can deposit funds and start trading on it, without the need to perform the KYC certification process present on most other industry leaders.
Whether you decide to deposit BTC, ETH, XRP, or EOS, Bybit won't charge you any depositing fees (leaving the blockchain mining fee as the only expense related to the transaction). As for withdrawals, Bybit has set minimal withdrawal limits for each asset present on the platform. The limits are as follows:
Bitcoin: 0.0005BTC
Ethereum: 0.01ETH
EOS: 0.1EOS
Ripple: 0.25XRP
Bybit will process withdrawal 3 times a day at 0800,1600,2400 (UTC). Both deposits and withdrawals are handled by navigating to the "My Assets" section of your account.
Bybit testnet
---
Alternatively, those traders who don't feel like putting their real money on the line can use Bybit's testnet to engage in some risk-free demo trading. Obtaining BTC testnet coins can be a tricky ordeal though as it requires navigating to Bitcoin faucets which provide free cryptocurrency for various tenets.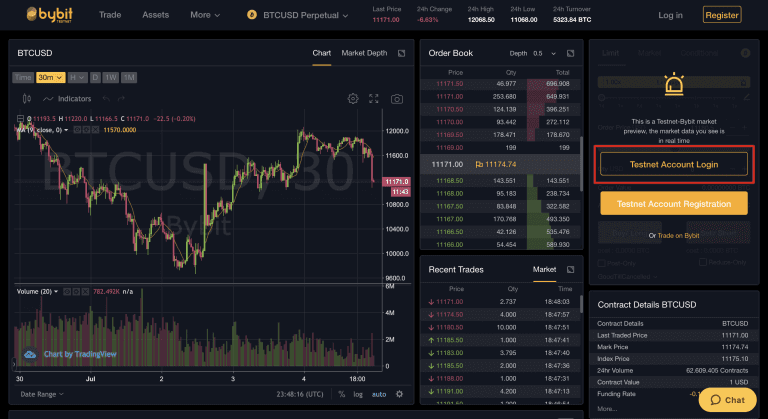 Bybit gets significant points when it comes to its user interface, especially when compared to some of its main competitors like BitMEX.
The look and feel of the whole thing are very Binance-like, with Bybit's designers opting to use Changpeng Zhao exchange's well-known black/orange color scheme as the basis for their project. The interface is easy to navigate and is highly customizable, allowing the user to re-arrange the placement of his graphs/tools/trading panel/order books/contract details/past trades in a manner that suits his preferences the best.
That is always a great thing to see as it helps the trader customize his trading experience and stay on top of everything he needs to know about the market and his position.
Bybit fees
---
Bybit utilizes a market maker/taker pricing model which means that the fees you pay when trading will depend on whether or not you provide the exchange with liquidity. If you are actually providing liquidity to Bybit you're going to be treated as a market maker.
Market makers don't pay any trading fees but will instead earn a rebate for their liquidity.  At 0.025%, this is paid on each and every trade that the trader provides liquidity for. Meanwhile, regular traders are treated as market takers and Bybit will charge them 0.075% per trade.
In addition to this, ByBit also charges position funding fees, which are exchanged between the long positions and the short positions on the platform.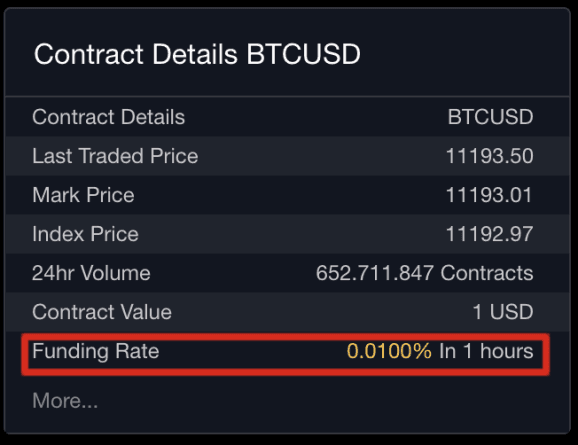 | Contracts | Leverage | Maker Rebate | Taker Fees | Funding Rate | Interval for Funding Rate | Next Funding |
| --- | --- | --- | --- | --- | --- | --- |
| | | | | | | |
| --- | --- | --- | --- | --- | --- | --- |
| BTCUSD | 100X | -0.0250% | 0.0750% | 0.0100% | every 8 hours | 2020-03-04 01:00:00 |
| ETHUSD | 50X | -0.0250% | 0.0750% | 0.0100% | every 8 hours | 2020-03-04 01:00:00 |
| EOSUSD | 50X | -0.0250% | 0.0750% | 0.0100% | every 8 hours | 2020-03-04 01:00:00 |
| XRPUSD | 50X | -0.0250% | 0.0750% | 0.0100% | every 8 hours | 2020-03-04 01:00:00 |
For reference, here is how ByBit stacks up against its competitors in terms of fees and leverages:
Bybit customer support
---
Supporting this sizeable user base can be a complicated affair. Bybit decided to tackle this problem by paying a 24-7 available support team which can be reached through the platform's built-in chat functionality.
They also provide a support e-mail address at support@bybit.com as another avenue of voicing your needs directly to a support person. The exchange has profiles on multiple social networks including Twitter, Reddit, YouTube, Facebook, and Instagram, which are also operated by Bybit employees and can be used as an avenue of reaching out for help.
Finally, Bybit recently introduced probably the most direct way of supporting their customers by launching 12 Telegram groups oriented to various local communities that use the exchange the most.
By following this link you'll find access to Bybit's Japanese, Korean, Spanish, Arabian, Israeli, Argentinian, Indian, Russian, French, Italian, German, and Turkish Telegram communities, with the exchange actively working on introducing additional groups for other active local communities.
Is Bybit safe to use?
---
The platform utilizes some quality security measures to ensure the safety of funds their user's deposits. Most notably, Bybit takes advantage of the hot-cold wallet combo (implemented by most other major exchanges).
This system sees the exchange hold only a fraction of user crypto on a hot wallet (mostly to honor withdrawal requests quickly), with the remaining major percentage of crypto being stored in multisig cold wallets. The security team at Bybit performs fund withdrawals from these cold wallets in three withdrawal cycles per day. Before a withdrawal request is processed, the team will perform a number of internal security checks (details of which weren't fully disclosed to the general public).
Two-Factor Authentication is another safety feature that has become a mainstay in crypto trading, allowing traders to add a second layer of protection to their online exchange dealings. Your fund security should be boosted by risk-mitigating features such as stop-losses, ensuring that you never find yourself in a situation where your whole stack of cryptocurrency is liquidated due to sudden, intense market moves. All that being said, some individuals might be put off by the exchange's relative newcomer status, as well as the fact that Bybit doesn't require any KYC verifications from its traders.
Reduced risk of market manipulation thanks to the Mark Price
---
Dual price mechanism: Unlikely to be manipulated
Market manipulation is the act of intentionally inflating or deflating the price in exchange for personal gain. Such abnormal price fluctuations may cause malicious liquidations of traders' positions and result in a very unfair trading environment.
Bybit uses the Dual-price mechanism to protect its traders from market manipulations and ensure a fair trading environment. At present, most exchanges use Last Traded Price as the trigger for liquidation. Bybit employs Mark Price as the trigger for liquidation instead of the last traded price. Traders can regard Mark Price as a reference to real-time spot price transactions from major spot exchanges. As such, Bybit does not have the power to influence Mark Price.
ByBit Insurance Fund
---
The ByBit insurance fund is a protection mechanism used to thwart the risk of auto-deleveraging, which happens when there is insufficient liquidity in the market, and liquidated positions are closed at a price lower than the bankruptcy price.
For such cases, ByBit will use the balance of the insurance fund to cover the difference between the final liquidation price and the bankruptcy price.
The platform is transparent about the size of its insurance fund, with daily updates on its balance that can be seen on the Historical Data page. 
Comparing ByBit vs BitMEX in this regard it becomes apparent that ByBit's current 200 BTC insurance fund is a drop in the bucket in comparison with BitMEX's almost 30,000 BTC fund.
However, it is proportional to the trading volume of Bybit, which is also a couple of orders of magnitudes lower than BitMex's.
Referral and affiliate programs
---
Bybit offers its customers the ability to earn money by referring new people to the exchange. Referral program has two levels it operates.
The first level is oriented towards "regular people", aka non-institutional clients who want to refer their friends and acquaintances to the service. Using their referral links, traders can receive a trading bonus of up to $10 once the person that was referred to Bybit creates a new account on the platform and deposits at least 0.2 BTC to their on-platform wallet.
It's important to note that the bonus acquired by getting new people to sign up cannot be withdrawn from the platform's wallet and can only be used as a margin or to pay trading/funding fees and cover losses.
The program has a second level oriented towards institutions/influencers/introducing brokers who have sizable user bases and social media followings. This program has all the markings of a typical affiliate arrangement, offering the affiliate a $60 welcome bonus, a chance to earn up to 30% of his/hers sub-affiliates trading commissions, 1-on-1 assistance from Bybit's professional account managers, customized marketing materials, real-time settlement of commissions and full data transparency regarding transactions and paid commissions.
Finally, Bybit recently took a more active approach to expand its social media influence by introducing a so-called "Social Media Bonus" program. Anyone with a Twitter account can become a part of this program and earn a $5 welcome bonus by following Bybit's official Twitter page and retweeting said page's pinned message.
Conclusion: Is Bybit legit and safe place to trade crypto?
---
New companies often times struggle to establish their presence and take a piece of their desired market pie. Such is the case on the market of online crypto trading exchanges, where Bybit is definitely up against several longstanding industry giants.
Still, Bybit does have a couple of aces up its sleeve which set it apart from the competition (and have earned it a sizeable user base already). If they keep playing their cards right (and if the competition keeps making questionable-to-downright-bad moves), Bybit could become the next best thing in the future of crypto derivatives trading.
You might also want to take a look at our comparison of Bybit vs other exchanges:
In case you are not swayed into registering on Bybit, you might be interesting in learning more about its direct competitors like Binance, Cex.io, PrimeXBT,PrimeBit, Bitfinex,Kraken or Margex. You can trade crypto CFDs with a leverage on forex and other derivatives platforms like eToro, Plus500,IQ Options,City Index, AvaTrade.

PROS
up to 100x leverage
no KYC required
Reduced risk of price manipulation and liquidations
CONS
no US citizens allowed
limited number of supported coins

CaptainAltcoin's writers and guest post authors may or may not have a vested interest in any of the mentioned projects and businesses. None of the content on CaptainAltcoin is investment advice nor is it a replacement for advice from a certified financial planner. The views expressed in this article are those of the author and do not necessarily reflect the official policy or position of CaptainAltcoin.com