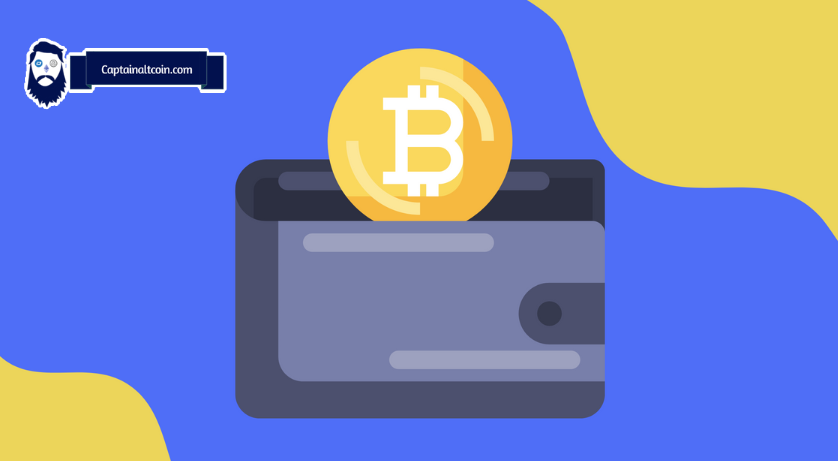 Hardware wallets are the best and safest way to take care of your crypto coins (altcoins and bitcoin alike).
You have all heard dreadful stories of lost bitcoin that are gone forever because someone didn't use proper security measures when storing his coins or simply used an insecure wallet. This list of best hardware wallets will be your best friend in avoiding something like that happening to you.
Some people are happy storing their coins on desktop or software wallets. However, the clever ones want to use more secure wallets. And this is not a bad idea if you are a long-term investor.
However, for long-term 'HODL', it's recommended to use a Hardware wallet or a paper wallet. I personally endorse using a hardware wallet for altcoins or bitcoin because they offer great security, and they can also be used for day-to-day transactions.
Hardware wallets are built in the form of a USB but they are in essence a small computer, and they promise enhanced security against software cryptocurrency wallets in the case of scams or theft. Moreover, your coins are safe even if someone steals your hardware wallet or your computer is hacked. If you lose your hardware wallet, all your coins can always be restored on a new crypto wallet.
Note: No one can transfer Bitcoins or other coins from your hardware wallet (not software wallet) without knowing your secret pin code. More than that, hardware wallets do not use your laptop or system resources, which means that no spy screen recorder or Trojan can record what's happening on your hardware wallet.
Before we move into the nitty gritty part of this guide, here is a quick overview of the best hardware wallets for altcoins and bitcoin:
Quick summary: Best Crypto Hardware Wallet
| 🔒 Hardware Wallet | 🪙 Supported Coins | 💰 Pricing | 👍 Pros | 👎 Cons |
| --- | --- | --- | --- | --- |
| 🔵 Ledger | Multiple cryptocurrencies including Bitcoin, Ethereum, Ripple, Litecoin, and more | Ledger Nano S: $59, Ledger Nano X: $119 | Supports multiple cryptocurrencies, easy to use, secure offline storage | Higher price compared to other options |
| 🔴 Trezor | Multiple cryptocurrencies including Bitcoin, Ethereum, Dash, Zcash, and more | Trezor Model T: $169 | Supports multiple cryptocurrencies, open-source firmware, user-friendly interface | Higher price compared to other options |
| ⚫ Keepkey | Bitcoin, Bitcoin Cash, Ethereum, Litecoin, Dogecoin, and more | $49 | Supports multiple cryptocurrencies, sleek design, affordable price | Limited coin support compared to other options |
| 🟠 CoolWallet Pro | Bitcoin, Ethereum, Litecoin, ERC20 tokens, and more | $149 | Supports Bitcoin, Ethereum, Litecoin, ERC20 tokens, and more, Defi-focused hardware wallet, water-resistant and durable | Limited coin support compared to other options |
| 🟡 Keystone Pro | Multiple cryptocurrencies | $299 | Supports multiple cryptocurrencies, four-inch touchscreen and fingerprint sensor, high security features | Limited coin support compared to other options |
| 🟢 SecuX STONE Hardware Wallet | Major cryptocurrencies | Not mentioned | Supports major operating systems, large touchscreen display, cross-platform compatibility | Limited coin support for major cryptocurrencies |
| 🔵 Ledger Nano S | Multiple cryptocurrencies including Bitcoin, Ethereum, Ripple, and more | $59 | Supports multiple cryptocurrencies, affordable price, secure offline storage | Limited storage capacity compared to other options |
You can read more on this in the below section:
What is a Bitcoin Hardware Wallet?
---
A bitcoin hardware wallet is a physical tamper-proof electronic device built to store the private key of your coins in an offline setting. The digital signatures and private keys needed to spend Bitcoins are generated via these wallets. Like the way you set up any wallet, it's very important to write down the seed word (recovery seed phrase) on a piece of paper and store it in a safe place, such as the same place you store your birth certificate, cash savings, and other valuables. It's highly recommended that you make 2-3 copies and distribute them. And there is no possibility of getting hacked because your keys are offline.
There has been no reported theft or loss of Bitcoins from a hardware wallet (at the time of writing this article). Some hardware wallets have a little digital screen with a user interface to verify transactions, and some have security grid cards. Even in the case of damage to your hardware cryptocurrency wallet, your Bitcoinscan be easily restored with the recovery phrase.
Note: Hardware Bitcoin wallets were invented after Bitcoin was born, and currently, other cryptocurrencies can be stored in these wallets as well (LTC, ETH, Dash, etc.).
You should definitely order a cryptocurrency hardware wallet if you want to store Bitcoin and other cryptocurrencies secure for the long term. And you should order one as soon as possible because most of these hardware wallets have a waiting period of a month or two because of huge demand. You should look no further than Ledger Nano X if you are looking for a single recommendation as the best Bitcoin hardware wallet. I would recommend ordering 2 of them at the same time (if money is not a problem).
In case you lose or damage your hardware wallet – this is what you should do. Also, getting a crypto metal wallet (or a metal seed phrase backup) is a good idea for those who plan to hodl for 5+ years.
Making a hardware wallet out of a USB is also a possibility for the more tech-savvy people but we advise you to just get multiple hardware wallets and keep it simple.
Best Hardware Wallet for Bitcoin and Crypto
---
Ledger Stax
---
The Ledger Stax is a new crypto wallet from Ledger that is designed for hardcore on-chain users. The device has a touch-screen interface and supports over 5,000 coins and tokens through the Ledger Live app. It is also compatible with Ethereum and Polygon based NFTs.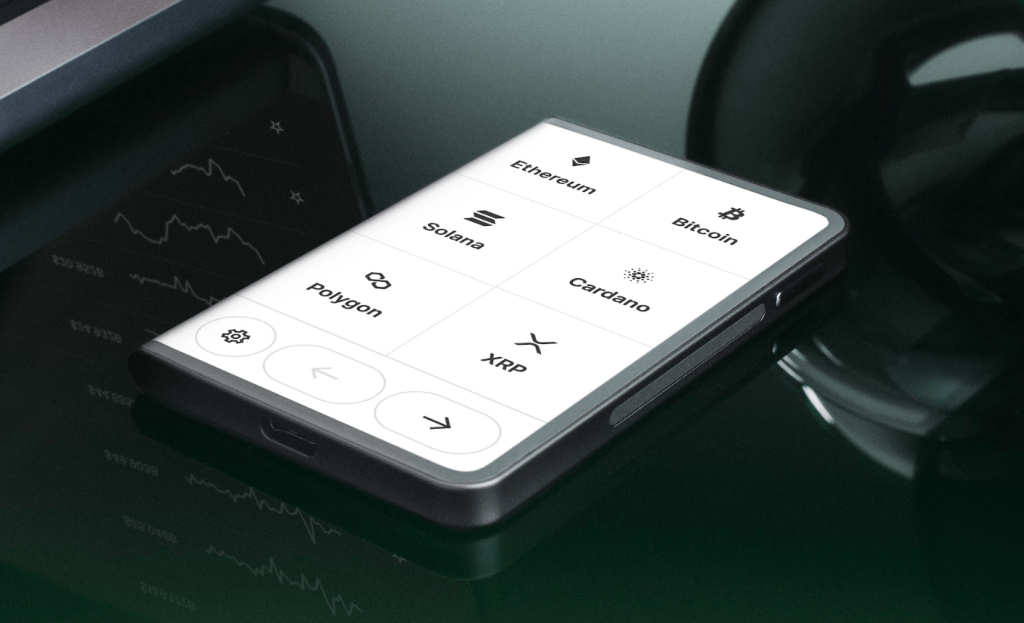 The wallet comes with a suite of security features, including two-factor authentication, a secure element chip, anti-tampering technology, and secure Bluetooth connectivity. It is currently priced at $279. The device will be available for delivery by March 2023.
Read the full review of Ledger Stax here.
Ledger Nano X – The best hardware wallet for altcoins and bitcoin
---
Ledger presented their upgraded "Nano X" in January of 2019 during the annual Consumer Electronics Show in Las Vegas. Here is a full review of the Ledger Nano X hardware wallet.
Nano X is pretty similar to the older Nano S. Retaining the USB-like design, the device comes with dimensions of 72mm x 18.6mm x 11.75mm and a weight of 34g.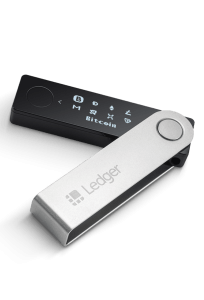 The crypto wallet also comes with CC EAL5+ certified secure chip, which stores your sensitive data, as well as built-in Bluetooth capabilities for wireless cryptocurrency management.
Ledger developed its own non-open source, a highly-secure operating system called BOLOS. This is the operating system seen on the Nano S and Ledger Blue. BOLOS is stored on the certified secure chip within the Ledger Nano X.
The device's software is compatible with 64-bit desktop computers (Windows 8+, macOS 10.8+, Linux) or smartphones (iOS 9+ or Android 7+). Nano X offers a wide selection of cryptographic support; check out the complete list here.
Ledger Nano X offers Bluetooth connectivity to its users, making it a great solution for people who want to manage their crypto assets on the go. The crypto wallet can connect to the smartphone's Bluetooth, and its contents can be monitored/controlled through the Ledger Live downloadable mobile app.

The device lets you install up to 100 cryptocurrency apps, so you won't be able to store every single cryptocurrency out of 1100+ that are currently supported by Ledger.
Click here to buy Ledger Nano X.
Ledger Nano S Plus – Runner-up as the best hardware crypto wallet
---
The Ledger Nano S Plus is an upgraded version of the original Ledger Nano S.
It has more RAM storage capacity, 1.28 MB, than the Nano S, whose RAM storage capacity is just 128 KB. It also features a larger screen making transactions and operations more user-friendly.
However, it still has less memory storage capacity than Ledger Nano X, and it must be connected to a computer to turn it on without any Bluetooth options. Nevertheless, it's the superior choice for sure when comparing it to Ledger Nano S! While it has a price advantage over Nano X (it is $50 cheaper)
With Ledger Live, you can use all its functions like with the Ledger nano S and connect it to third-party wallets for the different block­chains.
A decent option for beginners or as a backup for the powerful Ledger Nano X. Also cheaper than the Ledger Nano X and especially the Trezor Model T
Ledger Nano S plus price is: $79
Trezor T
---
Trezor Model T was released on October 31, 2107, a date that coincides with the day Satoshi Nakamoto published his Bitcoin White Paper nine years prior.
It's sleek 64mm x 39 mm x 10 mm frame looks good and feels good in your hand. Another feature of the screen is that it's a tough one. This means that TREZOR T has no buttons, unlike its two-button-wielding predecessor.
Trezor ModelT is the second generation of Trezor wallets. It has all of the features of its predecessor, TrezorOne, but adds some new ones.
It has a built in color touch screen that gives users a superior experience. The Trezor Model T allows for over 1,800 different cryptocurrencies to be stored. However, the user may switch to a Bitcoin-exclusive version that was specifically made to handle Bitcoin transactions exclusively.
Trezor Model T, with all its software, hardware, and firmware specifications, is fully open sourced, with any individual developer invited to attempt to find bugs or weaknesses. In addition, the original firmware for the Trezors was completely rewritten from scratch for enhanced security.
The Trezor Model T hardware wallet works for both Windows, Linux, Mac computers, and Android phones. It connects to these devices by means of USB. iOS and Windows Phone are not (yet) supported.
You can connect the Trezor Model T using the Trezor Suite application for Windows, Mac OS X, Linux, Android, ChromeOS, and Firefox, and you can access it from any computer via the web browser.
Trezor is one of the most popular hardware wallets and decentralized applications (DApp) — DeFi platform options alongside Ledger to integrate with so they can provide their users with total security when using cryptocurrencies.
It can be used with multiple software wallets to perform transaction on their block chains without ever having to know their private keys.
Trezor specially designed accessories for protecting your recovery phrase
To ensure the safety of your cryptocurrency holdings, Trezor has developed an excellent line of devices for the crypto community.
Cryptotag Zeus, which is 6 millimeters thick and made of titanium, has been tested at temperatures up to 1667°C (3062°F), subjected to a pneumatic hammer test, and fired with a 9 millimeter bullet!
Cryptosteel cassette is a stainless steel cassette featuring stainless steel letter tile for protection against physical damages, including fire, corrosion, flood, electrical shock, and impacts from accidents.
Ledger Nano S – Oldest Bitcoin Hardware Wallet
---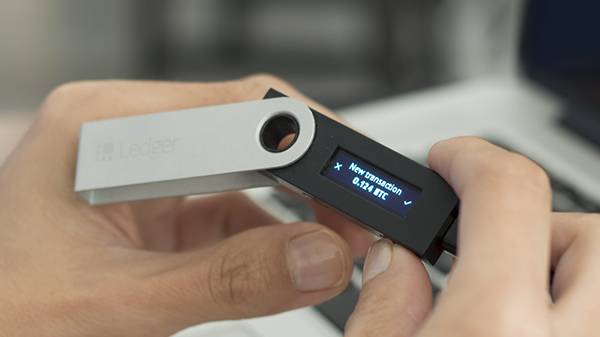 The Ledger Nano S is a product of a France-based startup, and the company (Ledger Wallet) has been around long enough to gain a respectful reputation, in all honesty, I couldn't find anything bad to say about their product.
The Ledger wallet features attractive and sleek European touch to its design. It is a battery-less device that can be connected to a mobile device or PC via USB. This is arguably the most popular hardware wallet (not software wallet) on the market – I would also say the best hardware wallet.
Some of its core features are a flash drive like feel with two buttons on the side for navigating the interface, the easy-to-use OLED interface, and the backup seed key for recovery of your Bitcoins.
The Ledger Nano S wallet supports nine cryptocurrencies (including Bitcoin, Ethereum, Litecoin, Stratis, Dogecoin, Dash, and Zcash). This is also the cheapest multi-currency hardware wallet available ($65).
If you are ordering Nano S, expect the following things in the box:
Hardware Ledger Nano S device
USB cable
Accessories
Recovery sheet
User manual
Key Security Features of Ledger Nano S Hardware Wallet
The recovery phrase is generated offline and decreases the risk of hacking.
Passphrase support is still not available. However, it will be available in upcoming models.
Pincode (a 4 letter pin code) on setup, which helps you to secure your Bitcoins in case you lose your device.
Temper-proof seal.
Trezor One – Best Altcoin Hardware Wallet
---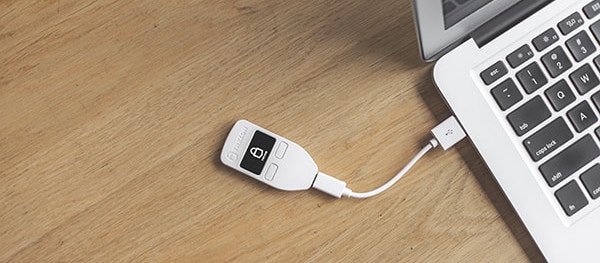 Created by SatoshiLabs, the Trezor Bitcoin hardware wallet pioneered the era of hardware wallets. Launched in 2014, Trezor is the world's first secure Bitcoin hardware wallet.
It looks like a small calculator with an OLED screen and can be connected to a USB to your laptop or desktop computer.
This hardware wallet generates its keys offline and provides many basic features needed by a Bitcointrader. This hardware wallet has very strong security. A 24-word recovery seed key and randomly generated nine-digit pins ensure security in case the device is damaged or lost.
The Trezor wallet can be used with Android devices and with apps such as Multibit HD, Mycelium, and TREZOR Wallet. Check this video tutorial series on how to start using Trezor:
Trezor model One wallet supports eight cryptocurrencies (including Bitcoin, Namecoin, Dogecoin, Dash, Bitcoin Testnet, Ethereum(+ all ERC-20 token), Ethereum Classic, ZCash, and Litecoin). ETH is supported through an external crypto mod wallet called MyEtherWallet. The Trezor's price is a bit higher and is currently $99.
KeepKey
---


Coming in 3rd place, we have KeepKey, another hardware device available in the market for storing Bitcoins.
This hardware wallet (not software wallet) has a beautiful though somewhat large, design. The size of the KeepKey crypto wallet is almost twice of the Ledger Nano S and Trezor, and it is not so convenient to carry in your pocket.
KeepKey was launched in 2015, but it doesn't offer much in comparison to the Ledger Nano S or Trezor.
It works like the other wallets, and it has the same backup seed key feature with pin code enabled. At present, it supports six cryptocurrencies (including Bitcoins, Ethereum, Dash, Litecoin, Dogecoin, Namecoin, and Testnet). KeepKey currently sells for $99 and can be bought from Amazon or directly from the KeepKey site.
Consider reading these reviews and comments about KeepKey on Amazon and Reddit.
Key Security Features of KeepKey Hardware Wallet
At transaction time, you see the recipient on the screen and then confirm.
KeepKey wallet is backed up by 12 words seed generated at the time of set up. You can recover your wallet with this seed phrase in case of loss or theft of the device.
Personal PIN to protect against physical theft or misuse.
Safe to use on any machines compromised by hackers or infected machines.
Archos Safe-T Mini
---
Safe-T miniis a new hardware wallet produced by Archos, launched in July 2018. Archos is a French company whose main focus so far has been on the production of tablets, phones, Android devices, and portable data storage devices.
It works as a typical hardware cold storage wallet that lets its users store their digital assets in a safe, offline way. As its name implies, the product is a smaller version of Archos' flagship hardware wallet called Archos Safe-T Touch.
Coins supported by Archos hardware wallet are:
Bitcoin (BTC)
Bitcoin Cash(BCH)
Bitcoin Gold (BTG)
Litecoin (LTC)
Dash (DSH)
Ether (ETH)
Ether Classic (ETC)
ERC20 Tokens
BitLox
---
The BitLox Bitcoin Hardware wallet is the Rolls Royce of Bitcoin wallets, and it was produced by Hong Kong-based Bitlox Limited. BitLox is a small handheld device that offers not only privacy but several security options as well. You can use this wallet to get directly into your Bitcoinaccount. At the moment, BitLox only works with Bitcoin. However, it is soon to expand to other digital assets. BitLox comes with a USB cable for device connection and is roughly around the same size as a credit card.
The company offers three different types of Bitlox hardware wallets that vary in price. The price for a BitLox Advance starts at $98, for BitLox Ultimate starts at $14, and for the BitLox Extreme Privacy Set begins at $198.
Digital Bitbox
---
Digital Bitbox is the latest bitcoinhardware product. This device is provided by the Swiss-based company Shift Devices AG.
The Bitbox doesn't use any cables as it plugs in, much like the Opendime bitcoin stick.
The device is also smaller than most hardware wallets on the market. The wallet also comes with its own native software app that's simple to use and avoids the security risks of browser-based extensions. You can avoid the security risks of browser-based clients thanks to the Digital Bitbox native software client. Additionally, the Bitbox comes with a recovery micro SD card. This card provides a secondary backup and can allow instant transfers between wallets. Also, private keys will never touch your computer or the internet. This makes Digital Bitbox a perfect cold storage solution.
Additionally, the Digital Bitbox can store multiple cryptocurrencies like Bitcoin, Ethereum,Ethereum classic, and associated ERC20 tokens, with plans to add more coins in the future.
Ledger Nano S vs. Trezor vs. KeepKey
---
Ledger Nano S
Trezor
KeepKey
Cryptocurrencies
· Bitcoin

· Bitcoin Cash

· Litecoin

· Dogecoin

· Ethereum

· Ethereum Classic

· Zcash

· Dash

· Ripple

· Ark

· PoSW

· Stratis

· Komodo

· ERC20 tokens

Bitcoin
Bitcoin Cash
Litecoin
Dogecoin
Ethereum
Ethereum Classic
Namecoin
Dash
Zcash
ERC20 tokens

· Bitcoin

· Dogecoin

· Dash

· Litecoin

· Namecoin

· Ethereum

Compatibility
Linux, Mac (10.8+), Windows (7+)
OS X (10.8 or higher), Linux, Windows
Linux, Mac, Windows
OLED Display and Buttons
Yes
Yes
Yes
Weight and Dimension
Weight: 16.2 g (0.57 oz)

Height: 98 mm (3.8 inches)

Width: 18 mm (0.71 inches)

Depth: 9 mm (0.35 inches)

Weight: 12 g (0.42 oz)

Height: 60 mm (2.36 inches)

Width: 30 mm (1.18 inches)

Depth: 6 mm (0.24 inches)

Weight: 54 g (1.9 oz)

Height: 38 mm (1.5 inches)

Width: 93.5 mm (3.68 inches)

Depth: 12.2 mm (0.28 inches)

What's in the box?
· Ledger Nano S Hardware Wallet device

· USB cable

· Recovery sheet

· Keychain

· User Manual

· TREZOR Hardware Wallet device

· Micro USB cable

· Recovery seed booklet

· User Manual

· KeepKey Hardware Wallet device

· Nylon USB cable

· Recovery backup card

· Quick start guide

Buy Now
Buy Ledger Nano S Hardware Wallet Now
Buy Trezor Hardware Wallet Now
Buy KeepKey Hardware Wallet Now
Pros of Bitcoin Hardware Wallets
---
The safest way to secure your Bitcoins
Perfect for people who are looking to store a large number of Bitcoins and for a longer time.
2 Level security ensures your Bitcoinsare secure in case your device is lost or stolen.
It's easy to set up and run them.
Your coins are in your custody, and they are not dependent on any third party.
Cons of Bitcoin Hardware Wallets
---
The brighter side of hardware wallets is that theykeep your keys safe offline. However, they also come with some drawbacks.
For example, you can't access your coins if you misplace or forget your recovery seed key and/or PIN code.
That's why it's very important to always remember your PIN code.
It's also highly recommended to write your backup seed key on a piece of paper and keep it in a safe place with your other valuable possessions. You should make 2-3 copies of this key and keep all of them in different places.
But if you're smart about how you handle your wallet, the cons are easily avoidable.
Best hardware wallets – Conclusion
---
If you are planning to store Bitcoins or any other cryptocurrency for a long time, get a hardware wallet.
It doesn't get any simpler than this. Yes, hardware wallets cost money, but the amount of security you get by using a hardware wallet is much more valuable than the $50-$100 you'll pay for buying the actual device.
Don't say "it won't happen to me" because there will be many more cases of hacking or theft once cryptocurrency becomes mainstream (and it seems like we're getting there pretty fast). So make sure you are prepared….
FAQs
---
If you are a hardcore crypto-fanatic, you probably hold some of these coins as well. Here are the wallet solutions for them:
Best ETH wallets

.

Best dashcoin wallets

.

B

est wallet for Litecoin

Best NEO and GAS wallets

.

Best Bitcoin Cash wallets

.

B

est PIVX wallets

.

CaptainAltcoin's writers and guest post authors may or may not have a vested interest in any of the mentioned projects and businesses. None of the content on CaptainAltcoin is investment advice nor is it a replacement for advice from a certified financial planner. The views expressed in this article are those of the author and do not necessarily reflect the official policy or position of CaptainAltcoin.com