Bitcoin is hot and more and more people are joining the realm of Bitcoin each day.
You'll want to find the best bitcoin wallet you can if you own the cryptocurrency, or are even thinking of buying some.
Some people are happy storing their coins in desktop or software wallets. However, some want to use more secure wallets. And this is not a bad idea if you are a long-term investor.
However, for long-term 'HODL' it's recommended to use a Hardware wallet or a paper wallet.  I personally endorse using Hardware wallets because they offer great security, and they can also be used for day to day transactions.
Hardware wallets are built in the form of a small computer and they promise enhanced security against software wallets in the case of scams or theft. Moreover, your coins are safe even if someone stole your Hardware wallet or your computer is hacked. If you lose your hardware wallet, all your coins can always be restored on a new wallet.
Note: No one can transfer Bitcoins or other coins from your hardware wallet without knowing your secret pin code. More than that, Hardware wallets do not use your laptop or system resources, which means that no spy screen recorder or Trojan can record what's happening on your Hardware wallet. You can read more on this in the below section:
What is a Bitcoin Hardware Wallet?
A Bitcoin hardware wallet is a physical tamper-proof electronic device built to store private keys of your coins in an offline setting. The digital signatures and private keys needed to spend Bitcoins are generated via these wallets. Like the way you set up any wallet, it's very important to write down the seed word (recovery phrase) on a piece of paper and store it in a safe place, such as the same place you store your birth certificate, cash savings, and other valuables. It's highly recommended that you make 2-3 copies and distribute it. And there is no possibility of getting hacked because your keys are offline.
There has been no reported theft or loss of Bitcoins from a hardware wallet (at the time of writing this article). Some hardware wallets have a little digital screen with a user interface to verify transactions, and some have security grid cards. Even in the case of damage to your hardware wallet, your Bitcoins can be easily restored with the recovery phrase.
Note: Bitcoin hardware wallets were invented after Bitcoin was born, and currently other cryptocurrencies can be stored in these wallets as well (LTC, ETH, DASH, etc.).
You should definitely order a hardware wallet if you want to store Bitcoin and other cryptocurrency secure for a long-term. And you should order one as soon as possible because most of these hardware wallets have a waiting period of a month or two because of huge demand. You should look no further than Ledger Nano S if you are looking for a single recommendation as the best Bitcoin hardware wallet. I would recommend ordering 2 of them at the same time (if money is not a problem).
Top 3 Best Hardware Wallets for Bitcoin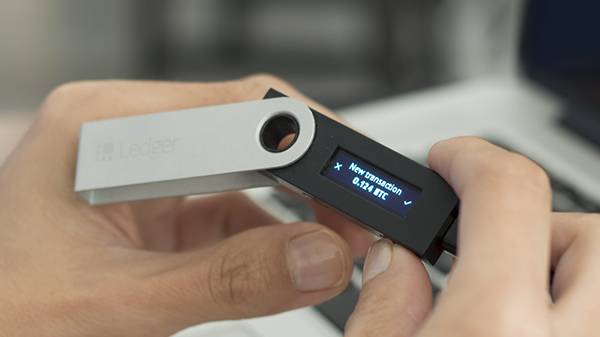 The Ledger Nano S is a product of a France-based startup, and the company (LedgerWallet) has been around long enough to gain a respectful reputation and in all honesty I couldn't find anything bad to say about their product.
The wallet features attractive and sleek European touch to its design. It is a battery-less device that can be connected to a mobile device or PC via USB.
Some of its core features are a flash drive like feel with two buttons on the side for navigating the interface, the easy to use OLED interface, and the backup seed key for recovery of your Bitcoins.
Check this video guide on how to start using this wallet:
The Ledger Nano S currently supports nine cryptocurrencies (including Bitcoin, Ethereum, Litecoin, Stratis, Dogecoin, Dash, Zcash). This is also the cheapest multi-currency hardware wallet available ($65).
If you are ordering Nano S, expect the following things in the box:
Hardware Ledger Nano S device
USB cable
Accessories
Recovery sheet
User manual
Key Security Features of Ledger Nano S Hardware Wallet
Recovery phrase is generated offline and decreases risk of hacking.
Passphrase support is still not available. However, it will be available in upcoming models.
Pincode (a 4 letter pin code) on setup, which helps you to secure your Bitcoins in case you lose your device.
Temper proof seal.
#2 Trezor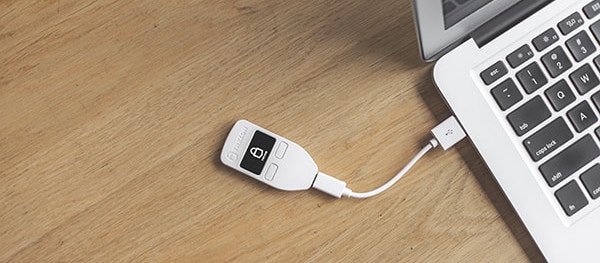 Created by SatoshiLabs, the Trezor Bitcoin hardware wallet pioneered the era of hardware wallets. Launched in 2014, Trezor is the world's first secure Bitcoin hardware wallet.
It looks like a small calculator with an OLED screen and can be connected to a USB to your laptop or desktop computer.
This hardware wallet generates it keys offline and provides many basic features needed by a Bitcoin trader. This hardware wallet has a very strong security. A 24-word recovery seed key and randomly generated nine digit pins ensure security in case the device is damaged or lost.
The Trezor wallet can be used with Android devices and with apps such as Multibit HD, Mycelium, and TREZOR Wallet. Check this video tutorial series on how to start using Trezor:
---
Trade while you sleep with two of the cryptocurrency bots on the market - Cryptohopper or 3Commas.
---
https://youtu.be/wwFZUoZ3hs0?list=PL6VI3BgQ4H2ZU-VIz-d15oURp5BOJpXZ7
Trezor currently supports eight cryptocurrencies (including Bitcoin, Namecoin, Dogecoin, Dash, Bitcoin Testnet, Ethereum (+ all ERC-20 tokens), Ethereum Classic, ZCash, and Litecoin). ETH is supported through an external wallet called MyEtherWallet. The Trezor's price is a bit higher and is currently $99.
#3 KeepKey

Coming in 3rd place we have KeepKey, another hardware device available in the market for storing Bitcoins.
This hardware wallet has a beautiful though somewhat large design. The size of the KeepKey wallet is almost twice of the Ledger Nano S and Trezor and it is not so convenient to carry in your pocket.
KeepKey was launched in 2015, but it doesn't offer much in comparison to the Ledger Nano S or Trezor.
It works like the other wallets, and it has same backup seed key feature with pin code enabled. At present, it supports six cryptocurrencies (including Bitcoins, Ethereum, Dash, Litecoin, Dogecoin, Namecoin, and Testnet). KeepKey currently sales for $99 and can be bought from Amazon or directly from KeepKey site.
Consider reading these reviews and comments about KeepKey on Amazon and Reddit.
Key Security Features of KeepKey Hardware Wallet
At transaction time you see the recipient on the screen and then confirm.
KeepKey wallet is backed up by 12 words seed generated at the time of set up. You can recover your wallet with this seed in case of loss or theft of the device.
Personal PIN to protect against physical theft or misuse.
Safe to use on any machines compromised by hackers or infected machines.
Ledger Nano S vs. Trezor vs. KeepKey
Ledger Nano S
Trezor
KeepKey
Cryptocurrencies
·         Bitcoin

·         Bitcoin Cash

·         Litecoin

·         Dogecoin

·         Ethereum

·         Ethereum Classic

·         Zcash

·         Dash

·         Ripple

·         Ark

·         PoSW

·         Stratis

·         Komodo

·         ERC20 tokens

Bitcoin
Bitcoin Cash
Litecoin
Dogecoin
Ethereum
Ethereum Classic
Namecoin
Dash
Zcash
ERC20 tokens

·         Bitcoin

·         Dogecoin

·         Dash

·         Litecoin

·         Namecoin

·         Ethereum

Compatibility
Linux, Mac (10.8+), Windows (7+)
OS X (10.8 or higher), Linux, Windows
Linux, Mac, Windows
OLED Display and Buttons
Yes
Yes
Yes
Weight and Dimension
Weight: 16.2 g (0.57 oz)

Height: 98 mm (3.8 inches)

Width: 18 mm (0.71 inches)

Depth: 9 mm (0.35 inches)

Weight: 12 g (0.42 oz)

Height: 60 mm (2.36 inches)

Width: 30 mm (1.18 inches)

Depth: 6 mm (0.24 inches)

Weight: 54 g (1.9 oz)

Height: 38 mm (1.5 inches)

Width: 93.5 mm (3.68 inches)

Depth: 12.2 mm (0.28 inches)

What's in the box?
·         Ledger Nano S Hardware Wallet device

·         USB cable

·         Recovery sheet

·         Keychain

·         User Manual

·         TREZOR Hardware Wallet device

·         Micro USB cable

·         Recovery seed booklet

·         User Manual

·         KeepKey Hardware Wallet device

·         Nylon USB cable

·         Recovery backup card

·         Quick start guide

Buy Now
Buy Ledger Nano S Hardware Wallet Now
Buy Trezor Hardware Wallet Now
 Buy KeepKey Hardware Wallet Now
Pros of Bitcoin Hardware Wallets
The safest way to secure your Bitcoins
Perfect for people who are looking to store large number of Bitcoins and for a longer time.
2 Level security ensures your Bitcoins are secure in case your device is lost or stolen.
It's easy to set up and run them.
Your coins are in your custody and they are not dependant on any third party.
Cons of Bitcoin Hardware Wallets
The brighter side of hardware wallets is that they keep your keys safe offline. However, they also come with some drawbacks.
For example, you can't access your coins if you misplace or forget your recovery seed key and/or PIN code.
That's why it's very important to always remember your PIN code.
It's also highly recommended to write your backup seed key on a piece of paper and keep it in a safe place with your other valuable possessions. You should make 2-3 copies of this key and keep all of them in different places.
But if you're smart about how you handle your wallet, the cons are easily avoidable.
Conclusion – If you are planning to store Bitcoins or any other cryptocurrency for a long time, get a hardware wallet.
It doesn't get any simpler than this. Yes, hardware wallets cost money, but the amount of security you get by using a hardware wallet is much more valuable than the $50-$100 you'll pay for buying the actual device.
Don't say "it won't happen to me" because there will be many more cases of hacking or theft once cryptocurrency becomes mainstream (and it seems like we're getting there pretty fast). So make sure you are prepared….
---
If you are hardcore crypto-fanatic, you probably hold some of these coins as well. Here are the wallet solutions for them:
CaptainAltcoin's writers and guest post authors may or may not have a vested interest in any of the mentioned projects and businesses. None of the content on CaptainAltcoin is investment advice nor is it a replacement for advice from a certified financial planner. The views expressed in this article are those of the author and do not necessarily reflect the official policy or position of CaptainAltcoin.com