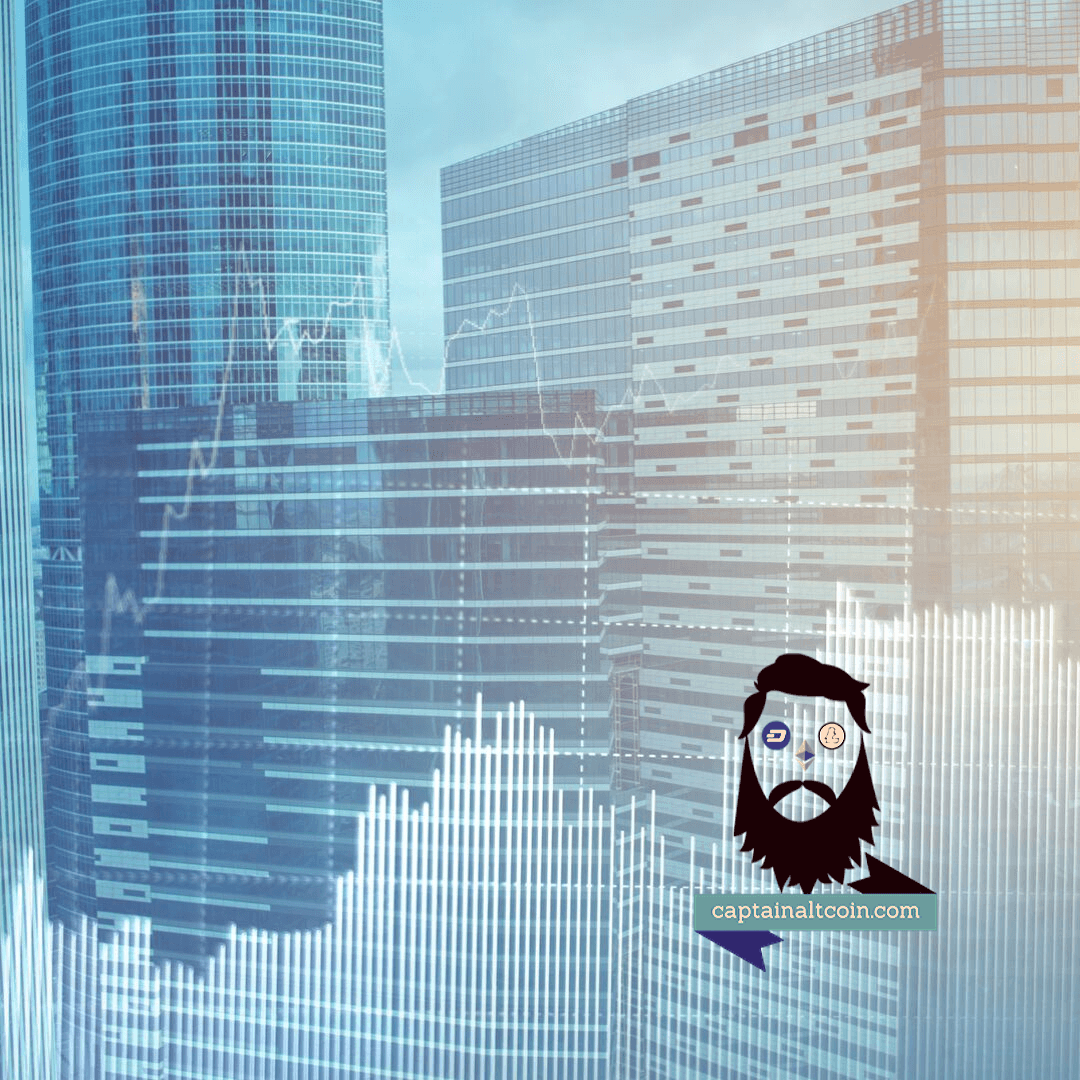 One of the biggest problems today in Bitcoin is the fact that it can't be bought very easily.
PayPal has been very unfavourable of Bitcoin in the past 2 years and it's still a problem to find credible places to buy Bitcoins with your PayPal account.
There is a simple reason why PayPal won't allow this. There are many chargeback cases created by scammers who use PayPal to purchase Bitcoin from you and then they claim that they didn't receive anything. This way they get to keep their Bitcoins and their money.
| | Virwox | LocalBitcoins | Paxful | xCoins |
| --- | --- | --- | --- | --- |
| | | | | |
| Countries | Worldwide | Worldwide | Worldwide | Worldwide |
| Fees | High | Low | Low | Low |
| Reputation | Good | Depends on Seller | Good | Good |
| Ease of Use | Medium | Easy | Easy | Easy |
| Limits | Medium | Depends on Seller | Depends on Seller | Medium |
| Review | Read | Read | Read | Read |
| | Visit | Visit | Visit | Visit |
But first thing first, there are no ways to buy Bitcoin with PayPal directly because Bitcoin transactions are irreversible. However, there are certain indirect ways to work around restrictions using services and marketplaces so that you are able to purchase Bitcoins using PayPal money.
In this tutorial, I have highlighted some of the best ways by which you can buy Bitcoins using your PayPal account.
There are exchanges that allow you to buy Bitcoin with your PayPal account. However, you can buy it in a limited fashion because they too want to protect themselves from chargebacks. After you've proven your intent and investment, these exchanges eventually lift holds. Of course, they charge a small transaction fee. However, it's better to pay a fee than having to take risks with wire transfers or cash exchanges.
Here are all the listed sites from where Bitcoins can be bought using PayPal:
Localbitcoins (Most popular way, has high fees)
Wirexapp (The best way and at the market rate, has medium fees)
PaxFul (Only for verified account and high exchange rate)
Virwox ( not working anymore)
Buy Bitcoins using PayPal and WirexApp
Wirexapp is one of the best ways for those who are looking to purchase Bitcoins with their PayPal account on a consistent basis. This method would take 1-2 days for the first time. After that it's all instant. You will be able to use your PayPal funds to Buy Bitcoins if you follow the steps mentioned in this tutorial. Wirexapp can be used for PayPal accounts within these countries:
Botswana*, Bulgaria, Bahamas, Bahrain, Georgia, Gibraltar, Chile, Croatia, Estonia, Liechtenstein, Lithuania, Luxembourg, Latvia, Lesotho, Jordan, Kazakhstan, Indonesia, Italy, Honduras*, Iceland, Moldova, Morocco, Malta, Mauritius, Malaysia, Mozambique*, Slovakia, Slovenia, Senegal*, Serbia, San Marino, Saudi Arabia, Philippines, Romania, Oman, United Arab Emirates and Uruguay.
You need a WirexApp account to get started. Click here to create an account.
You get a free virtual visa card when you create and verify your account. (You can also order Physical Visa card, but let's focus on the fastest method for now).
You need to add a small amount ($3) to your virtual visa card from Wirexapp in order to use this method. It's very important to add the card to your PayPal account.
Login to your PayPal account
Click on Money
Click on Add a card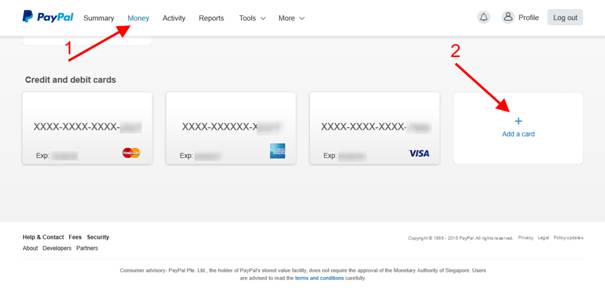 Click on Add a new card.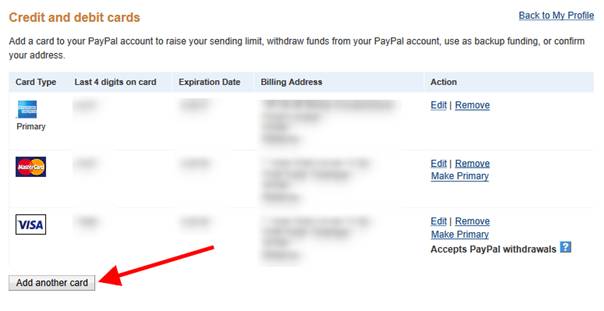 You will enter here the virtual debit card detail that you got from Wirexapp.

You will be asked by PayPal to confirm the new card. Click 'Confirm my card' and PayPal will begin a series of transactions to verify your card, which is a standard practice by PayPal that they use to verify an account. This is where your balance of $3 will be used (I will talk about this later). You will then be asked to enter a PayPal Code.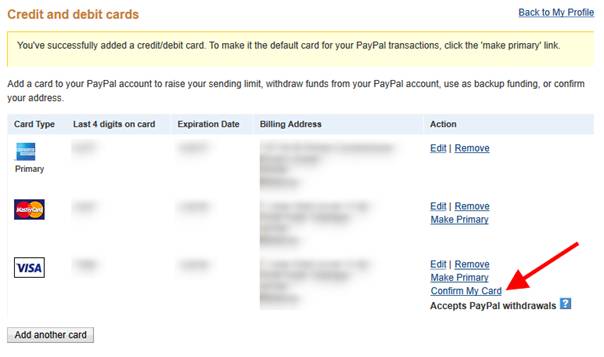 Now, login to your Wirexapp account. Under transaction you will find the confirmation code to verify your debit card.


Confirm the code. After that, you will see a success message like this.


Click on close. Now you are all set to start buying Bitcoins with your PayPal account. Now all you need to do to buy Bitcoins using your PayPal money is to withdraw money from your PayPal account to linked Wirexapp debit card, which usually takes between 1-7 days.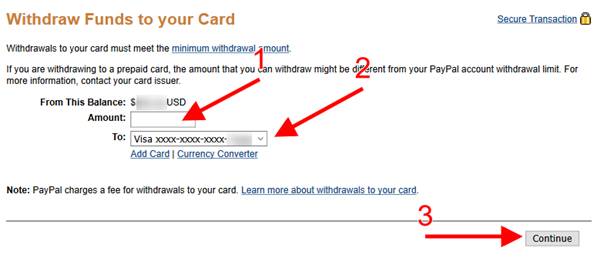 Once your funds are withdrawn to your linked card, you can use Wirexapp interface to Purchase Bitcoins. This is one of the best ways for those who are looking to use their PayPal money for buying Bitcoins at market rate, and all other methods usually cost you extra for Bitcoin purchase.
Use Wirexapp to get your first free virtual debit card (VISA powered) (if you are in the countries listed above), and use it to buy Bitcoins using PayPal money.
Use VirWox to Buy Bitcoins wit PayPal
UPDATE: unfortunately, since October 26th, VirWox no longer supports paypal.
VirWox is the most popular way of buying Bitcoins using PayPal (at the time of writing this article).
There are some things that you should know about VirWox before we get started:
VirWox is delaying new user transactions for up to 48 hours, which means that it can take you 2 days to complete this process. However, this is still way faster than using a wire transfer.
You can contact VirWox at support@virwox.com if you still don't receive the Bitcoins after 48 hours (which is very unusual).
VirWox is limiting the amount you can deposit initially through PayPal or a credit card due to chargeback risk VirWox is taking on themselves.
This process hold within it more transaction fees than usual, which may still be a valid solution since the soaring numbers of BTC compensate for this. Be aware of the different transaction fees.
Just follow the steps mentioned in this tutorial and you will have your Bitcoins with you.
Create a free account on VirWox on this link.
Click on "Not registered yet?"


Fill out the registration form on the next page. You don't have to change the avatar section. (For reference, check screenshot below).


Click on the confirmation link in your email to activate your account.
Login to VirWox site.
Click on Deposit to start adding money using PayPal.


Scroll down to the PayPal express checkout section on the deposit page and select the amount that you wish to deposit. You can only see the maximum allowed for Euro and US Dollars there.


I'm depositing certain amount into my VirWox account in this case. Complete the transaction by clicking on check out with PayPal.


You will get the confirmation of your deposit on the next page. Fees are around $4 on $100 you pay.

Purchase SLL with Deposited amount:
Under exchange, click on USD/SLL and buy SLL with your deposited amount. I'm purchasing 22,508.42 SLL using $91 in this case.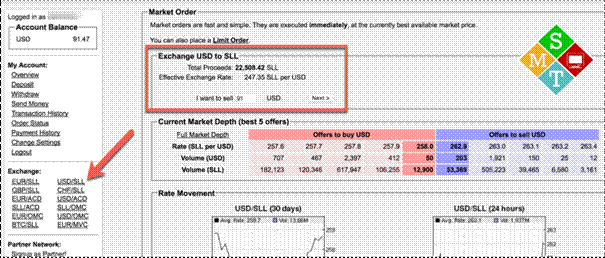 Purchase BTC with SLL: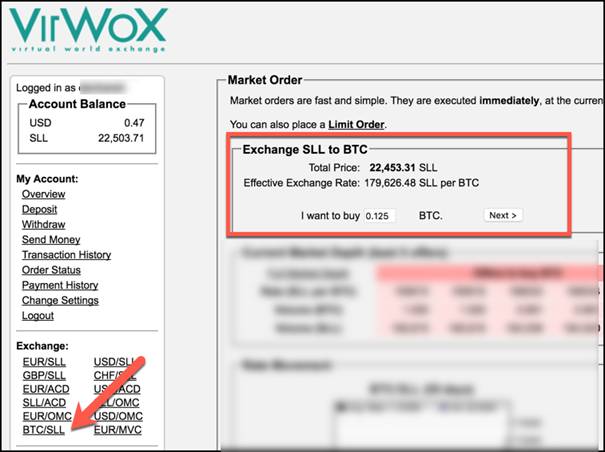 So far, you have already bought SLL with your PayPal account. Now, click on BTC/SLL under exchange.



Click on next. Confirm your order. It's important to note that the exchange commission is 50 SLL + 3.90%.

Click on place order! Your transaction will be confirmed within few seconds. Here is the success screenshot.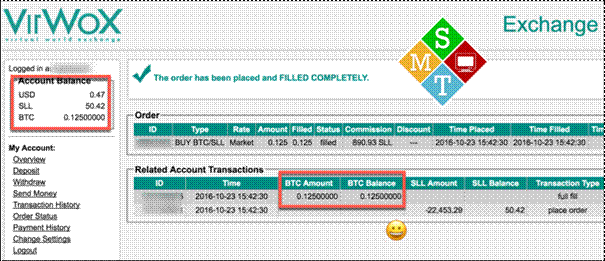 Now you can withdraw your Bitcoins into a wallet address. I assume you already have one. However, if you don't have a wallet address, click here to create a free account on Coinbase and get a Bitcoin wallet address.
How to Withdraw BTC from VirWox to Your Bitcoin Wallet
Click on withdraw under my account. Add your Bitcoin Wallet address on the next page.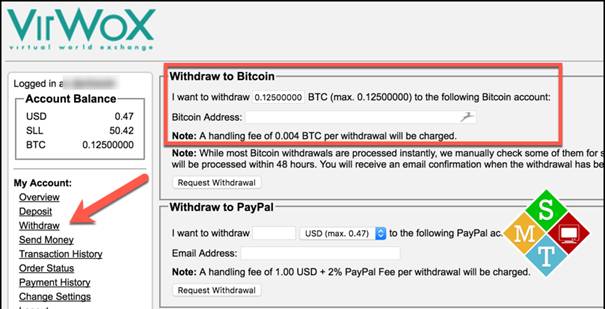 Note: You will be charged a handling fee of 0.004 BTC per withdrawal. Most Bitcoin withdrawals are processed instantly. However, new accounts are checked manually and they will be processed within 48 hours. When the withdrawal has been processed, you will receive an email confirmation.


Considering the exchange rate and the fees, the overall BTC that you will get using PayPal money is minimal. But again, for those who are looking to purchase Bitcoins with their PayPal account, this is one of the most verified and authentic way.
There are other ways too by which you can buy Bitcoins using PayPal. However, they are not as risk free as one offered by VirWox.
Other Ways to Purchase Bitcoins Using PayPal
LocalBitcoins is another marketplace where you can buy Bitcoin using PayPal, but you need to be careful while picking the seller.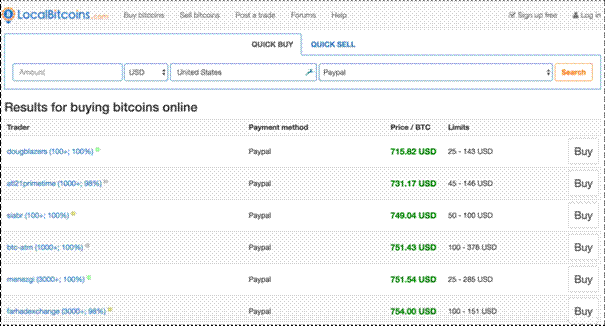 Click on trader name to check his feedback and trade volume, which will give you a good idea of how credible the seller is. You can see an example of a credible seller in the screenshot below: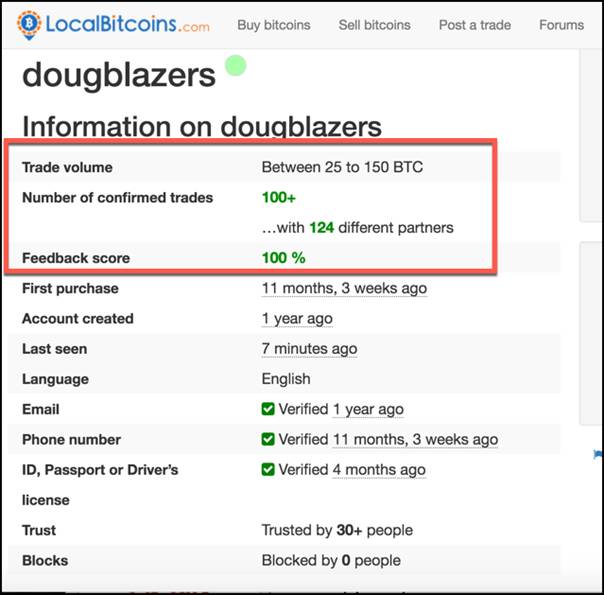 I have used LocalBitcoins in the past to buy Bitcoins using cash and it worked fine for me. Again, you need to be very careful and smart when using Localbitcoins to make a purchase.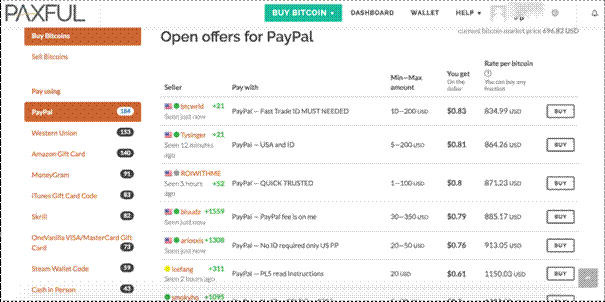 Paxful is another popular way for users who want to buy Bitcoins using PayPal, Gift cards, Skrill, Payoneer to name a few. Paxful is similar to LocalBitcoins, but with cleaner user interface.
The process of purchasing Bitcoins at Paxful is really simple:
Create an account
Choose a payment method for purchasing
Choose a desired amount
Choose your seller – You can either let Paxful decide who is the best seller for you or choose a seller manually.
Once the trade initiates you will be sent in to an online chat with the seller to finalize the deal. The seller's Bitcoins will be sent into Escrow and they will be released into your account once you mark that you've sent your payment. It's important to note that if the deal isn't finalized within a certain timeframe (usually 30 minutes), it will be auto-cancelled.
Conclusion
I will keep testing new methods that let us purchase BTC using PayPal, and I'm currently testing LakeBTC for BTC purchase with PayPal.
For now, you should try one of these two methods to purchase Bitcoins instantly using your PayPal account.

CaptainAltcoin's writers and guest post authors may or may not have a vested interest in any of the mentioned projects and businesses. None of the content on CaptainAltcoin is investment advice nor is it a replacement for advice from a certified financial planner. The views expressed in this article are those of the author and do not necessarily reflect the official policy or position of CaptainAltcoin.com