3Commas Review – Is 3Commas Safe or Scam?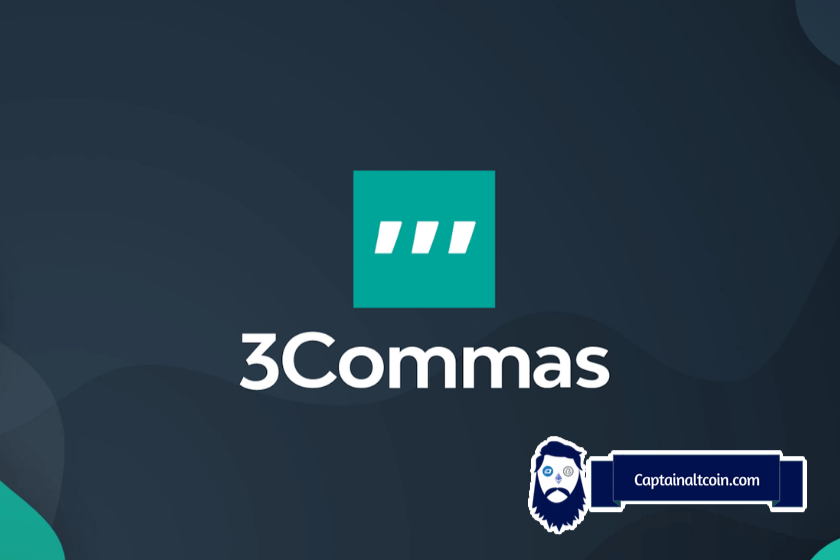 3Commas Review – Is 3Commas Safe or Scam?
Affordable
A lot of supported exchanges
Smart Trading
Copy Trading
3Commas has emerged as a leading trading bot in the cryptocurrency market, offering a comprehensive suite of tools designed to streamline the trading process. This 3Commas review will delve into the key features of the platform, including its automated trading bots, portfolio management capabilities, and the wide range of supported exchanges.
We'll also explore user experiences to answer the question: 'Is 3Commas legit?' Whether you're a seasoned trader or just starting out, our 3Commas review will provide valuable insights into how this platform can enhance your trading strategy.
Why?
Well, with the correct setup and low-risk strategies, you can employ the bot to chip off small pieces of market gains for you and grow your stash of the crypto day by day.
Quick summary – 3Commas Review
| Feature | Description |
| --- | --- |
| 🖥️ Platform Type | Crypto Trading Bot |
| 🎯 Ease of Use | User-friendly interface that is easy to navigate. Suitable for both beginners and experienced traders. |
| 🛠️ Functionality | Comprehensive cryptocurrency trading platform that allows users to make use of automated trading bots as well as follow and copy the actions of successful traders. Users can create and track top portfolios. |
| 💻 Technology | Automated trading takes place via API integration with cryptocurrency exchanges. The bot works around the clock with any device and users can access their trading dashboard on desktop and laptop computers. Mobile apps for both Android and iOS are also available. |
| 🧰 Range of Tools | The platform provides a good range of trading tools. Users can create, analyze and back-test crypto portfolios and monitor the best performing portfolios created by other users. Users can engage in social trading and follow and copy the actions of other successful traders. |
| 🔄 Exchange Integration | The 3Commas team provide automatic trading bots for 12 exchanges including Bittrex, Bitfinex, Binance, Bitstamp, KuCoin, Poloniex, HitBTC, GDAX (Coinbase Pro), OKEx, Huobi and Yobit. |
| 📞 Customer Support | The platform is available in English, and Russian, and a support team is available to deal with any issues 24/7. Users can contact the team by submitting a request in the Help Centre, and the team can also be contacted via their Twitter account, Telegram group, and Facebook. |
| 🔒 Security | The trading bots connect with your exchange accounts via API and then proceed to carry out automated trades on your linked exchanges. The bots do not have any withdrawal rights. The platform also makes use of new IP detection, with verification emails being sent out when a user logs in from a new destination. |
| 💲 Pricing | The Starter package costs $29 a month, the Advanced package costs $49 a month, and the Pro package costs $99 a month. There is also an enterprise package available which includes priority support and custom features. |
Before we begin, you can check out our article on the leading automated crypto trading solutions or read our direct comparison between 3Commas and Cryptohopper, the top crypto bot currently on the market.
What is 3Commas?
---
3Commas is an automated cryptocurrency trading bot that was started back in 2017. As you probably know, crypto bots (also known as bitcoin bots) are software solutions that automatically buy and sell cryptocurrency on exchanges by following rules and instructions set by the user.
3Commas is, just like the majority of other bitcoin trading bots, a cloud-based platform, meaning you can access it with any device and trade on the go since it also has mobile apps for both Android and iOS.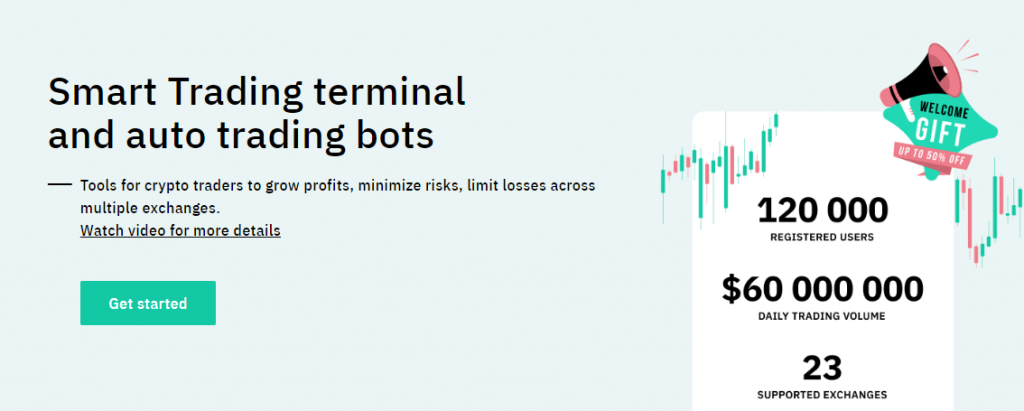 Major features of 3Commas
---
What exactly can you do with 3Commas.io?
A lot of things.
Once you connect your exchange account with the 3Commas platform via API keys, you can use it to trade either manually (with enhanced features in comparison to regular exchanges + have all exchanges in a single interface). setup automatic crypto trading bot by yourself or go to the marketplace and buy strategies or signals from third-party vendors.
So, in essence, these are three main products on the 3Commas platform:
manual trading with enhanced features and options
automatic trading with bots
portfolio management
marketplace for signals, strategies
Let's sift through all of the above-mentioned features and explain them in detail.
Manual trading with Smart Trade
---
This is manual trading on steroids. 3Commas has built a powerful user interface and dubbed it Smart Trade. Smart Trade is fully customizable in an easy and user-friendly drag-and-drop fashion.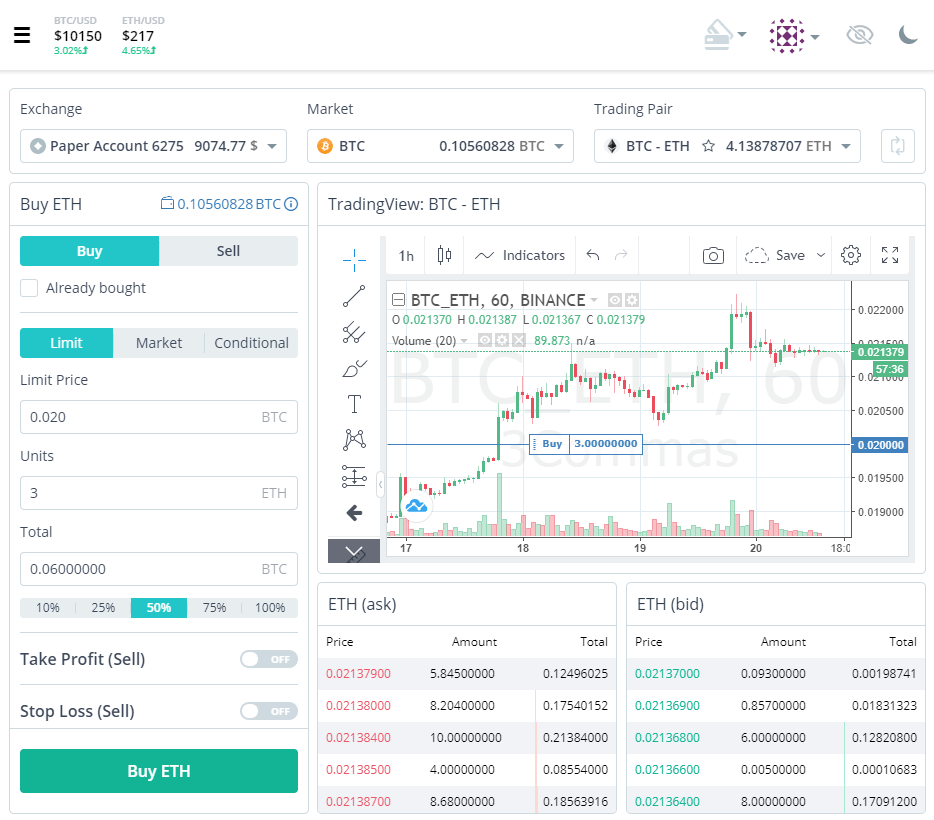 You can do a lot of things from this dashboard, some of them:
Concurrent Take Profit and Stop Loss – through 3Commas, you can set both take profit level and stop loss concurrently, and the bot will close your position whichever situation happens first.
Set multiple sell targets – you can essentially make a tiered sell order where you instruct 3Commas to sell certain percentages of your position at certain levels
Support for TradingView – TradingView is the most popular charting platform in the world. It has all imaginable indicators and charting tools and you can make use of that through 3Commas' Smart Trade dashboard.
Take profit and trailing Stop Loss – another great option where you can set your take profit level but also protect your gains by setting a trailing stop loss (for example, you set the bot to set the trailing stop loss at 15% below the current price and it keeps moving that order as the price trends up).
Smart Cover – great feature to take advantage and collect additional profit with unexpected market moves. Sell and buy back coins with trailing Take Profit and Trailing Buy.
Conditional orders – Buy or sell when the price reaches a certain level. You can also buy with sell conditions (you input when to buy, when to sell with a profit, when to sell with a loss).
Add sell conditions for coins you already have
Does Smart Trade on 3Commas support margin and future trading?
---
Yes, it does. You can connect BitMex, ByBit, or Binance and manage your margin trades through the 3Commas Smart Trade interface.
Below is a quick rundown about the top 3 bots, based on their most prolific properties:
Automated trading with Crypto Trading Bot
---
This is the actual bot part of the platform. This is where you go to set up and unleash your bots to trade hands-off. You remove your emotions out of the equation and free time for other activities while the bot tracks the market and does the trading for you. With a proper setup, this can lead to a solid stream of passive income every day/month.
3Commas has two types of bots you can run on their platform:
simple bots
composite bots
We will cover both of them in more detail in the rest of this 3Commas.io review.
Important hint: 3Commas offers a test option where you can run your bots without risking your money and they call it paper trading. This is a safe way to try something your configuration risk-free before employing it to run with your real money.
What can you do with 3Commas automated trading bot?
---
You can set up one bot and run it for years without needing to change anything. But if you wish, you can edit or stop the bot at any time.
Long and short algorithms: bot buys at lower price level, sells at higher price level; or vice-versa in the short algorithm mode.
Repeat trades on one pair with simple bots. The bot immediately puts a new order once it closes your previous position.
Choose when bots start new orders with different start conditions. This is good option as opening new positions immediately after closing previous ones is not the best option all the time (for example, at price peaks).
Explore & copy top-performing bots from other users. This is a great option if you want to use someone else's configuration which has provably been working good.
Safety orders to mitigate the opposite market moves. This is essentially a DCA – dollar cost average method where you soften your losses by buying more at lower prices, thus lowering your average entry price
Composite bots allow you to split funds in a more efficient way. You don't have to lock up your funds in simple bots as you can start a composite bot, add as much pairs to it as you wish and it will automatically allocate funds to active pairs.
Buy and use different third-party signals from the 3Commas marketplace.
Use Trading View alerts to create orders and close positions based on technical indicators like RSI, ULT, TA presets, CQS Scalping etc.
Margin trade short & long on Bitmex, Bybit, and Binance
What are simple bots on 3Commas?
---
As the name suggests, these are very simple scripts that 3Commas runs on your behalf. You chose a trading par, set your take profit percentage (usually in low single digits – 1% or even lower), and let the bot run. It will then repeat this action (set new buy as soon as it closes the previous order) non-stop until you direct it to cease its mission.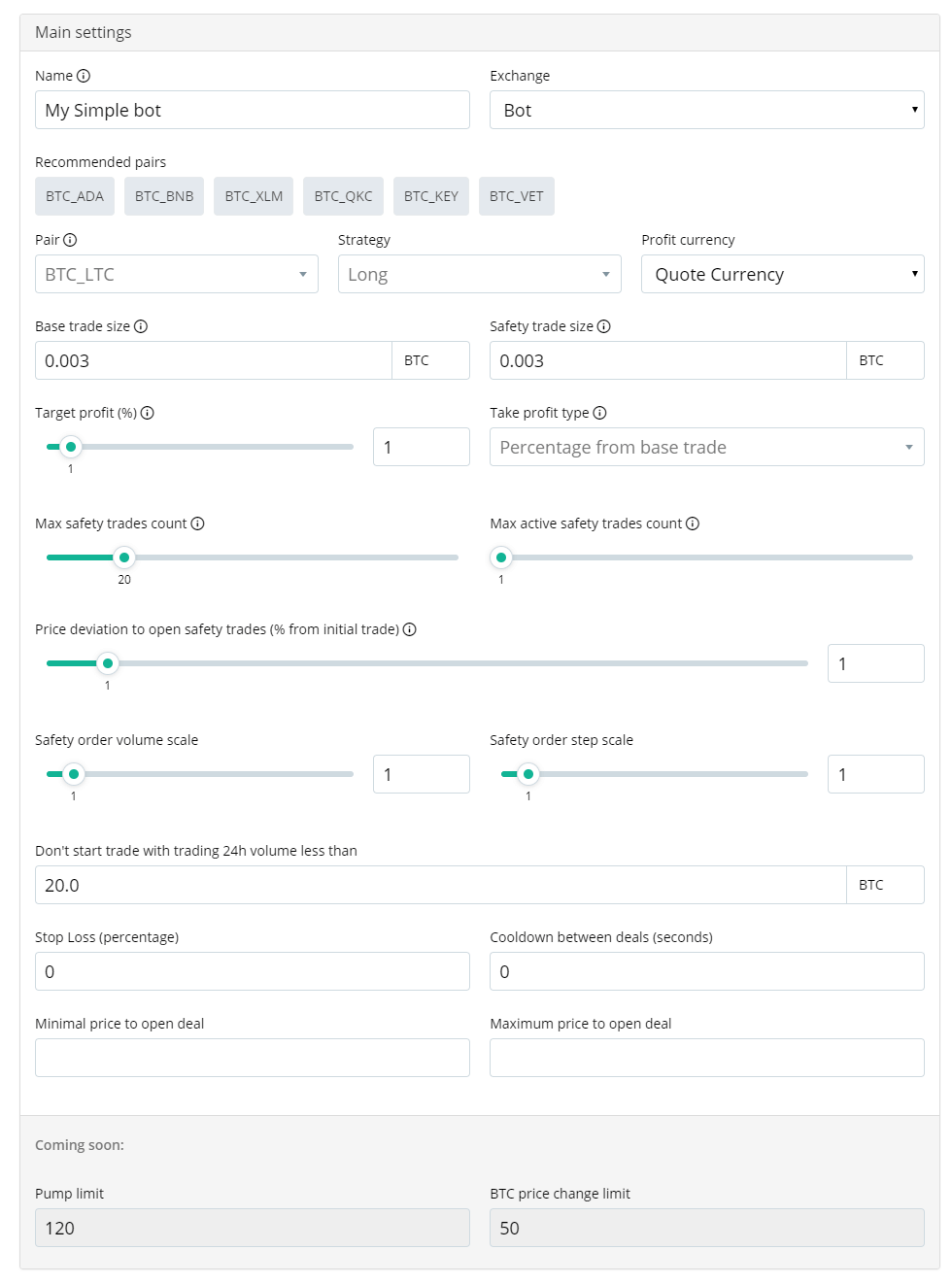 What are composite bots on 3Commas? How does 3Commas composite bot work?
---
Composite bots are more complex and offer more flexibility. You can choose multiple trading pairs (as many as you want) and run them concurrently. Composite bots manage your funds much better as you don't have to create dozens of simple bots for every pair (which would mean your funds will be locked up).


The composite bot can have ten trading pairs open but trade only one and it will require funds only for that one deal, no lockups.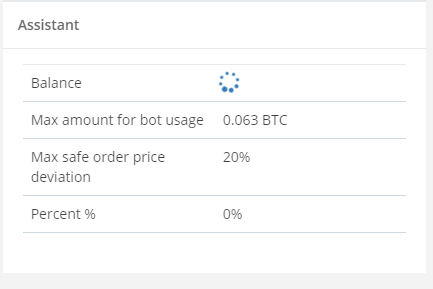 Portfolios
---
This is a section of the 3Commas platform that is not its core business, but rather an add-on feature that is nice to have. It is essentially a Blockfolio within the 3Commas app + a couple of nice additions.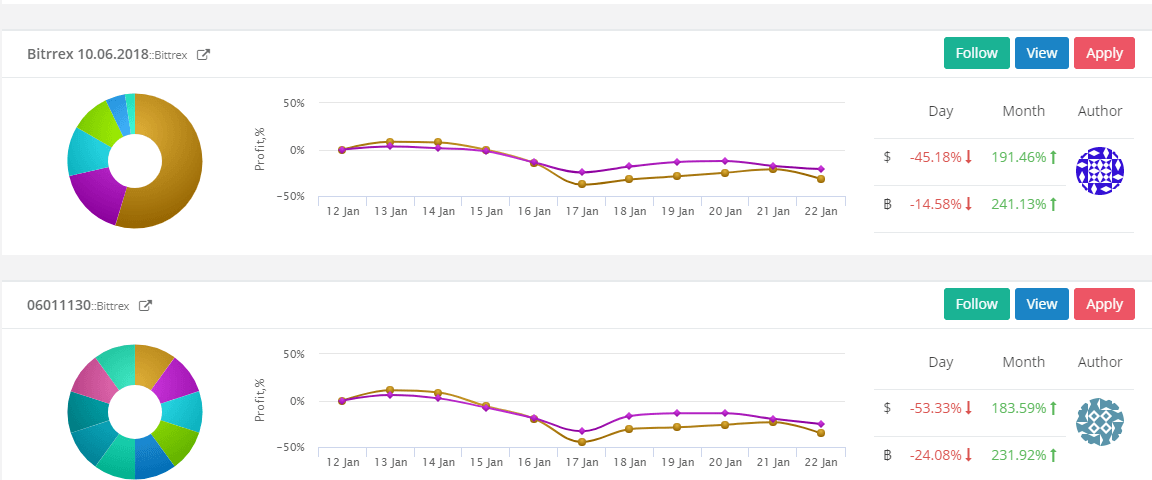 You can have an overview of all your exchanges and coins you own while also having an option of automatic rebalancing of your portfolio. You will allocate percentages to each coin you want to own and 3Commas will make the purchases and keep your portfolio in that balance by automatically selling/buying pairs when the given ratio is broken.
For example, you can tell 3Commas that you want to have 50% of your portfolio on Binance in BTC, 25 % in ETH, and 25% in BNB. It will sell your current coins on Binance and buy these coins in these ratios. It will then monitor their prices and should BTC go up and ETH down which would tilt the ratio in the direction of BTC (in this case you could end up having 28% BTC and 22% in ETH), 3Commas will sell part of your BTC funds and buy ETH for it, to restore the balance to the set ratio.
3Commas bot review: Other features
---
Other noteworthy features that come with the 3Commas account are:
Notifications about any price change and order filled via app notifications, Telegram or email address
Mobile apps for both iOS and Android
Marketplace with signal providers and trading strategy vendors
Generous referral program with 3 tiers (you earn commission for the referrals of your referrals).
Can you do futures and margin trading on 3Commas?
---
Yes, you can. 3Commas supports Binance Futures, BitMex, and ByBit which are three of the most popular margin cryptocurrency exchanges.
But please note that margin and futures trading is only possible via the Smart Trade terminal which is dedicated to manual trading, as we described earlier " a trading dashboard on steroids".
AI GRID bot – new powerful crypto trading bot on 3Commas
---
This is a new, powerful AI trading bot that is still in beta mode. You need to enable access to it through your profile on 3Commas.
This AI bot adjusts itself to market conditions and with a proper set up can be super-efficient in raking up the profits for you.
How to create AI Grid bot on 3Commas?
---
Provided that you already have an exchange connected, you only need to pick a trading pair, allocate funds, and click the "Create" button to get the bot up and running!
How does AI Grid bot work?
This bot tries to take advantage of every price move in the price range it previously determined. How is that range decided? Well, the bot set the upper limit as the maximum reached price over the latest seven days increased by 3%. The lower limit price is the lowest reached price over the latest seven days decreased by 3%.
The bot then slices this selected range into multiple planes and places a buy or sell order on every level, which allows one to buy every drop and sell every rise.
Since GRID places both buy and sell orders concurrently, you need to own both coins from the pair to trade. If you trade BTC against ETH, you need both BTC and ETH.
How to set up and account and first bot on 3Commas?
---
⚡️ Create an Account
Fill out the registration form on the 3Commas homepage. You'll get a 3-day free trial to test 3Commas.
⚡️ Choose paper trading
Choose paper trading (for test purposes, no real funds used) or connect exchange for trading with real coins.
⚡️ Choose your bot type
You can pick out from a range of four types of trading bots, short, simple, composite, and composite short bots.
⚡️ Connect an exchange
Go to your exchange to create API keys and copy/paste them into the 3Commas platform (follow instructions, it is a straightforward process). For simple bots, you can only use Binance exchange when starting out.
⚡️ Select your trading pair and set base trade size
You can choose the trading pair for the bot to trade from the drop-down menu, and you can then instruct the bot how much of your preferred currency will be used during your initial trade.
⚡️ Set take profit level
This is the price level where the bot will close your position and secure your profits. Before setting up this parameter, it is a good idea to put in the safety trade size which is a feature that allows your bot to react to price drops of your base coin in the selected trading pair and buy the dip.
The take profit target is set in percentages and has two different types. The first one is a percentage from base trade – meaning, if you put in a 2% take profit level, the bot will close your position once the price is up 2% from the buying price.
The second one is also a percentage but is based on the total trading volume.
⚡️ Set max safety trades count
This instructs the bot on how many safety trades it is allowed to make before stopping, and the max active safety trades count instructs the bot on the number of active safety trades it can conduct at any given time.
⚡️ Set price deviation to open safety trades
This informs the crypto trading bot when it can start executing safety trades and is set as a percentage. If set to 3, when the price of the selected currency drops by 3% below the initial trade price, then the trading bot will begin to execute safety trades.
⚡️ Set trade start conditions
This tells the bot when to make the initial trade, and there is are a couple of signals it can work with: TradingView Signal Buy or Strong Buy, TradingView Signal Strong Buy, Manually, or Open New Trade ASAP.
By following these steps, a trading bot can be configured in just a few minutes, and the entire process is simple enough for more novice crypto traders to follow successfully. The platform is still detailed enough to also attract more experienced trader.
3Commas supported exchanges
---
3Commas has ramped up its efforts to integrate more exchanges with its platform and the number of exchanges that can be connected with this automated trading solution has blown up to 23, from only 7 it used to support only a half a year ago.
However, there is a caveat – only 9 exchanges can be used with automated trading bots, the rest can be used only with Smart Trade manual trading. These 9 cryptocurrency exchanges are all major platforms like:
Binance
Binance Jersey
Binance US
BitMEX
Bittrex
Bybit
Coinbase Pro (GDAX)
Huobi Global
OKEx
3Commas pricing – how much does 3Commas cost?
---
3Commas.io offers three standard tiers and pricing plans. They also have a custom, enterprise plan that requires direct contact with the team to arrange it.
The three standard plans differ greatly in their offer.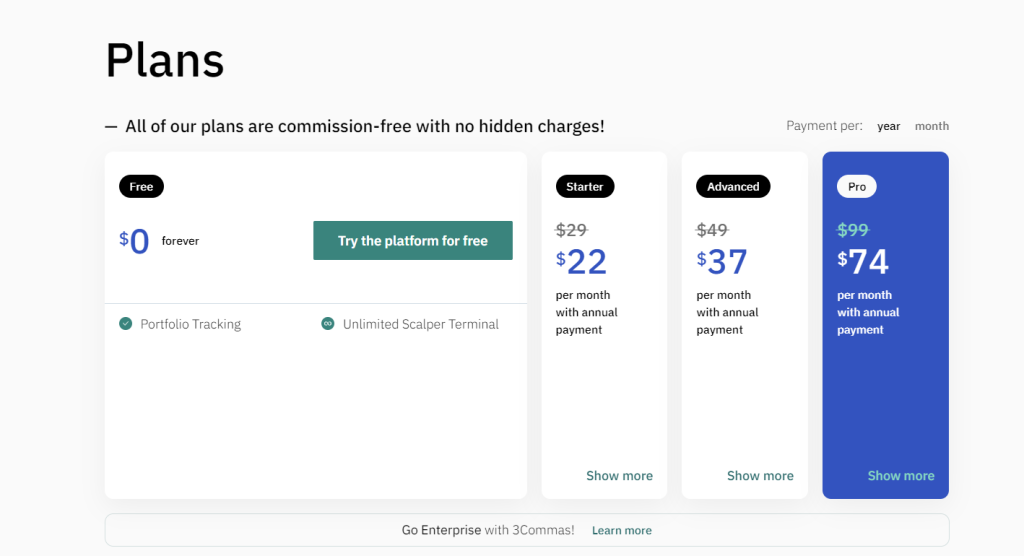 Starter Plan – $29/month (or $22 on discount)*
Trading terminal
Concurrent Take Profit and Stop Loss
Advanced Plan – $49/month (or $37 on discount)*
Trading terminal
Concurrent Take Profit and Stop Loss
TradingView Custom Signals
Simple bots
Short and Long algorithms
View and copy bots
Pro Plan – $99/month (or $74 on discount)*
Trading terminal
Concurrent Take Profit and Stop Loss
TradingView Custom Signals
Simple bots
Short and Long algorithms
View and copy bots
Composite bots
Bitmex, Binance Futures and ByBit bot
GRID bot
Futures Trading
*3Commas also offers humongous discounts for yearly purchases with 50% on the pricing if you go for a straight 12 months package.


3Commas for free – is that an option?
Yes, but only for 3 days. 3Commas has a free trial to test out their platform and that trial is limited to 3 days only, which is pretty low in comparison to the 30 days that Cryptohopper offers. Bitsgap also offers a two-week trial.
Is 3Commas a good trading bot for beginners?
---
Yes, it is.
While the platform's continuous development has seen it grow into a real behemoth with tons of options that might look scary at first sight, their software architects did a great job in designing everything to be intuitive and easy to navigate.
Connecting an exchange is a breeze and simple bots are created with only a couple of clicks. Marketplace and bot analytics are also well laid out and easy to read and figure out.
The trader's diary is another option that offers a concise report of all the trades made on your linked exchanges and lets you easily identify any profits or losses incurred on a particular trade within a set period of time.
Another huge plus is the extensive knowledgebase and tutorials (written and video) which illuminate every pertinent option on 3Commas with great detail.
Customer support
---
Aside of the chat option that is available on each page of the platform, you can reach out to their support team via their Telegram group, YouTube Channel, and other social media channels. There is also a very active 3Commas Discord that can be accessed from inside their accounts.
How safe is 3Commas? Is 3Commas legit?
---
3Commas connects with your exchange account via API keys that do not have withdrawal rights. Additionally, 3Commas does not route activity through their servers but works directly on the exchanges. Both of these facts play a major role in increasing the safety of 3Commas as hackers have no incentive to hack your account since they won't have much benefit out of it.
However, there have been cases where nefarious actors would crack externally connected apps to gain access to trading abilities on crypto exchanges. They would then spend their funds on buying low-value coins to pump their price. So what is in it for them, I hear you ask?
Well, they bought those low-value coins beforehand, and now that they have ballooned their price with your money, they can sell at profit and leave you with bags of worthless crypto coins that are illiquid. This is almost as bad as straight out losing your coins to hackers.
You can reduce these risks by securing your personal account with the help of 2FA, two-factor authentication, and notification alerts on all major activities on your account.
This will further shrink the maneuvering space for hackers as, even if they manage to breach the security shields, you can react quickly and kick them out.
Tax reporting with Cryptotrader.tax
---
3Commas has partnered up with CryptoTrader.Tax to make it easy for their users to create their crypto tax reports!
CryptoTrader.Tax is a great tool, which we reviewed here, automates all of your crypto tax reporting so you don't have to spend countless hours manually working through all of your trading histories.
3Commas alternatives
---
Top alternatives are certainly Cryptohopper and Bitsgap, as cloud-based platforms, and Margin.de – as a locally run software.
We already compared Cryptohopper and 3Commas and came to the conclusion that both platforms are in a deadly race to be crowned as the top cryptocurrency trading bot but Cryptohopper does offer a couple of benefits like longer free trials, cheaper and featured-richer starter package, larger marketplace, more established brand, and arbitrage bots.
On the other side, 3Commas has broader exchange support with 23 exchanges in comparison to 12 exchanges that are supported on Cryptohopper.
Bitsgap also beats 3Commas in some areas: it supports more exchanges, it has a one-click arbitrage option, and also has a longer free trial period and more features in its basic package.
3Commas crypto review – is 3Commas worth it?
---
3Commas is an excellent cryptocurrency trading bot. It offers everything a newbie or experienced trader needs, except for arbitrage trading.
Even if you wish only to manage your portfolio or do automatic rebalancing, 3Commas is a great solution.
If you want to trade manually from one interface with boosted features, you can do it with 3Commas' Smart Trade dashboard.
And finally, if you wish for a hands-off approach and fully automated trading process, you can create your own bots: simple or composite. Or you can copy configurations of other people's bots, buy signals from external vendors or completely copy trade successful traders (social trading) from 3Commas' marketplace, you can do it all from this single interface.
Thanks to their mobile apps, you can do all of this while on the move.
Should you still be unsatisfied with what 3Commas has to offer, check out other cryptocurrency bots that are available on the market and were thoroughly tested by us:
Quadency review
Zignaly review
Tradesanta review
Margin review
Gunbot review
CryptoTrader.org review
PROS
Affordable
A lot of supported exchanges
Smart Trading
Copy Trading
CONS
A bit complicated for new traders

CaptainAltcoin's writers and guest post authors may or may not have a vested interest in any of the mentioned projects and businesses. None of the content on CaptainAltcoin is investment advice nor is it a replacement for advice from a certified financial planner. The views expressed in this article are those of the author and do not necessarily reflect the official policy or position of CaptainAltcoin.com