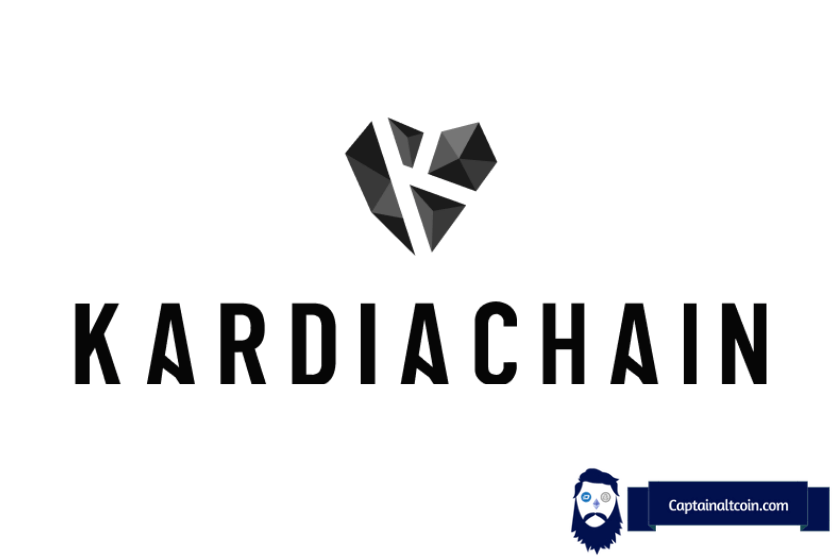 What is KardiaChain
---
KardiaChain sets out to become the first fully interoperable and "non-invasive" blockchain that connects different networks and projects without changing their protocol. The project manages this because it runs on a dual-node structure. So connecting KardiaChain's ledger and other blockchains are made a lot easier. The programing used scalability and intelligent contracts more accessible.
The platform has been active since December 2020 and has seen massive gains since. Kardia's Chain native token went from $0.00073 to $0.1488 in a year. And it's being used increasingly, particularly in Vietnam.

Fundamentals
---
Use case
---
KardiaChain's claim fortune is that the most non-invasive and interoperable blockchain. And as we mentioned before, its dual master node technology allows the protocol to access both its ledger and one of other platforms.
Thanks to this Technology, KardiaChain can efficiently work with other projects, a pretty strong use case if you ask me.


And the whitepaper states that everyone can operate dual nodes. The mechanism makes the platform permissionless, meaning that it is all run with a consensus mechanism to validate transactions on both blockchains.
According to Tri Pham, KardiaChain's CEO, the project developers are working to decentralize it even further, particularly the governance and enterprise. KardiaChain is also mainly focused on reaching newer users with its innovative technologies.
The platform has also started many initiatives that aim to increase adoption. Some examples are:
On top of that, KardiaChain has partnered up with other projects such as NEM (XEM), MANTRA DAO (OM), ShareRing, and Bounce Finance (BOT).
Tokenomics
---


KardiaChain's native token KAI has the main use to serve as a mode of transfer in the project's ecosystem. KAI is known as a utility token, and its purpose is to be a unit of account. Integrating into KardiaChain's network, used staking and validator rewards.
More in detail, KAI is used for:
Buying or selling products or services in the KardiaChain ecosystem
Accessing services and deployed products
Staking with the dPoS system
KardiaChain launched the IEO on Gate.io on the 8th of April 2020. The target was to reach 1 million in funding, and the project crushed it within 2 minutes. More proof of how much the project was hyped up
Today, there are 5 billion KAI tokens in the total supply and 1.5 billion in the circulating supply.
And distribution of KAI is as follows:
Private Sale, 16.32%
Team, 12%
Advisors, 3%
Ecosystem, 20%
Validators/mining, 10%
The community, 5%
The foundation, 14.93%
Startups, 15%
And the KardiaChain network uses the Byzantine Fault Tolerance and a delegated proof-of-stake consensus. In other words, every new block added to the chain has first to get the approval of 2/3 of validators. Stakeholders can also choose to intrust the validation of transactions to other external platforms. The whitepaper is clear, and the dual node protects the ecosystem's security when engaging with other blockchains.
The blockchain has also been audited and secured by CertiK, and all issues remaining before the mainnet launch were solved.
Team
---


The brains behind KardiaChain are Tri Pham and Huy Nguyen, two former Vietnamese high school pupils. They developed the projects and raised funds. Today Pham is the CEO, and Hguyen, the chief technology officer.
Pham has much experience in the business world, is a successful entrepreneur. He had previously co-founded a company called AppFluke that worked to bring newly invented technology to the general public and served as a learning experience for KardiaChain. And that's Pham's aim to this day, bringing the future to the masses.
On the other hand, Nguyen is also very experienced in the sector, previously working as a technical manager at Google. And when he left the company, several Google employees followed him to join the Kardia Chain development team. And not only that, but he has also worked as a technical engineer for Cisco, Apple, and Hitachi.
Together they formed KardiaChain and focused in particular on the Vietnamese market, where they've seen success. And with a perfect team like this, it's no surprise
Community
---
KadiaChain also has an active community on social media. The official KAI Reddit community counts 1400 members, 24,500 followers on Twitter, and around 12.000 members to their Telegram community.
Market price prediction
---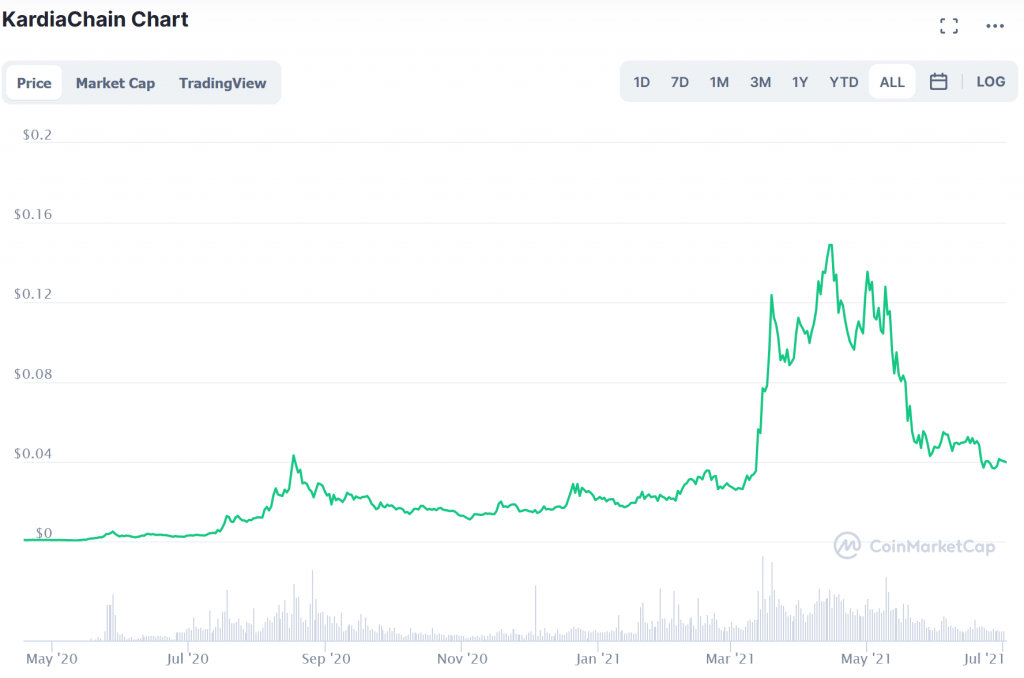 Wallet Investor
---
Wallet Investor has a very bullish thesis on KAI, the website predicts that the price will reach $0.2064 in 2021 and $0.718 in the next five years.
Digitalcoin
---
Digital Coin makes a less bullish case that predicts the asset reaching $0,081 in 2021 and $0.197 in the next five years.
Gov Capital
---
Gov Capital comes in with another bullish thesis, predicting KAI will reach $0,199 by 2021 and a staggering $3 in five years, the most bullish thesis yet.
My KardiaChain Price Prediction 2021
---
Many say that we are again approaching the much-attended altseason. And with KAI being a small-cap with a market cap of only just below $90.000.000, the 301th in size, I can not be bullish.
KardiaChain is, in my opinion, an undervalued project, and there is some long term catalyst that could send KAI to the moon, so let's dive in:
By fusing dPoS and Byzantine-Fault Tolerant (BTF) consensus system, KardaChain ensures smooth usage and data exchange between blockchains on the network. Transaction fees are also relatively lower than the competition, and this smoothness gives KardiaChain an advantage over the rest of the interoperable blockchains in the space.
KardiaChain is correct in claiming that it's the first blockchain that is interoperable with other private chains. The interoperability guarantees that startups may test their projects without necessarily going full in. The cross-chains are designed as promised, so they are not invasive by any means. All these factors combined open up a whole new world of opportunity in this blockchain adoption.
When the project grows, and more ADAPPs will be built on, the demand for Kwill AI rise.
KardiaChain has expressed the intention to create a mobile payment channel. As we mentioned before, they've already started working with Vietnam's largest phone provider Telco and launched in 10 countries. What this means is that mobile users can buy KAI with a mobile balance.
KardiaChain partnered up with Band Protocol because it offers Oracle services. The protocol will use the data collected from these portals to expand KardiaChain's smart contracts usage.
The Kardia Smart Contract Markup Language (KSML) is an excellent language for developers to learn and use. It makes programmers able to write multi-chain smart contracts no matter blockchain. The method is different from projects like Ethereum that force developers to learn Solidity. KSML can translate the language into any chain you are programming for.
KardiaChain has stated that it will launch an interoperable decentralized exchange (DEX). The demo is already available.
As you can see, KAI certainly has much potential for future growth. But we forget something, the competition in the interoperable blockchain space. To name the elephants in the room, ICON (ICX) and Polkadot (DOT).
Both projects are a lot bigger and more established than the KardiaChain, in particular Polkadot. One of the top five crypto projects out there. These are no lightweights.
But maybe we shouldn't worry that much, like in the car industry, Ford and Ferrari have different types of clientele, similar could be said with blockchains. There is no rational reason to assume different blockchains can't co-exist and compete like any other market.
That being said, I think KardiaChain will reach $0.2 this bull run and possibly even $2 in five years. Even if giants crowd the markets, KAI certainly has space to grow.
Of course, I am talking about my opinions. This is not financial advice. I could be wrong. You should always do your research before making any investment decision. Remember always to trade responsibly and don't invest more than what you are willing to lose.
KardiaChain price prediction 2025
Based on the data and arguments laid out above, a price of KAI token in 2025 could be in the $2-$5 range. A long term reasonable estimate: ~$1.36
KardiaChain price prediction 2030
There are a couple of laws of human progress that prevent us from thinking that KardiaChain will be what its holders expect and hope it to be. Those are first mover advantage and consolidation and subsequent monopoly.
A first-mover advantage can be simply defined as a firm's ability to be better off than its competitors as a result of being first to market in a new product category.
Monopoly is a situation in which a single company or group owns all or nearly all of the market for a given type of product or service.
Both of the phenomena we mention above speak in favor of Polkadot and ICX and we don't think that will change in the mid- and long-term future.
We are still not sure if KardiaChain and similar project do have a long-term future and KAI token could be worth ZERO in 2030 as the project might not exist by then. Chances are 50-50 in our eyes for that to happen.
Is KardiaChain worth investing in?
KardiaChain is a good investment for the short-term when the market is in the BULL run. Usually these types of newer projects do extraordinary well when the overall crypto market is in the green and they outperform other better known projects by a lot. However, make sure to exit them in time as they tend to do get a beating during ranging and bear market cycles.
Why will KardiaChain succeed?
Because it does propose a valuable service, it already built a name for itself in its niche and suffered no security breaches or other types of compromises (economic, reputational etc). The token itself does provide utility and makes sense which is not the case with many other similar projects.
Why will KardiaChain fail?
KardiaChain might fail because of the fierce competition, dynamic technological field and rocket-speed developments in its niche. Another common reason this type of project fails is team issues – either the team splits or outright abandons the project.
Will KardiaChain reach $1?
That is within the real of possibility, even in the short term period. It could very well reach $1 within a year.
Can KardiaChain reach $10?
KardiaChain will almost certainly NOT reach $10 in the foreseeable future, unless we see a face-melting bull run that will see bitcoin at $100k and ETH at $20k.
Where to buy and how to store KAI
---
The best place to exchange KAI are:
Uniswap (buy and sell with: ETH)
Kucoin (buy and sell with: USDT, BTC, and ETH)
Gate.io (buy and sell with: USDT)
And the best places to store KAI are:
Make sure to check out other price predictions too:

CaptainAltcoin's writers and guest post authors may or may not have a vested interest in any of the mentioned projects and businesses. None of the content on CaptainAltcoin is investment advice nor is it a replacement for advice from a certified financial planner. The views expressed in this article are those of the author and do not necessarily reflect the official policy or position of CaptainAltcoin.com