Coinbase is the world's largest Bitcoin broker around. It is available to users in over 30 countries especially in the United States, the United Kingdom, and Brazil, which represent their largest customer base – and has more than 4 million customers around the world. It was founded in 2012 as part of Ycombinator, which means that Coinbase is also one of the oldest exchanges around.
Customers can purchase and sell Bitcoin with a connected bank account, SEPA transfer, Paypal account (selling only), Interac Online, and many more payment methods. Coinbase has started out only as a broker (selling Bitcoins directly to customers). However, in May 2016 Coinbase started operating GDAX – A Bitcoin exchange, where Bitcoiners can trade Bitcoins with one another.
Coinbase currently allows its customers to purchase and sell three of the most popular cryptocurrencies – Bitcoin, Litecoin, and Ethereum. In the future, they plan to add more cryptocurrencies. However, if you want to buy other altcoins, you'll currently have to look elsewhere.
Did you know: Coinbase asked Vitalik Buterin to come in for a chat in 2013 and they nearly offered him a job on their team. However, this didn't happen because early the following year, Vitalik went on to create Ethereum.
Is Coinbase Safe?
Coinbase is one of the most popular options used to buy Bitcoin and Ethereum, so this is a common question.
The short answer is yes. Coinbase is a Bitcoin company based in San Francisco, which means that is required to comply with US laws and regulations, at both a federal and state level.  Here are some of the regulatory bodies, laws, and regulations that Coinbase complies with:
It complies with state money transmission laws and regulations.
It complies with the USA Patriot Act.
It complies with the Bank Secrecy Act.
It is registered with FinCEN as a Money Services Business.
These laws and regulations force accountability onto Coinbase. This is something that may be lacking from some of their offshore competitors in other countries with less strict regulations.
It's also worth noting that Coinbase is backed by trusted investors. These investors include Digital Currency Group, Blockchain Capital, Bank of Tokyo, and Alexis Ohanian (Reddit Co-Founder).
Coinbase is the world's largest Bitcoin broker. It also offers an exchange, wallet, and developer API.
In this article we'll review Coinbase and its brokerage, wallet and exchange.
How Does Coinbase Work?
Thanks to Coinbase's simple interface, it is very easy for first-time buyers to buy Bitcoins.
The most popular payment methods for Coinbase customers are purchasing with a credit card or debit card. You can also use a bank transfer as a payment method.
At the bottom of this post you can find a full guide that shows you how to purchase on Coinbase using a credit card.
What Type of Payment Methods Can You Use on Coinbase? What about Coinbase Fees?
Coinbase offers its services in 32 countries and the payment methods available depend on your country.
| | | | | |
| --- | --- | --- | --- | --- |
| Countries | Payment Method | Currency | Funds Available | Fees* |
| USA | Bank Transfer | USD | 5-7 days** | 1.49% |
| USA | Credit / Debit Card | EUR | instant | 3.99% |
| Canada | Credit / Debit Card | CAD | instant | 3.99% |
| Europe | SEPA Transfer | EUR | 1-3 days | 1.49% |
| Europe | Credit / Debit Card | EUR | instant | 3.99% |
| UK | Credit / Debit Card | GBP | instant | 3.99% |
| Singapore | Xfers Transfer | SGD | instant | 1.49% |
| Australia | Credit / Debit Card | AUD | instant | 3.99% |
*Actual deposit of currencies into your Coinbase account is free and Coinbase then charges a 1.49% fee per buy.
**US users may add a MasterCard or Visa credit card as a backup payment method. Coinbase "instant buy" will be enabled for up to $1,000 worth of Bitcoin per week if a backup credit card is available.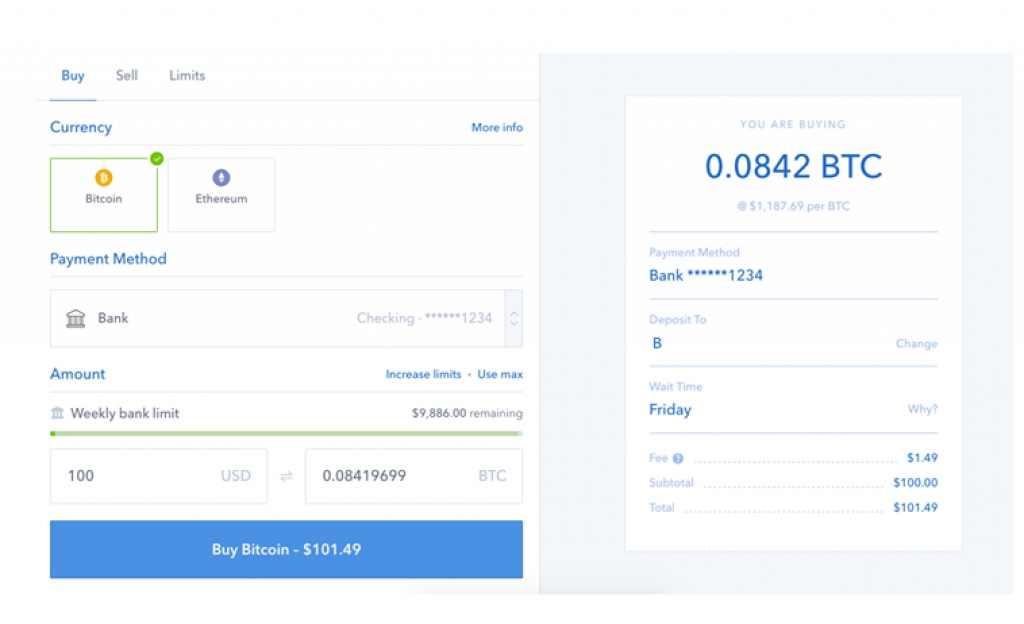 Coinbase Compared
The most popular payment method on Coinbase is credit card. The table below compares Coinbase to other popular credit card exchanges – CEX.io, BitPanda, and Coinmama.
It's important to note that fees are approximate. They may vary based on your country or purchase size.
Supported Countries
Coinbase serves customers in the United States, Singapore and Canada.
Coinbase also offers its services in the following European countries: the United Kingdom, France, Greece, Norway, Poland, Sweden, Switzerland, Denmark, Finland, Monaco, Netherlands, Slovenia, Spain, Cyprus, Czech Republic, Liechtenstein, Malta, San Marino, Slovakia, Bulgaria, Croatia, Italy, Latvia, Portugal, Romania, Austria, Belgium, Hungary, and Ireland.
Is Your Privacy Kept When Using Coinbase?
Users have to provide full identity verification and a lot of personal information.
If you are buying with a credit card, you will be required to take a picture of your driver's license or passport.
Coinbase Buying / Selling Limits and Liquidity
Once your Coinbase account is set up, you are able to purchase a small amount of Bitcoins until you raise your limit. Buy and sell limits can vary by payment method, user location, and verification status. For example, fully verified US customers may get these weekly limits fairly easily:
$50 Buy through Credit/Debit Card
$5,000 Buy through Bank Account
$50,000 Sell
If these limits don't meet your needs, you can apply for higher limits. It's important to note that your limits for instant buys, such as credit card buys, may not be able to be increased.
European customers may at any time have a maximum of €30,000 in their account.
Coinbase Transactions
Coinbase transaction times depend on your country and the payment method you will use. For example, a credit card purchase will be instant whereas a wire transfer can take up to 5 days to be approved.
United States
Bank Transfer: When using bank transfer, US customers will receive their Bitcoins 5 business days from placing an order. If a credit card is added to the account as a backup payment method, then instant buy becomes possible.
Instant buy will allow fully verified users to purchase up to $1,000 worth of Bitcoin per week, while level 2 users are able to instantly purchase up to $100 worth of Bitcoin per week.
Credit/Debit Card: If you use a debit or credit card, delivery of Bitcoins is immediate once you complete your ID verification.
Europe
European customers who are paying with SEPA transfer will receive their Bitcoins within 1-3 days after placing their order.
Canada
Canadian EFT buys take 4 days to complete, while Interac Online buys are instant!
Customer Support
Coinbase offers customer support through a knowledge base and email.
Coinbase "Community" can be used to ask questions and get support help, and you will probably receive responses from support within 24-72 hours.
Past Problems
There have been reports that Coinbase tracks how their users spend their Bitcoins. – Coinbase can and will track how their users spend their Bitcoins. They may also freeze or close your account if you deal with selling stuff on the darknet, gambling, adult services and other shady business.
Frequently Asked Questions (FAQ)
Who is the CEO of Coinbase?
The CEO of Coinbase is Brian Armstrong.
Are There Cash Advance Fees for Purchasing Bitcoins on Coinbase with a Credit Card?
Purchasing Bitcoins on Coinbase with a credit card should not result in any cash advance fees. However, be sure to contact Coinbase support if this happens to you.
Is it Safe to Link My Bank Account to Coinbase?
Coinbase is a regulated company and is backed by major US investors. It holds licenses in all districts in which it operates, which means that is not a scam.
So, it's safe to link your bank account to Coinbase. However, that does not mean you should ever store your Bitcoins with Coinbase.
Can You Purchase Bitcoins with PayPal on Coinbase?
Coinbase only accepts the payment methods listed above, which means that it does not accept PayPal.
Coinbase Bitcoin Wallet Review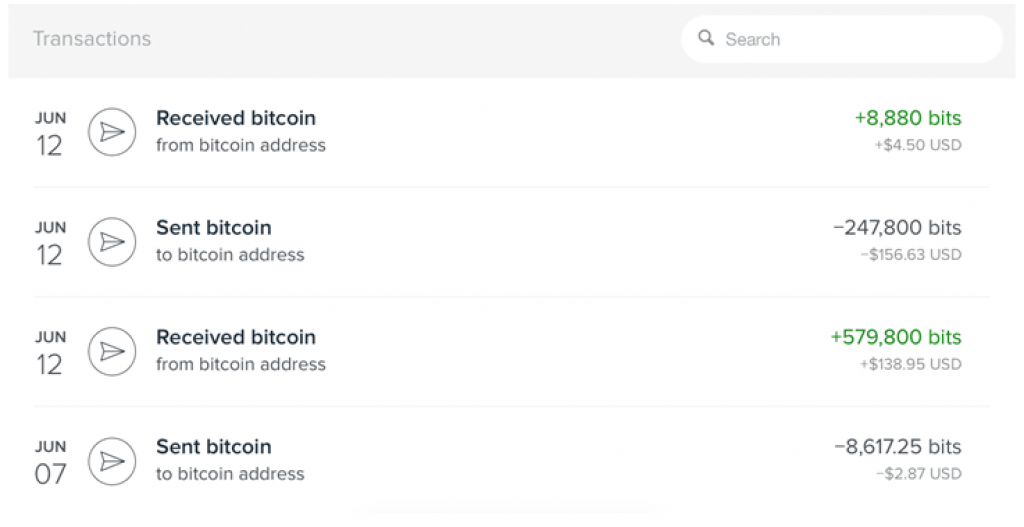 Your Coinbase wallet controls all private keys and can be accessed on the web, or with the Coinbase App for Android and Coinbase Apps for iOS.
Coinbase acts more like a bank than a true Bitcoin wallet.
Coinbase should only be used to purchase or sell Bitcoin. However, it should not be used to store funds (unless you use the Multisignature Vault).
If you want to find a wallet that truly gives you full control over your Bitcoins, read our guide on Bitcoin wallets.
Coinbase Bitcoin Wallet Security
Three types of wallets may be created with Coinbase:
Coinbase Bitcoin wallet
Coinbase vault
Multisig vault
Coinbase Bitcoin Wallet
With the Coinbase wallet, your Bitcoins are controlled by the company. You have to trust that they keep your coins secure, and you also have to keep your Coinbase login and account password safe.
Coinbase is a VC backed company with over $100 million in funding. That's why it's likely they have a very strong security setup. However, the point of Bitcoin is that customers have the ability to control their own money, so it's highly recommended to move your Bitcoins into a wallet you control after you buy.
It's important to note that Coinbase has been known to track where their users send their cryptocurrency, and they can shut down your account and block access to your funds at any time.
Coinbase Vault
Coinbase recently introduced the Vault feature. This feature allows you to "share an account" with 2 or more users, which means that if a user adds two approvers to his vault, both must confirm that the withdrawal is valid before it processes.
Also transactions have a 48 hour delay for added protection. This allows you to catch an unauthorized transaction in time.
However, the vault account is just an added security layer in case someone hacks your password, so using it doesn't mean you personally control your Bitcoin wallet. It's still hosted on Coinbase and it can be shut down by Coinbase at anytime.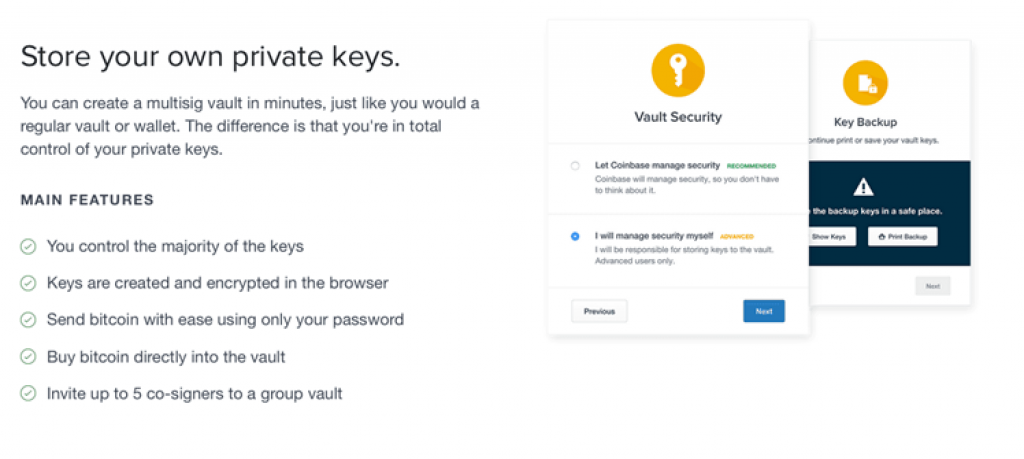 Multisig Vault
Coinbase understands that many users want complete control over their funds, so if you want total control of your wallet you can use a multisig vault.
Its multi-sig vault is a 2 of 3 wallet, where one key is held by the account holder, Coinbase has one key, and the third key is shared. You'll need 2 out of 3 keys in order to conduct an action on the wallet. So even if Coinbase goes down, you should still be able to move funds from your wallet because you still have both the shared key and your own key.
The shared key is encrypted with your password, which means that funds cannot be held.
Privacy
Your name, email, phone number and many other personal information are required. Coinbase knows your balance and addresses at all times. The interesting thing is that they can connect this with your identity and IP address. That's why you have to trust Coinbase's nodes to verify transaction data.
Also, Coinbase must follow all KYC laws because it has buy/sell features. It's important to note that there have been reports that Coinbase tracks how its customers spend their Bitcoin.
Each payment request uses a new address. This helps prevent other users from connecting Bitcoin addresses together.
It may also interest you that the Coinbase received a score of 11 out of 100 from the Open Bitcoin Privacy Project's Spring 2015 report.
Coinbase USD Wallets
These wallets allow you to store USD on your account. There are a couple of advantages to using these wallets:
You can store USD in your account so that when you do want to buy Bitcoins later on you don't need to wait for a bank transfer.
It allows you to spend your Bitcoins online without exposing yourself to Bitcoin's volatility.
Coinbase Debit Card
Shift Payments released a debit card. This card connects to your Coinbase account and uses your Coinbase balance as the debit card's source of funds. This allows you to spend your Bitcoins at any merchant accepting Visa.
Coinbase Purchasing Tutorial (Debit Card / Credit Card)
Coinbase allows you to purchase Bitcoins instantly using a debit card or a credit card. Check our step-by-step guide to help make the purchasing process easier for you.
Create an account on Coinbase, confirm your personal details and login. It's important to note that you may be asked to upload a scan of ID
Go to account settings
Go to the top right corner, click on your name and you should see a drop-down menu where you can click "Settings". Then click "Payment Methods" on the menu at the top. There should be something that looks like this:

Navigate to the right corner and click on "Add Payment Method".
Click "Credit/Debit Card" tab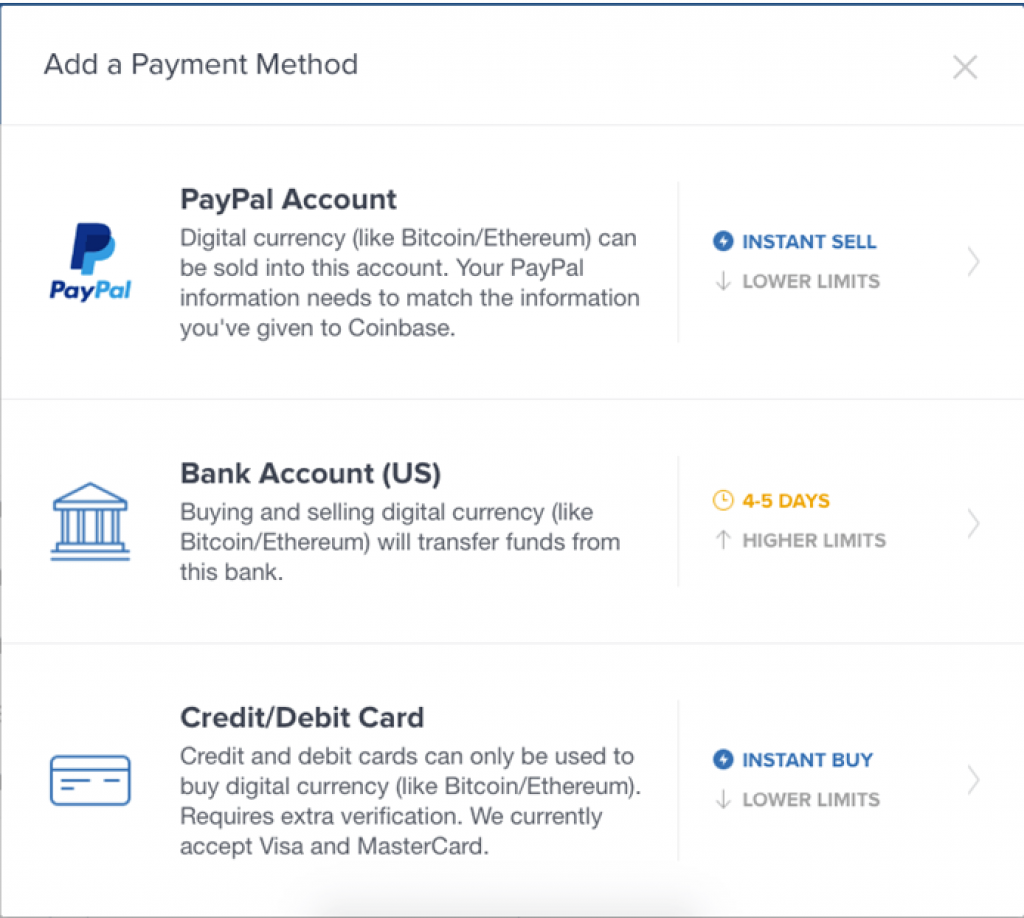 4.Enter your Credit/Debit Card Information
It's important to note that Coinbase currently only accepts MasterCard and Visa credit/debit cards.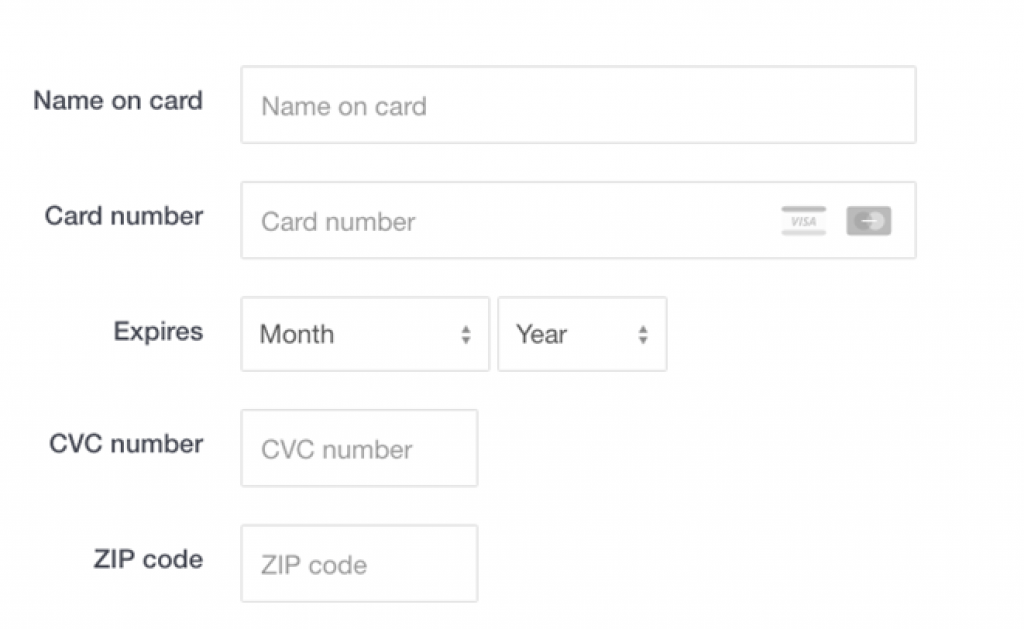 Confirmation
You should see a confirmation like the one on the image below, and if you do, your credit/debit card has been successfully added!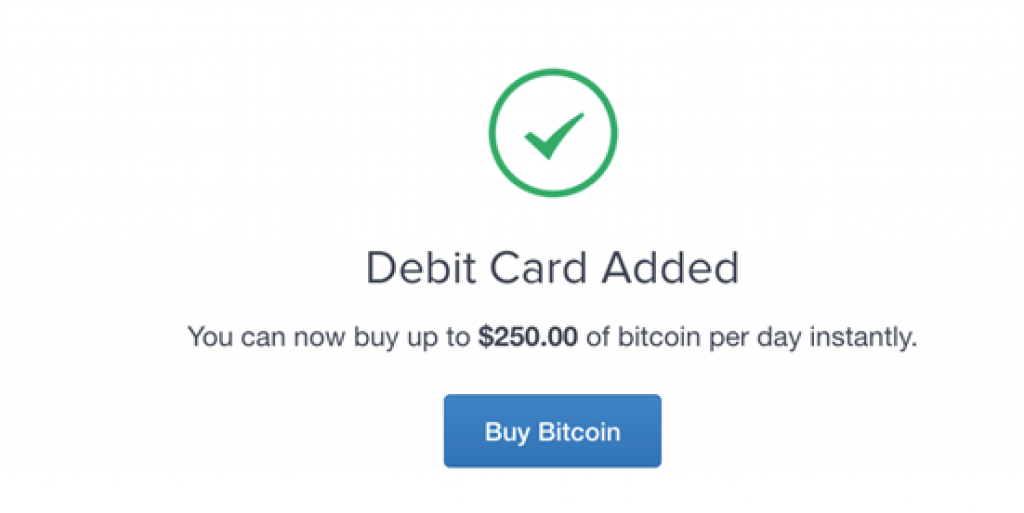 Purchase Bitcoins!
Go to the buy page and there should be a widget that looks like the image below: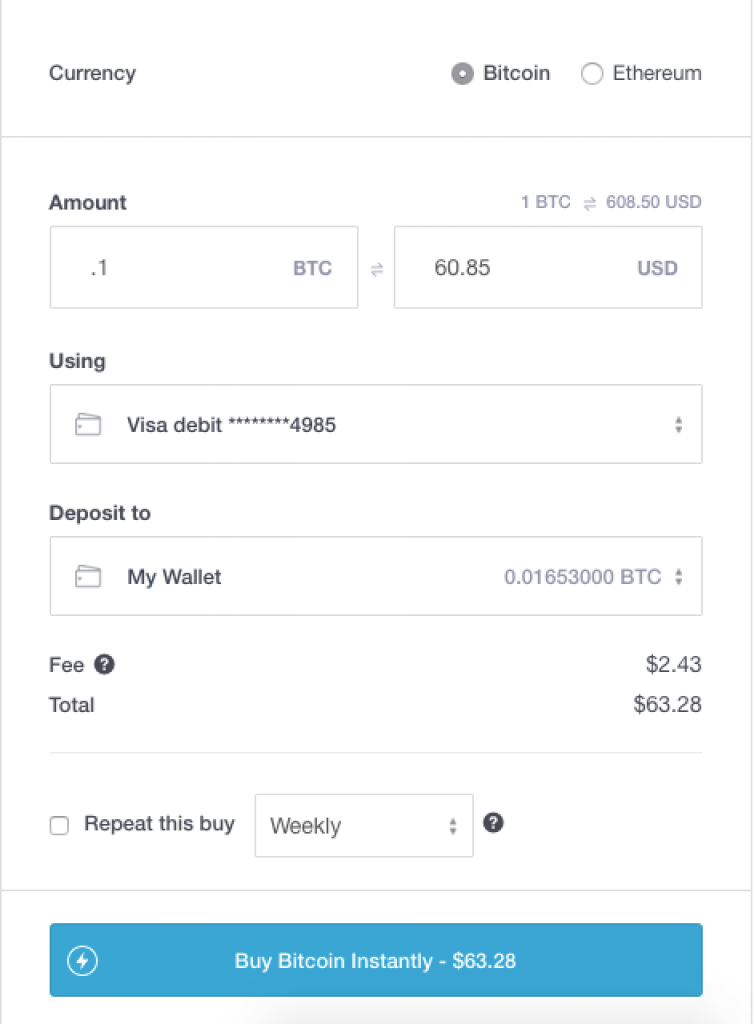 Enter the amount you want to purchase. Then click "Buy Bitcoin Instantly" and your coins will then be delivered to your Coinbase wallet!
Note:  This process may have changed slightly by the time you're signing up to Coinbase because they continuously make small adjustments to their design and sign up process.
Coinbase Pros and Cons
PROS:
Easy way for new users to purchase Bitcoin
You can purchase cryptocurrency faster than most exchanges
Has lower fees than "easy buy" competitors
Cryptocurrency can be bought with Debit and Credit Cards (In addition to bank transfers)
Regulated and trustworthy company
High liquidity and purchasing limits
CONS:
May track how you spend your Bitcoins
Has limited payment methods
Wallets are less secure than a wallet that you control yourself
Coinbase Alternatives
Based in Austria, BitPanda is a Bitcoin broker that has good prices and offers a wide range of payment methods.
Based in Israel, Coinmama is a bitcoin broker that specializes in selling bitcoins for credit card to nearly anyone in the world.
Coinhouse is based in Paris, France. It allows users in France to purchase Bitcoin with a 3D secure credit card or debit card, or with Neosurf prepaid cards.
CEX.IO allows its users to buy Bitcoins for low fees via credit card. Users can also buy for free with bank transfers.