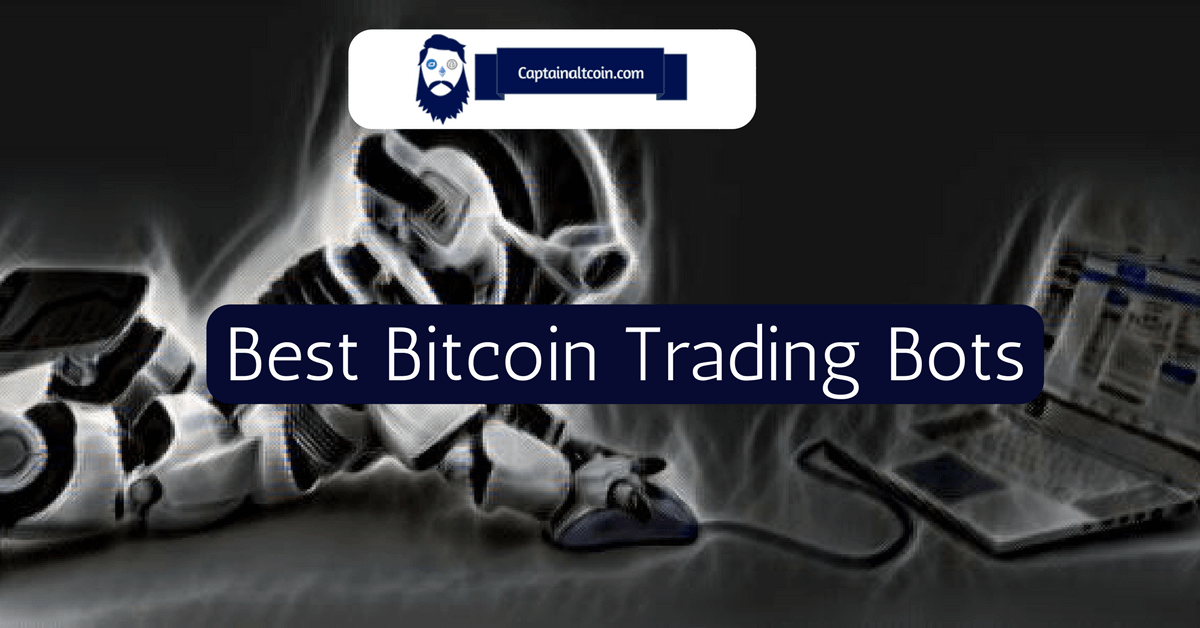 Featured image: Free Algorithmic Crypto Bots
Trading bots are automated tools used by many cryptocurrency traders to execute trades faster and more efficiently. This is a comprehensive crypto trading bots review where we examine all pros & cons of the top 15 automated trading platforms on the market.
Cryptocurrency trading isn't easy, and it is very time-consuming. Luckily, any repeatable action that depends on pattern reading (trading :wink wink) is a candidate for automation.
Crypto trading bot review – What are Trading Bots?
---
Trading bots are software programs that connect to an exchange (usually via API protocol) and make trades on behalf of the users. They work using a variety of trading indicators and strategies. Since trading is all about mathematics and fast complex probability calculations, bots should be better at trading than humans.
Most of the more advanced bots can be customized to execute your own trading strategy, so they are great if you know what you are doing.
Traditional markets also have algorithms and bots that are, however, not accessible to regular mortals as they are super complex and cost a fortune.
That is not the case in cryptocurrency markets, as you will see and read below.
Best Crypto Bots 2022 (Bitcoin and Altcoin Trading Bots)
---
This article is very long, and if you need a quick solution and recommendation, these three trading bots have proven to be on top of the game when it comes to automated trading.
Below is a tabular overview of all notable altcoin trading bots on the market, most of them are described in more detail in the second part of the article.
We will shift right into the high gear and talk about the best crypto trading bots while you can find more information about types of bots, their major features, how to assess what bot fits your needs, etc., below the list, in the second part of the article.
So here is a list of top bitcoin day trading bots for 2022:
Pionex
---
Pionex is one of the first exchanges in the world to have 18 free trading bots built in. Users can automate their trading, so they don't have to check the markets all the time. Pionex is one of the largest Binance brokers. It pools the liquidity of Binance and Huobi Global.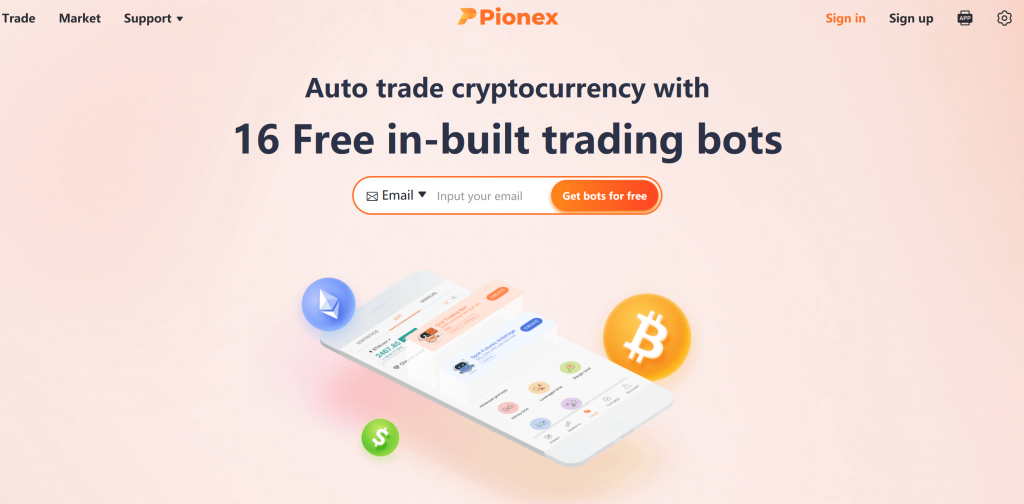 Here is a full review of Pionex – check if Pionex is profitable and legit.
Features:
Pionex supports 18 free trading bots.
Compared to most of the major exchanges, trading fees are on the low end. The fee to trade is 0.05% for both the maker and the taker.
Grid Trading Bot lets people buy cheap and sell high within a certain price range.
Leveraged Grid Bot works on the same principle as he spo grid bot but it also gives you the ability to levertage your position up to five times.
Spot-Futures Arbitrage bot helps small investors make money without doing much work. The return on this strategy is expected to be between 15% and 50% APR.
The Martingale bot uses a special DCA strategy where it doubles its buy entry each time the price dips and then makes a one-time sell to make money from price jumps.
The rebalancing bot will help you keep your coins in balance, working like an index fund.
DCA Bot (Dollar-Cost Averaging) Sets up regular repeat purchases to counteract the effects of volatility.
Traders can set up a stop-loss, take profit, and trailing all in one trade with the Smart Trade terminal.
The U.S. Money Services Business (MSB) License for Pionex.us was approved by FinCEN.
Mobile Apps: iOS & Android
Pricing will always be free
---
Cryptohopper
---
Cryptohopper is a leading crypto trading bot that offers some unique and interesting features, including cloud trading, extensive social trading options and a large variety of coins/exchanges to trade on/with. Stop losses and trailing stops are especially welcome elements here, as they help you tremendously with risk management. This is arguably one of the best crypto trading bots on the market, which is best reflected in their huge customer base (over 150k users) and large signals marketplace.
Here is a full review of Cryptohopper crypto trading bot.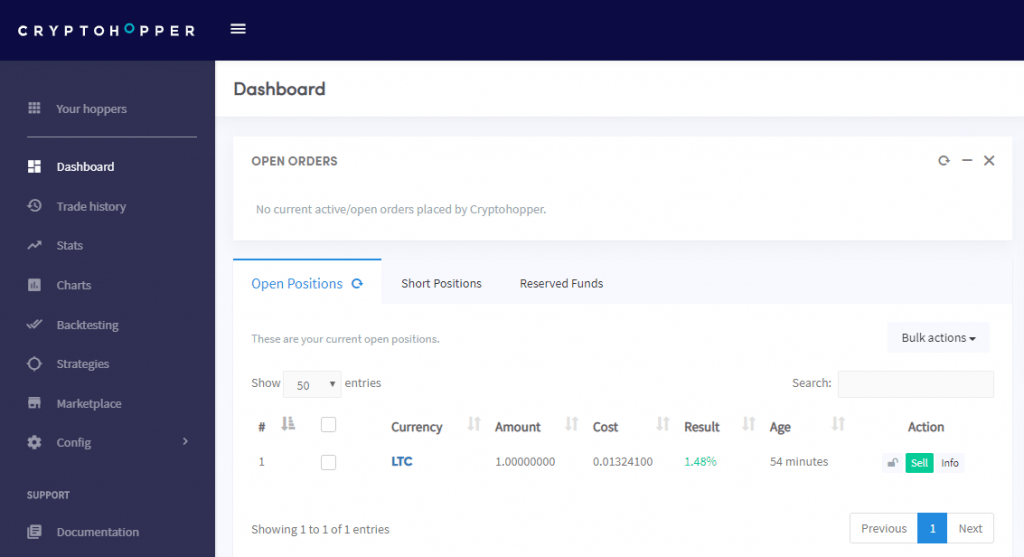 Created by two brothers from the Netherlands, one a day trader and the other a web developer, this crypto trading bot can brag about having a perfect blend of experience and knowledge – both in the worlds of trading/technology – behind it from the start. The two merged their ideas, skills, and experiences and created Cryptohopper.
Cryptohopper comes with a wide range of features such as: mirror trading, paper trading, trading strategies designer (simple drag and drop design), automatic trading and trailing stop loss. Their marketplace is huge and divided in three sections where you can buy templates, trading strategies or simple signals (when to enter or exit a position) from more experienced traders that are transparently ranked on Cryptohopper by their to-date success.
Supported exchanges
It currently offers integration with the following crypto exchanges:
Huobi – premium Cryptohopper partner
Poloniex
Kraken
Bittrex
Binance
Coinbase Pro
KuCoin
Cryptopia
Bitfinex
Work is apparently being done to integrate the cryptocurrency trading bot platform with other well known crypto platforms like HitBTC, Cobinhood, Cex.io, Bitstampand bitFlyerAPIs.
Cryptohopper was one of the first BTCbots that was completely cloud-based which meant that investors didn't have to download and run auto cryptocurrency trading software from their local machines (like you have to do with Margin, Gunbot or Haasbot).
Pros & Cons
most trusted brand
largest customer base
largest marketplace
regular improvements
smaller number of supported exchanges in comparison to its top competitors
Bitsgap
---
Bitsgap is a new young startup from Estonia that built a powerful cryptocurrency trading terminal that plans to rock the boat of the established incumbents.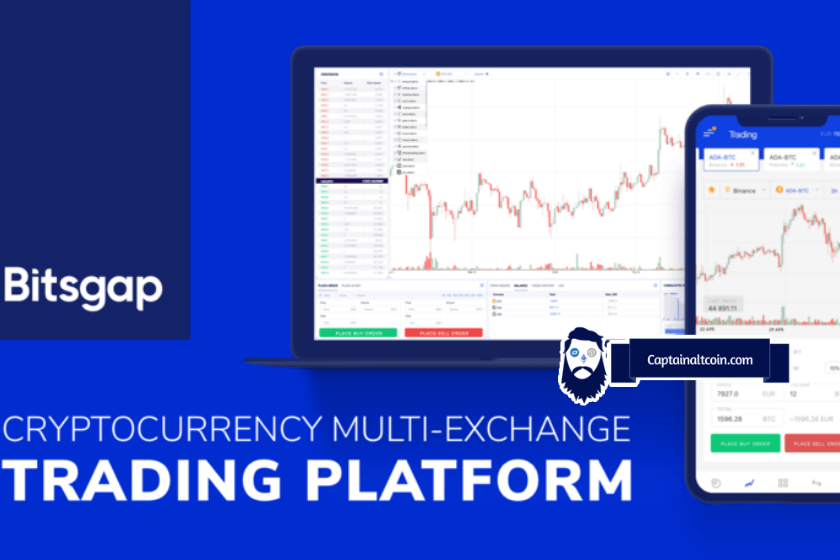 The number of supported exchanges is impressive – 25. This fact also means more arbitrage opportunities since there are a lot of exchanges that are tracked, and hence there is a high probability of finding a big price difference between them.
So Bitsgap is a platform that supports trading, portfolio tracking, arbitrage, trading signals, and bots – a full spectrum of cryptocurrency services that can be managed from one dashboard.
Of course, Bitsgap also has a demo version that you can take for a test ride and try out all your trading strategies without risking real money.
Prices are around what competitors charge – $19 for the lowest package and $109 for the advanced account that offers 15 bots and has no limit on the amount of funds you can trade.
Bitsgap shines especially when it comes to arbitrage and it is certainly the best crypto arbitrage bot.
Read
Coinrule.io
---
Coinrule stands out among competitors with its If-This-Then-That rule logic. This approach allows even less advanced traders to build their trading strategy in minutes. The user-friendly interface guides users in developing the trading bot step-by-step.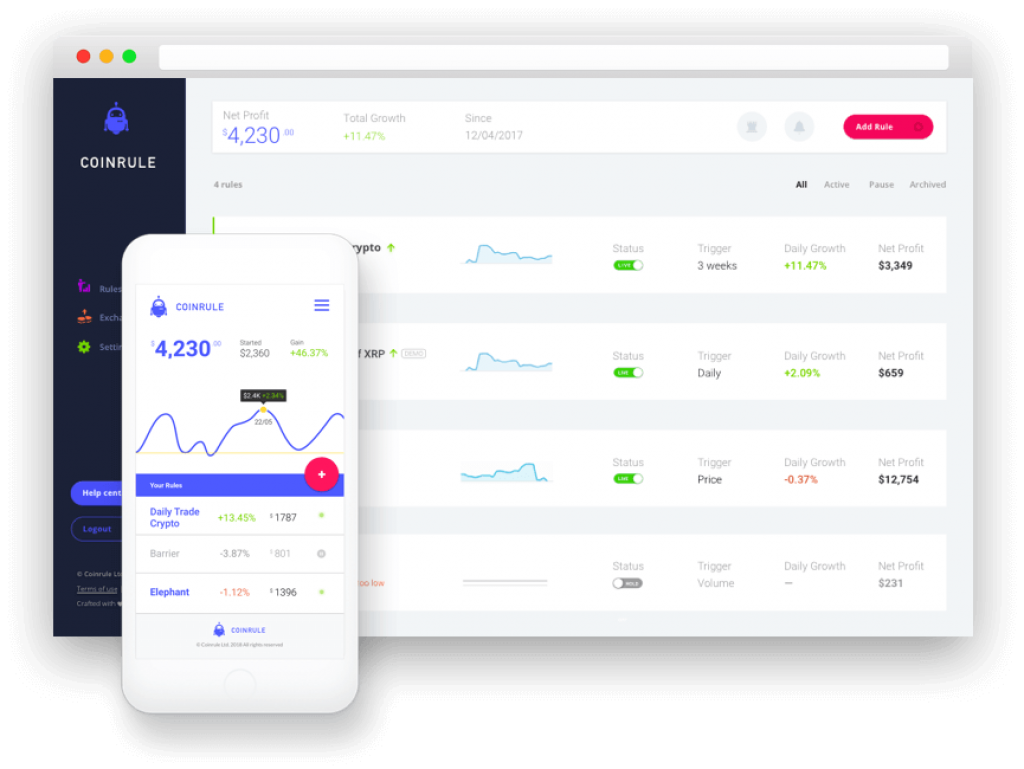 Over 150 templates help beginners in finding the perfect trading strategy that suits their needs. The platform allows plenty of different trading strategies, including stop loss and taking profit in one, and integrates the most common technical indicators such as Moving Averages.
Another exciting feature is the built-in Demo exchange. Traders can test their trading system in a safe environment with a virtual allocation of coins. The Demo exchange is modeled entirely on Binance, and you can try your strategies risk-free.
You can use Coinrule on a free plan with some limitations or subscribe to one of the premium plans priced between $29.99 and $249 USD. With a yearly subscription, you get access to a 20% discount on the price.
Coinrule supports Coinbase Pro, Binance, Binance US, Bitstamp, Kraken, HitBtc, Bitpanda Pro, Okex, Liquid, Poloniex, and additional exchanges are added regularly.
If you want to find out more, here is our full Coinrule Review.
Kucoin bot
---
Kucoin bot is similar to Pionex, it is a buil-in feature in the exchange itself.
And it works wonderful.
The Kucoin bot first saw the light of day in early 2021, and at the time, it had only three basic features. Nevertheless, it got attention from experienced traders. Over the next few months, the bot has undergone slight modifications, and today it has six features. They are as follows:
Dynamic Rebalancing
Infinity Grid
Margin Trading Grid
DCA (Dollar Cost Average)
Futures Grid
Classic Grid
When it comes to crypto assets, the bot supports pretty much all the coins that the platform itself supports. According to the latest assessments, there are more than 800 coins available on the crypto exchange. Starting the bot isn't too difficult, especially if we have in mind that it supports only the features that were already available on Kucoin's website. The only difference is that the bot is available only inside the mobile app. So all you have to do is to download it, run it, and your investing adventure may begin. 
Click to read more about how Kucoin bots work and are they profitable.
Advanced traders and crypto investors can leverage advanced orders like real-time charting, limit orders, stop-loss to earn more from crypto trading bots.
3Commas
---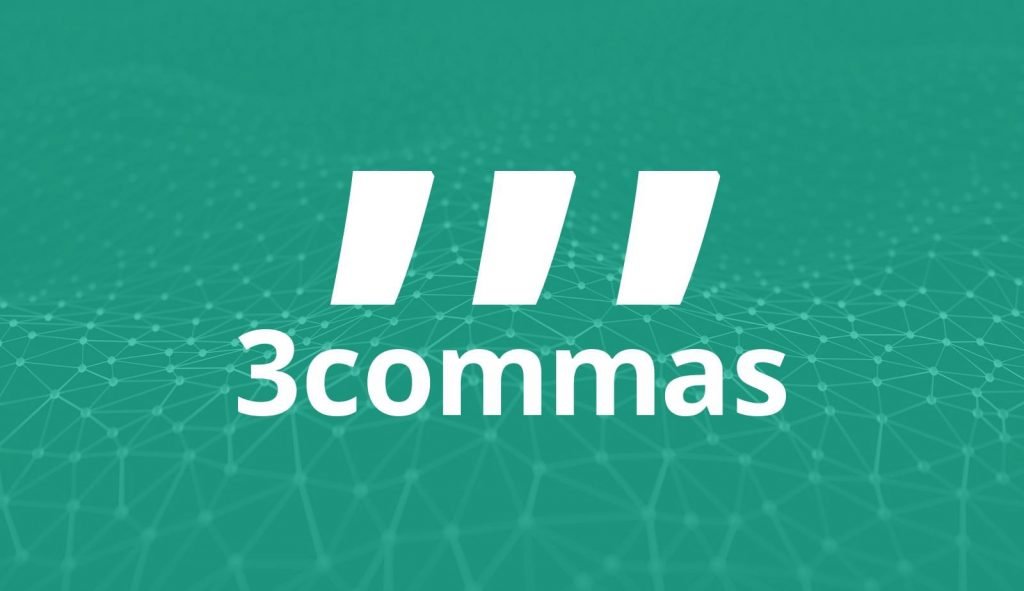 3Commas is one of the most well-known bitcoin trading software bots in the market. The name referencing the billion-dollar club is a Russian-made software solution.
3Commas is a crypto trading terminal which features bot trading and portfolio management. It features a SmartTrade terminal which allows users to execute orders and trades, set bot-trading, and stop-loss/profit positions.
Price: Their plans range in pricing from $22 to $75 per month.
Supported Exchanges
Binance, CEX.io, Coinbase Pro, Bittrex, BitMEX, Poloniex, YoBit.net, KuCoin, Bitfinex, OKEX, HitBTC, Huobi Global, Bitstamp, Cryptopia.
You can read our head-to-head comparison of 3Commas vs Cryptohopper to see how well it fares against the top dog of the crypto trading bots. As for the full 3Commas review, you can read it here.
Wunderbit Trading
---
Wunderbit Trading is an automated trading platform. Copy trade the best crypto traders with a transparent track record, trade yourself using the advanced trading terminal or create a fully automated trading bot using TradingView.


Wunderbit makes it possible to buy and sell crypto assets directly using a credit card, allowing you to purchase bitcoin.
Features of Wunderbit Trading
Smart Trading – Flexible way of creating orders for smart trading: adding and editing Take Profit, Stop Loss and Trailing stops to any order.
Marketplace – copy-traders can select best crypto trading signals and automatically follow them through Wunderbit Trading. As soon as the signal provider will generate a signal either manually or through a trading bot, the copy trader's account will copy the trade with the same settings in real-time.
Trading bots – automate any TradingView script into the fully functioning crypto trading bot.
Spread trading terminal – create a synthetic spread with low volatility based on any exchange-traded products.
DCA Bot – buy a certain portion of assets after the determined price deviation.
Crypto Portfolio Tracker – easy and precise cryptocurrency portfolio tracking tool of all your crypto exchange accounts.
Multiple Account Management – traders can easily manage multiple crypto exchange accounts.
Supported exchanges: FTX, Deribit, Binance (Spot and Futures), Bybit, Bitmex, HitBTC, Bitpanda, Bittrex, Kucoin, OKEX, Kraken,FTX US
Pricing: Free to $44.95 for the premium package.
TradeSanta
---
TradeSanta is an automated trading platform built with the idea of making crypto trading accessible to anyone.
TradeSanta's main characteristic is its easy to use yet powerful interface that has everything needed for strategy automation both for experienced traders and beginners.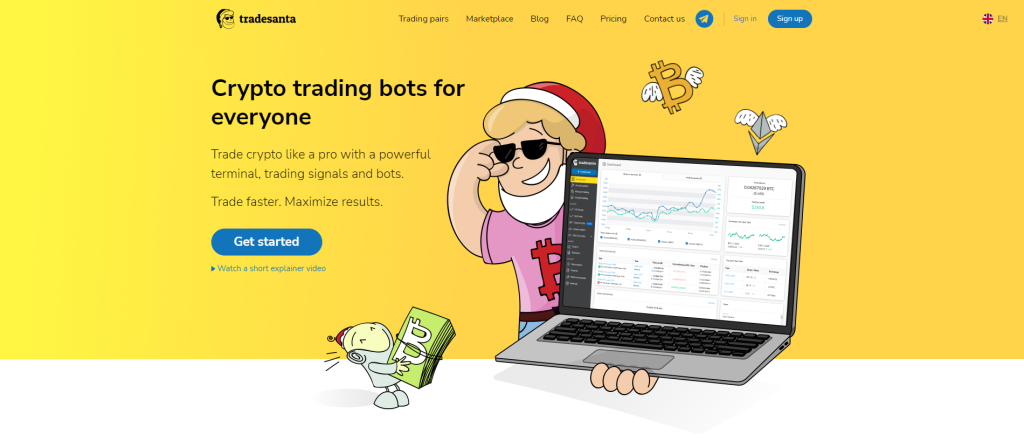 TradeSanta offers two most widely used strategies that can be enhanced with advanced tools such as Trailing Stop Loss and Trailing Take Profit. TradeSanta offers some additional tools to buy or sell big amounts of cryptocurrencies.
If a trader wants to try out a new approach, there is no need to risk real funds – just for this case, TradeSanta has developed virtual trading bots.
For the most experienced traders, TradeSanta offers Binance Futures trading with its Maximum plan.
On top of all of that, you can create and manage your bots on the fly with TradeSanta apps for iOS and Android.
Supported exchanges
It currently offers integration with the following crypto exchanges:
TradeSanta is a perfect choice for those just starting out automated trading and for those looking for advanced tools with a next-level user experience. Click here to read the full TradeSanta review.
Shrimpy
---
Shrimpy is a social trading platform that focuses on portfolio management strategies. Unlike other w or day trading strategies, Shrimpy is specifically designed for optimizing your portfolio over the long term. Rebalancing, dollar-cost averaging, and stop-losses can all be set up in a matter of minutes. As a result of the simple user interface and convenient features, Shrimpy has become the go-to place for cryptocurrency investors who are getting into trading for the first time.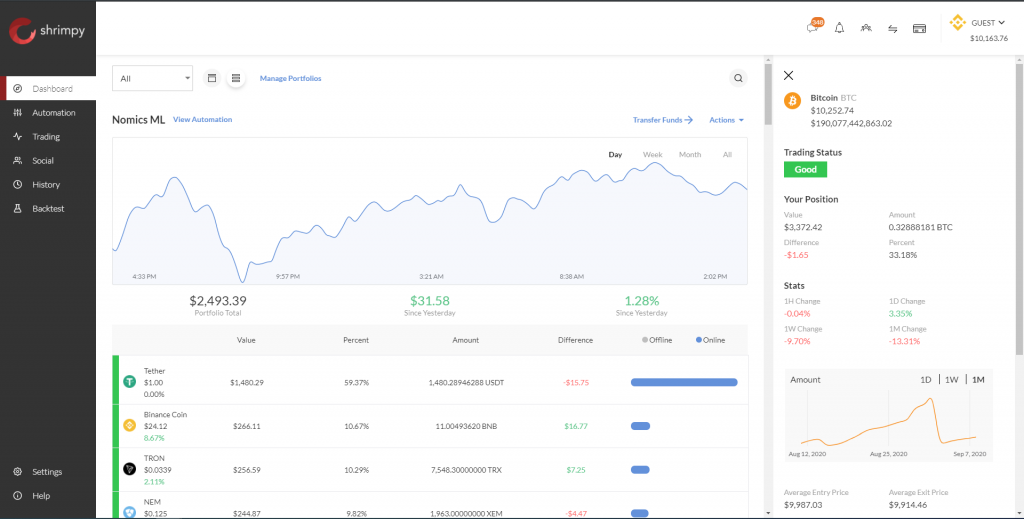 Launched in January 2018, Shrimpy has grown to become one of the largest social trading services in the crypto market. The platform now supports thousands of traders who manage over $1 billion dollars in cryptocurrency.
In addition to the popularity of the portfolio management platform, Shrimpy also offers a set of Developer APIs for builders. These APIs can be used to seamlessly integrate trading into mobile applications, websites, and trading bots without requiring significant work. These APIs are used by some of the largest applications in the crypto market, such as CoinStats.
Here is a full review of Shrimpy bot.
Supported Exchanges
Shrimpy offers integrations to the following exchanges:
Binance
Bittrex
KuCoin
Coinbase
Kraken
Poloniex
Gemini
Bibox
BitMart
Huobi
HitBTC
OKEx
Bitstamp
Bitfinex
CryptX Terminal
---
A new automated trading terminal was launched by the same company that runs CryptX wallet and Cryptal exchange, one of the most popular exchanges in the country of Georgia.
CryptX Terminal aims to be a one-stop solution for crypto traders as they integrate all major exchanges and provide excellent portfolio tracking and analysis tools. Aside of that, CryptX terminal offers pre-programmed bots that can be backtested before you deploy them live onto your accounts.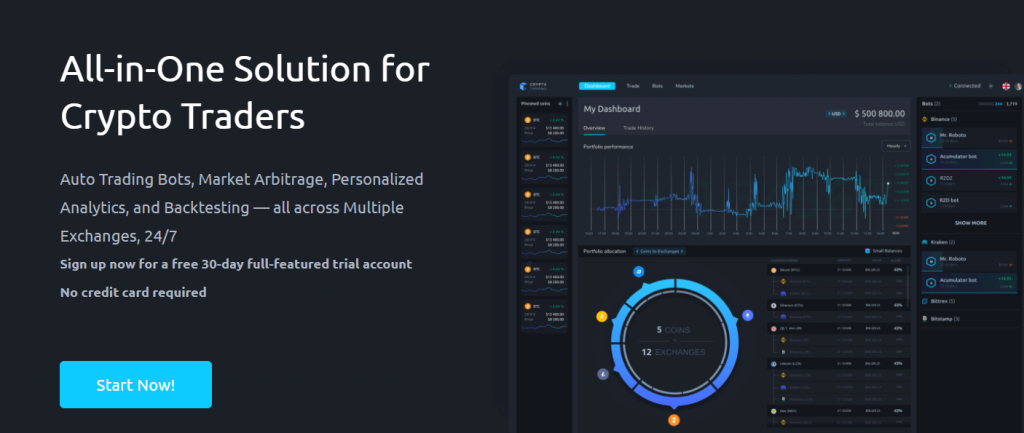 One of the major perks of this provider is their arbitrage capability as you can enjoy a high level overview of prices and market actions in all the exchanges and quickly move funds to make use of the price differences.
Supported exchanges: Binance, Cex.io, Bitfinex, HitBTC, Bittrex, Kucoin, OKEX, Kraken.
Price-wise is CryptoX slightly cheaper than the leading bots as they offer three price tiers for their users:
Free starter plan– one trading bot, up to $10k trading volume per month.
Advanced plan – $37. You get ten trading bots, integration with 10+ crypto exchanges, and can do up to $1 million of trading volume per month.
Professional plan – $74. All limits are removed, you can set up as many bots as you wish with no trading volume ceilings.
Trality
---
Trality is one of the newer entries in the cryptocurrency bot trading scene, but the young Austrian company is quickly becoming popular with more advanced traders who require the most power and flexibility when creating their bots.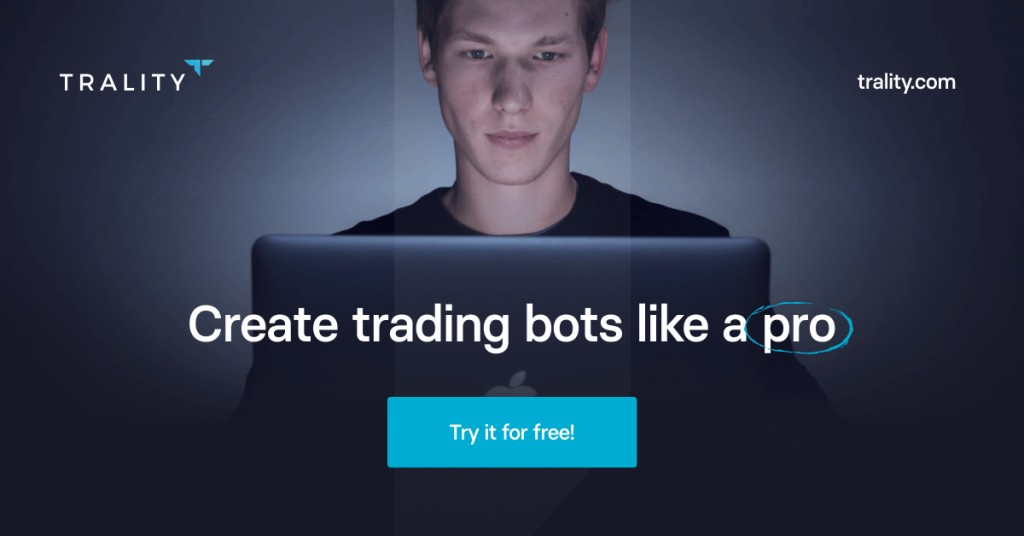 Founded in 2019 by Moritz Putzhammer and Christopher Helf, this ambitious company aims to bridge the gap between professional and private trading by enabling everyone to access the technology of algorithmic trading and help traders build smarter bots to make better trades. Most important to note is, however, that Trality empowers its users to customize and fine-tune their bots to an extreme, unseen level of precision.

Trality's main product is the 'Code Editor' which provides its advanced userbase with a professional-grade, browser-based Python editor. With this powerful and flexible editor, users can develop advanced and effective bots seamlessly. They can make use of NumPy, pandas and a list of other popular libraries to create bots in a snap before running them through a surprisingly quick and rigorous historical backtesting process to validate trading theories.
The second product is just as useful but geared towards users with no coding experience. Trality's 'Rule Builder' is just the thing you need when you want to build highly advanced bots without being fluent in any coding languages. It works through a super intuitive interface which allows you to simply drag and drop the different elements of an algorithm and 'build' your own bot that way. As long as you know an indicator from a strategy – you're ready to go.
Pricing
One of the very unique perks of using Trality is the pricing model. This is where the company stands firmly above the rest because not only do they have a flexible, fair pricing model to suit all levels of traders – there's also a completely free option. It's not limited by time and you can simply use this plan free, forever. Aside from that, there are several other plan options, so you can easily find one to fit your needs.
Supported exchanges
Trality allows users to trade on the top exchanges in the world. That said, there's room for more!
Learn more about Trality by reading our Trality review here.
Margin.de
---
Margin (Use code "Discount10" to get 10% off) is a trade bot that has 17 supported exchanges, 2 new crypto trading bots, and great features like a profit/loss indicator, cryptocurrency market scanner, social integrations & more. Plus, they still offer the free demo to try everything out first!
Use code "Discount10" to get 10% off on the checkout!


Margin currently comes bundled with two trading strategy bots:
• Ping Pong Strategy
• Margin Maker Strategy
Just as the name suggests, the ping pong strategy allows you to set a buy and sell price, and the bot will do the rest. The mArgin maker strategy is a bit more advanced and can buy and sell based on price action adjusting with the course direction of the market.
They obviously have a good designer on their team as their GUI is by far the best looking out of all bots and has lots of customization options.
Prices are paid for lifetime licenses and wide range from $129 for the starter package and over $259 for standard to a whopping $2999 (but these are aimed at enterprise clients).
One drawback is that it is not a cloud-based software but rather a downloadable program that you run from your local machine.
If you want to find out more, here is our full Margin bot review.
Haasbot
---
Haasbot algorithmic trading software was created In January 2014 by Haasonline. This crypto trading bot is very popular among crypto enthusiasts and trades bitcoinand over 500 altcoins on many major crypto exchanges, including fully automated trades on platforms such as Kraken, BTCC, GDAX, Poloniex, Bitfinex, Gemini, Huobi, and many more.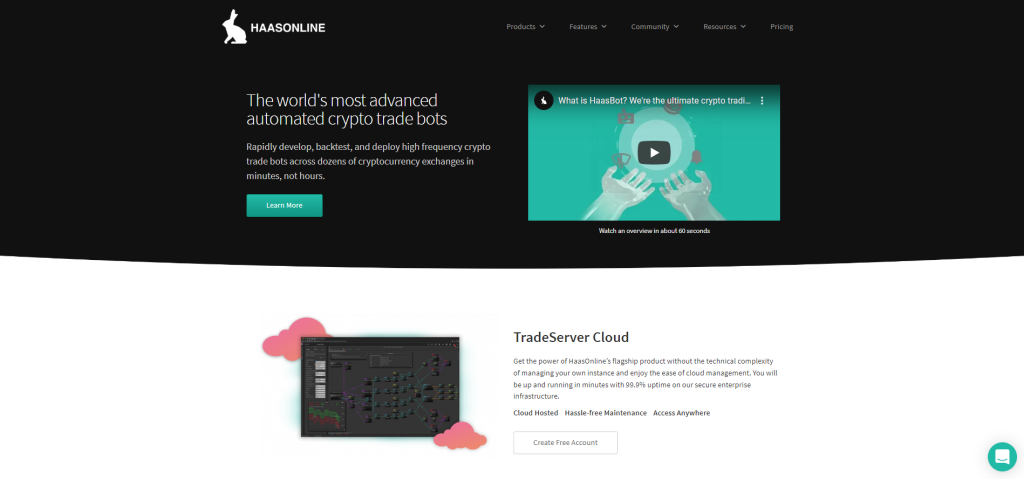 On paper, this cryptocurrency trading bot does all of the trading legwork on behalf of the investor. However, some input is required. Haasbot bot is highly customizable and enables a variety of technical indicators, and is also capable of recognizing candlestick patterns. One has to be knowledgeable to use this trading bot and make a profit from doing so, considering it costs between 0.12 BTC and 0.32 BTC per three-month period to use this tool. There is, however, an extensive knowledge base for the traders willing to learn, provided by the creators on their site.
Click here and use "captainaltcoin10" code to get a 10% discount on your Haasbot.
Gunbot
---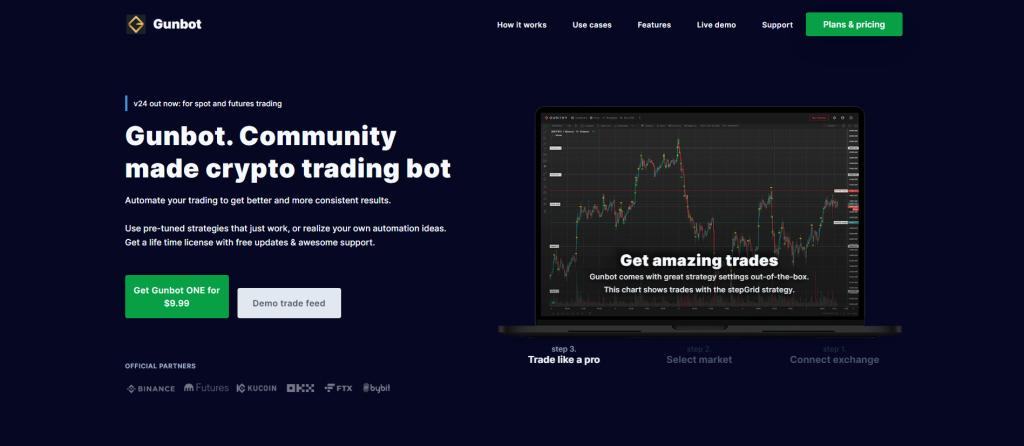 Gunbot is an older crypto trading bot but still one of the more advanced BTCtrading software that provides a wide range of settings and strategies which are ideal for both beginners and professionals. It is used to take over (most) of the workload of traders on the cryptocurrency markets.
The cryptocurrency trading bot gives users the opportunity to customize their trading to a level that no other trading bot can provide. Almost all the strategies and technical indicators that manual traders use on a daily basis can be found in this bot and used to trade automatically. The interface is user-friendly so that everyone can easily get the hang of it. It is suited for more experienced crypto traders as well as beginners; some strategies are highly configurable while others are easier to use.
The program comes with tons of trading strategies that are highly configurable and includes different types of insurances to optimize your crypto trading which are explained on the website.
Read our full Gunbot crypto trading bot review.
Another positive feature about this crypto bot is that it's a one-time payment, which means no need to renew every month (pay once and get all the future updates for free)!
Don't want the trading bot anymore? Don't worry, Gunbot includes something that no other trading platform offers: Gunthy coin. Gunthy coin is a feature that no other trading platform offers, a cryptocurrency token that is offered to the users when buying the the bot. The number of tokens sent to the buyer is derived from the type of license that they acquire. Why is this important? Imagine that trading is nothing for you and that you want to sell your crypto bot, that's possible with the Gunthy token!
Gunbot is used by thousands of crypto traders daily, which creates a close and helpful community. Its community is highly active on social media platforms to discuss different trading strategies and help each other out. The trading platform provides different packages which can be upgraded if needed. There are 4 different licenses available, ranging from 0.04 BTC to 0.3 BTC.
Free, open-source crypto trading bots
Among the free crypto bots that actually work, the best ones are Pionex and Kucoin bot. Aside of them, Gekko and Zenbot are two older software solutions that work from your machine (need to be downloaded).
So, a list of the best free crypto bots is as follows:
Pionex
Kucoin bot
Gekko
Zenbot
---
Gekko trade bot – best free crypto trading bot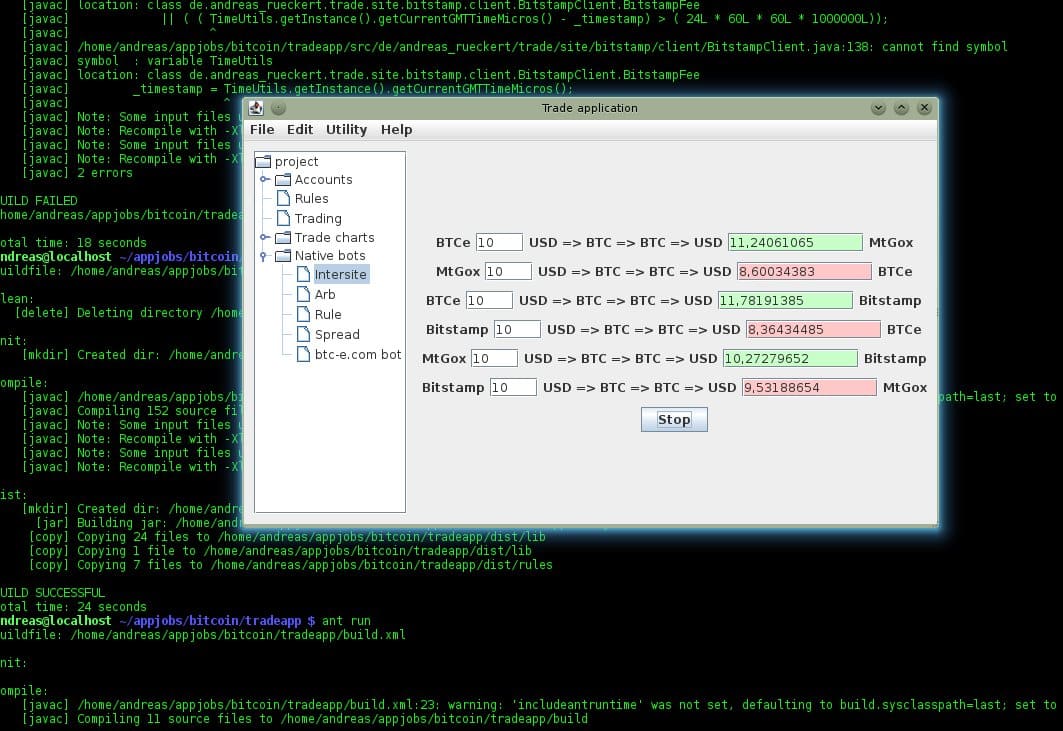 Gekko is a Bitcointrading bot and backtesting platform that supports 18 different Bitcoin exchanges (including Bitfinex, Bitstamp,and Poloniex). Gekko is free and 100% open source that can be found on the GitHub platform.
This automated trading bot even comes with some basic trading strategies, so using it seems rather straightforward.
Gekko comes with a webinterface that was written from scratch. It allows you to monitor your local data, and strategies. It can also run backtests and visualize the results. Using plugins, which are available for IRC, telegram, email, and a lot of other platforms, Gekko is able to update you wherever you are! Gekko runs flawlessly on all major operating systems (Windows, macOS, and Linux).
You can also run it in the cloud or on your raspberry PI without any issues! It will not exploit arbitrage opportunities, nor is it a high-frequency trading bot by any means. With a good list of supported cryptocurrency exchanges, Gekko is definitely a bitcoin trading bot that is worth checking out.
Zenbot – BTC trading bot
---
Zenbot is another open-source trade bot for bitcoin traders. It is important to note that this trading bot has not seen any major updates over the past few months. However, it is available to download and modify the code if needed. This marks the third iteration of Zenbot, which is still a lightweight and artificially intelligent bitcointrading bot, and it is also one of the very few solutions capable of high-frequency automated crypto trading and supporting multiple assets at the same time.
This bot supports the following cryptocurrency markets – Gemini, Quadriga, Bittrex, Kraken, Poloniex, and GDAX. Work on further exchange support is ongoing. According to the GitHub page, Zenbot 3.5.15 makes a 1.531 ROI in just three months. This is quite surprising.
Arbitrage
---
In the early days of cryptocurrency trading, one of the primary strategies that traders used to make profits was arbitrage – i.e., buying assets in one cryptocurrency market and then selling them in another for a higher price, thus earning a profit on the difference. As cryptocurrency exchanges were decentralized, there were often large differentials between prices offered on various exchanges, meaning that profits could be made through arbitrage.
On CoinMarketCap, there are currently 208 crypto exchanges listed, where exchanges with no trading fees are excluded. When no trading fees are being charged at the exchange, it is possible for a trader (or bot) to trade back and forth with themselves and generate a lot of "fake" volume without penalty. It's impossible to determine how much of the volume is fake, so they excluded it entirely from the calculations.
Due to a large number of exchanges and the high volatility of cryptocurrencies, traders can take advantage in the form of arbitrage.
An arbitrage strategy is the possibility of a risk-free profit after transaction costs. For example, an arbitrage is present when there is the opportunity to instantaneously buy something for a low price and sell it for a higher price. People who engage in arbitrage are called arbitrageurs, such as a bank or brokerage firms. The term is mainly applied to trading in financial instruments, such as bonds, stocks, derivatives, commodities, and currencies.
With so many exchanges available, there could be the same asset but with different prices on different exchanges. For instance, the price of asset A on exchange 1 is 10$, while on exchange 2 it is 15$.
Although the spread between crypto markets is getting smaller by day, they do still exist, and crypto trading bots can assist traders in making the most of these differentials.
Market Making
---
Trading bots can also enable users to use the market-making strategy. Market making is an activity whereby a trader simultaneously provides liquidity to both buyers and sellers in a financial market. Liquidity is the degree to which an asset can be quickly bought or sold without notably affecting the stability of its price. Market makers "make a market" by quoting prices to both buy and sell an asset. In this way, the market maker (or liquidity provider) acts as both a buyer and seller of last resort where there would not naturally be another buyer or seller, thereby providing liquidity.
As prices oscillate and vary, the crypto trading bot will automatically and continuously place limit orders in order to profit from the spread.
Market making as a strategy does not work well in low liquidity environments and is highly competitive.
Do Cryptocurrency Trading Bots Work?
---
The main purpose of crypto trading bots is to automate things that are either too complex, time-consuming, or difficult for users to carry out manually.
Good trading bots like Bitcoin Pro can save a crypto trader time and money by collecting data faster, placing orders faster, and calculating the next moves faster
The majority of trading bots use an indicator from technical analysis called an exponential moving average (EMA) as a principal strategy for analyzing the market. Bots can be programmed to make an action once EMA surges or drops certain thresholds.
By setting up the bots, users can set their thresholds to fit their risk profile. However, one of the main downsides of EMA and similar indicators is that they are so-called lagging indicators – based on past history, which, as all traders will know, is not indicative of future performance, especially in the cryptocurrency industry where volatility is rife.
Therefore the answer to the question of whether trading bots work is – "depends". They do work, but not necessarily for everybody.
Trading with automated crypto trading bots is a technique that uses pre-programmed software that analyzes cryptocurrency market actions, such as volume, orders, price, and time, and they are rather common in the bitcoin world because very few traders have time to stare at the charts all day. Bots or program trading is used within many global stock exchanges.
Most people trade bitcoinas a way to generate passive income while working their regular day jobs, and crypto trading bots are said to establish more efficient trading.
Trading bots are software programs that connect to an exchange (usually via API protocol) and make trades on behalf of the users. They work using a variety of trading indicators and strategies. Since trading is all about mathematics and fast complex probability calculations, bots should be better at trading than humans.
Crypto trading botscan be utilized on many well-known cryptocurrency exchanges today. There are crypto trading bots that are free of charge and can be downloaded online, and there are also crypto trading bot services you have to pay for offered by the various trading engines and programming companies.
With so many people relying on top crypto trading bots, the question becomes which one should be avoided and which one can be trusted. Below is a list of the best crypto trading bots.
Is there a difference between bitcoin and Ethereum trading bots?
---
No, it is just semantics. These bots can be called best Ethereumbots as well or best [pick any altcoin] trading bots since they support automated trading of any coin listed on the exchanges they integrate with.
We have made our list of top trading bots based on the following criteria:
Trading strategy.
What strategies of technical analysis can the bot execute? How customizable are those strategies?
User Interface.
A friendly user interface is another important factor. The bot has to have simple and intuitive processes that are easy to learn and implement.
Ease of use
If you are a beginner, the crypto bot needs to have premade setups that are easy to choose and launch. For the more advanced users, the ability to customize the crypto bot to the settings and preferences the user has was of the highest importance.
Speed.
What is the latency in transferring data from exchanges? Sometimes it is important to have the order executed immediately, and a slow bot can cost you a lot of money.
Cost.
Of course, price always plays a role. You want to earn money, after all, and not break a bank for a piece of code.
Security
Authentication methods, 2 Factor authentication, API key encryption mechanism. Privacy policies related to users' trading data.
Reputation

.


Does the bot have a good reputation among the wider crypto community? Check online forums for reviews from other users to see if the crypto bot is legit and if they'd recommend using it.
Exchanges.
While most reputable crypto trading bots will work with most reputable exchanges, make sure any program you choose will allow you to trade on the exchange(s) you want to use.
Should you use a crypto trading bot?
---
Cryptocurrencies are a nascent and atypical asset class, and for this reason, it is hard to make a regular return off of them in the same way that cash or a stock creates value. Many of the best stocks pay out dividends which are in addition to price appreciation's main wealth creation mechanism from them. There isn't really an analogy for this in the crypto market unless crypto owners lease out their cryptos to derive an income from their holdings.
Or you can hoard staking coins and participate in the network maintenance as a block producer or at least a delegate voter.
Trading bots represent the other option for passive income earning in the crypto industry – even though, as we emphasized earlier, they are not completely hands-off and require monitoring and manual interventions.
Trading Bots For Passive Income
---
If you want to put your crypto coins to work for you, crypto trading bots could make sense to use.
The 'bot' is superior to a human because it is emotionless, and it is awake and looking for income opportunities 24/7. Of course, there is no such thing as free money.
Any risk that can generate a return has the potential to lose money. It is a good idea to make sure that any automated investment platform you choose to trust with your cryptos can prove that it works with a verifiable transaction history.
FAQs
---
The software can be difficult for inexperienced crypto traders to understand, which means that bot trading may not be for everyone. Furthermore, traders have to trust in the reliability and efficiency of companies that offer algorithmic cryptocurrency trading. There are many different businesses online offering crypto bot services. But be careful, because some of them may not be legitimate. However, if used correctly, reputable and functioning trading bots may increase trade profits.