Cryptocurrency trading isn't easy. However, there are many people who have honed the art of trading bitcoins and altcoins on a daily basis. Trading bots are used by many cryptocurrency traders to execute trades faster and more efficiently, and sometimes even in their sleep.
They are called bots because the programs execute trades like humans do. However, they do it autonomously and can operate continuously without having to rest.
Trading bots is a technique that uses pre-programmed software that analyzes market actions, such as volume, orders, price, and time, and they are rather common in the bitcoin world, because very few traders have time to stare at the charts all day. Bots or program trading is used within many global stock exchanges.
Most people trade bitcoin as a way to generate passive income while working their regular day jobs, and bitcoin trading bots are said to establish more efficient trading. There are controversial automatic Bitcoin trading bots like Cryptosoft, and there are bots that can be downloaded online, and there are also trading bot services like  you have to pay for, offered by various trading engine and programming companies.
Bitcoin trading bots can be utilized on many well-known cryptocurrency exchanges today. There are bots that are free of charge and can be downloaded online, and there are also trading bot services you have to pay for, offered by various trading engine and programming companies.
According to InsideBitcoins, there are also the robots that have been claimed to be endorsed by celebrities like Bitcoin Trader. Remember though, not every robot is what it claims to be. Beware of Scams.
With so many people relying on trading bots, the question becomes which one should be avoided and which one can be trusted. Below is a list of top 6 best cryptocurrency trading bots. However, your mileage may vary when using them.
Haasbot
Haasbot algorithmic trading software was created In January 2014 by Haasonline. This trading bot is somewhat popular among cryptocurrency enthusiasts and trades bitcoin and over 500 altcoins on many popular exchanges, including fully automated trades on platforms such as Kraken, BTCC, GDAX, Poloniex, Bitfinex, Gemini, Huobi and much more.
You can see our full review of Haasbot here.
On paper, Haasbot does all of the trading legwork on behalf of the user. However, some input is required. Haasbot details the bot is customizable and enables a variety of technical indicator tools, and is also capable of recognizing candlestick patterns. One has to be committed to using the software and hopefully make a profit from doing so, considering it costs between 0.12 BTC and 0.32 BTC per three-month period to use this tool.
Click here and use "captainaltcoin10" code to get a 10% discount on your Haasbot.
Gunbot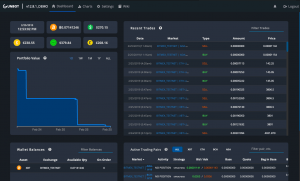 Gunbot is the most advanced crypto trading bot on the market and provides a wide range of settings and strategies which are ideal for both beginners and professionals. It is used to take over (most) of the workload of traders on the cryptocurrency markets.
The trading bot gives users the opportunity to customize their trading to a level which no other trading bot can provide. Almost all the strategies and signals that manual traders use on a daily basis can be found in Gunbot and used to trade automatically. The interface is user friendly so that everyone can easily get a hang of it. It is suited for more experienced traders as well as beginners; some strategies are highly configurable while others are easier to use. The program comes with tons of strategies that are highly configurable and includes different types of insurances to optimize your trading which are explained on the website.
Another positive feature about Gunbot is that it's a one-time payment, that means: no need to renew every month (pay once and get all the future updates for free)! Don't want the trading bot anymore? Don't worry, Gunbot includes something that no other trading platform offers: Gunthy coin. Gunthy coin is a feature that no other trading platform offers, a token that is offered to the users when buying the Gunbot. The amount of tokens sent to the buyer are derived from the type of license that they acquire. Why is this important? Imagine that trading is nothing for you and that you want to sell your bot, that's possible with the Gunthy token!
Gunbot is used by thousands of traders daily which creates a close and helpful community. Its community is highly active on social media platforms to discuss different trading strategies and help each other out. The trading platform provides different packages which can be upgraded if needed. There are 4 different licenses available, ranging from 0.04 BTC to 0.3 BTC.
Coinbot.club
Coinbot.club is a crypto bot rental service with an open source code. On the site you can find the description of algorithms and link to the github(https://github.com/coinbitbot).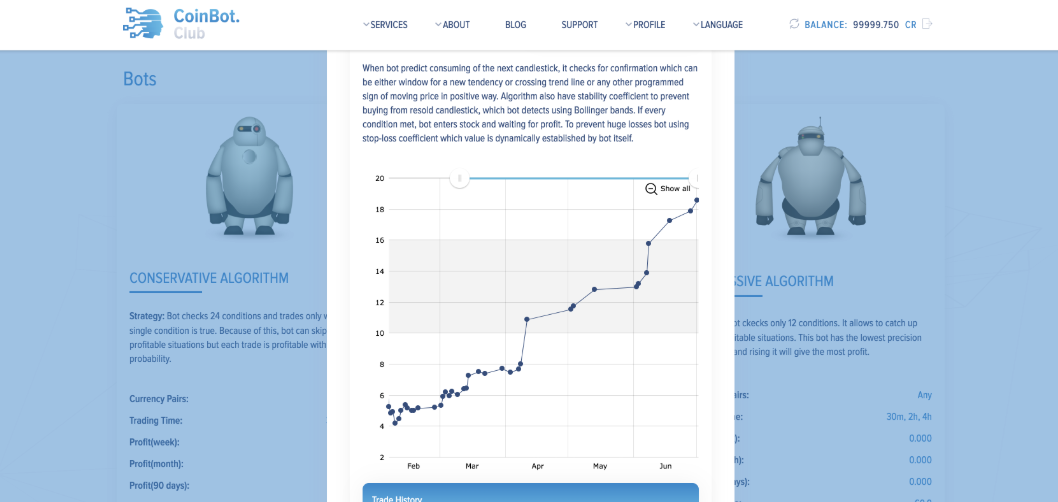 The project has got a number of features that distinguishes it from others:
1. This is a cloud-based service that does not require any programs to be installed.
2. The project also presents information on the team and its other projects
3. Open source code and link to the github – anyone can check the code and algorithms of the bots.
4. Additional modules for traders (arbitrage, social and telegram assistant)
5. Affiliate program up to 50% 6. 3 types of automatic trading bots (aggressive, balanced and conservative)
There are three additional modules:
1. A social analyzer that searches and sends information to the user about upcoming airdrop, hardfork, re-branding, and so on. The user can customize the keyword dictionary on his own. It is based on the research conducted by the team, which confirms the influence of news on the crypto rates.
2. The second tool is an arbitration bot, which not only checks the arbitrage windows, but also checks whether the deposit and withdraw of currencies are available at the moment. It is an important point because the majority of bots do not verify it. Another important detail is the ability to set the desired volume of arbitration. This means  the arbitrage bot will not only take the first best orders from the order book, but will analyze their depth and calculate what kind of profits will be received on a specific volume. This is a very useful and rare feature.
3. Telegram assistant. For convenience, the project team has developed a telegram assistant that allows you to fully manage all the bots.   According to price, it is relatively low and accounts for  0.25% of all trades. On the site you can learn about the history of bids and general statistics on bots.
Cryptohopper
Cryptohopper is a trading bot that offers some interesting features, including cloud trading, some social trading options and a large variety of coins/exchanges to trade on/with. Stop losses and trailing stops are especially welcome elements here, as they help you tremendously with risk management. As with any trading bot, you'll find conflicting reports regarding its effectiveness, functionality and safety.
Here is a full review of Cryptohopper bot.
Created by two brothers from the Netherlands, one a day trader, and the other a web developer, it can brag about having a perfect blend of experience and knowledge – both in the worlds of trading/technology – behind it from the start. The two merged their ideas, skills, and experiences and created Cryptohopper.
It currently offers integration with the following exchanges:
Huobi – premium Cryptohopper partner
Poloniex
Kraken
Bittrex
Binance
Coinbase Pro
KuCoin
Cryptopia
Bitfinex
Work is apparently being done to integrate the bot with HitBTC, Cobinhood, Cex.io, Bitstamp and bitFlyer APIs.
Cryptohopper is different than most of the market competitors in the sense that it's web-based; it's stored on the company's servers, operates on a cloud-like infrastructure and can be accessed through any web browser. While the advantages of this include fast and simple access to the bot, without needing any additional hardware to set it up and keep online.
Gekko
Gekko is a Bitcoin trading bot and backtesting platform that supports 18 different Bitcoin exchanges (including Bitfinex, Bitstamp and Poloniex). Gekko is free and 100% open source that can be found on the GitHub platform.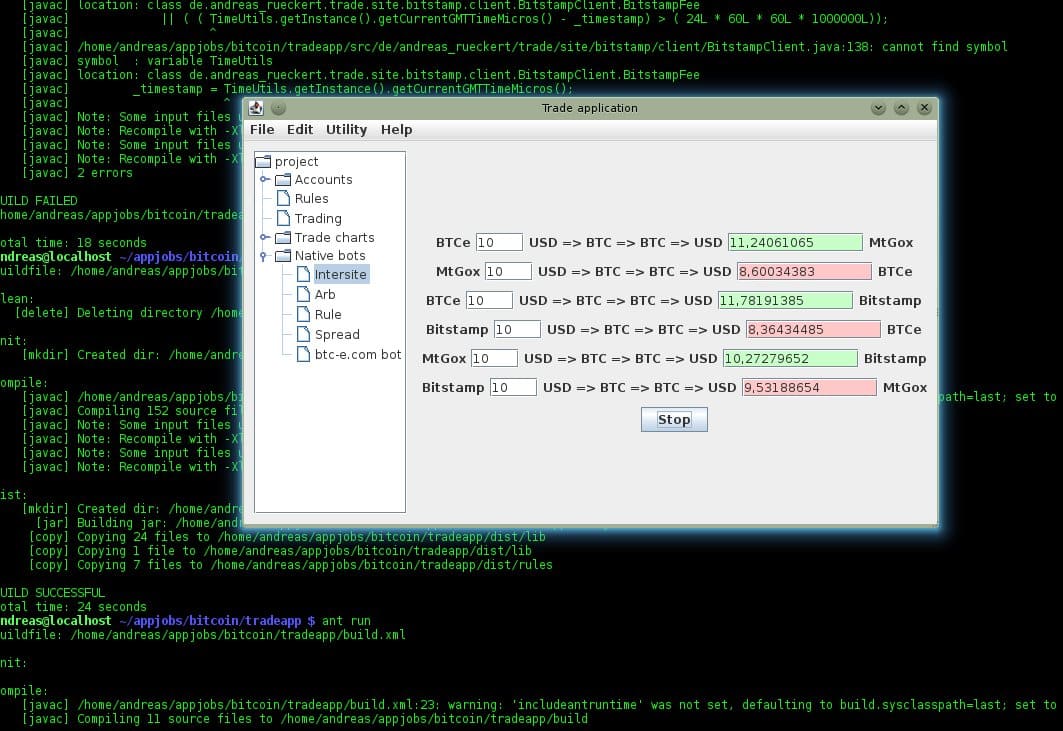 This automated trading bot even comes with some basic strategies, so using it seems rather straightforward. Gekko comes with a webinterface that was written from scratch. It allows you monitor your local data, strategies. It can also run backtests and visualize the results. Using plugins, which are available for IRC, telegram, email and a lot of other platforms, Gekko is able to update you wherever you are! Gekko runs flawlessly on all major operating systems (Windows, macOS, and Linux).
You can also run it in the cloud or on your raspberry PI without any issues! It will not exploit arbitrage opportunities, nor is it a high-frequency trading bot by any means. With a good list of supported exchanges, Gekko is definitely a trading bot that is worth checking out.
BTC Robot
BTC Robot is one of the very first automated bitcoin trading bots to ever be created. The trading robot offers multiple plans for different types of software and membership, and the cheapest robot plan is $149 for the silver software. It gives traders a downloadable version for various Windows operating systems. On the other hand, Mac users have to pay a touch more. It seems to do the job and is quite easy to set up. However, user's mileage may heavily vary when using this tool. Some people seem to be making modest profits.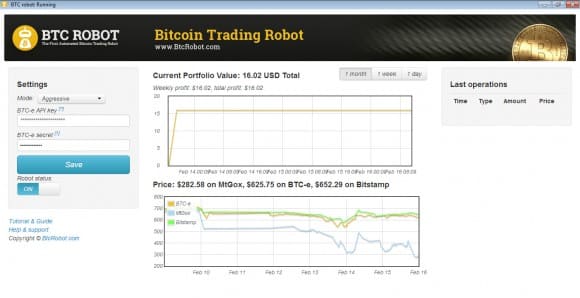 On the other hand, others seem to struggle to get it to work properly. The company notes that its algorithmic trading does not predict markets perfectly. This means that there will always be losing and winning trades. It is important to note that there is a 60-day refund policy. This feature makes it a no-brainer to try out regardless.
Zenbot
Zenbot is another open-source trading bot for bitcoin traders. It is important to note that this trading bot has not seen any major updates over the past few months. However, it is available to download and modify the code if needed. This marks the third iteration of Zenbot, which is still a lightweight and artificially intelligent bitcoin trading bot, and it is also one of the very few solutions capable of high-frequency trading and supporting multiple assets at the same time.
This bot supports following exchanges – Gemini, Quadriga, Bittrex, Kraken, Poloniex, and GDAX. Work on further exchange support is ongoing. According to the GitHub page, Zenbot 3.5.15 makes a 1.531 ROI in just three months. This is quite surprising.
CryptoTrader
CryptoTrader is one of the more attractive – yet unknown – trading bots. This cloud-based automated bitcoin trading bot claims to allow users to build algorithmic trading programs in minutes. Not having to install unknown software is a big plus. However, it remains to be seen if this platform is legitimate. One intriguing feature is that the company also offers a "Strategy Marketplace" where users can buy and sell trading strategies.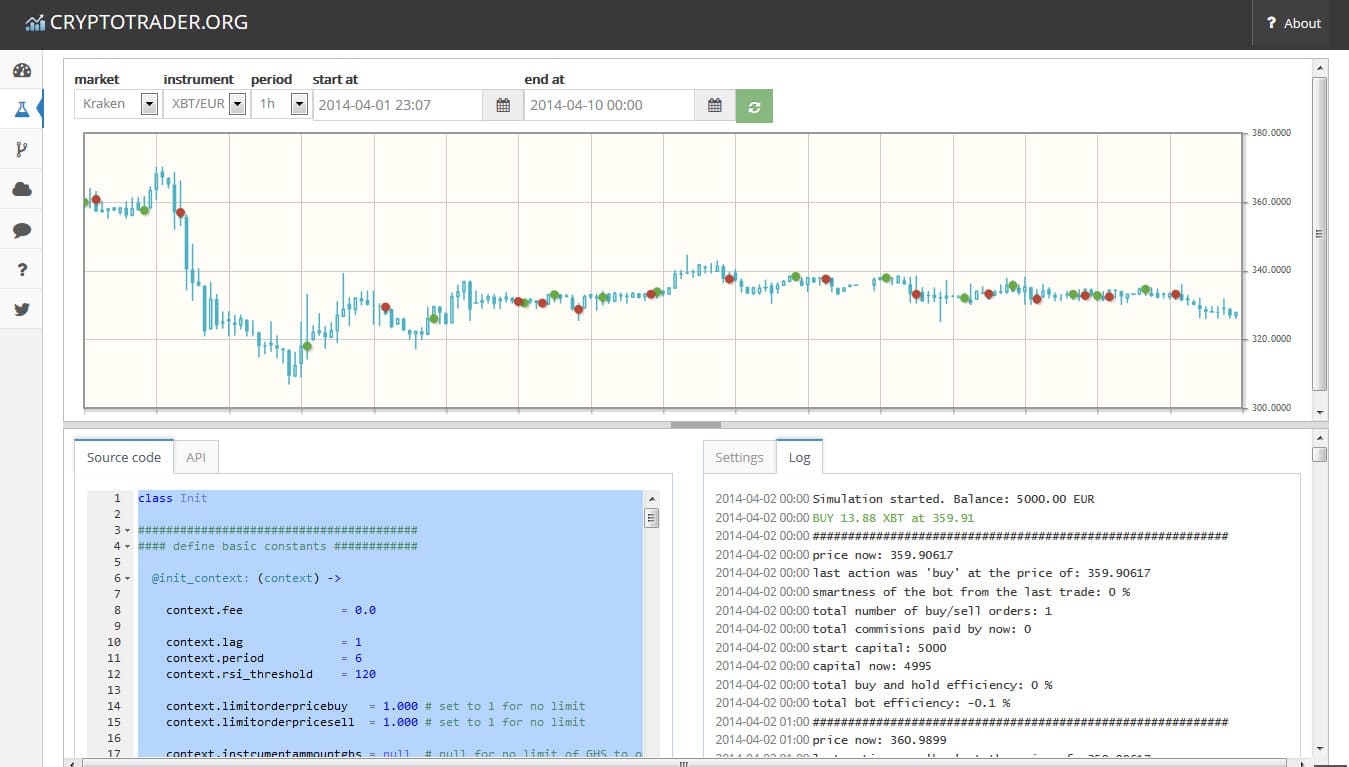 All major crypto-currency exchanges, such as Coinbase, BTCe, Bitstamp, and more, are supported for both backtesting and live trading. Using their backtesting tool, you can see how your strategy would work over different market condition. Their goal is to provide traders with cloud-based automated trading solutions powered by cutting-edge technology, and the company states that its automated trading bots in are unique compared to the current bots on the market today.
Tradewave
Although technically not a bot in the traditional sense, Tradewave is a new platform that allows users to program their own cryptocurrency trading bots and have them trading automatically on crypto currency exchanges for you. Tradewave uses Python for writing the trading bot code directly in the browser and then the bot runs in the cloud doing the trading for you. This means that you don't need to worry about downtime or have to leave your computer on and connected to the Internet all of the time. Another great feature is that there are quite a few trading strategies shared by community members for other users to try out.
The crypto currency exchanges that are currently supported by the Tradewave platform are BTC-E and Bitstamp, and new exchanges are soon going to be added such as Bitfinex, Atlas ATS and Kraken. It is important to note that Tradewave is not free to use, as plans start at just $14 per month.
Margin (Formerly LeonArdo)
Margin support 11 exchanges, 2 new bots, and great features like a profit/loss indicator, market scanner, social integrations & more. Plus, they still offer the free demo to try everything out first!
Margin currently comes bundled with two trading strategy bots:
• Ping Pong Strategy
• Margin Maker Strategy
Just as the name suggest, the ping pong strategy allows you set a buy and sell price and the bot will do the rest. The mArgin maker strategy is a little more advance and can buy and sell based on price action adjusting with the course direction of the market.
They obviously have a good designer on their team as their GUI is by far the best looking and has lots of customization options.
Conclusion
The software can be difficult for inexperienced traders to understand, which means that bot trading may not be for everyone. Furthermore, traders have to trust in the reliability and efficiency of companies that offer algorithmic cryptocurrency trading. There are many different businesses online offering bot services. But be careful, because some of them may not be legitimate. However, if used correctly, reputable and functioning trading bots may increase trade profits.
---
Join Our Telegram Channel
or
Follow @CaptainAltcoin
CaptainAltcoin's writers and guest post authors may or may not have a vested interest in any of the mentioned projects and businesses. None of the content on CaptainAltcoin is investment advice nor is it a replacement for advice from a certified financial planner. The views expressed in this article are those of the author and do not necessarily reflect the official policy or position of CaptainAltcoin.com