Bitfinex Review – Is It Safe and Legit Or a Scam Exchange?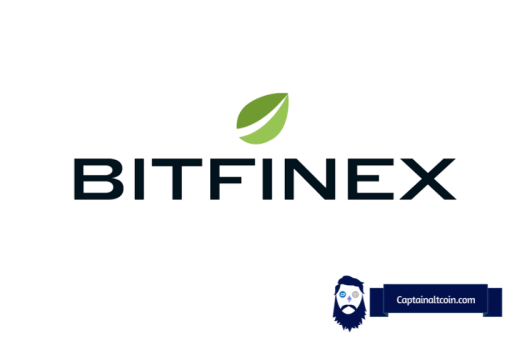 Bitfinex Review – Is It Safe and Legit Or a Scam Exchange?
Great mobile apps
Low fees
Advanced trading features
High liquidity
Multiple order types
Bitfinex is a full-featured cryptocurrency exchange that is trusted by millions of professional traders all around the world.
The company first entered the market in 2012 and has enjoyed steady expansion ever since. Since 2014, Bitfinex has emerged as one of the world's largest Bitcoin trading platforms.
Today, Bitfinex is the leading exchange for USD-denominated Bitcoin trading, with daily volumes well north of US$1 billion. In addition to Bitcoin, it provides access to the world's leading altcoins, including Monero and Ethereum, as well as full-spec wallet services.
Market participants who are looking for a one-stop crypto exchange for all their cryptocurrency needs will definitely find Bitfinex both effective and convenient.
What is Bitfinex?
---
Bitfinex is one of the world's largest and most advanced Bitcoin trading platforms. Access to multiple altcoins, deep liquidity, and advanced trading features make Bitfinex perfect for serious and professional traders looking to make money from cryptocurrency.
Bitfinex exchange also offers a customizable interface that allows you to personalize your workstation. The trading platform is fully equipped with ten different order types and margin trading that give its users the opportunity to trade the market without limitation.
The crypto exchange is incorporated in the British Virgin Islands and its executive team is based around the world. They also maintain their offices in London, Taiwan, and Hong Kong.
The exchange was hacked in August 2016, leading to the loss of 120,000 BTC and this is the second-largest hack in Bitcoin history (after Mt. Gox). After the hack, Bitfinex moved from a hot wallet to a cold storage system. Bitfinex created BFX tokens after the hack (each token represented $1) and gave them to customers to represent their stolen equity. By April 2017, Bitfinex had bought back all of the BFX tokens from customers, which means that Bitfinex had paid their users back for every dollar stolen during the heist.
Bitfinex Features
---
Here's an overview of the major and advanced features of Bitfinex: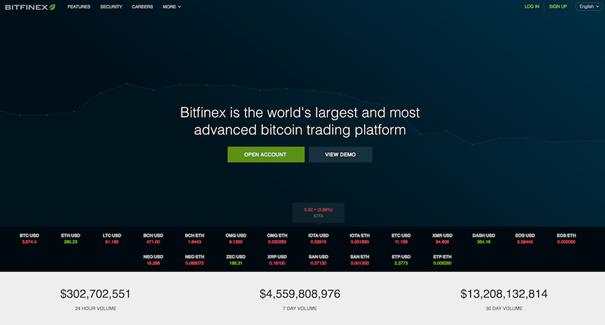 ✅ Margin Trading
---
Bitfinex exchange allows leveraged trading of up to 5 times by providing traders with access to the P2P funding market. Traders can open a position and Bitfinex will take out funding for the experienced trader at the best available rate at that time, or they can enter an order to borrow the desired amount of funding at the rate and duration of their choice. Margin trading is a risky trading method and we do not suggest it to beginners in the crypto universe.
✅ Margin Funding
---
Liquidity providers can earn interest by providing funding (funding is traded on an order book at various periods and rates) to an experienced trader wanting to trade with leverage.
Using the Bitfinex margin funding system, you can earn interest on both cryptocurrencies and fiat currencies, including the US Dollar, Bitcoin, Dash, Litecoin, Monero, Zcash, Ethereum Classic, and Ethereum.
Users can also choose to lend at the "Flash Return Rate" (FRR), or they can customize the rate and duration of the loan. Using the Auto-Renew feature, users can also renew offers automatically upon expiry.
✅ Multiple Order Types
---
Bitfinex exchange offers a wide variety of order types. Thanks to this feature, traders are given the tools they need for every scenario. Bitfinex offers a suite of order types, including:
TWAP (Time Weighted Average Price) (Algorithmic Order)
Iceberg Orders (Algorithmic Order)
✅ Mobile Apps
---
Bitfinex exchange has a mobile app available for Android and iOS devices. The mobile apps let you trade, transfer funds, access your wallet, engage in margin funding, and set up access via API keys. It is highly recommended that any trading of substantial value be performed only through a secured desktop or laptop because of the inherently less secure nature of mobile platforms.
✅ Customizable Trading Interface
---
Bitfinex's interface, with charts based on the popular Trading View charting site, is customizable, responsive, and detailed.
Users can customize Bitfinex's trading interface more intensely than you normally can with other cryptocurrency exchanges. You can choose different themes, change your layout, and set up notifications or data preferences, for example.
You can also organize and sort the order book columns, set table preferences, manage tickers navigation, compose the trading sidebar, and choose whether it's on the right or left side.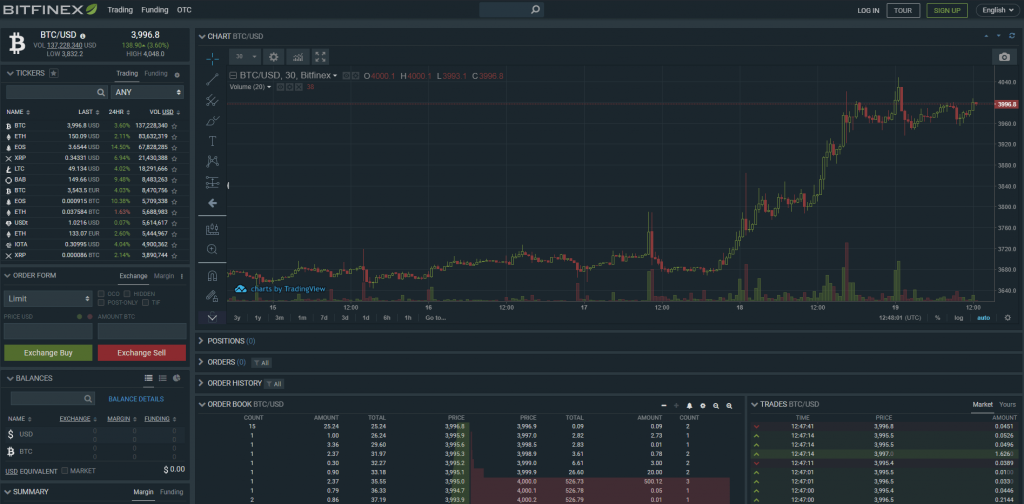 What Cryptocurrencies Can Be Traded on Bitfinex?
---
Bitfinex offers trading of the world's leading cryptocurrencies, including:
Bitcoin
Ethereum
Ethereum Classic
Dash
Monero
Litecoin
Ripple
NEO
IOTA
OmiseGo
Zcash
EOS
Bcash
Santiment
Supported Countries
---
Bitfinex is available worldwide with few exceptions.
Bitfinex Fees
---
Bitfinex offers some of the lowest fees in the cryptocurrency world. Here are some of the most important Bitfinex trading fees:
✅ Taker Fee: 0.2% (Volume Under $500,000 in 30 Day Period)
✅ Maker Fee: 0.1% (Volume Under $500,000 in 30 Day Period)
Maker and taker fees drop on volume over $500,000 in a 30-day period. They continue dropping through 10+ levels, all the way up to the lowest fees, which are available to traders who make more than $30 million of trades in a 30-day period.
Here is a tabular overview of how Bitfinex fares against its competitors in terms of charged fees:
Deposits & Withdrawals
---
Deposits via Bank Transfer: 0.1% (minimum fee of $20)
Deposits via Cryptocurrency: Free (available deposit methods include Bitcoin, IOTA, Ripple, Litecoin, Dash, Zcash, Monero, Ether, Ether Classic, and TetherUSD)
Bitcoin Withdrawal fees: 0.0004 BTC
Ripple Withdrawal fees: 0.01 XRP
Dash Withdrawals: 0.01 DSH
Litecoin Withdrawals: 0.001 LTC
Monero Withdrawals: 0.01 XMR
Zcash Withdrawals: 0.001 ZEC
Ether Classic Withdrawals: 0.01 ETC
Ether Withdrawals: 0.01 ETH
Tether USD Withdrawals: $2
Express Bank Wire Withdrawal (minimum fee of $20)  (Within 24 Hours on Business Days): 1.000%
Bank Wire Transfer Withdrawals (minimum fee of $20): 0.1% of the withdrawal amount
Payment Methods
---
Bitfinex only accepts bank wire fiat deposits in EUR, JPY, GBP, and USD. Bitfinex also supports Tether (USDT), the quasi-fiat token unofficially pegged to the US dollar's price. Of course, you can also deposit any of the supported cryptocurrencies on their trading platform.
The fee structure for withdrawing fiat currencies is 0.1% of the amount withdrawn, with a minimum $60.00. Standard withdrawals are processed within 5-15 days.
How Fast Will My Funds Be Available?
---
Withdrawals may take up to 12 hours to complete. However, if certain security requirements are met, this may be expedited. Ensuring that withdrawal addresses have been locked for at least 5 days and enabling 2-factor authentication can ensure that your withdrawals are processed faster.
Generally speaking, most withdrawals that are processed automatically will be available in a couple of minutes.
Customer Support
---
Bitfinex offers comprehensive customer support, including an active forum, an FAQ section, and a 24/7 email address (support@bitfinex.com) where you can ask questions.
Should you have any outstanding issues you can also submit a ticket to the support team once logged in.
Bitrefill integration
---
Recently, Bitfinex integrated Bitrefill which is a popular service to buy gift cards using your cryptocurrency. Thanks to this integration, users can purchase gift cards for popular services such as Uber, Starbucks, Amazon, and many more straight from the Bitfinex dashboard. 
Bitfinex Staking & Lending
---
In April 2020, Bitfinex started its staking program. This enables Bitfinex users to earn passive income by staking their coins (the ones that are supported on the Bitfinex platform).
At the time of updating this review of Bitfinex, the following coins are supported for staking:
Cosmos (Atom)
V.Systems (VSYS)
EOS (EOS)
Tezos (XTZ)
Algorand (ALGO)
Tron (TRX)
Thanks to the simple lending process, users of the Bitfinex platform can also let their coins work for them by lending them via Bitfinex and earning interest on those digital assets.
Is Bitfinex legit and safe to use?
---
Bitfinex has tight security measures in place to protect client funds, and around 99.5% of user funds and digital assets are held in cold storage and away from the prying eyes of hackers.
The platform also uses email encryption to monitor withdrawals by IP, and two-factor authentication for logins and withdrawals. Is Bitfinex safe? One more thing worth noting is that new withdrawal IPs are also locked for 24 hours. Two-factor authentication is a popular way of protecting accounts on various platforms nowadays.
These security features, combined with other data encryption techniques, also ensure that client privacy and confidentiality are protected.
Next Steps
If you'd like to get started, visit Bitfinex.com and select "Sign Up" at the top right-hand side of the interface to create an account (only an email address is required). After that click the "Support" tab at the top right of the interface, and then click the "Tours & Guides" option and follow the interactive guides.
Note: If anything remains unclear, contact their support staff or research the topic in the "Help Centre".
FAQs
---
Conclusion – Bitfinex Reviews
---
Bitfinex is a giant in the cryptocurrency industry, and it offers one of the strongest value propositions on the market today. The exchange uses a cold storage system today instead of hot wallets, and also offers extremely competitive trading fees.
Bitfinex alternatives
---
If you are not fond of Bitfinex, here is a list of potential crypto margin exchanges that can be good alternatives read the full list by clicking here:
PrimeXBT review
PrimeBit
Kraken
ByBit
PROS
Great mobile apps
Low fees
Advanced trading features
High liquidity
Multiple order types
CONS
May not be perfect for beginner traders
Bitfinex was hacked in 2016
Tether saga is connected to Bitfinex, could blow the exchange up

CaptainAltcoin's writers and guest post authors may or may not have a vested interest in any of the mentioned projects and businesses. None of the content on CaptainAltcoin is investment advice nor is it a replacement for advice from a certified financial planner. The views expressed in this article are those of the author and do not necessarily reflect the official policy or position of CaptainAltcoin.com