StormGain Review: Fees, Pros & Cons Covered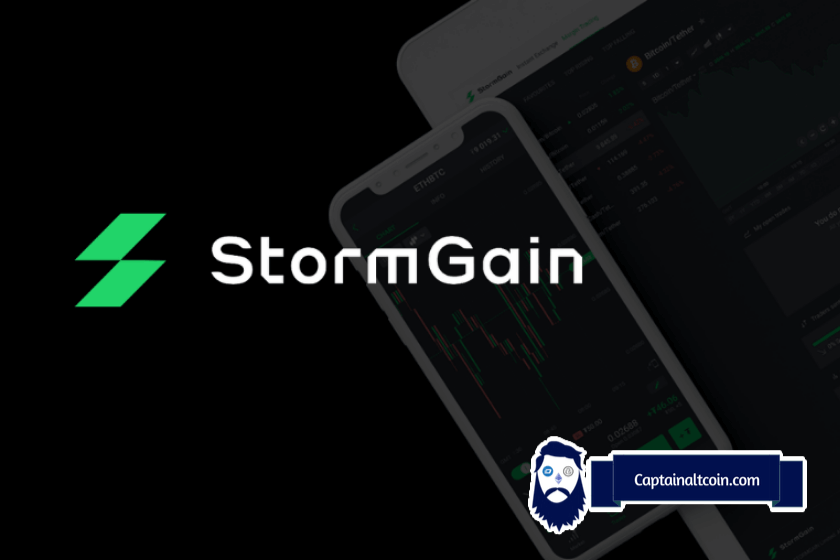 StormGain Review: Fees, Pros & Cons Covered
Fast Trade Execution
Up to 200x leverage
Clean, well-designed interface
Multiple deposit methods
Nice Mobile App
No KYC
24/7 Customer Support
Cryptocurrencies have become fairly popular among traders since they were first introduced in the early 2010s. There are numerous crypto exchanges to choose from, but new ones keep popping out like popcorn kernels.
StormGain is one of the new names in the industry as it was founded in 2019 with an aim to offer new unique features that set it apart from the pack.
The exchange tries to build its name through an exclusive partnership with Newcastle United FC, a UK-based Football Club which is the way many similar brokers from forex industry went, obviously successfully since it is replicated by newcomers like Stormgain.
StormGain crypto trading platform was founded by a group of finance and technology specialists and as the company claims, it now has more than 50 employees in several countries.
The website has also been translated into twelve different languages (English, Spanish, Chinese, German, French, Dutch, Italian, Polish, Portuguese, Russian, Turkish, and Vietnamese) and is used by over two million clients worldwide. StormGain claims to have users not only in the UK, but also in China, France, Germany, Italy, Poland, Portugal, Russia, Spain, the Netherlands, Turkey and Vietnam.
The exchange has a nice interface and offers some of the best rates on leveraged crypto profitable trades, as well as a full suite of trading tools. It is easy to sign up to and is fully accessible via any device and operating system.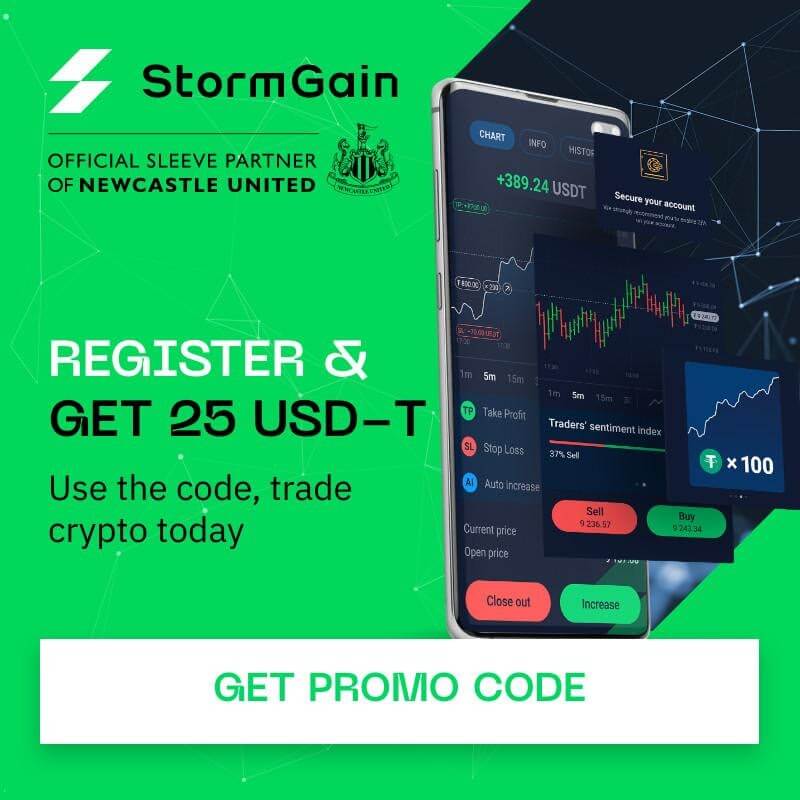 What does StormGain offers?
---
Before we delve deep into this StormGain review, here is a quick rundown of the main features the platform offers. There are a number of features that StormGain likes to highlight.
StormGain offer is made up of four main products that can be used via its web and mobile apps: instant exchange, regular exchange, margin exchange (trading with leverage/multiplier) and a multi-currency crypto wallet.
Instant exchange – a simple conversion tool that allows you to quickly exchange all your bitcoins with litecoins or ethers with bitcoins etc.
Regular exchange is for spot trading popular cryptocurrencies (such as Bitcoin or Bitcoin Cash for instance) while having access to a suit of more advanced tools and order types.
Trading with multiplier (margin exchange) – makes it possible to make insane gains with small investments by the means of high leverages, but it also carries a high risk. Margin trading isn't recommended for noobs and inexperienced traders. 
Crypto wallet is a separate product to the exchange, it is a token of appreciation from StormGain to all crypto users around the globe – it helps you secure, manage and exchange the funds you own. This wallet can be used wherever and whenever you are in need.
It's important to note that all of these products can be accessed from one main, free standard account, which makes the exchange suitable for a wider audience as it is geared towards all kinds of crypto traders: beginners right through to advanced traders. The platform supports a wide range of crypto trading pairs.
StormGain Features
---
Below is a full overview of all StormGain features:
IOS, Desktop & Google Play apps
Charting tools
The inclusion of trading signal
A user-friendly interface for both beginner and experienced traders
2-factor authentication
24/7 customer service support
Interest on deposits
Multiple deposit methods
0% swap rates for day trading
Loyalty program
50,000 USDT demo account
OCO (simultaneous 'Stop-Loss' & 'Take Profit' orders)
What countries are allowed on StormGain?
---
StormGain is not a regulated trading platform which makes it illegal in the USA and the broker states it on their website that they are open to all countries except "in the USA, its territories or possessions or in the Countries identified by the FATF as high risk or non-cooperative jurisdictions". Below is a list of restricted countries:
USA
Canada
Japan
Afghanistan
Bosnia and Herzegovina
Guyana
Iraq
Lao PDR
Yemen
Vanuatu
Uganda
Syria
Ethiopia
Sri Lanka
Trinidad and Tobago
Tunisia
Iran
North Korea
However, it is always best to check with your local laws first if you are in any doubts about whether you can trade on StormGain. Click here to reach out to their customer support team.
Getting Started on StormGain – Registration
---
What kind of StormGain review would this be if we wouldn't cover the sign up process.
The registration process at StormGain couldn't be easier and can be done in seconds.
To get started with a free StormGain account, go to StormGain and click on Get Started on the left-hand side of the site. Complete the requested information, which includes email address and password, and then make your USDT deposit.
Next accept terms and click "Create Account." It's also important to note that you will also be asked to confirm that you are not a U.S citizen. Finally, you will need to confirm your email address by clicking on the link sent to your email.
It is highly recommend enabling 2FA in StormGain login account and in any other trading site you are using. Click your user ID (e-mail) in the top right corner and a dropdown menu will open, select 'Security', 'enable 2FA' and follow the on-screen instructions.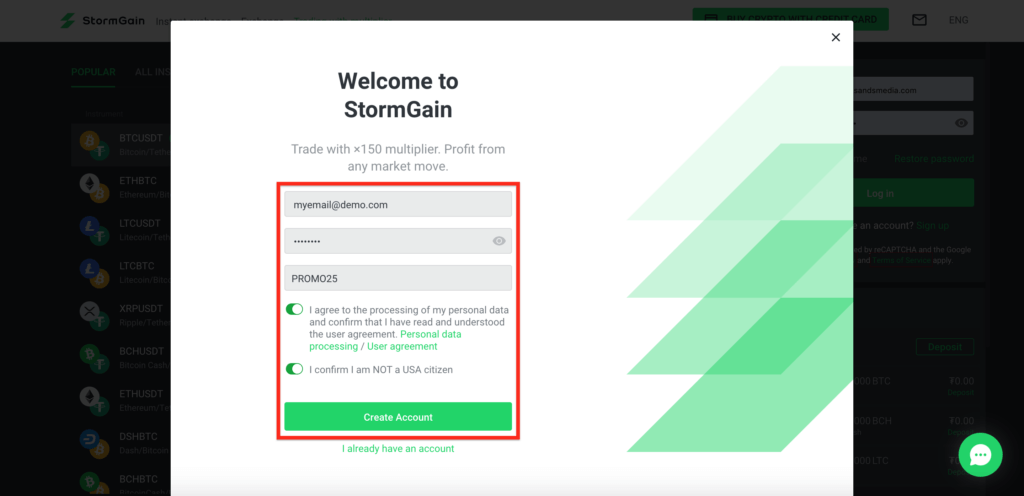 Once you've registered your account, you will need to make a deposit to begin trading and taking advantage of the StormGain platform offerings.
StormGain Fees
---
StormGain has low and competitive trading fees. StormGain's fees are in-line with other leading cryptocurrency exchanges. Fees vary depending upon the cryptocurrency pairing that is traded, ranging from between 0.15% to 0.25% for an individual position, in addition to open-position fees of up to -0.04% per day (valid for margin trading).


Most cryptocurrency exchanges usually offer lower fees for maker orders. However, StormGain charges a fixed fee for any order type which is a deterrent to professional market makers who are accustomed to rebates on their trading.
More information regarding fees can be found on stormgain.com/fees-and-limits.
StormGain Deposits and Withdrawals
---
Once you decide it is time to deposit some funds you will quickly grasp that StormGain has not only crypto but also fiat gateways (for deposit only). The only way to send funds out of an account on StormGain is via one of the supported cryptocurrencies.
Their fiat gateway is a popular Simplex service used by many other exchanges that offer instant bitcoin purchases with credit/debit cards.
Deposit Methods
---
The deposit and withdrawal methods on StormGain are the same. However, it's important to note that you can't withdraw to credit/debit cards but you can deposit with them. The following cryptocurrencies can be deposited and withdrawn on StormGain:
Credit/Debit Cards (deposits only)
Hopefully, StormGain will add more digital assets to this list in the future.
How to Make Deposits?
---
Deposits are easy within StormGain. To make a deposit you need to login to your account, select the crypto you want to deposit from the 'Wallets' section, copy the deposit address (or use QR code) and send crypto to the address.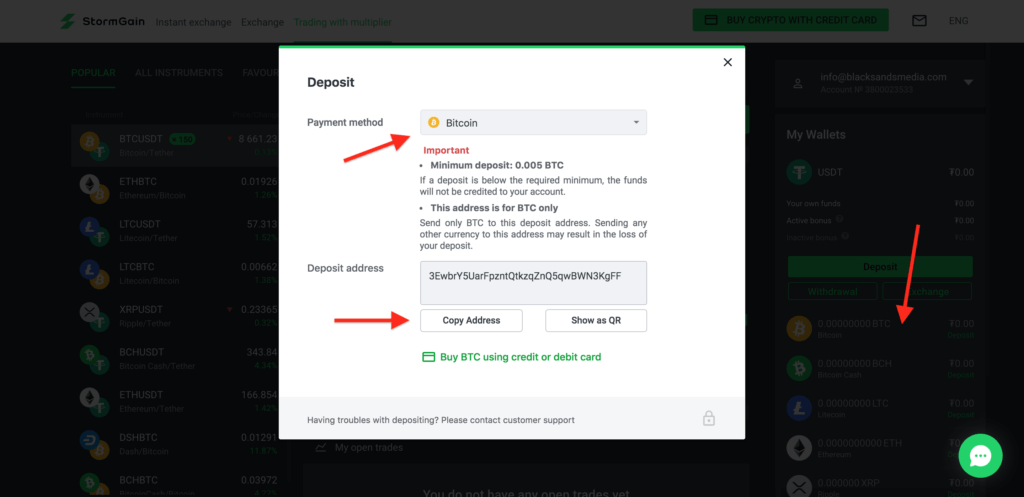 Alternatively, you can also fund your account using a credit or debit card, although there are higher fees associated with this due to the processing fees. Click the green [BUY CRYPTO WITH CREDIT CARD] button, follow the instructions and buy any of the supported cryptos directly.
It's important to note that there is a minimum deposit on StormGain. The deposit varies by the coin you are using to deposit onto the exchange with (as a general rule, the minimum deposit on StormGain is around $30-$50 USD).
There is no maximum amount you can deposit on StormGain for crypto deposits (even though there is a minimum deposit), although, but do note that purchases by credit card are capped at $20,000 or €20,000 for credit card purchases.
Keep in mind that based on the deposits and trading volumes, the mining speed on the StormGain mining platform is being determined.
How to Withdraw from StormGain?
---
The withdrawal methods available on StormGain are identical to the deposit methods (except you cannot withdraw to bank cards).
When you wish to withdraw, just click a coin in the right column again and the same popup as earlier opens when you make a deposit.
Select the withdraw button instead and input your wallet address and the amount you want to send. You should see a dynamic fee, once you've completed those steps, showing you exactly how much the withdrawal will cost you. Click the 'Withdraw' button if you are happy with the withdrawal details and confirm the withdrawal from your email address.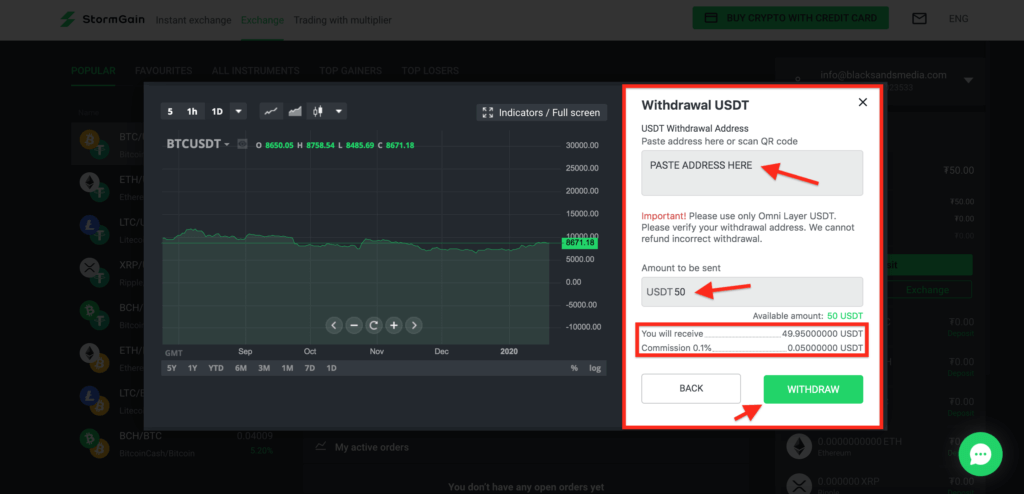 There are a couple of fees that one can expect to be charged when you wish to take your funds of the exchange. The withdrawal fee on StormGain is 0.1% of the withdrawal amount, which is pretty decent.
Other crypto exchanges out there charge a standard fee no matter the amount you withdraw – little or big. That's why dynamic withdrawal fee makes StormGain perfect for beginners as you don't have to pay a high withdrawal fee for small withdrawals.
The Supported Cryptocurrencies on StormGain
---
You can trade the following crypto assets on StormGain:
Bitcoin, Bitcoin Gold, Bitcoin Cash, Cardano, Dash, EOS, Ethereum, Ethereum Classic, IOTA, Litecoin, Monero, NEM, NEO, OmiseGo, QTUM, Ripple/XRP, Stellar, Tether, Tron and Zcash.
StormGain Trading Platform
---
Like most crypto exchanges out there, StormGain designed their own platform that features limit orders, like stop-loss and take-profit orders, as well as other useful crypto trading tools.
Margin trading on StormGain – Trading with leverage
---
As mentioned earlier, StormGain also offers margin trading, dubbed as "Trading with multiplier" on the platform.
StormGain offers up to 150x leverage (this is only for the BTC/USDT pair, while all other coins on StormGain have a maximum leverage of 50x).
This dwarfs its competitors like BitMex or Binance Futures but is in the same ballpark like Deribit, PrimeXBT, PrimeBit and ByBit.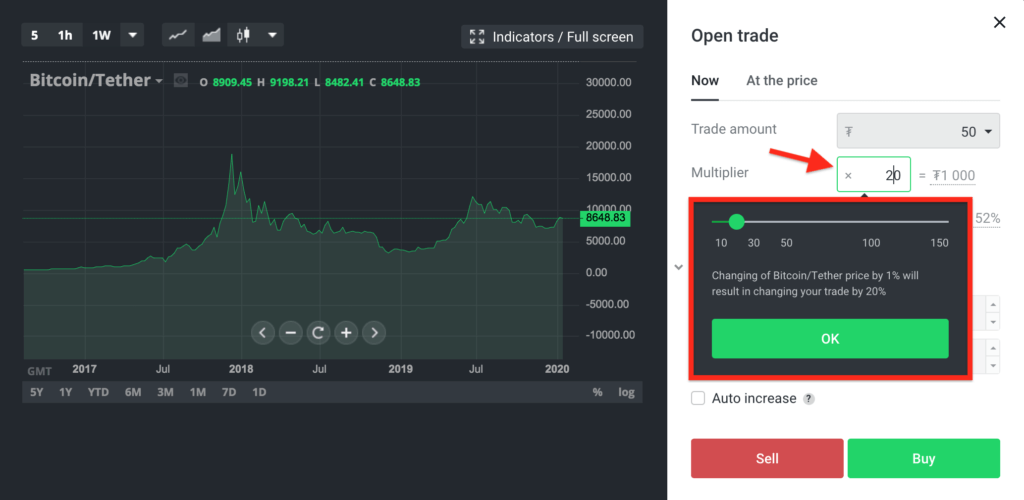 It's important to note that, in marging trading, the limit profit and loss selections are extremely important. You will lose your money very fast if you use a high multiplier and the trade starts to go the wrong way. It is strongly recommended that you only use leverage with the limit loss feature, because it will stop your losses and close your positions saving you from a complete liquidation .
StormGain offers four main order types:
Market (Now) – market orders are orders which execute instantly at market price. Market orders are the default on the trading platform
Limit (At the price) – limit orders are saying that if the price goes to x, buy/sell z amount of the asset. Limit orders can have lower fees but usually take longer to complete.
Stop Loss
Limit Profit
The last two order types let you limit the loss of a trade or secure profit if it is going in your direction.
How to Trade on StormGain
---
Use the following steps to trade on StormGain with multiplier:
1. Deposit into your account
Before you can start trading you're going to have to deposit some cryptocurrency.
2. Open a trade
In order to open a trade or position, simply select a crypto pair on the left-hand side of the screen and click on the green 'Open Trade' button. You can then choose between immediate trade based on market price, or 'At the Price' trade, where you are able to pre-specify the buy or sell price. In both cases you need to enter the trade amount and multiplier. This also allows you to manage your risk by selecting your profit or loss.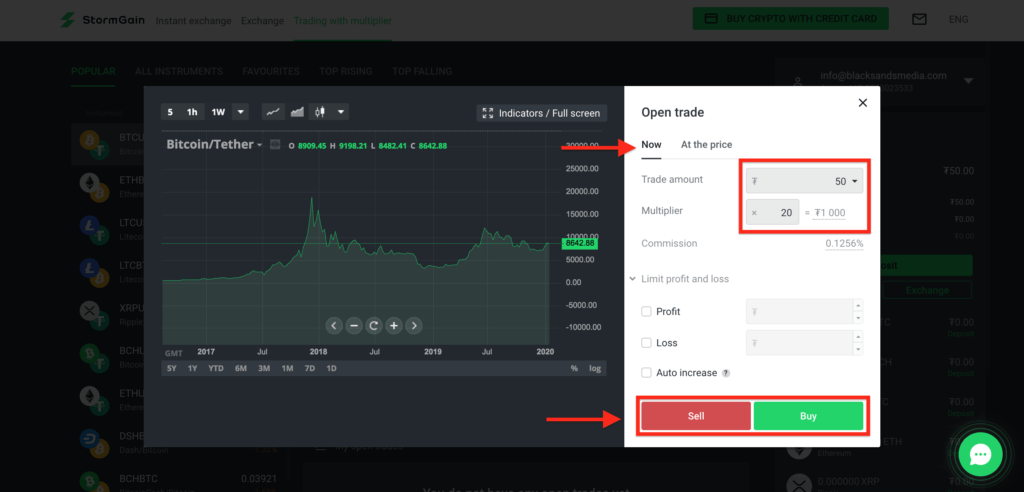 StormGain also has a feature called 'Auto-increase', a top-up mechanism to keep a trade open should the loss reach 50%. StormGain automatically invests an additional 50% of the trade amount, deducting from your particular wallet.
3. Monitor trade
'My open trades' section is the place from where you can monitor the status of your live trade on StormGain. This nice feature also allows you to see your current profit/loss on the trade and see details on when you opened it.
4. Close the trade
Closing a trade is pretty simple. All you have to do is go to the 'My open trades' section, hover over the trade and click 'CLOSE OUT'. A box will pop-up asking you to confirm that you would like to close the trade. If you want to continue to close, click 'Yes, close' and if you don't want to anymore, click 'Cancel'.
StormGain Charts
---
StormGain has built-in interactive charts which are native to the StormGain platform. The charts can be used to track historical price movements in order to make better trade decisions. The charts offer a range of different time frames, types and indicators to suit any trader, including the most popular chart types like Candles, Line, Area, Heiken Ashi and bars. Traders are able to select and customize the charts based on preference, with 9 time frames on offer, ranging from by the minute to monthly (1 minute, 5 minutes, 15 minutes, 30 minutes, 1 hour, 4 hours, 1 day, 1 week and 1 month).
The charts look really nice and are easy to use. One more thing worth noting is that you can make the chart full-screen as well as draw on the charts with all the usual tools and indicators.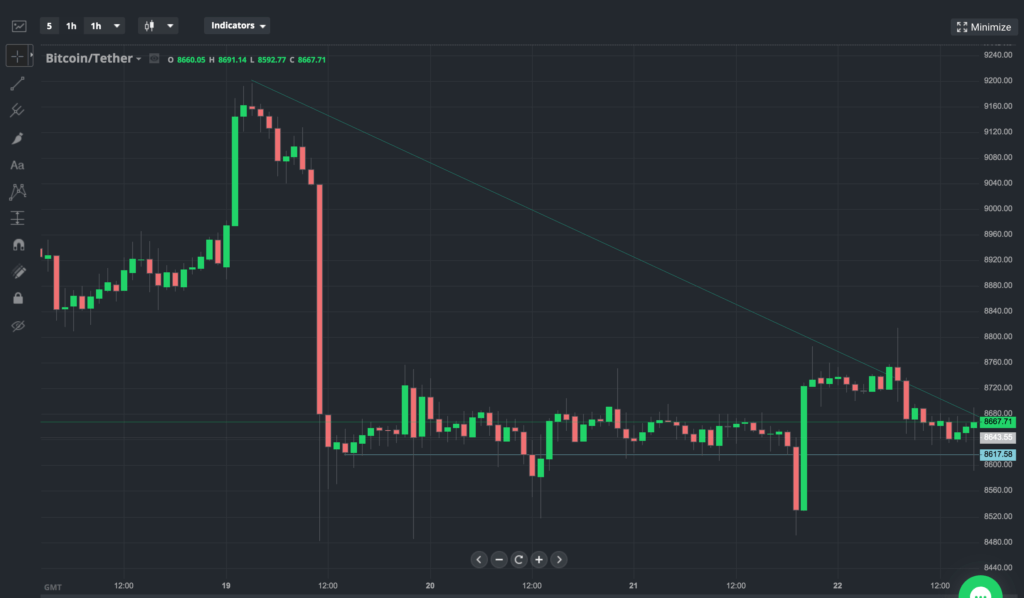 StormGain Demo Account
---
StormGain offers a full demo account, which is free to set up and only takes a few seconds. The demo account gives you $50,000 to practice trading on the platform. This is an excellent newbie feature for trial and error because you can safely try any features on the site as if you were using real money.
Follow these steps to open a StormGain demo account:
Click here to register for free
Login to your account
Click your email address and then toggle the 'Demo account' button
Click "YES"
Open trades with your demo capital
You can switch between your demo and regular account at anytime by toggling the 'Demo account' button again
Here are a couple of photos that explain the process in further detail: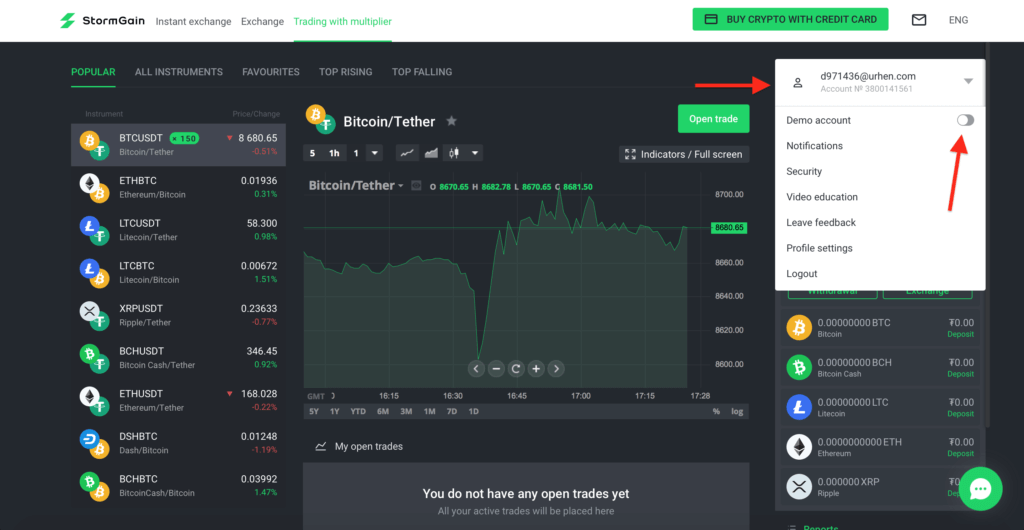 StormGain Mobile App
---
One more great thing about StormGain is the fact that they offer a mobile app for both IOS & Android (Google Play Devices), which has all the main features of the web platform, all compressed into a well-designed and fast mobile-ready application.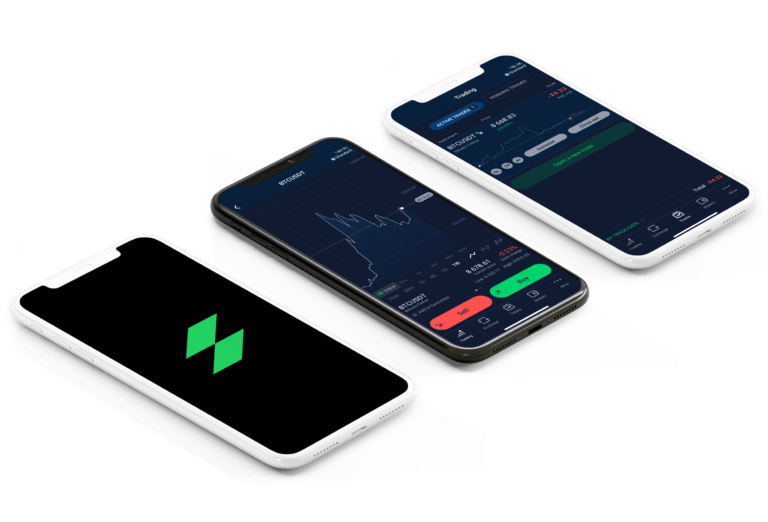 The StormGain mobile app also offers features which you can't get on the web version, such as price alerts for crypto assets. This is a nice little feature which improves the overall experience for the trader.
The StormGain trading platform is downloadable for both Android and iOS devices.
Download StormGain App for iPhone
Go to the app download page
Download the app
Open the app and sign in
Deposit & start trading
Download StormGain App for iPad
Go to the app download page
Download the app
Open the app and sign in
Deposit & start trading
Download StormGain App for Android
Go to the app download page
Download the app
Open the app and sign in
Deposit & start trading
Is StormGain Legit or Scam?
---
StormGain is a legit genuine platform due to moderate levels of transparency and range of in-exchange security features. The platform has an average rating of (4/5) on Google Play, but it is yet to receive massive attention from the public.
Alex Althausen, CEO of StormGain, has vast experience in fin-tech sphere. He has 10+ years of experience in management and 5+ years in Financial Services. He is transparent and active on social media which is also one proof that the exchange is safe to use.
The exchange also has great direct account security features, including 2-factor authentication for both SMS and Google Authenticator to maximize the security of your funds as well as data encryption and cold wallets fund storage for StormGain's built-in crypto wallets, which is great for long term investors
StormGain also offers 24/7 support to its customers. They claim to resolve all problems as soon as they are reported.
StormGain Loyalty Program
---
StormGain also has a loyalty program for investors and traders, offering a range of benefits. There are a total of 5 tiers:
Standard: Account balance of less than 499 USDT and no trading volume.
Gold: Account balance of greater than 499 USDT and a trading volume of greater than 150,000 USDT.
Platinum: Account balance of greater than 1,499 USDT and a trading volume of greater than 750,000 USDT.
Diamond: Account balance of greater than 4,999 USDT and a trading volume of greater than 2,250,000 USDT.
VIP: Account balance of greater than 49,999 USDT and a trading volume of greater than 7,500,000 USDT.
The trading volume required might seem extremely high. However, these are so-called nominal trading value requirements which means you have to calculate leverage in it.
Benefits include varying exchange commissions and trading commission discounts depending upon deposits ranging from 5% all the way up to 15% from gold status and above. All benefits are individualized for VIP clients.
StormGain Bonuses
---
StormGain is well known for offering attractive bonuses (suchas deposit bonus or deposit bonuses) and offers. Visit StormGain promo code page if you want to check out all the latest promo codes for StormGain.
StormGain Affiliate Program
---
StormGain also offers affiliate program, which lets you earn by referring people to trade on the platform. StormGain's affiliate/referral program is separated to your main StormGain account. That's why you'll need to use this link go.stormgain.com/signup to register as an affiliate. It's free and doesn't require KYC.
StormGain offers its affiliates 2 main commission plans:
1. CPA, or 'Cost Per Acquisition' means that you get paid a one-off amount, which depends on the location of the person who signed up through your affiliate link, for getting people to sign up on StormGain.
2. Revenue Share – this payment plan means that you split the revenue with StormGain from people you refer to trade on the platform. It is the most popular in crypto affiliate programs.
StormGain's revenue share plan is 30%. This means that you will earn 30% of the trading commissions paid by your referrals when they trade on StormGain for the first 3 months of their account.
Affiliate Dashboard
---
StormGain uses the cellxpert software for their affiliate program, which is easy to use. It is basically a turn-key white label solution used by thousands of companies worldwide.
StormGain Affiliate Dashboard
On the homepage of the dashboard, you can see that all the important statistics are shown in real-time, including:
the number of registrations through your links in the set time period
the amount of those who deposited (FTD – First Time Depositors)
how much commission your referrals generated
the standard conversion rate figures like CTR and impressions.
Click here to sign up to StormGain's affiliate program. Once your account is verified by the team, you can go ahead, get your referral link and start earning immediately. To get your unique affiliate link on the StormGain affiliate program, follow these steps:
go to 'Marketing Tools'
select the filters like Language and Landing Page
copy the link for the landing page you want to share
Payouts
---
StormGain offers multiple choices when it comes to payouts:
These payment methods can be chosen under 'Account Details' > 'Payment Details'.
StormGain Affiliate Payment Methods
---
It's important to note that StormGain's affiliate commissions are paid out between the 1st and the 15th of every month for the previous month's commissions.
StormGain Video Education
---
Trading crypto assets is a fairly new field and not well-understood by the wider population, and it's not surprising that plenty of people are unsure how to do it in the most appropriate way. That's why it's extremely important to learn how to trade so that you can make the most of the crypto market and achieve your trading goals.
StormGain has provided easy-to-follow animated videos with full tutorials to make it easy for people to learn how to trade crypto on their platform.
To access StormGain's educational videos, follow these steps:
register for a free account
click on the drop-down menu
select 'Video education'
StormGain Video Education
Social Media
---
StormGain has a strong social media presence, including Facebook, LinkedIn, Twitter and, YouTube. While users can find an array of tutorials, members are also able to contact StormGain via the various media platforms.
Users can also join the StormGain community on Telegram.
Conclusion
---
To make a final verdict, StormGain is a solid, secure and all-round great cryptocurrency trading platform that caters to both the more novice and more experienced investors and traders. StormGain's trading platform looks great and is very easy to use.
One of the best parts about the StormGain platform is the host of advanced trading features. StormGain is also offering a free crypto wallet which can be used by anyone, even if they don't want to trade on the platform. Throw in the competitively low fees, the trading multiples on offer, the loyalty rewards scheme, interest on deposits and risk management tools and StormGain stands out from among its peers and their client base is likely to expand at a rapid pace.
The only major shortcoming to the platform is that it is new and hasn't proven itself on the market like its competitors, which is something to consider.
Stormgain alternatives
---
If you are not fond of Stormgain, here is a list of potential crypto margin exchanges that can be good alternatives:
PROS
Fast Trade Execution
Up to 200x leverage
Clean, well-designed interface
Multiple deposit methods
Nice Mobile App
No KYC
24/7 Customer Support
CONS
No order book
Very few customer reviews are available about it
Fairly new platform

CaptainAltcoin's writers and guest post authors may or may not have a vested interest in any of the mentioned projects and businesses. None of the content on CaptainAltcoin is investment advice nor is it a replacement for advice from a certified financial planner. The views expressed in this article are those of the author and do not necessarily reflect the official policy or position of CaptainAltcoin.com