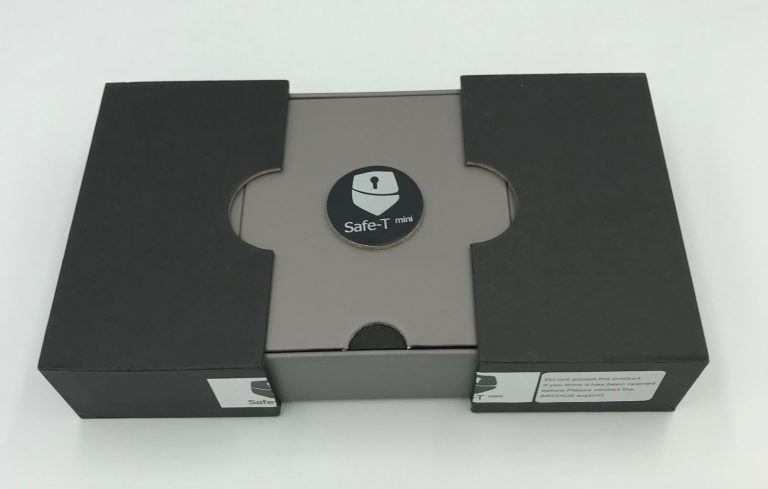 Storing the purchased cryptocurrency has always been an important part of the average HODLing experience. From online to paper/desktop/mobile wallets, there is an abundance of storage options to choose from. That being said, what you want to focus on when storing your cryptocurrency is safety, and hardware wallets are your safest bet in that sense.
When buying a hardware wallet, your choice has so far been limited to the usual suspects like Trezor, Ledger Nano S, Coolkey or KeepKey. Also, CoolWallet Pro is increasingly popular among crypto enthusiasts.
In 2022, Ledger launched a refreshed Ledger Nano S wallet and dubbed it Ledger Nano S Plus and you can see how safe and good is it by clicking here.
However the old guard recently got a new competitor, a product named Archos Safe-T mini.
About ARCHOS
Archos is a French company whose main focus so far has been on production of tablets, phones, Android devices and portable data storage devices. The name is an anagram of Henri Crohas' (Chairman of the board and company's founder) last name, and it is also Greek for "master" (αρχος). Utilizing slogans like "Think Smaller" and "On The Go", Archos has developed a variety of mobility-focused products in their past. They broke into the limelight by developing quality portable video players (PVP), digital video recorders, personal digital assistants, and most of all digital audio players, which were once considered their flagship products.
Archos lost this market once Apple introduced its iPod device and has since shifted its focus from digital media players to more modern technology like notebooks, smartphones and tablet computers. Their latest venture into producing cryptocurrency hardware wallets only further shows how forward thinking the company has become.
Archos Safe-T mini Main Features
Safe-T mini is a new hardware wallet produced by Archos, launched on July 2018. It works as a typical hardware cold storage wallet which lets its users store their cryptocurrency in a safe, offline way. As its name implies, the product is a smaller version of Archos' flagship hardware wallet called Archos Safe-T Touch.
The wallet utilizes a STM32 STMicroelectronics ARM Cortex-M3 120 Mhz chip, backed by encrypted chipset memory with four 256-bit AES keys. These features are pretty much the crypto cold wallet standard at the moment. Built from polycarbonate materials, the wallet has a circular shape which sets it apart from the competition visually. The quality of the build material makes this wallet weigh only 12 grams.
Archos Safe-T Mini has a readable but simple 128x64p OLED screen with a diagonal of 0.96 inch. You'll also find two pretty large buttons beneath this screen which help you use it to monitor your funds, input your PIN and confirm transactions.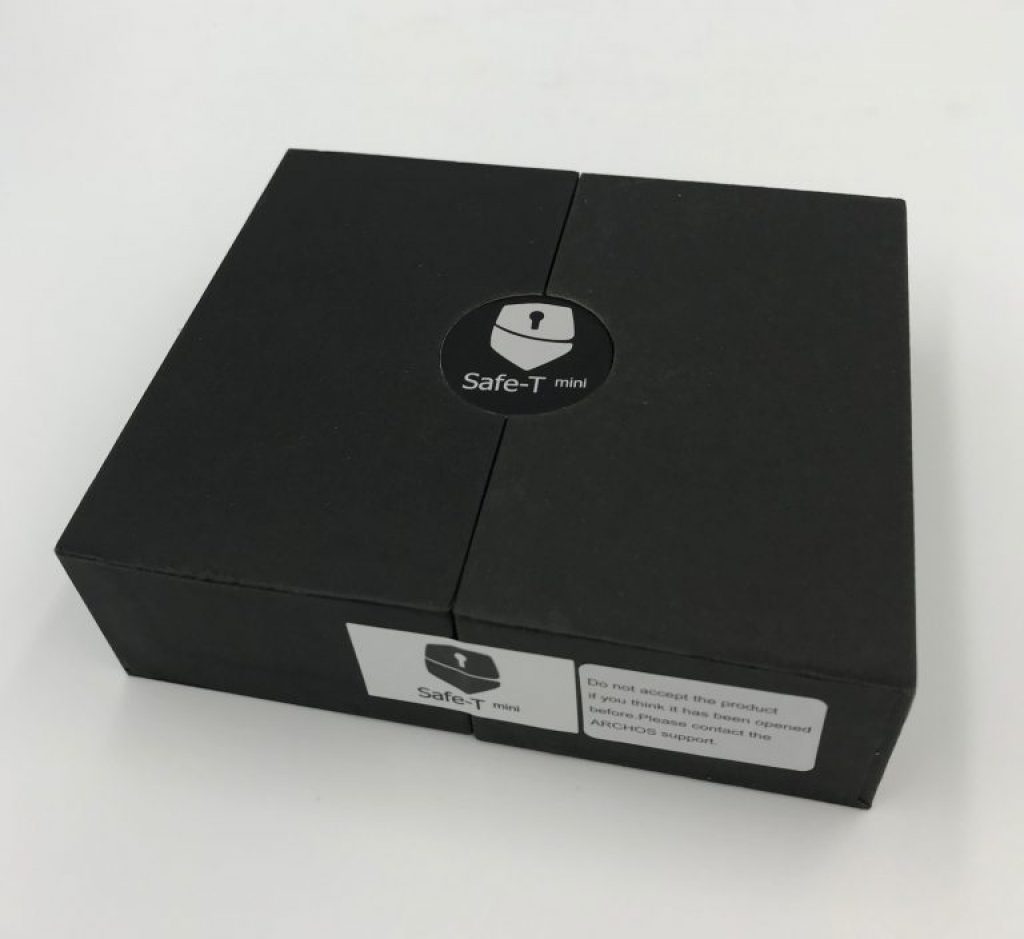 Forking out 49,99 Euros for one of these babies will net you the following haul:
1 ARCHOS Safe-T Mini
1 USB cable for connecting to your PC
1 wrist strap for increased drop protection
1 protective pouch for carrying/storing your wallet
3 recovery seed cards for writing your 24 word seed down
1 quick start guide
To access the wallet via a PC and perform its initial setup, you are required to download the Safe-T Bridge software found on this link. Safe-T wallet is compatible with Windows/MAC OS X/Linux operating systems and can also input your Electrum and MyCrypto wallets keys. You can check out either the quick start guide provided in your package to learn more about setting your device up.
Other Features
Archos Safe-T mini has several quality features:
Safety
Archos Safe-T Mini is a very safe way of storing cryptocurrency. It lets you keep control over your private keys and allows users to enable 6-digit PIN code protection which prevents unauthorized access. Entering the PIN incorrectly 4 times deactivates the device, requiring you to enter your wallet's recovery seed. Archos Safe-T Mini is a typical "cold" wallet, as most of its operation can be done offline. Only way to access the internet/blockchain is by connecting to a PC via a micro USB cable.

It utilizes a secured feature called EEPROM (Electrically Erasable Programmable Read-Only Memory). The contents of this read-only memory can only be erased and reprogrammed using a pulsed voltage. Additionally, the wallet restrictively requires manufacturer software while requesting the setup of a PIN code and a recovery seed key to ensure that only the owner can access and use it.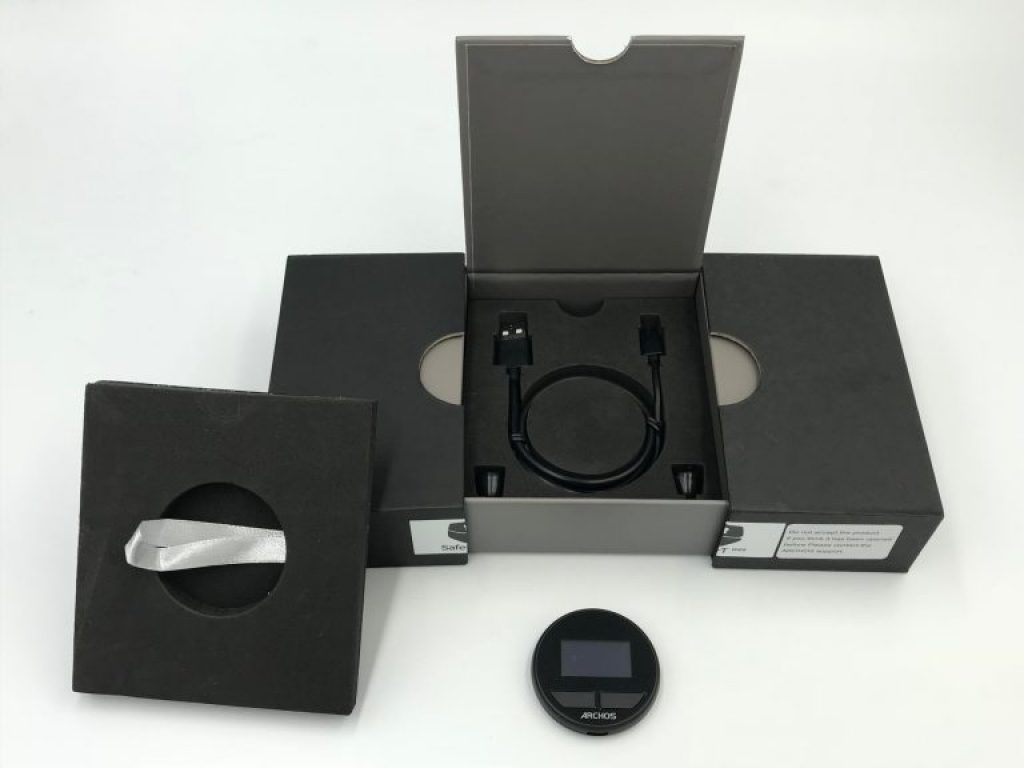 Safe-T Mini also comes with the standard recovery sequence that is used with cryptocurrency wallets. Your wallet keys are generated with the help of a 24 word long seed; this combination of words needs to be written down on a piece of paper (Archos provides its customers with three paper cards for this exact purpose). If your Mini is lost/stolen/broken, you can always use that same 24 word seed to rebuild that same wallet in a new Mini.
Another safety related feature this wallet offers is an optional passphrase, something that Archos calls the "25th word of the seed". When enabled, you'll be required to enter this passphrase every time you connect your Safe-T Mini to a MyCrypto or Electrum wallet. The passphrase shouldn't be written down with the seed as it is a measure which protects you in case someone steals your wallet's recovery seed itself.
Storage flexibility
Archos Safe-T Mini supports a decent amount of market cryptocurrencies. Bitcoin (BTC), Bitcoin Cash (BCH), Bitcoin Gold (BTG), Litecoin (LTC), Dash (DSH), Ethereum (ETH), Ethereum Classic (ETC) and a wide array of ERC-20 tokens can currently be stored on the wallet. While there are several major cryptocurrencies that the wallet doesn't support, the project has claimed they are looking into expanding their storage offer.
Ease of use
The wallet is pretty easy to set up for the initial use, with a handy quick startup guide leading you along the way. With only two buttons and a simple black and white screen, the simplicity of the device is obvious on the first sight. Archos website also provides a short video explaining how to configure your Safe-T Mini. You can find said video on this link, alongside instructions that describe how to send and receive Bitcoin/Ethereum on this wallet.

Read also:
How to purchase Archos Safe-T Mini
The wallet can be purchased from Archos' official shop. The shop page is in French but Google Translate can fix that for you in a second. The device will set you back 49.99 Euros, which is a pretty competitive if you consider what Trezor and Ledger ask for their own wallets. Archos also offers an ambassador program, where people are paid 10% of each sale that goes through their individual referral link. Individuals/businesses can also apply to become Archos-approved resellers. It is recommended to always purchase your hardware wallets from official shops and vendors.
Conclusion
Being a crypto holder can be a stressful ordeal, mostly because of the constant threat of having your funds stolen or compromised in some way if you don't control your wallet's private keys. Hardware wallets are your best bet when tackling these issues and a solution like Safe-T Mini is one you should consider. The technology this device uses has been around for a while now but has a proven track record of being un-hackable and extremely reliable when it comes to storing cryptocurrency. If it ain't broken, why fix it, as the old saying goes.
Overall, Archos Safe-T Mini is suitable for users of all levels of experience, from newbies who yesterday heard about Coinbase to hardcore whales capable of making market shattering moves. Considering the simplicity, the pricing and a few smaller drawbacks (like the lack of supported cryptocurrencies), the wallet seems poised to become popular among average holders who aren't willing to pay top dollar to secure their crypto.
With some predictions claiming that almost 30 million people around the world own cryptocurrency (and with this number expected to gradually increase in the future), Archos Safe-T Mini seems to be coming to the market at just the right time. If all goes well, it certainly has the potential to become the budget wallet solution that breaks the Ledger/Trezor hegemony.

CaptainAltcoin's writers and guest post authors may or may not have a vested interest in any of the mentioned projects and businesses. None of the content on CaptainAltcoin is investment advice nor is it a replacement for advice from a certified financial planner. The views expressed in this article are those of the author and do not necessarily reflect the official policy or position of CaptainAltcoin.com