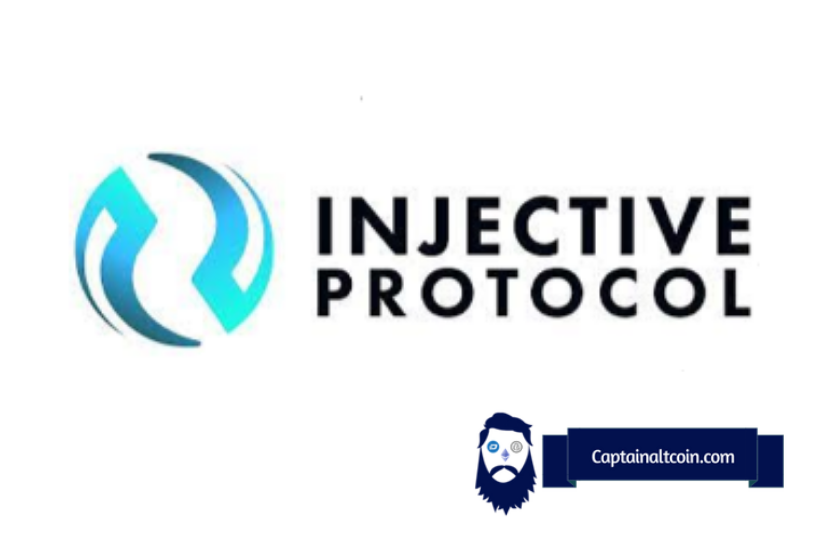 A promising DeFi start-up project from a few years ago, Injective Protocol has recently become interesting again. The long-awaited launch of the Canary Chain on the Injective Protocol main net has gone live with spot trading on their decentralized exchange (Dex).
It's still early days for Injective Protocol as an exchange, but 'early days' is an investor's dream if the project is a solid one. Should we all be buying INJ, their proprietary token? There's good news and bad news.
What is Injective Protocol?
---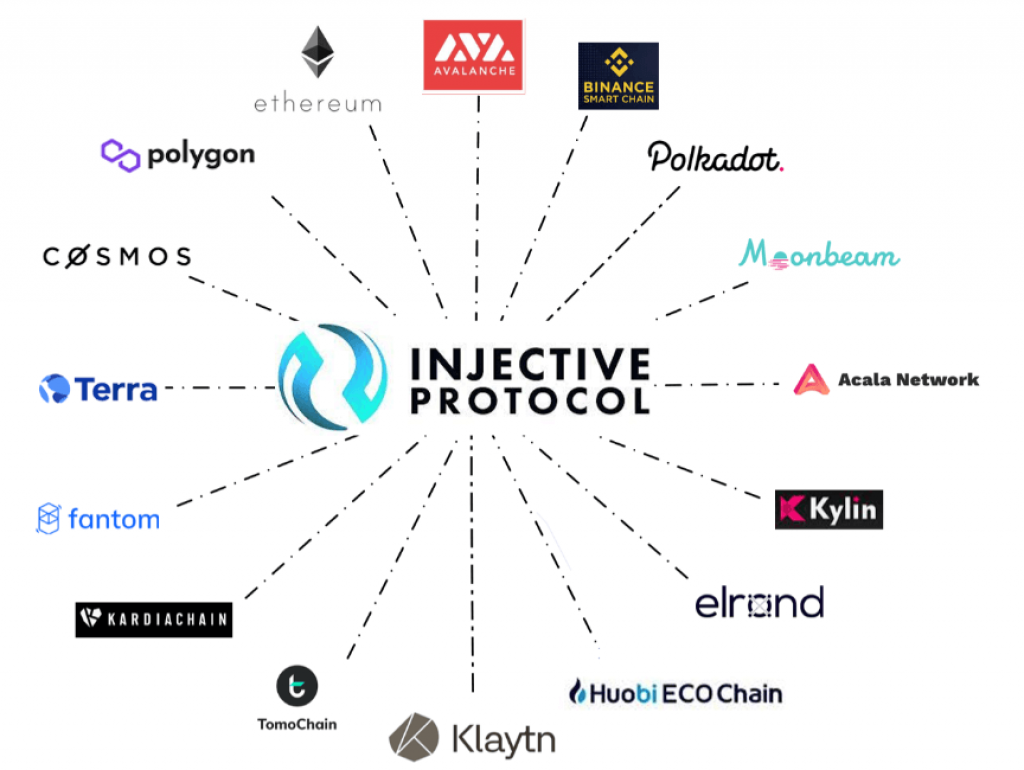 It's a Dex but with a few differences. Most Dexs run an AMM (Automated Market Maker) algorithm to generate the market. This maintains a pool of cryptocurrencies in pairs which are rebalanced after every trade. It's the way that classic Dexs automated the market-making process. Injective Protocol has an order book like most Cexs (Centralized Exchanges), but more of this and a few other interesting features later.
INJ is Injective Protocol's obligatory exchange token. The exchange is still in the early stages of release so it's difficult to know how it will function when all the features are implemented. The initial releases' maximum trade is $50 and there's only a spot market at the moment. I like this cautious approach to launch, in principle. Too many times we've seen hastily implemented code bring down a project and lose people money.
Injective Protocol Price Prediction For The Next 3 Months
---
Is Injective Protocol (INJ) currently undervalued? That's the fundamental question. Let's look under the hood to check if the component parts are up to the job. Will Injective Protocol be fit for purpose if it does capture significant market share?
The whole crypto market is currently on the verge of a real bull run. There is no broader consensus as crypto analysts are divided as some of them are still calling this market a bull trap. Others, lead by famous on-chain experts like Will Clemente and Willy Woo, are calling this a preparation stage for a face-melting bull run. As always, bitcoin has the final say and altcoins will follow suit once the flag bearer decides the direction. Right now, Bitcoin is sucking the life out of altcoins but once it settles in the new price range, altcoins will start to pump - we have witnessed this scenario dozens of times in the distanced and more recent history. Our price prediction model is bullish for the next 90 days with a hint of a bear market at the turn of the year. We expect whales and other bigger players in the market to take their profits around that time which will cause a typical and sudden crypto crash. CaptainAltcoin team created a price prediction model with a multi-faceted approach to crypto that takes into account both technical analysis and fundamental assessment of each project. Fundamentals that we evaluate are team, tokenomics, use case, community, marketing efforts, liquidity and exchange availability, hype & speculative potential and some other proprietary factors developed in our crypto lab.
Below is a tabular overview of how will INJ develop in the short-term (for the next 90 days), according to our prediction model:
Next 30 days
Next 60 days
Next 90 days
Fundamentals
---


Different types of DeFi platforms require particular fundamentals to be strong. A Dex needs liquidity, security, speed, value, and popularity. Attention is the key resource that all new projects are fighting for, so marketing will also be important. Gone are the days of "Build it and they will come!" The Dex space is getting crowded so successful market entrants must identify themselves with unique selling points.
Use Cases
---
The USPs of Injective Protocol are found both in the technology and the presentation. Its exchange appears different to most Dexs. For example, it displays an order book where you can place limit orders, rather than just swap at whatever rate is being offered at the time. The interface is typical of a centralized exchange rather than a regular DeFi token-swap site.
Most of the interesting stuff is yet to come. The first development should be to onboard more tokens. At the moment you can trade eight tokens in 17 pairs against USDC and USDT. The current version has markets in Synthetix, Uniswap, The Graph, SushiSwap, Polygon, Aave, Chainlink, Wrapped ETH, and of course Injective Protocol.
The next will be to add derivatives trading. Eventually, you'll be able to build bespoke derivatives based on a range of asset types other than crypto – commodities, stocks, etc. You could create tokenized versions of your favorite stocks and construct derivatives around them.
The injective protocol could have a lot going for it, but only if these features are wanted by the public. When was the last time you felt the urge to create a derivative? It's never happened to me yet. Perhaps institutional investors might find this useful?
If you would have bet on the right coins this year you could easily have 10xed your capital…

You could even have made as much as 100x which means you could have turned $100 into as much as 10k.
Experts believe this will happen again in 2021, the only question is which coin do you bet on?
My friend and cryptocurrency expert Dirk is personally betting on 3 under-the-radar cryptocurrencies for huge ROI in 2021..
Click here to learn what these coins are (watch till the end of the presentation).
The Tokenomics of INJ
---
| | |
| --- | --- |
| Current Price | $6.52 (+2.07 24HRS) |
| Circulating Supply | 33,161,777 INJ |
| Total Supply | 100,000,000 INJ |
| Inflation Rate | 7% falling to 2% |
| Market Cap | $216,215,520 |
| Rank | #156 |
The Injective Protocol blockchain is secured by a PoS (Proof of Stake) consensus mechanism. Critically, there's an Ethereum bridge reducing the cost of transferring ERC20 tokens to the platform. This is interesting at the moment, but when Ethereum 2.0 is released in the new year, one wonders how competitive it will be. Allegedly, Ethereum network fees will plummet.
Injective Protocol charges transaction fees for both makers and takers on the exchange, to be paid in INJ. This provokes a demand for the token and keeps the project wheels turning. The truth is, if people use the exchange a lot, Injective Protocol and its investors will make money and the price of INJ should increase. If not then it flops.
Team
---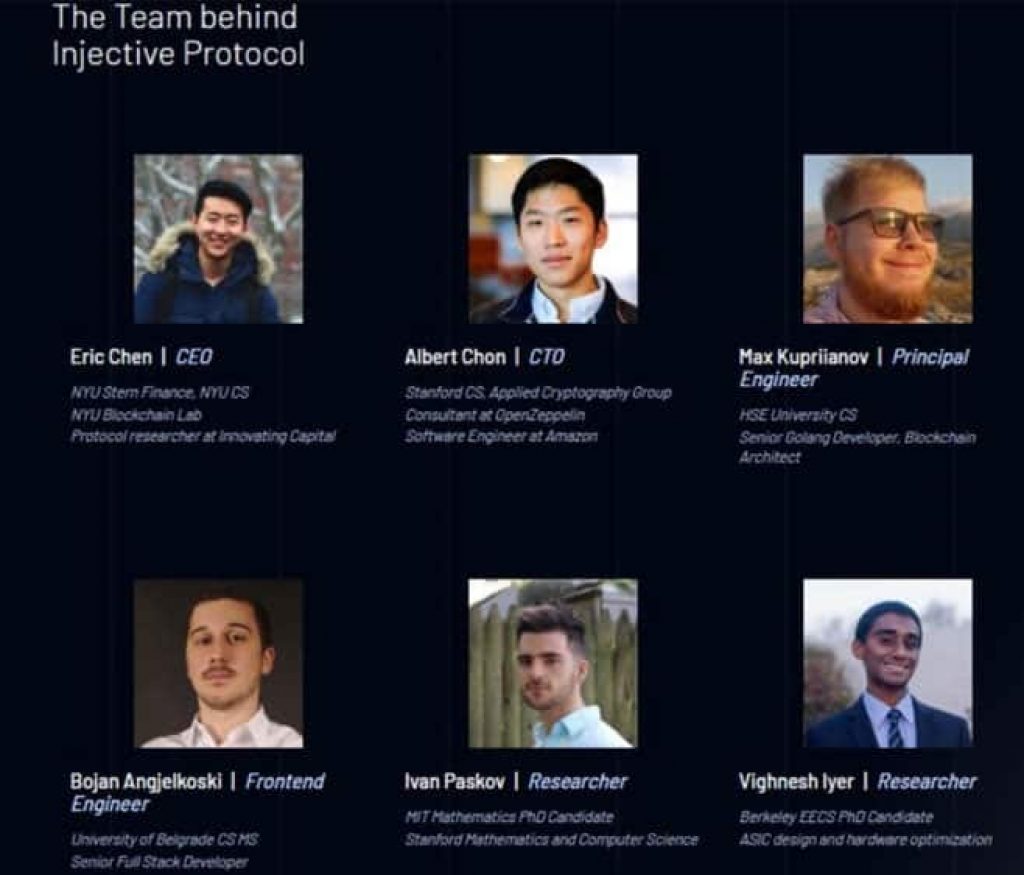 CEO Eric Chen and CTO Albert Chon founded the company in mid-2018. They're both qualified and accomplished professionals with experience working for a range of blue-chip tech and finance firms. The team boasts mainly developers and techs, which is good to see. It gives the impression that the focus is in the right place, unlike some of the more hyped nonsense we are seeing at the moment.
Social Media
---
The same goes for Injective Protocol's social engagement. However, The product blogs are all well and good, talking about INJ being listed on various exchanges, and the spot market going live. But there's nothing about why there's virtually no action on the exchange, or about the imminent rollout of the bulk of the project.
The Twitter account mirrors their blog and has about 80 thousand members. The problem is when I read this post –
"With Injective you can access, create and trade unlimited DeFi markets with zero gas fees. Developers can also launch Ethereum-compatible cross-chain DApps on top within minutes."
Well, er, no you can't. Try it and see. It's not up and running.
Overall their engagement is very grown-up and professional. Injective Protocol looks like a very well-run project, so kudos to the marketing people. It's time for the rest of the team to deliver now.
Exchanges & Wallet Support
---
You can buy INJ at centralized exchanges Binance and Huobi. If you prefer to remain completely DeFi, swap for it at Uniswap or buy it directly on the Injective Protocol exchange with stable coins, USDC and USDT.
I connected with the recommended Metamask wallet and had no issues. The site also recommends Ledger live.
How to Buy INJ
---
If your intention is to hold INJ as a speculative asset, then buying on a regular exchange is fine. If your goal is to trade on the Injective Protocol exchange then transferring crypto to the exchange is the way to go.
It's a familiar process by now, but there are a few things to note. Connect your wallet, click on a market, select your amounts, and hit the approvals on your Metamask wallet. Remember to set the total allowance – this is important. It restricts the amount that a smart contract can access from your wallet when permission is given.
Once you have deposited USDC or USDT, select whichever token pair you would like to trade. Fees for transferring should be a couple of dollars maximum, and a few cents equivalent in INJ for the actual exchange trading.
I could not actually get into the exchange as it seems to have ground to a halt. There's a third-party tutorial video here that I found informative. Injective's own Youtube video was so dull, it was almost unwatchable. But quite frankly, there's nothing to trade at the moment. The liquidity is so low and the spread so high that it's not worth bothering with until it comes to life.
I hope this was part of a staggered release that will swing into action soon, otherwise, this exchange is deeply troubling and should be avoided at all costs. Imagine having funds in the exchange and not being able to sell.
Injective Protocol Price Prediction 2022
Our prediction model sees a temporary switch to a bear market at the beginning of 2022 before we move onto another leg up in Q3 & Q4 of 2022.
INJ Market Price Prediction
---


Wallet Investor
---
In line with the general crypto market, Wallet Investor is bullish on INJ. Their AI predicts a 150% increase to around 18 US$ over the next 12 months. The following 4 years will bring a boost of 350% to a high of over $62. That sounds like a must-buy to me. Nearly 10x in 5 years.
Digital Coin Price
---
A little more modest in their outlook is Digital Coin Price. From a current level of $7 they call for a 50% increase by the end of 2021. INJ will hit $20 by 2025 and go on to top out at over 30$. This represents more than a 300% increase by 2028.
Trading Beasts
---
Lastly, we have a similar overview from Trading Beasts. Apart from a slow descent over the next few months, it's all good news for INJ. They call for a 50% gain over the next 12 months, with a further rise to $18 before the end of 2024.
Injective Protocol Price Prediction 2025 – 2030 – 2040
Our prediction model sees INJ reaching new highs in 2025:
$ 116.22
INJ price in 2030 & 2040 should be a couple of orders of magnitude higher than our 2025 prediction.
Summing it All Up
---
Injective Protocol is in the early stages of release, but what will the future bring? Once we see the full version we'll have a better idea. There are so many Dexs in the space that it's difficult to stand out from the crowd, but Injective Protocol's similarities with traditional exchanges will be interesting to many.
The key will be liquidity. At the moment there's none. Really, none! Not even just a small amount. According to the exchange, there has been absolutely no volume and no 24HR change on any pair. It is completely dead. With the order book model, the spread is directly related to liquidity levels. Thin liquidity means a wider spread, the amount you lose on each trade as you enter and exit. This is not looking at all good at the moment.
On the one hand, I think the world could live quite happily without another derivatives platform praying on inexperienced retail traders. Leverage is super-risky in the volatile spot crypto markets, but people still like to trade perpetual swaps. I also think leveraged trades on derivatives that nobody understands are near suicidal. If you're not a deeply knowledgeable investor, I would stay well away from the trading platform if it ever delivers what it promises.
On the other hand, I might buy some INJ as my ethics do not extend to refusing to make money on a winning project. I could see INJ increasing in value in the short to medium term – if they manage to revive their dead exchange.
At the moment, none of this actually exists – it's all talk.
Also, you might want to check out other price predictions: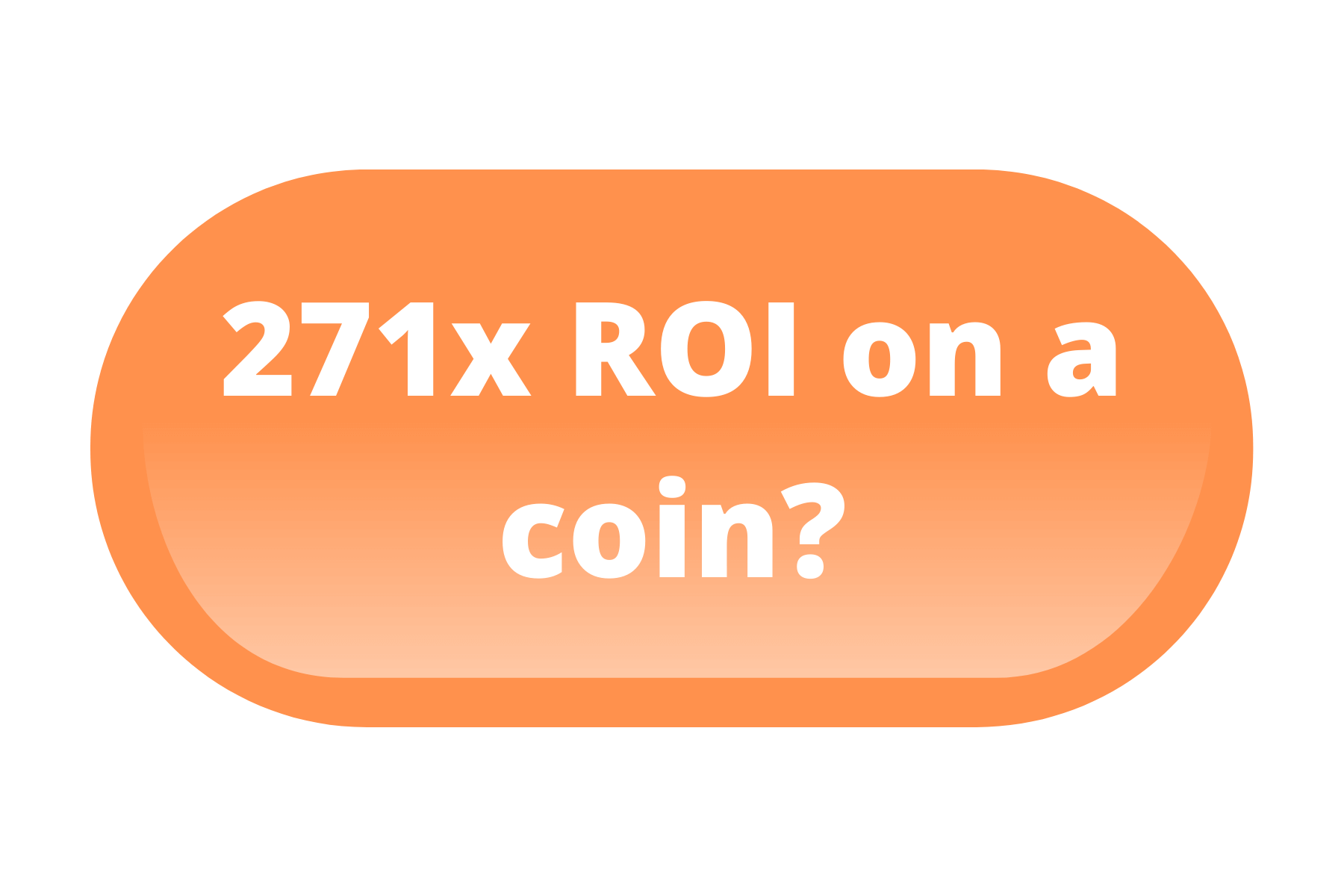 CaptainAltcoin's writers and guest post authors may or may not have a vested interest in any of the mentioned projects and businesses. None of the content on CaptainAltcoin is investment advice nor is it a replacement for advice from a certified financial planner. The views expressed in this article are those of the author and do not necessarily reflect the official policy or position of CaptainAltcoin.com