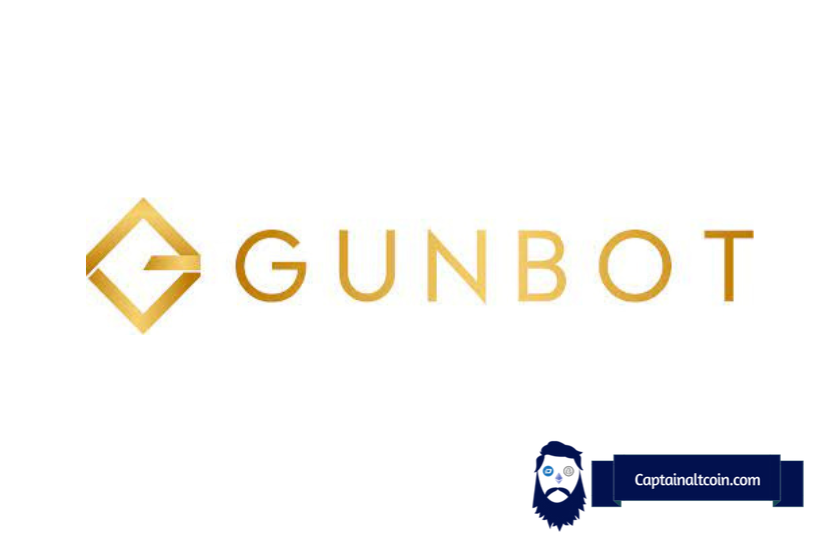 Trading cryptocurrency is a practice many will be intimidated by. Newbies to the space will likely be put off by the complexities of the whole fundamental/technical analysis ordeal and will instead prefer to clutch to their digital pearls-in-the-making and hodl. Professional traders and advanced traders have their own quips with the practice as well, mostly due to the fact that managing every part of the process yourself can be a daunting task.
Staying in touch with the latest details of a project, while having to chart its graphs/compare the results to your preferred indicators – and then reacting to the information in a timely manner – strangely enough leaves very little free time for real-world activities like having friends, eating or sleeping.
👉 For these reasons and more, coding-and-trading-savvy individuals have created trading bots; with the help of one, advanced traders can automate significant parts of the trading process and improve their overall trading performance.
Trading bots have been present for decades now, having been developed and perfected for the "old" finance markets.
Naturally, the improvements in speed, efficiency, and money-making ability that bots bring translated well into the new world of cryptocurrency-based financial instruments. Today we'll be reviewing one such crypto trading bot – commonly known as Gunbot – and check out what it brings to the trading table. If after reading this review, you find Gunbot not to your liking, check our review of Cryptohopper, probably the best crypto trading bot on the cryptocurrency market right now.
Below is a quick rundown about top 3 bots, based on their most prolific properties:
Introduction to Gunbot Trading Bot
---
This trading software was originally created by an individual called Gunthar De Niro back in 2016. The creator set out to make a crypto trading bot that would be easy to use and would offer advanced trading features required in today's hectic markets.
His creation seems to be exactly that and both beginners and the veterans of the space have found it useful in their trading endeavors. Once his product hit the mainstream, Gunthar hired a team of developers and support admins to help him manage the bot and everything related to it.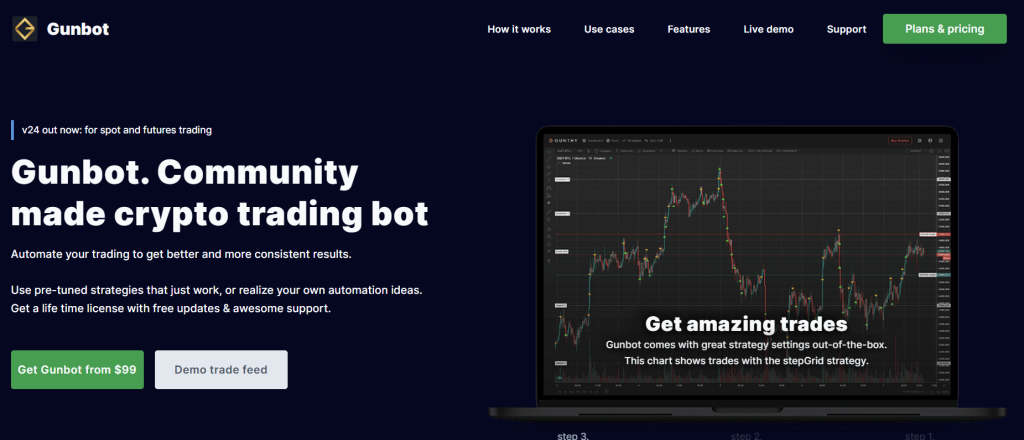 The bot is developed using the "Rapid Application Development" method, meaning that the process is strongly focused on users and their input. The people behind it claim that they keep a two-month release schedule for major releases, with bug fixes and performance improvements sprinkled in between.
Every new piece of code is ran through a network of dedicated beta testers; any community member can become one of those by joining Gunbot's beta channel.
The bot doesn't reinvent the wheel and does exactly what you expect it to do; it buys cryptocurrency at a lower price and sells it when the price rises. It requires you to connect your exchange's API keys, set up a trading strategy, select your trading pairs and let the bot's algorithms – which you either selected from a list of strategies (if you are a beginner) or coded/backtested yourself (if you are an experienced trader/coder) – do their thing.
They pride themselves on the abundance of tried and tested strategies they have on offer, claiming that every single strategy and setting present in Gunbot is drawn, discussed and tested by over 6000 active crypto traders.
Gunbot Tiers
---
Beginners
---
Beginners can use one of these pre-tuned "Emotionless" strategy presets to realize profitable trades; the bot requires you to pick one or more trading pairs and set your trading limit to get started.
This process is simple and doesn't require a lot of time or knowledge to setup. Of course, it's infinitely better to not be a total beginner; if you decide to start using a trading bot, you should look to learn about the ins and outs of good strategies which should eventually help you make one yourself.
Advanced users
---
Who are familiar with strategy building can use Gunbot to build strategies themselves and trade exactly how they want. Bot's strategy builder offers a wide variety of setup options and even has built-in TradingView/Telegram e-mail alerts add-ons that let you execute trades via e-mail.
Gunbot will run on your computer and will store all the data locally, which means that no one else will see (or have access to) your exchange keys or what and how you trade. As such, you will need to download and install the entire thing onto your PC. It can be installed on Windows, macOS, Linux and even on a Raspberry Pi.
One problematic thing with local storage can be the fact that the software requires at least 10GB of hard disk space to be installed; even though the prices of modern storage seem to be dropping, it can be a problem for people with older/weaker set-ups. The software also requires a 64bit CPU and 2 GB of RAM, something that can be purchased for less than $50.
Gunbot's interface is another respectable feature lauded by the community. It's fast, responsive and designed in a quality manner, allowing individuals with various levels of expertise to not get lost when using it. Advanced users can customize their interface as they please, giving it complete individual feel.
GunBot Crypto Review: Features
---
Some of the bot's key features include:
Unlimited number of trading pairs
Unlimited number of bot instances
Fast and responsive interface
Can trade on multiple crypto exchanges from a single installation
Life time free software updates, including upgrades to major new versions
Easy to use browser interface for managing settings and monitoring trading performance, also works on mobile devices
Powerful trading strategies: use tested presets or create your own strategies using 15 different methods for buying/selling, confirming indicators, trailing, DCA and many more options
Optimized strategies for margin trading and trading on spot markets
Reversal trading: a system to accumulate during bear markets without investing more than the initial buy order
Trading terminal: review bot performance on native charts, place manual orders directly from Gunbot
Receive trade notifications on Telegram
CryptoSight Telegram bot offering detailed trading statistics for trades made through Gunbot.
Power user friendly: all features can also be configured and updated using a single JSON configuration file
Can be used together with manual trading, even on the same trading pairs Gunbot runs (some limits apply though)
TradingView add-on: execute trades based on email alerts
Backtesting add-on: available as script on tradingview.com, emulates (almost) all Gunbot settings options
Gunbot team recommends that you purchase the bot from one of the official re-sellers of the software.
Gunbot website or the official forum are a good place to get the bot; alternatively, you can check out the complete list of authorized Gunbot dealers here. Resellers are experienced software users who even provide support to customers who find themselves struggling with certain aspects of Gunbot.
Telegram support groups, Slack, ticket systems, email, phone support and more are also available. The software doesn't work on a subscription principle but instead commands a single, one time purchase which nets you the bot and lifetime support/software updates.
Plans and Prices
---


There are 4 types of Gunbot licenses you can buy:
GUNBOT ONE EDITION ($99)
For 1 exchange
Trading strategy: Emotionless
Unlimited number of pairs
Unlimited number of trades
Upgrade coupon worth 0.02Ƀ
GUNBOT RT STANDARD EDITION (0.0075 Bitcoin)
For 1 exchange
All trading strategies
Unlimited number of pairs
Unlimited number of trades
Double up
Reversal trading
GUNBOT RT PRO EDITION (0.0105 Bitcoin)
For 3 cryptocurrency exchanges
All trading strategies
Unlimited number of pairs
Unlimited number of trades
Double up
Reversal trading
GUNBOT RT ULTIMATE EDITION (0.0175 Bitcoin)
For all supported exchanges
All trading strategies
Unlimited number of pairs
Unlimited number of trades
Double up
Reversal trading
TradingView add-on
Trading With Gunbot
---
Supported Exchanges
---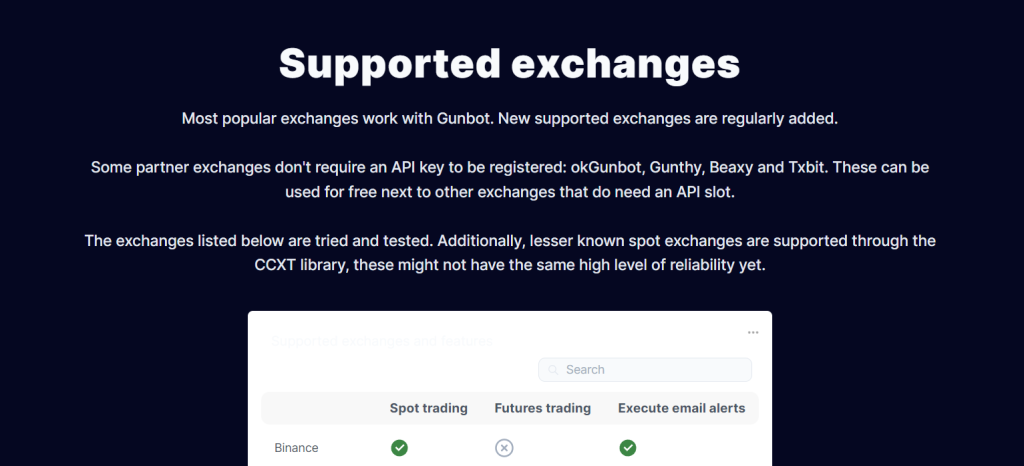 Gunbot supports trading on a wide variety of exchanges (both spot and margin ones):
There are no restrictions on the amount of active trading pairs in a Gunbot installation.
Supported Trading Methods and Strategies
---
The bot comes with 15 default trading methods/strategies that can be combined into a custom strategy:
Average Directional Index (ADX): define a minimum ADX level that needs to be reached before trading.
Average True Range (ATR) Trailing Stop: a method using the ATR indicator to provide a configurable trailing stop.
Bollinger Bands – percentage distance from bands: trade when price reaches a configurable percentage from the lower or upper Bollinger Bands.
Bollinger Bands – crossover: trade when price crosses over a configurable percentage from the lower or upper Bollinger Bands, after first moving outside of it.
EMA spread: trade when the spread between slow and fast EMA increases / decreases. The minimum required spread is configurable.
Emotionless: "just works" method, hardy any configurable parameters. Perfect for novice traders.
Gain: buy at a configurable percentage below EMA, sell when a set percentage above the break-even point is reached.
Ichimoku: trade on crossings of Kijun Sen and Tenkan Sen. The cloud (Kumo) can be used as optional confirmation.
MACD: trade on crossing of the MACD line and the signal line.
MACDH: trade on crossing of the MACD-Histogram and the zero line.
PingPong: buy and sell at exact configured prices.
Stepgain: using a built-in trend watcher, trade when a downtrend turns into an uptrend and vice versa.
SMA cross: trade on crossings of the slow and fast simple moving averages.
Time series analysis: attempts to predict the next period close price, trades when the forecast is higher/lower than the current price.
Trailing stop / stop limit: using configurable trailing ranges for buying and selling, prices are trailed for optimal entry and exit points. Orders are placed when the trailing stop is hit.
All of these can be tweaked and configured by the end user into a custom strategy. Additionally, Gunbot offers several built-in features for "recovering" from bad crypto market trades, including dollar cost averaging, reversal trading and placing a stop limit order.
Gunthy Token
---
As any successful crypto endeavor tends to experience, Gunbot recently saw its community create an ERC-20 token for it. The token is called Gunthy and can be purchased either by buying a Gunbot lifetime license (you will get 1000 Gunthy for each Gunbot Standard license, 1500 Gunthy for each Gunbot Pro, and 2500 Gunthy for each Gunbot Ultimate for a one-time payment) or by buying it on an exchange (Idax.pro is currently the only exchange trading it).
For now, the token's only purpose is "to validate license ownership on the blockchain" which is a roundabout way of saying "pretty much nothing". However, the token is intended to be used for activating Gunbot licenses, Addons and other Gunthy related products.
In Conclusion
---
Trading bots can be like fire, water, a woman, or any other force of nature: they can be excellent servants, but at the same time they can be very bad masters. Gunbot can easily fall into both categories as well; where it ends up will depend mostly on you. Is Gunbot legit?
The bot is legitimate, having a solid development core and a growing community which seems to be happy with the way the bot functions. If you are a newbie looking for some tested strategies that will net you constant gains or an advanced user looking to maximize his performance, Gunbot is likely the bot to go with.
If GunBot is not to your liking, check out our other guides on its competitors:
One of the best bots on the market
PROS
A lot of trading strategies
Solid reputation
A lot of supported exchanges
Great interface
Big community
CONS
Expensive
Closed source code
Additional Resources
https://gunbot.shop/category/tutorials/
https://bitcointalk.org/index.php?topic=1715214.0

CaptainAltcoin's writers and guest post authors may or may not have a vested interest in any of the mentioned projects and businesses. None of the content on CaptainAltcoin is investment advice nor is it a replacement for advice from a certified financial planner. The views expressed in this article are those of the author and do not necessarily reflect the official policy or position of CaptainAltcoin.com