Ledger Nano X Review – Pricing, Supported Coins, Security, Setup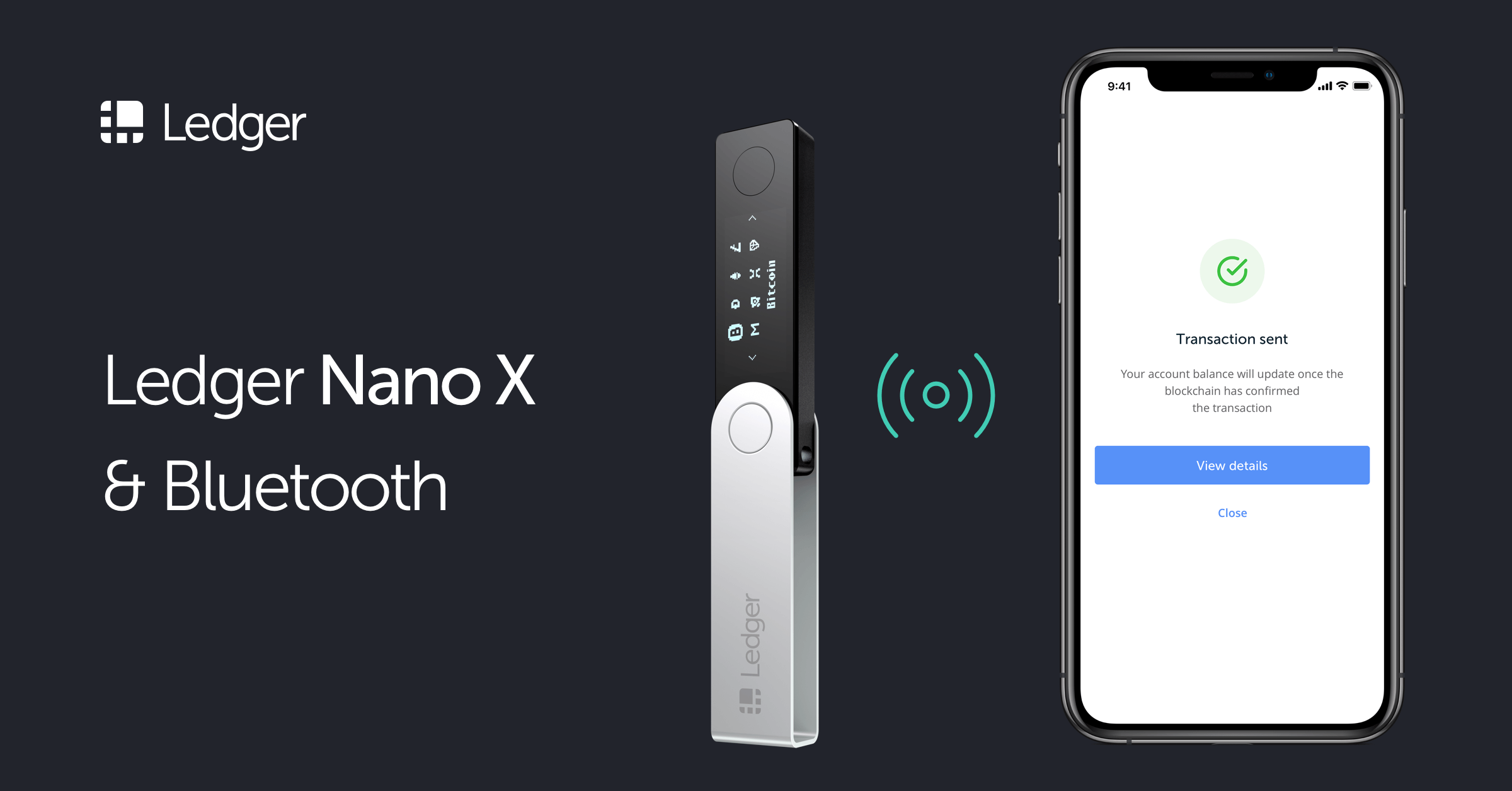 Ledger Nano X Review – Pricing, Supported Coins, Security, Setup
It is controllable via a mobile device
very safe
more than 1500 coins are supported
commodious style
The market for hardware wallets has long been dominated by two companies. While outsiders attempted to break the hegemony with their own products, crypto market participants mostly remained faithful to hardware wallet OG's Trezor and Ledger. These two players held a delicate control over hardware wallets markets, in a manner similar to how Samsung and Apple duke it out for the market of mobile phones (only without the cheap shots and multibillion-dollar international lawsuits).
However, this control has been slipping away as of late; basic Ledger (Nano S) and Trezor (One) hardware wallets were introduced quite a while ago and innovative competition started threatening the leaders' market share with competitive prices and arguably superior products.
Trezor responded to this threat by releasing the Model T hardware wallet, an upgrade from their standard-bearer One. Ledger took their sweet time and just recently came out with an upgraded device called Nano X, which we'll be taking a closer look at today.
Ledger recently came out with a refreshed version of its first-gen wallet Ledger Nano S. The new wallet is dubbed Nano S Plus and you can check out its review here. Also, click here to see how Nano S Plus fares against Nano X.
The Ledger Stax is a new crypto wallet that is designed for users who actively use cryptocurrencies. It has a touch-screen interface and supports a wide range of coins and tokens. The wallet also has several security features, including two-factor authentication and a secure element chip. It is currently priced at $279 and will be available for delivery in March 2023.
Click here to see if Ledger Stax is worth it
and here to
preorder it.
About Nano X
---
After months of development, Ledger presented their upgraded "Nano X" in January of 2019 during the annual Consumer Electronics Show in Las Vegas. Calling it "the latest generation Hardware Wallet", the company revealed more details about this new product. According to a press release from Ledger, CES officials liked what they saw, since they awarded Nano X with its 2019 "Innovation Award in Cyber Security and Personal Privacy."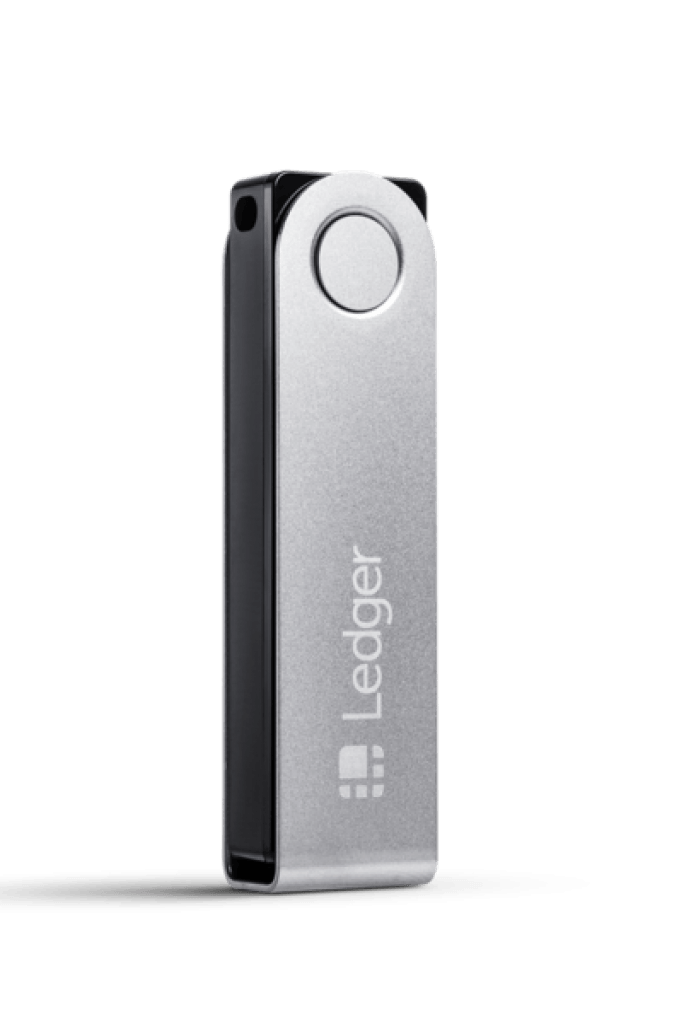 Technical Specifications
---
Hardware
---
Upon purchasing Nano X, users can expect the following goodies to come in the package:
1 hardware wallet
1 USB cable
1 getting started leaflet
3 recovery sheets
1 keychain strap
Regarding its physical characteristics, Nano X is pretty similar to the older Nano S. Retaining the USB-like design, the device comes with dimensions of 72mm x 18.6mm x 11.75mm and a weight of 34g.
The device's outer casing is built out of finely brushed stainless steel and has a plastic screen/USB cover attached to it. The screen has been made slightly bigger to improve the user experience. With Nano X, your actions are controlled by two built-in buttons (instead of only 1 that was present with Nano S). The USB connector is a USB Type-C one.
The wallet also comes with CC EAL5+ certified secure chip which stores your sensitive data, as well as built-in Bluetooth capabilities for wireless cryptocurrency management.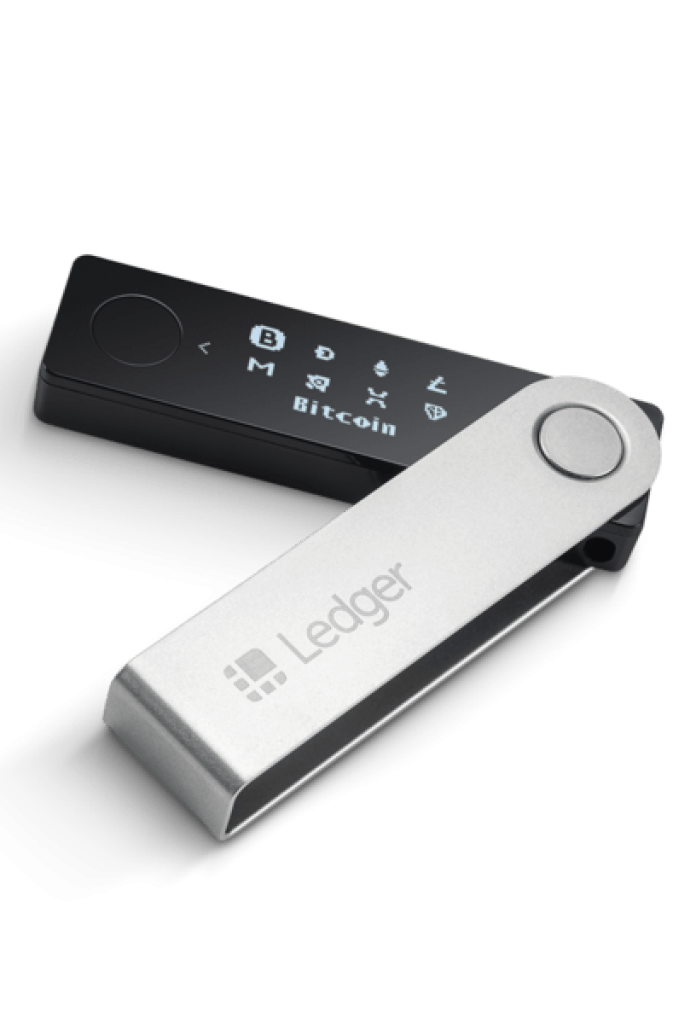 All of these features are powered by a 100 mAh battery which is stronger than the one that came with Nano S and will supposedly last several hours in use and a few months when idle on a full charge.
Software
---
Ledger developed its own non-open source highly-secure operating system called BOLOS. This is the operating system seen on the Nano S and Ledger Blue. BOLOS is stored on the certified secure chip within the Ledger Nano X.
The device's software is compatible with 64-bit desktop computers (Windows 8+, macOS 10.8+, Linux) or smartphones (iOS 9+ or Android 7+). Nano X offers a wide selection of cryptographic support; check out the complete list here.
The device lets you install up to 100 cryptocurrency apps so you won't be able to store every single cryptocurrency out of 1100+ that are currently supported by Ledger.
In comparison, Nano S offers storage for 18 cryptocurrency applications with support for only 40 crypto assets in total. Your Nano X receiving wallet is compatible with all Ledger hardware wallets; as such, it can be restored to any other device with the help of a 24-word restore phrase.
Crucial for the wallet operation is the Ledger Live mobile/PC application which lets you track your cryptocurrency data in real-time, perform transactions, and install apps onto your Ledger Nano X. The app offers an easy-to-use interface that can even help you get rid of third-party apps like Blockfolio.
Special Features
---
To justify a price tag that is nearly doubled what you have to pay for the Nano S, Nano X comes with a whole host of new features and improvements over its older brother. Probably the most talked-about upgrade is the Bluetooth functionality which has been introduced as a default feature of this wallet.
Ledger Nano X offers Bluetooth connectivity to its users, making it a great solution for people who want to manage their cryptocurrency on the go. The wallet can connect to the smartphone's Bluetooth and its contents can be monitored/controlled through the Ledger Live downloadable mobile app.
This app will display the contents of your wallet even when it isn't connected to your mobile device; it will also allow you to sign off on transactions in a simple, step-by-step, on-point manner, which has long been a problem for users who wanted to use their crypto for daily payments.
About Bluetooth Security
---
Some people raised concerns about Ledger Nano X wallets being able to interact with mobile phones via Bluetooth as they believe that Android/iOS devices are arguably more likely to catch a virus or a piece of crypto stealing malware than their PCs/Macs. Also, Bluetooth connections are much more susceptible to outside hacking than regular cable ones.
Still, it's important to understand that this doesn't represent a bigger danger for your cryptocurrency.
It is important to understand that only public data is transported by Bluetooth; critical data (such as private keys and the recovery seed) never leaves the device.
Even if the Bluetooth connection would be hacked, the security of the Ledger Nano X relies on the Secure Element (SE) which will request your consent for any action. Mentioned Secure Element chip (ST33) is more powerful than the one in the Ledger Nano S (ST31).
With Nano X, your Ledger mobile app will be used to create an unconfirmed transaction which is then sent to your hardware wallet via Bluetooth. Your hardware wallet will use the private keys that are stored on its security chip to verify the transaction and make it go through completely.
Without your hardware wallet being directly compromised, your funds will be as safe with Bluetooth connections as they are with traditional cable ones. The only difference that Bluetooth makes is that your transactions can now flow wirelessly.
Nonetheless, Bluetooth connectivity isn't obligatory and can be turned off if the customer prefers the cable method. You can read more about this topic in this explanatory article provided by Ledger. Other special features were named and described throughout this article.
Pricing
---
Ledger explained that the product will be placed in a price range between the standard Ledger Nano S and the Ledger Blue (currently the most advanced device in their line-up).
Nano S will cost you $59 and Blue will set you back a cool $269,99; Nano X will slot itself in the middle with its price of $119. According to the company's announcement, Nano X has already entered the production cycle; pre-orders for the device are open and Ledger expects to ship the first fully operational devices.20
Potential buyers can expect free shipping of their device, a 14-day return policy, and the ability to purchase Nano X through more than 15 payment methods.
Conclusion – Ledger Nano X Review
---
Ledger Nano S was once the standard-bearer of the company, selling 1.5 million devices throughout the past. While still considered a safe and reliable wallet, it does have some serious weaknesses that simply wouldn't fly in the modern world of crypto. Its limited software and underwhelming physical characteristics have slowly made this wallet commercially obsolete and paved the way for Nano X.
Nano X addresses the issues noted above and offers significant improvements over them. It's faster, more secure, more mobile-friendly, simpler to use, and offers improved hardware/software from its predecessor.
Even with that being said, it appears that Ledger doesn't plan on abandoning the S model; apparently, they will keep selling all three of its products, imagining a system where people would use S/Blue in a home variant while X would help them out on the go.
Ultimately, Ledger Nano X is a beefier, stronger, and faster version of Nano S and as such it will satisfy any cryptocurrency holder out there. As long as he/she is willing to pay a bit of a premium price for the privilege.
PROS
It is controllable via a mobile device
very safe
more than 1500 coins are supported
commodious style

CaptainAltcoin's writers and guest post authors may or may not have a vested interest in any of the mentioned projects and businesses. None of the content on CaptainAltcoin is investment advice nor is it a replacement for advice from a certified financial planner. The views expressed in this article are those of the author and do not necessarily reflect the official policy or position of CaptainAltcoin.com