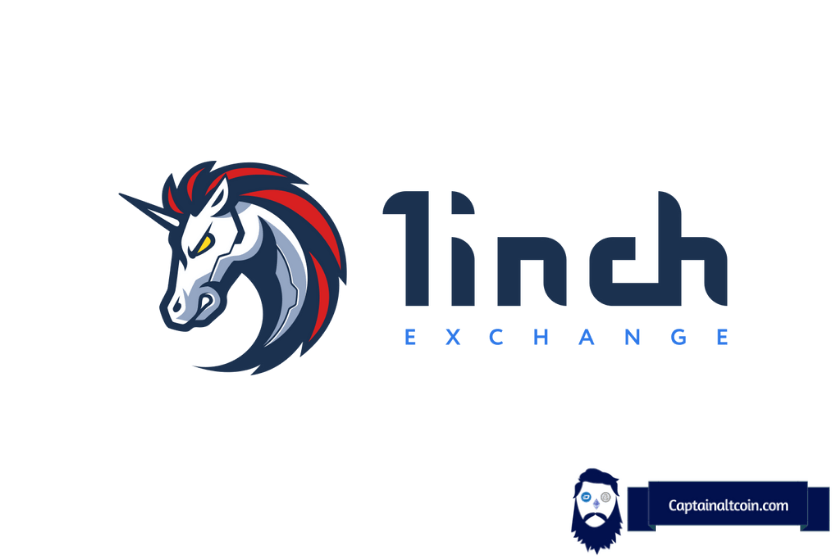 What is 1INCH
---
1Inch is a DEX (decentralized exchange) aggregator that claims to enable fast, lucrative and secure operations in the DeFi (decentralized finance) space by routing and connecting multiple leading DEXes[1]. 1INCH is the token that powers the 1Inch network/ecosystem; it facilitates multiple tokenomics, and serves as a governance and utility token[2].
2 years after their launch, their tokens find themselves listed on over 50 exchanges, and have gained a lot of attention with the rising popularity of DeFi. But 1INCH is still relatively new in an ever-evolving market; what exactly is it, and how much potential does it have? Has it stabilized at a justified price, or does it still have room to grow?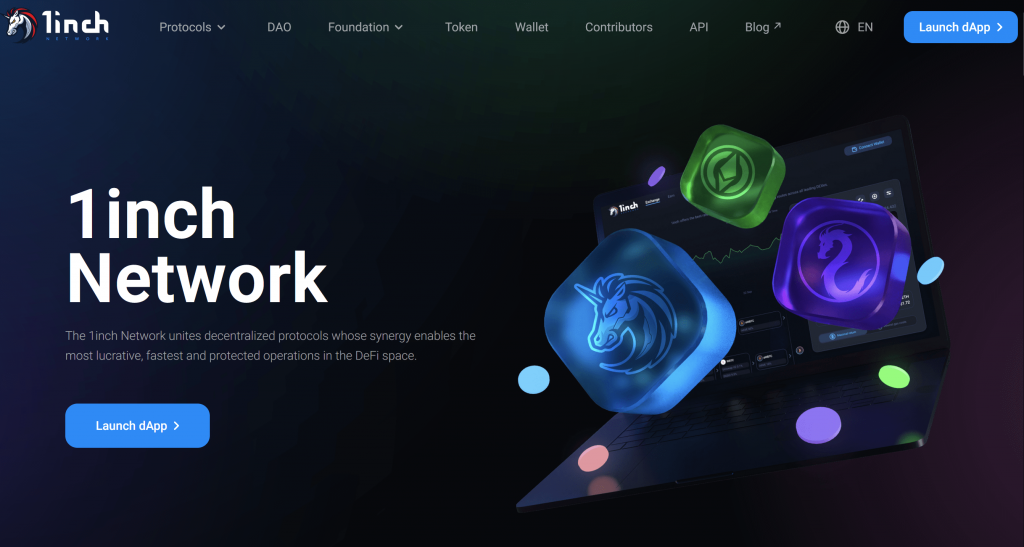 1INCH Price Prediction 2021
---
Below we take a look at 1INCH and examine some details as well as predictions to estimate a reasonable price for 2021, as well as for the upcoming years. It should be noted that while price predictions are based on data, and often are analyzed by AI, they should never be taken as financial advice or a solid basis for an investment. It is always highly recommended users do their own research into the projects whose tokens they wish to invest in.
1Inch Token Price Prediction
The whole crypto world is on a verge of a complete breakdown. Bitcoin has fallen 75% from its all-time high amid broader market declines caused by raging inflation and US Fed rate hikes. When add the most recent melt-downs of huge industry players (FTX, Celsius, Luna etc) into the equation, the horizont is murky and there will be more blood on the streets of the crypto town. Investors are selling risky assets and moving into more stable markets. Crypto is still perceived as a very risky play and hence the sell off. Our algo still sees a some green in 2023, especially in the second part of the year. This is reflected in our 2023 predictions. Right now, Bitcoin needs to find a bottom before we can move in the opposite direction and reverse the trend. Once Bitcoin settles in the new price range, altcoins will start to do the same - we have witnessed this scenario dozens of times in the distant and more recent history. Our price prediction model is bearish for the next 90 days with a hint of a bull market at the turn of the quarters from Q1 to Q2. We expect whales and other bigger players in the market to finish filling their bags around that time which will cause a typical and sudden crypto spike. CaptainAltcoin team created a price prediction model with a multi-faceted approach to crypto that takes into account both technical analysis and fundamental assessment of each project. Fundamentals that we evaluate are team, tokenomics, use case, community, marketing efforts, liquidity and exchange availability, hype & speculative potential and some other proprietary factors developed in our crypto lab.
1INCH Price Prediction For The Next 90 Days
Below is a tabular overview of how will 1INCH develop in the short-term (for the next 90 days), according to our prediction model:



Next 30 days

Next 60 days

Next 90 days

.
1Inch Token Price Prediction 2023
1INCH Price Prediction 2025
Our prediction model sees 1INCH reaching $ 0.9746 in 2025.
What will 1INCH be worth in 5 years?
The price of 1INCH in 5 years could lie around $ 0.9218, according to CaptainAltcoin's prediction model.
1Inch Token Price Prediction 2030 – 2040
What 1inch Network will be worth in 2030?
Our forecasting model sees 1inch Network reaching $2.44 in 2030.
What 1inch Network will be worth in 2040?
Our forecasting model sees 1inch Network reaching $4.87 in 2040.
Will 1inch Network replace / surpass / overtake Bitcoin?
No, 1inch Network will not replace or overtake BTC.
Can 1inch Network reach $1000?
No, our prediction model sees no possibility for 1inch Network to reach $1000 in the short or mid-term period.
Is 1inch Network worth buying?
We are advocates of moderately risky investing – invest most of your crypto portfolio in BTC (50%); 35% in a basket of big cap coins and the rest in small projects with huge upside. So, in this context, 1inch Network is worth buying.
Is 1inch Network a good investment?
1inch Network is, just like all other cryptocurrencies, a risky investment. It does have higher probability of going up than down because of the good use case, well-designed tokenomics, active community and a solid team behind it.
How much will 1inch Network be worth?
For the short-term future, it could reach $0.2481. In the long-term (8-10 years), it could jump to $2.44 or even higher.
Why will 1inch Network succeed and go up in price?
1inch Network has a good use case, well-designed tokenomics, active community and a solid team behind it. All of these are a prerequisite for success and that is why our prediction model sees 1inch Network rising up to $2.44 in 2030.
Why will 1inch Network fail and drop in price?
Crypto projects fail for various reasons. Some of the most common ones are: team goes rogue and abandons the project, regulators declare it illegal and press exchanges to delist it, lack of media attention, more successful competitors, lack of well designed marketing strategy, losing community support, potential vulnerability in the protocol, failing to achieve anticipated minimum developement activity on the protocol, failing to attract new developers to build on their platform.
Can 1inch Network reach $100?
Yes, it is possible that 1inch Network can reach $100 but only in a distant future, after 2030.
How high will 1inch Network go?
Our forecasting model sees 1inch Network price exploding and reaching $4.87 in a distant future.
What is the short-term prediction for 1inch Network?
1inch Network will reach $0.2481 in the next 90 days, which is a 37% change over the current price which hovers around $0.3938.
Can 1inch Network make you a millionaire?
Yes, if you buy large enough sum of it. Do not expect to invest $100 and become a 1inch Network millionaire. But 100x price explosions are a common sight in crypto, so a $10k investment in 1inch Network could make you a millionaire.
1inch Network Price Prediction Today - What will be the price of 1inch Network tomorrow?
1inch Network will hover around $0.3977 tomorrow.
Can 1inch Network reach $10?
Yes, 1inch Network could reach $10 by the end of 2024.
Read also:
Fundamentals
---
Use Case
---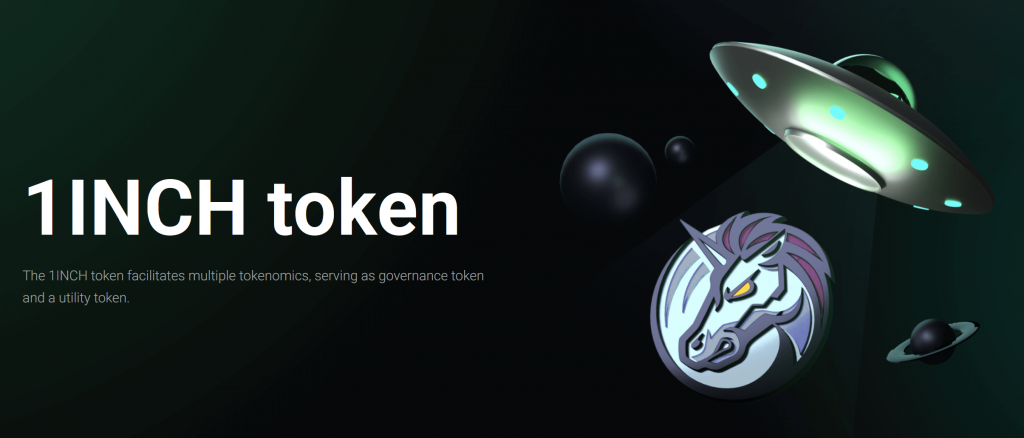 1INCH's primary utility as a token is its usage as a connector to achieve high-efficiency routing in the 1inch liquidity protocol. Aside from that, it is used as a governance token to govern all of the network's current and future protocols through governance modules of the 1inch aggregation protocol and the 1inch liquidity protocol.[2]
Practically speaking, it is an exchange token that can be traded on and off the platform, and can be staked for rewards and voting on protocols. It may not seem as though the token itself is doing something extraordinarily unique, but its value is strongly tied to what the platform itself has to offer, and how it uses 1INCH to deliver.
The 1INCH token is also currently available on two chains, Ethereum and Binance Smart Chain[2], making it a multichain token which makes trading across chains easier.
Tokenomics
---

According to data gathered from Messari:
The total supply sits at 1,500,000,000
Of that amount, ~172,595,350.02 is currently in circulation
And the yearly inflation rate that is said to occur in the next 12 months is 126.08%
Some supplemental data gathered from Coinmarketcap:
Its current market dominance is currently around 0.03% and is currently ranked at 107th place
Addresses that own more than 1% of the current supply collectively own more than 96%
~$572,965,366.58 current market cap and ~$4,979,555,067.75 fully diluted market cap
Token Distribution[2]:
The total supply of 1INCH is currently at 1,500,000,000 tokens, which are set to be distributed as such:
2.3% for small backers
12.2% for backers #2
14.5% for network growth
18.5% for backers #1
22.5% for core contributors
30% for community incentives
On the release day, 6% of the 1INCH token's total issuance of 1.5 billion was unlocked. The remaining tokens will be gradually unlocked over a four-year period through December 30, 2024.
The term "total supply" differs from "max supply". When a max supply is determined, it means that that particular amount is the maximum amount of tokens that will ever exist, i.e., no more of those tokens will ever be minted. In the case of 1INCH, a max supply has not been determined thus far, which implies the possibility of another mintage in the future, which in turn could result in inflation.
The data presented above can be subject to change, always visit the source for up-to-date information: Messari – Coinmarketcap
Team
---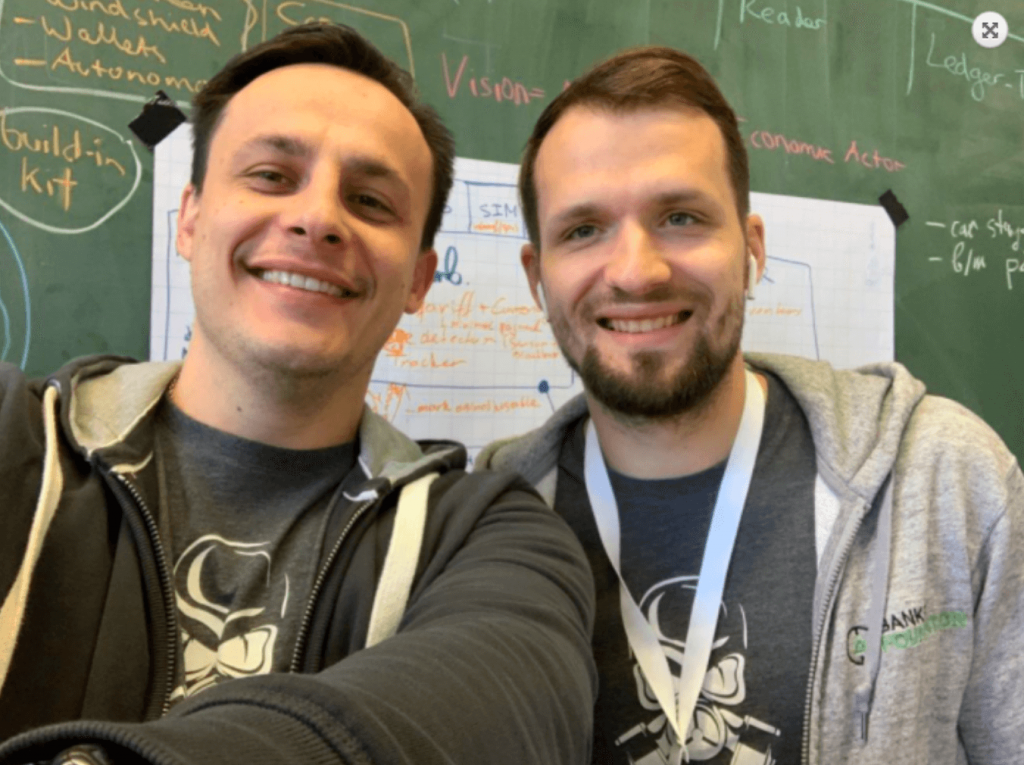 1inch was co-founded by Sergej Kunz and Anton Bukov; after competing in and winning several hackathons, in May of 2019, for a hackathon in New York, they developed a DEX aggregator solution that despite winning only a minor prize, became the basis for 1inch.[3][4]
The two had already cemented an impressive reputation from previous competitions, and with the success of 1inch, have proven themselves to be competent. Today, the core team consists of Sergej and Anton, as well as these 60 members working to bring their full vision to life.
On Twitter, the team shares updates, activities and relevant news and info on the platform. Other than celebrating milestones, they do not boast about prices, and relative to the achievements they post, they do not overpromise.
Their YouTube channel, although slightly inactive, posts content centered around explaining and discussing 1inch concepts and answering community questions.
1inch's tone of voice is energetic and so is their imagery, with elements of drive and power, but this is more or less to do with branding. Tonality aside, looking at the content of their posts, it does not seem like they are trying to overhype their promises or achievements, which is generally a positive indicator.
Community
---
One of 1inch's biggest communities is found on Telegram, where they currently have over 15,000 members, after which is their official Discord server, where there are almost 11,000 users, and lastly, strangely enough, is their Subreddit with around only 4,000 members.[1]
On Twitter, 1inch is tweeted about every couple of minutes, and the official account of 1inch is followed by over 220,000 people. Overall, the community is alive and 1inch seems to be frequently discussed.
Exchanges & Wallet Support
---
As of present, around 52 exchanges have listed 1inch on their exchange, according to Coinmarketcap, and although 1inch does not specify supported wallets other than their own, many major exchanges that support 1inch also have a 1inch wallet.
Market price prediction
---
Wallet Investor expects the price to increase by ~90%** to ~$6.83 in around a year, and over ~500%** in a period of 5 years – to ~$22.13. They rank 1INCH as an A+ investment, the highest the website has to offer.
| | |
| --- | --- |
| 2021-2022 | 2026 |
| ~$6.831 | ~$22.132 |
According to Digital Coin Price's forecast, 1INCH should increase to ~$5.93 in a year – by ~70%** – and up to ~$12.50 in 2026 – a ~258%** increase.
| | | | | | |
| --- | --- | --- | --- | --- | --- |
| 2021 | 2022 | 2023 | 2024 | 2025 | 2026 |
| ~$5.43 | ~$5.93 | ~$7.69 | ~$8.93 | ~$10.78 | ~$12.50 |
Tradingbeasts has not made a prediction thus far because it considers the current amount of sample data too little to make a significant or accurate prediction.
*These predictions are merely supplemental data and should not be taken as financial advice
**Percentages are based on current value and could change anytime
1INCH Price Prediction – Summed Up
---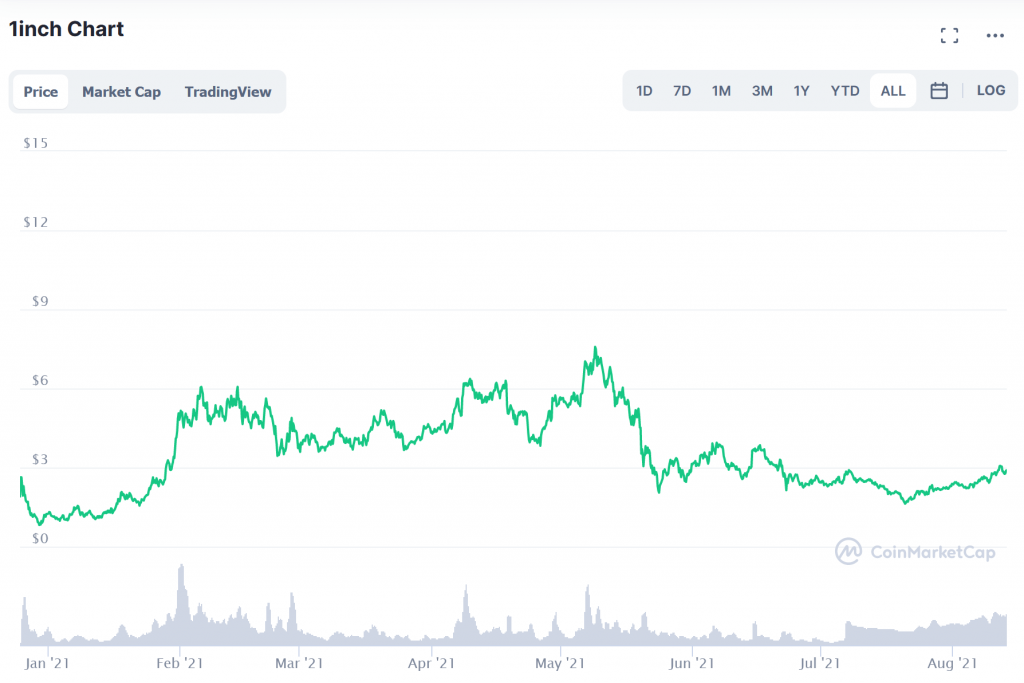 To sum it up, all available indicators suggest a reasonable price increase. It is impossible to pinpoint a specific figure, but it seems a 70%-90% range is suggested for the short term, scaling up to 250%-500% in the long term.
A short term reasonable estimate: ~$6.13
1INCH price prediction 2025
Based on the data and arguments laid out above, a price of 1INCH token in 2025 could be in the $10-$20 range. A long term reasonable estimate: ~$17.31
1INCH price prediction 2030
We are still not sure if 1Inch and similar project do have a long-term future and 1INCH token could be worth ZERO in 2030 as the project might not exist by then. Chances are 50-50 in our eyes for that to happen.
Is 1INCH worth investing in?
1INCH is a good investment for the short-term when the market is in the BULL run. Usually these types of DeFi projects do extraordinary well when the overall crypto market is in the green and they outperform other better known projects by a lot. However, make sure to exit them in time as they tend to do get a beating during ranging and bear market cycles.
Why will 1INCH succeed?
Because it does propose a valuable service, it already built a name for itself in its niche and suffered no security breaches or other types of compromises (economic, reputational etc). The token itself does provide utility and makes sense which is not the case with many other similar projects.
Why will 1INCH fail?
1INCH might fail because of the fierce competition, dynamic technological field and rocket-speed developments in its niche.
Will 1INCH reach $10?
1INCH reaching $10 is within the realm of possibility, even in the short term period. It could very well reach $10 within a year.
Can 1INCH reach $100?
1INCH will almost certainly NOT reach $100 in the foreseeable future, probably never.
Where and How to Buy 1INCH
---
Where to buy 1INCH?
---
1INCH can be bought on the 1inch network, or on many other exchanges such as Binance, Coinbase, FTX, Uniswap, Sushi and more.[5]
How to buy 1INCH?
---
Buying crypto can differ from exchange to exchange, but here are solid guidelines to purchasing 1INCH:
Select an exchange that supports 1INCH (recommendation: Binance) and check for KYC (account verification) requirements and available payment methods.
Create an account on your preferred exchange.
Purchase 1INCH with your preferred payment method.
Already have an account on an exchange that supports 1INCH?
Purchase 1INCH with your preferred payment method.
Or
Swap some of your tokens with 1INCH.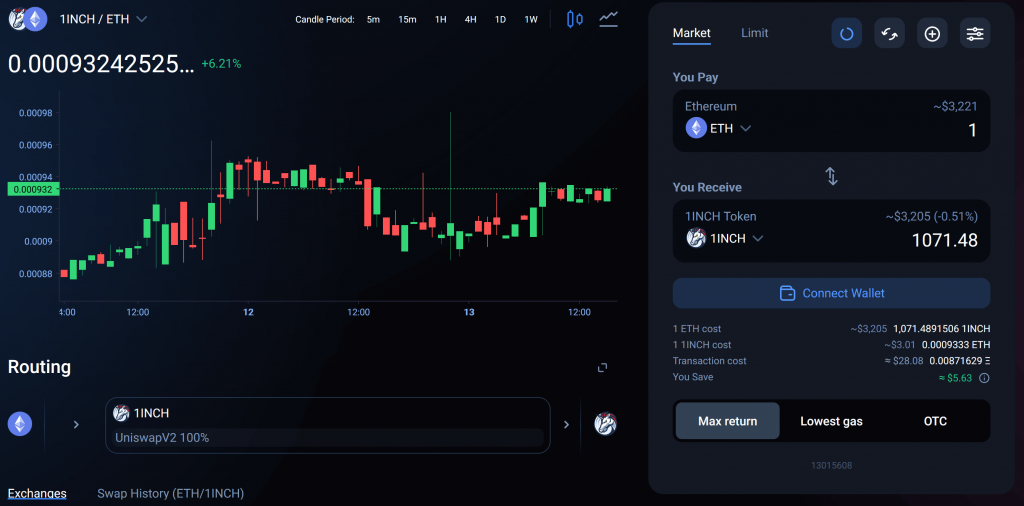 When buying or swapping tokens, some exchanges may have minimum amounts in place; usually these amounts are $10-$20 in the token's equivalent. Additionally, most exchanges issue fees for purchases and swaps, these fees and their conditions differ from platform to platform, which is why it's worth comparing them to minimize costs.
1INCH Wallets
---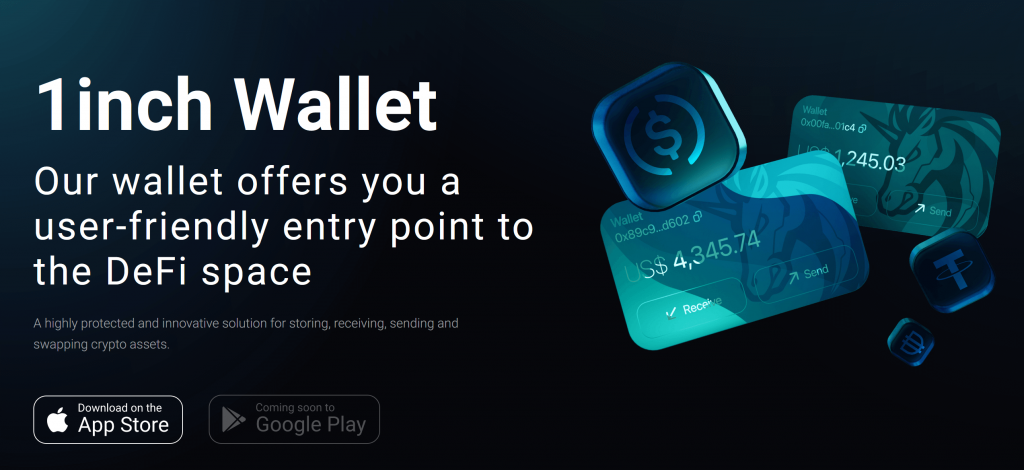 As touched upon earlier, most major exchanges that support 1INCH also provide users with wallets to store their tokens in.
1INCH has an official wallet available on IOS, with an Android version planned to arrive soon. In addition, here are some exchanges that offer a wallet for 1INCH:
It is important to keep in mind that not every exchange offers users the private keys to their wallets, meaning that although the tokens still belong to the user, they are ultimately stored on the exchange. Furthermore, some exchanges may have minimum withdrawal amounts and withdrawal fees in place, and these fees differ from exchange to exchange. Deposit fees are extremely rare, as exchanges want to encourage users to store assets on their platform.
Summing it all up
---
DeFi has gained a lot of popularity as of late, and it keeps growing at an impressive rate. For a token such as 1INCH that plays a role in this space, it is certainly a positive factor that strengthens its potential. That being said, the external factors that benefit 1INCH, also benefit its competition.
Current predictions suggest a notable increase in price which is more or less in line with the growth of crypto that is expected in the upcoming years. While it is probable to see 1INCH reach ~$6 by the end of 2021, it goes without saying that some caution should be exercised before making big investments.
Also, you might want to check out other price predictions:
References and Resources:
[1] 1inch.io
[2] 1inch.io/token
[5] Coinmarketcap.com/1inch/markets

CaptainAltcoin's writers and guest post authors may or may not have a vested interest in any of the mentioned projects and businesses. None of the content on CaptainAltcoin is investment advice nor is it a replacement for advice from a certified financial planner. The views expressed in this article are those of the author and do not necessarily reflect the official policy or position of CaptainAltcoin.com