Ledger Nano S is now a legendary crypto hardware wallet and the first generation of the Ledger Nano wallets series. This Ledger Nano review will go into more detail about this hardware crypto wallet (cold wallet) and if it is still worth getting it.
Name: Ledger Wallet Nano
Description: A USB bitcoin hardware wallet with smartcard security in a very compact and beautiful package.
Who's behind it: Three French startups – La Maison du Bitcoin, Chronocoin, and BTChip
Launched: December 2014
Cost: €55.00
Rating: 4/5
Summary: The Bitcoin Ledger Wallet Nano is a relatively affordable bitcoin hardware wallet that looks good and has a few clever tricks up its sleeve.
Where to purchase: Directly from Ledger or Overstock.com. It can be bought with bitcoins.

Buy Ledger Nano S
Read also: How good is the latest Ledger Nano S Plus? Check out our review and also a direct comparison of Nano S Plus vs Nano S / Nano S Plus vs Nano X.
Basics
---
The Bitcoin Ledger Wallet Nano is a new hierarchical deterministic multisig hardware wallet for bitcoin users. It aims to eliminate a number of attack vectors through the use of a second security layer. However, this tech-heavy description does not mean much to the average consumer. That's the reason why I am going to explain it in plain language, describing what makes the Bitcoin Ledger Wallet Nano tick.
The wallet was launched in early December 2014, and it is the most affordable hardware of its kind on the market.
The Ledger Wallet Nano is a compact USB device based on a smartcard. It is incredibly lightweight and weighs only 5.9 grams (0.013 pounds). It is roughly the size of a small flash drive and even thinner than most USB sticks, measuring 39 x 13 x 4 mm (1.53 x 0.51 x 0.16 inches). No micro-USB to USB cords needed and no Bluetooth compatibility, it is just a smartcard that gets inserted into a device's USB port.


Inside the packaging, you can also find a recovery sheet, a simple manual, and a security card in a black faux leather pouch.
Although some rough edges are visible upon closer examination, I have no major complaints about the build quality. The plastic device features an aluminum swivel cover with a brushed finish, and it is very simplistic, but you will know why when you look at the price. This product might be cheaply priced. However, it was not cheaply made, and it is for people who do not have a lot of Bitcoinsor other crypto assets but just need a secure offline place to store them.
The Ledger Nano offers you a great level of security even with its tiny price tag. Your money won't be lost (as is the case with all of the Ledger wallets) if you end up misplacing your Ledger Nano. You can just purchase a new Ledger wallet and put your money in the new cold wallet by using the Chrome plugin. Simple!
It is also important to note that the Ledger Nano utilizes EAL5+ smartcard technology. This technology is used by many high-level businesses to secure their transactions and other sensitive data.
The best part is that all of your data is stored on the smartcard itself, which means that nothing is controlled or owned by another company or even Ledger itself. This popular hardware wallet is yours.
Ledger Wallet Company
The Ledger Nano Bitcoin wallets are made by a company called Ledger, and the company's headquarters are in Paris, France. However, they also have an American office in San Francisco, California.
Bitcoin Ledger Wallet Nano Security Concept
---
Ledger Nano's familiar, compact and simple design is where its similarities to traditional USB drives end. The Ledger should be more reliable because it does not use cheap NAND memory like the average USB drive. The manufacturer of the EEPROM memory used in the CC EAL5+ compliant smartcard ensures 500,000 read/write cycles and offers a 30-year guarantee on data retention.


The smartcard has been an industry standard for decades. It eliminates a number of security problems that may arise on devices based on multipurpose microcontrollers.
The wallet relies on the host computer to set up and execute transactions, which means that it is not designed as a standalone device. The host computer is most likely point of failure. That's the reason why the Ledger Wallet Nano S is designed to render vulnerable or even compromised computers safe, by introducing another layer of security.
The Ledger Nano wallet signs bitcoin transactions internally. It also aims to prevent man-in-the-middle (MITM) attacks by employing a security card. The wallet would be exposed to MITM attacks without this added security layer, because a hacker could, in theory, gain control of the computer and proceed to compromise the wallet. By providing physical two-factor authentication, the security card makes such an attack less likely.
Buy Ledger Nano S
How to Use the Device
---
The Ledger Nano wallet is designed for use on desktop operating systems on Google's Chrome browser, and as the test bed, I used an Asus Windows 8.1 tablet with a keyboard dock.
How to Install the Bitcoin Ledger Wallet Nano
---
The installation process is relatively straightforward. However, it requires the use of a Google Chrome app. The user only needs to plug the Bitcoin Ledger Wallet Nano into a USB port and head over to my.ledgerwallet.com to automatically install the Chrome application. The application connects to Ledger's API server to access the blockchain and also allows you to send and receive bitcoin using the wallet.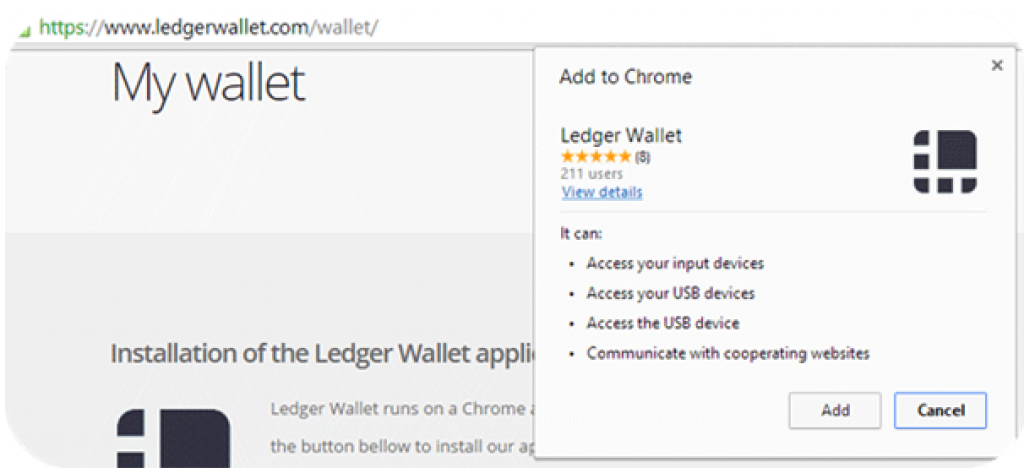 It is important to note that Chrome is not the only browser on the market and millions of users still rely on Internet Explorer, Safari, and Firefox. A platform-agnostic approach would have been preferable. However, it is simply not feasible for a number of reasons, including security certificates. To allow access to the device, Linux users also need to create a set of udev rules.
The Ledger Nano S is a far superior device to its predecessors because it features an OLED screen, which is extremely useful, as you will soon find out.
Setting Up Ledger Nano S Hardware Wallet for the First Time
---
So you've got your Ledger Nano S hardware wallet.  Congratulations! First, plug your Ledger Nano S with the USB cable on a computer. You will be welcomed by Ledger and asked to press both buttons at the same time to get started (the Ledger Nano S only has 2 buttons).


Press both buttons at the same time to begin
Press both buttons one more time to start the configuration. This screen will be shown to you:


Press the right button to set up your Ledger Nano S (if you previously lost or broke Nano S, choose the left button to input your recovery passphrase in order to regain access to your wallets)
A new message will show after you press 'configure as a new device,' prompting you to 'Choose a PIN code.'


to open the PIN selection screen, press both buttons at the same time
You are choosing numbers for your desired PIN at the PIN selection menu on your Ledger Nano S. Press the left button on Ledger Nano S if you want to decrease the current number and the right button on Nano S if you want to increase the current number. If you want to confirm a number at each stage, press both buttons on Nano S at the same time to move to the next number. On the other hand, if you for any reason are not satisfied with an already confirmed number and you want to delete it, scroll through until the little icon for X (delete a current number) appears on Nano S, moving you back to one spot.


When you enter 4 numbers, a checkmark icon will appear, letting you know that a 4-number PIN is OK. Once you are OK with the selection, press both buttons at the same time to confirm. If you want to have more than a 4-number PIN (you can choose up to an 8 numbered PIN), press the right or left button to choose your 5th PIN number. It's extremely important to choose a PIN number you will remember. You lose access to your Ledger if you forget it or input it wrong 3 times in a row. This means that you will need to configure it again from the passphrase, which will be one of the next steps.


Click both buttons at the check icon once you are OK with your PIN. This will move you onto the 'Confirm your PIN code' window on Nano S.


Press both buttons on Nano S at the same time and enter the PIN on Nano S that you chose in the previous step in order to confirm you really wrote the one you want to have.
You have successfully confirmed your PIN. Now, it's time for the most important step — 'Writing down your recovery phrase.'


Press both buttons at the same time on Nano S to get started. When buying a Ledger Nano S hardware wallet (a cold wallet, not a hot wallet), you will get a little paper where your 24 words passphrase can be written down. You can use that or write them on your own piece of paper. However, it is not recommended to write them down on a computer.


You will be presented with word #1 when you start. Write the word down exactly as shown and write them in the same order as shown (word order matters, so write it down exactly as shown, starting with #1 through #24). Press the right button on Nano S to move to the next word, and press the left button on Nano S to return to the previous word.


Once all the 24 words have been written, you will confirm by pressing both buttons on Nano S at the same time.


Now Nano S will ask you to select random words from your passphrase – use the left and right buttons on Nano S to move in this list, and press both buttons at the same time in order to confirm it. You will need to begin the 'Confirm your recovery phrase' section again if you select the wrong word.


This message will show if you select the wrong word from the list – 'Recovery words do not match. If you see this message, you will need to start over (pressing both buttons on Nano S at the same time) from step 4. 'Confirm your recovery phrase'.


Once you have completed the confirmation step — this is it; you will see 'Your device is now ready. Your Ledger Nano S is configured, so you just have to install the Ledger Apps on your computer to use your wallet.
Press both buttons on Nano S at the same time to move into the Ledger main menu.


P.S.: Once in the main menu, you are confirming by pressing both buttons at the same time and moving through it with left and right buttons, just like with all other interactions.
Play a bit with your Ledger Nano S and get the hang of it. You'll need to enter the PIN code that you chose in step one of this course if you unplug the Ledger and plug it in again. This is how you will access your Ledger from now on. There is no need to enter the 24-word passphrase; only enter your PIN. Your 24-word passphrase is secured safely in your Ledger Nano S device itself. It's extremely important to keep your "Recovery sheet" in a safe place in case your ledger Nano S gets broken, lost, stolen, or you input your PIN number wrong 3 times and need to reset it! To open that same Ledger wallet, you'll need to input those 24 words again.
The screen has a bright hue about it, brighter than Trezor, which makes for a great user experience.
You can also set up a Ledger Nano S hardware wallet using the Ledger Live desktop app. You must download the Ledger Live app and install Ledger Live on your computer (if you want, you can install Ledger Live on your phone too). Ledger Live allows users to easily install new apps on their devices for multiple crypto support.
Users only need to ensure that their Ledger Nano S is connected to their computer before starting Ledger Live, then click "device setup," and Ledger Live will walk you through the necessary procedures to utilize your device. Ledger Live's user interface is really simple to understand and doesn't need any kind of instruction.
Read also:
Best crypto hardware wallets
KeepKey
CoolWallet S review
Archos Safe T Mini review
Useful tip: If at any stage of configuration you feel like you did something wrong or are not sure — unplug Ledger and start over.
How Does it Work
---
Ledger has remote attestation. Link proof that it is genuine, and it goes something like this:
nano gets plugged in.
remote server via chrome extension asks secure element to sign msg proving it has ledger private key, any update of secure element would delete ledger private key ( i believe )
Remote Ledger server via chrome extension would warn if signing fails -> tampered with.
you then choose a user application on nano, say "Bitcoin wallet," and secure element checks to see if this has been tampered with when loading, giving an error on the device if it does not match the previously signed code.
Ledger Nano S allows PIN or passphrase to be entered on the device directly via a 2-button interface. This is not quick or overly easy, but in my eyes, more secure. One button increases a digit; the other one decreases it; both pressed at once confirm a digit for PIN entry. With the latest firmware, the starting point of the first 4 digits can be set to random, so observing your sequence of keypresses will not reveal your PIN. Sadly this is not possible for any digits beyond #4 you might use, and also not for BIP39 passphrase entry.
Buy Ledger Nano S
The BIP39 passphrase is also entered on the device directly, which gives me way fewer worries, even considering the non-random starting points for the 2-button interface. You also have the option to "save" a passphrase to another/different PIN, but this would once again weaken your security. If you enter the passphrase every time, even some advanced attacker can't extract your keys from the device – it's just not on them, no matter what.
Using the Ledger Nano Wallet – Sending Transaction
---
To manage your Bitcoins, you must launch the Ledger Wallet Bitcoin Chrome application.
Connect your Ledger device
Enter your PIN code
Open the Bitcoin app on your Nano S (right click)
Launch your Bitcoin Chrome application on your computer
Click on "Send," and a popup opens
Fill in the required fields: amount, recipient address you can paste or scan, and level of fees.
Click on the "Send" button.
Your Nano S requires your manual consent to authenticate this transaction: press the right button (above the "V" check icon) to confirm once you have verified the details of your transaction are right, and wait until your Chrome app displays "validated."
Your transaction is validated and will be tracked on the Blockchainas soon as it is confirmed by miners in accordance with the Bitcoinprotocol.
While waiting for this confirmation, your Ledger device can be disconnected as your transactions are tracked on the Blockchain. These transactions will be synchronized in your wallet when you open them.
FAQs
---
Alternatives
---
The newcomer KeepKeymay end up being a force to be reckoned with in the market in the coming future. However, it is too expensive to compete with the Ledger Nano.
The Trezor wallet is also a great alternative. It features a screen so that you can verify the intended bitcoin address before signing the transaction. However, it costs $119.
Here is a detailed comparison of Ledger Nano vs Trezor. Also, Ledger Nano S vs KeepKey. And here is a full list of coins supported by Ledger Nano S.
Buy Ledger Nano S
Summary
---
As we all know, there is no such thing as absolute security. However, the goal of hardware wallets is to make any potential attack more difficult and resource-intensive. Ledger Wallet Nano is no exception. This device is designed to render attacks impractical by raising the bar, and it is a great solution for users who desire a simple yet secure way to store bitcoin.
At €59.90, the Bitcoin Ledger Wallet Nano is great value for money. This means it will appeal to enthusiasts who want to hold bitcoin but don't want to spend too much money on security. It's not an expensive, specialized piece of hardware for the select few. This device is geared toward the everyday bitcoin user because the setup and use of the Ledger Wallet are simple and easy to follow, even for those new to bitcoin. With such a low price for the amazing value that you get, it would be hard for the KeepKey and even the Trezorto compete.
It is small, easy to carry, and can fit on a keychain and the security card in practically any physical wallet, which makes the Ledger very practical. If you lose either component, you can use your mnemonic seed to recover your wallet. I strongly advise that you should take a look at the Nano S if you do not have a lot of Bitcoinor other cryptocurrencies.
Play a bit with the Ledger and get the hang of it; if you unplug it and plug it in again, you'll need to enter the PIN code that you chose in step one of this course. This is how you will access your Ledger from now on; there is no need to enter the 24-word passphrase; only enter your PIN. Your 24-word passphrase is safely secured in the Ledger device itself.
The Ledger Wallet's Paris-based team says that many improvements are in the works, including a Smartphone application instead of the security card to confirm the destination address, as well as features for the use of multiple accounts.
PROS
The wallet features a very compact and sleek design and can fit on any keychain. However, don't forget the security card.
Usage/option of BIP39 passphrase(s) is very important for me, as it provides any amount of different wallets depending on the passphrase entered, thus providing as many levels of plausible deniability as you wish.
Ledger is compatible with Windows, Mac, Linux, and Chrome OS. It can also connect to your Android device using an OTG cable.
To receive Bitcoin, your Ledger Nano S doesn't need to be connected to a computer. You can receive Bitcoin even if your Ledger is offline.
Great Value for money. The Bitcoin Ledger Wallet Nano costs €59.90, and it is rather cheap as far as hardware wallets go.
CONS
The device can't be used on mobile devices. Support is currently limited to the Chrome browser.
The security card approach has its own good things and bad things. It allows designers to create a truly pocketable device and helps keep the cost down.

CaptainAltcoin's writers and guest post authors may or may not have a vested interest in any of the mentioned projects and businesses. None of the content on CaptainAltcoin is investment advice nor is it a replacement for advice from a certified financial planner. The views expressed in this article are those of the author and do not necessarily reflect the official policy or position of CaptainAltcoin.com