WaBi is a free floating blockchain based crypto-token with strictly limited issue and exponential transaction growth potential. It is an electronic cryptocurrency which supports Walimai's anti counterfeit system backed by sales of products protected by Walimai technology. Consumers around the world can purchase products protected by Walimai technology with WaBi.
Walimai has developed a solution that securely links a physical item to its digital representation at a cost that allows us to protect everyday consumer goods such as milk-powder, pharmaceuticals, alcohol, and cosmetics both physically and digitally.
In another words, Walimai puts anti-counterfeit labels on consumer goods so the customers have a confirmable system of proving that good they want to buy is indeed what it claims to be and it has not been corrupted. Then users can buy goods by using WaBi token. Walimai and WaBi are domiciled in China, but their expansion on international level is remarkable.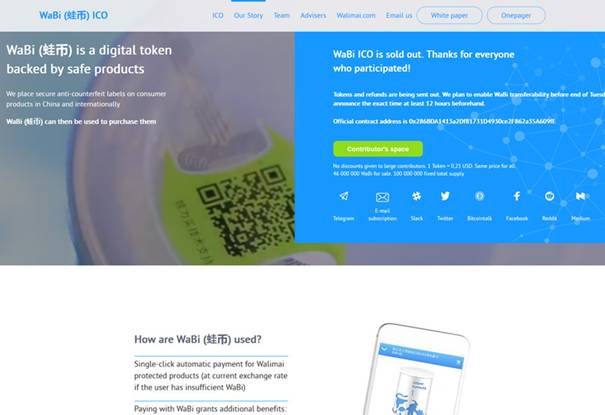 Why Do We Need WaBi?
Currently there are 461 billion USD of imported fake goods in circulation globally. For some part, it is just a trouble, but in cases of medicines, food, baby formula and similar items can be dangerous and deadly. Most recent baby food scandals in China have urged the Walimai's team to create WaBi.
In 2004, there was a baby food scandal in China where at least 63 babies died in Fuyang and rural areas of Anhui after consuming fake baby milk.
In 2008, again baby food scandal in China where 6 infants were killed and and 54.000 hospitalised. China reported 300.000 victims in total.
According to World Health Organization (WHO) 64% of pharmaceuticals in Nigeria are fake.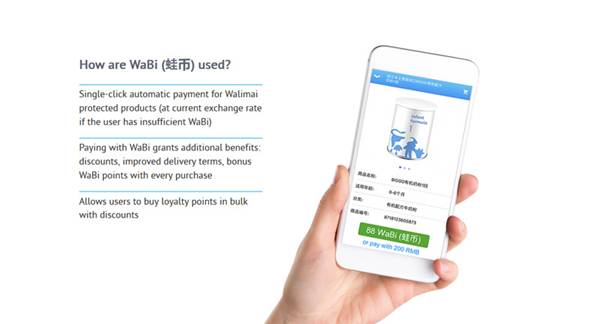 Despite the fact that the idea of creating WaBi came from the scandals in China regarding baby food, the product would be very welcomed around the globe. Until the birth of the WaBi Project, no one was able to use the blockchain to solve issue without connecting physical and digital assets.
Key challenges in designing the WaBi
One of the key challenges was desinging a physical label. The team had to find a perfect balance between:
ROBUSTNESS – The label needed to remain securely attached to the product throughout its journey to the consumer without a chance of accidental breakage.
FRAGILITY – The label needed to break easily if the product's packaging is opened or if there's a counterfeit or 'refilling' attempt.
Another challenge was to bring industry level security to everyday consumer goods. They had to work within very tight hardware constraints while leveraging insights from cryptography, signal processing, economics, and behavioral science to create the Walimai system:
MICRO SECURITY: Individual tags are securely protected against falsification or copying.
SYSTEM-WIDE SECURITY: On the macro-level, the system prohibits any unauthorised tampering.
Linking Physical and Digital Assets
WaBi Project's greatest challenge was using the blockchain for linking physical and digital assets. Improving on cryptographic technologies akin to Blockchain, opened new horizons by ensuring the uniqueness of digital assets and the security of transactions. Walimai has developed a solution that securely links a physical item to its digital representation at a cost that allows us to protect everyday consumer goods.  So far only high-end products such as diamonds could benefit from the security of the digital ledger – through expensive scanning of physical parameters.
How are WaBi (蛙币) used?
In order for the system to work Walimai label is applied at a designated 'point of origin' along the supply chain. This links the product with its digital representation in the cloud, containing:
Encrypted unique ID
Dynamic Code
Geographical Data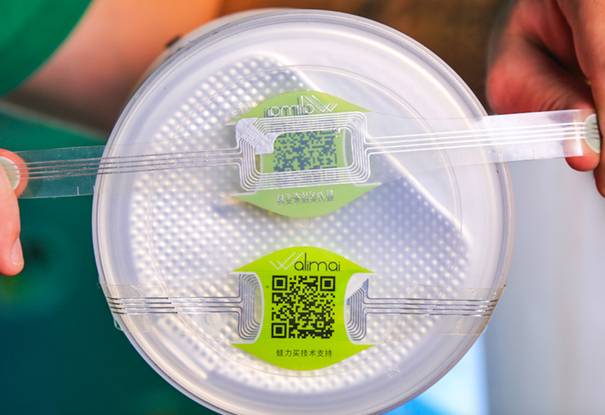 The mobile application is available for smartphones from Google Play, the Apple App Store, the QQ Store and the Baidu app store. The process is quite simple for the users. While shopping for goods at store, just scan the products IR code and the app will inform you if it is fake. When you scan the label with Walimai app it reads the ID, Dynamic Code, and Geographical Data. This information is then sent to the cloud for verification. The public verification result is displayed to the consumer. If the matching fails the consumer is alerted that product is not safe.
There are already many products in China using these labels and the number is rising. Due to the customer scanning, physical and digital objects can be continuously synchronized.
Walimai Defence System
In order to use maximum potential of the blockchain's security and to keep tampering or counterfeiting lables from happening, Walimai has set up a system that will display to a cunsumer that a product is unsafe in the case of an attack. In case that geolocation data fails to match, it will result in failure of authentication, sending warning to the consumer. In case there is a timegap in cloning and placing the object in circulation (which typically requires several days) and the next customer scanning the original object (in case of 'Fast Moving Consumer Goods', this typically takes minutes). During this gap, the pairing conditions are changed thus prohibiting authentication. In order for it to make economic sense, the counterfeiter needs to either sell the fake object at a price premium to the original (which is counter sense) or create multiple copies of the object. However, scanning one such counterfeit product will desynchronize the rest of the batch. This invalidates any further matching attempts and makes the product unsalable.
How WaBi Can Be Used?
WaBi coins can be spent on products (such as baby food, cosmetics, alcohol, etc.) protected by Walimai labels. It is a digital token that owners can use to buy goods they scan with the Walimai app. The initital ICO is sold out, selling out of the 46 million WaBi tokens that were available for sale out of a 100 million total supply. At the moment of sale, each token was valued at $0,25.
With the application you can use WaBi tokens to buy products protected by Waimai labels with a single-click automathic payment (at current exchange rate if the user has insufficient WaBi). Paying with WaBi grants additional benefits: discounts, improved delivery terms, bonus WaBi points with every purchase. It allows users to buy loyalty points in bulk with discounts.
How WaBi Can Be Bought?
Buying WaBi with traditional currencies such as USD, EUR, GBP is not possible. To pruchase WaBi you will need to buy some other digital currency. The best idea is to buy Bitcoin or Ethereum. These coins can be easily bought at Coinbase via bank transfer or debit/ credit card purchase. Afterwards, you can sell your Bitcoin or Ethereum at an exchnage such as Binance to buy WaBi tokens.
Register your account at Coinbase
If you are a beginner in the digital currency world, it is recommended that you make your first buy via Coinbase platform. Coinbase is a user friendly online platform and under full regulation by the US Goverment making it one of the most favorable and safest platforms to buy cryptocurrency. Coinbase is the world's most popular way to buy and sell Bitcoin, Ethereum, and Litecoin. You can make your purchase by a bank wire transfer and debit or credit card. There is a higher fee for the cards but the transfer of currency is instant.
During the registration process, you will have to perform verification as Coinbase complies with all applicable laws and regulations in each jurisdiction in which it operates. Please use this link to sign up and you will be credited with $10 in free Bitcoin when you make first purchase of $100.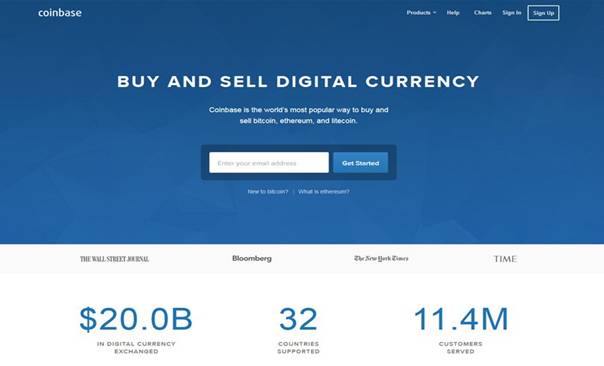 If you click on the link provided, it will take you to a registration form where you will be requested to enter your name, email and choose a password.
Buy Ethereum
For the purpose of this user's guide, we will buy Ethereum so that we can buy WaBi tokens. We will use Ethereum because it has lower fees for sending compared to Bitcoin. Additionaly, Ethereum transactions happen much faster. Enter Coinbase platform and hover above the "Buy / Sell" tab and select Ethereum. Next, select your preffered payment method and enter the amount you want to buy. You can enter either fiat currency amount or a number of coins.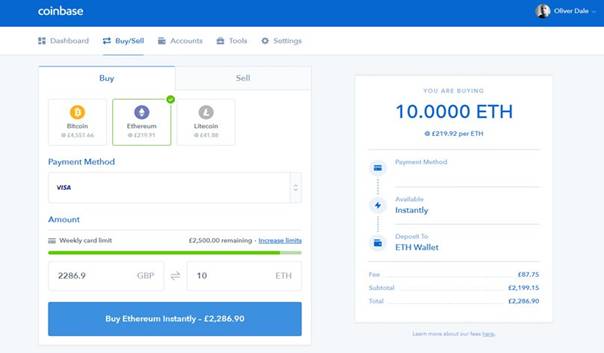 After you click "Buy" button, you will be asked to confirm your transaction. In case you are paying with your card, your card company may require additional verification to complete the transaction. After the transaction is completed, your balance will be updated with the Ethereum you bought.
Buying WaBi via Binance
It is possible to transfer your Ether to Binance and buy WaBi.
Open a Binance Account
As a first step, you need to open an account at Binance. Simple registration form can be found here, where you will need to provide your email address and password. The email will be sent asking you to verify your registration.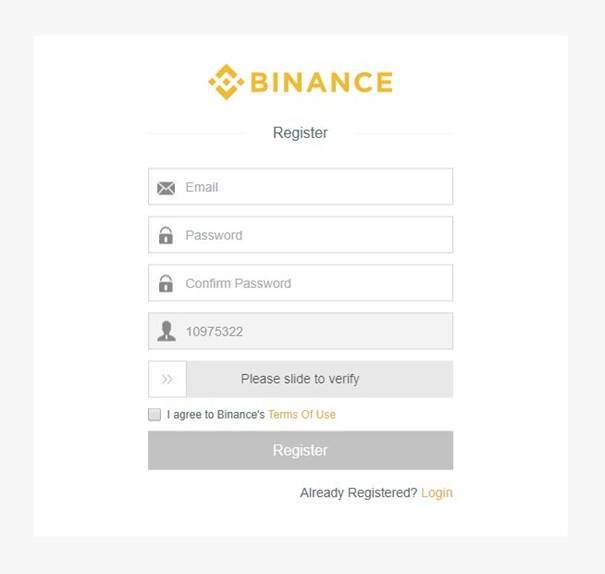 Login in to your account
In the second step, after your account has been activated, you need to login to your newly opened account. Move your mouse pointer over the Login link and click it.


Next, enter your email and password and login in to your account.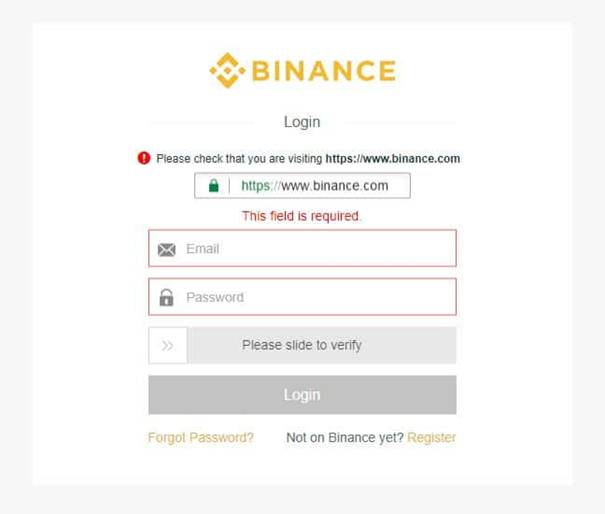 Set your Binance account
After you have logged in, the Binance account page will open. When trading on any exchange, I recommend you to enable 2-Factor Authentication (2FA) in order to improve your security of the account. Most of all, I recommend Google Authenticator app, as SMS 2FA has more than one security fails. You can find Google Authenticator on Google Play Store free to use.
At the beginning, withdrawal will be limited to 2 BTC equivalent every 24 hours. It is possible to change these limits by finishing Binance's Identity Authentication.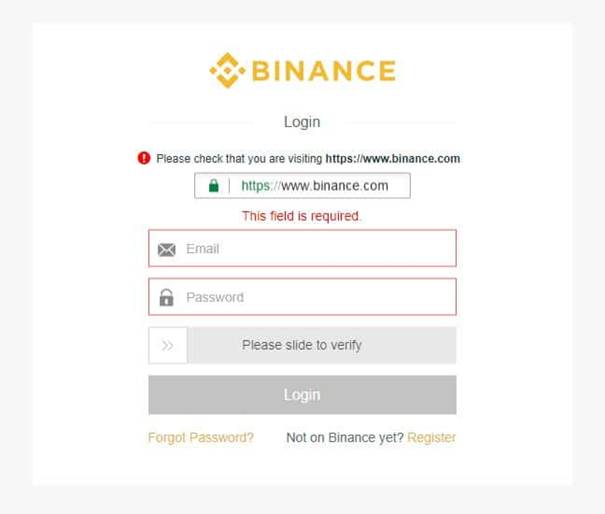 How to deposit cryprocurrency to Binance
It is possible to deposit huge number of cryptocurrencies to Binance. For the purpose of this article, I will use Ethereum for deposit.
You can deposit any cryptocurrency of your choosing, just click deposit and send the funds to the given address.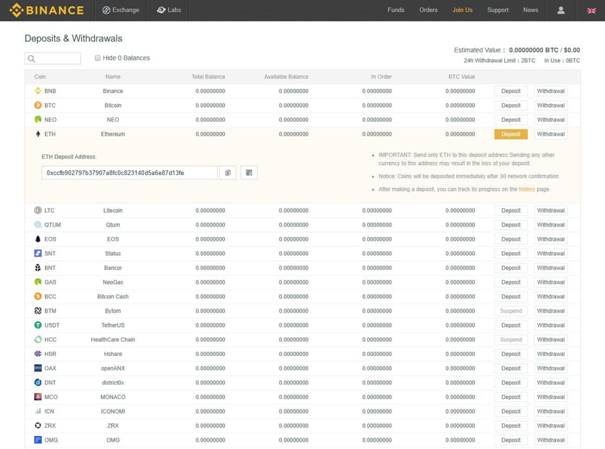 Using Ethereum to purchase WaBi
Now it is time to do some trading of WaBi. To trade your deposited cryptocurrency for WaBi you will need to click the "Exchange". The fee charged by Binance for each trade is 0, 1%. After your purchase has been completed, your available WaBi balance will show the amount bought.
When was the idea of WaBi Project born?
Discussions on how to handle counterfeit products in China started in August 2012 by the founders of the WaBi Project. In September 2013, the founders decide to go with RFID as the base technology for consumer friendliness, security and convenience. In October same year, the name Walimai was chosen.
In February 2014, the business operations officially started in Hangzhou, China.
Same year in October. Walimai's technology has received recognition at the highest level. Walimai's technology was presented to prime ministers of China and Russia at the Open Innovations Forum in Moscow.
In the period between December 2014 and August 2015, Walimai started cooperating with the top producers of alcohol and baby food. In July 2016 the apps for iOS and Android were launched and new version of RFID labels developed.
In December 2016, Walimai opens an online shop on JD.com. Customer feedback was highly positive with consumers willing to pay a 20% premium price for the assurance of safety.
In April 2017, Walimai signs contracts with 3 physical baby stores to set up a dedicated 'Walimai shelf' at their locations.
In August 2017, PreICO completed, reaching 100% of its goal. First preWaBi tokens are generated.
In the period from August to September 2017, they started the first sales at physical baby stores.
What the Future Holds For WaBi?
The plan is to increase the number of baby shops with Walimai protected products. In December 2017, plan is to initiate sales of alcohol products secured with Walimai labels. In 2018, Walimai plans to start of partnerships with producers and distributors of baby food and alcohol products. Additionally, they will Adjust Walimai technology for pharmaceutical products. The team targets to expand usage of WaBi to other areas, such as loyalty programs for product manufacturers (ex. 'Airmiles for consumer products') and partnerships with insurance companies.
Final Conclusion
In order to prevent future food scandals, Walimai is taking a whole new approach to provide security for products open to tampering, such as alcohol and baby food. It is not a simple process by any means, due to the fact that the producer must place labels and the consumers must scan it. But it is well worth it considering that users are getting valuable information. This could benefit all the countries in the world as the WaBi tokens expand it will for sure prevent scams and deaths connected to counterfeit products.
---
If you are hardcore crypto-fanatic, you probably hold some of these coins as well. Here are the wallet solutions for them:

CaptainAltcoin's writers and guest post authors may or may not have a vested interest in any of the mentioned projects and businesses. None of the content on CaptainAltcoin is investment advice nor is it a replacement for advice from a certified financial planner. The views expressed in this article are those of the author and do not necessarily reflect the official policy or position of CaptainAltcoin.com