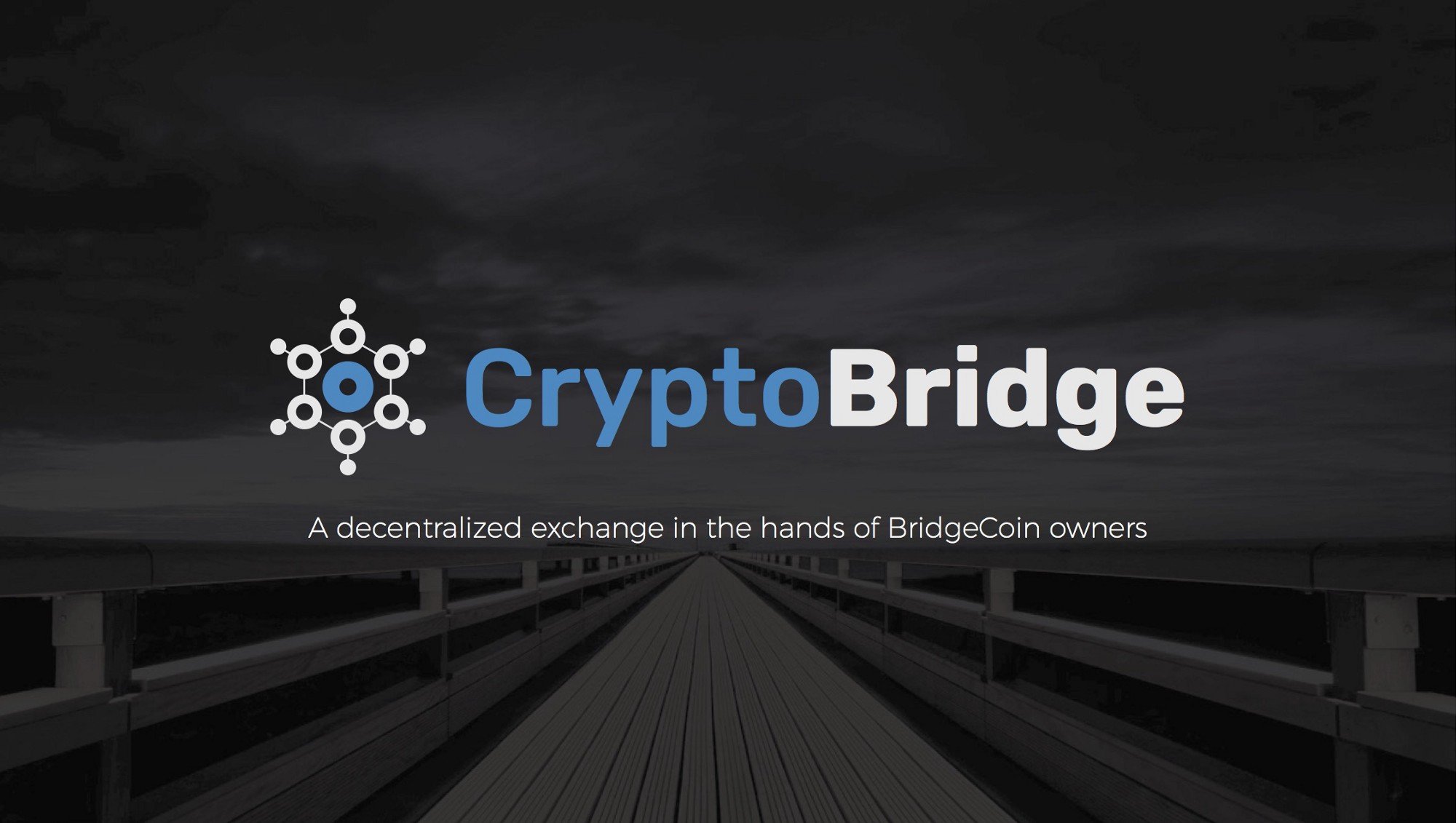 The future of cryptocurrency trading lies in the decentralized exchanges. Most of the investors are using exchanges such as Binance, Bittrex, Bitfinex. These exchanges are centralized exchanges.
With the centralized exchanges, users do not have the control of their private keys of their digital currencies. Private keys are stored in a centralized server or database. This model increases the risk exposure of failures. Centralized cryptocurrency exchanges are riddled with performance problems and can be subject to thefts, manipulation, hacking incidents or government takedowns.
These problems are solved by the decentralized blockchain based order book and the multi-signature federated gateway network. There is no central point of failure. All deposits, withdrawals and all order books are transparently stored on the blockchain. The client will still be able to deposit, withdraw and trade coins even in the event CryptoBridge goes out of business. Each client holds the private keys to their coins.
CryptoBridge is a decentralized exchange (DEX) that supports trading of most popular altcoins. The main innovation is elimination of a single point of failure when trading cryptocurrencies. CryptoBridge offers own coin named BridgeCoin (BCO). BCO is a scrypt mineable coin similar to Litecoin. It was created in July 2017 to fund the development of the full CryptoBridge decentralized exchange.
The blockchain behind the decentralized exchange, graphene, can process up to 100.000 transactions per second and has an average confirmation time of just 3 seconds. The DEX offers a complete API for any interested party to build applications on top of the decentralized exchange.
Similar to BNB coin By Binance, using BCO to trade on their exchange, significant amount of money is saved in the trading fees. Recently, they have released many developments and the digital currency community is starting to appreciate this exchange. The only current problem with CryptoBridge is low volume, which is issue with most decentralized exchanges.
At the moment, you can check BCO listing on CoinMarketCap.
In December 2017, BridgeCoin announced the beginning of the Profit Sharing program (or Staking for short). All BridgeCoin holders are able to stake their coin for a certain period of time and earn revenue through Profit Sharing. 50% of all profit from the CryptoBridge Decentralized Exchange will be distributed to all the BCO stakeholders.
In this tutorial, we will show you how you stake your BCO coins to earn revenue through Profit Sharing. You can buy BCO coins from CryptoBridge exchange using Bitcoins (BTC).
Step by step tutorial
Before you begin staking BCO coins, there is couple of things you should know.
Once you enter Profit Sharing Program or stake your BridgeCoin (BCO) you will not be able to withdraw or trade them since they are now locked until the end of the staking duration.
During the staking period you will automatically receive bi-weekly payouts to your account on CryptoBridge.
The following staking periods are available to choose from to stake BridgeCoin (BCO) on CryptoBridge:
1 Month (0% Bonus)
3 Months (20% Bonus)
6 Months (50% Bonus)
12 Months (100% Bonus)
The longer duration of your stake, the higher is your staking factor (bonus). As you can see above, staking for 3 months gives you 20% more additional BCO during staking. Or, if you stake your BCO for 12 months, you would essentially be staking 200% (2X) of your BCO.
As it was mentioned, 50% of the trading profits from CryptoBridge exchange will be distributed between BridgeCoin (BCO) holders proportionally. This can be calculated using the following formula:
User BCO Staking/Total BCO Staking in DEX * Profit from CryptoBridge = User Payout
The User Payout will be paid in each traded coin on CryptoBridge. Users will be able to specify their preferred payout cryptocurrency in a future release.
The more BridgeCoin (BCO) that a user has during staking period the greater percentage they receive of the payouts from the 50% trading profits on CryptoBridge.
Important note: the additional bonus only increases your staking factor. In the example above you do not get 2,000 additional BridgeCoins (BCO) that you will be able to withdraw or trade. The increase in staking factor is used to reward those that have staked their BridgeCoin (BCO) for longer periods. Meaning stakers with longer periods will receive a greater share of the generated profits. At the end of your staking period you will be able to use only BridgeCoins (BCO) that you originally staked.
At the beginning the cost for BCO staking was 45 BCO and recently it has been reduced to 0.2 BCO.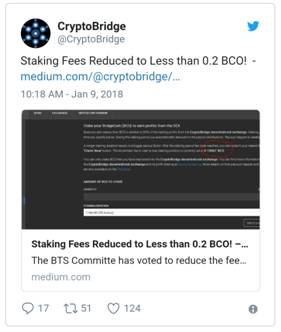 To start staking BCO you need to follow these steps:
Make sure that you sign up to CryptoBridge. Start by opening site https://wallet.crypto-bridge.org/
Click on "Account" from the menu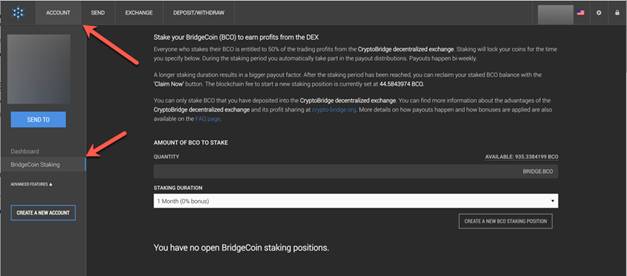 3. Click "BridgeCoin Staking" below the SEND TO button on the left
4. Simply specify the amount and the staking duration then click "Create A New BCO Staking Position" to start staking. Remember: Staking will lock your coins until the end of the staking period. Meaning you will not be able to withdraw or sell your BCO until the staking period is complete.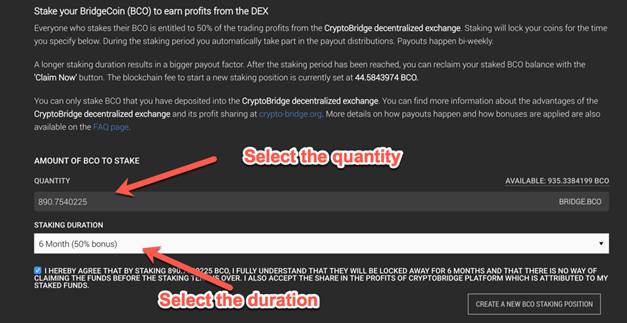 5. Click on "Create a new BCO Staking Position". The pop-up will appear asking you to confirm your selection. As you can see from the image below, creating stake costs and therefore you should always make one stake than make several.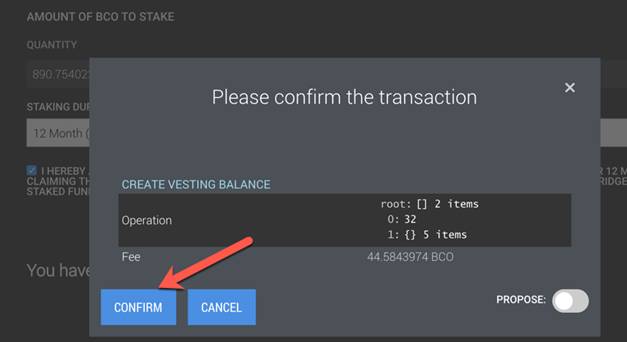 Next, you will see a confirmation message via push notification. Otherwise, you can refresh the web site and you will see your current staking position.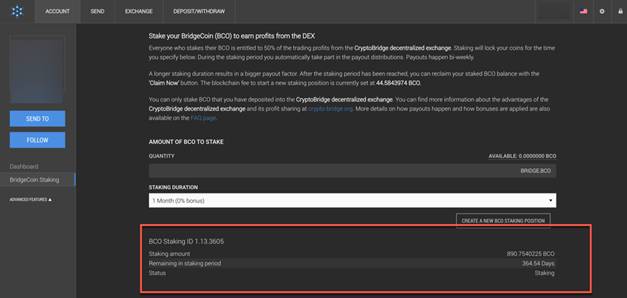 That's about it. When you finish all the steps above, you will receive the bi-weekly payouts. In the case of increase of volume on the exchange, your position can generate a lot of profit. At the end of the staking period you can then reclaim your BCO to trade or withdraw.

CaptainAltcoin's writers and guest post authors may or may not have a vested interest in any of the mentioned projects and businesses. None of the content on CaptainAltcoin is investment advice nor is it a replacement for advice from a certified financial planner. The views expressed in this article are those of the author and do not necessarily reflect the official policy or position of CaptainAltcoin.com