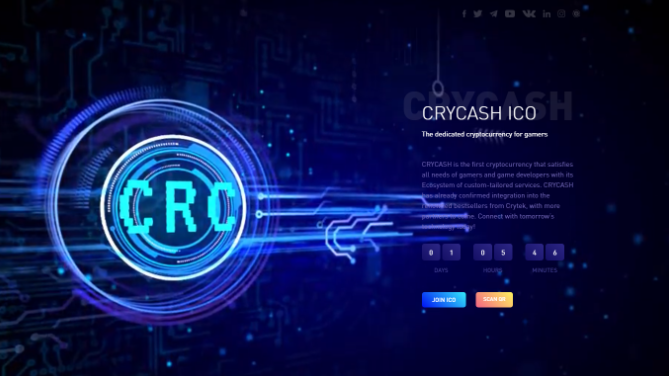 ICO Start: 2017-12-12 - ICO Ends: 2018-01-15

CRYCASH is the first cryptocurrency that satisfies all needs of gamers and game developers with its Ecosystem of custom-tailored services: Plink, a dedicated mobile application where players can monetize their game time, communicate and collaborate
About

Team

Token Info

Links

Milestones

Our Ratings

YouTube
CRYCASH is an independent decentralized ecosystem of custom-tailored products for gamers which operates with its own utility token called "CRC". As an ecosystem CRYCASH will disrupt gaming industry by creating marketing tools, based on innovative technologies for game developers and give gamers the possibility to receive CRC tokens by completing tasks set by game developers, buy virtual goods, bett and participate in cybersport tournaments. For that CRYCASH will build an ecosystem consisting of 4 components: Plink application, Advertising Platform, Decentralized Marketplace for trading games and in-game items, Cybersport Platform. The first one will serve as a messenger and a wallet for CRYCASH tokens. Developers will use Plink as a safe payment method and a user acquisition channel that will reinvent the way developers attract players into their games. This ecosystem will be built in cooperation with Crytek GMBH, Plink and other third party developers. CRYCASH Foundation will issue ERC-20 digital tokens called CRYCASH (CRC) tokens. They will be used as a payment method in the CRYCASH ecosystem. Game developers will use CRC tokens to promote their products and attract gamers, which, in their turn, will use them as currency for in-game purchases, as well as receive rewards for completing game tasks.
Game developers and advertisers will get the possibility to pay for the services provided by the CRYCASH platform using CRC tokens as well as fiat currency. In case game developers and advertisers make payments in fiat currency, CRYCASH Foundation will provide buyback of CRC tokens in order to be able to pay gamers who completed tasks. CRYCASH Foundation will get a fee equal 20%, that will include 10% fee for Plink. In addition CRC tokens allow for getting access to the unique content and become one of the payments methods in products developed by Crytek GMBH such as Warface (Turkey), CRYENGINE Marketplace and future products where suitable. CRYENGINE Marketplace will be the first marketplace to join CRYCASH decentralized gaming ecosystem. However later any company or developer will be able to join CRYCASH platform using its SDK.
The cooperation between CRYCASH Foundation and Crytek GMBH is very important for both parties since it creates synergy effect and allows users to enjoy most of the functionality of CRYCASH decentralized gaming ecosystem at its early launch. Plink is an application that is being developed by Plink in collaboration with CRYCASH Foundation. It will be the first application that will be used as a wallet for CRYCASH tokens holders. In addition Plink is the first application for gamers that enables tracking achievements in games and finding new friends for cooperative game with a neural network technology. This application is integrated with CRYCASH Advertising Platform. The technology of tracking achievements will allow game developers to create tasks for gamers inside Plink. After accomplishment of every task, set by game developer, will receive rewards in CRYCASH tokens.
You can check out other gaming cryptocurrencies here.
Wachtang Budagaschwili – CEO
Daniel Tamas – CTO
Sandro Kvlividze – CPO
Michael Levin – CMO
Sally Shen – CBDO
Evgeniy Evgrafov – Lead Developer
Symbol: CRC
Token sale opening date: 12. Dec 2017 22 days ago
Token sale closing date: 15. Jan 2018 in 12 days
Concept: CRYCASH is a cryptocurrency that satisfies all needs of gamers and game developers with its Ecosystem of custom-tailored services: Plink, a dedicated mobile application where players can monetize their game time, communicate and collaborate; a marketplace for in-game assets and services; Cyber Sport platform for eSports betting and events; and an Advertising Platform for game developers.
Q4 2016: the birth of CRYCASH idea
Q1 2017: Development Plink application
Q2 2017: marketing and industry research and reaching a primary agreement with game developers
Q3 2017: Development of Blockchain SDK for 3rd party developers marketplaces.
Q4 2017: CRYCASH TokenSale, Early access to Plink application beta for token holders
Q1 2018: Token Emission, CRYCASH token listing, API integration CRYCASH in Warface with more than 5 million gamers
Q1 2018: Release of CRYCASH wallet based on Plink application and possibility to complete tasks from game developers to receive rewards for gamers
Q1 2018: Start of buyback token program
Q2 2018 -: Beta release of CRYENGINE Marketplace with CRYCASH SDK
Q3 2018: Release of automatic advertising platform for game developers
Q4 2018: Release of CyberSport platform with bettings of events
Q1 2019: API integration CRYCASH in 10+ games with more than 10 million gamers
CRYCASH has already confirmed integration into the world-popular bestsellers from Crytek, with more partners to come. Our rating for this ICO is 8.3 out of 10.0.
Everybody wants to know what will be the nex crypto that will yield 1000%+ returns. See our list and check the upcoming ICOs with most potential.

CaptainAltcoin's writers and guest post authors may or may not have a vested interest in any of the mentioned projects and businesses. None of the content on CaptainAltcoin is investment advice nor is it a replacement for advice from a certified financial planner. The views expressed in this article are those of the author and do not necessarily reflect the official policy or position of CaptainAltcoin.com