Crypto debit cards have emerged as a convenient way to spend your digital assets in everyday transactions. One such card that has been gaining traction is the Uphold Card. Offering a slick mobile app and generous cashback rewards, the Uphold Card aims to provide crypto holders with an easy-to-use payment solution.
In this article, we'll take an in-depth look at the key features and benefits of the Uphold Credit Card to help you decide if it's the right crypto debit card for your needs. We'll cover how the card works, associated fees, supported assets, cashback rewards program, mobile app experience, and more. By the end, you'll have all the information needed to determine if the Uphold Debit Card is worth getting as your go-to way to spend crypto assets. Let's dive in!
The number of crypto businesses that offer crypto debit cards is increasing by the day. Uphold joins the ranks with their own crypto card that comes with some unique perks and features users will like.
There are a lot of traders in the crypto community who want to purchase different asset classes, and until recently, this was only doable through cash transactions. To go from one asset to another one, you needed a brokerage account with cash that you would use to purchase gold, silver, or company stocks. In case you wanted to trade cryptocurrencies, you needed to open a crypto exchange account.
National currencies are a whole different deal since you need to open an account with a third-party provider. As you can imagine, this kind of system is very confusing, especially for beginners, but this is where Uphold steps in.
Uphold has created a simple solution to the problem called trading multiple assets. The team behind Uphold has created a way to trade multiple assets without having to make different trips back to cash. With Uphold, trading can be done directly across different asset classes.
Uphold Credit Card Overview
---
Uphold Card Overview
Card Network
Mastercard
Supported Currency
USD
Available Regions
US
Card Delivery
7-10 business days
Crypto-to-Fiat fees
Free
Top Up Assets
ETH, XRP, BTC, LTC, BAT, BCH, DASH, BTG
Top Up Stablecoins
DAI, USDC, TUSD
Top Up Methods
Crypto Deposit, Direct Deposit, ACH Credit
Mobile Wallets
Google Pay, Apple Pay
Issuing Bank
Metropolitan Commercial Bank
Benefits and Rewards
A 2% cashback on crypto-asset transactions and 1% cashback on fiat transactions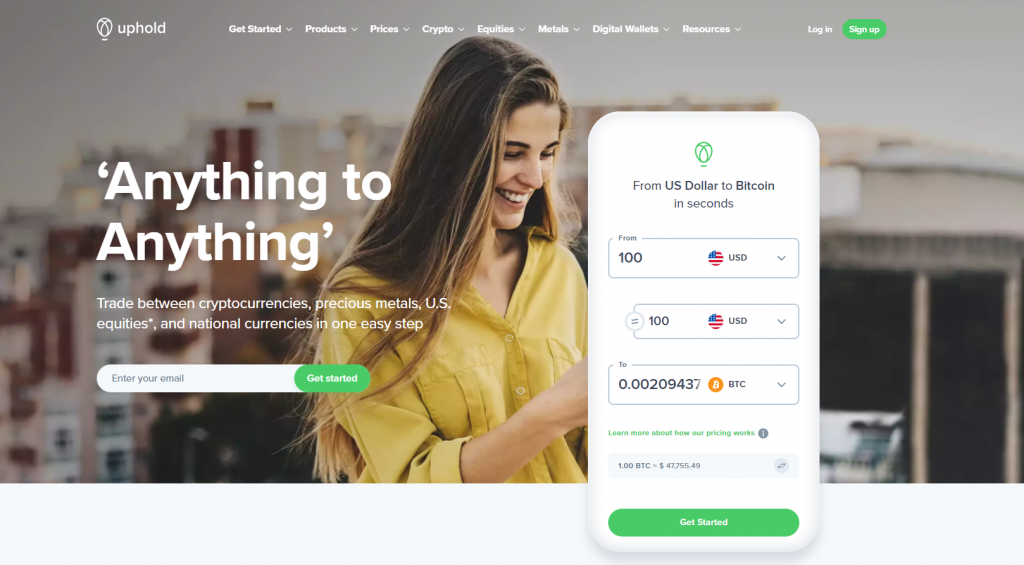 In this article, we are going to review what Uphold is, how it works, how much it costs, and just how effective it is.
What is Uphold?
---
Uphold was originally named Bitreserve, it works as a trading platform that enables cross-asset trading. Uphold was originally founded in 2014 in San Francisco by Halsey Minor (he no longer works in the company, the current CEO is J.P Thieriot).
Currently, it is one of the most unique desktops and mobile trading platforms due to the "Anything-to-Anything" trading feature. With Uphold, users can convert between various fiat national currencies, cryptos, commodities, and stocks. So far, if users wanted to purchase metals, stocks, or cryptocurrencies, there were multiple transfers that needed to be done.
Uphold has created a way to trade these assets by using a bank account, crypto network, or debit card, and all of that with 0% commissions. Trading between assets in different classes is also featured, for example, you can trade Bitcoin to Tesla in only one trade. Or if you wanted to trade Tesla and Facebook stock, there aren't intermediate conversions into USD. No trading platform offers this as they all use US dollars as a bridge to the exchange.
The design of Uphold makes it simple for users to navigate, and it's amazingly cost-effective. Sending money or assets to friends or family can be done in a matter of seconds, with no additional fees.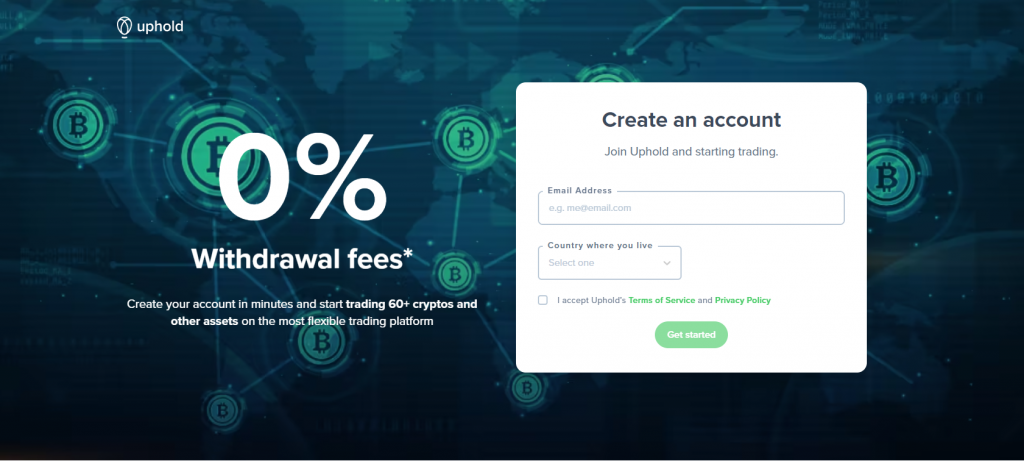 Uphold Card Fees and Limits
---
When it comes to Uphold Card, there are several types of fees that users should pay attention to.
Deposit Fees
---
Bank (ACH): Free
Bank (SEPA): Free
Bank (FPS): Free
Bank (SWIFT): Free
Wire (under $5,000): $30
Wire (over $5,000): Free
Debit card: 3.99%
Withdrawal Fees
---
Bank (ACH): Free
Bank (SEPA): Free
Bank (FPS): Free
Bank (SWIFT): Free
Crypto: Varies (usually a $2.99 flat rate plus Dynamic Network Fee)
Issuance Fee
---
The issuance fee is fixed at $9.95.
Usage Fees
---
Withdrawals: $2.50
International Withdrawals: $3.50
Domestic purchase: Free
Foreign exchange: Free
Uphold Card Limits
---
Spending $10,000 per day
Cash withdrawals per day: $1,500
Cash withdrawals per transaction: $500
Monthly spending: Unlimited
Yearly spending: Unlimited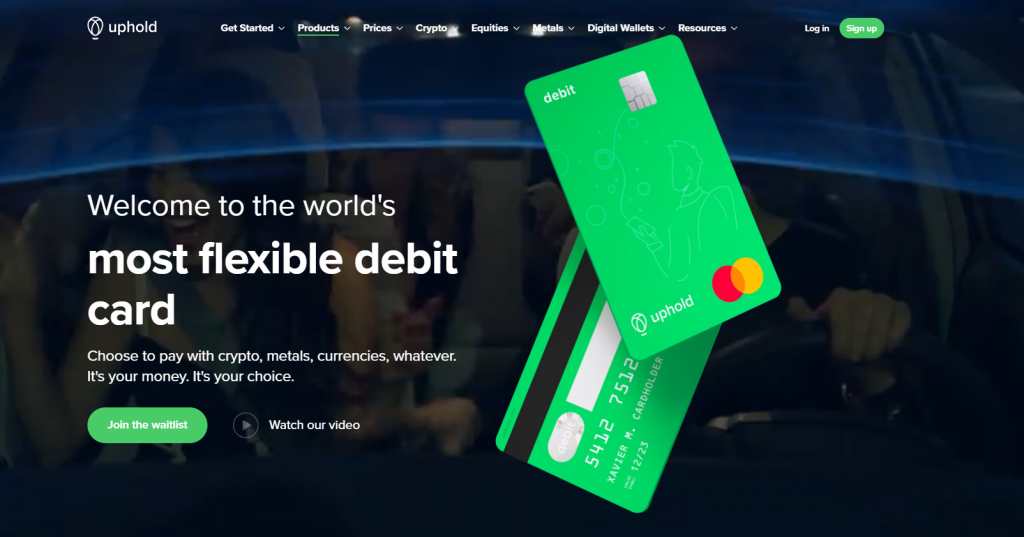 Benefits & Cashback Crypto Rewards
---
Benefits
---
Compared to similar crypto, forex, and stock investing platforms, Uphold users can enjoy a wide range of benefits that are provided elsewhere.
The cost-effectiveness is one that stands out the most, considering there are 0% deposit fees, 0% trading commissions, and 0% withdrawal fees.
The All-Inclusive pricing is the next one, if you are trading the major cryptocurrencies, the spread is approximately around 80-120 bps. Other platforms such as Revolut or Coinbase Retail offer 160-250 bps.
The easy-to-use design is another benefit since users can open an account in basically a few minutes, and there is no minimum investment amount.
The last notable benefit is that equities can be sent anywhere in the world with no additional fees.
Cashback Rewards
---
Cashback rewards and features are a very interesting offer that Uphold Card provides. The cashback feature is simple to understand. Each time a user uses their card, a certain percentage of what they pay gets transferred back to their account. For example, if you use your card and pay something in USD, you will get 1% of that amount back. It's basically a 1% discount on anything you buy. If you choose to buy cryptocurrencies with the card, the cashback is 2%.
Other cards typically require users to hold an X amount of tokens of a specific type (the Paycent card requires Paycent tokens while the Binance Card requires BNB tokens) in order to take advantage of a cashback feature. With Uphold, as long as you have your card and you are using it, you will get the cashback. It's an interesting deal that no other platforms offer.
Supported Cryptocurrencies
---
Uphold card supports different cryptocurrencies depending on where you are located.
In the USA, the supported cryptocurrencies are: BTC, BTC0, AAVE, XRP, ETH, BAT, ADA, ATOM, AXS, BCH, BAL, BTG, CSPR, COMP, CRV, DASH, DCR, DGB, DOGE, DOT, ENJ, EOS, FIL, FLOW, GRT, HBAR, HNT, MIOTA, LINK, LTC, LUNA, MATIC, MKR, NANO, NEO, OMG, OXT, REN, RUNE, SAND, SNX, SOL, SRM, SUSHI, THETA, TRX, VET, WBTC, UMA, UNI, UPBTC, UPCO2, UPT, XCH, NEM, XLM, XTZ, ZIL, and ZRX.
In Europe and the UK, the supported cryptocurrencies are: AAVE, ADA, BAL, BCH, BTC, COMP, DGB, DOGE, DOT, ENJ, EOS, ETH, GRT, HBAR, LINK, LTC, MATIC, MKR, NEM, REN, SNX, UMA, UNI, VCOIN, wBTC, XLM, XRP, XTZ, and ZRX.
Supported Fiat Currencies
---
Uphold supports a lot more fiat currencies compared to other cryptocurrency debit cards. Here are the fiat currencies that are supported: AED, ARS, AUD, BRL, CAD, CHF, CNY, DKK, EUR, HKD, ILS, INR, JPY, KES, MXN, NOK, NZD, PHP, SEK, SGD, and USD.
Although, as of September, the following fiat currencies are available for users located in Europe and the UK: USD, GBP, and EUR.
Supported Countries
---
Uphold Card supports more than 200 countries. However, bank account funding and withdrawals can only be made in these countries: Austria, Belgium, Bulgaria, Croatia, Cyprus, Czech Republic, Denmark, Estonia, Finland, France, Germany, Greece, Hungary, Iceland, Ireland, Italy, Latvia, Lichtenstein, Lithuania Luxembourg, Malta, Monaco, Netherlands, Norway, Poland, Portugal, Romania, San Marino, Slovenia, Slovakia, Spain, Sweden, Switzerland, United Kingdom, and the United States.
Card Tiers & Types
---
On Uphold, there are six card tiers available for users.
Tier 1 – Currencies for bank transfers
Tier 2 – Currencies that can be held, exchanged, or sent around the world.
Tier 3 – Cryptocurrencies and utility tokens that can be bought, held, sold, deposited, withdrawn, and sent.
Tier 4 – Cryptocurrencies and utility tokens to buy, hold, sell, and send.
Tier 5 – US equities and ETFs (baskets of stocks and bonds) to buy, hold, trade, and send in fractional amounts.
Tier 6 – A series of tokens and stable coins issued by Universal Protocol as part of a new universal transparent reserve standard.
The card types that are supported on Uphold are Mastercard and Visa.
How to Get the Card
---
Ordering the Uphold debit card is a fairly easy process and it can be done rather quickly. Here are the steps you can follow to get your Uphold card.
Step 1: Verify your phone with a 6-digit code Uphold sends you when registering.
Step 2: Connect your Uphold account with your card.
Step 3: Review all of the personal details carefully and confirm once you're sure they are all aligned.
Step 4: Review the disclosures and press accept.
Step 5: Finish off the process by pressing Order and wait for your card to be delivered so you can start using it.
Mobile App Experience
---
Uphold's mobile app has gotten some pretty great feedback so far. It's simple to use, and it is very intuitive since it can mirror the desktop's app and focuses on easy usage and "Anything-to-Anything" transfers. Here are the features that you can find on the mobile app:
Two-click exchanges: Similar to the desktop platform, placing orders is done rather quickly. If you click on the "transact" tab, you can choose your desired funding method (either from crypto networks, linked bank accounts, or credit cards) and place a transaction. To make a trade, you literally need 30 seconds, even if you are a complete beginner in all of this.
Comprehensive market data: Uphold application delivers the latest market data on everything from metals to cryptocurrencies. Since the price data is calculated to the 5th decimal, users can make accurate calculations when trading.
Full desktop functionality: Aside from investing, users can also monitor their portfolios and transfer money to friends and family members, no matter where they are located.
From and To Interface: This feature allows users to pull money from their bank accounts and purchase different asset classes that they are interested in. Funding and trading on one screen are what make this app so inventive and practical.
The Uphold mobile app can be downloaded on both iOS and Android devices.
Card Activation
---
Once you have ordered your Uphold card and it is delivered, you can activate it through the Uphold Card mobile app. When you open the package, you should see the physical card containing a letter in which the activation code is included. Open your mobile app and press "Activate physical card." In case you want to activate the card by phone, dial 1-855-568-8580 and press 1. Make sure you have your activation code with you before calling this number.
Deposits & Withdrawals: Fiat, Crypto, & Precious Metal Assets
---
On your Uphold exchange account, you can see the existing balance. This balance is linked directly to your Uphold Card. Using the Uphold card, you can make purchases directly and quickly by using the available assets on your account. You can choose to deposit funds from an external credit/debit card, crypto wallet, or bank account.
However, although Uphold supports various assets, you can only deposit and withdraw certain assets.
Fiat currencies can be transferred by the bank: USD, EUR, GPB, CAD, and PLN.
External wallet transfers can be done for these crypto-assets: BTC, LTC, ETH, BCH, BAT, LINK, ZRX, DASH, BTG, XRP, UPT, OMG, STORM, UPBTC, TUSD, DAI, USDC, USDT, UPUSD, and UPEUR.
Any other fiat, crypto, or precious metal assets that are typically supported by the Uphold card can only be spent through the Uphold Card or traded on their official exchange.
How to Use the Card
---
Using the Uphold Card isn't much different from using any other type of debit card, there are only a few minor differences you should pay attention to.
Here is how you should use your Uphold card for transactions:
Make sure your Uphold exchange account is linked to your Uphold Card account.
Choose the supported assets (fiat, precious metal, or crypto) that you want to deposit or purchase and do it on your exchange account.
You can spend your assets either online or in stores that approve Mastercard.
Mastercard has to verify that there are enough funds available on your card to complete a transaction.
Uphold transfers selected assets to fiat currencies on your behalf if you opt for it.
The merchant which receives the payment is paid in their local currency, it doesn't matter which specific asset you used to complete the purchase.
Is Uphold Card Legit
---
Uphold is a well-respected and trustworthy company. It has been operating in the crypto community ever since it was founded in 2014. The positive feedback from the users only supports this fact.
With two-factor authentication (2FA), data server encryption, and KYC identity verification for all users, Uphold provides consumers with respectable security.
Uphold Card Alternatives
---
Coinbase Card
---
Coinbase card is one of the suitable alternatives for Uphold. With Coinbase, users can buy, sell, and manage their cryptos safely. Coinbase is one of the world's most trusted and most popular crypto exchanges, with over 68 million users across the globe. All major cryptos such as Bitcoin, Ethereum, Litecoin, and many more are available on the platform. All you need to purchase cryptos is a debit card or bank account.
You can see a detailed review of the Coinbase Card by clicking here.
Crypto.com Card
---
This card is a prepaid Visa card. Prepaid cards are basically the same as debit cards, the only difference being that debit cards are directly linked to your bank account. Prepaid cards need to be topped up first. In the case of Crypto.com, you can top up by using bank account transfers or cryptos.
You can see a detailed review of the Crypto.com Card by clicking here.
Crypterium
---
This is a growing mobile app that offers to transform coins and tokens into money. You can use it to shop around the globe with coins and tokens at any NFC terminal or by scanning QR codes.
You can see a detailed review of the Crypterium by clicking here.
Binance Card
---
The Binance card is one of the most popular alternatives. You can use it at more than 60 million merchants around the globe. Transfer crypto from the spot wallet to the funding wallet before using the card. The best thing is, that the Binance Visa Card is free.
You can see a detailed review of the Binance Card by clicking here.
FAQs
---
Conclusion: Is the Uphold Card Worth It?
---
There is a good reason why there are so many different crypto platforms – you can't satisfy everyone. Although there are people that may find fault with Uphold, there are as many satisfied users that love the benefits Uphold provides. If you want to trade different asset classes using only one platform, Uphold has got you covered, give it a shot.
If you have any trouble, you can write an email to their email address. Their email address is support@uphold.com
Read also:
PROS
Pricing is all-inclusive, there aren't any secret or additional fees
All of the assets can be bought sectionally, there isn't an investment minimum
No account, ticket, dormancy, or custody fees
"Anything-to-Anything" trading feature that allows conversions between different assets in only one step
The desktop and mobile app is beginner-friendly and it's simple to use
CONS
Compared to other trading platforms, the educational section isn't as organized yet
Limited customer service

CaptainAltcoin's writers and guest post authors may or may not have a vested interest in any of the mentioned projects and businesses. None of the content on CaptainAltcoin is investment advice nor is it a replacement for advice from a certified financial planner. The views expressed in this article are those of the author and do not necessarily reflect the official policy or position of CaptainAltcoin.com

Uphold Card Review – Fees, Limits, Rewards, Supported Coins & Countries