The list of merchants that accept Bitcoin is continuously expanding. However, it's still not possible to purchase everything with Bitcoin. But you can now order your own Bitcoin debit card, thanks to several companies in the Bitcoin ecosystem.
It's as simple as it sounds. Bitcoin debit cards help bridge the Bitcoin world with traditional finance. You can either purchase Bitcoins with your debit card or load a debit card with bitcoins to then spend bitcoins at almost any credit card accepting merchant.
It is incredibly easy to buy bitcoins with a debit card.
Bitcoin debit cards do not allow users to spend bitcoins directly. However, they at least allow people to store balances in bitcoin.
Bitcoin balances can be held up until the need to spend because most debit card top ups only take a couple of seconds to confirm.
In this article, we'll take a look at seven of the market's best Bitcoin debit cards. Bitcoin has made a lot of progress in seven years, and perhaps in the year 2025, the vast majority of the mainstream world will offer a Bitcoin payment option just as ubiquitously as they do PayPal. The world still runs on plastic. That's why the Bitcoin business community has begun to offer more and better debit card options over the last three years.
Pros of Using a Bitcoin Debit Card
The pros are pretty obvious. Now, any place that accepts credit or debit cards would accept your Bitcoin debit card as well, which means that you can now buy virtually anything with Bitcoin. The merchants get paid in their own currency by the debit company and the charge will be deducted from your Bitcoin balance, which allows you to live purely on Bitcoin.
For example, Bitcoin debit card is like the traveller's check of the digital age. I always take my Bitcoin debit card when I travel abroad, as a backup card in case my money gets stolen.
Cons of Using a Bitcoin Debit Card
Centralization is the major con of a Bitcoin debit card. You need to deposit money into your account at the debit card company in order to use the card. This means you're giving control over your coins to a 3rd party. This risk is decreased by not depositing too many Bitcoins into your balance. Basically, you should deposit only an amount you can afford losing in case of a hack. Also, since you are using the service of these companies it comes with a price. This means that you can't ignore the fees that Bitcoin debit card companies charge.
There are seven Bitcoin debit card companies currently available. Here's a short summary of each one and their pros and cons.
Coinbase Visa Debit Card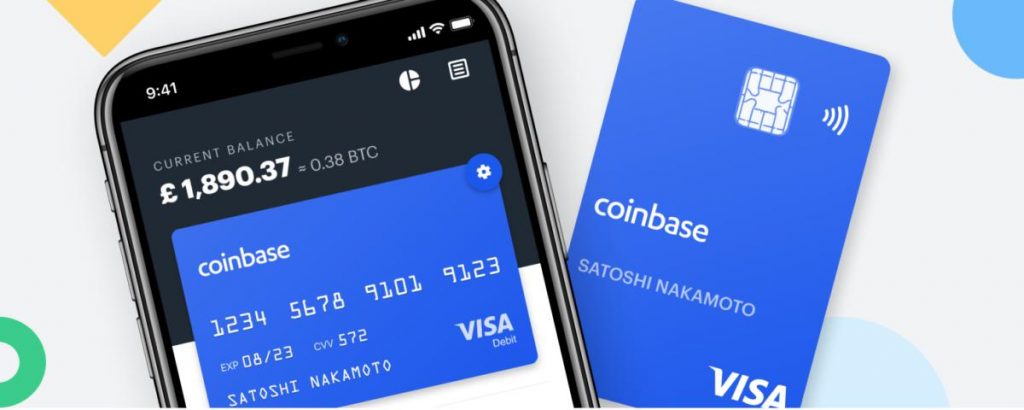 The new Coinbase Card is directly tied to a person's cryptocurrency balance in digital wallets managed by the eponymous digital currency exchange. This is the latest product launched by the leading crypto exchange – Coinbase.
The card will be associated with a users Coinbase account via a separate Coinbase card app that is available for both iOS or Android. The cards can be used to withdraw cash at any VISA-supported ATM's worldwide and make point-of-sale (POS) payments with either 'chip and pin' or contactless technology.
There's a 2.49 percent fee charged for each transaction using the card – made up of 1.49 in conversion fees and one percent transaction fee. However there are no maintenance fees and no additional cost for ATM withdrawals – but you will need to withdraw less than £200 per month.
Using the card in other European countries will incur a 2.69 percent fee, and outside of Europe will see a 5.49 percent charge. Coinbase says it is planning to roll out the card to other European countries soon, but there are no plans for a US launch just yet.
Cryptopay Debit Card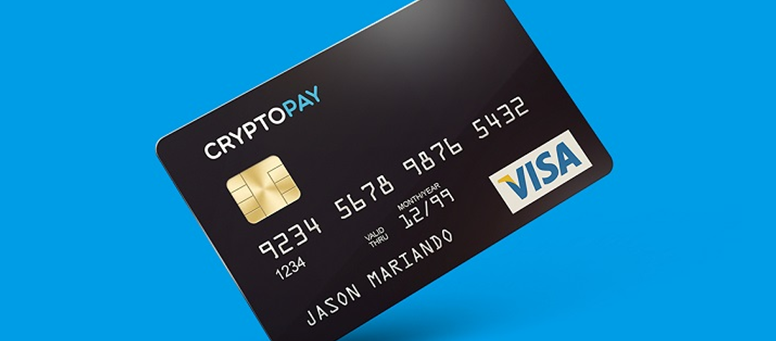 The Cryptopay bitcoin debit VISA card is the oldest and most established Bitcoin debit card, with over 23,000 issued. The CryptoPay card comes up first in the results if you look up "Bitcoin debit cards" in Google. Let's see if that means it is the best debit card!
Cryptopay supplies a Bitcoin debit card that is available worldwide, and this card has made it simple for customers to spend bitcoins at millions of businesses around the world.
Benefits include access via the three major currencies, and the card can be bought with these currencies, or with Bitcoin. The card price is slightly above average, at $15, and it is shipped for free anywhere in the world. ATM withdrawal costs $2.5. Also, international currency change adds another 3% on each transaction. You can either order a virtual debit card if you're just into online shopping, or a physical card with a chip & pin. Another great bonus of Cryptopay is that if you don't need high card limits, you do not have to supply full ID verification.
For buys both offline and online, Cryptopay makes the process convenient for users and easier than ever for merchants, and in Europe you'll get faster delivery times (about 5 business days).
PROS:
Supplies both physical and virtual cards
Available worldwide
Access via the three major currencies
CONS:
Maintenance and load fees
You can only load up to €2500 in your card if you're not verified
Crypto.com MCO Visa Card

This is a card offered by the formerly known Monaco Coin team – it works in pair with the MCO wallet. You can then spend  cryptocurrency seamlessly at the over 40 million retailers globally who accept Visa.
The list of advantages for Crypto.com card holders rivals that of any of the best Visa rewards cards. Users can use this Visa card with no annual fees, get free shipping, receive up to 2% cashback on purchases, and select cards get unlimited airport lounge access.
Users also have the ability to spend overseas and receive interbank exchange rates. And with the Platinum Referral Reward Program it's possible for users to receive up to $10,000 sign-on bonus!
The biggest drawback – it currently works only in Singapore with EU zone next on the waiting list. USA and the rest of the world are not even in the queue as of right now.
Bitwala Visa Debit Card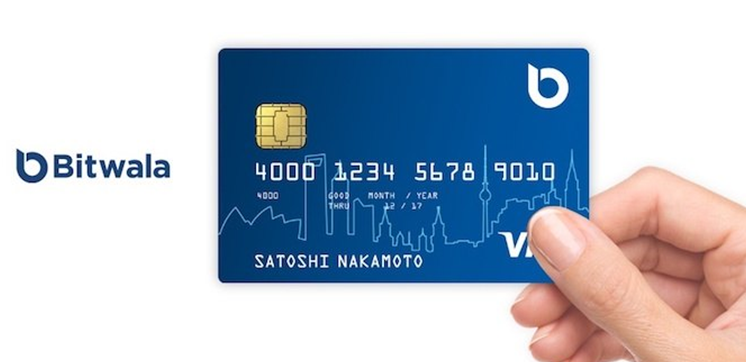 Bitwala's VISA debit card is another premier Bitcoin debit card by the company that gained fame for its ability to pay bills with Bitcoin. This is the most affordable bitcoin debit card on the market, both in terms of card price and the lowest, transparent fees that follow card usage. Bitwala issues prepaid debit cards that can be used with 44 cryptocurrencies and 20 currencies worldwide. The Bitwala team is based in Berlin since 2012. The 15 000+ Bitwala users are spread across 120 countries. They use one of the fiat or cryptocurrencies with great pleasure.
The Bitwala debit cards are issued in both virtual and physical forms. They cost €2.00 and can be funded with 20 different currencies and 44 cryptocurrencies. Besides the usual USD, EUR and GBP accounts, user may use the Bitwala bitcoin debit card with all European currencies, many currencies in Asia AUD and a couple of currencies in South America. Issuing the PIN code cost 0.80 EUR, while the monthly service fee is €1.
Denominated in Euros, you can use the Bitwala debit card to pay online and offline where VISA is accepted, and cardholders can also cash out at any ATM worldwide with the best rates and transparent fees. ATM withdrawals at domestic machines cost 2.25 EUR. On the other hand, ATM withdrawals at international machines cost 2.75 EUR+ 3% currency exchange rate. As you can see, withdrawing money from ATMs costs a little less than the market average.
Bitwala offers 2 shipping plans for their card:
Free of charge (after ordering, the card arrives within 7-10 business days)
For an extra fee of €69 the expedited shipping only takes 3-5 days.
PROS:
It has good pricing structure
It supports 44 altcoins and 20 currencies
The owners work as C-level directors in the company
CONS:
It is not available to US citizens
There is no search function in FAQ
It uses third party bitcoin exchanges, not own exchange price
Wirex Visa Debit Card
Wirex is a card company that offers its users USD, EUR and GBP and cryptocurrency debit cards to ease the use of traditional and digital money.

The cryptocurrency debit card allows BTC, ETH, XRP and LTC deposits which can be converted to fiat currencies at live rates. The cards are delivered free worldwide on order, users will pay $1.50 USD management fee per month afterwards to cater for the operational costs.
Other Wirex debit card fees include $2.50 USD for any ATM withdrawal within Europe and $3.50 USD for withdrawals outside of Europe. Online and offline payment for goods and services is not charged.
Bitcoin users are eligible to the Cryptoback program that returns 0.5% of your Bitcoin every time you punch in your pin, swipe, or use contactless pay with the Wirex VISA debit card. The Wirex cryptocurrency card can be accepted around the world anywhere VISA is accepted.
PROS:
The availability of many options of cryptocurrency and fiat payment systems.
Wirex is an established card company.
The Wirex app offers efficient transactions to users. The app can be downloaded from Google Play Store, Apple Store or open an online account with Wirex.
CONS:
Only available in Europe locking out other investors worldwide.
The management fee is quite high.
XAPO Card

Xapo was one of the first companies to supply a Bitcoin debit card, beginning operations as a company back in 2013. Xapo serves major markets like China, Japan, Canada, and the U.K, but it does not serve most African countries (except South Africa) and the US.
Xapo claim to offer most secured bitcoin storage option available. Their bitcoin wallets are easy to use and backed with a serious infrastructure, and they are known as of the Fort Knox of bitcoin.
The card arrives within 10 to 25 days depending on the distance and standard shipping is free. However, for an extra $55 DHL expedited shipping delivers the cards just within 7 days.
Xapo's service cannot be used completely anonymously, and even unverified users must provide certain personal information, like name, phone number, e-mail, date and country of birth. Unverified users may withdraw $1 000 cash maximum and spend $2500 online. On the other hand, verified users have no limit on online purchases nor in ATM withdrawals. Only daily limits apply – daily ATM withdrawal at $2 000 which can come from 2 transactions, and POS spending is capped at $20 000.
The Xapo debit card costs $20 with a $1 for the PIN. The first year annual fees are free of charge. However, from next year it costs $12 annually. Xapo charges 1% fee for purchasing bitcoins. However, it has no network transaction fee for sending bitcoins using a Xapo account. Users may withdraw cash from international ATMs for $3.5 and domestic ATMs for $2.5. Buying with the Xapo debit cards cost no money in the card's default currency, but foreign exchange fee is 3% if the purchase currency is not the same as the account's base currency.
Using the Xapo account itself is free, which means that unlike many other bitcoin debit card provider, the funding of the account does not cost anything to the user.
PROS:
No top up fees are charged
It has strong capital structure
It has high level of security
Established company reputation
CONS:
US citizens are excluded
Shipping is expensive
Unverified user have limit for POS and online transactions
No chip and PIN
BitPay VISA Debit Card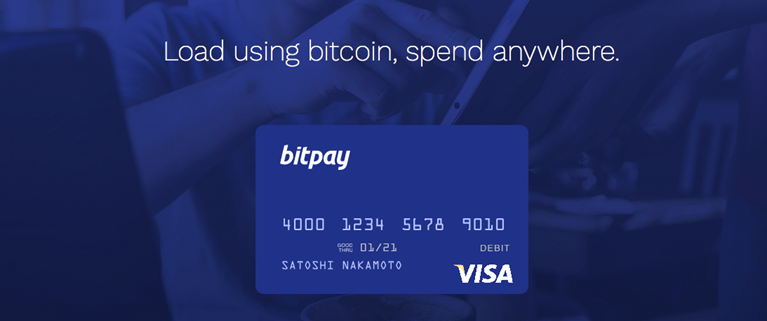 Although this is the newest kid on the block, BitPay's VISA debit card is probably the most exciting of the bunch. Bitpay is a well known company in the Bitcoin ecosystem. It provides payment solutions for individuals and businesses. It is the first Bitcoin debit card that is available to US residents from all 50 states, but you must have a home address (no PO boxes), Social Security number, and government-issued ID to apply.
The card costs a low $9.95 to obtain and there is also no charge to change your PIN (most cards here have a $1 charge.) This card arrives 7-10 days after purchase. It works with any ATM that works with VISA cards, and can also be used online, in-person.
You will pay a fee of 3% when traveling outside of the US to cover the cost of currency conversion. There is a $3.00 fee for any ATM or cash-back withdrawals outside of the US and a $2.00 fee for ATM or cash-back withdrawals inside the US.
Benefits include the highest limits of this comparison, because each card can hold up to $25,000 in funds, and up to $3,000 can be withdrawn daily, $750 at a time. These numbers are all highest in this review, which removes the need for any verification at all.
This card is exactly what you would want in a Bitcoin debit card. Customer support has been solid and the online account is easy to use. Transfers into dollars can be done in less than one minute and no documents needed for high limits.
PROS:
Card is accepted worldwide
Well known and established company
Plenty of security and currency options to choose from
Online account is easy to use
Solid customer support
CONS:
It requires verification
It doesn't have chip and PIN
It is limited to US citizens only
Services to Avoid
BitPlastic– It was among the first Bitcoin debit cards, but they do not appear to be innovating much. Supposedly they are TOR compatible. However, whenever I try to use their services, I get strange error messages. Maybe there is too much cyber security on my computer for them!! To get started, BitPlastic actually encourages you to use TOR email and a fake name. Your name is not printed on the card because it does not require your ID. This is a double-edged sword. You can take money out of ATM's anonymously. However, it can be difficult to find an offline merchant who will accept a nameless card at checkout.
We have aggregated the top and most widely used Bitcoin debit cards from around the world.
The Full List Of Bitcoin Debit Cards
this is an older list, some of the cards and underlying services are deprecated in the meantime.

Bitwa.la | VISA ® Prepaid.Balance in EUR. FAQ, Fees and Limits, Card issuer: MyChoice, 0.5 % Load Fee, Mid-market-rates (BitStamp), Physical and Virtual Cards

WB21 | Due to a high demand the order form is currently deactivated. Mastercard Balance in USD, EUR, GBP, CHF, Account loading with BTC – 1%,    Card fees, Plastic Card, Virtual Card, connected with smart phone's NFC

Coinsbank  |  Mastercard & VISA. Fees and limits Balance in BTC,  LTC, USD, EUR, GBP, RUB, Card issuer: MyChoice/WaveCrest (Named VISA), FSC (Anonymous MasterCard), Instant Virtual Cards (MyChoice VISA), Real-time conversion

Xapo | VisaBalance in BTC,   Fees, Card issuer: MyChoice, Real-time conversion

Uquid | Visa  Fees  Limits Balance in USD, EUR. GBP Card issuer: Wave Crest/MyChoice

Advcash |  Mastercard. Balance in USD, EUR  Fees,  Card issuer: Wave Crest/MyChoice

cryptopay.me | Balance in USD, EUR, GBP

Coinizy | VisaBalance in USD, Not available in some countries

Spectrocoin | Visa    Fees and limits, Balance in USD, EUR, GBP. Card issuer: MyChoice

BitPay | Visa   coindesk, Balance in USD, Card issuer: Metropolitan Commercial Bank

Bitnovo | Balance in EUR

Shift | Visa. Balance in BTC (Coinbase)

worldcore.eu | Fees,  Mastercard.  Loading with BTC – 3%,  Balance in  USD, EUR

MoneyPolo | Visa, Mastercard.  Balance in USD, EUR, GBP

Wirex (former e-coin) | Fees and limits,  Mastercard (plastic),  Balance in USD, EUR, GBP,  Card issuer MyChoice/WaveCrest

ANX | Visa. Balance in USD,  FAQ,  Card issuer: mBank (Poland)


DSX.uk | Balance in USD, EUR,  MasterCard via epayments

bitstamp.net | Balance in USD, EUR, GBP,  Fees and limits,  Card issuer: AstroPay

Wagecan | Mastercard. Balance in USD, EUR   (soon BTC),  Fees,  Card issuer: TransForex (Hong Kong)

getonebit.com | in development. Can be used at POS-terminals with NFC,  Maestro PayPass and Visa PayWave Balance in BTC,   Discussion on reddit

bitnation.co | Visa,   Fees and limits

SatoshiTango | Visa. Balance in USD,  Card issuer: MyChoice

Bitfinex + Blade Payments | comming soon,  Article,  Balance in BTC  

plutus.it | in development. Can be used at POS-terminals with NFC,  Maestro PayPass and Visa PayWave,   Balance in BTC,  Discussion on reddit

cryptobuyer.io| Visa. Restricted to Venezuelans. Card issuer: MyChoice.

Shakepay.co | Virtual cards + NFC. Balance in 21 currencies (fiat),  Visa

capitalist.net | switch to English on top-right. Visa,  Balance in USD, EUR,  Card issuer: Wave Crest/MyChoice

unichange.me | VisaBalance in USD, EUR
Summary
No card is perfect and most of these cards are more or less the same. The difference is only in their branding because they probably all use the same card supplier to run their business. However, the market has come a long way since BitPlastic, and just because you own Bitcoin does not mean you can't shop conveniently, anywhere in the world.
You now have plenty of solid options, but I recommend to make sure the bitcoin debit card you choose is available in your country and then use the one with the lowest fees. For example, using Shift is a reasonable option if you live in the US.
CaptainAltcoin's writers and guest post authors may or may not have a vested interest in any of the mentioned projects and businesses. None of the content on CaptainAltcoin is investment advice nor is it a replacement for advice from a certified financial planner. The views expressed in this article are those of the author and do not necessarily reflect the official policy or position of CaptainAltcoin.com