Crypto.com Review – Fees, Supported Coins, Deposit Methods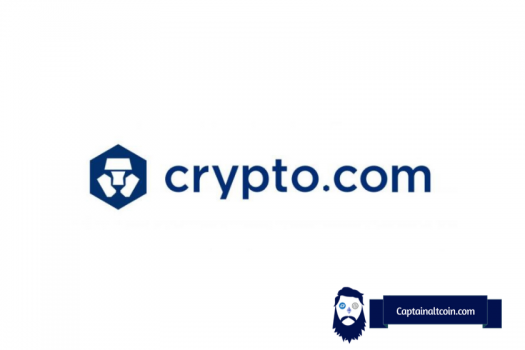 Crypto.com Review – Fees, Supported Coins, Deposit Methods
It accepts both fiat and cryptocurrencies
It has five prepaid VISA cards that offer cash-back rewards
The security of the platform is commendable
It provides other financial services like crypto loans, crypto staking, DeFi, etc., depending on your country
It offers tax support
Its interest rates are competitive, especially if you have its native token, CRO
Crypto has been called a lot of names. Some refer to it as a store of value; others call it a hedge against inflation; it has even been called digital gold because of its peculiar features.
However, for crypto to live up to its various names and purposes, it has to be used in everyday matters with little or no hassle. That is where Crypto.com comes in.
This article will examine what Crypto.com is and how it encourages mainstream adoption of crypto for day-to-day use.
INTRODUCTION
---
Crypto.com was founded in 2016 with the sole aim of making cryptocurrencies more accessible for everyday use in the financial world. It prides itself as a one-stop shop where crypto enthusiasts can buy, sell, transfer, spend, earn, and track cryptocurrencies. The company was founded by Kris Marszalek.
It was known initially as Monaco Technologies but swapped to crypto.com in July 2018. It wasn't long for it to show that it meant business as it raised $26.7M in a token sale in June 2017 after being accepted into Supercharger, a leading FinTech accelerator.exch
With a built-in cryptocurrency exchange, an intuitive mobile app, prepaid VISA cards, and an increasing number of supported cryptocurrencies, crypto.com has established itself as a popular name in the cryptocurrency world.
WHO SHOULD CHOOSE CRYPTO.COM
---
Regardless of whether you're a crypto trader or holder, you can find your place with crypto.com. It is also an ideal platform for those who are not only content with trading or holding crypto but are eager to incorporate it into their finances, using it in everyday purchases.
Those who would benefit the most from using crypto.com are those who hold CRO (crypto.com coin). The more you hold/stake, the more discounts you'll get when using the crypto.com prepaid card to make payments.
CRYPTO.COM PRODUCTS AND SERVICES
---
BUY AND SELL
---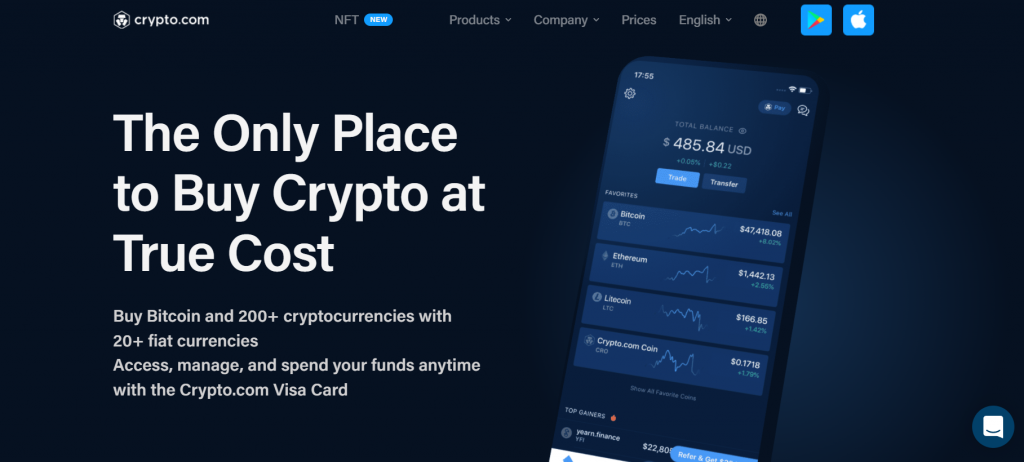 App: The mobile app is the mainstay of crypto.com's ecosystem. It's available on the Android and iOS operating systems and functions as both a crypto exchange and a wallet.
On the app, you can buy cryptocurrencies with fiat and sell them into fiat or other crypto coins. You can also load your prepaid cards with your desired coins on the mobile app.
The app currently supports about 190 coins, with room for more. You could pay into your account on the app through various payment methods; bank transfers, credit or debit cards, and depositing crypto from other exchanges or wallets.
Crypto.com NFT marketplace
---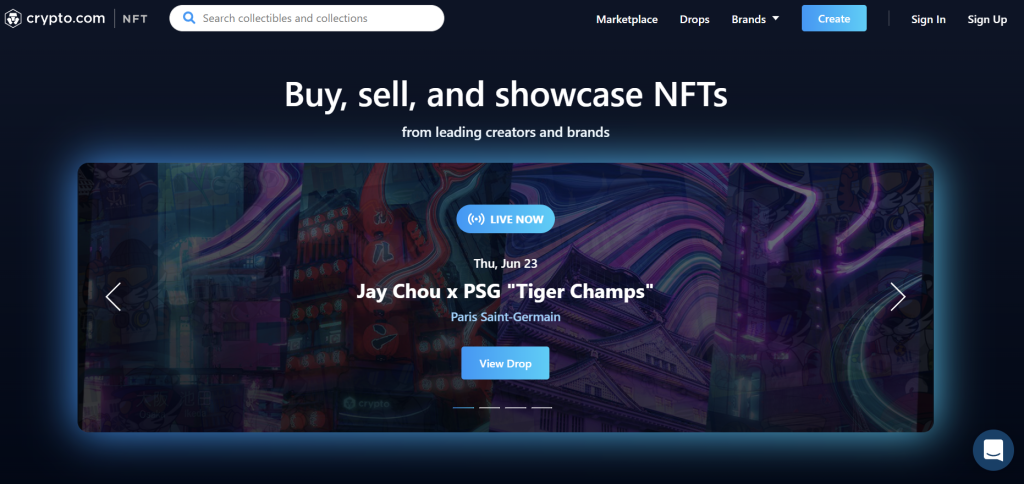 In its bid to become a one-in-all and all-in-one crypto ecosystem, crypto.com launched its NFT marketplace.
Commendably, the crypto.com NFT marketplace is fully integrated with other features of the crypto.com platform like DeFi wallet, crypto.com Pay, etc.; this allows for a seamless experience when buying or selling NFTs on the cryptocurrency platform.
The crypto.com NFT marketplace distinguishes itself from other NFT exchanges in the following areas:
Surprise Boxes: This feature was launched as a way to mark crypto.com's fifth anniversary. The surprise boxes sold for $10 and contained different cryptocurrencies, which could only be revealed after buying the boxes. The grand prize was 1 BTC.
There was also another surprise box campaign for the dog-themed coins (DOGE and SHIB). It was termed 'the paw-fact surprise box campaign' and produced exciting gifts as well.
Poker cards: As you could guess from the name, crypto.com launched an NFT art series where all 52 cards in a poker game will be sold and used to play games afterward. So far, only the suite of diamonds has been released, with hearts, aces, and spades to be released later.
High-quality art: Not just anybody can sell art on the crypto.com marketplace. Notable creators that have been featured on the marketplace include Snoop Dogg himself and Atlas, a creator of digital worlds.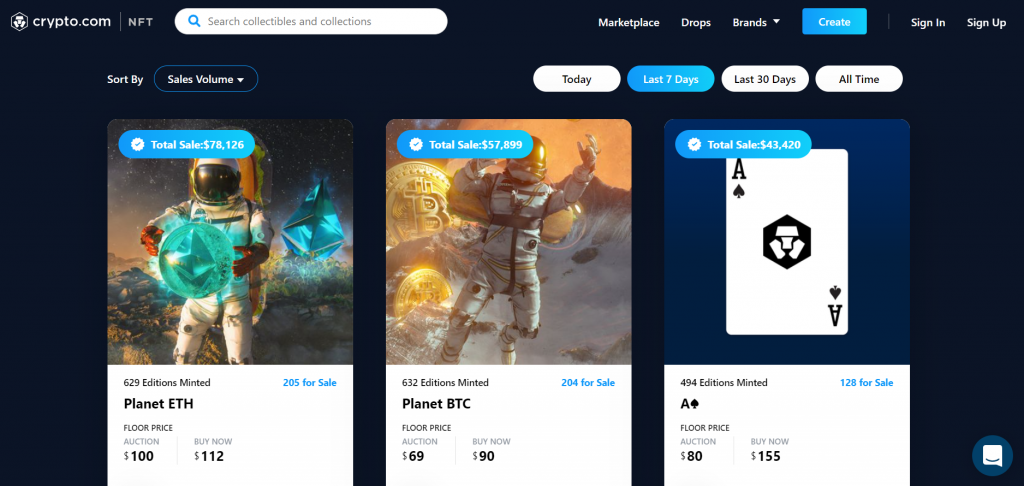 In addition to these features, you can also create your own NFTs on crypto.com's blockchain, crypto.org.
SPEND
---
VISA Cards: This is probably the main feature of crypto.com and the reason for its popularity. It offers five different Crypto.com visa cards that give users access to various perks and benefits. 
These Crypto.com visa cards have no annual fees, convert crypto to fiat for instantaneous payments, and offer generous cash back rewards in the form of CRO tokens. They also provide other benefits like reimbursement on certain subscriptions(up to 100%), airport lounge access, and fee-free ATM withdrawals up to a certain amount.
Unlike many other crypto cards, you need to stake funds for a minimum of six months to benefit from most of these cards. The amount you stake determines the card tier you get, and subsequently, the percentage of rewards you earn.
The table below lists the five different cards and their requirements and rewards:
Card types
Minimum staking amount
Rewards percentage
Fee-free ATM withdrawal limit
Other perks
Obsidian
$400,000
8%
$1000
Monthly reimbursement on Netflix, Amazon Prime, Spotify, Expedia, and Airbnb.
Airport lounge access
Frosted Rose Gold and Icy White
$40,000
5%
$1000
Monthly reimbursement on Netflix, Amazon Prime, Spotify, and Expedia.
Airport lounge access
Royal Indigo and Jade Green
$4000
3%
$800
Monthly reimbursement on Spotify and Netflix
Airport lounge access
Ruby Steel
$400
2%
$500
Monthly reimbursement on Spotify
Midnight Blue
N/A
1%
$200
N/A
Like any other debit card, the crypto.com Visa card charges fees for various transactions in various currencies. For example, for transactions in USD:
Credit top-up: 2.99%
ATM withdrawal after fee-free withdrawals have been exceeded for the month: 2%
Card reissue: $7 for Midnight Blue and $50 for the other cards
Inactivity fee(after 12 months): $4.95
ACH decline/return: $15
More detailed fee breakdowns, including more currencies, can be found on their website or mobile application.
There is a limit of $10,000 daily and $25,000 monthly top-up on the five cards. Also, the Midnight blue Visa card has an ATM withdrawal limit of $500 daily and $5,000 monthly, while it's $2,000 daily and 10,000 monthly for the other cards.


Crypto.com Pay: This is a payment system just like Apple Pay or Google Pay that enables users to spend crypto at online stores without having to enter card details.
If a merchant has implemented crypto.com Pay in their online store, users can pay by clicking the 'pay' button on their crypto.com app, scanning the unique QR code that comes up on the online store, and making payments with their desired crypto.
Invoices can also be generated with crypto.com Pay.
GROW
---
Crypto.com Earn
This is an excellent way for users to earn passive income by staking their selected cryptocurrencies. At the moment, there are 44 coins supported on the 'Earn' feature, with about seven of them being stablecoins. The interest rate is competitive as you can get up to 12% interest on stablecoins per annum.
So how does one subscribe to the Earn feature on crypto.com? Well, if you have the application:
Open it and click on 'wallet.'
Select 'Crypto Earn' from the wallet options
Select the holding term you prefer. There are three options to choose from Flexible holding term, 1-month fixed term, and 3-month fixed term. 
Keep in mind that the longer you hold the coins, the more interest you'll get.
Select from the 40+ coins available.
Deposit into the crypto.com Earn account
Payouts are distributed weekly and are done in the deposit currency.
Also, there are limits on the value of the cryptocurrencies you can deposit on the Earn feature. The limits are Tier-based on the following formula:
Obsidian Visa Card owners: up to $2,000,000
Frosted Rose Gold and Icy White Visa Card owners: up to $1,000,000
Visa card owners below Frosted Rose Gold and Icy White: up to $500,000.
Crypto.com Credit
This is a provision made by Crypto.com for you to utilize your crypto assets without selling them. Instead of selling them, you could put them down as collateral and get stablecoins in return to cater to that urgent need. When you're done, you return the stablecoins with interest and get back your crypto asset.
There are twenty-one coins supported under the crypto.com credit program. They are Bitcoin(BTC), Ethereum(ETH), Polkadot(DOT), Crypto.com Coin(CRO), Ripple(XRP), Bitcoin Cash(BCH), Uniswap(UNI), Pax Gold(PAXG), Litecoin(LTC), Vechain(VET), Chainlink(LINK), Monero(XLM), Cardano(ADA), Algorand(ALGO), Electro-optical Solution(EOS), Cosmos(ATOM), Wrapped Bitcoin(WBTC), DAI, MATIC, Filecoin(FIL), and Tezos(XTZ).
Once you select those coins and key in the amount you want to put down as collateral, you'll gain access to a proportional amount of stablecoins. The four stablecoins supported are USDT, USDC, TUSD, and PAX.
The loan-to-value ratio is 50% which means that you can only get half of the value of whatever crypto asset you put down as collateral. For example, if you put down One BTC worth $60,000, you can only get a maximum of $30,000 as a loan. After getting the loan, your LTV ratio changes according to the market condition of your collateral. If it crosses the 85% threshold, your assets will be liquidated.
As you may have guessed, the interest rates vary according to your VISA card level. For Royal Indigo/Jade Green level and above, the interest rate is 8% p.a while it is 12% p.a for lower levels.
Are you from France, Germany, Hong Kong SAR, Malta, Singapore, Switzerland, the UK, or the USA? Then I'm sorry, this program is not for you as it is not available in those countries yet. However, you do well to stick around; there are plans to extend this service to other countries.
EXCHANGE
---
Spot trading
---
Crypto.com offers its users deep liquidity of crypto assets and competitive trading fees to ensure a smooth spot trading experience. In addition, there are trading activities offered from time to time that encourage users to trade certain coins to get rewards.
The fee structure is competitive and is tiered based on trading volume and CRO staking. In fact, at a point, you won't even pay any fee if you stake the required amount of CRO tokens. You'll find it in detail in the table below:
| | | | |
| --- | --- | --- | --- |
| Level | 30D trading vol( in USD) | Maker Fee | Taker Fee |
| Level 1 | $0 – $25,000 | 0.4% | 0.4% |
| Level 2 | $25,001 – $50,000 | 0.35% | 0.35% |
| Level 3 | $50,001 – $100,000 | 0.15% | 0.25% |
| Level 4 | $100,001 – $250,000 | 0.1% | 0.16% |
| Level 5 | $250,001 – $1,000,000 | 0.09% | 0.15% |
| Level 6 | $1,000,001 – $20,000,000 | 0.08% | 0.14% |
| Level 7 | $20,000,001 – $100,000,000 | 0.07% | 0.13% |
| Level 8 | $100,000,001 – $200,000,000 | 0.06% | 0.12% |
| Level 9 | $200,000,001 and above | 0.04% | 0.1% |
Also, you get discounts according to the number of staked CRO tokens you have. The discounts are paid in CRO, and they range from 10% off if you stake 5,000 CRO to 100% off if you stake 50,000,000 CRO.
Margin Trading
---
Margin trading means borrowing digital assets to open a more significant trading position, paving the way for more gains(or more losses). On crypto.com, the only coins offered for margin trading are BTC and USDT. The trading fees for margin trading are the same as that of spot trading.
Derivatives
---
Derivatives trading involves trading the 'value' of an asset while the underlying asset remains untouched. On crypto.com, perpetual is the only derivative traded. The fee structure for derivatives trading is different from that of spot and margin trading. It can be found in the table below:
| | | | |
| --- | --- | --- | --- |
| Level | 30-day trading volume | Maker fee | Taker fee |
| Level 1 | $0 – $25,000 | 0.05% | 0.07% |
| Level 2 | $25001 – $50,000 | 0.04% | 0.065% |
| Level 3 | $50,001 – $100,000 | 0.03% | 0.06% |
| Level 4 | $100,001 – $250,000 | 0.025% | 0.04% |
| Level 5 | $250,001 – $1,000,000 | 0.02% | 0.035% |
| Level 6 | $1,000,001 – $20,000,000 | 0.015% | 0.03% |
| Level 7 | $20,000,001 – $100,000,000 | 0.01% | 0.025% |
| Level 8 | $100,000,001 – $200,000,000 | 0.005% | 0.02% |
| Level 9 | $200,000,001 and above | 0.000% | 0.015% |
DEFI
---
Wallet
---
The crypto.com DeFi wallet is non-custodial, meaning you're in complete control over your digital assets. It is independent of the crypto.com app as you do not need one to get the other.
The wallet opens the way to decentralized earnings and swaps with transaction fees paid only to miners, not crypto.com. To use the DeFi wallet, your device should be Android 7.0 and higher or iOS 12 and higher. Also, people from the countries on this list can't use it.
Earn
---
This is different from the Crypto Earn feature on Crypto.com. There are five ways of earning on the DeFi wallet. They are:
Compound lending, where you lend your assets to the Compound protocol and get rewards.
Cosmos Staking
Yearn Earn V2
Crypto.org chain staking
Aave lending V2.
Swap
---
Crypto.com ecosystem also includes an automated market maker where instant swaps can be made among ERC-20 tokens by utilizing liquidity pools. The Swap feature on the DeFi app provides triple yield in the following format:
Liquidity providers for individual pools get a share of the swap fee (0.3%) when someone makes a swap from the pool.
If those liquidity providers also stake CRO, they get CRO DeFi yield in addition to the swap fees.
Liquidity providers in selected pools also get a bonus LP yield on top of their original yield.
ECOSYSTEM
---
Crypto.org
---
This is the native blockchain of crypto.com, just as Binance Smart Chain (BSC) is to Binance. It is an open-source, permissionless, high-speed, and low-fee blockchain. Launched on March 24, 2021, it is Crypto.com's latest effort to facilitate decentralized payments and the creation of Non-fungible tokens.
It's still relatively young, though, and more is still to be expected from it even though it has already surpassed expectations with the number of users and validators on the chain.
FREQUENTLY ASKED QUESTIONS
---
Read also:
PROS
It accepts both fiat and cryptocurrencies
It has five prepaid VISA cards that offer cash-back rewards
The security of the platform is commendable
It provides other financial services like crypto loans, crypto staking, DeFi, etc., depending on your country
It offers tax support
Its interest rates are competitive, especially if you have its native token, CRO
CONS
It has some geo-restrictions in place
The customer support could do better
Fiat withdrawals take too long
It's not very user-friendly, especially for crypto newbies
You need to have 50,000,000 CRO(its native token) to benefit from its highest fee discount. That's around $10M at the time of writing
❌ The cashback is given in CRO, which is a cryptocurrency with fluctuating values.

CaptainAltcoin's writers and guest post authors may or may not have a vested interest in any of the mentioned projects and businesses. None of the content on CaptainAltcoin is investment advice nor is it a replacement for advice from a certified financial planner. The views expressed in this article are those of the author and do not necessarily reflect the official policy or position of CaptainAltcoin.com