Crypterium Review – Fees, Features & Supported Countries


Crypterium Review – Fees, Features & Supported Countries
The Crypterium card is available in approx. 178 countries, this is a phenomenal amount compared to their competitors, with most being available solely to customers from the USA. This means that users from developing nations, who are often much more benefited by Bitcoin, are not left behind.
You can get the details to your card within literal minutes of signing up, meaning you can set up contactless pay and use your card before its even arrived.
You are able to transfer funds between Crypterium wallets for free.
Crypterium is a full-blown crypto mobile app that encompasses several crypto verticals: exchange, crypto debit card, mobile Crypterium wallet, AI predictions, its own native token and crypto loans.
Crypterium Visa Card at a Glance
---
The Crypterium card is an interesting new piece of tech on the crypto debit card scene. This virtual card boasts usage only a few minutes after ordering. This way you can spend your coins without having to wait for your physical card to arrive. This is possible as you are able to enter your details into Apple pay before you have the physical crypto debit card in your hand as they will send you your card details.
The Crypterium card boasts zero-fee transactions, meaning you can spend however you please without fear of some nasty costs adding up. The card focuses on offering a quick and easy setup and good usability, with even the website explaining the card itself having some great simple UI to help the customer along. 
The crypto card features numerous effective levels of security to make sure that your funds are safe when using the card. You can setup the car with face-ID or touch-ID to make sure it can't be activated without your authorization. You also have the ability to block or un-block your card at will, in case of any leaked details or other incidents where you don't want any ability for money to leave your account. We can safely say Crypterium is an all-in-one solution.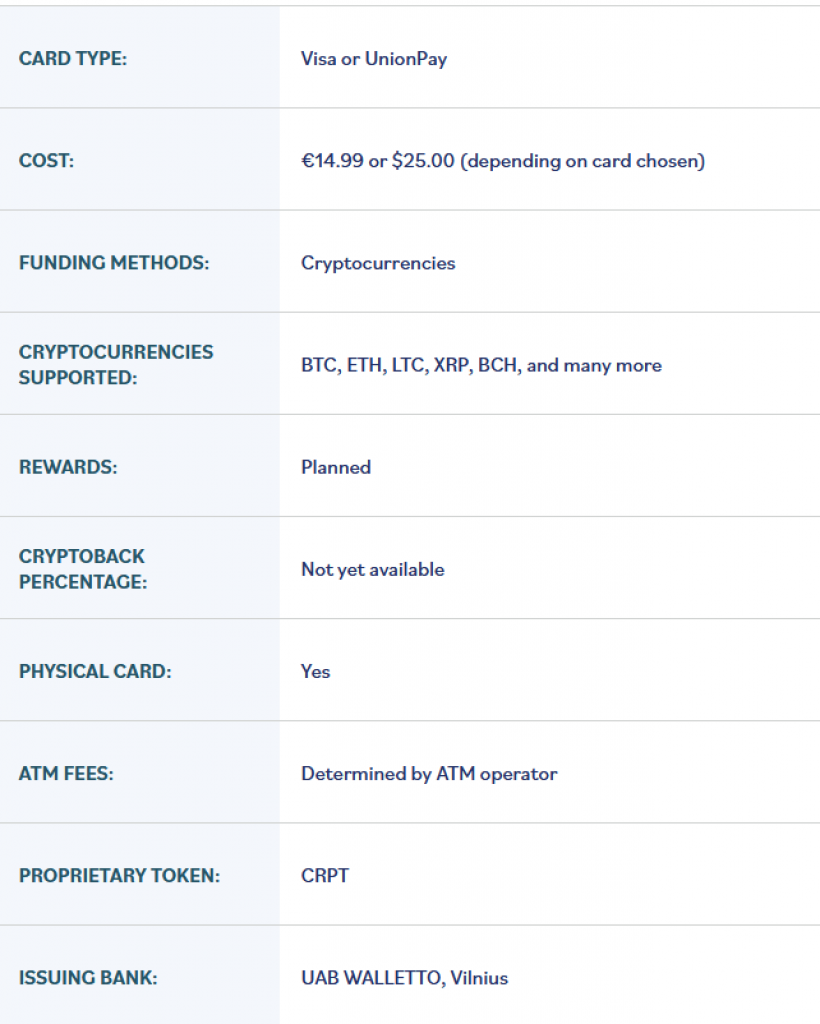 Mobile crypto wallet
---
The Crypterium mobile app is a great example of a mobile cryptocurrency wallet that fits all of your digital currency needs! The wallet feature allows you to spend and trade a number of different cryptocurrencies on the go, and more in the future, but this is just the start of the Crypterium app's features.
The app used by more than 400,000 customers is much more than a place to store your coins. The app is also a great way to purchase different currencies, allowing you to purchase Bitcoin, Litecoin, Ethereum and Bitcoin Cash with ease using your bankcard. Crypterium claims that it is "as easy as online shopping".
Another great part of the app is the exchange. On the in-app exchange you are able to trade your coins for an array of different digital assets, including crypto and fiat. This is made possible by Crypterium working with numerous large-scale cryptocurrency exchanges, making sure you always get the best rates. This isn't the end of the Crypterium wallet's trading functionalities. They also present and notify you of events and news in the crypto space, keeping you up to date with the situation and informing you so you can conduct educated trades.
Lastly, the Crypterium wallet makes it easy to send money and different cryptocurrencies to your friends. Rather than having to deal with confusing and delicate wallet addresses, you can simply enter your friend's phone number and send them the money. This is possible as Crypterium assigns wallets based on a user's phone number, essentially creating a universal wallet address. This is a very foreword thinking feature in the cryptocurrency space and will hopefully help people less tech savvy get involved with crypto.
Crypterium Card Review – Prepaid card
---
Crypterium Card Fees
---
When you order the card or any subsequent replacement cards, you will be charged an issuance fee of $14.99, or only $9.99 if you are a CRPT token holder. You also need to pay a monthly "maintenance" fee of $2.99 per month, though this fee is removed when you are spending more than $300/month on the card. There is no transaction fee.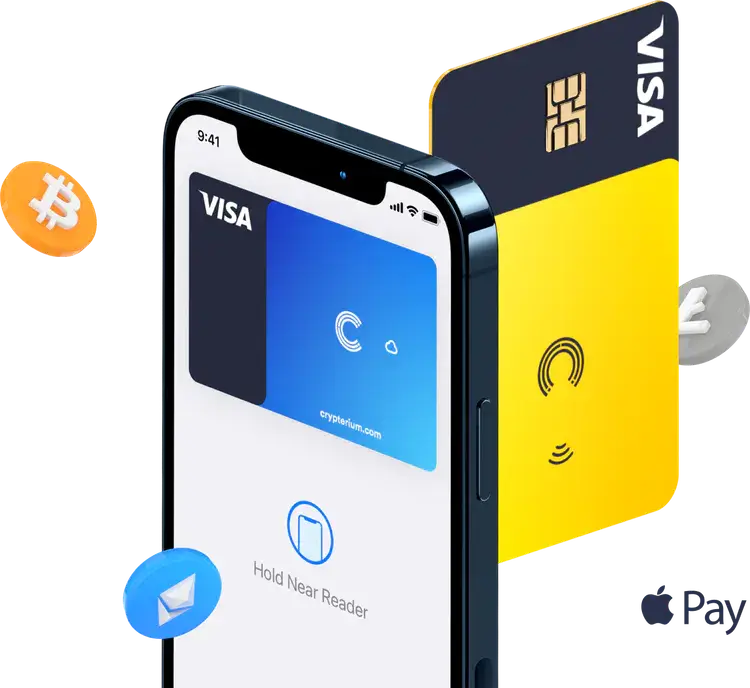 How to order the Crypterium Crypto debit card?
---
Ordering the Crypterium card is quite simple, first you need to download the app on your mobile device, as here you can manage the details and wallet which is related to your card. Simply enter the card section, fill out the KYC requirements and order your card. The issuance cost for the card is $14.99 and the card should take a few days to arrive.

Though with the Crypterium card, even if you can't wait for it to arrive, that's okay. You are instantly provided with the card's details which you can then apply to contactless payment methods.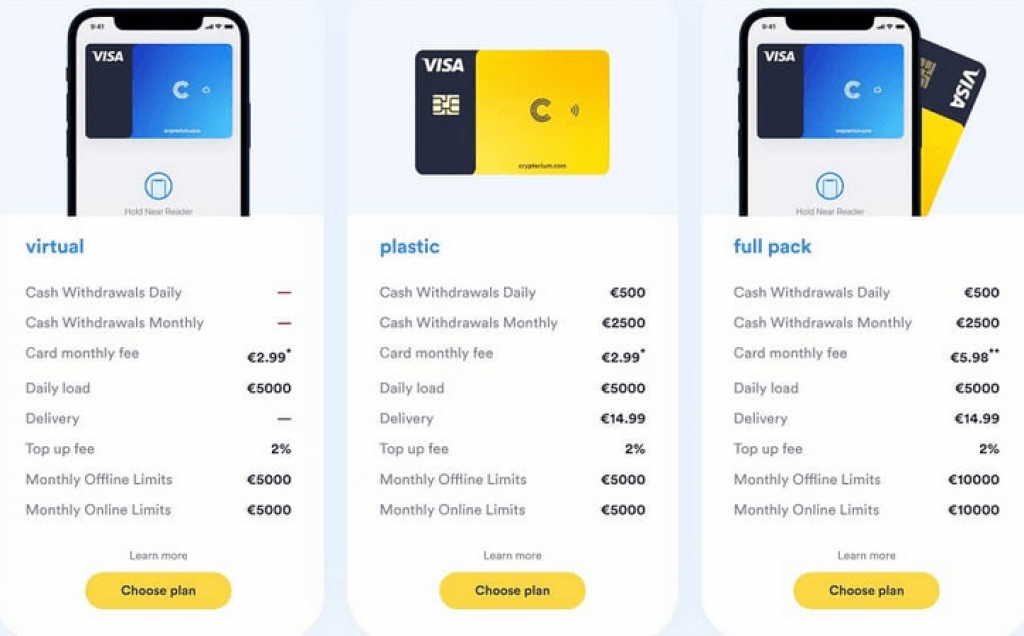 Read also:
Crypto Bank
---
Crypterium is being held as the world's first "cryptocurrency bank" due to its management and continuous implementation of high-quality services commonly offered by banks. Crypterium's CEO is a former general manager of Visa, high-level employees also consist of individuals from a range of banks including American Express and Rennaissance Insurance. This shows Crypterium's attempt to create a bank-like service is backed up by experience in the industry.
One of Crypterium's features that liken it to a bank is its integration of fiat currencies through debit cards and other methods of payment. When cashing out from Crypterium, you have the unique ability to send your cash direct to your card, with no need of a lengthy process of turning it to fiat on the site then figuring out what method you will use to withdraw. Crypterium makes the whole process nice and simple.
Another service offered by Crypterium is their loan providing. When you take out a loan with a bank, they will often use digital assets you have to ensure that you can back your loan, as they can take them away if you don't, though Bitcoin is not one of these digital assets. This is where Crypterium differs, by offering low interest loans that accept Bitcoin and other popular cryptocurrencies as collateral (the crypto assets you leverage against), you are able to take out a loan with Crypterium but without having to sacrifice your cryptocurrency investment, just like you would if you leveraged against your house.
Crypterium also has some new interesting features in the pipeline, which are even more suggestive of a bank-like operation. The first of these is a cryptocurrency savings account, meaning you can lock away your cryptocurrency in exchange for a repeat income based on your balance in the account. Another is trading signals, although these are less specific to banks, it shows Crypterium's attempt to prove a platform that serves all purposes and helps cryptocurrency to be taken more seriously as it is applying technical market analysis.
The last upcoming feature we are aware of is the introduction of investment in pre-established portfolios. This means that investors will have the option to invest in crypto assets portfolio curated by Crypterium, similar to how banks offer different investment portfolios associated with different industries and risk tolerance.
CRPT Token
---
The Crypterium token, or "CRPT" for short, is a token created by and for crypterium in order to facilitate the paying of fees and other utilities in the Crypterium environment. How Crypterium manages to encourage users to hold the CRPT token is through their staking service. By staking/holding CRPT you will earn up to a huge 21% annually on your coins, meaning that over time, for holding these tokens you will receive more and more of them, remember you can sell these things! 
This level of staking rewards/dividend payments scales up with the amount of CRPT that you own. As you gain more and more CRPT, you are considered a more "dynamic" user, through this you are given better dividend rates and offered further incentive to use the platform.
As you further increase your stack of CRPT tokens, you will be entitled to larger discounts on transaction fees on the Crypterium network. For example, those with only 1 CRPT token are held in the Silver category, entitling them to only 10% off of their Crypterium transactions; though if you have over 25,000 Crypterium tokens, a truly amazing amount, you will be given 50% off of your Crypterium transactions.
CRED Tokens
---
The CRED Token is Crypterium's second token. Although these tokens could be considered to be lesser known among users, they are crucial to Crypterium's services. The CRED token serves a number of uses, but the main one is to repay loans taken out on the platform.
Crypterium loans
---
You can get a loan or earn interest on Crypterium.
Borrowing money on Crypterium is especially lucrative and cheap since the offer USDT loans with an interest rate of only 1% for up to 12 months.
If you want to earn money with your crypto, you can lend it out via Crypterium and earn up to 15.6% interest (on a low-cap, fringe token TON Crystal). Rates on other coins like BTC, ETH and USDT are lower and amount to 5.4%, 7.2% and 9.6% on 12 months long loans.
If you are interested to learn about other crypto loan providers, check our guide on the best bitcoin lending platforms. We recommend paying attention on Blockfi or YouHodler as the top crypto loan services.
The coolest feature: Send crypto using the phone number
---
Despite Crypterium's wide array of unique and wonderful features, one stands out from the rest as their most innovative function yet: sending crypto to a phone number. Most banks charge you terribly high fees, and often seem to make the process as hard as possible for you to transfer money overseas and borders, but thankfully cryptocurrency has solved that.
Though Crypterium has used these advances in using crypto to make payments easier and has decided to take it a step further. Rather than let their users deal with carefully typing and pasteing wallet addresses into their device to send coins to their friends, it allows you to send to an account associated with a phone number.
As long as that user has their wallet for said coin set up, you just pop it into your phone, and it will send the coins. Not only does this have the classic benefits of cryptocurrency being a borderless and a low-fee transaction operation. It has the additional benefit of ease of use, helping those who aren't as familiar with cryptocurrency transact effortlessly, making it simpler for everyone.
This remarkable, forward-thinking feature has helped to set Crypterium out from their competitors and will hopefully be a model for future crypto-bank services to follow, paving a path towards a better financial system for all.
Is Crypterium Legit?
---
This is never an easy question to answer in the cryptocurrency space, with the past lined with projects that looked and operated brilliantly, only to see them disappear with their customer's funds when the prices were at their peak. As always you should do your own research on the service yourself and decide on your own if you want to continue and use Crypterium. There have been a few minor concerns, with accusations of them not fulfilling the odd dividend payout though none of this has been provable and therefore their reputation is fairly good.
Can you buy crypto for fiat on Crypterium?
---
Yes, thanks to their integration with Simplex, you can buy crypto with a credit card but the Crypterium fees are a bit higher than what you would pay on other exchanges that offer other, cheaper payment options like bank wires.
Can you trade crypto on Crypterium?
---
Yes, there is a small exchange within the app that supports only 18 coins which can be exchanged with each other.
Conclusion
---
Crypterium is a great platform that has managed to create what is essentially the first cryptocurrency bank, which is a major step forward in the normalisation and adaptation of cryptocurrency to society. This coupled with their range of great features such as their loan services, phone number wallets and most of all their debit cards makes them a revolutionary organisation. Hopefully the small issues seen on the platform can be rectified so that we can see Crypterium increase in prevalence and become a trusted and well-respected pillar of the cryptocurrency community.
PROS
The Crypterium card is available in approx. 178 countries, this is a phenomenal amount compared to their competitors, with most being available solely to customers from the USA. This means that users from developing nations, who are often much more benefited by Bitcoin, are not left behind.
You can get the details to your card within literal minutes of signing up, meaning you can set up contactless pay and use your card before its even arrived.
You are able to transfer funds between Crypterium wallets for free.
CONS
Topping up the card can often take a long time and sometimes outweigh the benefits of the card.
The use of the CRPT token and the CRED token can sometimes make the Crypterium experience a bit overwhelming and therefore the debit card experience more confusing for new users.

CaptainAltcoin's writers and guest post authors may or may not have a vested interest in any of the mentioned projects and businesses. None of the content on CaptainAltcoin is investment advice nor is it a replacement for advice from a certified financial planner. The views expressed in this article are those of the author and do not necessarily reflect the official policy or position of CaptainAltcoin.com