Key Differences
---
Uphold is an all-inclusive investment center-like place. It has crypto currency trading, it has precious metals, it has fiat to fiat exchange, it has US equities, all in all they offer a much bigger variety of options.
They also do not charge a fee for depositing, withdrawal and more importantly trading, what they do is simply charge a spread depending on the market situation. This means you can buy one amazon stock and one Ethereum at the same place without using any other exchange.
Multi-asset debit card: Unlike the Coinbase Visa debit card, Uphold's Mastercard debit card supports payments via crypto, gold, equities, or national currencies.
Uphold users can trade about 50 U.S. stocks, four precious metals, and 27 national currencies.
They also have a debit card that allows you to store whatever you want, gold, stocks, silver, Bitcoin, eth, doesn't matter what it is and you can pay with them anywhere you go, it will automatically turn to fiat and be paid from your prefered asset and sent. This wide variety net which gives Uphold a whole deal vibe attracts investors who would like to not only have a financial life aside from their regular life but helps them make their financial life their real life.
They haven't seen the interest as much as some of the other places, but when you are handling so many things all together in one place, it is harder to reach out to every corner of the financial world. They have been around since 2013 and renamed after 2016 as well.
Coinbase on the other hand is the most known USA based crypto currency exchange. They are a bit more limited with only crypto currency trading. However they are far more known about it than any other place with maybe an exception of Binance. It is the first ever crypto exchange that got listed on a stock market as well. You can find Coinbase stock with a "coin" ticker on Nasdaq.
Could become part owner of USA's biggest exchange if you want to. They also have a debit card supported by Visa. Anywhere in the world where Visa is accepted, you can use your Coinbase card. The same method of turning crypto to fiat in order to pay happens with Coinbase card as well. As well as security goes, how many exchanges can get as secure as the one on Nasdaq? This doesn't necessarily mean it is perfectly secure, but definitely adds a big layer of trust that not many exchanges can reach.
Best suited for
---
Uphold is a place for all around investment. If you want to invest into more than just crypto currencies then Uphold could be a better place for you. Would you like to own some shares? With their fractional stock purchases, you can own a small fraction of any stock you want, as low as 1$ and you get dividends accordingly.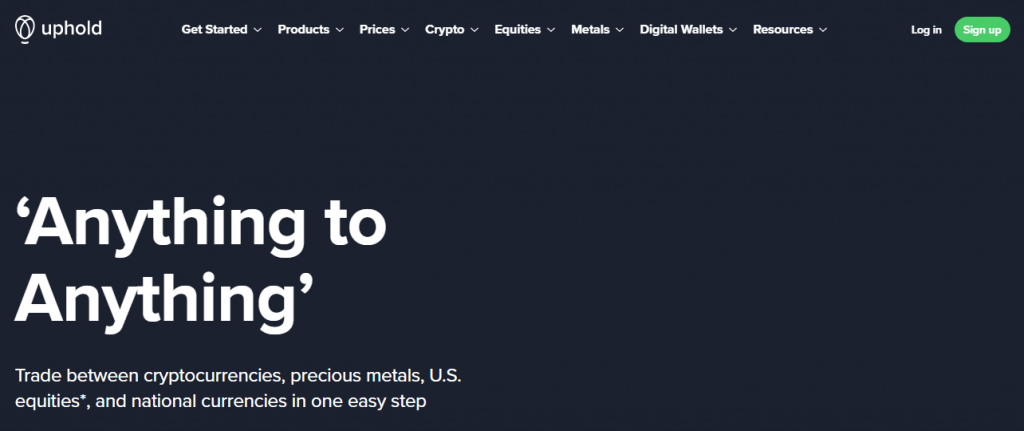 This way, a stock like amazon which is over 3 thousand dollars becomes a lot easier because you can spend 30 dollars to own a fraction of it. You can buy gold, silver and platinum and palladium at Uphold. Coinbase on the other hand is a place where you get to live the full experience of crypto currency trading.
It is by far one of the best crypto trading platforms in the entire world. If your aim is to strictly stick to crypto, then Coinbase is a much better and much known option. A bigger company in a single investment versus a smaller company in a multiple investment option is the choice you have to make before you can pick between Uphold vs Coinbase.
Background
---
Uphold started its journey with the name Bitreserve, changing its name to Uphold in 2015. It was built in 2013 by Halsey Minor. One of the biggest acquisitions they had was getting CIO of Nike Anthony Watson to become their CEO. With their headquarters stationed in South Carolina, they also have offices in New York, London, California, Shanghai and Portugal.
They have cancelled fixed fee rates since 2015 and only charge a spread depending on the market since that date. Coinbase was founded by Brain Armstrong, who got a 150 thousand dollars investment from Y Combinator for his startup to build Coinbase. Fred Ersham became co-founder of Coinbase after he retired from his position as a Goldman Sachs trader.
Coinbase raised over 100 million dollars in investment from multiple sources. Since 2018 they require people to share their National ID in any form in order to be able to trade there. Which means every trade is notified to the IRS. This allowed them to open the door for a much larger legal standing that led to them being listed on Nasdaq today.
Trading Experience
---
Uphold offers an easier trading experience, few clicks and you are done, easy does it. All in all it is a perfect getaway for a new crypto currency investor to start with. Considering how many things they offer, it is definitely a great way to start any investment.
The ease of use is uncanny in any other place I had the privilege of working with. However Coinbase offers much more comprehensive trading experience when it comes to crypto currencies. From charts to candles to technical analysis to all the features during trading such as stop loss. It is one of the best crypto trading experiences a well versed trader could use.

Available Assets
---
While Uphold has a lesser number of cryptocurrencies with around 50 coins available to trade, it also has a lot more to offer. You can purchase almost any stock and as we mentioned the fractions of it if you can't buy one whole. For a crypto currency investor, 50 digital ssets is usually not good enough. If you are a trader then it might be enough for you, depending on what coin you want to trade.
Rarely do people trade based on exchange, it is usually based on coin. Coin you want to trade could be on uphold, or it could be on Coinbase, or it could be on both of them or even neither of them. However an investor usually prefers a larger variety to keep a diversified portfolio. Which means if you want to invest into not just crypto but to other stuff, then Uphold is fine. It is also fine if you are a trader and the coin you are looking for is there.
However if you are a long term investor and only care about crypto investments, Uphold could be a bit limited. Coinbase on the other hand offers as much as 100 digital currencies right now. This should be enough for most people. As long as you do not have exquisite taste in small cap gem chases, 100 coins should be more than enough for many major portfolios.
Make sure to check comparisons we made between some of the most known exchanges:
Leverage & Margin Trading
---
While both sides have offered both leverage and margin trading in the past, right now it is not their main focus unfortunately. Coinbase offers detailed tastes to their coinbase pro users while Uphold doesn't support margin trading while only offering leverage to select users like coinbase. Neither seem to be cared or loved for their leverage or margin trading.
There are exchanges that connect you to banks like uphold and Coinbase while there are coins which are mostly between cryptos like Binance. Most leverages and margin trading do not happen in exchanges that you connect with your bank. There are exceptions of course.
Trading Fees
---
In Uphold spread for BTC and ETH duo could be as high as %1.8 per transaction while being as low as %0.8 depending on where you live and the current market situation. For US and EU based customers it is lower. For other currencies that have much lower liquidity the spread could be even larger. This is the main income for uphold, it comes from the spread but it is also not automatically a loss for the trader either.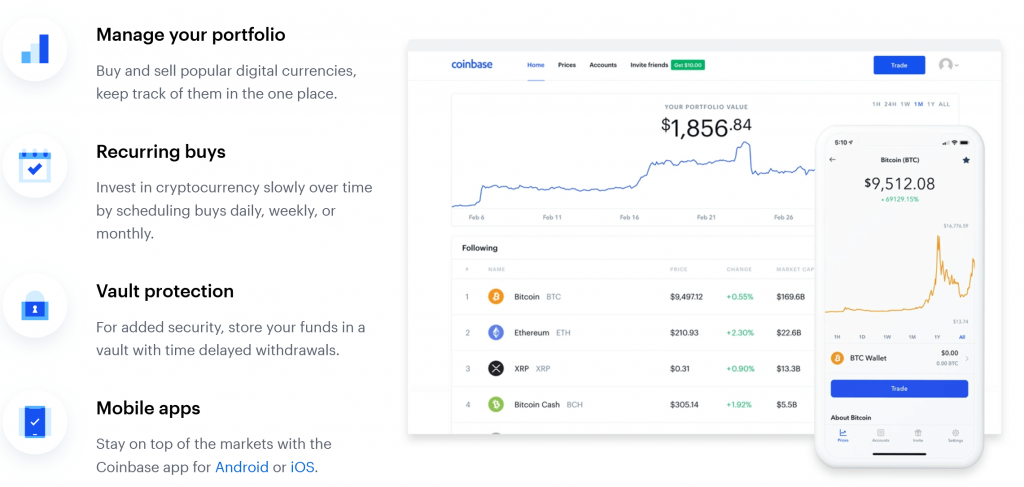 They also have other assets such as precious metals with %3 and fiat currencies with %0.2 spread as well. Coinbase on the other hand has a fixed rate for trading. Their maker and taker fee's start with %0.50 and go lower the more you trade. It has a very low %0.04 for taker and free for maker at the lowest point but that requires 1+ billion dollars.
Deposits & Withdrawals
---
Uphold offers 5 different deposit offers for fiat. Debit/Credit cards, US/ACH bank transfers, US wire transfers, SEPA for europeans and UK bank transfers. All the other cryptocurrencies that you would like to deposit are unlimited and with a very low minimum amount required as well.
Coinbase offers a few extra options with Paypal and apple pay however for the rest of the deposits it is nearly the same. Withdrawals for the both sides are around the same as well with exception of uphold having lower max withdrawal amount compared to Coinbase pro high level customers.
Security and Trustworthiness
---
Both parties are companies registered in the USA. They are both filing their reports and data to necessary places in order to apply with the laws they are responsible for. Coinbase even got into Nasdaq as we mentioned earlier. Which means there is rarely ever any reason to suspect foul play from neither of them. Obviously there are individual cases where customers complain about certain situations they face.
Sometimes some customers face account problems that are financial in nature, and in those cases you could see complaints online. However legally they are both legit companies with high trust ratings. In any other case, if you ever feel like you were wronged, they are not hiding, you can always sue them for any wrongdoing if you feel you are right.
Having that option instead of thinking "my money is %100 gone" in the crypto world is a privilege. Normally in the crypto world, if you lose your money, then it is fully gone, but not with these two, there are legal actions you can take.
Insurance Funds
---
For Uphold crypto currencies are not insured. They are however locked in a cold storage by a %90 rate (the other %10 being liquidity for hot wallet). Which means that in any situation even if every single coin were to be withdrawn, Uphold always has at least %90 ready to cash out in an instant with a cold wallet going into a hot wallet.
Their USD stable currency however is insured, it is not USD but a stablecoin, yet they still insure the dollars investors deposit into their bank account, meaning whatever you deposit is insured hence what you are given on the website is insured. Coinbase does the same fiat deposited into bank insurance. However the difference is that FDIC insured bank accounts are not used by Coinbase itself. It is simply deposited into or withdrawn from without Coinbase ever touching a single dollar in them. Which adds in another layer of insurance for Coinbase.
KYC Conditions
---
Uphold asks for your current residential address, your national ID and a live selfie. Which are usually the typical things asked in a KYC aside from maybe the address. National ID could be a passport or driver's license if you do not have a general national ID card from your government. Coinbase asks only for the national ID and a live selfie without any address requirements. Both places emphasize the need to take the photo and send it, instead of actually scanning the documents or pictures.
Mobile Apps
---
Uphold has around 17 thousand downloads on google play with 3.5 stars given, while Coinbase has over half a million downloads and still stands with 4.5 stars. Obviously the numbers are skewed because Coinbase is more popular however the ratings that they got is not relevant to the number of users they have.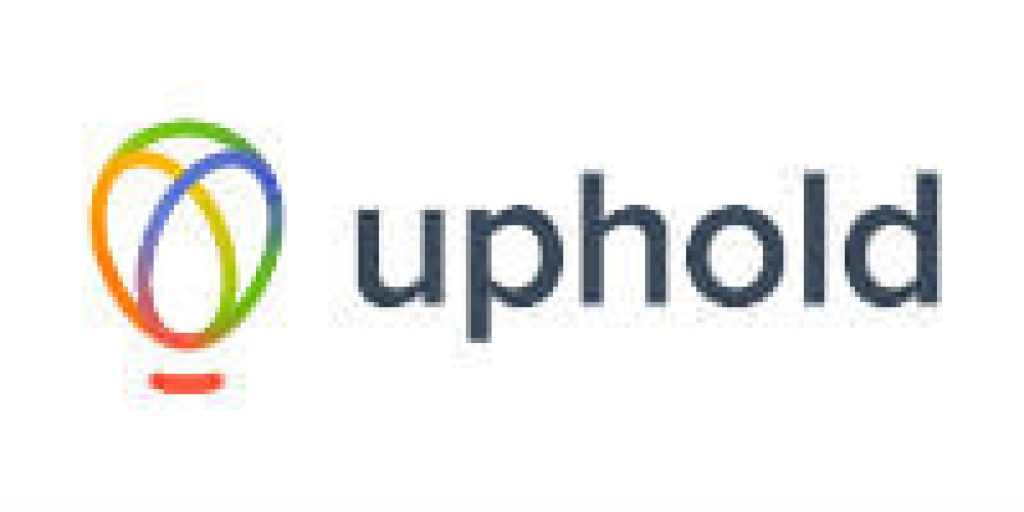 If anything, having more customers could have been an excuse for subpar performance both technologically and on not enough staff helping enough people. However Coinbase turned it into their benefit to show how many people are happy to use their mobile app.
Debit Cards
---
With 50 different crypto currencies, 25+ different fiat currencies from all over the world and even 4 precious metals, the Uphold Debit card definitely offers the most variety of options.As we have mentioned before, their debit card is for people who would like to invest into variety of things and not only crypto.
You could have only gold in your account and whenever you buy a coffee with your Uphold Debit card the amount will be turned from gold into fiat to pay for that coffee. Coinbase Debit Card is of course a great product, yet it only aims at the crypto investors. Which is not a bad thing of course, for any crypto investor Coinbase Card offers an amazing experience as well. That is of course if you are only interested in crypto and no other asset.
Special Features
---
As we have mentioned many times in this article before, the most special feature Uphold has is the ability to buy many coins, many fiat currencies, 4 precious metals and countless stocks. There are not that many places where you can buy all of them in one place. Which makes Uphold unique in what it does.
Coinbase on the other hand offers Coinbase pro, a special place for people who are long time investors/traders that does more work than just hobbyists. It offers better rates, better TA options and better customer care at the same time. Not everyone can become a pro, but when you do, it becomes much more complex and at the same time helpful.
Native Tokens
---
Uphold does not have a native token for investment purposes. However they do have two tokens for environmental reasons. UPCO2 and BTC0 are two tokens which are carbon credit tokens. Consider them as stable coins for Verified Carbon United certificate, which means it is environmentally helpful and also potential to be profitable as well.
Coinbase has no native token for investment either. However USDC which is a stablecoin for USD is a Coinbase product people can use while trading. USDT and BUSD are also available as well.
Customer Support and Education
---
Uphold offers Legal documents and information for people who may need it. They have a blog to talk about both new things in the crypto world as they unravel and older things that new customers may want to read about. They also have Cryptionary which is a dictionary for crypto related terms for those who want to learn more about Crypto language. Coinbase is revolutionary when it comes to education.
They have coinbase earn which is/was (adds new things, removes older things) where you learn more about some stuff and earn from it. They also have guides/tutorials as well which people could read to learn things everyday.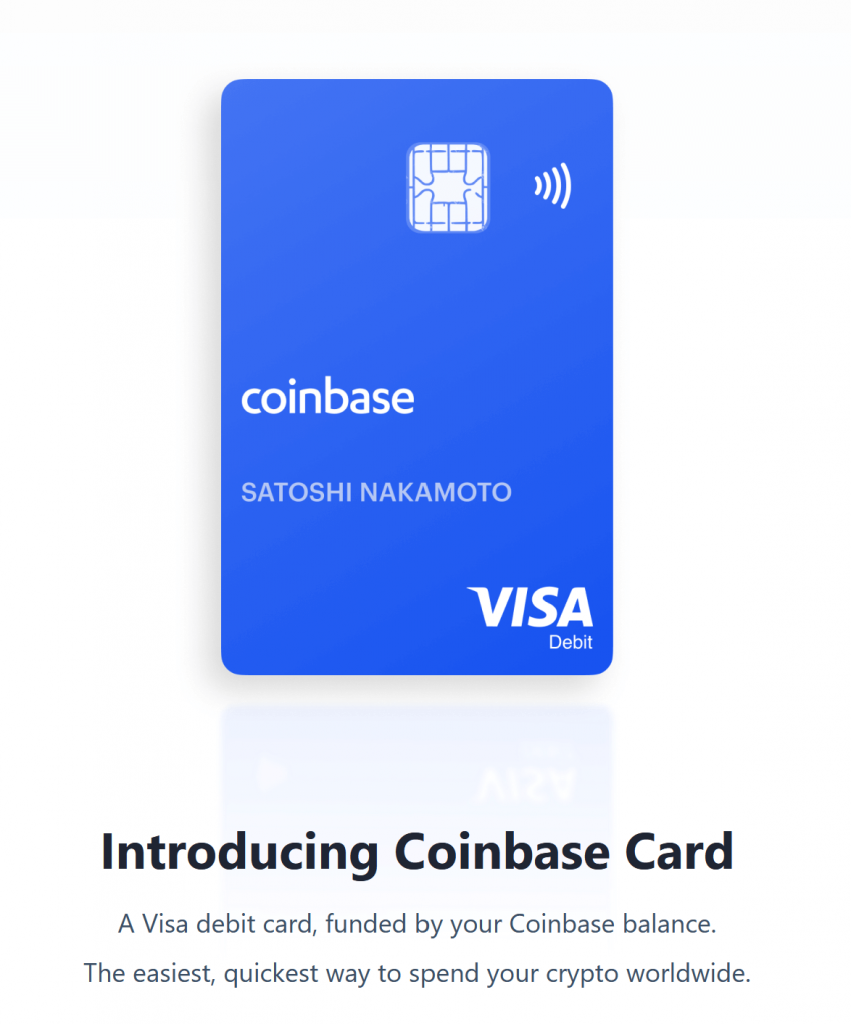 Visit Uphold Now Visit Coinbase Now
FAQs
---
Do Uphold and Coinbase Report to the IRS?
---
Both Uphold and Coinbase have a legal requirement to get your legal ID and share it with the IRS. For US citizens that is usually a Social Security Number. This way you do not have to do anything to report your income or losses because every single trade or move you do in both these exchanges are already automatically shared with the IRS.
Who Should Use Uphold vs. Coinbase?
---
People who like to diversify their portfolio with things other than crypto but still want to invest into crypto as well goes with Uphold. However people who are more interested and use crypto more in depth end up going with Coinbase. Obviously you can be a pure crypto investor and go with Uphold as well as use Coinbase for your crypto while investing into other stuff in another place as well.
Are there any fees on Uphold debit cards?
---
Uphold charges an issuance fee of $9.95 and $2.50 per withdrawal. Aside from that they have zero charge for domestic purchases used with their debit card, plus they even have a %1 fiat, %2 crypto cash back reward system as well.
Coinbase on the other hand charges a %2.49 flat rate on each purchase using Coinbase card, which is a staggering amount the longer you use it. There is a loophole in using USDC. It is free of charge for any purchases made with a coinbase card using USDC.
How do I get my money back from uphold?
---
You can withdraw to your bank account directly for fiat currencies after a 72 hour holding period. Or you can withdraw crypto currencies on 7 different networks as soon as its credited into your account. There are no requirements for either of them, as soon as you are able to, you can make the withdrawal without a problem.
Is Uphold better than Coinbase?
---
Uphold is certainly better for people who would like to invest into multiple assets and not only on crypto currencies. However if you are only interested in crypto currency investment then it becomes a personal preference. Both places are legit in their own regard and are respected in the field.

CaptainAltcoin's writers and guest post authors may or may not have a vested interest in any of the mentioned projects and businesses. None of the content on CaptainAltcoin is investment advice nor is it a replacement for advice from a certified financial planner. The views expressed in this article are those of the author and do not necessarily reflect the official policy or position of CaptainAltcoin.com