This is a two-faced article, where the first part takes a deep look at what is the project and who is behind it. Second part is our Matic price prediction 2020 and beyond.
Matic Network strives to solve the notorious scalability and usability issues of Ethereum blockchain and blockchains in general, while not compromising on other important concepts like decentralization.
Matic is an ​off/side chain scaling solution for existing platforms to provide scalability and superior user experience to DApps/user functionalities.
One of the key pillars of Matic Network's ideology is user experience which is very poor for Blockchain applications as of now. Matic Team has already built high quality user experience Mobile/Web browser libraries which will enable businesses to create real world end user applications at large scales.
Binance Launchpad, newly launched platform for initial exchange offerings by one of the world's leading cryptocurrency exchanges Binance, has been a big success so far. Three projects – BitTorrent, Fetch.AI, and Celer Network – have launched their IEOs on Binance's platform with all of them hitting their nominal hardcaps within minutes.
Now the cryptocurrency exchange is preparing its fourth token sale: Matic Network IEO.
Matic network is an adapted implementation of the Plasma framework for Ethereum to start with, but the "vision" of the Matic development team is to provide off/side chain scaling solutions for blockchains in general.
Matic foundation intends to provide Matic wallet, payment APIs & SDKs, products, identity solutions and other enabling solutions that will allow developers to design, implement and migrate DApps built on base platforms like Ethereum.
The current working Testnet and alpha-Mainnet of the Matic Network works with Ethereum as a mainchain.
Matic is planning to conclude its fundraising rounds which included a Seed Sale round of $165K and an Early Supporter Sale of $450 K with a Public Sale (via Binance Launchpad on April 24th) of $5 M which will account for 19% of the total tokens allocation.
Matic Network Key Features
Matic Network aims to bring massive scale to Ethereum using PoS side chains by utilizing a brainchild of Vitalik Buterin (co-founder of Ethereum) and Joseph Poon (a co-author of Bitcoin's Lightning Network whitepaper),which was published on August 11, 2017.
The core design of Plasma contains a series of contracts that run on top of some public root chains (e.g. Ethereum, Bitcoin, etc.) which contain a network of "child chains" (also known as side chains). Those chains are connected to the root chain in a tree-like structure. Each "child chain" handles its blockchain with its consensus mechanism, block validators and it can create more "child chains" of his own.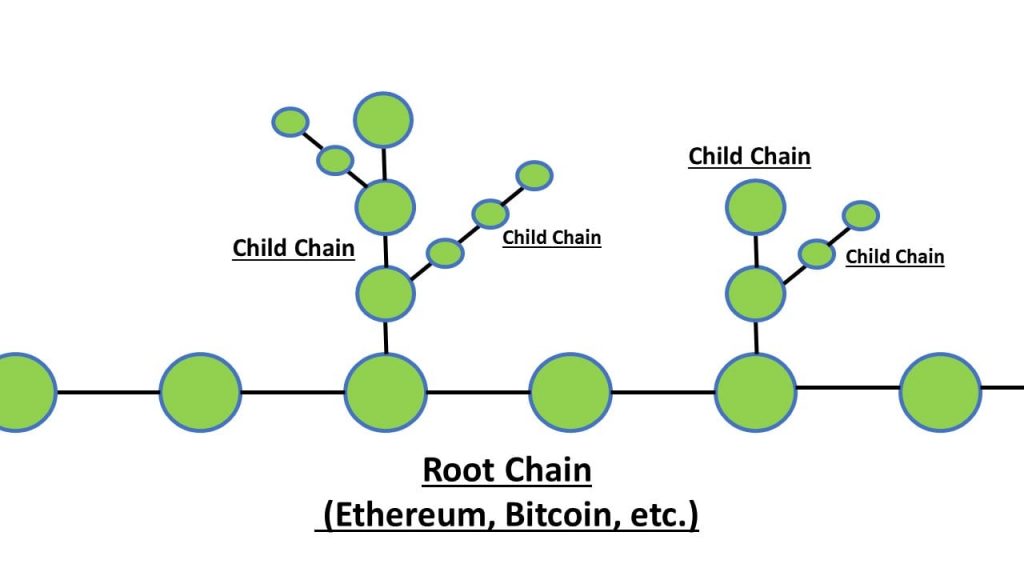 According to their whitepaper, key things Matic wants to do:
Solve scalability by providing Layer 2 solutions
Application platform for DApp developers on Matic (developer experience like Stripe for DApps)
Provide assets interoperability via DEXs
Better UX/UI for mass adoption while having better security and scalability
One novel feature Matic has introduced is Zapier integration through Dagger. This allows developers to connect Ethereum platforms with hundreds of applications and is expected to help boost user and developer adoption. Zapier allows you to connect the apps you use everyday to automate your work and be more productive and they support 1000+ apps.


How does Matic Network work?
User flow for crypto assets on Matic goes like this
User deposits crypto assets in Matic contract on the mainchain (currently implemented with Ethereum blockchain only)
Once deposited, tokens get confirmed on the mainchain, the corresponding tokens will get reflected on the Matic chain.
The user can now transfer tokens to anyone they want instantly with negligible fees. Matic chain has faster blocks (approximately 1 second or less). That way, the transfer will be done almost instantly.
Once a user is ready, they can withdraw remaining tokens from the mainchain by establishing proof of remaining tokens on Root contract (contract deployed on Ethereum chain).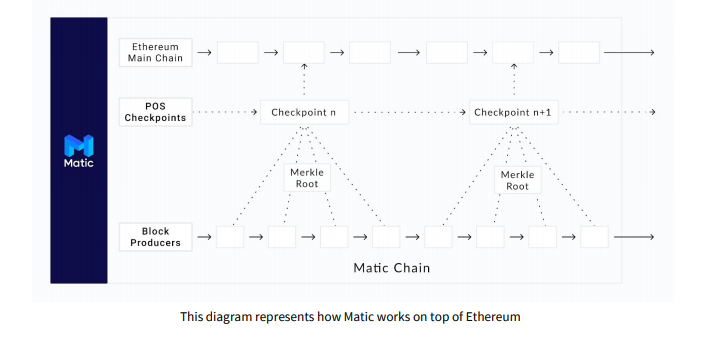 Consensus and security
To provide some context, Matic ecosystem will have the following actors:
End Users
DApp developers : Developers will be the businesses who would be using Matic to scale their applications and provide a better UI/UX to their end users
Stakers : The stakers will play a very important role in the Matic Network. These stakers validate the transactions and propose checkpoints on the mainchain using PoS consensus mechanism with 2⁄3 majority. They also choose Delegates amongst themselves who satisfy a certain criteria to act as block producers.
Delegates : These are block producers chosen by Stakers who enable faster blockchain generation times. They also have to provide a large stake as well as go satisfy various criteria such as KYC to be nominated as delegates.
Matic uses a dual strategy of Proof of Stake at the Checkpointing layer and Delegates at the Block Producer layer to achieve the faster blocktimes while ensuring ​high degree of decentralization by achieving finality on the main chains using checkpoints and fraud proofs.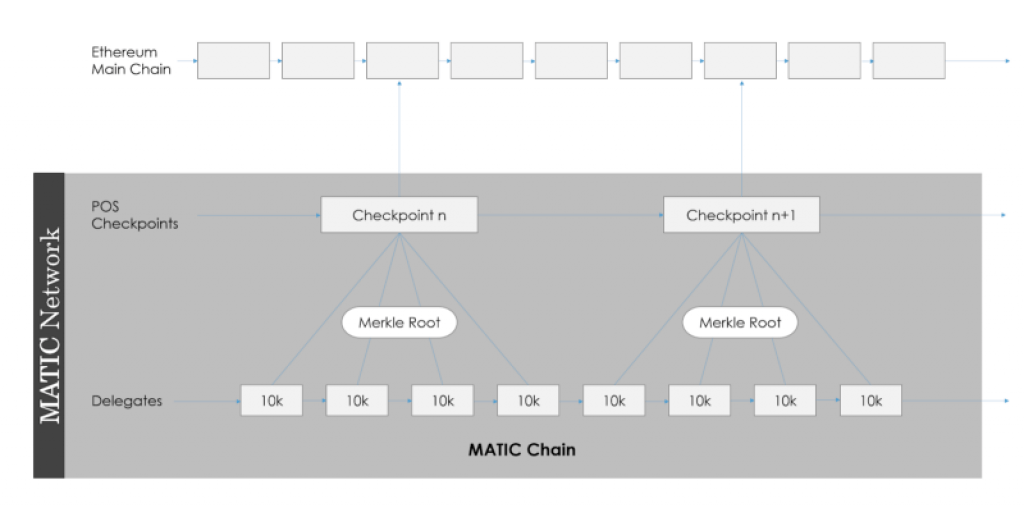 Fraud proof is a mechanism that enables any individual on the mainchain to submit the details of the transactions which he/she thinks is fraudulent. If the challenge is successful, the stakes of the parties involved in the fraud are slashed and the challenger receives the slashed funds as an incentive to detect the fraud.
Use Cases
There are various use cases where Matic Network makes sense, such as:
Payments: Matic will provide an interface for users and payment APIs and SDKs for DApps, merchant, and users to instantly accept or pay in crypto assets (e.g., ERC20 tokens, Ethers).
Atomic swaps: Matic smart contracts will allow users to pay with any crypto token they prefer and receiver will receive payment in assets they prefer.
Liquidity providers: The network will exchange any tokens to targeted tokens by leveraging 0x liquidity pool or other liquidity providers while transferring crypto assets.
Decentralized Exchange (DEX): Matic has all characteristics which an exchange platform should have — faster and cheaper trades.
Lending platform: The Matic Network will enable a platform for merchants to assess the creditworthiness of connected users via their transaction history.
Games: In-game assets represented as NFTs (ERC721) are expected to be bought, sold and traded in huge numbers on our sidechains. Developers will also be able to save game state on the sidechains, if they choose to.
Matic Wallet
There will be a Plasma wallet mobile app integrated with WalletConnect, to ensure secure storage of keys, intuitive access to the features provided by the Matic Network. Users can interact with DApps on browsers and in the future many more devices, while still keeping their keys secure in their mobile wallet.
Roadmap
Below are some of the most important milestones laid out per quarter:
Q2 2019
Mainnet Release in Alpha Stage
Development of Plasma cross asset swaps between different ERC standards
Deposits / Withdrawals of Ethereum based assets using plasma
Onboarding PoS validators
Release of Matic Wallet and the WalletConnect integration
Q3 2019
Mainnet Beta release of Network
Asset swap support on the Mainnet
Plasma Watcher nodes
Fast exits plasma implementation released on Testnet
Smart contract support with PoS guarantees
Q4 2019 2020
Complete release of Matic Network Mainnet
Transaction relay pool to allow easy asset movement from Ethereum to Matic
Plasma fast exits moved onto mainnet
Smart contract support with Plasma Guarantees
Matic ICO
After bad feedback it got from its users who tried to participate in its first 3 token sales, Binance has put in place a new lottery model for the Matic Network token sale.
For the Matic Network token sale, Binance will select 16,666 winning lottery tickets to choose eligible participants. In order to obtain a lottery ticket, you have to hold at least 50 Binance Coin on Binance starting with April 5, 0:00 a.m. (UTC) until the token sale.
If you hold larger amounts of BNB, you can get more lottery tickets to improve the chances of your ticket being selected. The maximum amount of tickets a user can get is 5, if they hold 500 BNB or more.
Team


Partnerships
Many existing projects have already started to integrate Matic network solutions in their infrastructure such as Decentraland, Maker, Quarkchain, Ankr Network and many more. Those partnerships can be very valuable in terms of mass adoption of the new technology.
Matic price prediction
This project had a lot of hype and big-ish names pushing it on social media. However, that buzz has since tapered off and Matic doesn't seem to be producing any significant attention from crypto investors.
However, considering that this year could be the year when bitcoin returns to the mainstream media spotlight, Matic and other altcoins could indirectly profit from this as their USD value will probably grow, unlike their BTC value that will fall down (there is hardly any altcoins that will outperform bitcoin in 2020). Hence, our Matic coin price prediction is quite positive for 2020, it could at least double its value from the end 2019.
Below are market algorithms predictions for Matic for 2020 and beyond.
1. Wallet Investor Matic Price Prediction for 2020-2025
WalletInvestor sees MATIC to be an outstanding long-term (1-year) investment. Matic Network price can go up from 0.0156 USD to 0.0236 USD in one year. The long-term earning potential is +51.05% in one year. Matic Network (MATIC) future price will be 0.0572 USD.
2. Trading Beasts Price Prediction for Matic Cryptocurrency in 2020-2022
Matic Network price is forecasted to reach $0.0199250 by the beginning of January 2021. The expected maximum price is $0.0250926, the minimum price $0.0170630. Matic Network price prediction for the end of the month is $0.0200741. Matic Network price is forecasted to reach $0.0213544 by the beginning of June 2020. The expected maximum price is $0.0273415, a minimum price $0.0185922. Matic Network price prediction for the end of the month is $0.0218732.
In December 2020, the price of one coin will be $0.0220945. In 2021, one Matic coin will be around $0.0295049.
Conclusion
Even though ICO model of raising funds for crypto projects sounds all imaginable scam alarms, Binance's Launchpad has restored a bit legitimacy to it. Thanks to the good reputation of Binance company, Launchpad projects seem to be welcomed with more warmth than other token sales.
Matic Network looks very good, not only on paper, but also on Ethereum Ropsten testnet. The team has already delivered a product which could be a painfully needed solution for the most aching problem all blockchains (decentralized ones, at least) have: scalability. It is now an arms race between them and other numerous teams that work on scaling solutions for ethereum, and by extension all other blockchains.

CaptainAltcoin's writers and guest post authors may or may not have a vested interest in any of the mentioned projects and businesses. None of the content on CaptainAltcoin is investment advice nor is it a replacement for advice from a certified financial planner. The views expressed in this article are those of the author and do not necessarily reflect the official policy or position of CaptainAltcoin.com