Bitpay Card Review – Fees, Accepted Countries, Features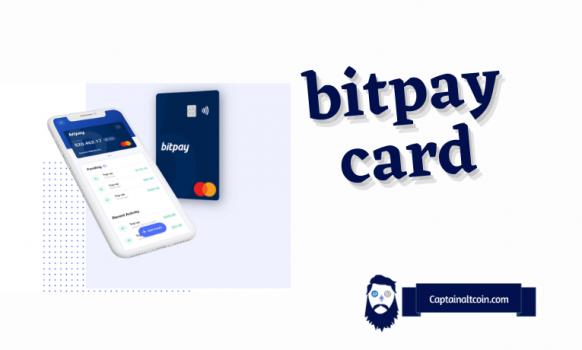 Bitpay Card Review – Fees, Accepted Countries, Features
Competitive fees
High spending limits
Following the footsteps of other industry giants, like Coinbase and Binance, Bitpay introduced their own cryptocurrency card as well.
These cards have recently seen a large boom, being created by a range of different companies and exchanges.
BitPay is the leading company in bitcoin payments, building tools for spending, accepting, and building with Bitcoin. Accepting bitcoin payments is free, and it lets you offer your customers a broader range of payment options. When you use BitPay to accept bitcoin payments, you don't have to worry about security, fraud, or chargebacks as all of it is handled by BitPay.
The platform partnered with Metropolitan Commercial Bank.
The Bitpay card acts as a day-to-day crypto debit card. The card can be used to spend money anywhere where a VISA card is accepted, even those places that are accepting only fiat currency, using Bitcoin as a payment method. The card works by paying the vendor in the native fiat currency, but charging you in Bitcoin. The whole background conversion process is done on Bitpay servers and using their infrastructure.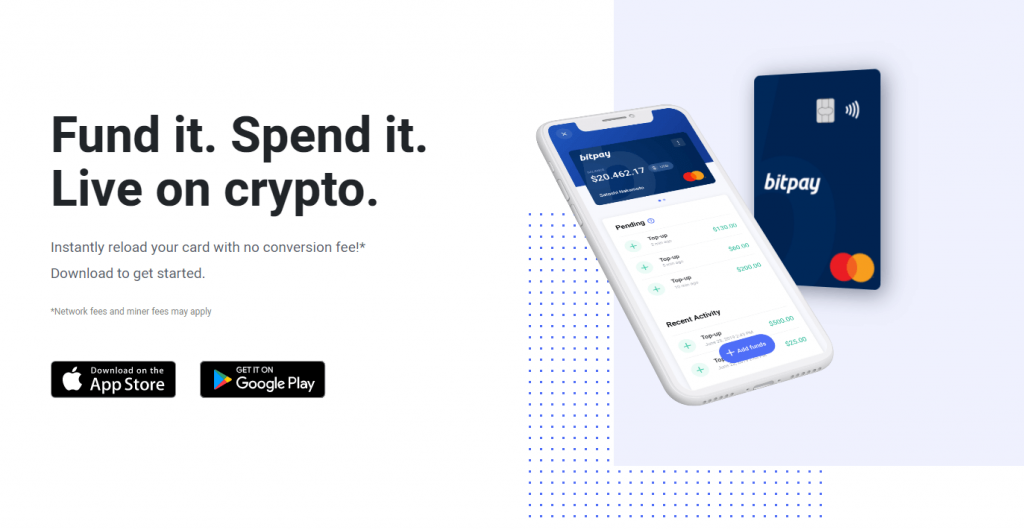 Benefits & Rewards
---
One benefit of the BitPay card is when you load cryptocurrency on to your card, you are able to do so without any fees or additional charges. This is done through the BitPay app. The BitPay app is also a very handy tool for controlling everything around the card as you can easily lock your card, view your balance and more, all from within the app dashboard.
Another benefit is the usability of the card. Not only can you use the card at ATMs and in stores, it also features contactless payment.
BitPay Card Fees and Limits
---
Fees
---
The first notable fee incurred when using the card is the issuance fee. When you are sent the BitPay card for the first time or a replacement card, you will need to pay a $10 issuance fee. This is more than most cards but is overall a small expense.
You will also be charged a minor $2 fee when you withdraw money from an ATM using the card. When spending outside of the USA, you will be charged a 3% currency conversion fee.
Loading cryptocurrency onto your card is fee and done through the BitPay app.
Limits
---
There are a few BitPay withdrawal limits you should be aware about with the BitPay card. They have an ATM withdrawal limit of $2,000, with a maximum of 3 ATM withdrawals per day.
Both the load and spending limits are set at $10,000. Both of these restrictions are on the higher end compared with other cryptocurrency card providers. It should be noted that you can have a maximum of $25,000 on the card which is also fairly high amount comparatively.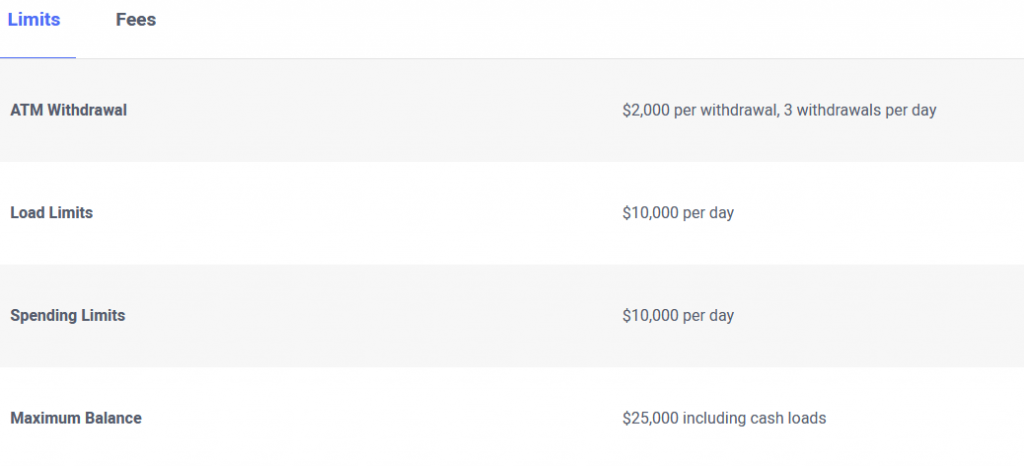 There is a $5 inactivity fee, charged per month after 90 days with no transactions.
How to Get the BitPay Card
---
In order to get the new Bitpay card, you will need to order it through the BitPay app. Making sure your app is fully updated, before you click on the prepaid card icon within the app and start the prepaid debit card ordering process.
Due to the BitPay card being subject to USA banking laws and regulations, you will need to provide extensive information in order to receive the card, just as you would with a normal debit card.
Once the card is available you will have to pay the $10 issuance fee to BitPay in order to receive the card, and then you can start spending!


Card Activation
---
To activate your BitPay card once it arrives, simply select the card section on the app, you should then see an icon in the top right of the screen that reads "activate".
Next, you will need to enter some information about the card you have received in order to verify your card. Lastly, you will need to create a pin code for your card.
How do I put money on my Bitpay card?
---
You load the card with cryptocurrency through the BitPay app. Once you click the icon to load crypto and enter the amount you want to transfer to BitPay, you will be provided with an invoice.
What cryptocurrencies can I use with the Bitpay crypto debit card?
---
The BitPay wallet supports a narrow range of only the most popular cryptocurrencies including Bitcoin, Bitcoin Cash, Ethereum and Ripple. They also feature an array of stable coins, including USDC and Pax, which is a great way to reduce the worry about crypto price volatility.
Withdrawing Crypto Assets and Fiat Currency
---
You can withdraw money from your card through their app. You first transfer money to the BitPay wallet and then to your own crypto wallet or exchange account.
If you are looking to withdraw physical cash, you can do that in the amount of up to $6000 a day on any ATM.
Is the BitPay Card safe?
---
Yes, not only is BitPay a US registered business that must adhere to numerous legislations and safety measures, but their card also features numerous technological security features like an EMV chip for contactless payments.
The card works at most places but there are some places that don't accept prepaid cards, which is what the Bitpay card is.
Does the BitPay Card have a mobile app?
---
Yes, in order to acquire the BitPay card, you need to order it through the BitPay app. The app is all you need to order the card. You can also use the app as a cryptocurrency wallet, using it to spend your coins and send money to your friends.
BitPay Card Alternatives
---
Coinbase Card
---
⚡️ The first and most commonly known alternative to the BitPay card is the Coinbase card. Coinbase is a massive multinational cryptocurrency exchange that has recently released a crypto debit card, similar to that of BitPay. The card features a smaller issuance fee of $4.95 and lets you spend your money through a range of different cryptocurrencies, ranging from Stellar to Ethereum. Coinbase card has overly high fees, with regular transactions having a minimum fee of 2.49%, due to "crypto liquidation".
Binance Card
---
⚡️ Another big exchange that has its own card is Binance. Read more about it here.
Wirex Card
---
⚡️ Wirex is also a long-standing crypto cards provider – read more about it here. Wirex also supports a virtual card.
Crypto.com Card
---
⚡️ Another competitor to the BitPay card would be Crypto.com's array of cryptocurrency debit cards. Ranging from a small, free card for the smaller spenders to enjoy, all the way up to more elite cards, offering a range of advantages and deals, coming in at $1,000s of dollars to use. This extensive range has cemented crypto.com as one of the major debit physical card suppliers available in the crypto space. In order to gain access to their more lucrative cards, you need to stake their token known as the "CRO" token. By staking this you are supporting the organization which they reward with a more beneficial card.
BlockFi Card
---
⚡️ We must also give an honorable mention to the BlockFi card. The BlockFi card is a little bit different to the BitPay card, as instead of it being a debit card, it is a credit card, the first cryptocurrency one on the market! This card features cash back of 1.5%, and no transaction fees.
There is an annual fee of $200 which is definitely appallingly high, but the $250 signup bonus in Bitcoin returns $50 in Bitcoin above the $200 annual fee after spending $3,000 on the card in your first three months.
Conclusion of BitPay Review: Is the BitPay Card Worth It?
---
Judging by the experiences of a vast number of their users – no. BitPay as a company is frowned upon among the diehard cryptocurrency fans ever since the contentious Bitcoin fork in 2017 that gave birth to Bitcoin Cash. The customer support is slow and rarely helpful, policy changes always come unannounced and for the worst from users' point of view, frequent allegations of hidden fees, allegations of fees missing without users spending them etc. All of this led us to conclude that the BitPay card is not worth it.
FAQs
---
PROS
Competitive fees
High spending limits
CONS
prepaid card, not accepted everywhere
bad customer support
allegations of hidden fees

CaptainAltcoin's writers and guest post authors may or may not have a vested interest in any of the mentioned projects and businesses. None of the content on CaptainAltcoin is investment advice nor is it a replacement for advice from a certified financial planner. The views expressed in this article are those of the author and do not necessarily reflect the official policy or position of CaptainAltcoin.com