What is Wirex?
---
Just like any review, this Wirex review will start with an answer to this simple question.
Wirex is a hybrid app that offers seamless support for both traditional, fiat currencies and new-age digital, cryptocurrencies. You get two wallets, one for fiat currency and one for crypto currencies and you use them at will, with no perceived difference when using either of them.
To be more precise, Wirex features 12 different fiat and cryptocurrenciesthat can be used through their Wirex Visa Card. The card from Wirex is featured in our list of top crypto & bitcoin cards for this year.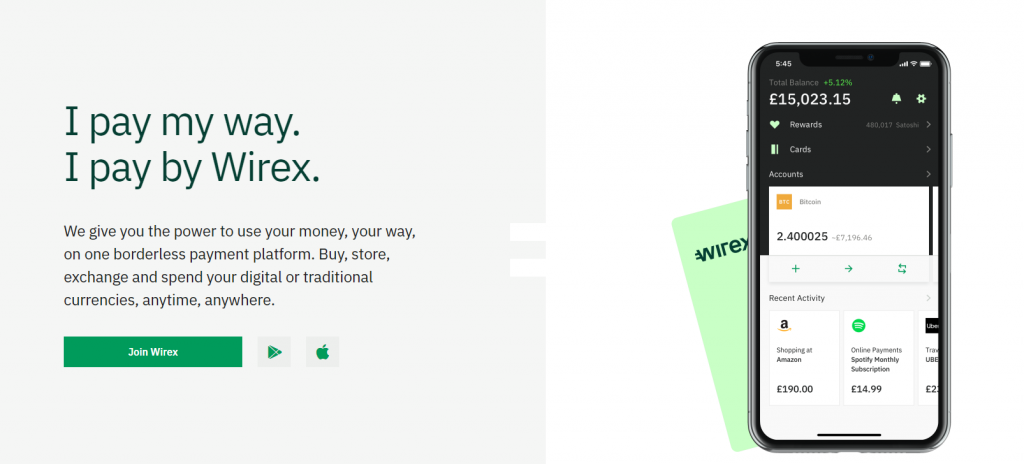 Where is Wirex located?
---
Wirex Limited is the company behind this app and card and its official headquarters are in UK, in London address:
9 Devonshire Square
London
EC2M 4YF
United Kingdom
Company No. 09334596
There are additional offices in Kiev, Ukraine and Tokyo, Japan. It supports around 130 different countries, but not the United States.
Wirex Key Features
---
As we already said, Wirex is multi-purpose app that can be used to purchase crypto assets, to exchange it for other cryptocoins or fiat currencies. It is easy to fund your Wirex account through a bank wire or credit card or by sending crypto assets to crypto wallet address that your Wirex account provides.
Wirex Card Review
---
Wirex advertises its Visa Card as the "next-generation multicurrency travelcard". And it really does have an edge to regular bank cards in the way it handles 12 different currencies by converting them seamlessly at the point of sale, completely hassle-free for the user who notices nothing of the conversion happening in the background.
Let's pause our overall Wirexapp review and focus more on Wirex Visa Card review for a second.
Couple of features worth of highlighting on this Wirex Visa Card:
Connect your card to your Bitcoin, Litecoin, Ethereum, WAVES or XRPwallets and spend in them in everyday life
Instantly convert Bitcoin, Litecoin, Ethereum, WAVES and XRP to GBP, EUR and USD at live rates
Cryptoback™ rewards you with 0.5% in Bitcoin every time you punch in your pin, swipe, or use contactless with your Wirex Visa card in-store
You can have up to 3 Wirex cards, one in each traditional currency. Find out more about how to order your card here, and don't forget to activate it when it arrives.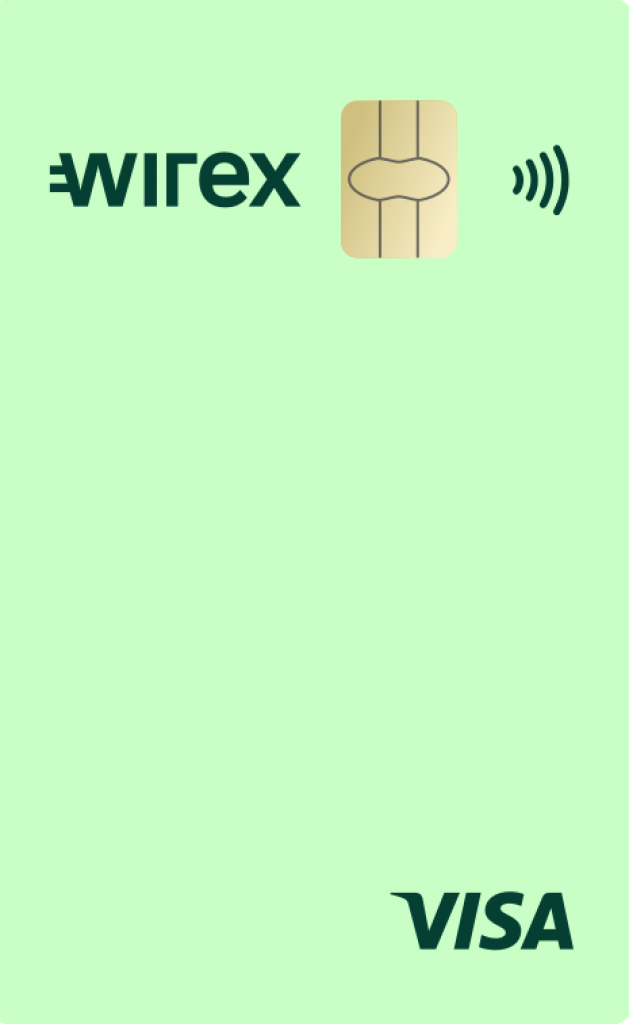 Instant Crypto to Fiat Conversions
---
Wirex does seamless conversion on the point of sale. For example, if you have 0.5 BTC on your Wirex balance and want to pay $100 for something in a store, Wirex app quickly converts BTC to USD at current exchange rate and pays for the item in USD. It all happens in a matter of seconds and you don't wait any longer for the payment to go through than you would with a regular bank card.
Cryptoback Rewards
---
When using the Wirex Visa card, you also get to participate in an exclusive Cryptoback rewards. These are automatically awarded whenever you spend in stores. This program lets you earn 0.5 percent back in Bitcoinwhenever you use your card to pay on transport, bars, restaurants, and shops. All the Bitcoin you earn this way is instantly redeemable, including the ability to spend and/or convert it.
Adding Funds
---
To add funds to your Wirex Visa card, you just load money to your Wirex account. This can be done with any of the available funding options, such as credit or debit cards, depositing cryptocurrency, or a bank transfer (Swift or SEPA), among others.
How to order a Wirex card
---
Order the card in Wirex web application
---
Open the web app and scroll down to "Order cards" on the main dashboard screen.
Select the card type (currency) you want to order.
New window opens and you click on Get the card.
Check and confirm your personal details and the billing address. If you need to change something, click Contact Support.
Click on Place order. You will see the success notification.
How to order a card in Wirex iOS and Android application
---
On the main dashboard screen, tap Choose a card. You can also do this by swiping through the list of your current cards/wallets > get to and tap the Add new icon.
Select the currency in which you want the card to be > tap Next.
On the Card order screen, review your delivery address. If you want to change it, contact the customer support.
Tap Order card to confirm your order. You will see the success notification.
Note: Usually, it takes about 4 days to deliver a plastic card. When you receive it, you'll need to activate it.
Now, we go back to our original track and continue our Wirex review by talking about their native token, security, exchange fees, limits and other important quirks.
Wirex Token (WXT)
---
The Wirex Token (WXT) is the Stellar-based native cryptocurrency on the Wirex platform.
Wirex conducted an IEO – initial exchange offering in summer of 2019. and all WXT bought during the pre-sale period are frozen, and cannot be sold until 6 months after purchase.
You can buy WXT tokens if you have a Wirex verified account, just like any other coin Wirex supports.
Benefits of owning WXT
---
Wirex applies similar model to Binance and other exchanges that have their own native digital currency by offering discounts on fees and increasing reward amounts that users get, proportional to the amount of tokens they hold.
| | | |
| --- | --- | --- |
| Amount of WXT bought | Discount | Enhanced Cryptoback™ |
| 500 000 WXT | 100% | 1.50% |
| 100 000 WXT | 50% | 1.00% |
| 50 000 WXT | 25% | 0.75% |
Wirex Cryptoback Rewards, paid in BTC
---
Wirex entices users to utilize their card by offering this program where you earn crypto rewards on all in-store purchases. You can get up to 1.5% back in BTC every time you use your Wirex Visa card in shops, restaurants, on transport and more. There are no limits to how much rewards you can be paid back – the more you spend, the more rewards you earn.
Wirex Cryptocurrency Wallets
---
Wirex supported cryptocurrencies include BTC, LTC, ETH, XRP, WXT and WAVES.

Wirex Fiat Wallets
---
Supported fiat currencies include GBP, EUR, and USD. You can do conversion between fiat and crypto through the web or mobile app, very easy and with low fees.
Difference Between the Crypto and Fiat Wallets
---
When you decide to go with a cryptocurrency wallet from Wirex, you can instantly exchange cryptocurrencies with traditional currencies using current rates. The wallet is easily funded with a bank transfer or a credit or debit card. To spend the cryptocurrency, connect your wallets to the Wirex Visa card.
If you go with a traditional currency wallet, you can order a card in GBP, EUR, or USD. Unlike the competition, Wirex does not charge commissions or fees for conversions for this is great for people who frequently travel and convert from one to other currency (and hence lose a lot on fees and middlemen commissions).
Wirex Fees
---
Wirex prides itself with its transparency and comparatively low fees. Actually, you don't pay commissions or transactional fees. Instead, you just pay the price you see for every type of exchange.
None of other Wirex feautes and services charge fees either – it is free to use the mobile application, multi-sig wallet, e-money account, security features like 2-factor authentication, card issuance, card delivery, or cryptocurrency AML.
You do pay, however, a small fee for card management: £1.00/€1.20/$1.50 each month. And also you pay a fee for using ATMs, which is common for similar services. Within Europe, the fee is £1.75/€2.25/$2.50 or it is £2.25/€2.75/$3.50 outside of Europe.
Below is a full tabular overview of Wirex fees:
Account and Wirex card charges
---
Mobile app
Free
Multi-sig wallet
Free
E-Money account
Free
Security features (2FA)
Free
Card issuance
Free
Card delivery
Free
Cryptocurrency AML
Free
Card management
£1.00 / €1.20 / $1.50
per month
Top-Up charges
---
| | |
| --- | --- |
| Bank transfer | Free |
| Credit/Debit card | Free |
| Cryptocurrency | Free |
Transaction charges
---
| | |
| --- | --- |
| Cryptocurrency exchange | Free |
| FIAT exchange | Free |
| Wirex cryptocurrency transfers | Free |
| Wirex FIAT transfers | Free |
| Online card purchase (ePOS) | Free |
| In-store card purchase (POS) | Free |
| ATM (in Europe) | £1.75 / €2.25 / $2.50 |
| ATM (outside Europe) | £2.25 / €2.75 / $3.50 |
| Cashback in-store | Free |
How to use Wirex?
---
Wirex is very simple to use. In a super concise rundown: you sign up for an account, confirm and verify it; order the card. Then you load the funds to the account and start using the card once you activate it.
Below is a more detailed overview of the steps:
Register your Wirex account.
To get the best Wirex can offer, create your personal crypto account and order a debit card.
To use Wirex, you'll need to go through KYC and verify your identity.
Start using your account. Add some funds to your Wirex wallet/account.
Either send some crypto to your Wirex account or add fiat money via CC, bank wire.
Order your first Wirex card.
To order a card, pick the card you want, fill in personal information and wait for your order to be processed.
Add some funds to your card.
Load some crypto onto your card (instantly converting it into the currency of the card). Read these articles on how to add funds to your new Wirex card.
How to exchange currencies with Wirex account?
---
Wirex comes with an "Exchange currencies" feature that allows you to purchase or sell supported cryptocurrency, make conversions of your traditional money to crypto or back, as well as to top up your Wirex cards.
Below are the steps to exchange currencies in your Wirex account:
Log in to your account, choose the account you want to exchange from, and then click Exchange on the left-hand side. If you are using a mobile version, select the desired account and tap the Exchange icon on the dashboard.
In Exchange from, select the source account (a crypto or a traditional account).
In To, select a target account (a crypto or a traditional currency account).
Enter the sum either in crypto or the card's currency. Click Use maximum amount (Max in mobile) to calculate the maximum sum available for the transaction.
Click Exchange, review your transaction details and click Confirm.
Wirex Limits
---
Wirex has no limits for exchanges, deposits, online card purchase, or in-store card purchases.
Here is a crypto transfers limit of 10 BTC per day and ATM withdrawals are limited to £250/€250/$250 per day. Credit and debit card top-ups are capped to £7,500/€8,000/$10,000 per day. Additionally, maximum card balance is £15k/€16k/$20k.
Limits
---
So Exchange
Unlimited
Deposit
Unlimited
Transfer
10 BTC per day
Online card purchase (ePOS)
£7500 / €8000 / $10000
In-store card purchase (POS)
£7500 / €8000 / $10000
ATM
£250 / €250 / $250
per day
Cashback in-store
£50 per day
Top-up with credit/debit card
£5000/€5000/$5000 per day
Maximum card balance
£15000 / €16000 / $20000
So Wirex is safe and legit to use?
---
Yes, your Wirex account is secure as security of user funds is a top priority for Wirex.
Wirex uses 256-bit SSL for all communications between server and web browser, which completely eliminates the possibility of "man in the middle" attack. Your Wirex account is linked to your mailbox. Any card-related information or fund-sensitive confirmation emails will be sent to your email address. 2FA is an extra layer of security that requires not only a password and username but also something that only that user and no one else has on them, i.e. a piece of information only they should know or have immediately at hand – such as a physical token.
All accounts in Wirex system are protected by BitGo's multi-signature technology. This technology makes it impossible to transfer funds without the transaction being signed by all parties involved.
Wirex Customer Support
---
Wirex has no phone number or seem to have a live chat option when on the computer. There is a live chat option via the application. Instead, the contact options are limited to emails or a contact form within the Help Center.
In the Help Center, you can select "Get in Touch" by the top of the screen. This will take you to a contact form to fill out a request. You just need to enter your email, the subject, the description, and the request type, with the ability to attach files. There is also a community page that Wirex encourages users to visit.
This includes a support live thread and various other topics, both with Wirex and other users. This is also where you can find information about new features.
Conclusion
---
Wirex is a money service that provides an account and application with multiple wallets for both regular fiat currencies but also most popular cryptocurrencies.
Wirex's most popular product is their Wirex Visa card, which is a debit or prepaid card that allows you to make purchases anywhere that accepts Visa.
Wirex adheres to all best practices when it comes to platform security and is authorized by the UK Financial Conduct Authority, giving clients additional confidence in its security.
Wirex is not available to residents of the United States at this time but is constantly expanding their coverage around the world. You can see a list of supported countries on their website here.
To wrap it up, Wirex looks to be a great service, erasing the barrier between fiat and crypto and enabling customers to spend their cryptocurrency in shops and restaurants this is a step forward for bringing adoption to the crypto world.
PROS
Earn cash back rewards of up to 8% on all in-store purchases.
If you link your debit/credit card, you will receive instant top-ups.
Cold storage of cryptocurrency funds using multisignature addresses
Trading without commissions and no ATM fees (up to $250)
CONS
Fewer benefits than some competing cryptocurrency credit cards
The card differs from one country to the next.
To receive cryptocurrencies, you must first convert X-Points.
Exchanging cryptocurrency for fiat currency is expensive.

CaptainAltcoin's writers and guest post authors may or may not have a vested interest in any of the mentioned projects and businesses. None of the content on CaptainAltcoin is investment advice nor is it a replacement for advice from a certified financial planner. The views expressed in this article are those of the author and do not necessarily reflect the official policy or position of CaptainAltcoin.com